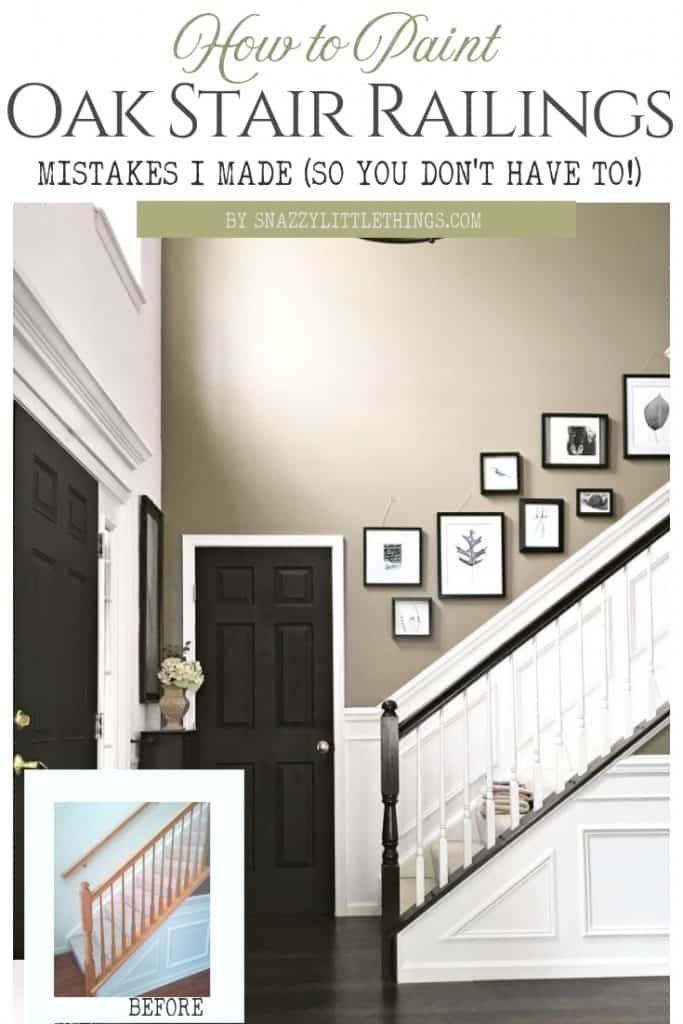 I didn't start out as a natural when it came to home improvement. In the beginning, I would sometimes hastily tackle projects on the weekends when my kids were out of town. The painted stair railing was one of those hasty projects. Looking back I would have hired a contractor for if I understood all of my financing options.
There was a lot of "trial and error" with my home improvement, using power tools…and even choosing colors. Case in point…I thought my railings needed to be more of a red tone (to match my floor).
I didn't exactly know what my style was back then. My decorating skills were still in the development phase. While I feel like I have been working fast, it took a slow evolution (and lots of yard sales and purging of our excess stuff) that brought me to how my house looks today.
Getting back to the stair railing makeover, I tried to step outside of my normal comfort zone and "warm up" my color scheme by bringing out the reds in my flooring. It turns out I didn't go in that direction and warm colors just didn't work. (And I later changed out our floors for a dark walnut).
My house had builder's oak–everywhere! And when I say this, I mean that orangey oak that came standard with houses. I lightly sanded the railing and got started (be warned, that was my first mistake).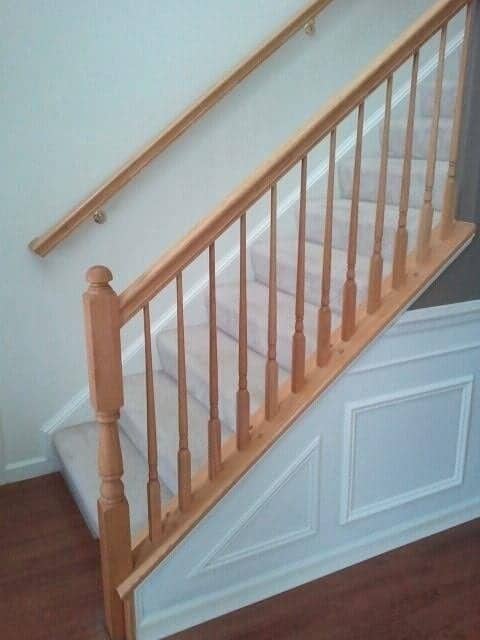 So here is my first iteration of trying to "warm up" my house with reds. Yes, I applied stain…on top of stain. Just. Don't. Do. That.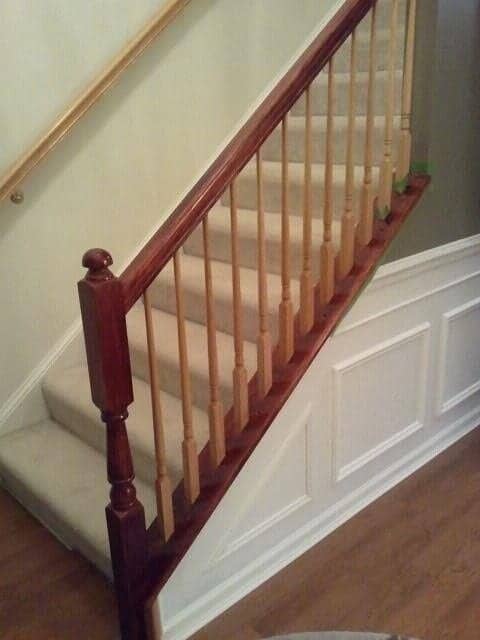 It took about 2 days to dry. You read that right…two days! Once it was dry I really wasn't sure if I liked it yet. Doing it correctly would have meant completely stripping the wood before the wood would accept stain – and who wants to do that?! *smirk* Yes, cutting corners wasn't the answer. And I was in a hurry because my kids were out of town and I wanted to get it done quickly.
So I painted the spindles: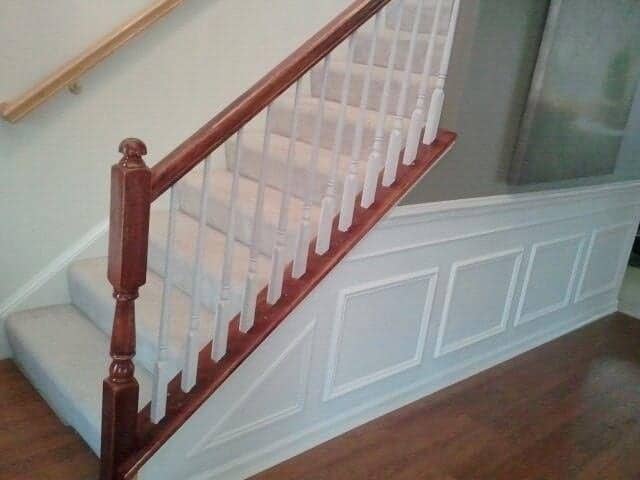 Ok. I hated it. I got some opinions…and they said the same. *Sigh* Time to start over…white primer is good for that. (I almost stopped here and left the primer on permanently).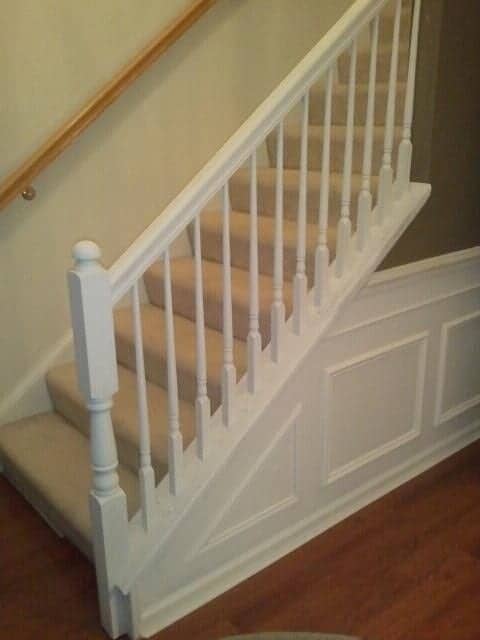 Here is the final result: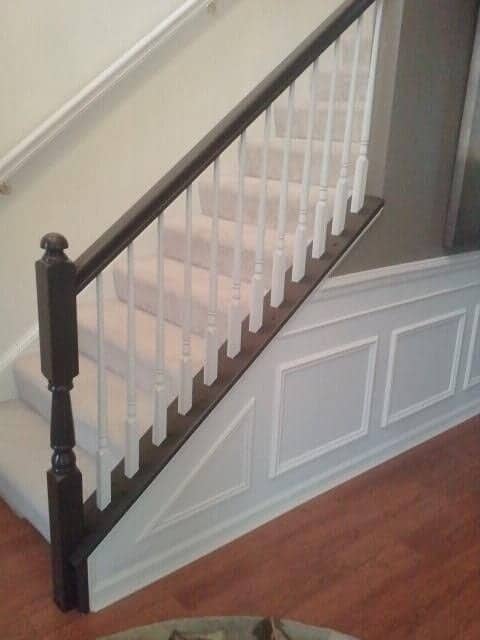 Once I fixed that I proceeded with the rest of the loft railing. And of course, I continued updating the rest of the house. Hence…the blog.
Here is how the foyer looks today…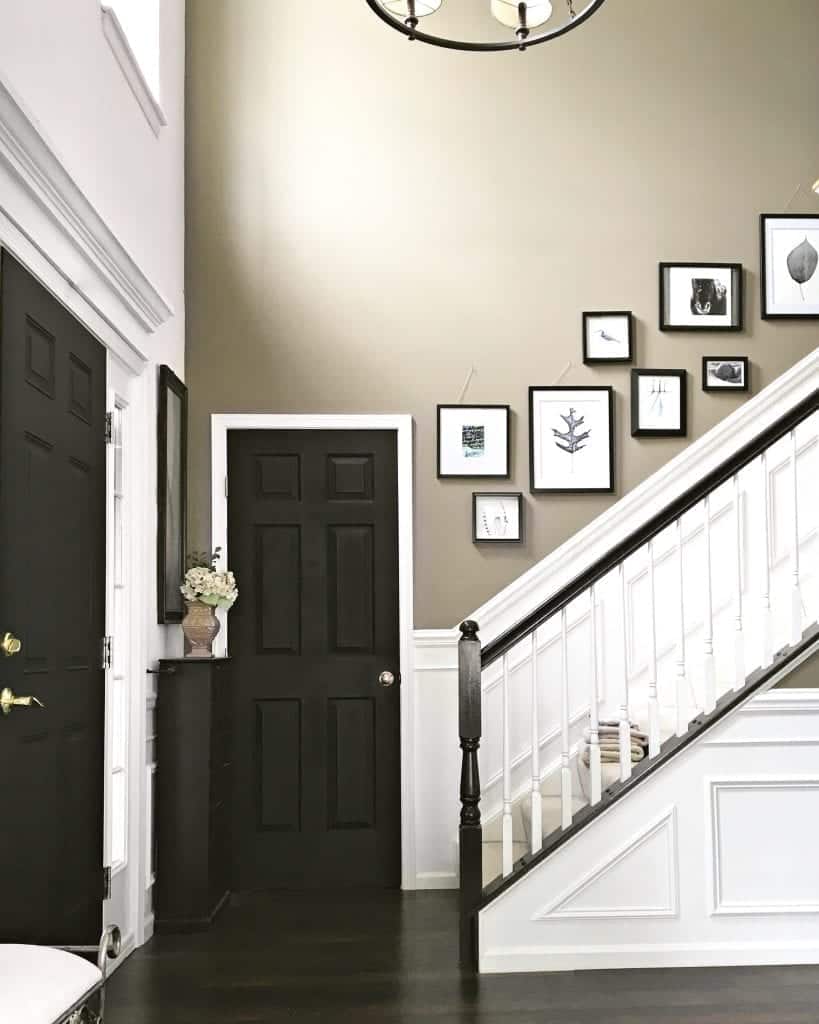 Lessons Learned:
1) Prime First if you plan on painting your railing a solid color (which is what I ultimately did after making several mistakes).
2) Strip the wood if you don't want to paint but still want a natural wood finish. But be warned, lots and lots of work involved with this step. It is likely that a stain won't perform well on an already finished wood. Godspeed if this is the route you choose!
3) Get Opinions on Color…First. To be honest, I get so impatient when I have an empty house with no kids, so I get a little overly ambitious and just start painting. I'm a much more seasoned DIY'er now…so…lesson learned. This is a process that requires planning. My other issue? I'm fairly desensitized to subtle color differences (you can test your own color acuity in this test). So I should have talked this one through with someone that sees color much better than I.
4) Tape off the balusters and railings to prevent mess.
5) Use artist brushes in tight areas and hard to reach places– especially for finishing the underside of the handrail.
*****
Hopefully this tutorial helps you and you avoid some of the same mistakes I made with this project. But now that they're finished, we love the outcome. Thanks for stopping by!