How to Paint Stair Railings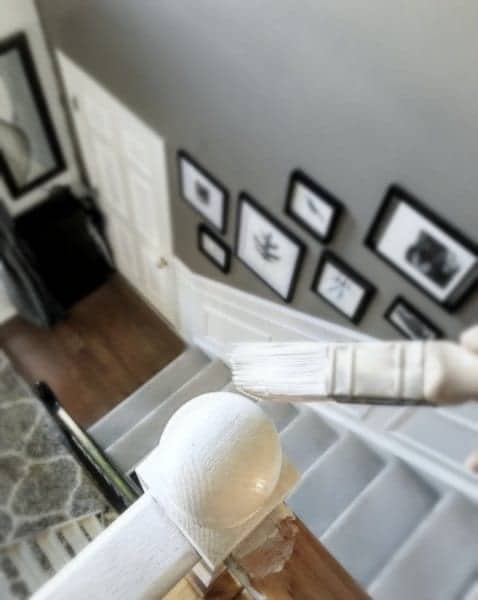 Painted stair railings instantly upgrades your home's aesthetic and adds significant value. I have painted stair railings in two of my houses and the difference was dramatic. Here are the steps needed to make this job less tedious and you'll finish the job faster than you think!
If your house has builders-grade oak everywhere and you are looking for an inexpensive, high-impact home upgrade, painting stair rails makes a dramatic impact. This project can be tricky and tedious so I'm sharing a few shortcuts that make the process much easier.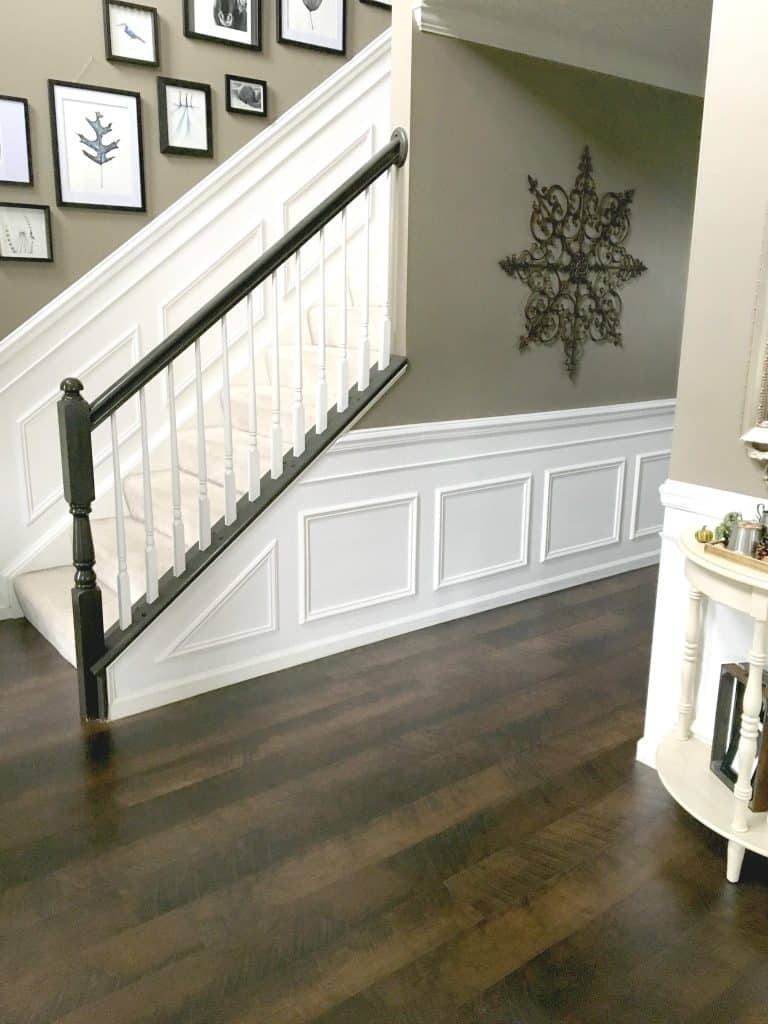 My last two houses had builder's grade orangey oak–everywhere! After making several mistakes in my first house, I learned some valuable lessons to make my second house painted railing project look even better.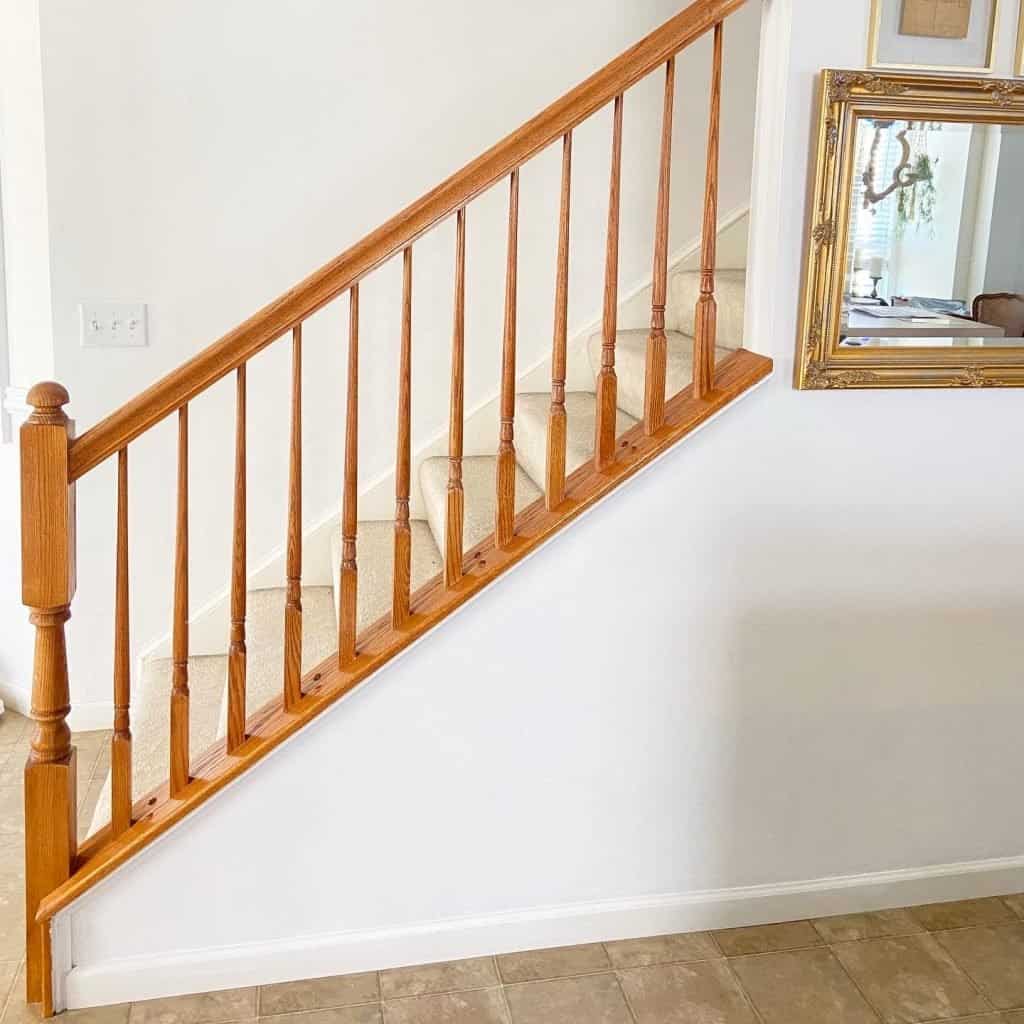 Paint and Supply List:
How to Paint Stair Railings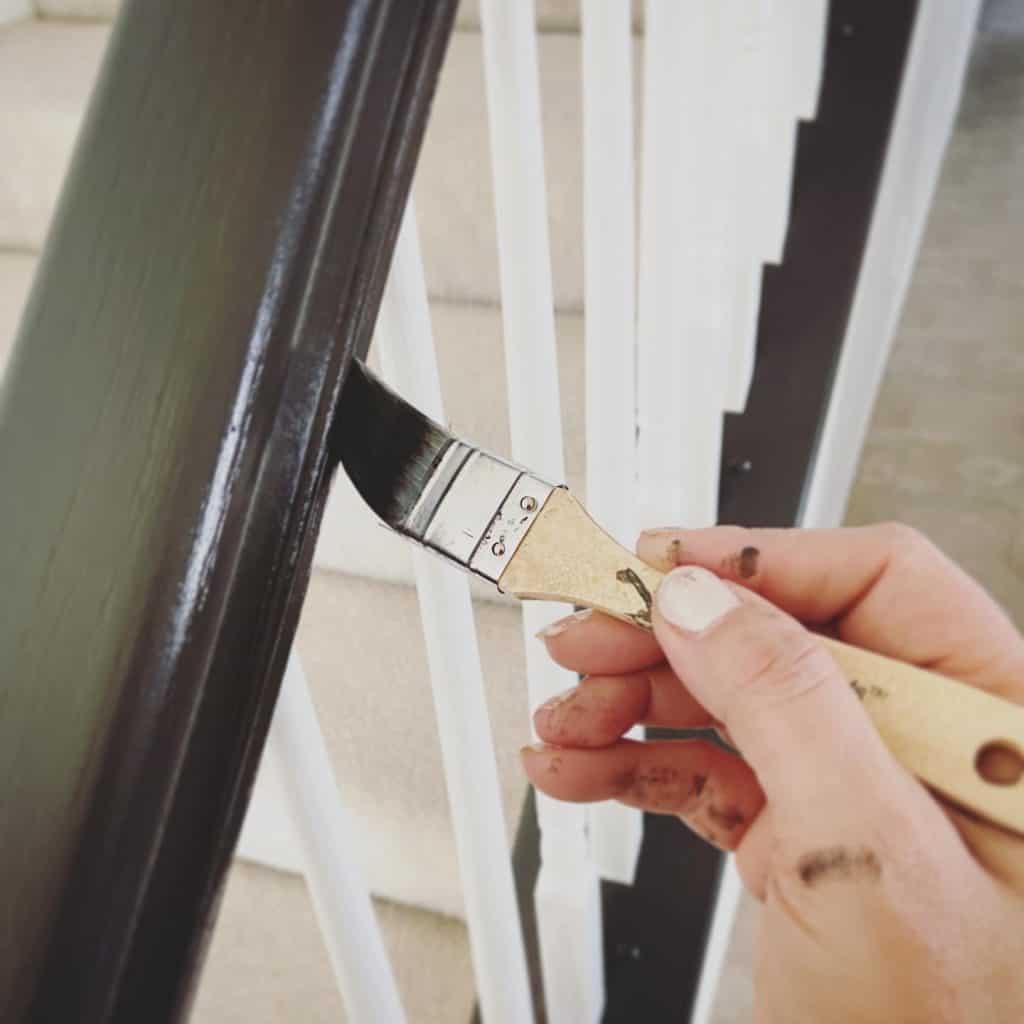 Time needed: 3 hours
Per every 5′ of wood railing.
Work in Sections

Completing smaller sections make a stair railing project more rewarding and less overwhelming. Start in a less conspicuous section of railing to perfect your technique.

Lightly sand and clean

Sanding and cleaning should take 20 minutes for a 6 foot section of railing. Think of sanding as a deglossing step. Then remove all the crumbs and sanded remnants with a wet cloth and allow to dry.

Prime all railing components

This includes the newel post, handrail, balusters and base rail. Applying primer gives the paint some "tooth" to adhere to. This step does not need to look perfect, nor does it require perfection or multiple layers. Just enough for the paint to adhere nicely. Use the primer to also fill open grain. Use a fine grit sandpaper to smooth away bumps, drips or rough spots and wipe clean.

Apply paint and finish balusters first

I learned that by completing the balusters before moving on to the base and hand rail allow you to skip taping off everything. I used Magnolia Home True White Cabinet and Trim Paint on each baluster using a foam brush. Doing things in this order I found minimized the complexities around cutting in your darker paint in the next step.

Use artist brushes to cut in dark paint

Use an artist brush to quickly apply dark paint on the underside of the handrail and where the balusters meet the base rail. Artist brushes give you so much more control allowing you to paint around awkward corners.

Protect railing with a top coat

Here is how the foyer in our previous house looked when it was finished!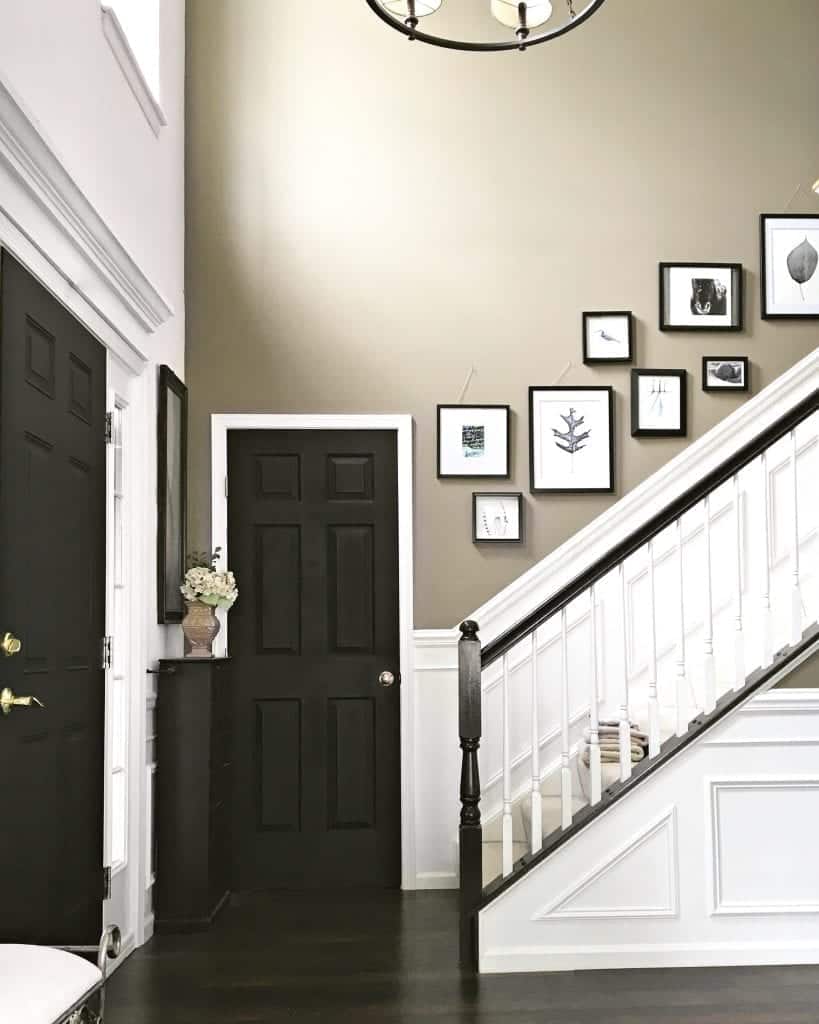 Open concept tricks & additional tips:
Open concept tips // When you use an extension ladder, you can typically hold on to the banister near the bottom then paint 1/2 way up the baluster, then finish the rest by working from the 2nd floor landing. I sat on the top of the ladder in our family room and dipped my brushes through the railings. And if I needed to stand I held on to the railing at all times.
Work from left to right (if right handed) // or do the opposite if you're left handed. Moving in this direction saves mess on your hands since you'll be working at odd angles around the wet balusters.
Save time by skipping the tape // I saved so much time by using an artist brush to cut in on at the top / bottom of the balusters. Artist brushes give you so much more control and allowed me more flexibility when painting on the underside of the hand rail. I used painters tape on the balusters in our last house and it took forever to remove them.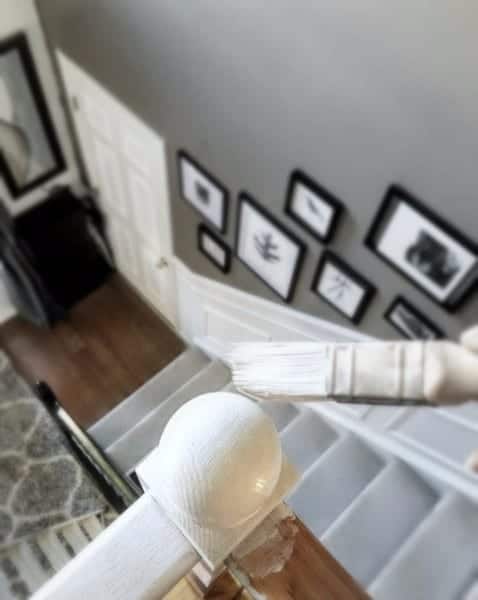 Hopefully this tutorial helps you and you avoid some of the same mistakes I made with this project. But now that they're finished, we love the outcome (and so did our realtor who sold our house above asking price!)