Selling on Facebook Marketplace has become such a great way to make extra cash on your gently used merchandise. Here are a few selling tips & tricks that have been working well for me.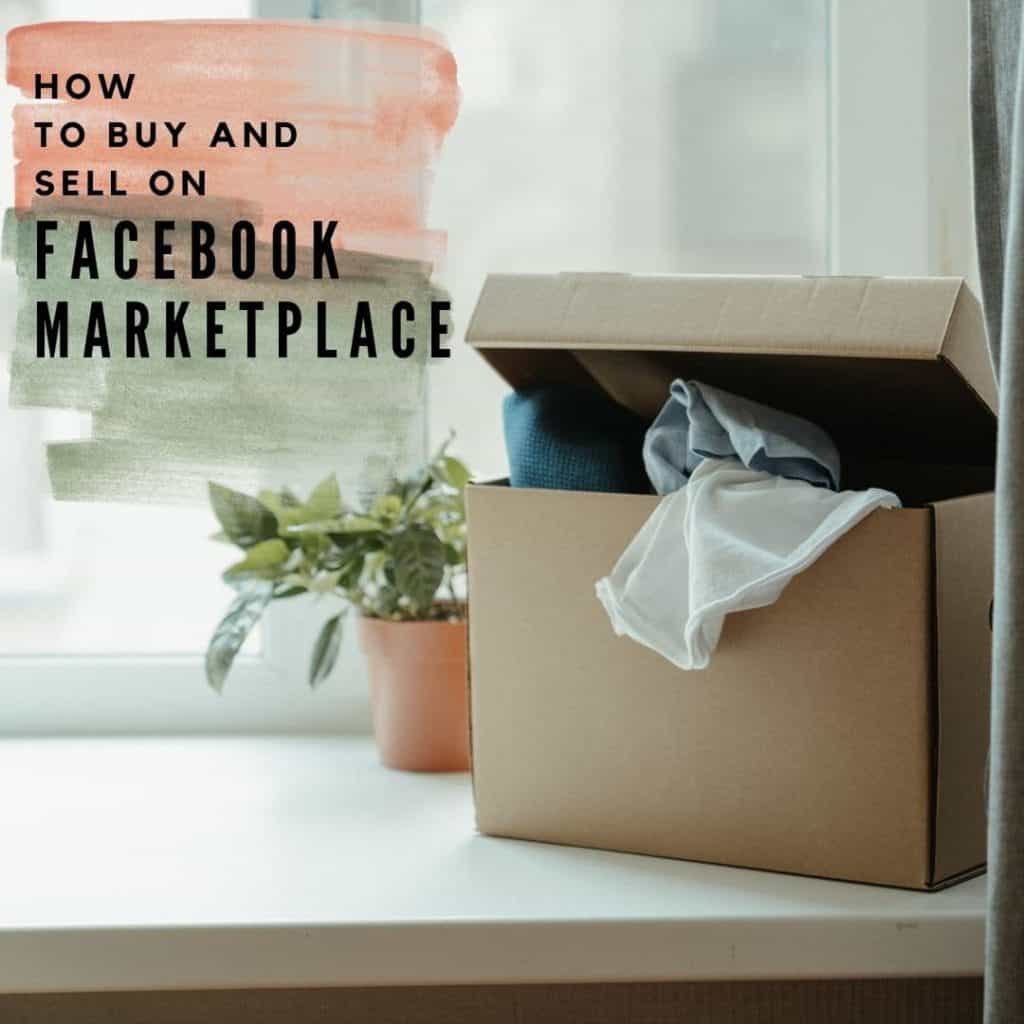 Quick cash is a great way to help you finance new items for your home. By successfully selling off several old items on Facebook in a "buy, sell trade" group, we were able to clear our house of clutter and make room for new items that work well in our spaces.
Selling Items Fast on Facebook
The vernacular: getting used to Facebook's selling "jargon"
The rules and vernacular take some getting used to. For instance, on one of my listings – someone commented "nil". "How rude!" I thought. Turns out, it doesn't mean, "it's worth NIL –as in ziltch??". This actually means "next in line". Who knew? I'm still learning the ropes, but so happy to free up some square footage so we can make room for other projects.
Other need-to-know terms include:
NIL = next in line
MBI = might be interested
PM = personal message, as in…feel free to "PM" me if interested
OBO = or best offer
PPU = pickup pending
FIRM = price is not negotiable
10 Tips for Selling in Facebook Groups:
1. My Tips for Listing Your Items: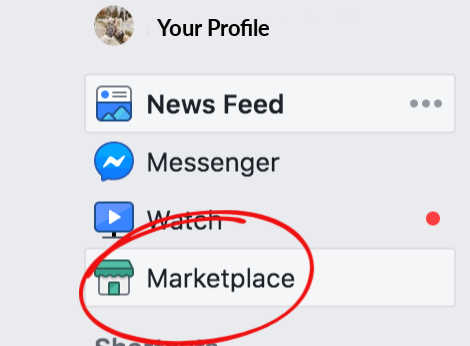 The listing process is very intuitive, and you can do it all on your phone. Start by clicking "Marketplace" and it will walk you through the steps. Facebook has a full tutorial on how to list items for sale in their marketplace. Be sure to check that out.
Photography & Listing Tips
Turn off interior lights when photographing your items

Interior lighting "yellows" the image. People want to see the true colors of the item. Bring the item to a well lit area of your house.

Take multiple pictures in daylight (not in direct sunlight and not at night)
Include measurements of the item
How heavy is the item? Mention whether more than one person will be needed to pick up
Show the item staged in your home, then mention what is / isn't included in the post. This inspires them to see how it can be used.
Payment terms (porch pick up / cash only / location)
Willing to hold an item? Mention it. If not, mention that too.
2. Explain why I'm selling:
I explain clearly why I'm selling an item (clearing out a room, changing styles) so that people understand that there is nothing wrong with the listing (especially if the item is in good condition). Explain how you used it. Stage the item as it was once used in your home to inspire people!
3. List Brand names:
I always include brand names in all of my listings. If it's an item that is still available in stores, I link the manufacturer's listing and description. I believe this helps people get a feel for what they could be paying if they had to buy it new.
4. Disclose The Damage in Photos:
I fully disclose if there is a broken item on the piece. If someone asks for more pictures, this presents yet another opportunity to bump the item up in the feeds to show them exactly what is damaged. People don't want to drive all the way to your location just to find out it's not in the condition you say it is.
5. Be courteous:
Every time someone comments, or states "nil" – I comment back, thanking them for their interest. Each time you comment, your post is also bumped to the top — just another "organic" way to keep your listing towards the top of the group and getting more visibility on your listing.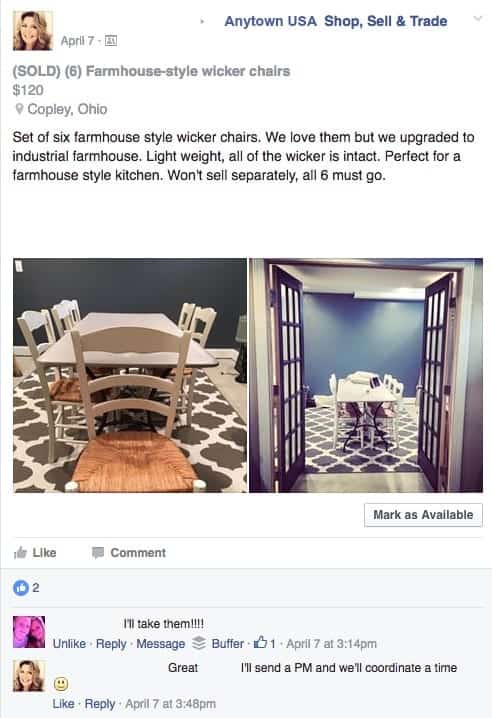 6: Increase Item Visibility in Groups:
Listings are hierarchal. When you list something in Facebook selling groups, it tends to get pushed down the feeds as new listings are posted. If you get no inquiries or comments, the further down the feed your listing will be pushed.
Tip! Someone will eventually ask a question, when they do – they are doing you a favor. It bumps your listing up feeds again and it gets more visibility. Some people type the word "bump" in the comments, or they add a period. I try to avoid that, and prefer to have my posts bump through actual interest and interactions, or by providing more information about the listing.
7. Pricing, Accepting Offers & Payment:
If you're not sure how to price your items, I do a little research to gauge my price right on Marketplace. Look for similar items as yours – click "Save". Then I check my saved items in a few days to see if the item sold at that price. If I want to sell fast, I price on the low end. If I am firm on price, I list the item as "Firm".
Reasonable Offers // A reasonable offer is one that is 10-20% below my asking price. I consider offers beyond a lowball offer. Use your own discretion on this. I don't typically take offers when they haven't seen the item in person.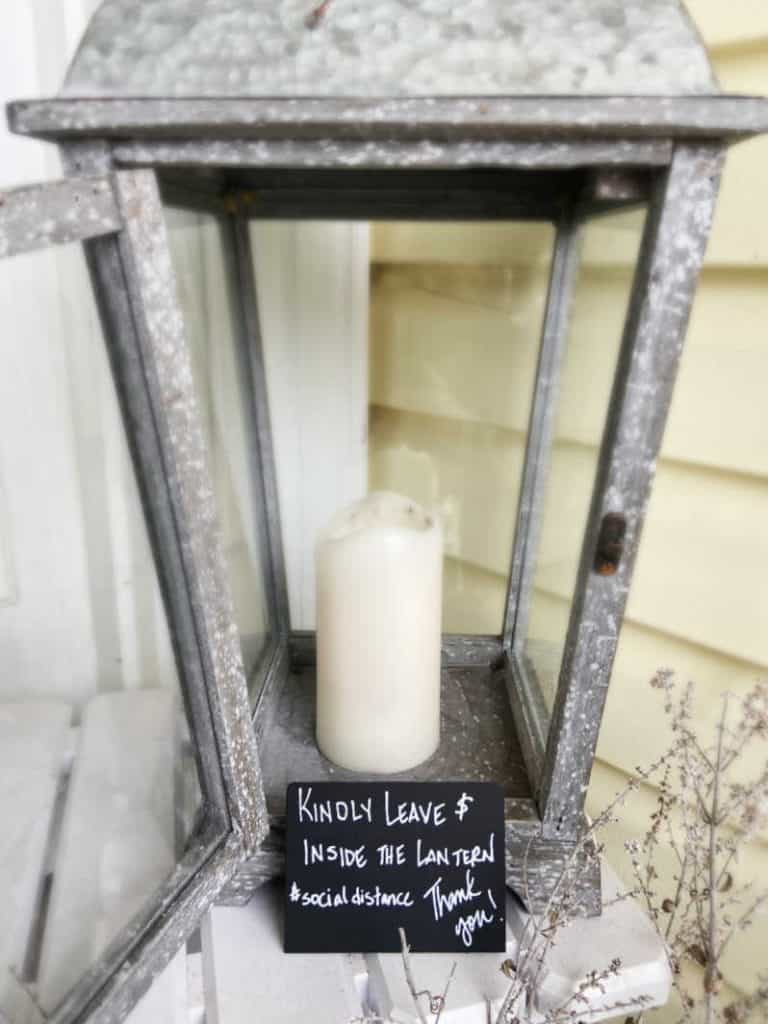 Accepting Payment during social distancing
Payment options have changed and you can now set up a Facebook payment. I am not actively selling on Facebook during the quarantine, however, if you do, I would only do porch pickup leaving a sign similar to this. You can wave through the door.
8. Safety – bring the item to your porch:
As a courteous seller, I always try to bring the item to my porch so they don't have to come inside. Many people feel uncomfortable walking into a stranger's home. So rather than having an awkward exchange at the door, I do this before the scheduled pickup time.
Updated tip April 11, 2020: I leave Clorox wipes near the item as well if they want to wipe it down before placing it in their car.
9. Be Timely About Checking Your Messages:
If you don't check your messages, you'll likely miss out on a transaction. Once we make a connection via messaging and set up a time, that's when I share my physical address. You can establish a rapport with this person quickly with emojis and smiley faces.
10. If your listing gets no traffic or interest:
I see so many people placing "bump" in the comments. Repeatedly. I see this as unproductive as a seller. If you have to continually bump your posts using this method, then you're missing the real message — you should probably adjust your price, be willing to accept offers, or take the listing down. Before you try again, conduct an online search to see what other people are selling similar items for — then try again.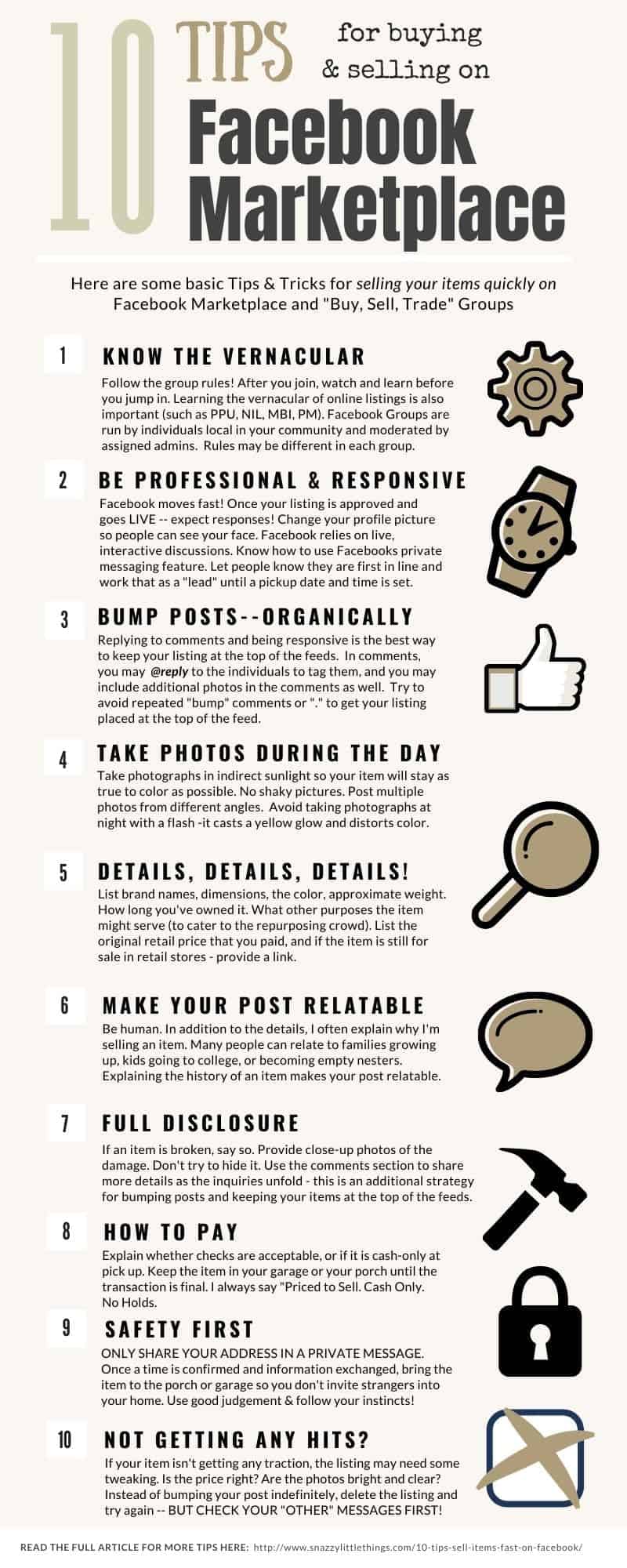 So are you an experienced Facebook seller? What other tips can you share for selling (or buying) gently used items on Facebook?