This month is all about "out with the old, in with the new" here at snazzy.
As we transitioned into the new year our house seemed to be so cluttered with remnants of winter gear (and junk). By successfully selling off several old items on Facebook in a "buy, sell trade" group, we were able to finance our new, must-needed purchases…and clear the house of clutter.
While I'm normally a Craigslist junkie, I've grown a little tired of the number of the "no-shows" that I was experiencing from prospective buyers. It also seemed like price negotiations would go something like, "oh, I'm sorry, all I have is ____ <insert some shortfall>" — leaving me with an awkward moment and turning these prospects away.
If you have the "urge to purge" like we did and want to make a little money on your older household items, I've picked up a few Facebook selling tips & tricks that seem to be working for me.
Selling Items Fast on Facebook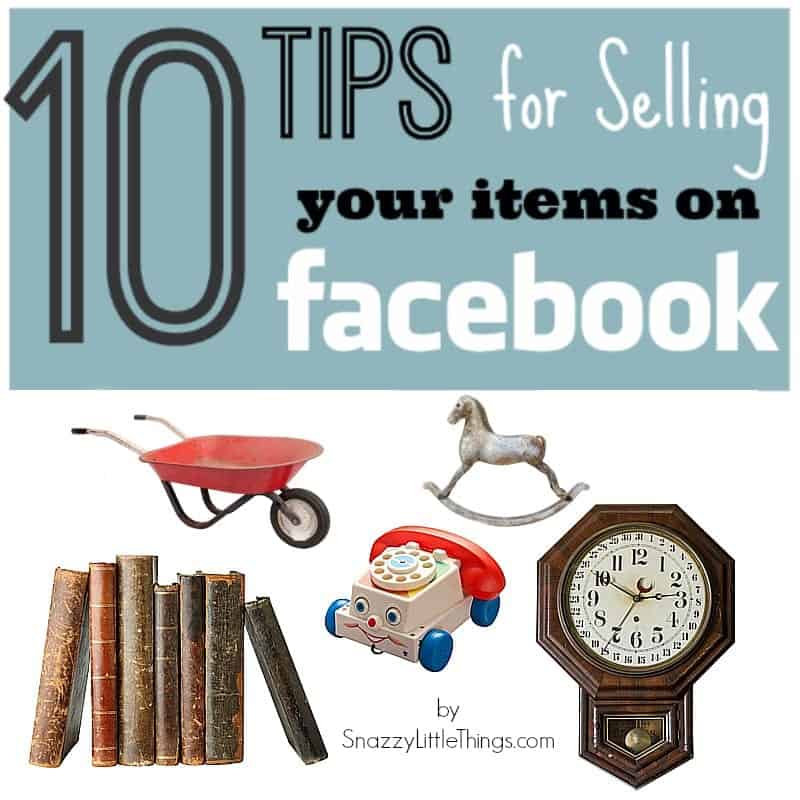 The vernacular: getting used to Facebook's selling "jargon"
The rules and vernacular take some getting used to. For instance, on one of my listings – someone commented "nil". "How rude!"  I thought. Turns out, it doesn't mean, "it's worth NIL –as in ziltch??". This actually means "next in line".  Who knew? I'm still learning the ropes, but so happy to free up some square footage so we can make room for other projects.  Other need-to-know terms include:
MBI = might be interested
PM = personal message, as in…feel free to "PM" me if interested
OBO = or best offer
PPU = pickup pending
10 Tips for Selling in Facebook Groups:
#1: Bumping Posts: 
Listings are hierarchal. When you list something, it tends to get pushed down the feeds as new listings are posted. If you get no inquiries or comments, the further down the feed your listing will be pushed. Tip! I've learned that if I still provide a good description, but withhold a teensy bit of information, it invites an interaction. Someone will eventually ask a question. Each time someone comments to ask a question, it bumps your listing up feeds again. This way your listing will get bumped back in the feed and visible to anyone checking into the site.  (Some people like to say "bump" in the comments, or add a period. I try to avoid that, and prefer to have my posts bump through actual interest and interactions.)
2. Be courteous:
Every time someone comments, or states "nil" – I comment back, thanking them for their interest. Each time you comment, your post is also bumped to the top — just another "organic" way to keep your listing towards the top of the group and getting more visibility on your listing.
3. Multiple pictures in broad daylight:
Using a flash photography indoors tends to turn anything white more yellow. Lose the flash, and take photos in natural light whenever possible. (This is true for blogging photography, too!)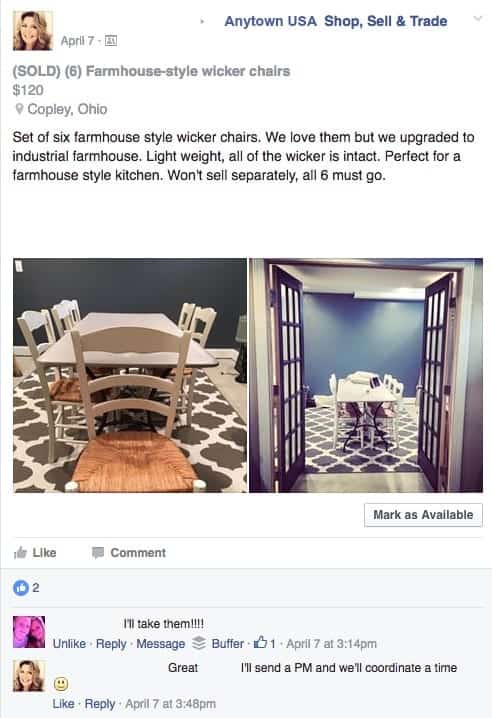 4. List Brand names:
I always include brand names in all of my listings.  If it's an item that is still available in stores, I link the manufacturer's listing and description. I believe this helps people get a feel for what they could be paying if they had to buy it new.
5. Explain why I'm selling:
I explain clearly why I'm selling an item (clearing out a room, changing styles) so that people understand that there is nothing wrong with the listing (especially if the item is in good condition).
6. Disclosure:
However, I fully disclose if there is a broken item on the piece. If someone asks for more pictures, this presents yet another opportunity to bump the item up in the feeds to show them exactly what is damaged.  People don't want to drive all the way to your location just to find out it's not in the condition you say it is.
7. Cash only at pick up:
I typically include this in every post, and I make sure my husband is there during pick up times.
8. Safety – bring the item to your porch:
As a courteous seller, I always try to bring the item to my porch so they don't have to come inside. Many people feel uncomfortable walking into a stranger's home. So rather than having an awkward exchange at the door, I do this before the scheduled pickup time.
9. Messaging:
Many times, you are not "friends" with a person on Facebook. If they send a message to you, it will go into an "other" folder.  This is why people say "I just messaged you" to give you a heads up.  If you don't check your messages, you'll likely miss out on a transaction. Once we make a connection via messaging and set up a time, that's when I share my physical address.
10. If your listing gets no traffic or interest:   
I see so many people placing "bump" in the comments.  Repeatedly. I see this as unproductive as a seller. If you have to continually bump your posts using this method, then you're missing the real message — you should probably adjust your price, be willing to accept offers, or take the listing down. Before you try again, conduct an online search to see what other people are selling similar items for — then try again.
Maybe I'm late to the game on this new trend. I hang onto things (sometimes way too long) thinking that I'll be able to salvage and repurpose anything and everything.
So are you an experienced Facebook seller? What other tips can you share for selling (or buying) gently used items on Facebook?