How to Set Up An Antique Booth
Our antique booth is located in a cute, historic town in Ohio. It's such a fun side hustle that I fill with my creative musings – including handmade and repurposed vintage items. I look for furniture and home decor that need some love, then give them a second life. When I do I post the items on Facebook and tag the shop where I'm located.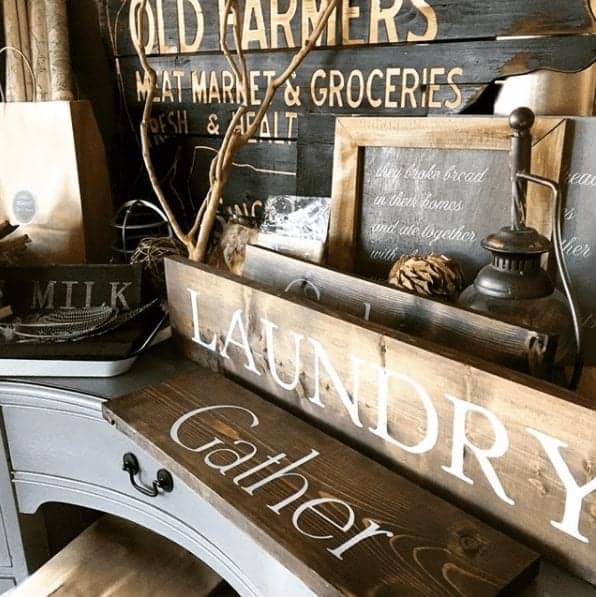 My family ran a huge antique show with over 300 vendors for 9 years when I was young, so my experience with antiques goes way back. Since I set up my first pop up shop at Vintage Market Days in 2017, I've enjoyed experimenting with designs and layouts of our booth. Here I'll share a few tips that have worked well for me.
How to Set Up an Antique Booth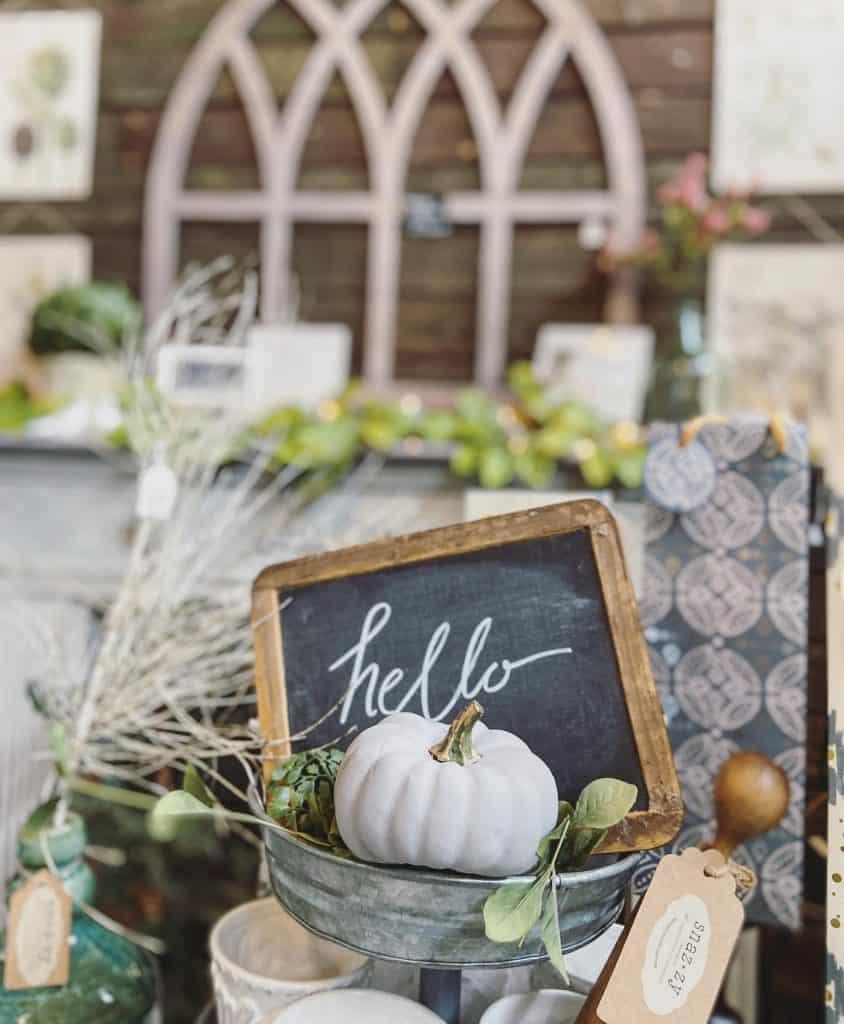 I have phased out wholesale purchasing completely! I primarily sell handmade and secondhand items and make them look new again using the stencils and paint sell in my online shop. The fun part is showing people how to stage the pieces in their own home (that's where this blog comes in).
Create Height
Get creative and use the height available to you, and create your own little oasis making it fun to shop!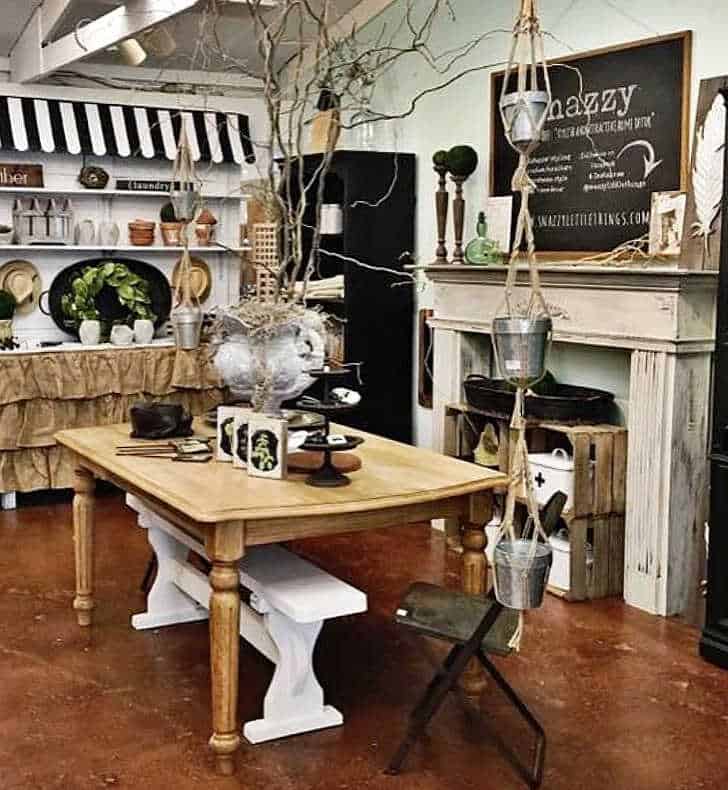 I love the wow factor when you walk into a well-decorated booth and I'm always so inspired by those that use every inch of booth space available to them. In my current booth I have a barn so I created a handmade chandelier to draw the eye upwards.
Style with a Theme and Focal Point In Mind
Just like at home, I always narrow down my booth style and create a focal point using a huge statement piece. I imagine a person experiencing my brand and booth for the first time, and want it to be a welcoming experience.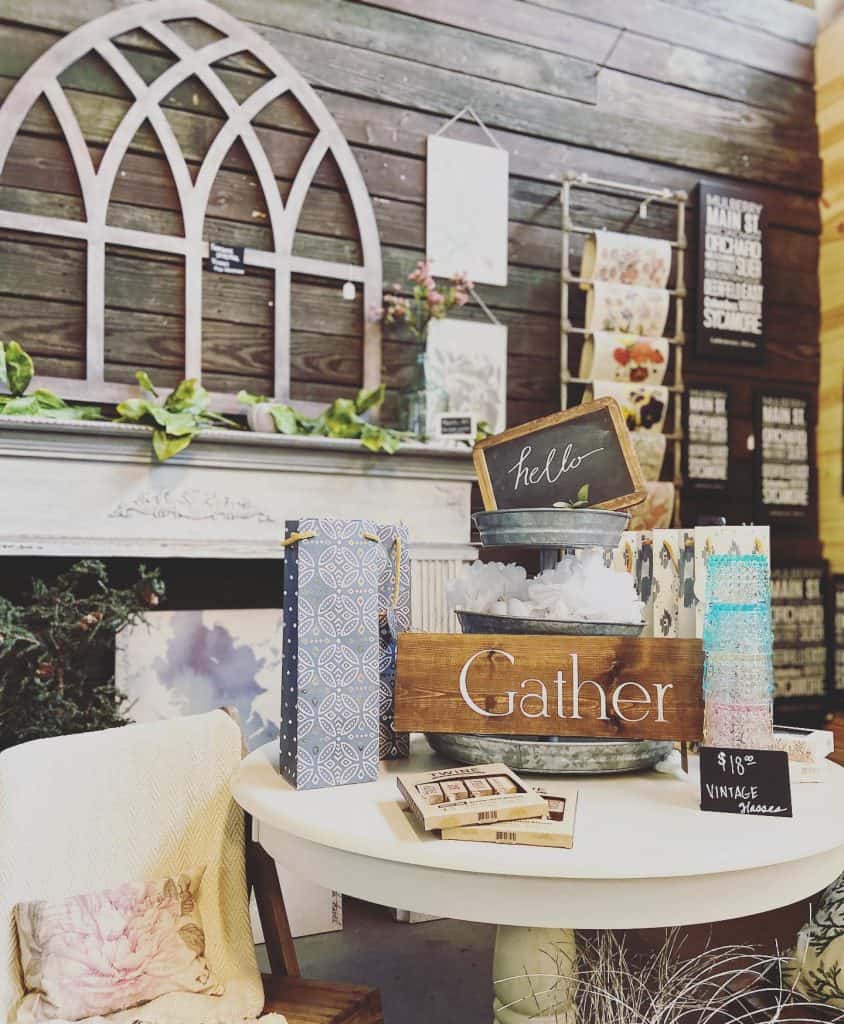 Odd Numbers in Your Groupings
I've learned that grouping odd number of items seem to work better than pairs. But I simply enjoy staging and experimenting until the vignette feels right. My personal decorating "rule of three" is that I use something tall, something green, with something vintage. Click here to read about the REAL "rule of three".
Collections Should Tell a Story
Show kitchen items on a kitchen table, or if you're selling a desk, use old books, ephemera or papers make to give it a believable, lived-in look. Greenery is a must for every vignette. At home, my vignettes are super simple. I learned at home that less is more. But in my booth, the more the merrier.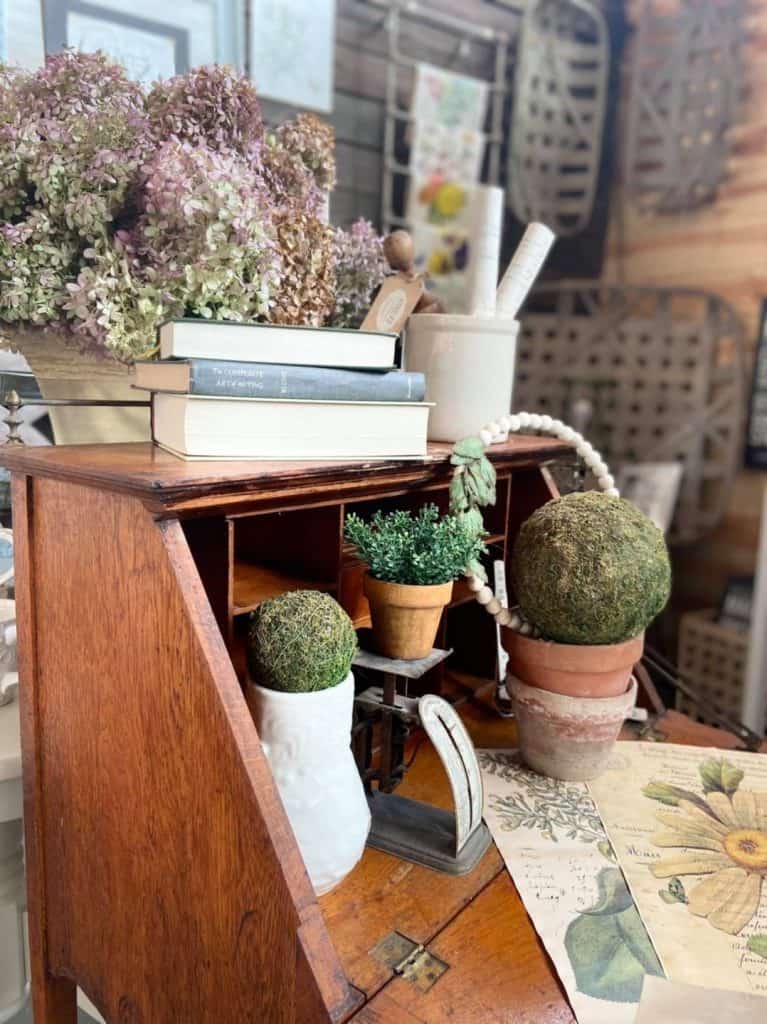 Keep Collections at Eye Level
Try seeing your booth from the perspective of the shopper. Do you like reaching for things, or moving things out of the way to get to the item you want? Generally shoppers like an easy shopping experience so keeping things within reach without any heavy lifting
Light Up Your Booth
Added lighting adds ambiance to your booth. I use timed extension cords to turn the lights on and off automatically. String lights are used in greenery to make the space more interesting.
Brand Your Merchandise Tags
I run copies of tags on my home printer and apply them to everything. I don't use redlines, if a price changes I create a new tag.
Create Signage
Get creative with signage to differentiate your booth from the others. Sometimes shoppers don't realize that you're a separate shop from the next one. See how I created my own chalkboard sign here.
Add a Rug
Anchor your space by adding a rug that ties together your color and style. I shop for secondhand rugs on Facebook Marketplace that are a nice vintage blend. Just know these will get dirty if not destroyed over time. You'll need to take a vacuum on a regular basis to keep it looking clean and welcoming and replace the rug when it gets too dirty.
Keep Inventory Fresh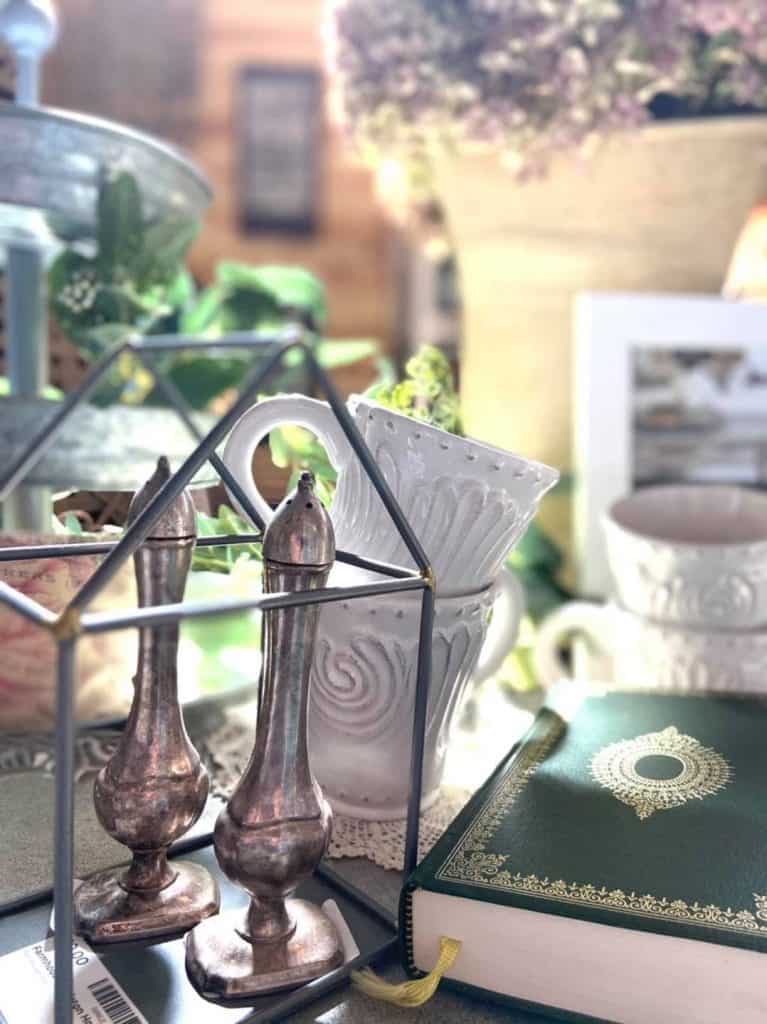 If an item isn't selling I bring it home and keep it in storage until next season. Markdowns are not typical for me since I work hard to curate and collect the pieces I sell (I log lots of mileage and my own cost of materials are worked into the price). If I don't sell in the booth I sell it online and have good luck with Facebook Marketplace. (Read: how to sell items FAST on Facebook!)
Selling Your Items Online
My online shop (this is separate from Facebook Marketplace) sells completely different merchandise than what is in my booth. It's too confusing for shoppers to offer the same product in both places. I do ensure that my online inventory complements what I sell in my booth. In my case, I sell paint and stencils in my online shop. All of the handmade items I craft are sold in the booth. But my booth signage lets people know that they can shop online, too!
Cooperating with Owners
Building owners that showcase their vendors on social media are my favorite. It feels collaborative and I always reciprocate by tagging them in photos I share online. I had terrific sales while I was set up in Hudson, Ohio. I also prefer when shop owners create a SKU system for products. They provide me with access to input my inventory, then print the SKUs at the store. This, combined with my own booth photography, helps me keep track of inventory.
Be Original and Avoid Copying Others
Buying wholesale items is a bit of a trap – your booth tends to look the same as others over time. Customers pick up on this, too. When you hear them saying "I could buy this at Hobby Lobby" you know it's time to differentiate your style a bit. Custom furniture is a great way to stand out. Our vintage cathedral windows are our own custom design. We made our own subway art (and soon, I saw other booth owners doing the same).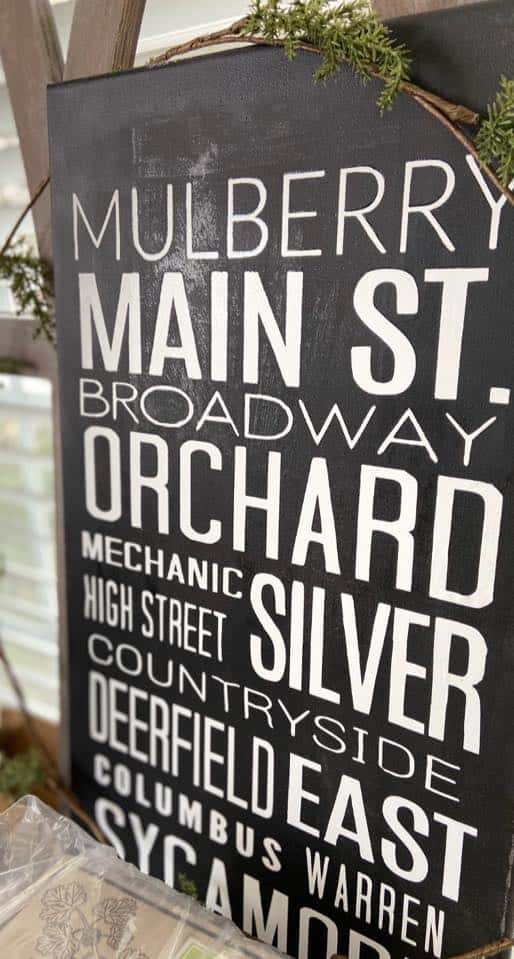 I try to make items unique by putting my own spin on it with my stencil designs. Many of my creations using the Cricut are now making their way into the booth as well. When in doubt, browse Etsy to see what's popular to get inspired…but don't copy!
My Income From Selling Products (Online and In Store):
Maybe you'd like to create a second income during these uncertain times but you don't want to have an antique booth, there is money to be made online!
By becoming a "Maker" you can sell your creations online. It's as easy as opening up your own Facebook page, host videos and to sharing links to products.
My furniture sales via Facebook can generate $1000-$2000 a month and my stencil and paint sales online sales generate an income of around $1200 / month without trying too hard! All I do is share videos with links to products. I haven't even promoted it too much, but I plan to start.
Once you sign up, you can shop for supplies (using your own link), and generate a second income selling on Facebook Marketplace, or in a booth like mine.
And…the products are just beautiful…
If you're more inclined to open an antique booth – I have lots of pictures of our past shows. Click through to see all of my booth ideas when we used to do traveling shows. Now we prefer to stay local and keep our online shop alive and well.
If you have questions, I'm happy to answer them and help you grow your business!