Mark and I love dreaming up design plans for our home and renovating together. But the truth is we have always been laser-beam focused on improving the resale value of our home. In this post I'll share real numbers of our home's value before-and-after our budget DIY renovations, answering the most important question: did it pay off? Selling our home has offered us a "moment of truth" providing us with hard facts by which we can evaluate the decisions we made during our 6 year home renovation. And now we know what we'd do differently. If you're like us and see your home as an investment, I hope you find the details of our experience helpful.
Tips for increasing your home value
Living in midwestern suburbia caused us to decorate neutrally and to 'stay in our lane' in terms of design. Buyers' feedback told us that was a good choice. Some projects we did raised some eyebrows in our conservative market, but those projects helped us differentiate our home once it was listed. So there is a benefit to sticking your neck out now and again and trying something new and unique to give your home an edge over the competition. Here is a breakdown of those projects:
Do: Expand Square Footage
If you are building a brand new home, definitely, without a doubt expand your square footage as much as possible. It's much easier to finance these upgrades over a 30 year mortgage versus adding on square footage later. For example…can you imagine the room below being 4′ narrower than what's pictured? The fireplace wall would have been where the white rug begins. Such a difference our 4′ bump-out made!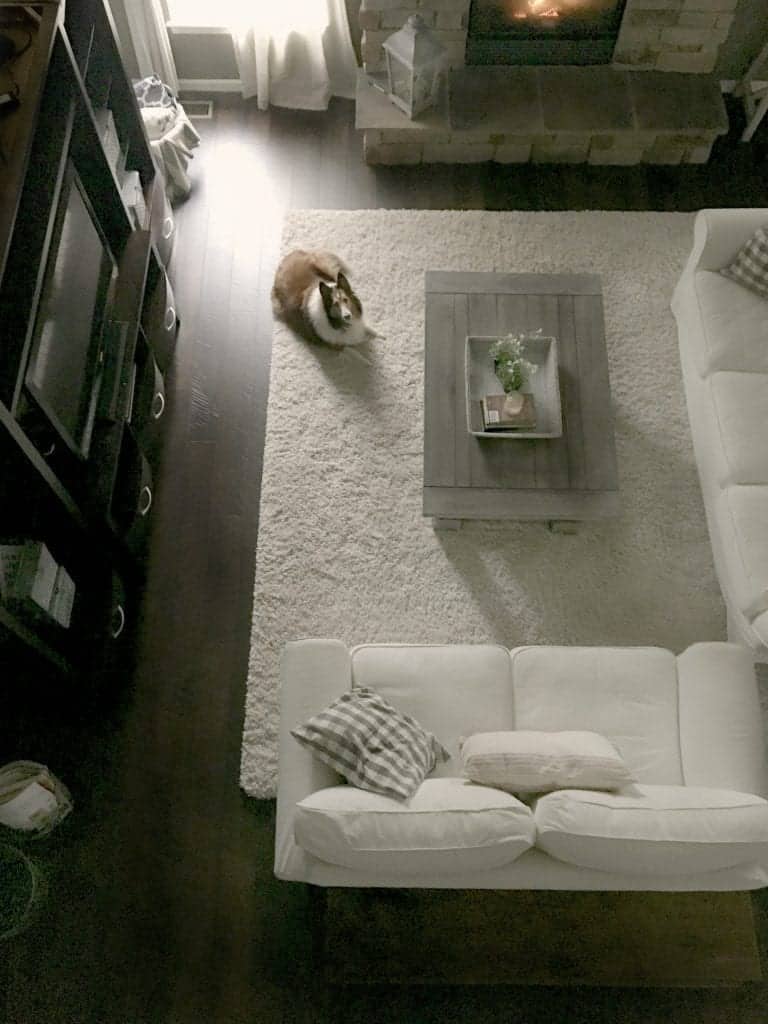 Our 9′ ceiling upgrades made our house feel open. I expanded the living area by 4 feet, then added a sunroom. We eliminated the crawl space and added a full basement, finished the space and added a bonus room and a full bath. We moved closets to make rooms bigger. We converted closets into dressing rooms. We didn't have to do the work later which saved us time and frustration in the long run. The end result…upgrading the square footage definitely pays off!
Do: Focus on the Floors
By removing old, dingy carpet, we were able to elevate our home's value and first impression. We lived in our house for 12 years before we broke down and installed 1,160 square feet of new flooring ourselves to save on labor costs. While it was backbreaking work, it was well worth it. Upgrading the floor was the most impactful and best decision we ever made.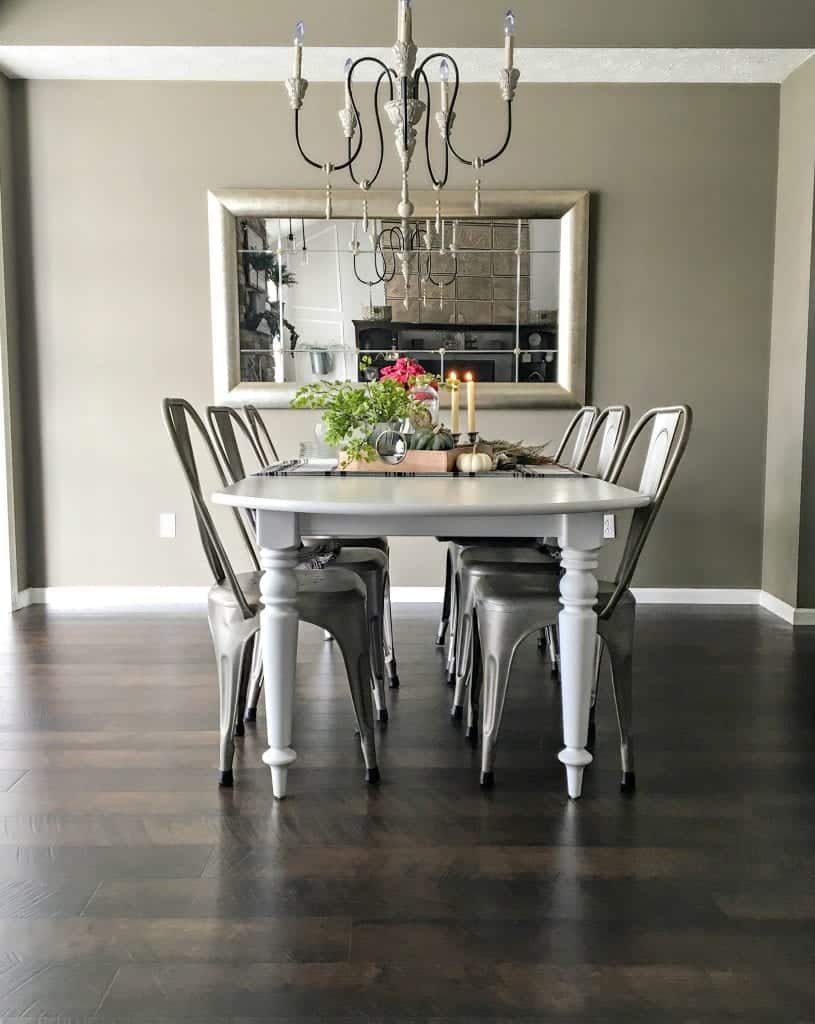 While it's not a huge gain, it did attract buyers – people loved our floors. We had so much positive buyer feedback! This style floor is popular in all of the new construction in our  area. We have zero regrets about the color and style that we chose. Looking back though, the project was exhausting. Our backs and knees were destroyed. If I could do this over again, I would hire an installer who wouldn't mind my helicopter supervision of the job. New flooring in the new house is a must-do project. My only regret is that I wish we had done this sooner!
Do:  Add Millwork & Trim
Even a simple chair rail is enough to change a room. Overall the trim we installed cost around $1000. But the payoff was huge! My house had NO trim whatsoever when I built it. Had I not installed this, our home lost the wow factor in the main living areas and could have negatively impacted our value. So adding wainscoting was skill that paid itself forward and added to the "wow" factor in our house. Learning this skill on nights and weekends after our day jobs was really rewarding. Our choice to add trim was a major upgrade that we will do again.
Do: Paint Using High-Contrast Neutrals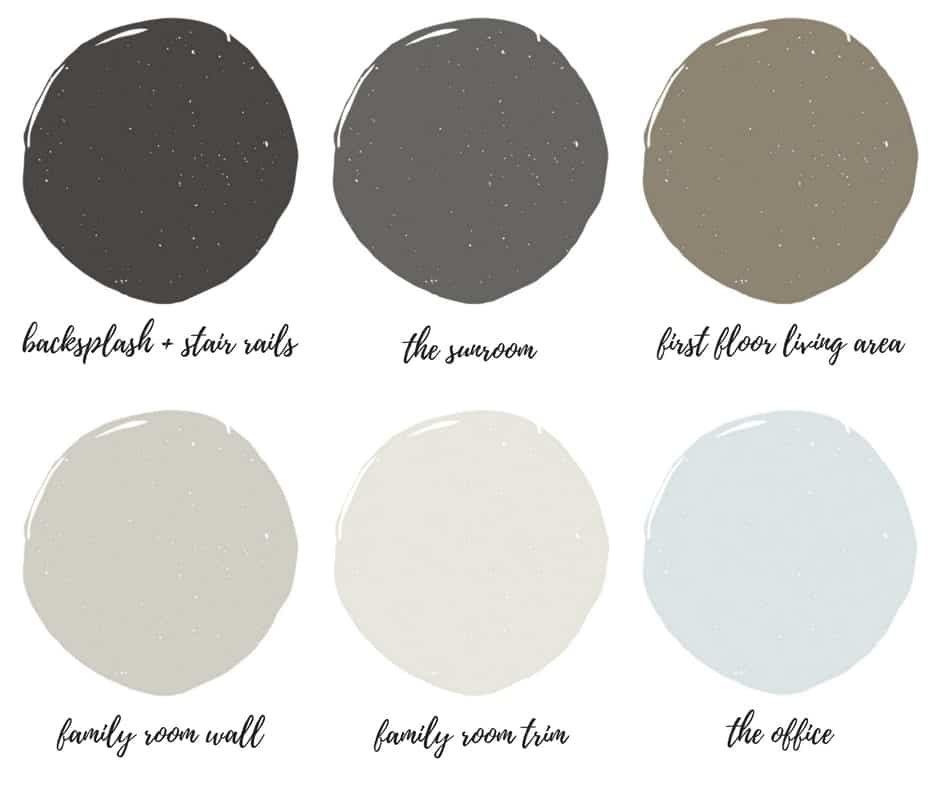 High-contrasting colors in a house are pleasing to the eye and definitely increase the wow factor. We added high contrast white millwork, a white kitchen and lighter furniture against our darker walls. Without those elements our house would have been cave-like. In northern Ohio where it's cold 9 months out of the year, the dark walls feel cozy. We love our color palette and the soothing, cool undertones and how it all worked together. Only a couple of buyers said that it was too dark. In our next house, our wall hues may become lighter. I'll still indulge in my love for high contrast interiors with lighter walls and dark furniture. But we will use dark walls in moderation, and probably save them for the adjacent rooms off of the main living area.
Don't: Overdo It With Unique Finishes
See our DIY stenciled backsplash here. Faux finishes and stencils are a trend, and they can make a house look dated quickly, so be sure to do so in moderation or in areas of your home that can easily be changed. Our stenciled backsplash was created on a whim on a lean budget. The side benefit is that it differentiated our house in a saturated sellers' market. But it did get a few eye rolls. In blogging, it has as many haters as it does fans! Yet it's still one of my most popular posts and brings hundreds of visitors to my blog every day. For those on an extreme budget like I was at the time, I still recommend a stenciled backsplash. And it was easy, affordable and so pretty!  It's also extremely durable, and the dark paint hides dirt well. I haven't seen another kitchen on the internet quite like mine! I would still do it again for my own enjoyment. For resale, you may be told that "you don't have a backsplash" which can be considered a drawback. I could have tiled overtop of the stencil, but then I felt my house started to look like everyone else's. The main complaints about our kitchen (in spite of the fact that we upgraded all of the appliances and the entire room) was that it was too small and we didn't upgrade the countertops.
Do: Finish the Basement..but…(there are buts)
Our urban-loft style basement was yet again another design feature that was worth the risk and differentiated our home in a seller's market. The basement renovation cost $16K. It added 815 square feet of living space, a full bath and a bonus room. This resulted in approximately a $35K increase in our home's value. We love this style. Millennial buyers go crazy over it. Our realtor loved it. Universally, everyone loved the open loft ceiling…which saved us about $2K – $3K in drywall costs. Painting the ceiling only cost around $400 and it looked amazing. But…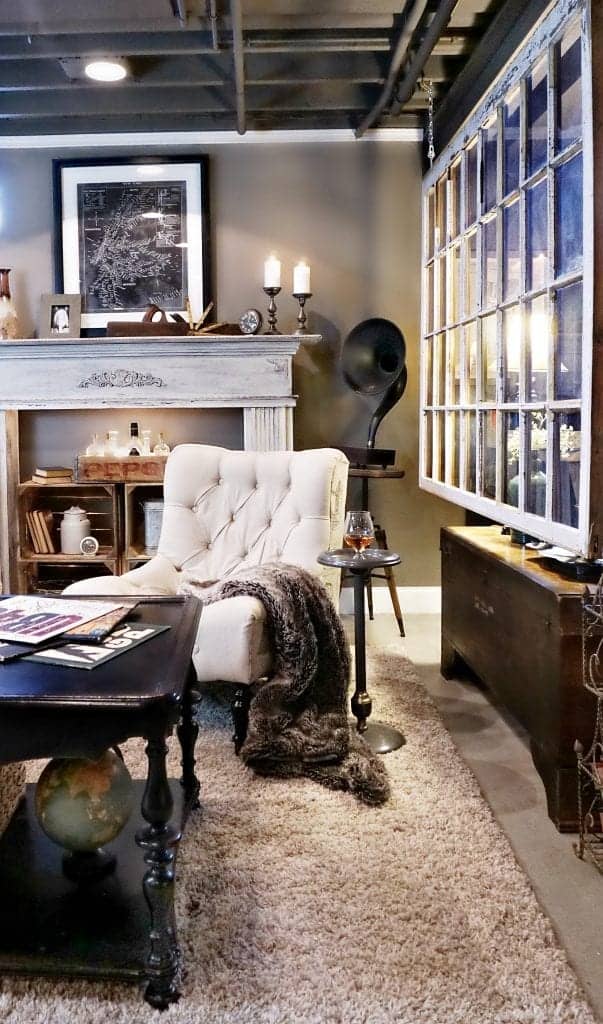 This style (especially in Ohio) doesn't work for everyone. Parents of young kids didn't love it. We live in suburbia, so maybe if we lived in a more urban area (which we hope to do someday) it would be more fitting. That being said we would definitely do it again and here's why: budget, cleanliness and staying true to our industrial loft design. AND. It added major value. It was the most economical and best decision (for us). We felt if a new buyer wanted carpet they could add their own. We imagined someone enjoying the basement as an entertainment area. The right buyers eventually came along (yay for millennials!) who appreciated our industrial loft design. For ceilings, don't be afraid to paint the open ceiling joists with a spray gun and avoid drywall costs. Add a bonus room that can double as a bedroom or office (with carpet). Do add a full bathroom (with a proper floor). In the end, we know that installing carpet would have been counter-intuitive and cost prohibitive. It would have potentially opened us up to a negotiation for a carpet discount during the sales process, so it all worked out!
Don't: Skimp on kitchen and bathroom upgrades
We love to use high quality materials for all of our projects. And we are really proud of how our budget kitchen makeover came out. But our budget reached it's max by the time we got around to our bathrooms. So I had to resort to less expensive materials. Looking back, I should have invested in our bathrooms (and kitchen) first. If money were no object, I'd always use top of the line materials. Using cheaper materials left me with an average bathroom that didn't look like a master suite. While our bathrooms look nice and clean, some buyers felt we skimped too much on the bathrooms. Since we're not made of money this is the best we could do. In the next house we will invest in higher end materials including real wood, tile, a stand up shower and extra square footage.  Bottom line: don't neglect your kitchen and bathrooms. Our kitchen renovation cost around $2000. Budget renovations here go a long way.
Don't: Remove all the personality from bedrooms
All rooms start to look the same when you're house shopping. So if a house has a unique feature that is well-crafted, leave it! It makes your home memorable. I'll share the story of my son's room. Not everyone loves this room style (I do, which is what mattered at the time). And admittedly we didn't' change it for years. And it was memorable.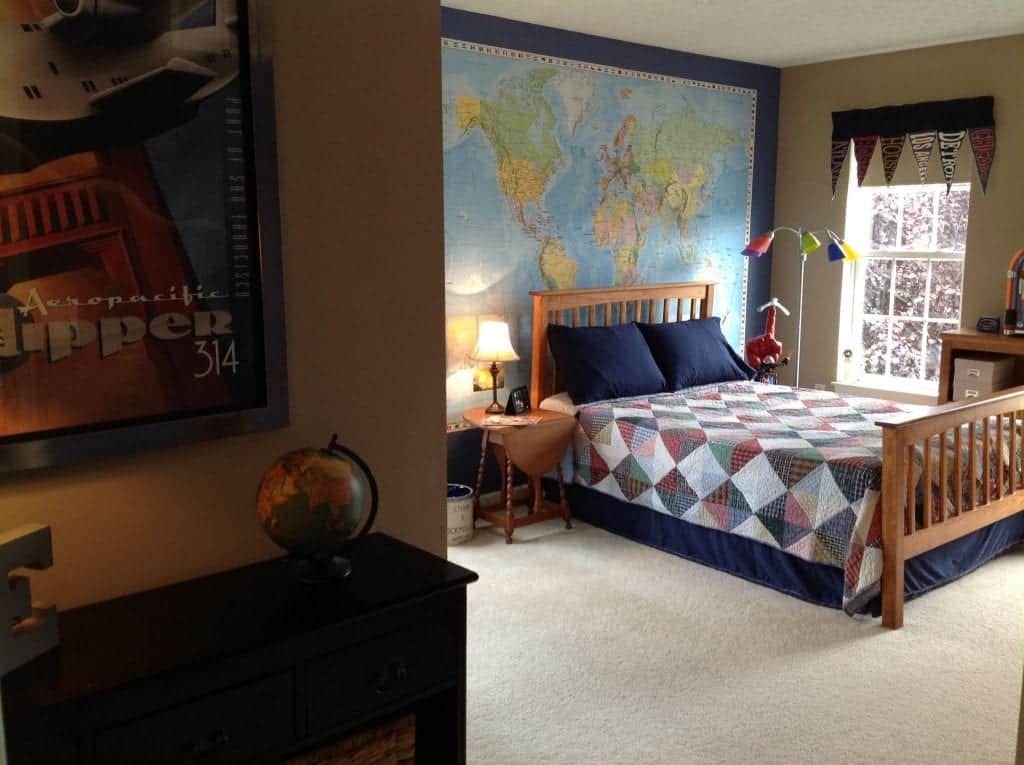 People like to see that real families live in your home. At the advice of a realtor, I converted my son's room into a gray, staged and boring room for the sake or resale. I regret it! It became a forgettable room that looked builders-grade. And it ended up becoming a room that no one had an opinion about. It was the safe route…it didn't necessarily hurt us. It just become blah and boring.
The Real Numbers
I will share our numbers in terms of our home's value (not to be confused with our profit, we did ok there, too!) By updating the interior, our home increased in value by $98K over the original purchase price thirteen years ago. Not too bad! Here is how we got there…
We got lucky // I will admit that some of the value increased due to sheer luck. The lucky part is I built this house in an area that was on out outskirts of town. New housing developments popped up nearby (lucky!) and helped increase the value of our older neighborhood. Our interior improvements helped us capitalize on that opportunity.
We adjusted our strategy // One part of the "strategy" part is that I chose to build in a great school district. Without our upgrades, our sale price would have been flat, or very close to our original purchase price. Our full DIY investment over six years of focused home improvement is about $35K. We spread that budget across the entire house and updated every room (instead of spending it in a single kitchen renovation). So in terms of a home sale and our appraised value – we gained $63K just on the value side of the equation. We did all of our upgrades between paychecks and out of pocket with no bank financing. To keep a pulse on what upgrades were priority, we occasionally requested a CMA (cost market analysis) from a local realtor. This helped us adjust our home improvement strategy and reallocate our limited budget so we could update our house with resale in mind.
***
I hope you find this helpful. In our next house our renovation budget is even smaller. We are basing that on the slow increase in market resale we are seeing in our new neighborhood. So it will be interesting to see how far we can stretch our dollar and what projects make the final cut as we renovate for our own enjoyment, but also with resale in mind!