Wainscoting is my favorite architectural element in a home. Whether you are building a new home or in the market to buy an existing one, don't discount wainscoting as an impossible, difficult or too-expensive option. On the contrary…it's one of the most inexpensive and easiest DIY upgrades you can tackle. (We know this now after upgrading our entire builders grade home!)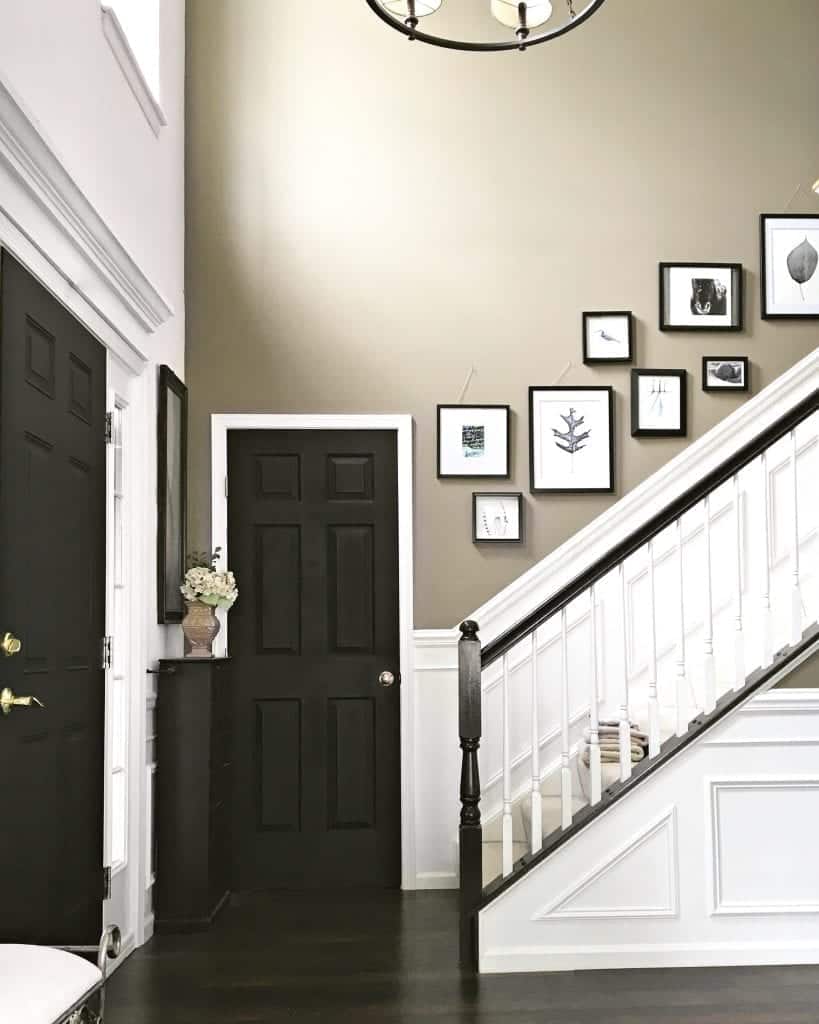 Our house needed a little something in our entryway. In fact, my entire blog is dedicated to giving each and every corner of our house an easy, quick and inexpensive upgrade. So if you are facing a similar dilemma…I hope you'll stick around!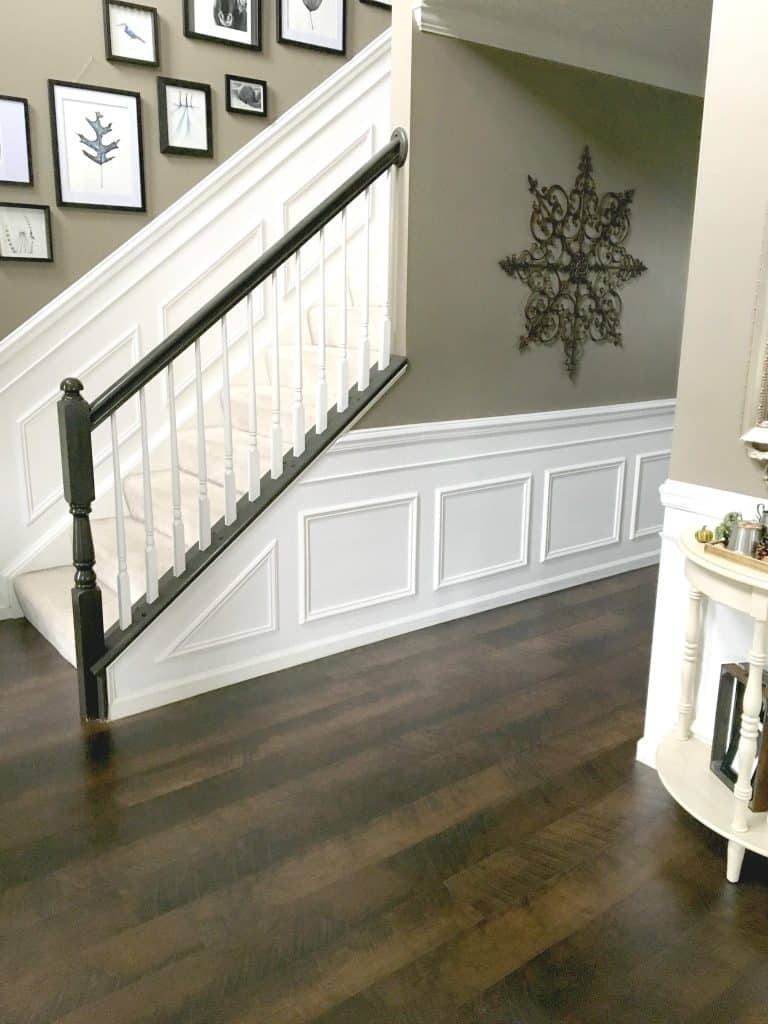 For this initial project we added wainscoting to the right and left walls in our foyer.
DIY Wainscoting Tutorial
colonial style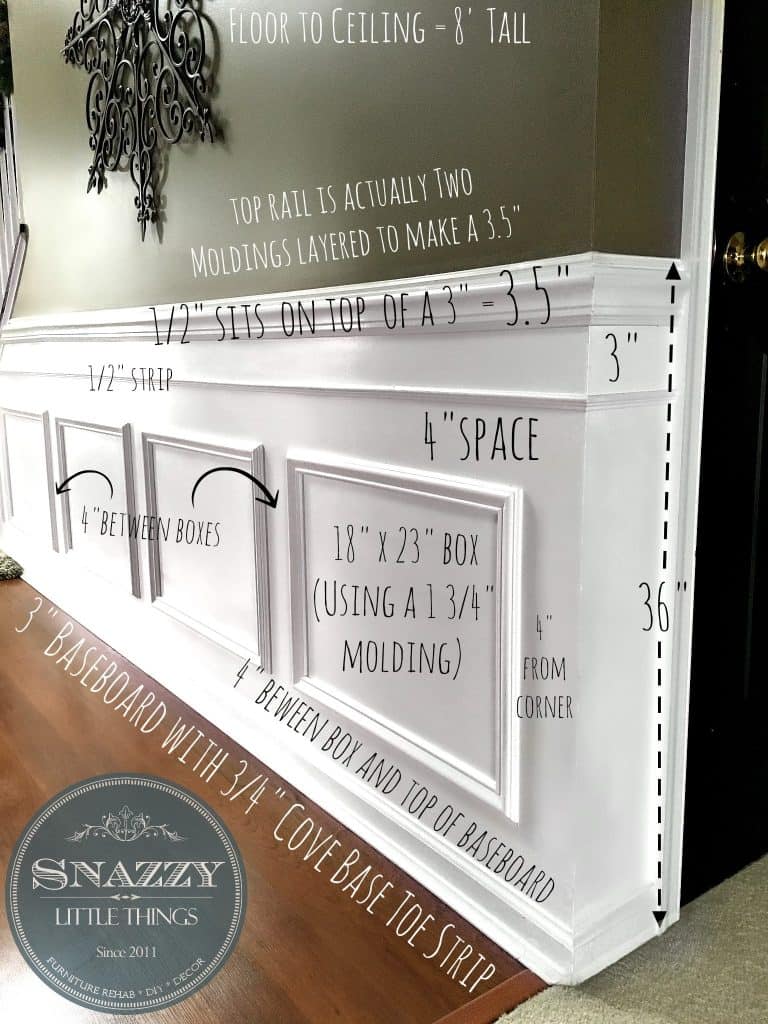 Total Cost: Depends on your space, but our initial 2 foyer walls cost under $500.
Time Involved: One weekend (with the right tools and a good tutorial)

(affiliate links included throughout this post to make this project simpler for you)

Chop saw – learn how to cut 45″ angels
A Level
Finishing nails
Nail gun
A pencil to draw lines on the wall
Caulk with wet cloth to wipe excess
Primer
Paint of your choice. We went to Home Depot and purchased Behr Semi Gloss White Interior Paint.
Recommended Tutorial: I followed this tutorial. But much of our wainscoting project was just "eyeing it up" to see what looks best in our space.
Eventually we added more wainscoting up the stairs but we saved that for another day.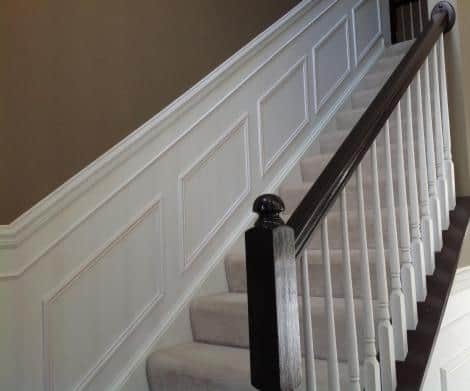 When I built this home, adding trim, crown moulding and wainscoting was a $30K "upgrade" to hire the builder to do it. So it was an easy decision to DIY this project. Instead I invested my budget in square footage upgrades in lieu of cosmetic projects that I could do myself later.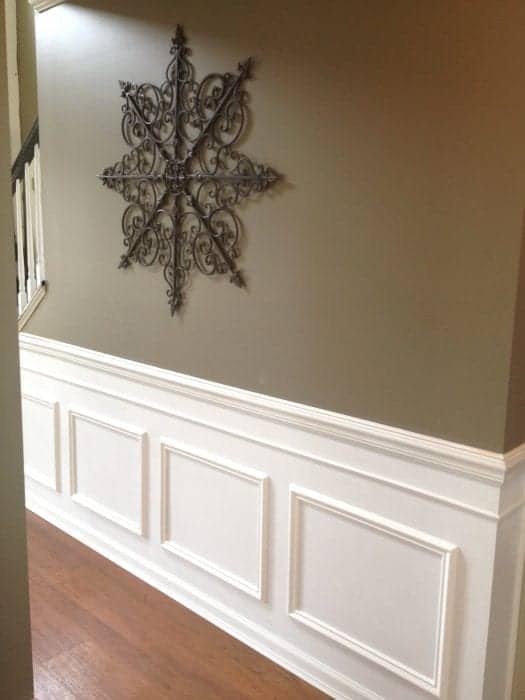 I tackled this mostly on the weekends or at night (after work). Yes, I did this myself! What got me pretty far along was this tutorial which outlines the process pretty well. This is a very visually intuitive process. Once you master how to cut 45 degree angles and remembering which angle to cut then you're set. Any gaps, you simply fill in with caulk and smooth it with a wet cloth. It immediately closed all the gaps and made the wainscoting look like it was part of the house for years.
Caulking Tip:
My trick for caulking? I use a bathroom caulk since it expands/contracts more effectively with the varying humidity inside of my home. You simply lay a bead of caulk along the gaps and corners, then use a wet cloth to push the caulk down into the gaps and create a finished seam. Then use the same rag to clean up the excess. It fills the gaps and trims out the piece beautifully.
I filled the nicks in the wall with a nail filler and a scraper. Then I sanded and primed. Eventually we continued installing wainscot around the corner where the basement door is (on the right). Note the front door is still white in this picture, and the oak railing painting project hadn't taken place (yet).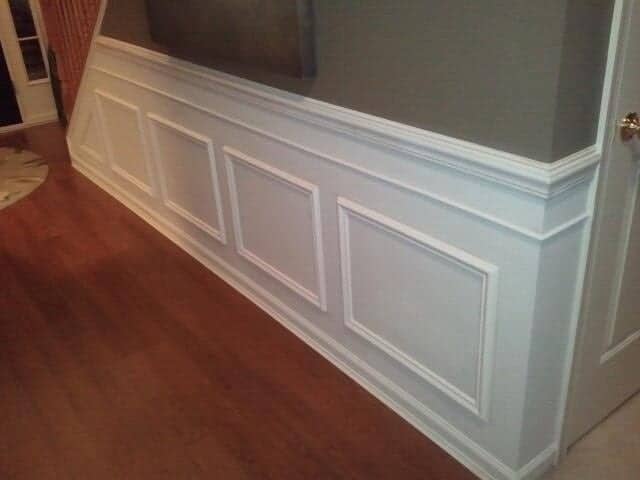 As I did this project, I was shocked to find that the "studs" in the wall were not the standard distance. It was a trick finding a stud to nail into. I would highly recommend using a stud finder to avoid placing multiple holes in your walls.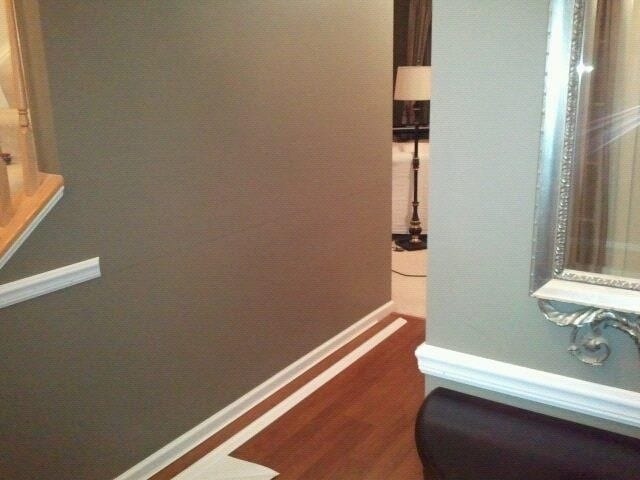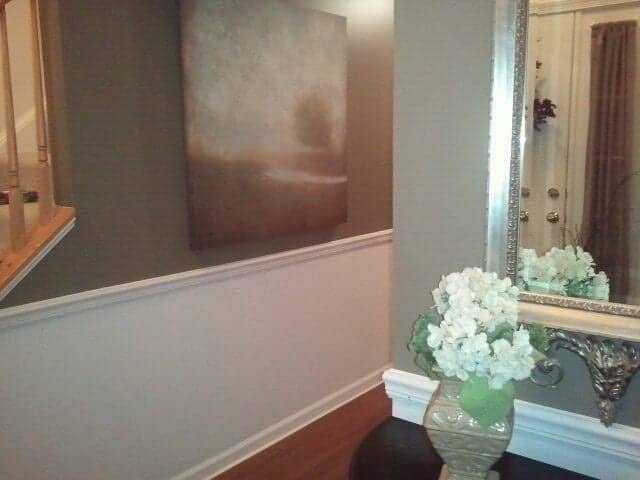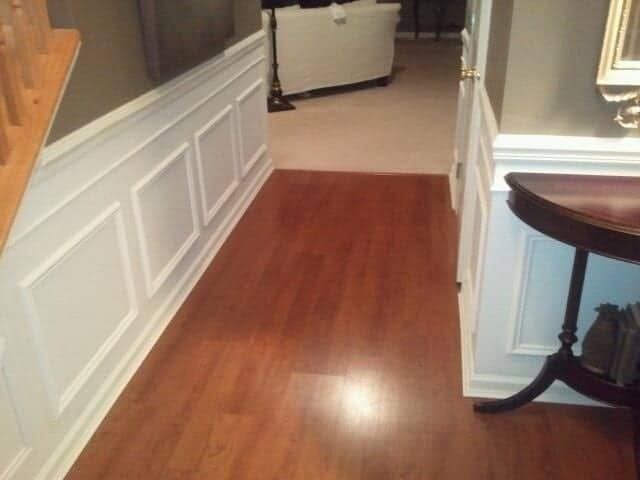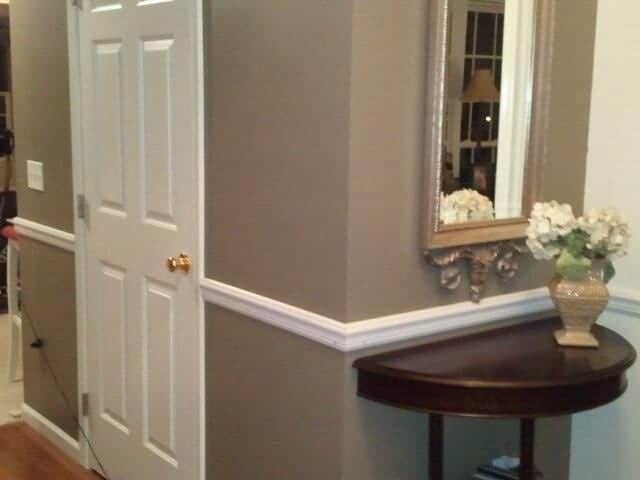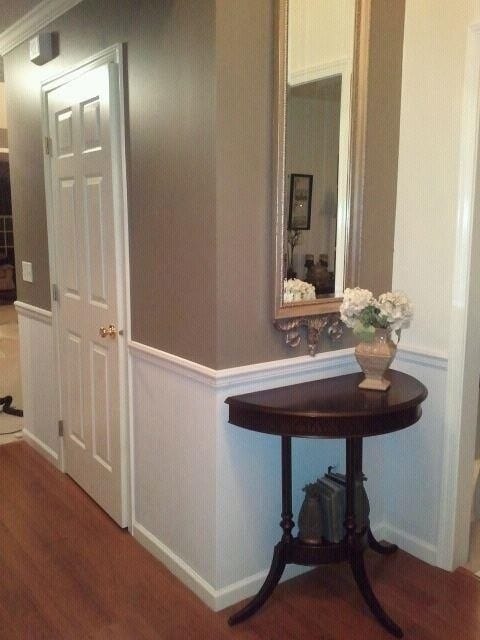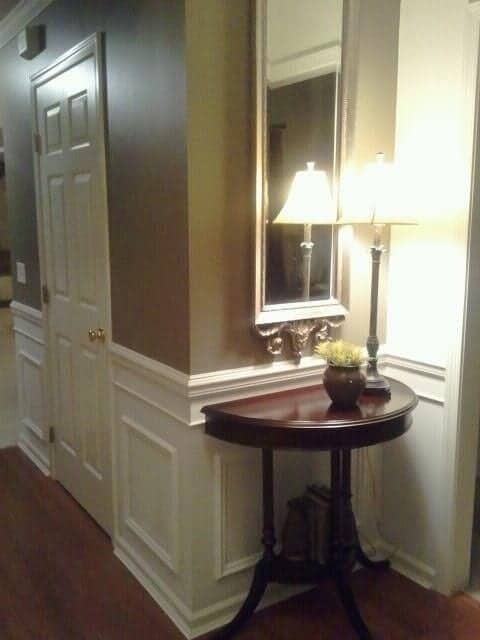 Before painting the front interior door black.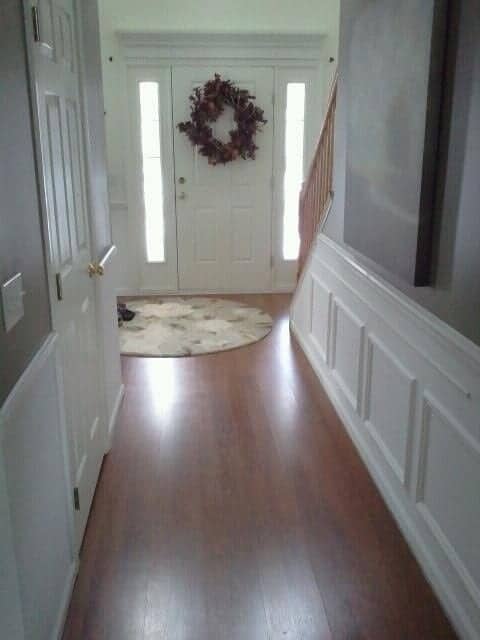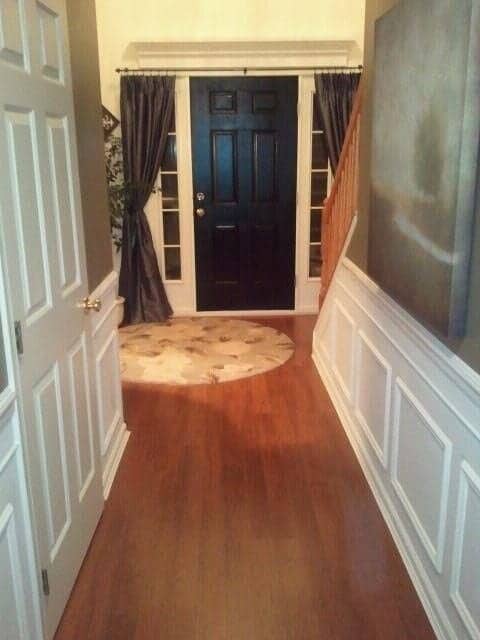 This convinced me that I wanted the rest of the interior doors black. What do you think?
We continued installing wainscot up the stairway and loved the results. What a difference! We couldn't stop staring at the results after the first weekend we did it!!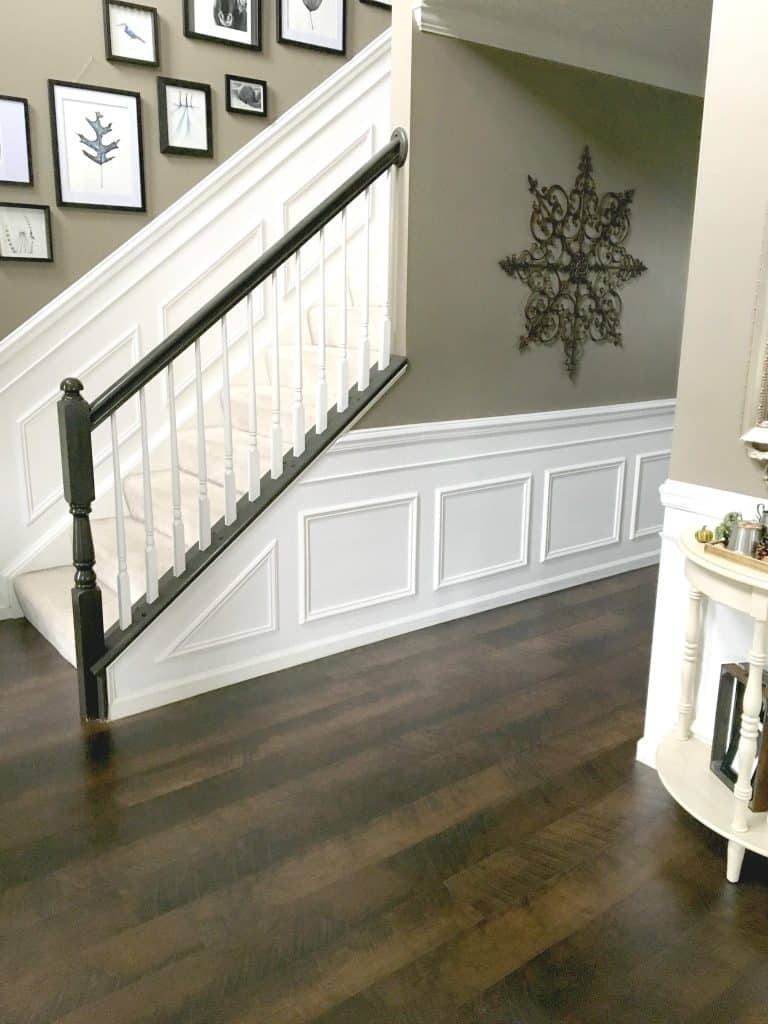 See all of our foyer & entryway projects:
There are many varieties of wainscoting to choose from, (an entire library can be found here).
We decided to go for a more classic version with colonial trim pieces layered throughout. There was no exact science to how we did our project. We did a lot of "eyeing up" the trim, experimenting with different layers until we ended up with the classic wainscoting look that we wanted.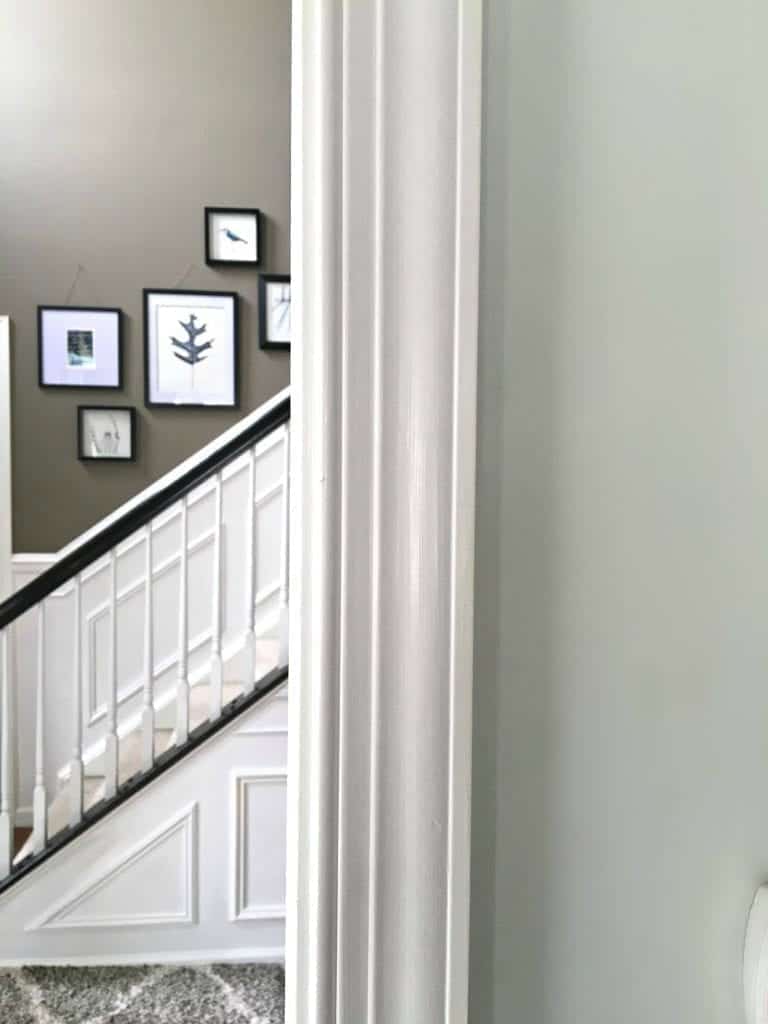 Some ask, "don't you think wainscoting will go out of style??" My answer? And emphatic "NO!!"
I have lived in many old brownstone apartments which were built turn of the century with not only classing wainscoting but also built-in cabinetry, arched doorways, leaded glass cabinets, old radiator steam heat. I would say this architectural style is quite possibly is here to stay.
PIN IT!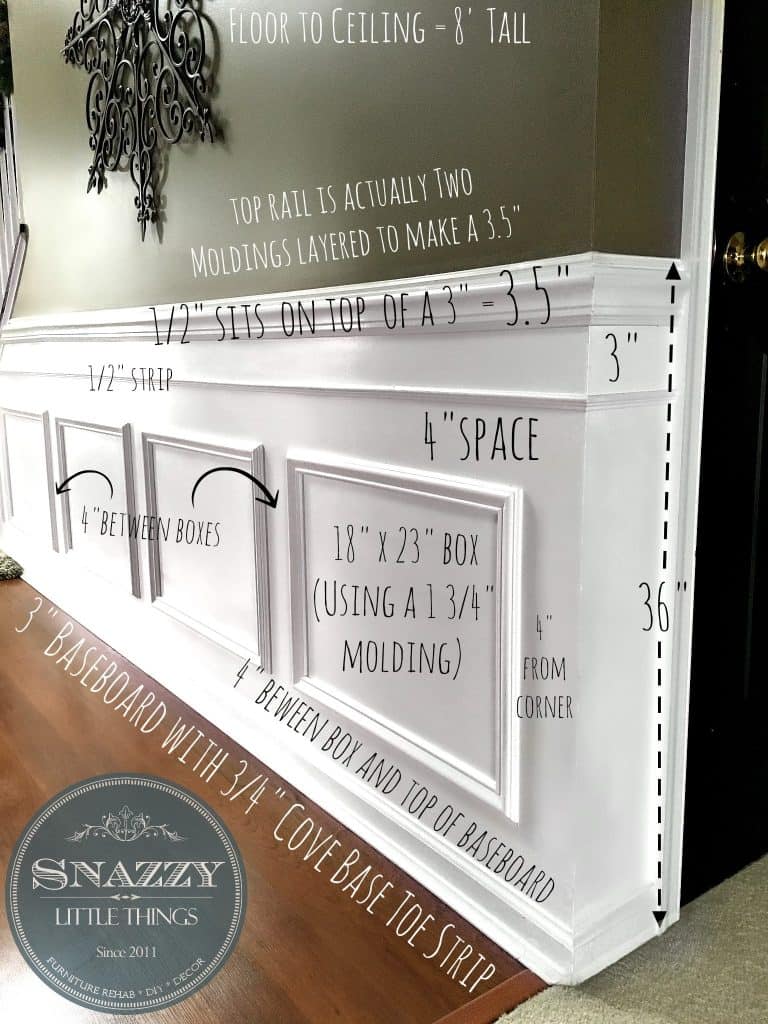 ---
SHARE YOUR PROJECT PHOTOS!
If you found this project on Pinterest or Stumbleupon, welcome! If you're one of many people that tried out our tutorial, I'd love to see YOUR results. Post your images below and let us know if we can make any improvements to our tutorial. Good luck!