Two Story Foyer Upgrade: Add Faux Frieze Molding
In architecture the frieze /ˈfriːz/ is the wide central section part of an entablature and may be plain in the Ionic or Doric order, or decorated with bas-reliefs.  – source, Wikipedia
Perfectly styled model homes are so fun to walk through, but they certainly can deceive you and your budget. By design, the "hook" is to get you to fall in love with the model. Once you sit your happy self down to write the contract, you fall out of your chair upon learning that the model is about $100,000+ more than the base price. (I didn't fabricate that number, by the way. The beefed up + embellished model home in our development was almost $140K above the base price).
So, what makes up that crazy number? Everything you had already fallen in love with in the model home. Whomp..whomp…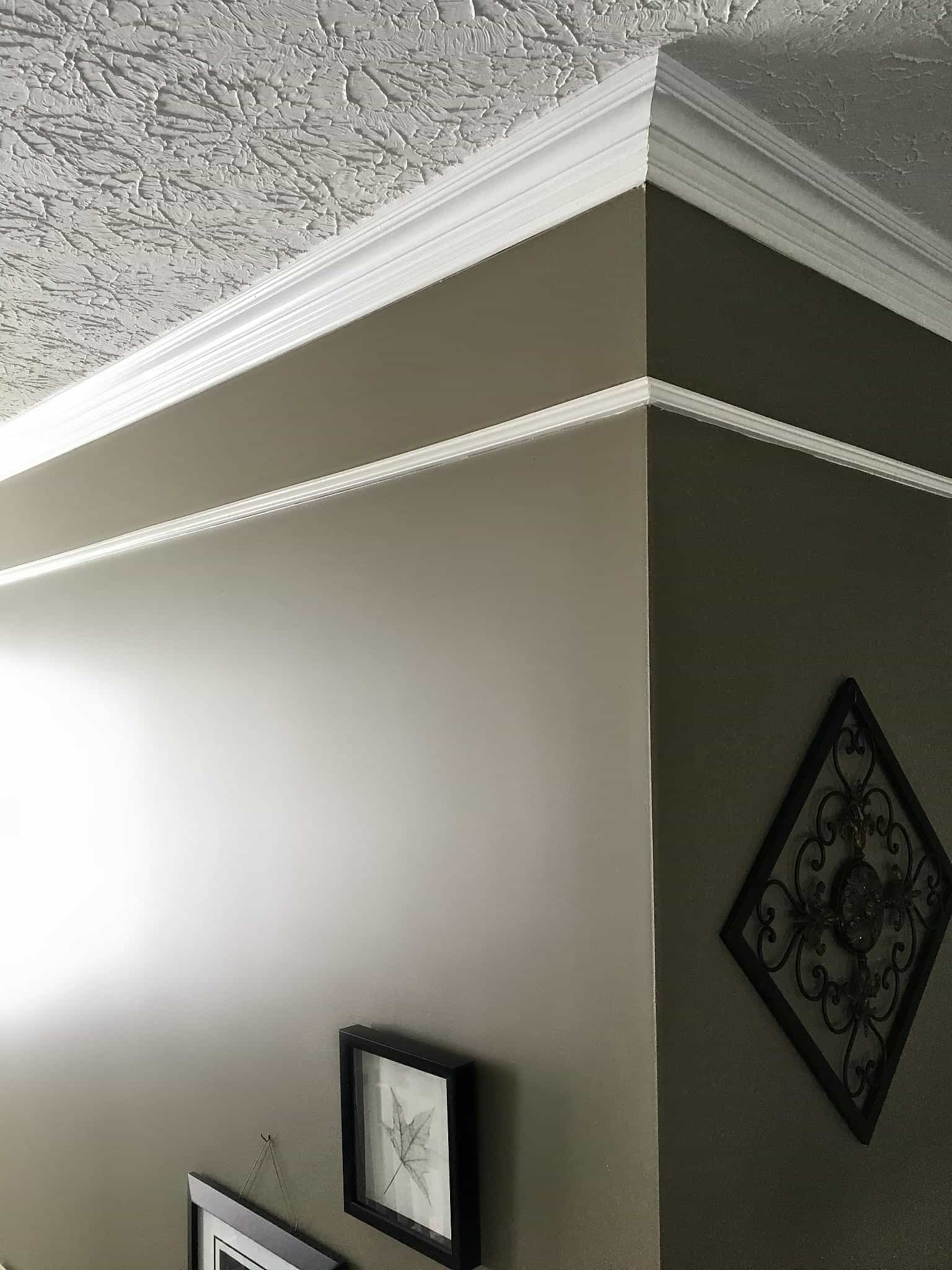 Faux Frieze Molding
in our two story foyer
I built a white box with no upgrades, and we started with faux frieze molding in the two-story foyer. For several years, we didn't have the right ladder to do any projects in that space. For this project, we hired it out because since we were both working and couldn't dedicate the necessary time.
Showing you a shot at the top of our stairs even though there is a missing piece of molding. I can't remember if this got knocked off, or if we ran out mid-project…but nonetheless, you can see we're only human and back around to finishing things (eventually)! Also, we have doors filled with stickers upstairs, too (note, to my daughter's room). Someday I'll paint these doors black but I'm ok with  letting kid-things happen here for now :) If I do paint the outward facing door black, I'll keep her interior door white (for more stickers!)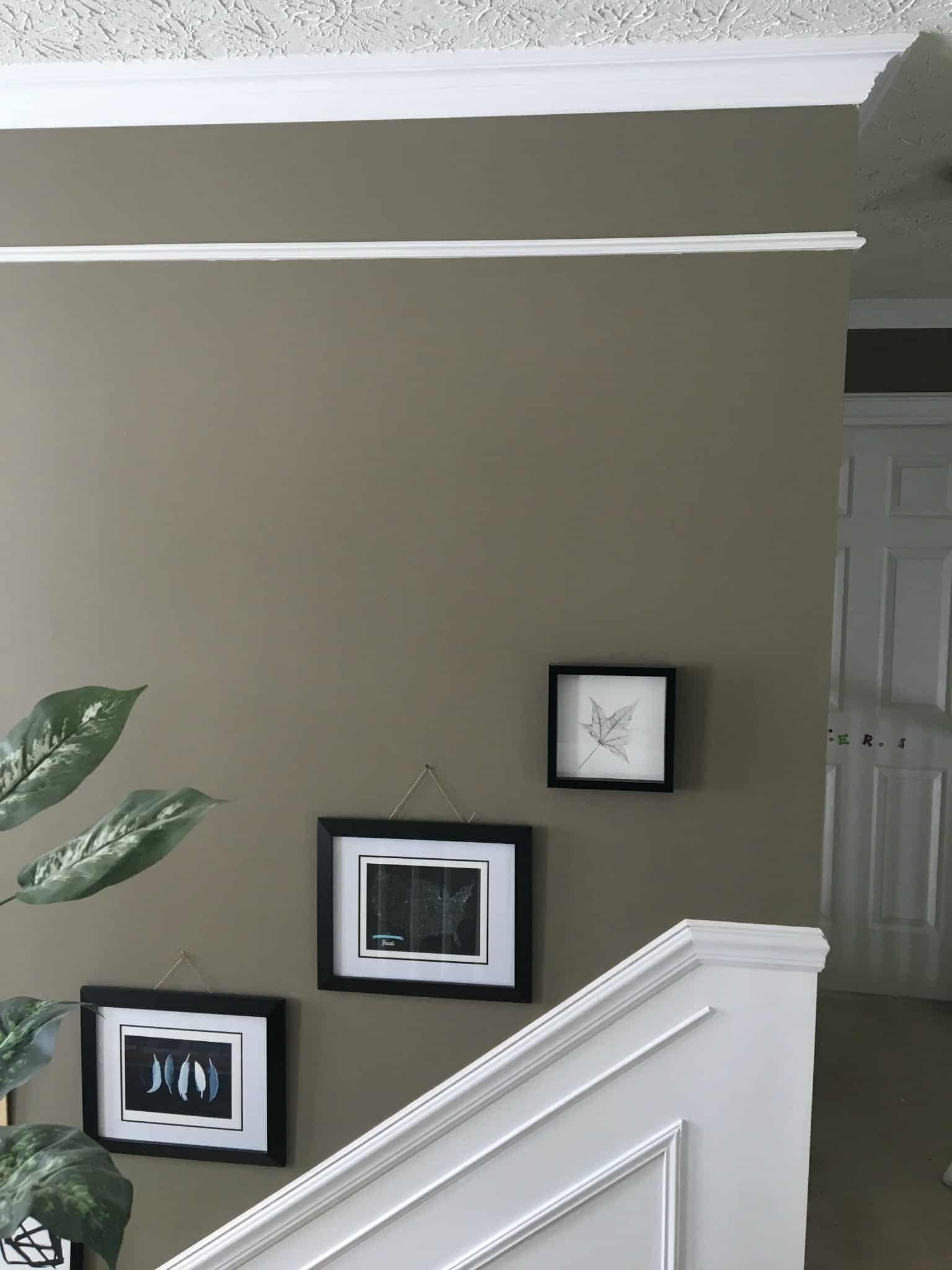 Aside from the kids' rooms, I haven't spent much time on upgrades upstairs.  There is a landing with 1/2 finished railing (still painting this). But that's on my radar to complete this spring. The landing is a space that always seems to be the laundry overflow, or it stays clean for a minute…then gets messy again.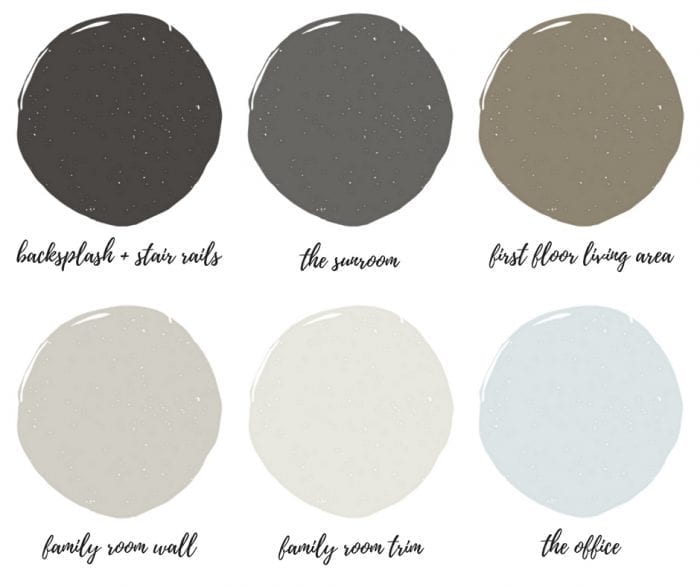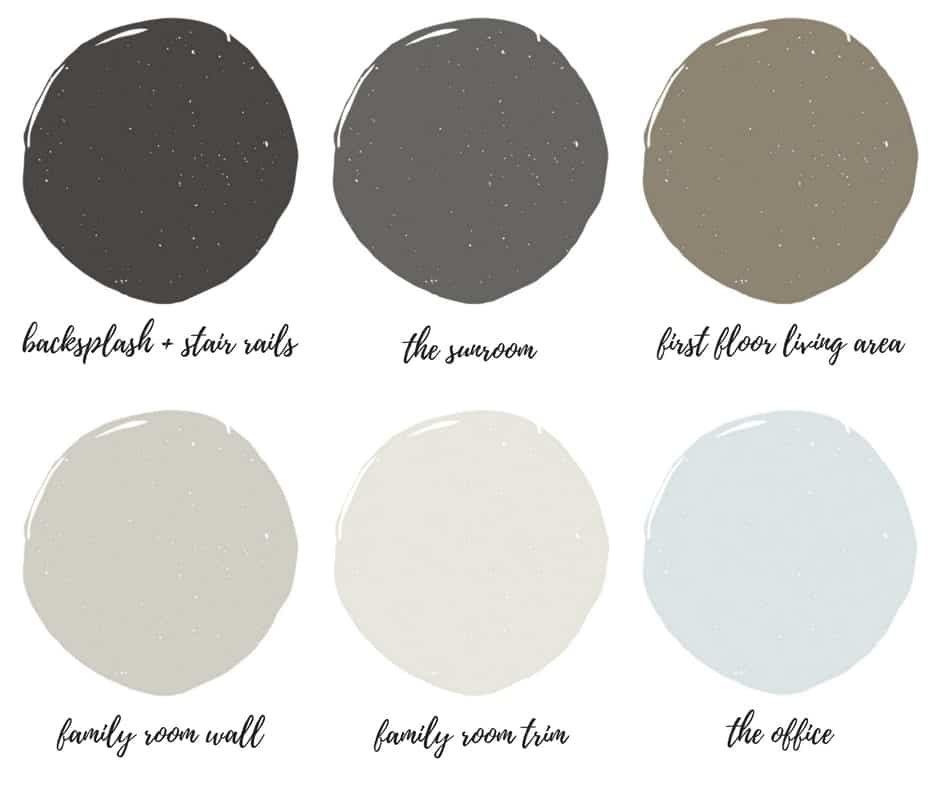 Below is an older picture of the same space. My photography skills have improved quite a bit since then…
Another older photo. I'm still unsure what to do with these windows which are technically on the second floor, but we need a ladder to reach them. If I put up window coverings would get dusty really fast. Any suggestions?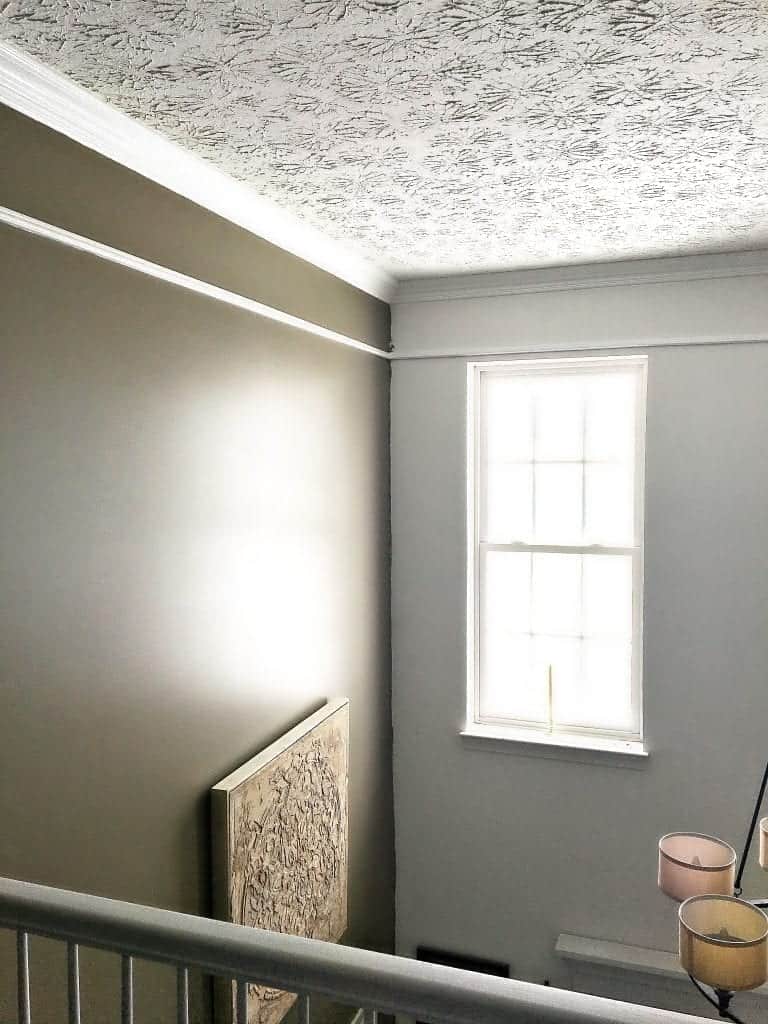 Looking out over the balcony at the molding – near my son's room.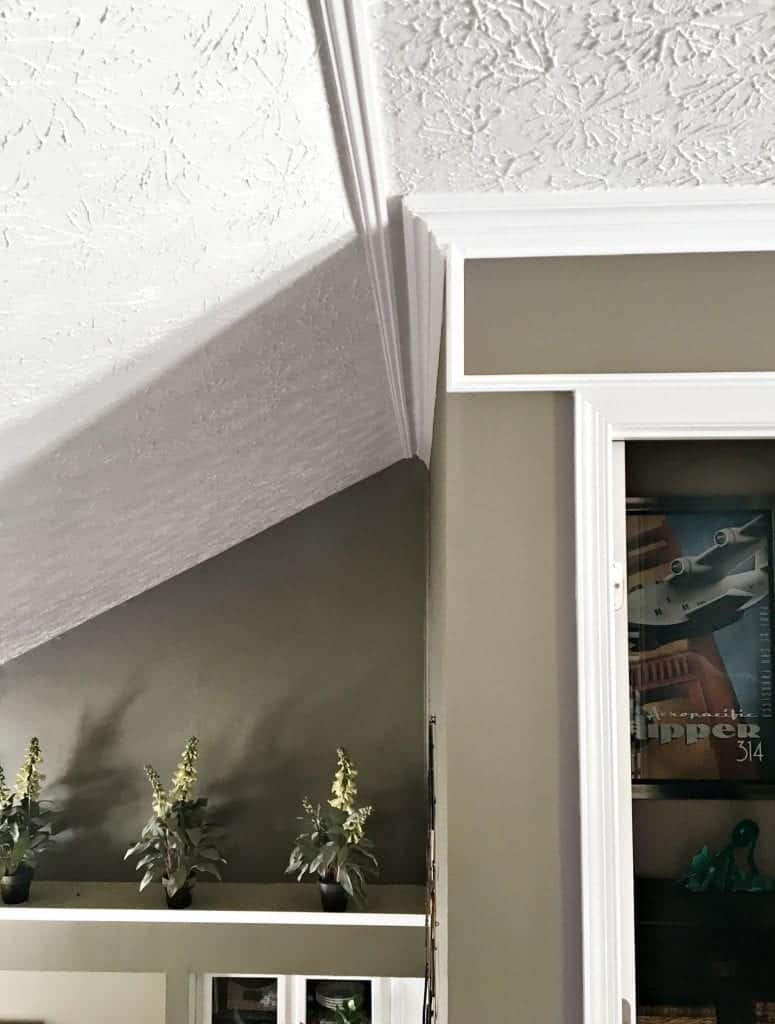 Similar view as above but from downstairs. I still feel like I'd like more molding above the kitchen, or even some old wood framing the opening to the kitchen.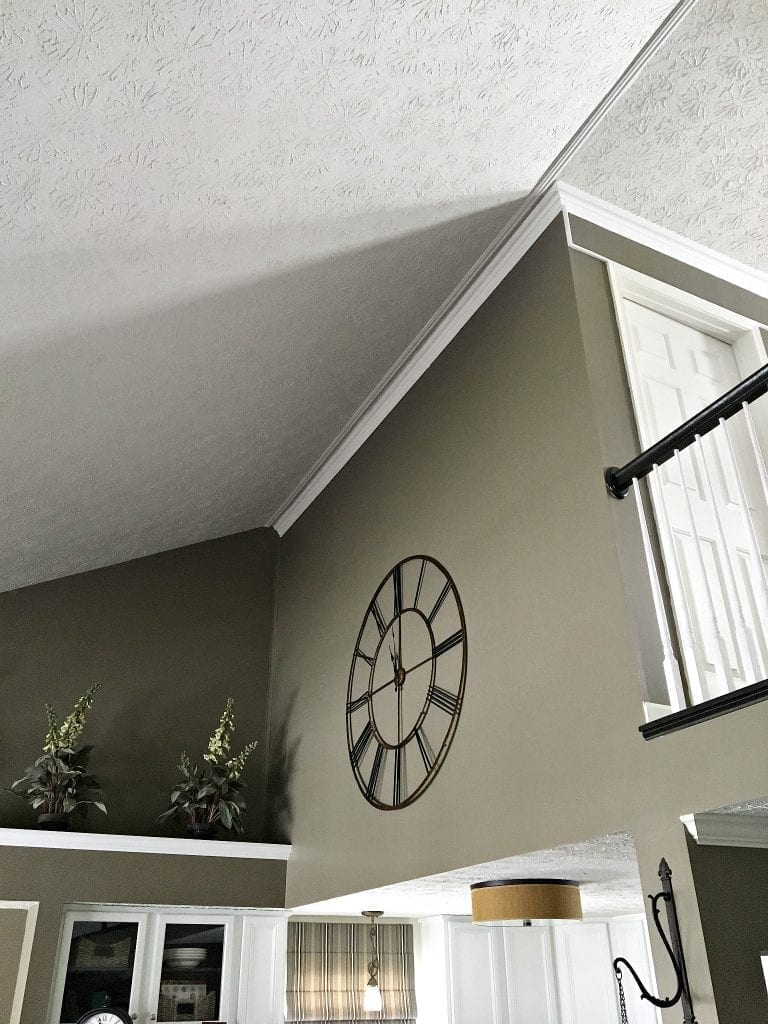 This isn't frieze but a crown piece that we installed at the top of the open shelf. We installed this in the same way you normally would install crown at the ceiling.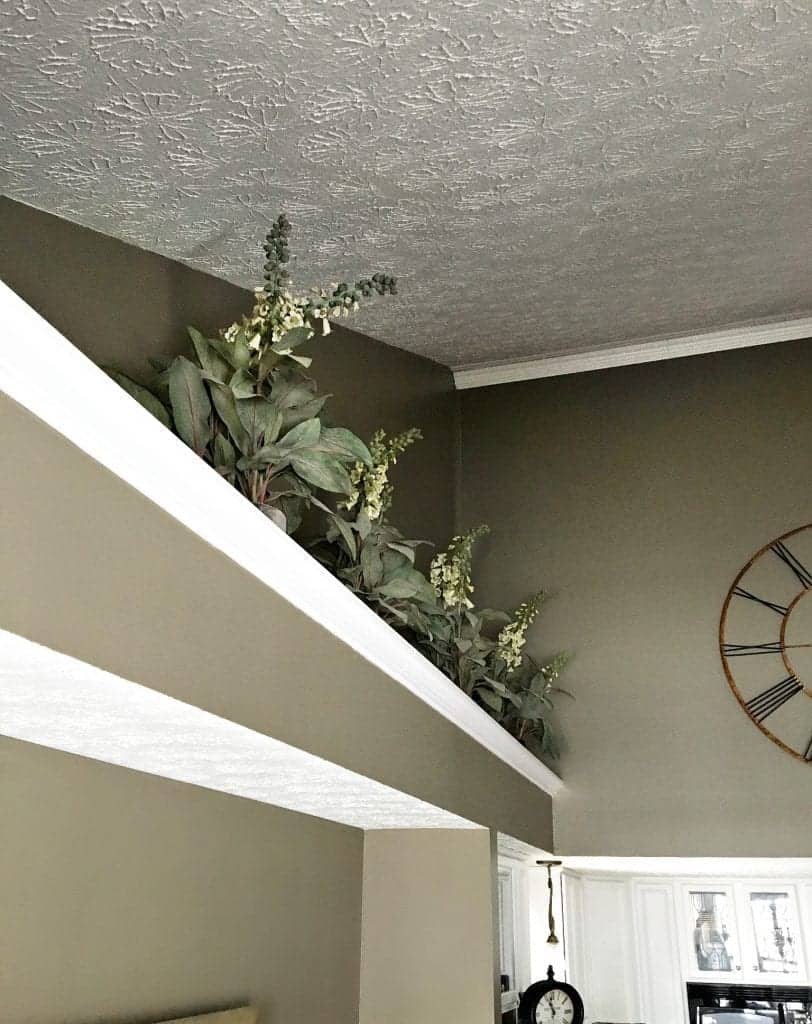 Once this frieze molding project was finished we installed the wainscoting to finish off the foyer.
So imagine — all of this entire space was builders-grade white with no molding. I built my home without the fancy upgrades and had a plain white box. To pay the builder for the molding upgrade package would have cost around $20K or more.
This frieze molding project cost about $700 (hired out to a contractor) including the two story foyer wall paint.
This post was originally posted in March of 2012. Updated with new photos Jan. 2017!