Paint Colors: Our Whole-Home Palette
So today I'm sharing my whole-home paint color palette with pictures and links for BOTH houses. Paint color questions are the most asked questions I get from readers, so I thought I would make it easy and create a MASTER post all about our paint, and will update it periodically as we make changes.
Our Previous House Colors.
The Esquire was the name of the floor plan for our previous house. Every room and the "before" photos can be enjoyed in our house tour. It was a labor of love, but we learned a lot about paint, how they behave in certain situations.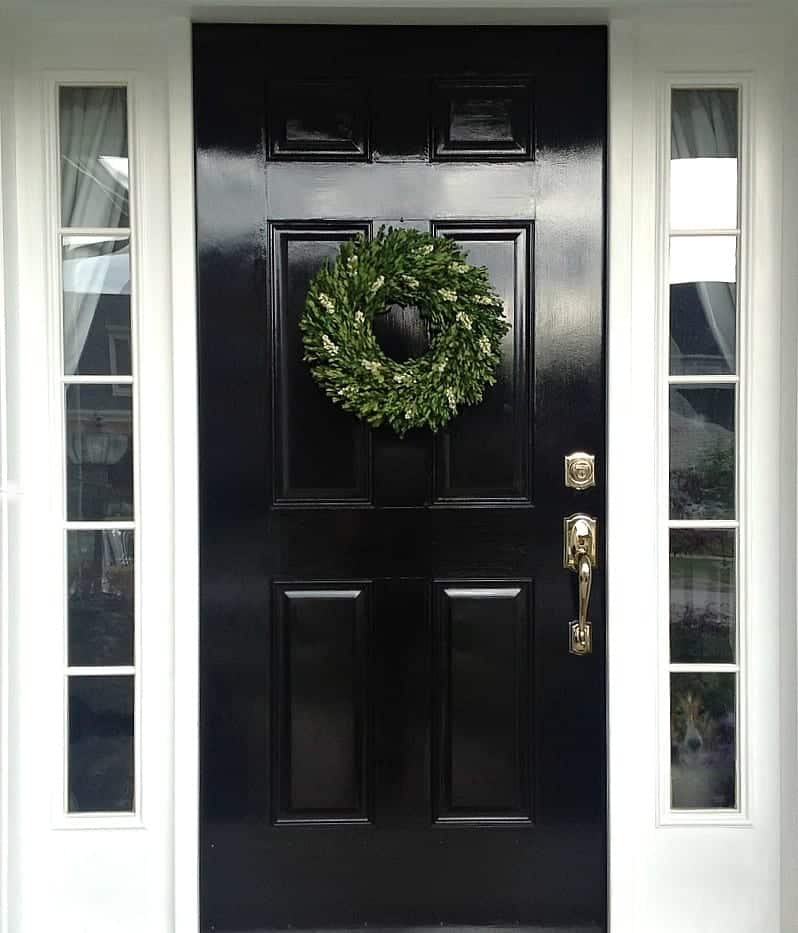 Black Door Paint in Previous House:
Rustoleum Professional High Performance Enamel: Black front doors are so classic, read my post about black front doors and what paint I used here.
---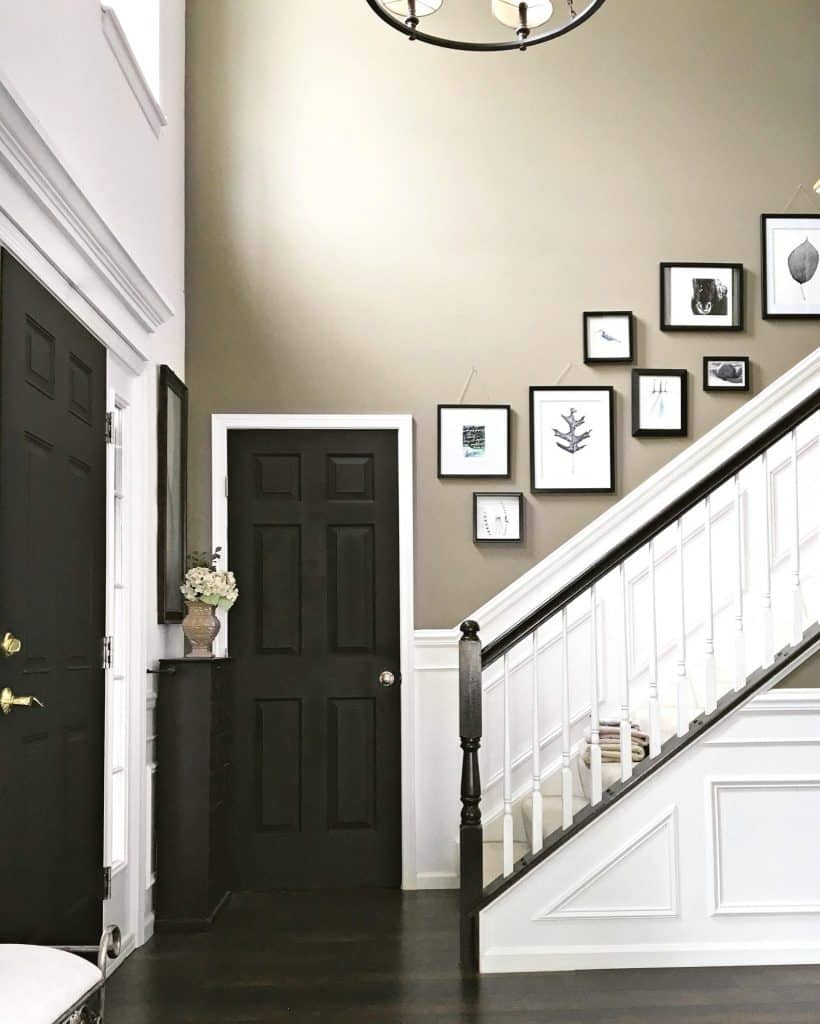 Paint Colors in Foyer & Main Living Area:
Discontinued, but this was on the can:
Lowes #0633 330-695-935 Tinter B
3/7/12 Valspar, Gallon Size, SR214, Moonlight Beach, Signature, Interior Satin Base 4
101-2Y, 107-2Y10, 109-14, 113-7Y28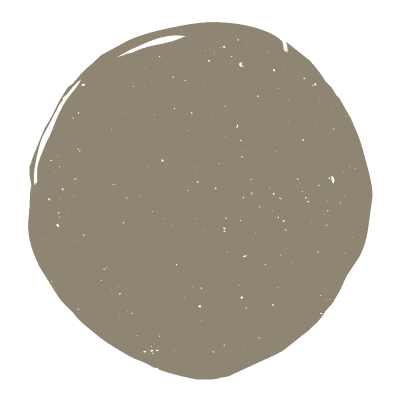 The entire first floor was painted primarily in Valspar, Moonlight Beach — but buyer beware!! Lowe's no longer carries it by name. Use the number I gave you above.
I love any hue with cooler undertones. For me, This color has a very "Zen" feeling to it, and while it's mostly a taupe, I swear I remember seeing blue undertones being added as they mixed the paint. This color was a last minute decision. I walked into Lowe's, my original intention was to opt for a safe choice…which was a lighter, non-dramatic color. But something about this darker hue was very comforting, so I went for it! Depending on how the light plays, the main living area always seems to look different. This is how I see my walls most days…a taupe-grey. But if the sun is shining directly in the foyer, that same color can look warmer and more brown on other days: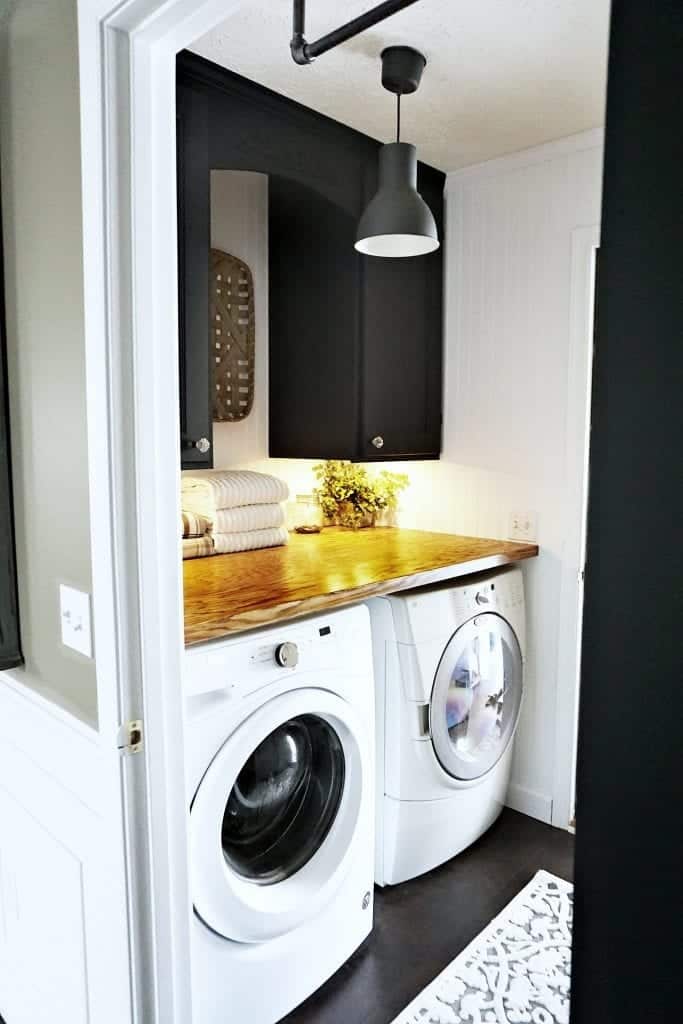 Paint Colors in Laundry Room
Cabinets: Iron Gate by Heirloom Traditions
Walls: Pegasus by Olympic painted on beadboard paneling
Wood Counter Top: Oak Plywood Stained with Early American by Varathane
Floors: Pergo Molasses Maple
Stair Railings + Kitchen Backsplash:
I first bought "Fired Earth" for the stair rail project. Later I was inspired to use it for the kitchen backsplash.
Both painted "
Fired Earth" High Gloss by Valspar
I bought a high-gloss finish for this project which glides right on. The wainscoting is a pure white in a paint specifically made for trim which comes in a satin sheen — a slight gloss makes it easier to keep clean but I still find I need to touch it up every year.
At first, I was considering black for our railing but it looked way too harsh. Then I found Fired Earth which provided just enough brown undertones to soften the look.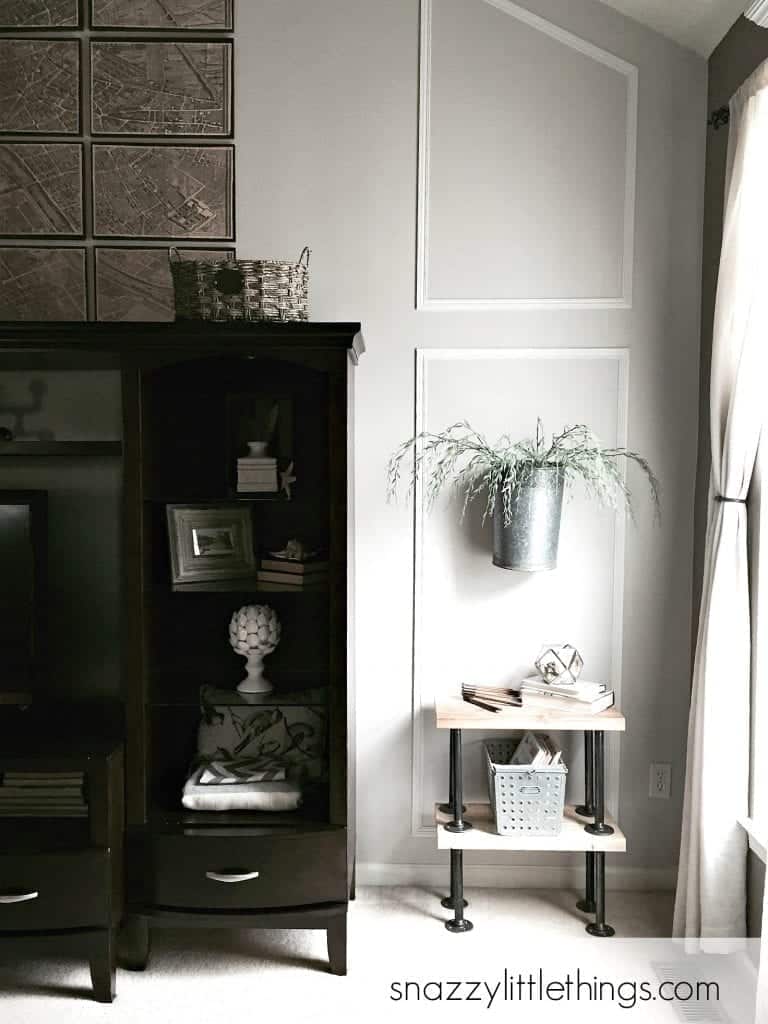 Paint Colors on Family Room Feature Wall
Grey Ghost by Olympic Paint + Stain (see the post)
Pegasus by Olympic Paint + Stain
To break up the monotony of Moonlight Beach, our two story feature wall in the family room was painted in Grey Ghost. I liked how it looked against the adjacent walls in Moonlight beach. We painted the trim in Pegasus which looks like a pure white when paired with Grey Ghost.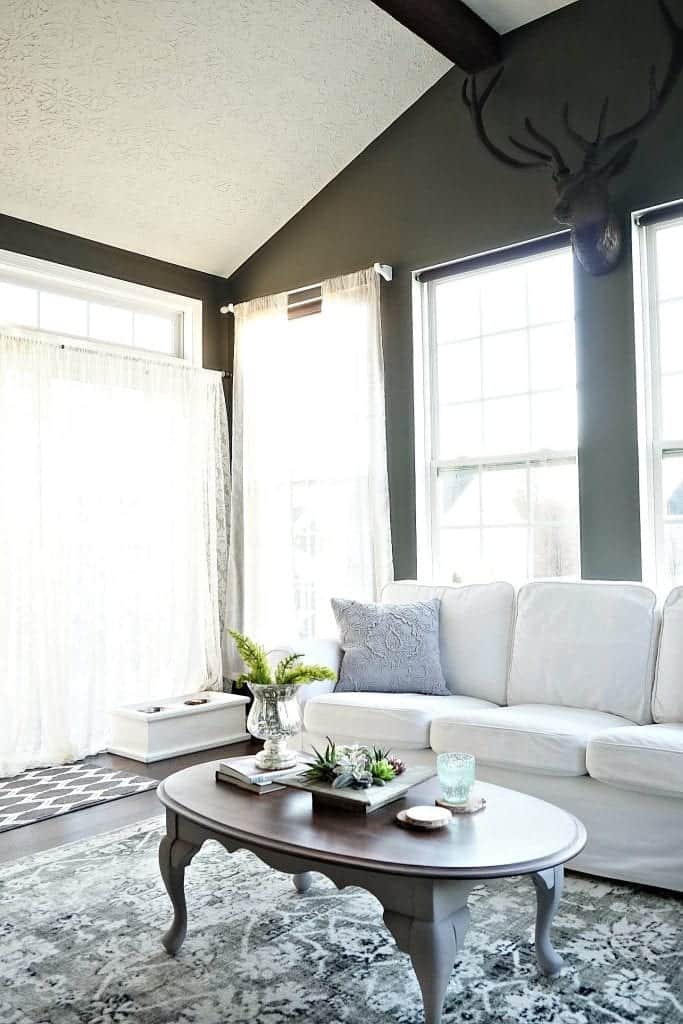 Paint Colors in Sunroom
I didn't get our sunroom quite right the first time around. It was painted a pale beige. I was always very sensitive to the "vibe" against the Moonlight Beach. While they didn't clash, they didn't complement each other perfectly, either. I wanted something a little more bold and dramatic. And this new, bolder Kendall Charcoal from Benjamin Moore definitely offered the cooler undertones that I crave.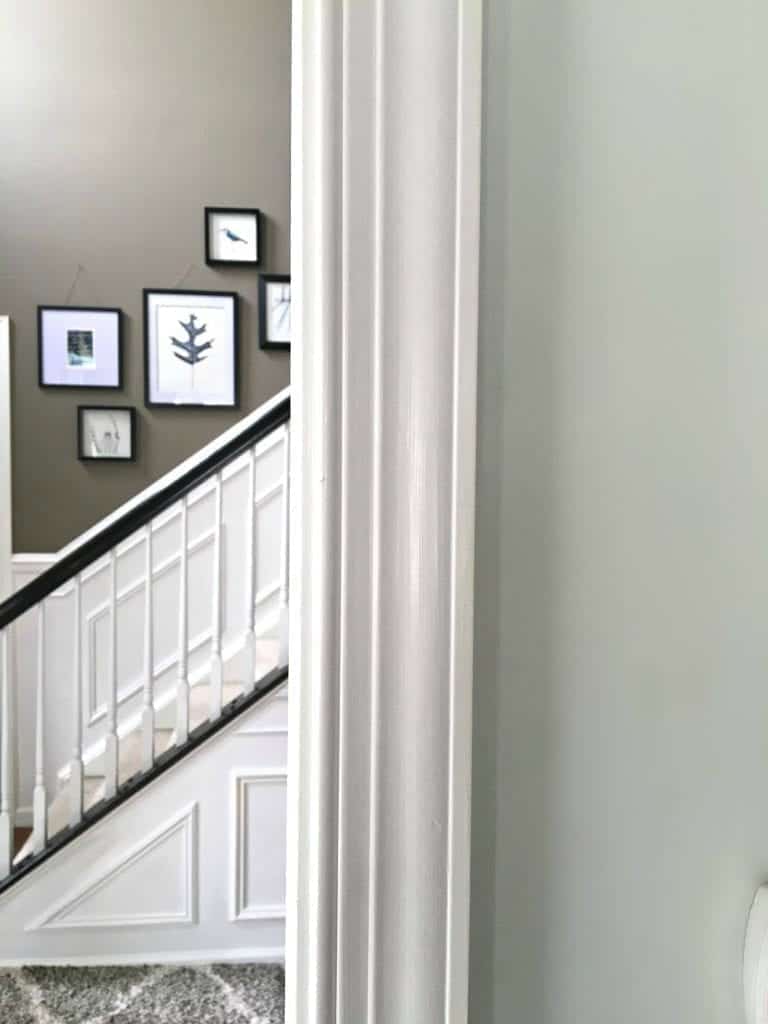 Office / Dining Room
"Austrian Ice" Olympic Paint + Stain. I find grey-blues very soothing and a perfect complement to the darker, bolder colors in the rest of the house.This was painted years ago, and again the original paint color is no longer and I can't find the original paint can. But this one is very close. Austrian Ice by Olympic is very close.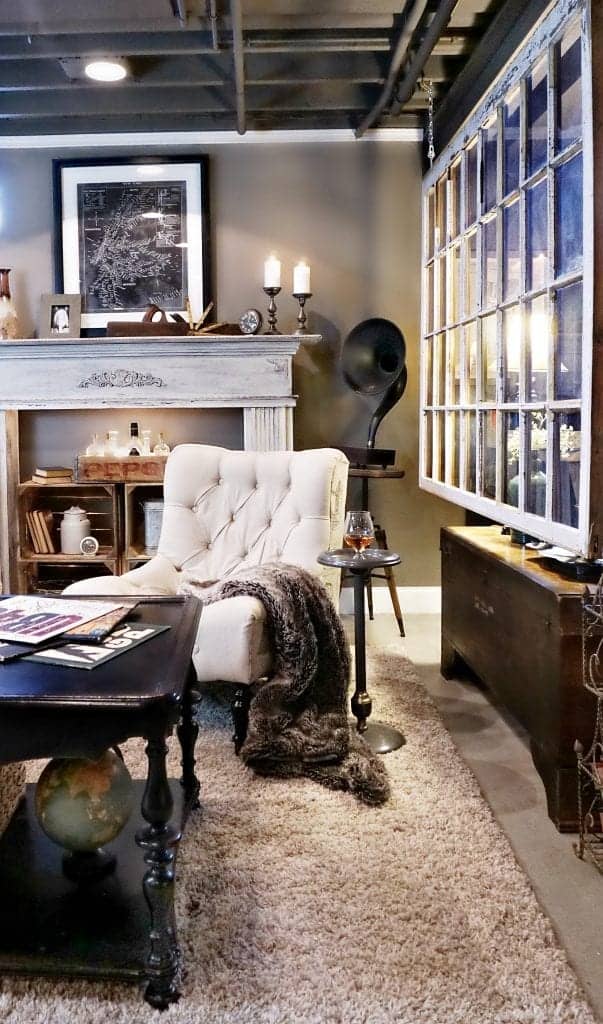 Paint Colors in Basement
I am asked quite often, and all I can offer are photos of the paint can covers. I totally forgot to write the names of them down.
---
Paint Colors in the New House
We moved into our new house in August 2018. Our goal was to go lighter and brighter at a time when everyone else seems to embracing dark walls again. (I always seem to be off-trend). Lighter paint on the walls paired with darker furniture to add contrast and depth.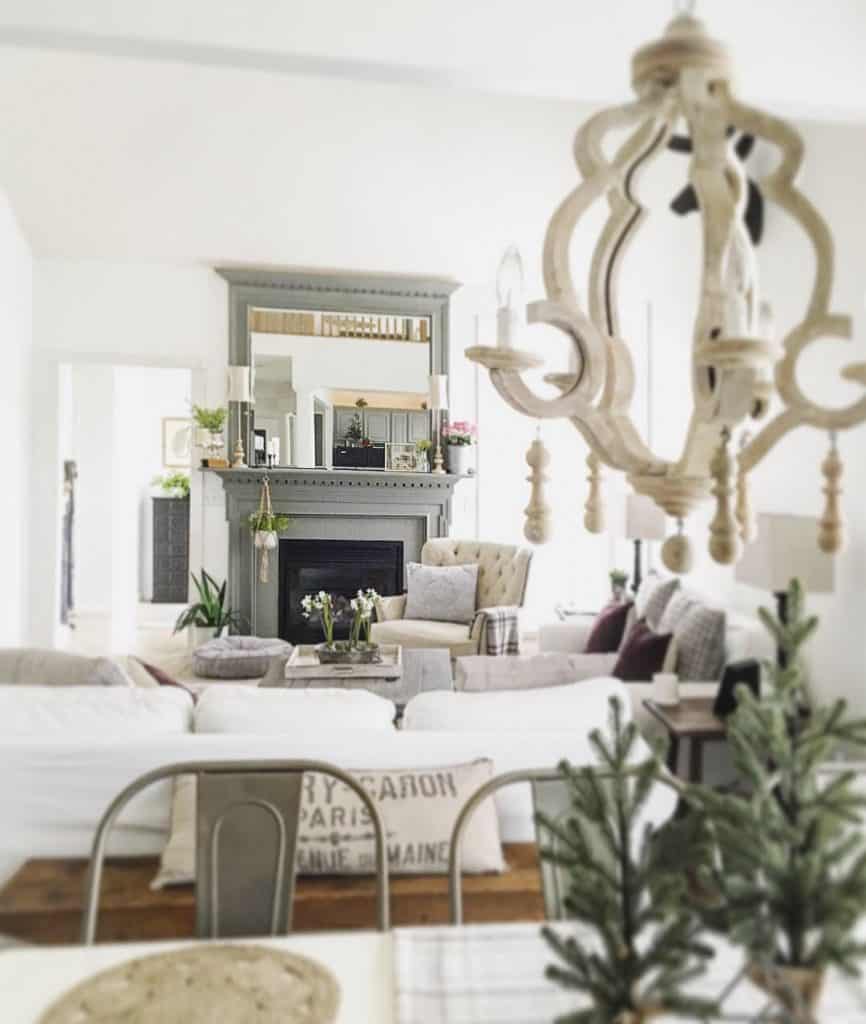 Paint Color First Floor:
"Simply White" by Benjamin Moore is what we chose for our first floor in the new house.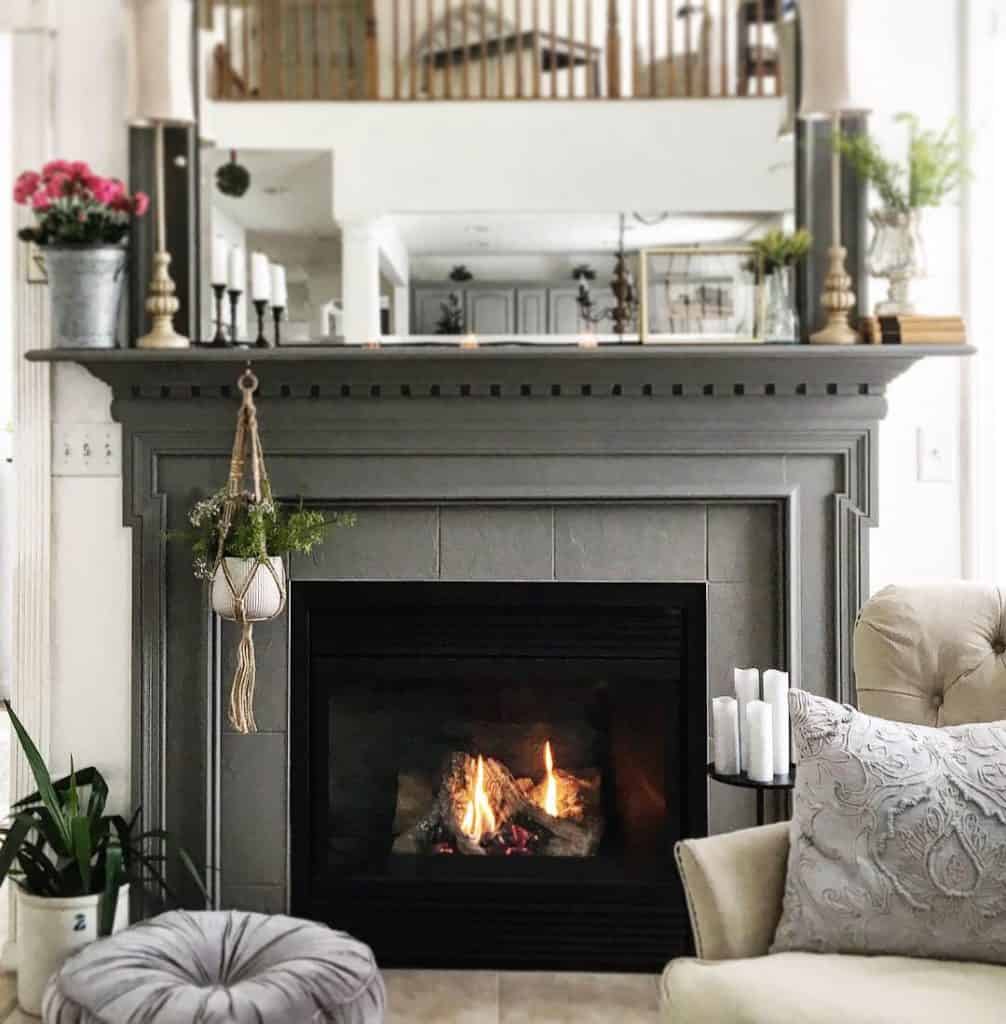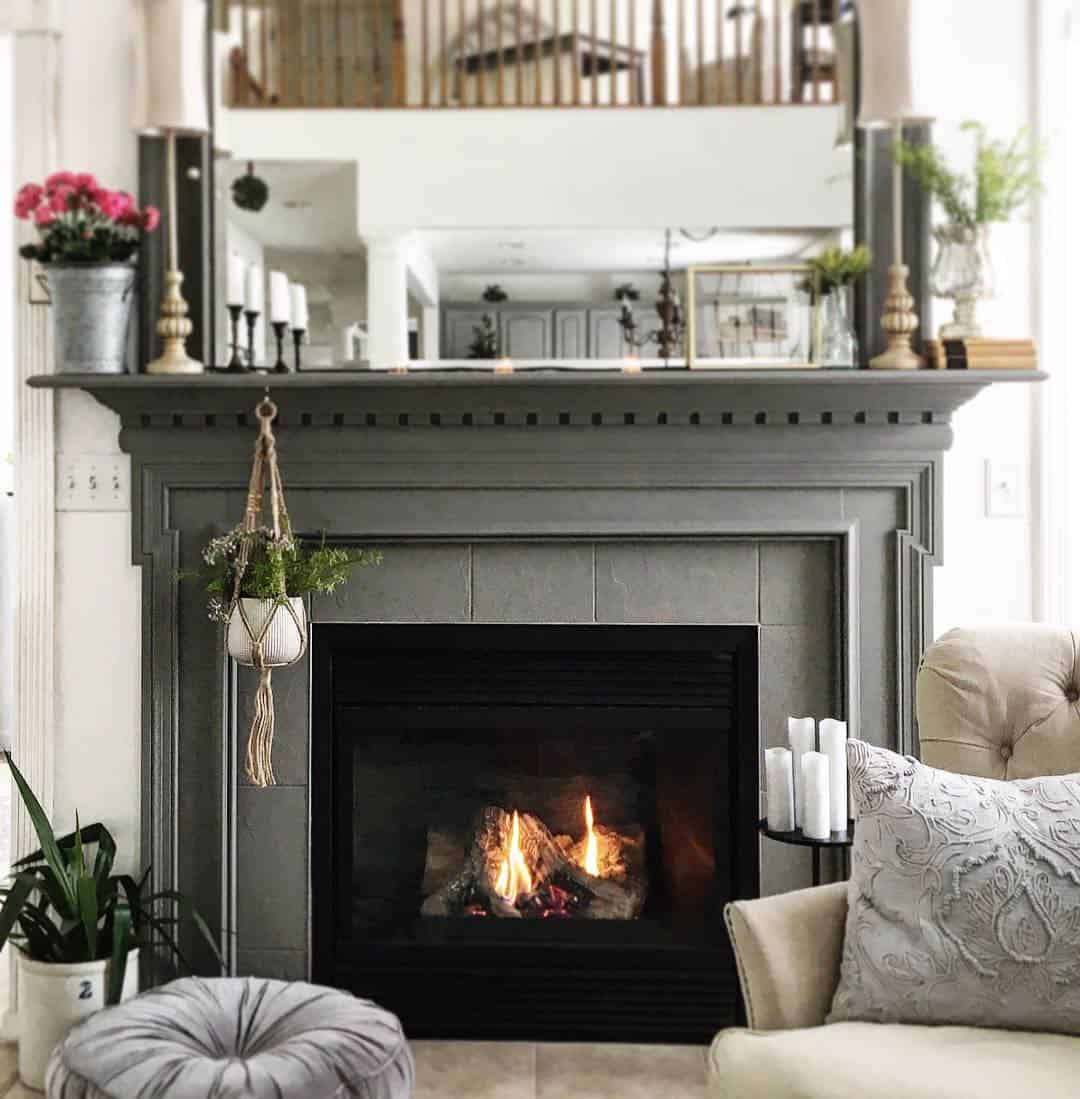 Paint Color Fireplace Mantel:
Garden Trowel by Magnolia (you can purchase it here) and you can see the before and after of the mantel transformation here.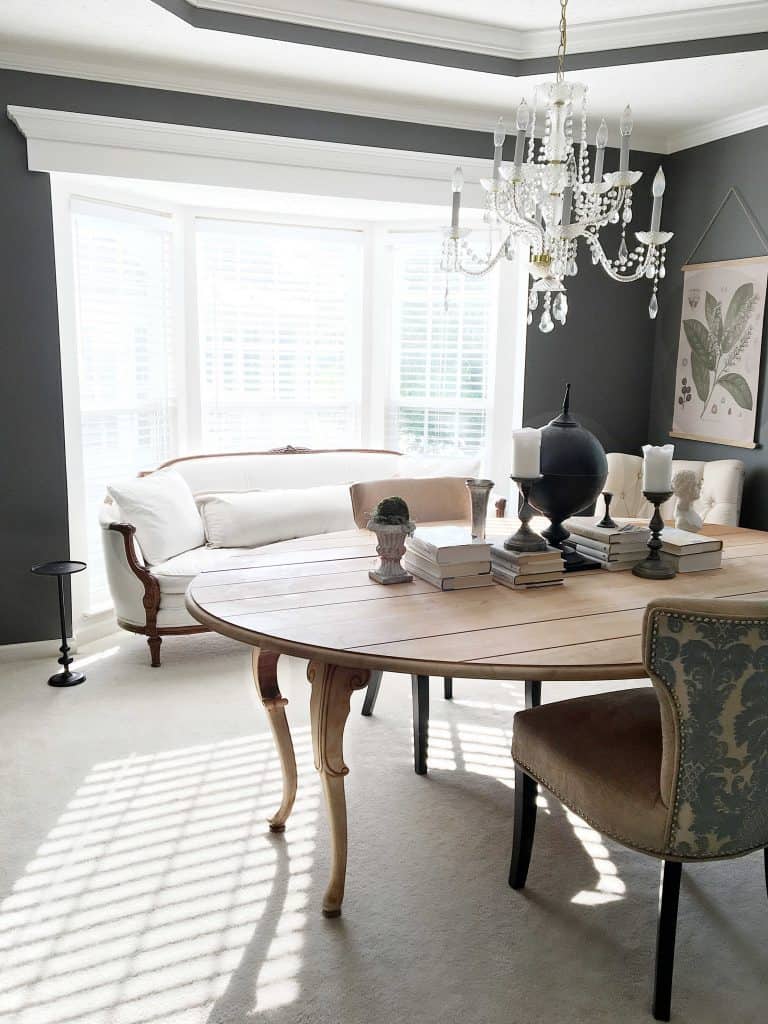 Paint Color in Dining Room
Paint Color in Dining Room: Kendall Charcoal. This was part of our foyer upgrade and we just kept going and painted this room too.
Choosing color is a big decision. I've made some wrong turns in the past — sometimes a color looks great in one season, but not in another. How a paint color looks in your home really can depend not only on the time of day, your physical location and the time of year, too!
Soon I'll share some tips on how I choose paint colors, but for now – how do YOU do it? What are your favorite paint colors these days!