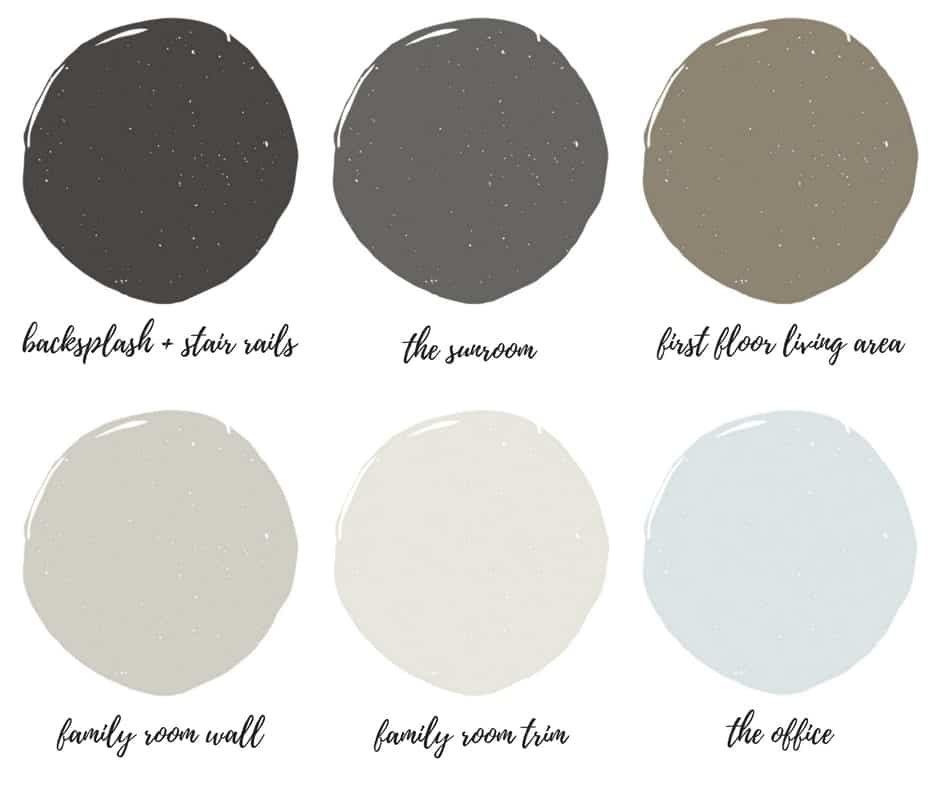 Majority of Our First Floor:
We have an open concept home, and I found that if you choose too many paint colors they tend to compete with one another, nothing looks cohesive and you risk having your home look like a patchwork quilt. I stuck with a single color in the main living area. In the adjacent rooms, I chose complementary paint colors with similar undertones in the sunroom and office.
The entire first floor was painted primarily in Valspar, Moonlight Beach — but buyer beware!! Lowe's no longer carries it by name. You will end up with the wrong paint color if you ask for "Moonlight Beach" — so you must print the number below:

Lowes #0633 330-695-935 Tinter B
3/7/12 Valspar, Gallon Size, SR214, Moonlight Beach, Signature, Interior Satin Base 4
101-2Y, 107-2Y10, 109-14, 113-7Y28
I love any hue with cooler undertones. For me, This color has a very "Zen" feeling to it, and while it's mostly a taupe, I swear I remember seeing blue undertones being added as they mixed the paint. This color was a last minute decision. I walked into Lowe's, my original intention was to opt for  a safe choice…which was a lighter, non-dramatic color. But something about this darker hue was very comforting, so I went for it! Depending on how the light plays, the main living area always seems to look different. This is how I see my walls most days…a taupe-grey. But if the sun is shining directly in the foyer, that same color can look warmer and more brown on other days:
Stair Railings + Kitchen Backsplash:
Fired Earth by Valspar
I tend to reuse paint in various parts of our house. I first bought "Fired Earth" for the stair rail project. Later I was inspired to use it for the kitchen backsplash. I bought a high-gloss finish for this project which glides on. The balusters are still just primed in white. The wainscoting is a pure white in a paint specifically made for trim which comes in a satin sheen — a slight gloss makes it easier to keep clean but I still find I need to touch it up every year.
At first, I was considering black for our railing but it looked way too harsh. Then I found Fired Earth which provided just enough brown undertones to soften the look.
Painted French Kitchen

Two Story Feature Wall
Grey Ghost by Olympic Paint + Stain
Pegasus by Olympic Paint + Stain
To break up the monotony of Moonlight Beach, our two story feature wall in the family room was painted in Grey Ghost. I liked how it looked against the adjacent walls in Moonlight beach. We painted the trim in Pegasus which looks like a pure white when paired with Grey Ghost.
Grey Ghost Olympic Paint
Pegasus by Olympic Paint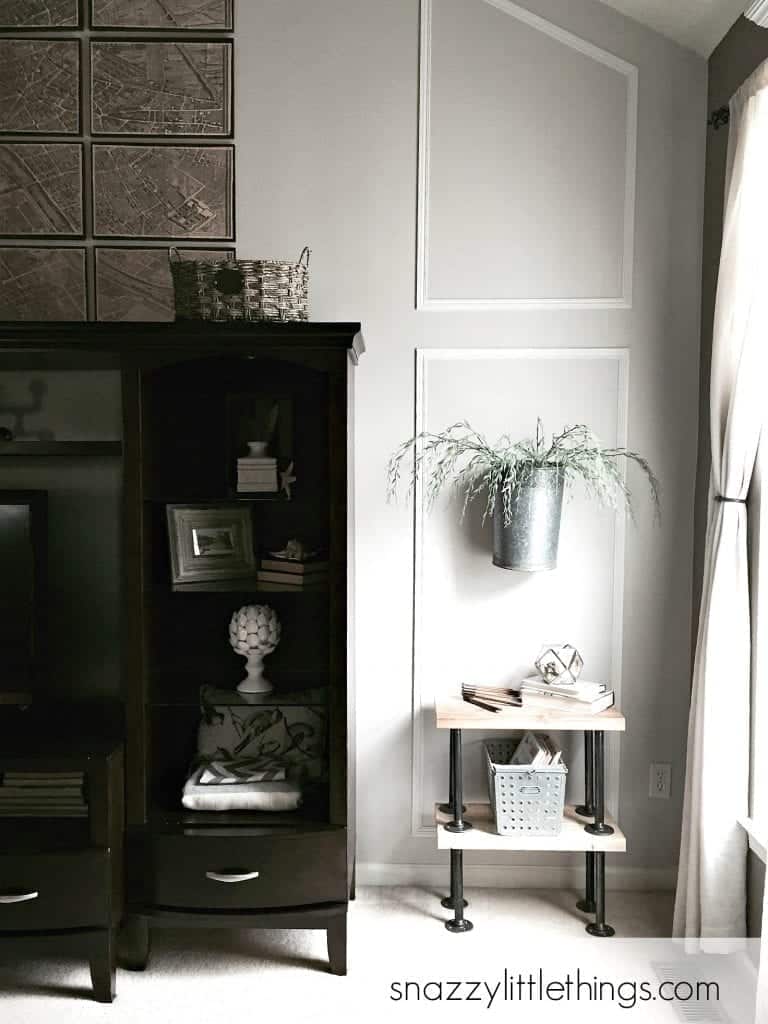 Family room feature wall paint project
The Sunroom
Walls:  Benjamin Moore, Kendall Charcoal

Wooden Beams:  Dark Walnut Stain by Varathane
I didn't get our sunroom quite right the first time around. It was painted a pale beige. I was always very sensitive to the "vibe" against the Moonlight Beach. While they didn't clash, they didn't complement each other perfectly, either. I wanted something a little more bold and dramatic. And this new, bolder Kendall Charcoal from Benjamin Moore definitely offered the cooler undertones that I crave.  And I found it on one of my favorite blogger's sites, you can click here to see how it looks in her home which is just beautiful!
The Office / Formal Dining Area:
Austrian Ice, Olympic Paint + Stain
This was painted years ago, and again the original paint color is no longer and I can't find the original paint can. But this one is very close. I find grey-blues very soothing and a perfect complement to the darker, bolder colors in the rest of the house.
Swatch of the entire living area: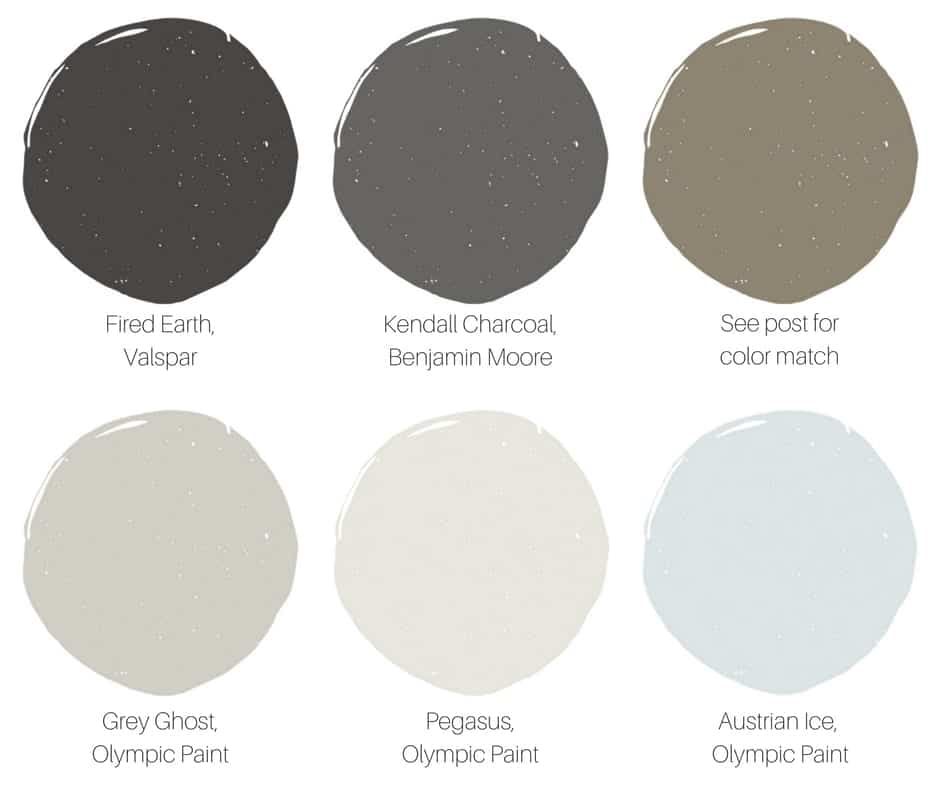 Choosing color is a big decision. I've made some wrong turns in the past — sometimes a color looks great in one season, but not in another. How a paint color looks in your home really can depend not only on the time of day, your physical location and the time of year, too!  
Soon I'll share some tips on how I choose paint colors, but for now – how do YOU do it? What are your favorite paint colors these days!
Pin It!