Our corner fireplace mantel made sense out of an awkward corner and made our bedroom so much cozier. We built ours using a kit, but expanded the shelving above the mantel. You can choose an affordable mantel kit here!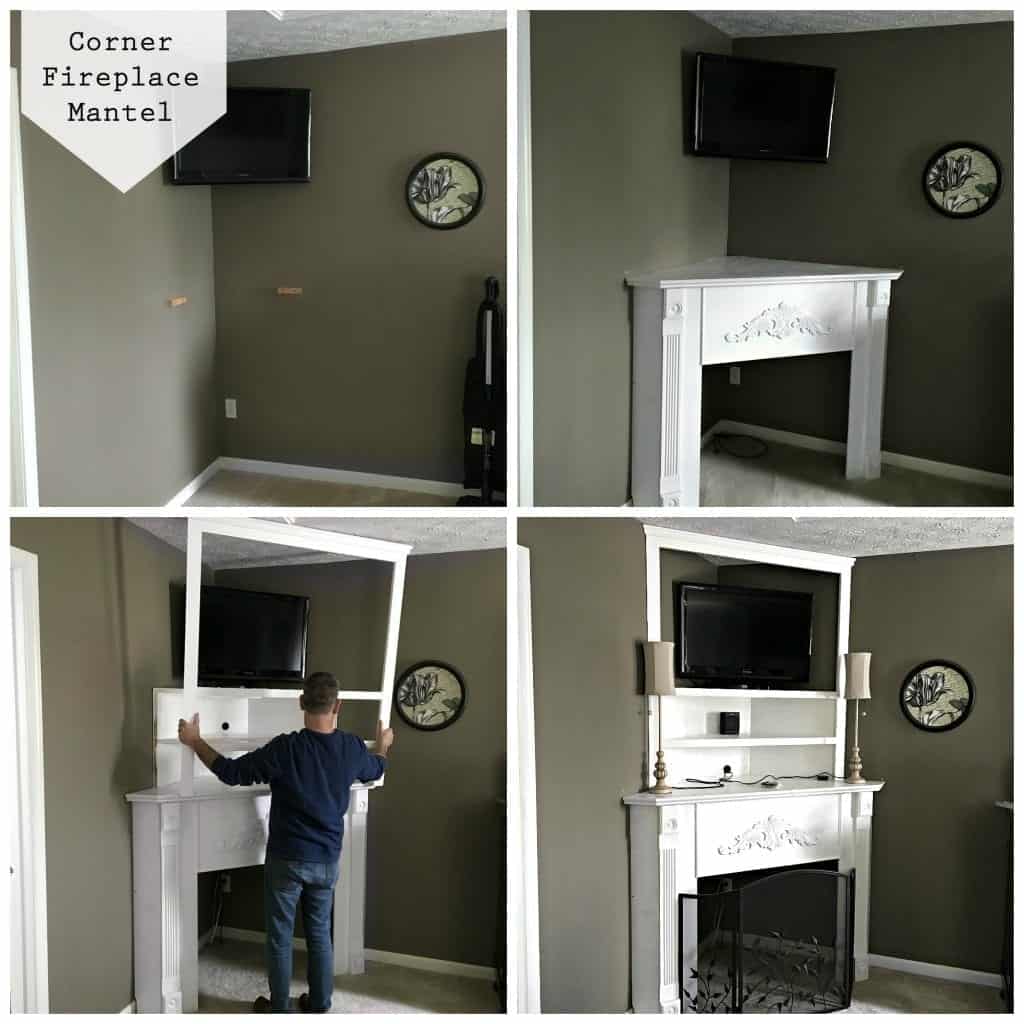 Our master bedroom has always been a bit of a challenge to decorate. It's a 20′ x 20′ square space with two windows on one side of the room. After our not-so-square furniture was placed in the room, we had some fairly awkward corners to deal with. There is one corner in particular that I considered dead space; one where none of our existing furniture would fit — so we installed a DIY corner fireplace mantel.
DIY Corner Fireplace Mantel
First off, my husband is a huge TV watcher, I, however, am not. One thing I've learned after living in an open concept home with kids is that it's 100% impossible to watch shows like "Breaking Bad" and expect any privacy. :)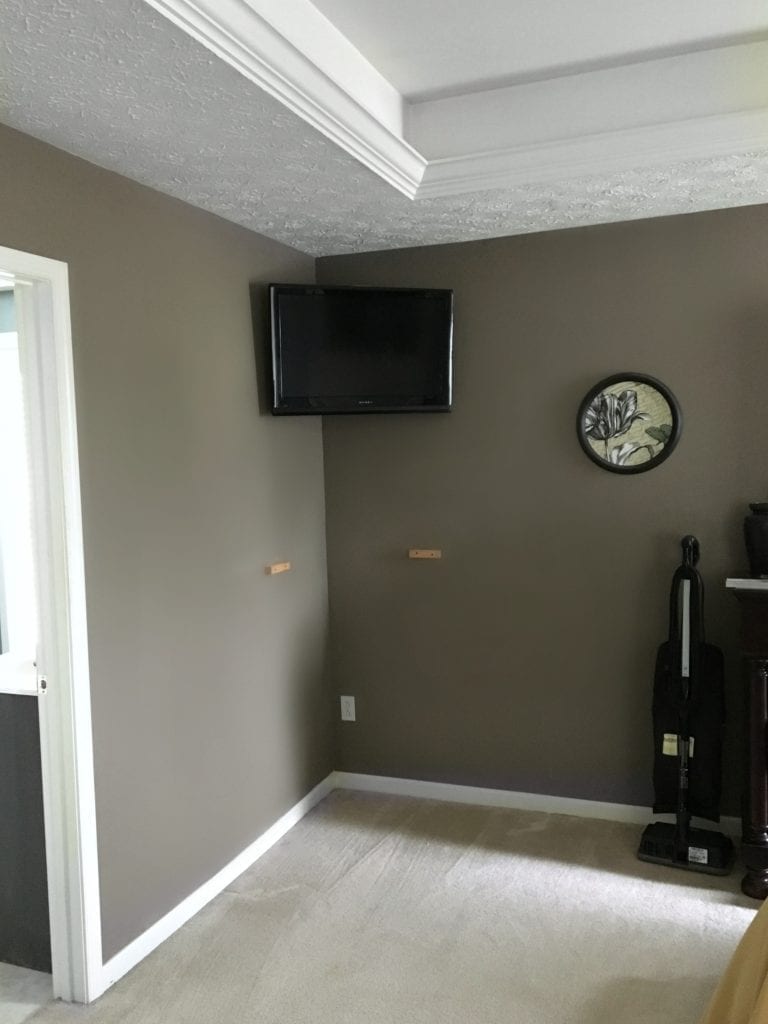 The compromise was to install a TV in our room. But it looked pretty lonesome in the corner.
For $100 we purchased a DIY corner fireplace mantel "kit" at a local Habitat for Humanity ReStore in the surplus building supply department. If you don't have a ReStore near you, there are several mantel kits available online that are so beautiful!
We followed the kit instructions and installed it. For a long time, this is how the corner looked.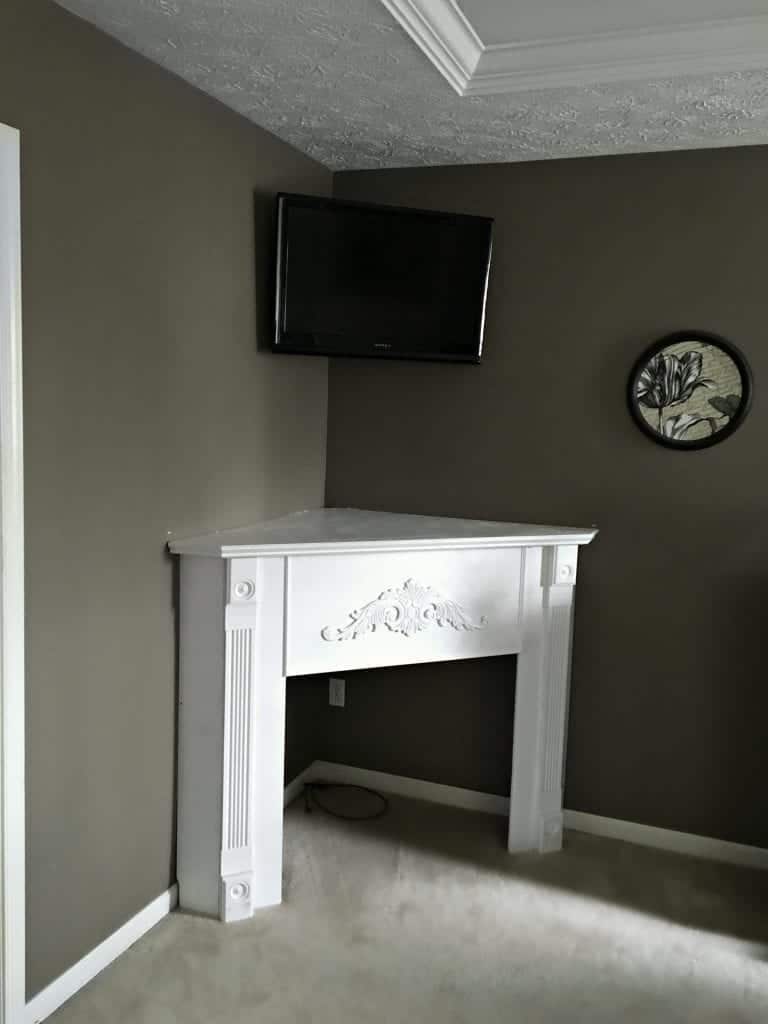 This project was all about adding ambiance in the master suite. I'm sure it adds value to our home, or at the very least, it would differentiate our home if it were ever on the market. (Update! We since sold this house and received multiple offers! So our plan worked!) If we do install a fireplace, we would take the appropriate precautions and rip out the carpet and install a heat-proof hearth of some sort. We'll cross that bridge when or if the time comes :)
After awhile, I felt like we could make better use of the space vertically. So for about another $100, this is what we did…
…we framed the TV in and made it appear as if it were a single unit. First we built a corner shelving unit to sit on top of the mantel.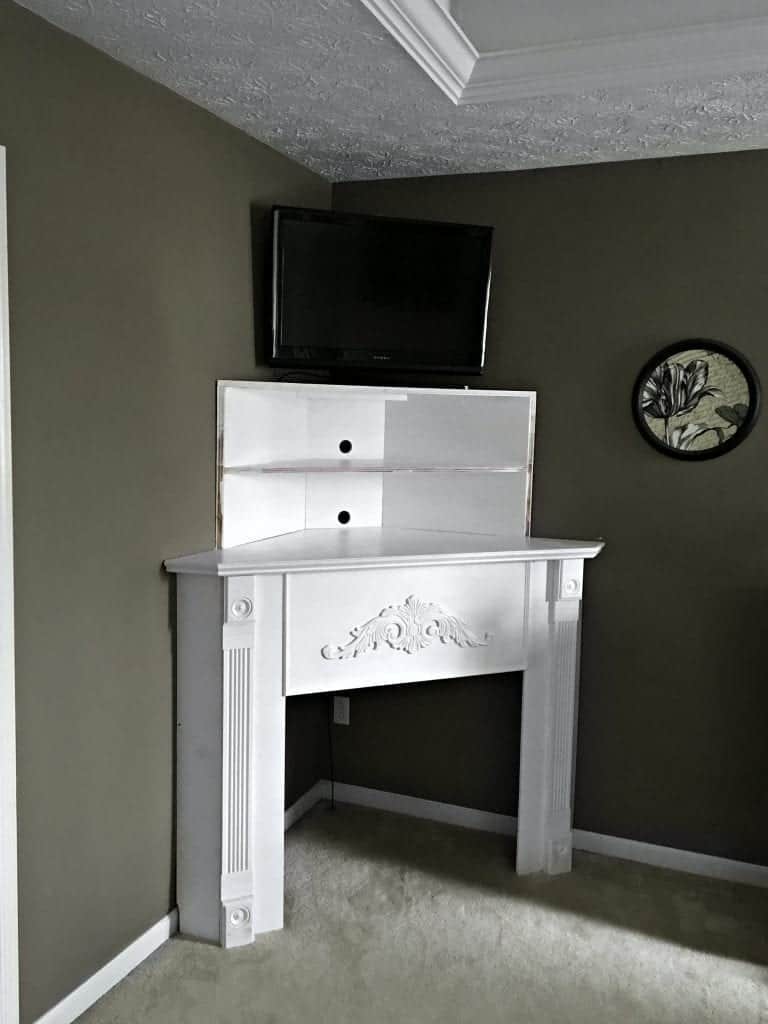 Mark made a frame that was cut perfectly to fit the angle of the wall and cover all of the unfinished, exposed wood.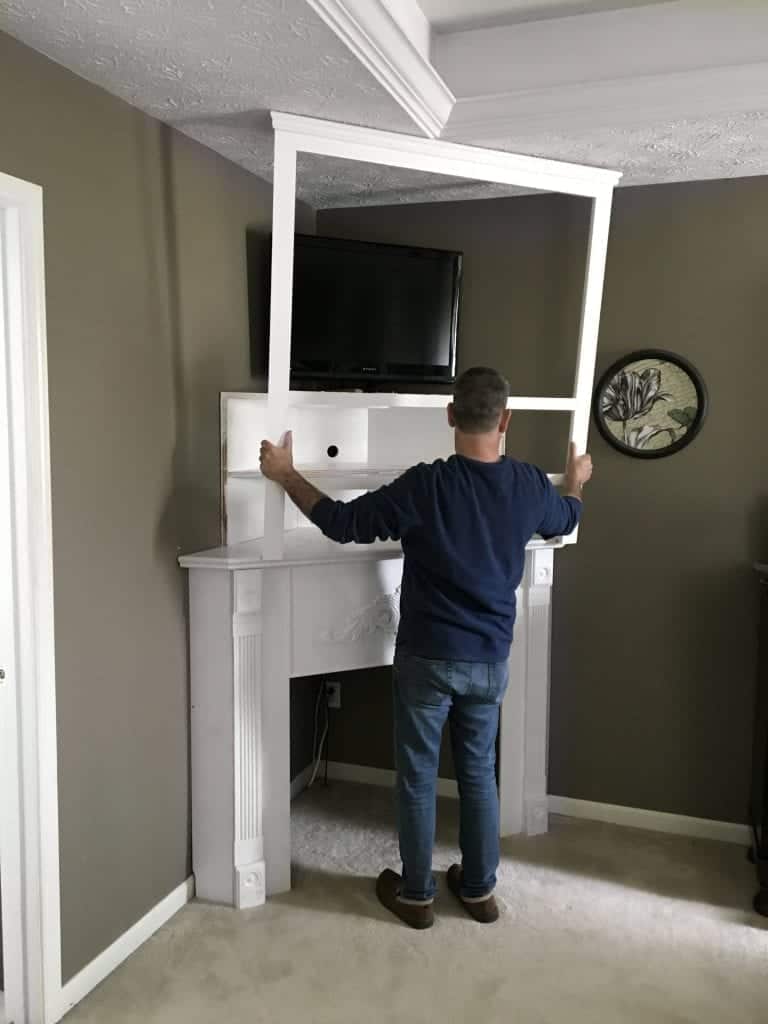 Having recessed shelving made it possible to actually place taller items on the mantel. I found these inexpensive buffet lamps from Kirkland's which are the perfect size.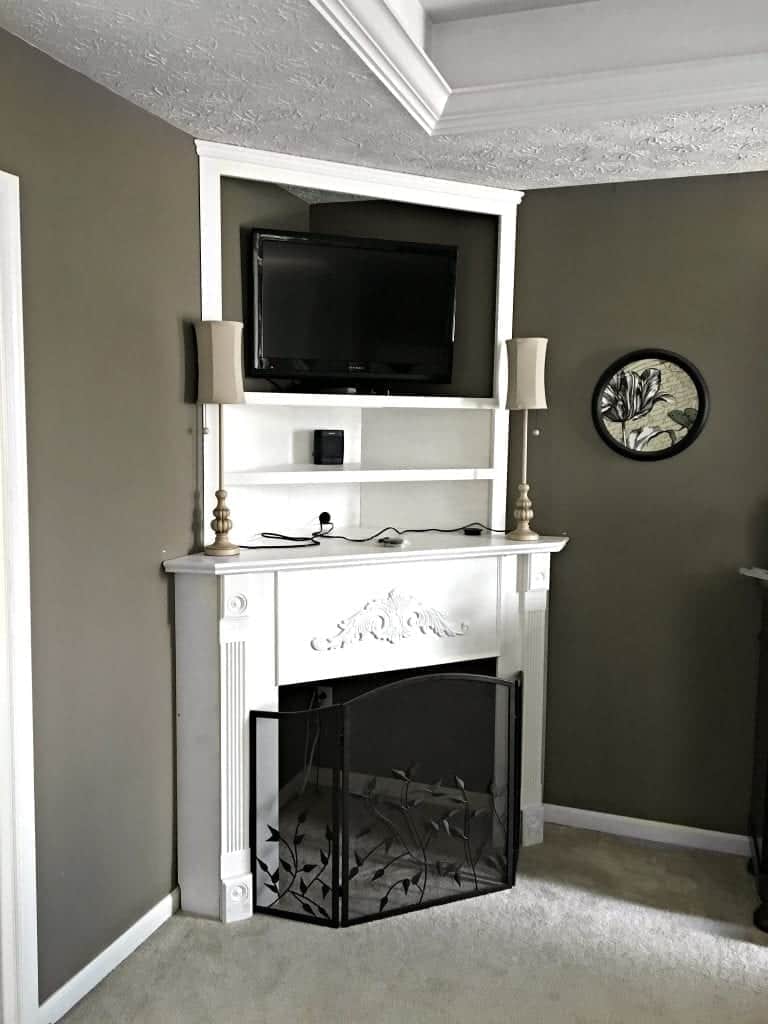 …and then, Buddy adopted it as his doghouse.
It may be a fireplace mantel, but in truth…we just built the world's most beautiful dog house for Buddy. :)
We haven't even attempted to install a heating unit because it's working out just fine, for us and for Buddy. Buddy's getting old now, so we want him to have as many comforts as possible. I think he's having mini strokes, and is virtually deaf and blind. :(
We have no tutorial, but we're happy to answer questions. The total cost was around $200 and was a perfect upgrade for how we use this space. By sharing it I hope it helps you with a "vision" if you're ever faced with a dead corner in a room that needs a little prettying up.
Our other room makeovers you might enjoy…
Our entryway wainscoting project: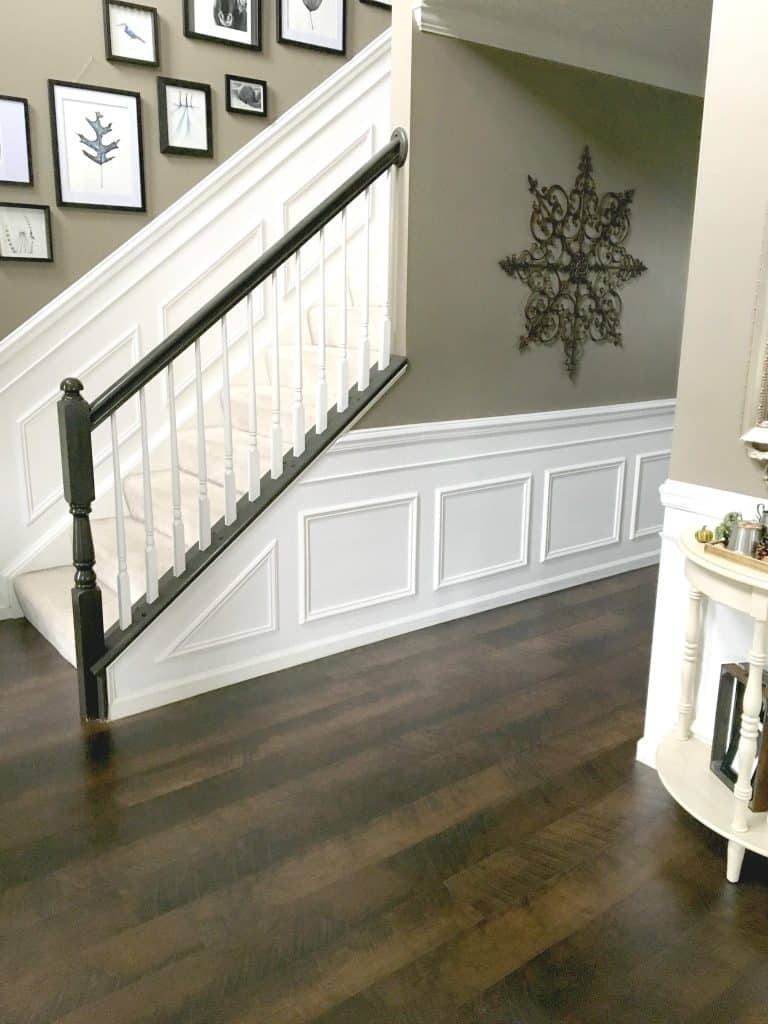 …our laundry room, kitchen and our whole-home Pergo flooring project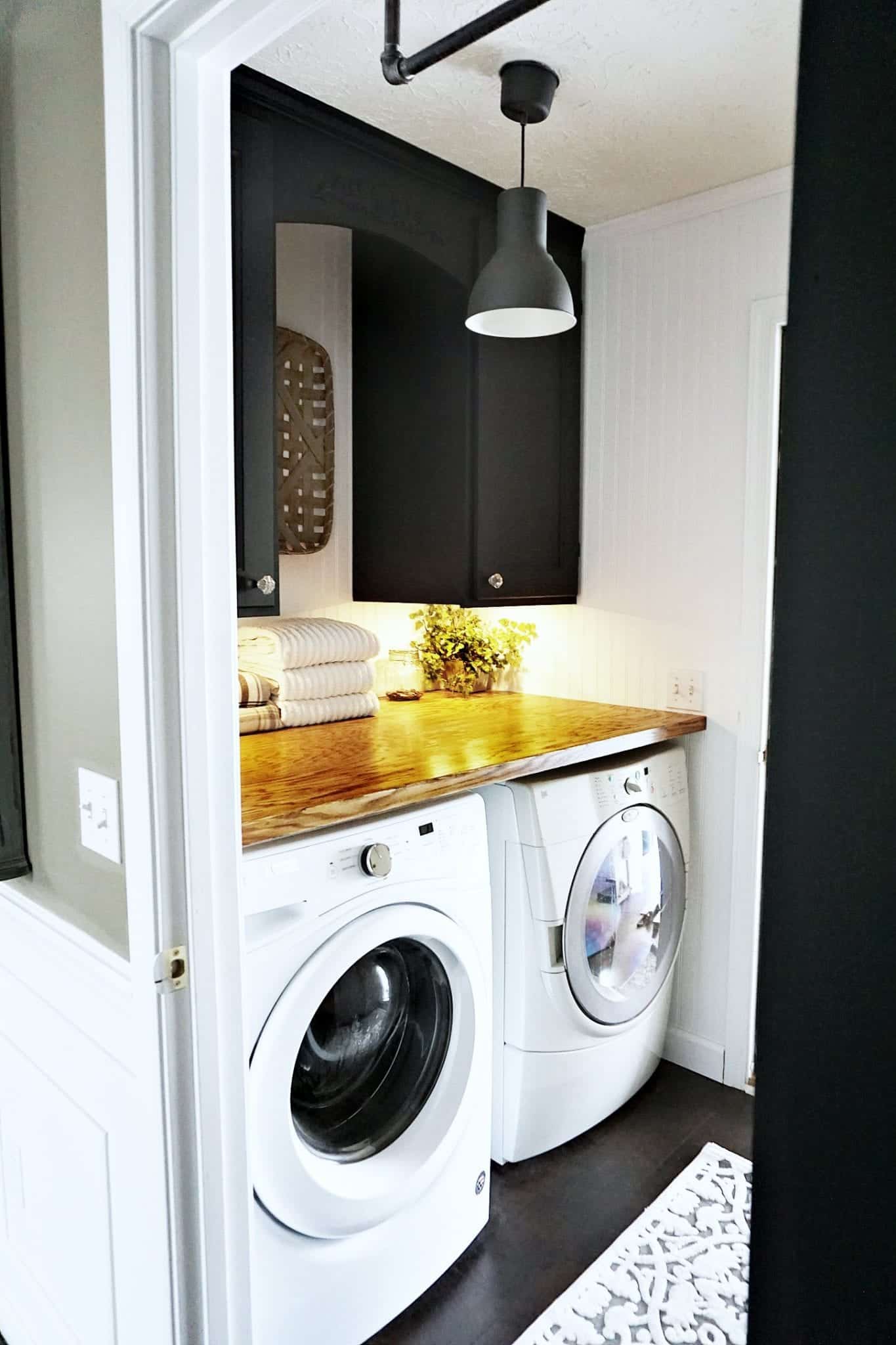 Come see the rest of our master bedroom, (the most neglected part of our house).

Pin It!