DIY: Buffet Upcycled with Metallic Paint
In the store where I sold a few pieces, customers enjoyed a variety of bold color palettes with specialty finishes. Turquoise and red seem to be the predominant color choice, with a wide-array of glaze techniques.
But, I've built my home around a neutral color base. I've always found that having a neutral color scheme works well with my budget, making my furniture choices interchangeable from room-to-room. I also think it's easier to infuse a new color trend into my home with a throw pillow vs. replacing a large investment piece.
The fact that this buffet could be arranged several different ways is what had me so intrigued: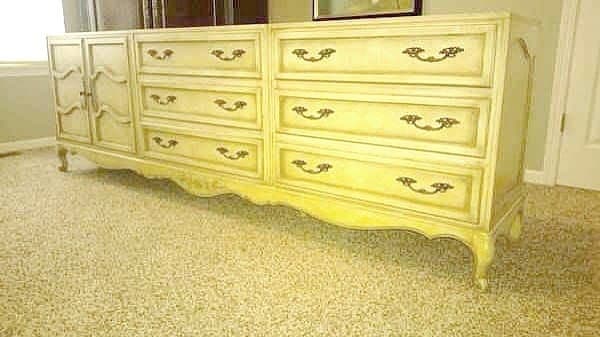 Modular Buffet (before): just one configuration – long ways as a buffet or dresser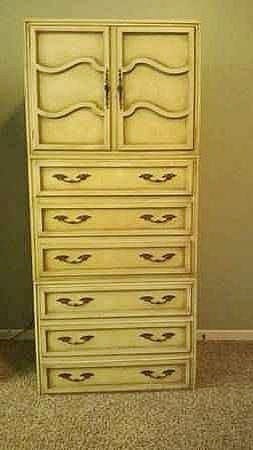 Buffet (before) without the legs. Maybe stacked it could be used as a TV stand?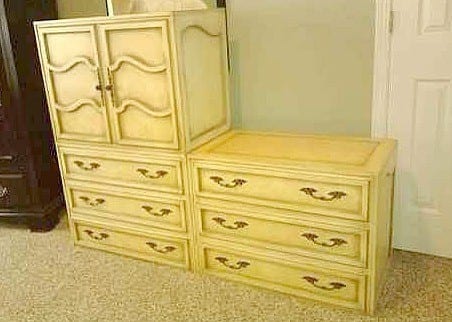 Buffet (before) – I love this piece, and I've never seen anything like it
I kept this buffet in my garage for awhile, then again later in my sunroom. It is HUGE, which was the excuse I made for keeping it there so long. The truth was, I kept trying to envision how I would honor this piece – in a bold shade? With decoupage? I wasn't sure. Any color I painted it…I knew it would be beautiful.
So I cleaned the piece and started to cover the old patina with a tinted primer.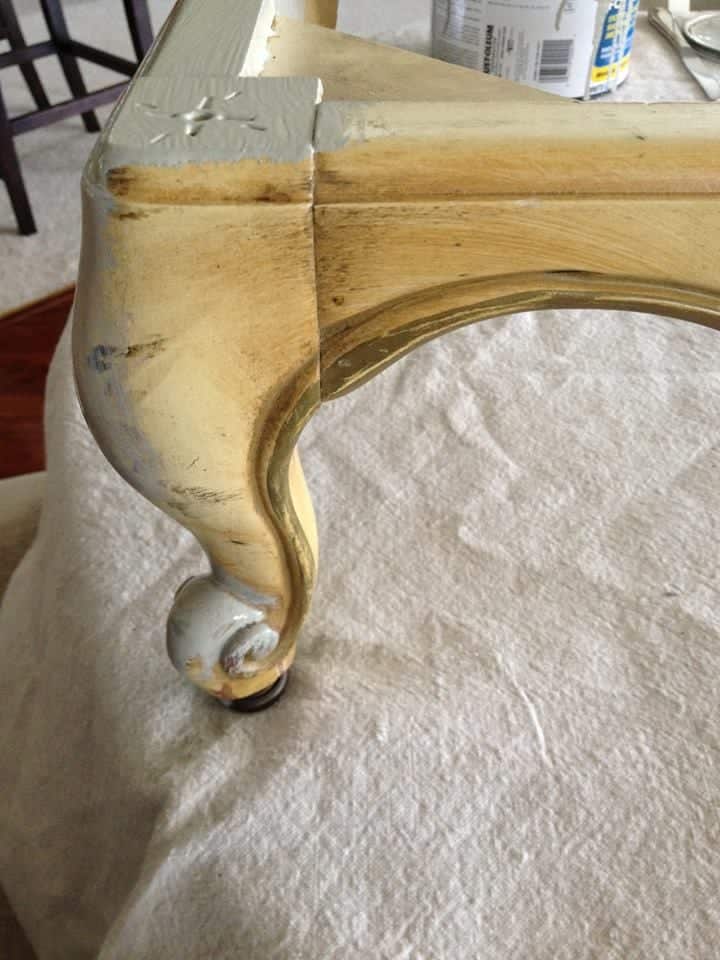 Before:  covering the old yellow patina with primer
As I worked, I pictured it as a wine bar or buffet in someone's dining room. My vision was starting to gel, and metallic paint is what seemed right. I often decoupage images onto my pieces, but in this case, I thought additional imagery would be overwhelming. Just a subtle touch of visual interest was all that it needed.
For the base color, I chose Modern Masters because I have witnessed some beautiful furniture transformations across the web. They sent me this lovely color called Warm Silver from the Metallic Paint Collection, which is absolutely stunning.
Now for the embellishment…
I did some research on patterns and textures, and I was inspired by this picture on the Royal Design Studio website.  "Very glamorous", I thought.  And perfect for my new "wine bar".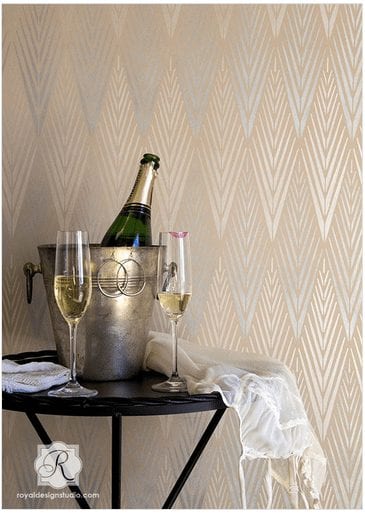 Inspiration photo: African Plume Stencil from Royal Design Studio
I also loved the color scheme in the inspiration photo, so I moved forward with my vision with a combination of this stencil and the Modern Masters Metallic Paint in Warm Silver for the base.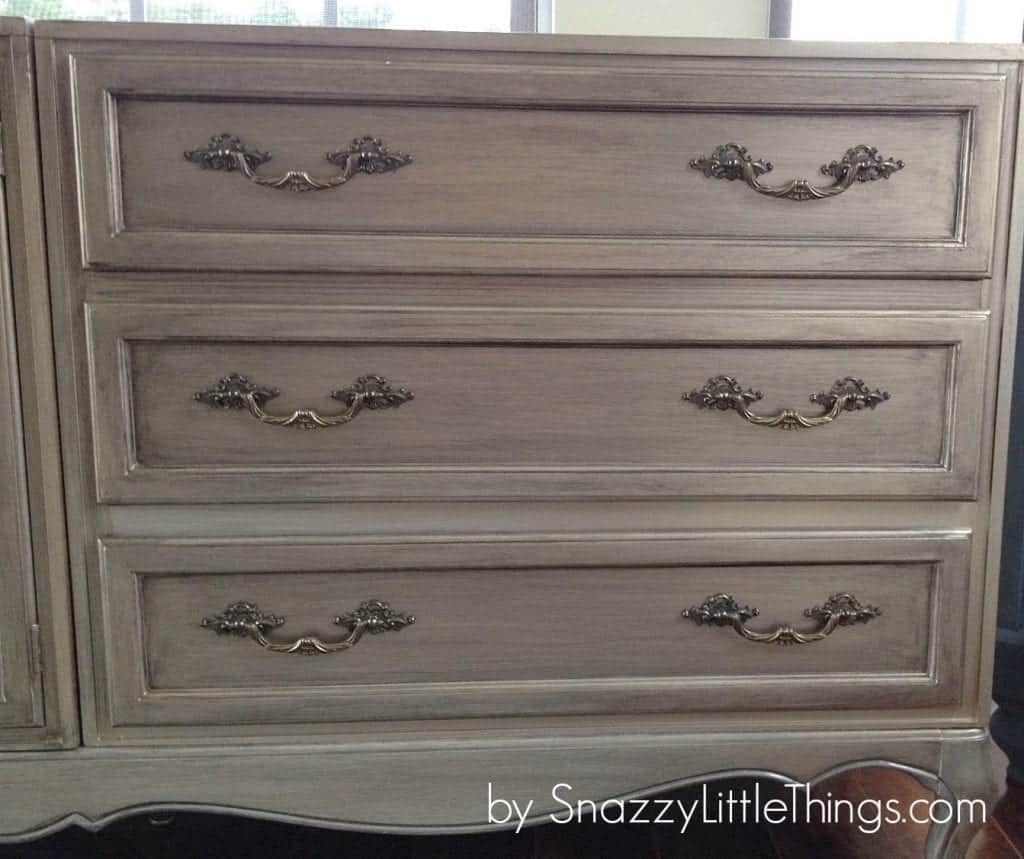 I put a java glaze overtop of the metallics which gave it a much richer, more distressed finish. Then I applied the stencil. Here it is on top of the buffet which is 96″ long: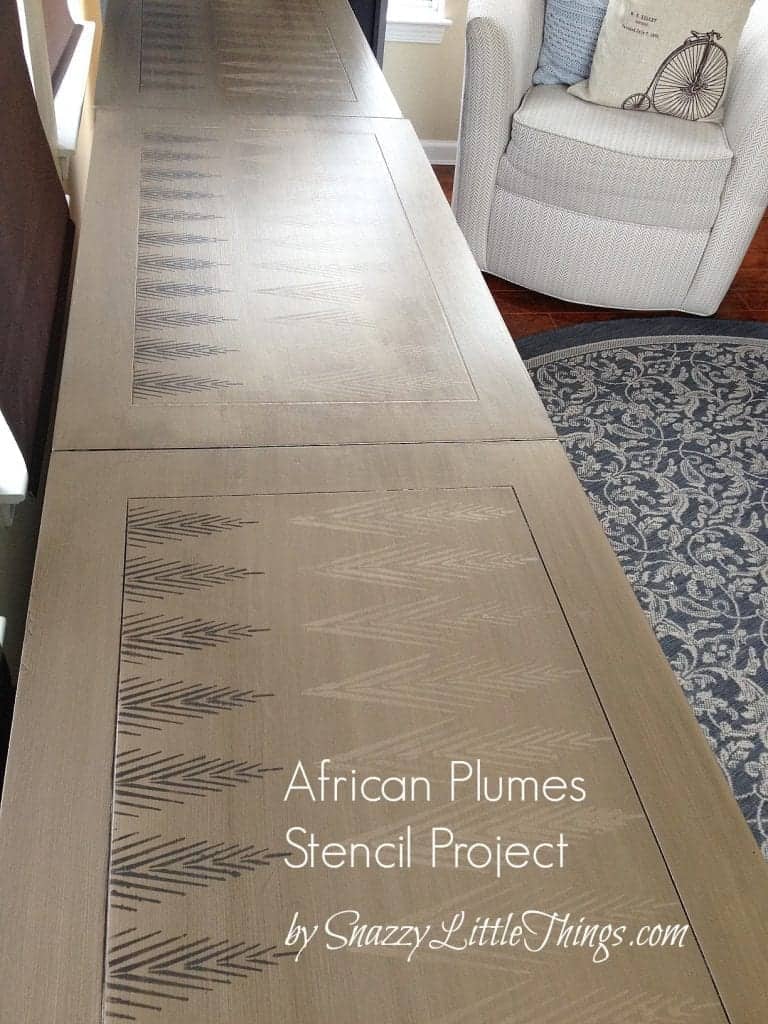 I love how it turned out!
Here is the full buffet – in my favorite configuration.  So much storage!