If you've stopped by from Life on Virginia Street and this is your first time here, welcome! I'm so excited to have you here and I'd like to thank Marty from A Stroll Thru Life who invited me to join her blogger summer home tour series! Be sure to stop by all week to visit all 30 of us, our full tour schedule is listed at the bottom of this page.
***
My blog was named after a phrase I often heard my grandfather say as I watched him masterfully refinished old furniture. He made a living doing just that, so I've grown up appreciating all things vintage and I inherited his desire to give them a second life. I gravitate towards simple, classic vignettes that fit any season. I love neutrals for the same reason. You'll see me change a wreath here, or a pillow there. But I prefer to live in a space for awhile so that I can decide exactly how I can optimize its form and function. If we can't find the perfect piece or furniture (or art), we upcycle or make it ourselves. So…
Let's start with the front porch…
I painted our front door black a few years ago…it's like having that little black dress in my closet. Perfect for all occasions.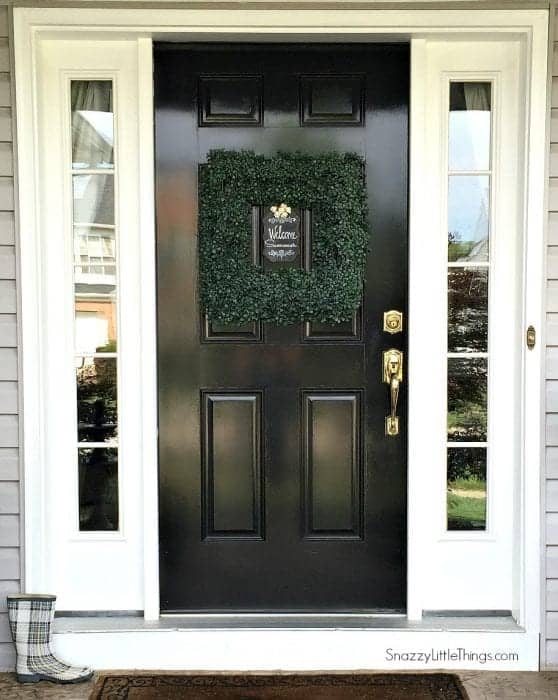 A tough winter caused us to lose a few trees and shrubs, so there are quite a few outdoor projects "in progress" as we replace and update our outdoor spaces. Here is our front flowerbed, we're trying out a few new perennials this year. Fingers crossed…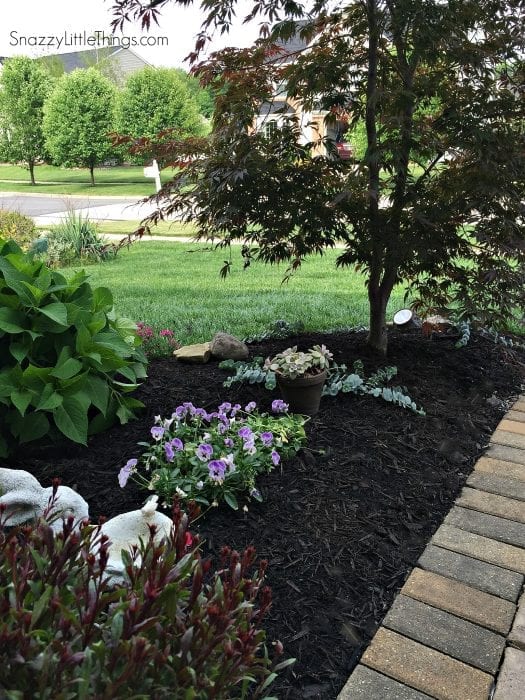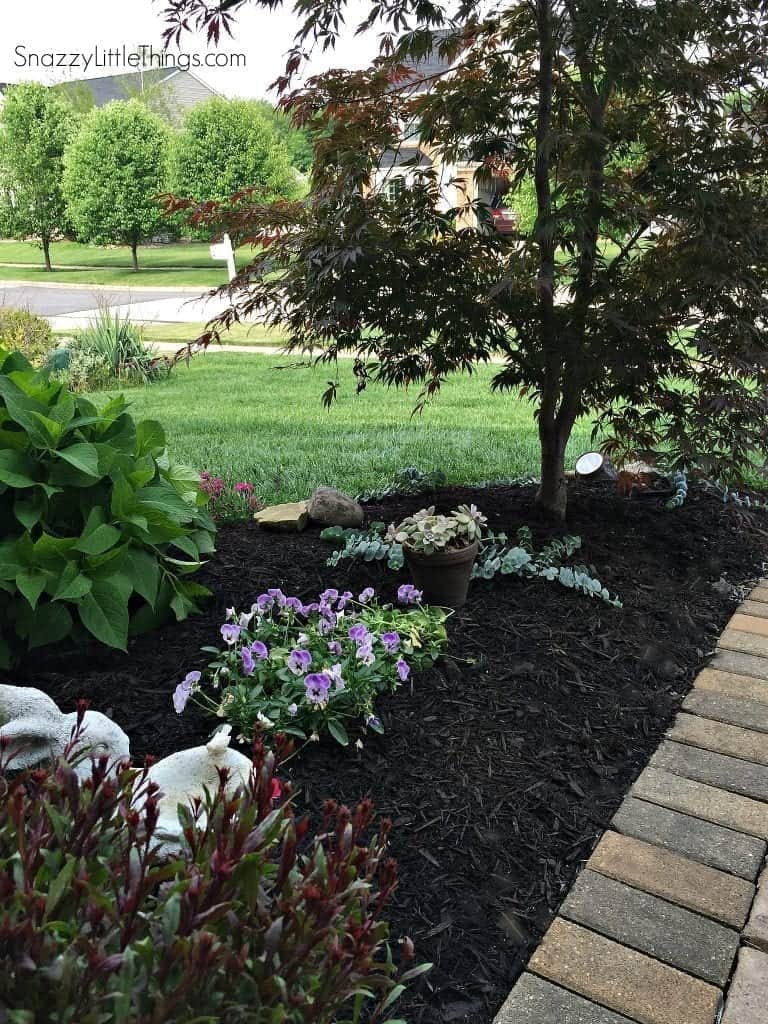 A salvaged table greets visitors on our porch, which also serves as a makeshift potting bench.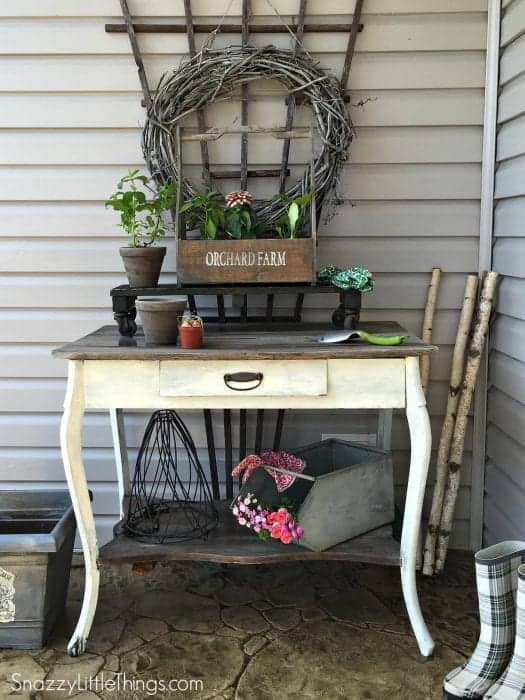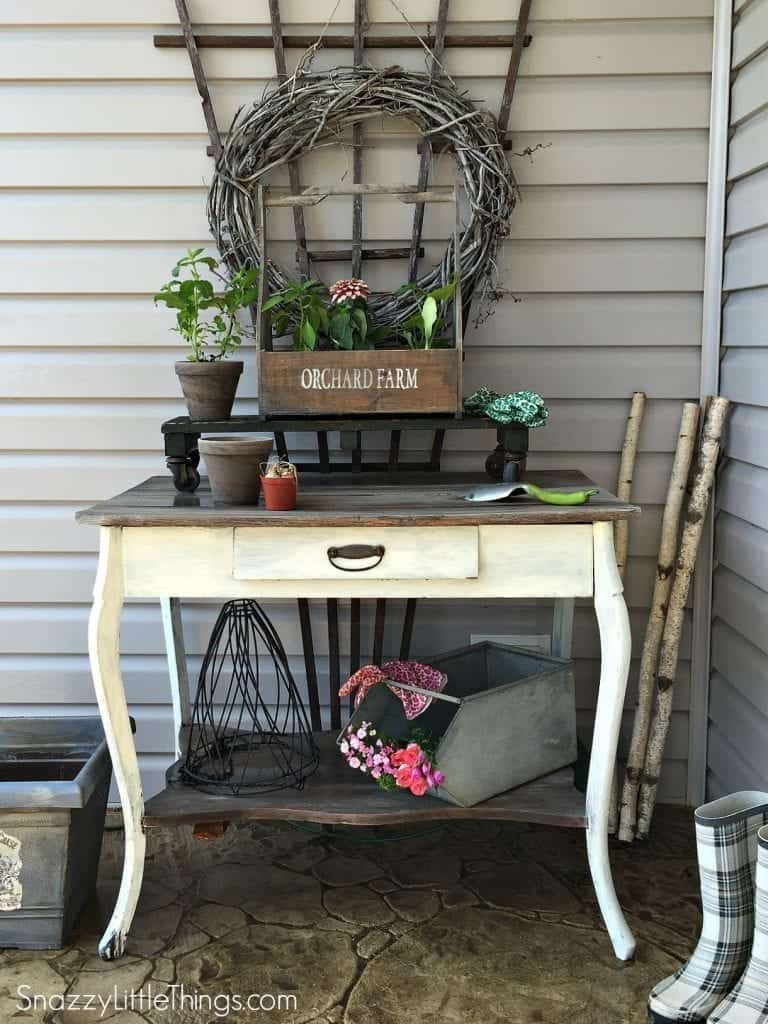 You can read more about this pretty table here, which was a Craigslist find. See what treatment I gave to it to survive the elements outdoors.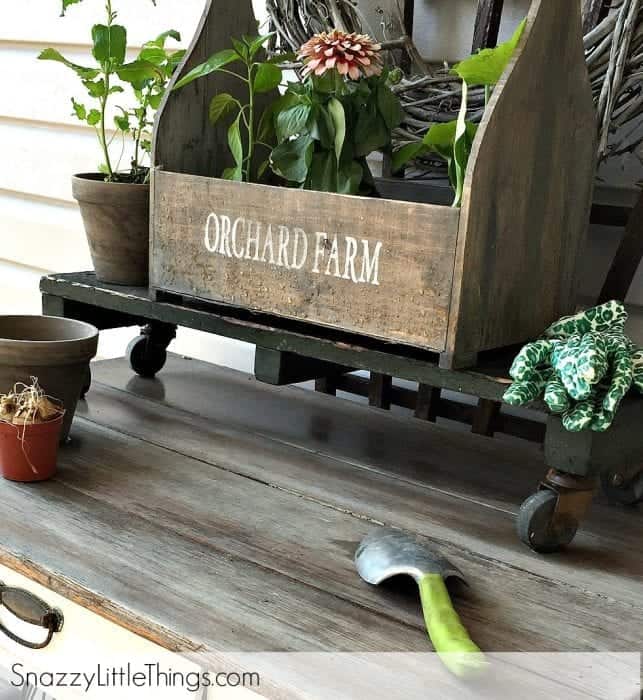 For the first seven years that I lived here, I was a single mom with two youngsters. I've learned the value of a good bargain, salvaging and repurposing items to fit into my decor. I married again last summer, and my husband is a talented craftsman. Together we love to DIY and making our home more comfortable. He is even branching out into make his own furniture. Lucky me!
Foyer & Office
In contrast, we upgraded our interior from builders grade to a more classic style, with industrial accents mixed in. We installed wainscot throughout the house. A family photo wall is definitely going to be added to my DIY to-do list this year.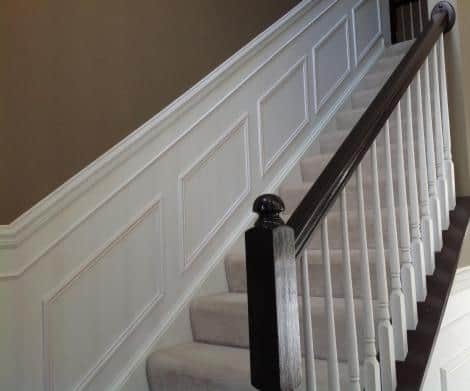 The office is where you'll find me most days. I'm a software sales executive by day, DIY blogger by night.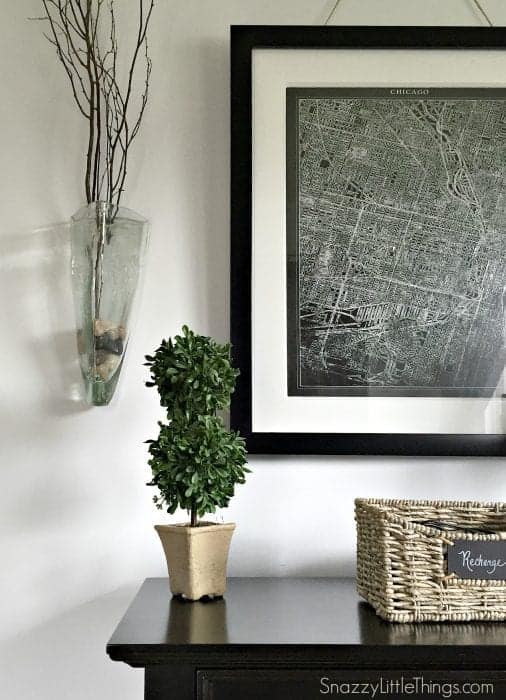 Vintage postcards serve as DIY art. I collect cards representing places I've visited.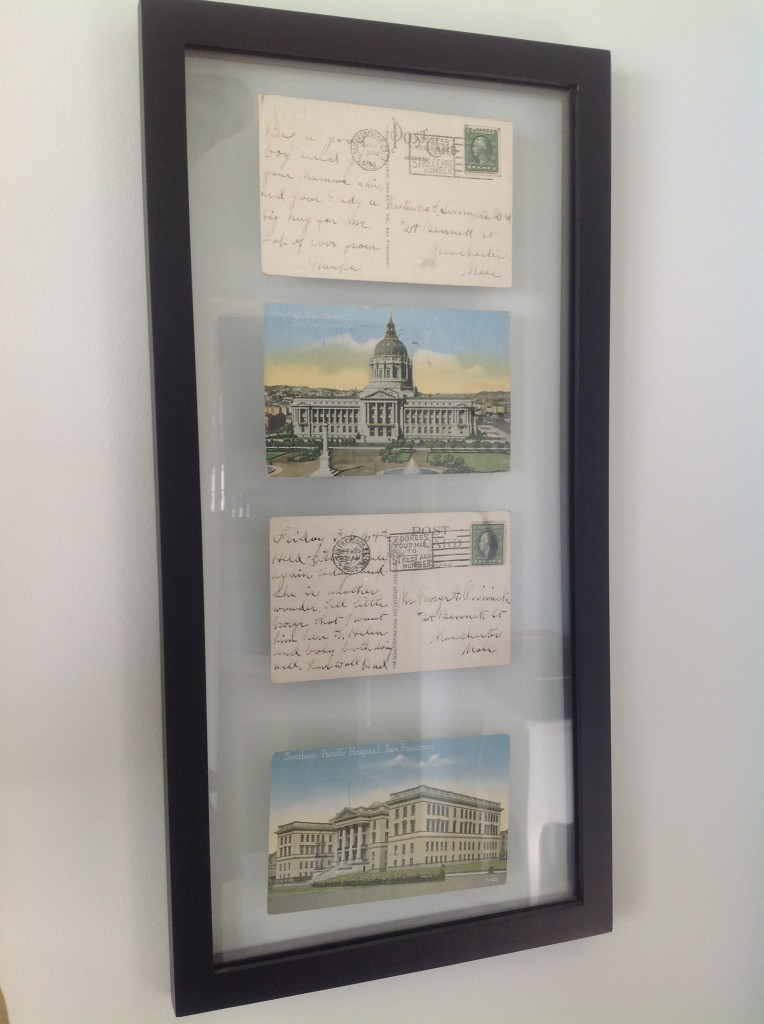 I believe in mixing old wooden pieces along with painted furniture. I felt like my office needed a dose of natural wood to give it some character, and this bench served that purpose perfectly.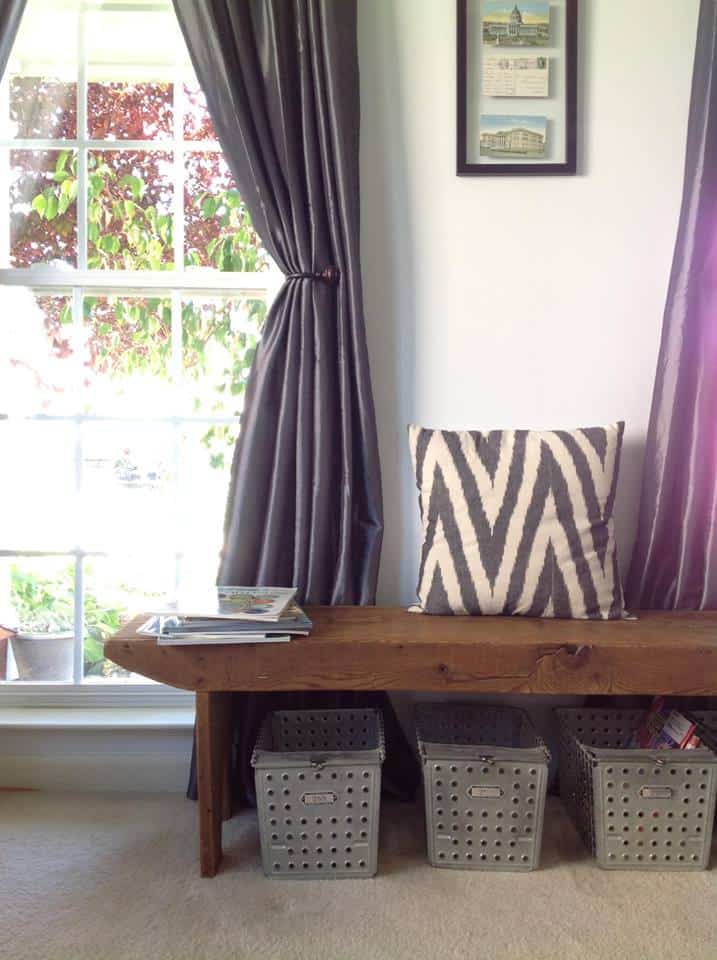 Enter the Family Room
Fresh flowers in a vintage Mason Jar on a vintage table = instant summertime charm.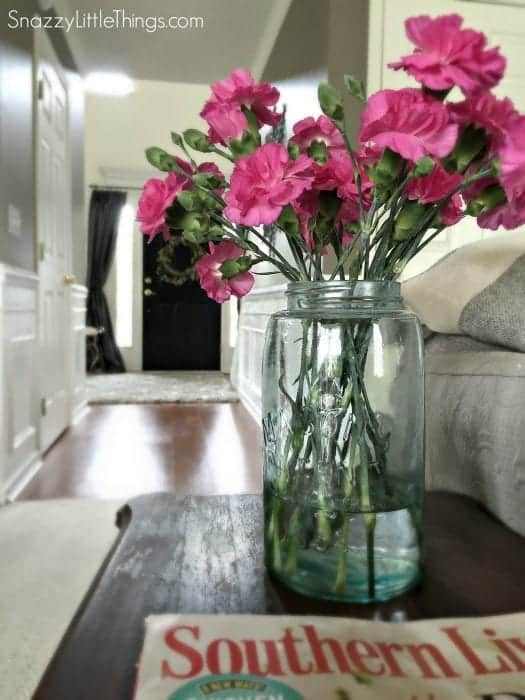 Our family room, with a little "Fixer Upper" inspiration.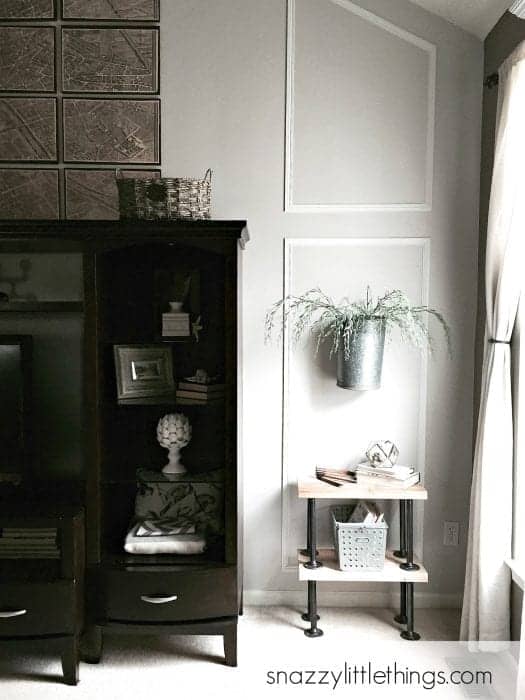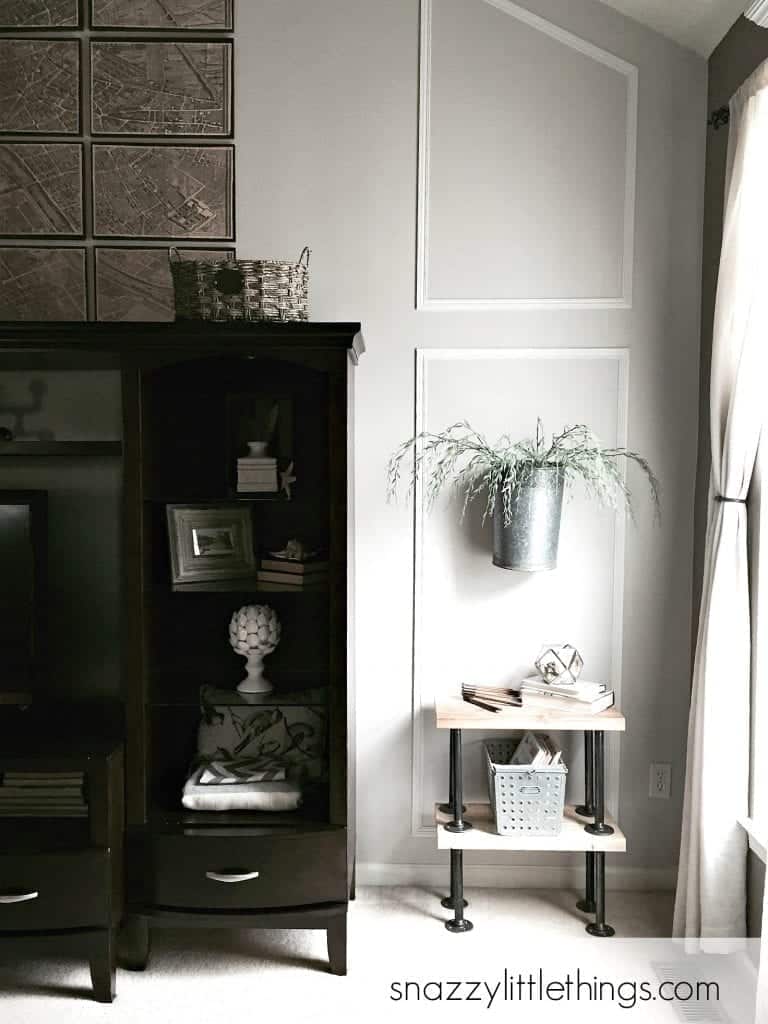 We recently renovated our family room, industrial style and finally tackled the two story feature wall during the #30DayFlip room challenge. (Join our next challenge here). I created my own Restoration Hardware map "knock off" art, the original is about $1700, mine is only $40! You can read about all of the projects that make up our family room refresh here:
DIY Industrial Tables | Family Room Refresh | Restoration Hardware Knock Off Art

Our mantel is due for an update, but for now, succulents adorn a vintage chicken feeder I found at the Country Living Fair last year. I need a little farmhouse "fix" now and again. I found a huge piece of art from the 1960's that I originally intended to paint…but it's growing on me. That's how I roll…I give vintage items a chance before I paint or change them.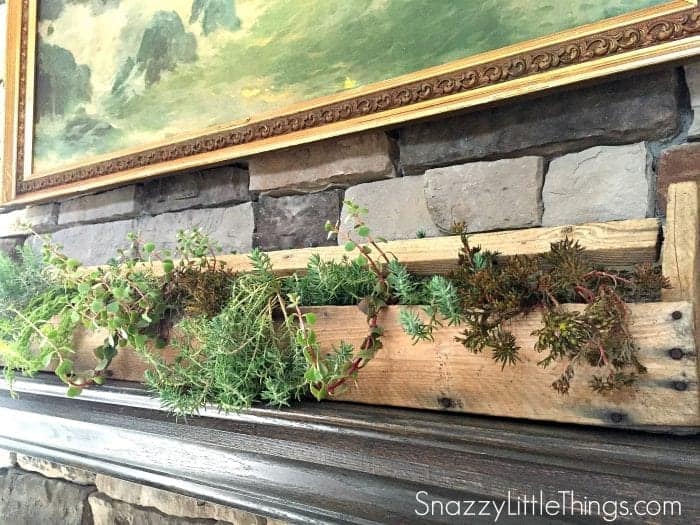 Kitchen & Sunroom
This galvanized tiered serving tray was my Christmas present from the family, I absolutely love it. This sits on our DIY kitchen island. We are in the process of adding trim to our once-oak builders grade cabinets, and we took out the oak panels and added faux leaded glass (as seen in the background).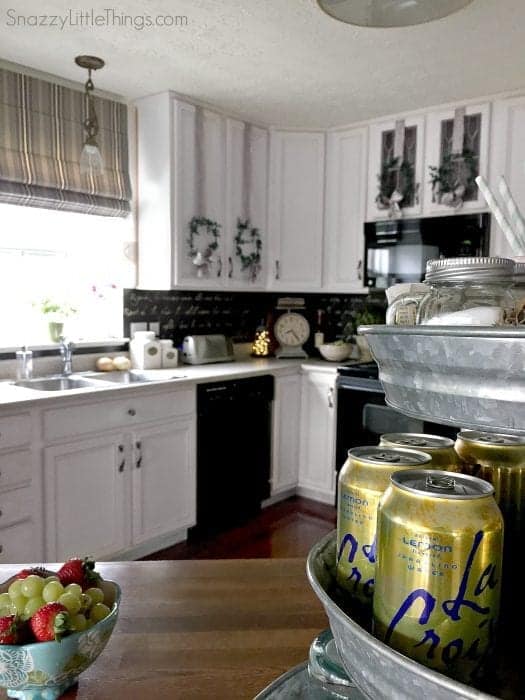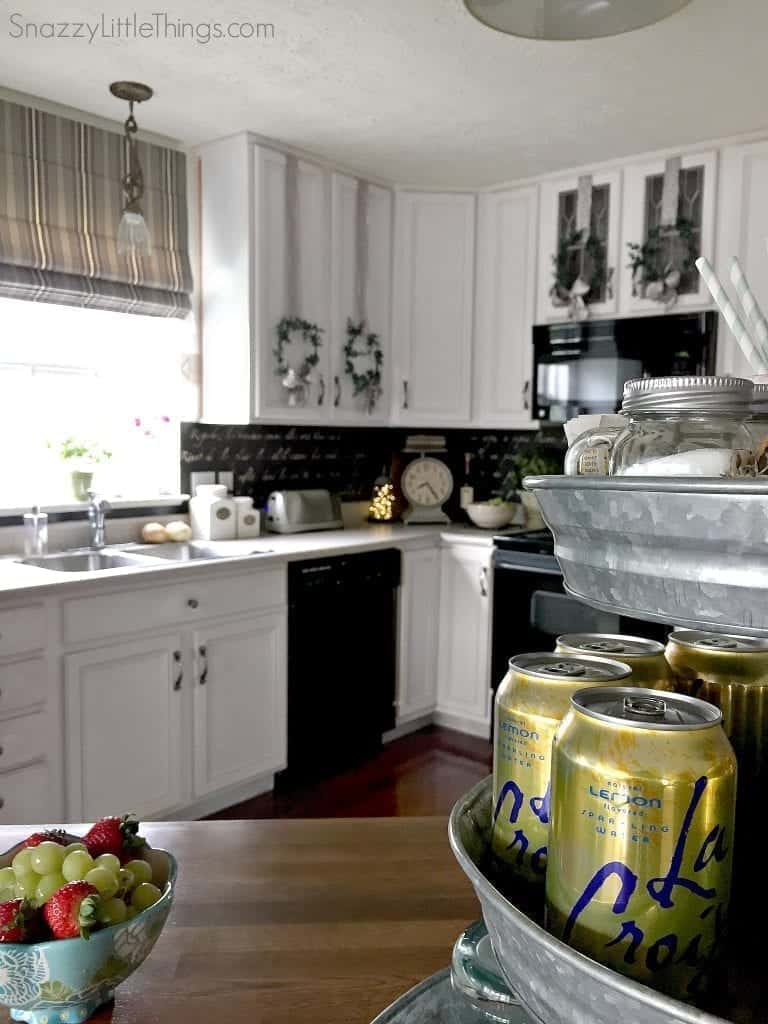 In fact, our entire kitchen renovation was on an extreme budget. I wanted a unique backsplash, so this is what I created with a stencil a few years ago and it's holding up nicely.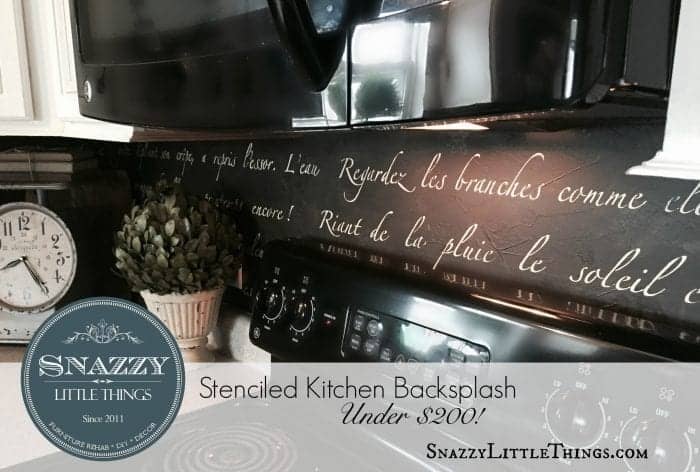 A few more flowers on my kitchen windowsill add a simple and nice touch…these are my grandfather's old bottles.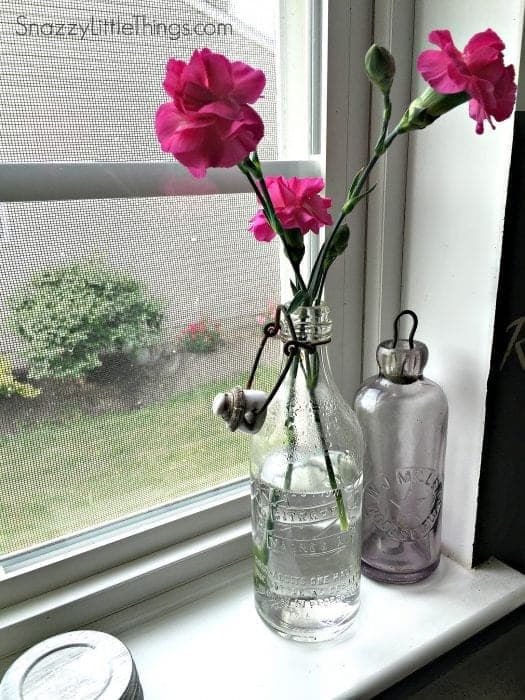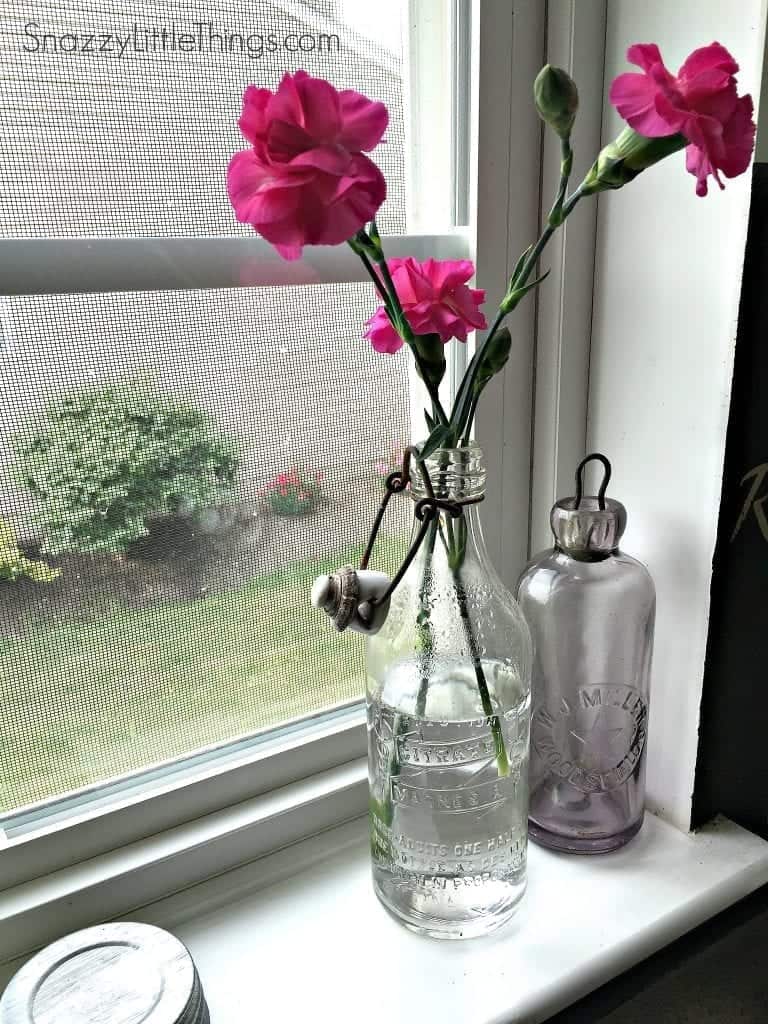 Our sunroom…where morning coffee happens, or I watch the kids play. This room is attached to our walk-out deck.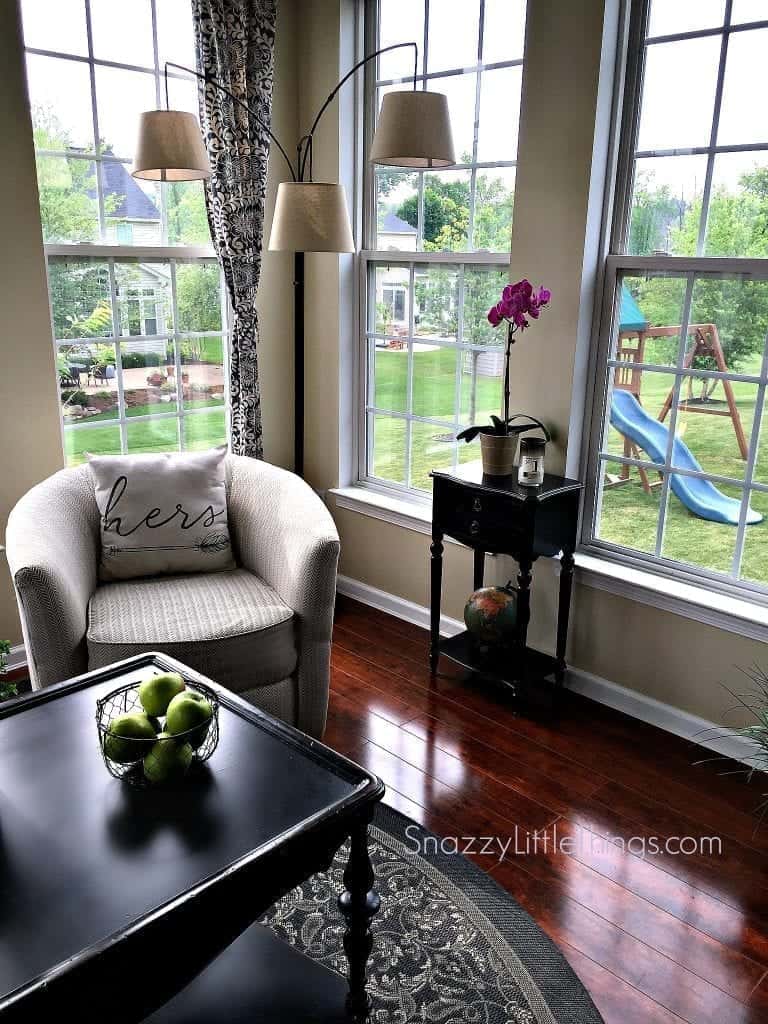 The Deck
More to come later this week, a full deck "reveal" is in the works! Our deck has been an underutilized and neglected space, so we have been working to change that. I can't wait to show you what furniture my husband built for this space. All I can say is…it's over SIX FEET long, and has a DUAL purpose (one practical, and one for entertaining).  Please check back, I can't wait to show you the "after!" 
Before–check back soon…the "after" is in the works!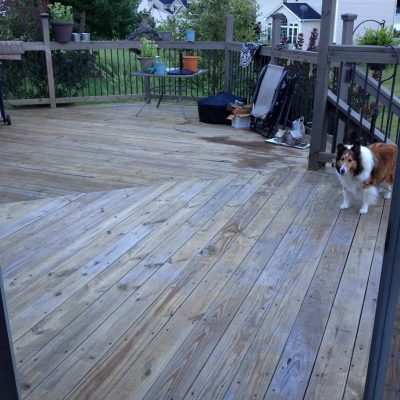 Thanks so much for coming to visit. To see my house and it's humble beginnings…visit this link which includes links to all of our DIY tutorials.
Be sure to visit each of these bloggers and their beautiful home tours this week!
On Monday:
A Stroll Thru Life   |  Live On Virginia Street  |  Snazzy Little Thing  |  21 Rosemary Lane  |  Thrify and Chic  |  Claire Brody Designs
On Tuesday:
Thrifty Decor Chick  |  Our Southern Home  |  Making Home Base  |  Hymns & Verses  |  Bliss @ Home  |  DIY Showoff
On Wednesday:
City Farmhouse  |  Driven By Decor  |  No Minimalist Here  |  SG Style  |  Decor To Adore  |  Desire Empire
On Thursday:
A Thoughtful Place  |  Monica Wants It  |  Rain On A Tin Roof  |  Charming In Charlotte  |  Remodelando la Casa  |  Dimples & Tangles
And Friday:
 Simple Details  |  Tidbits & Twine  |  Design Post Interiors  |  Designing On The Side  |  Peaceful Home Decor  |  Talk Of The House