12 Ideas to Make Your Kitchen Look Spectacular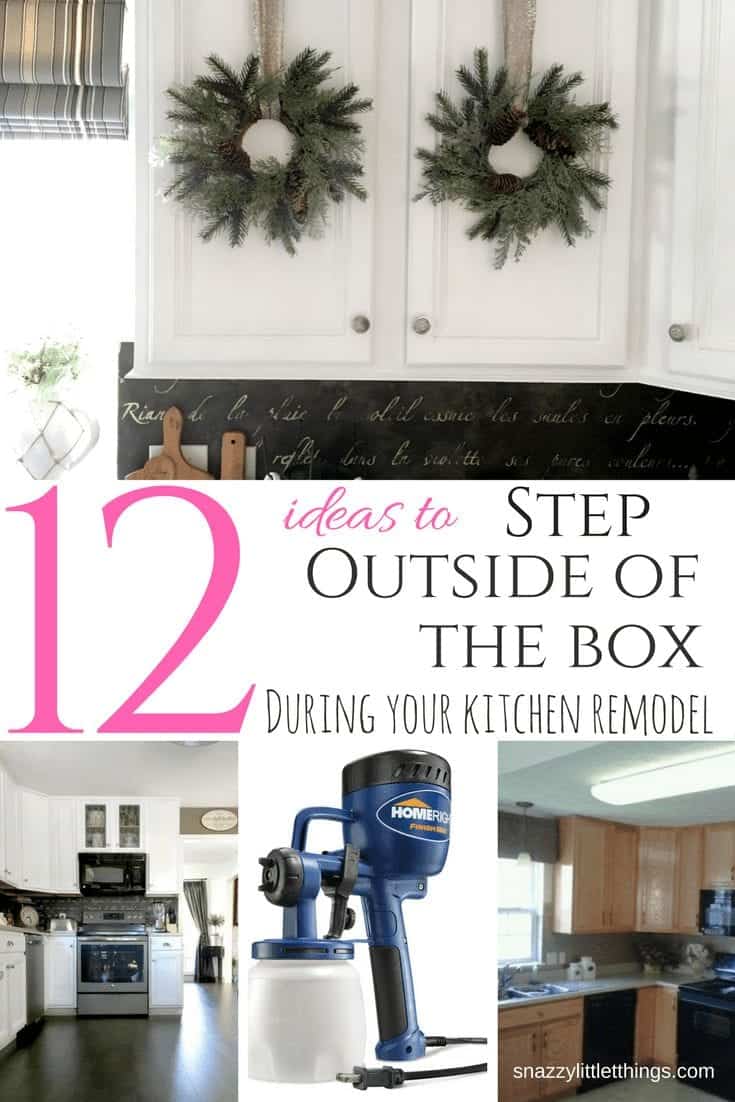 Painting Kitchen Cabinets
+ 12 Embellishment Ideas
Read more about our kitchen project: How to Prep Your Cabinets // Kitchen Island Update // How to Add Faux Leaded Glass
In addition to painting your kitchen cabinets, there are other ways to think "outside of the box" as you tackle your kitchen project. These little touches and decorative embellishments can help you create a spectacular looking kitchen for very little out of pocket costs. Kitchens (especially kitchen cabinets) are one of the highest-traffic areas in our home. Therefore, the durability of the paint you choose is SO important as well. You don't want your budget kitchen upgrade to look cheap. So I'll provide some tips on prep and choosing the right paint as well.
Affiliate links are included throughout this post. And thank you to DecoArt and Homeright for partnering with me on this project!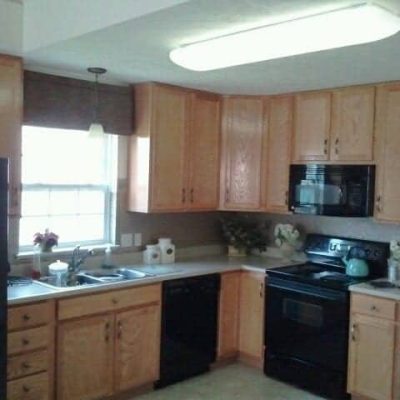 Some background: As many of you know, we chose to repaint our kitchen cabinets after our original paint job began to yellow and chip. There are many new paint options that have since entered the marketplace specifically geared towards consumers who wish to paint their cabinetry, so of course, the restless DIYer in me was itching for a kitchen redo. We also saw this as an opportunity to experiment add some fun embellishments before we tackled this project a second time. We plan on selling this home in a few years, so ripping and replacing the cabinets really made no sense for us.
Many of the suggestions you'll read below are ideas that you can even implement BEFORE you paint your cabinets.
#1 Rule: Don't Skimp on the Prep
Be sure to read my post about how to prep your cabinets — especially if you have a very visible, deep wood grain and want to achieve a smooth finish. Plan on priming and sanding. No cutting corners here!
I see many painted kitchens where the wood grain is very visible after painting. I determined that I wanted my cabinets to look smooth after repainting them, so my prepping process helps you create the best possible surface for the paint to stick. Remember, kitchen cabinets are considered a "high use" area of your house (think grimy hands, spills, pots banging on the surface). As you prep + prime your cabinets, you need to create some "tooth" on the surface (in other words, they need to be slightly roughed up). So you will need to commit some time to this process — prep is where you will need to spend the most time if you plan to do this correctly.
#2: Choose Durable Paint (that doesn't yellow)
Hands-down, enamel paint offers a higher level of durability for highly used areas of your house, (just Google "enamel paint kitchen cabinets" and you'll see that a lot of experts agree). In my case, I chose water-based acrylics (read that post here). This was especially important on white cabinets since water based paint doesn't yellow over time.
I've read many articles about using latex or chalk paint, but the lazy side of me wanted to avoid using a top coat. Luckily I was able to find a new paint that does NOT require a top coat so this was such a huge bonus and saved us a big step. I've had some back luck with latex paints. When I think of latex, I think rubber…and that's not far from the truth. It can expand, contract and peel. I'm very happy with the paint I chose because the paint is the final step, which makes for an easy touch-up. And, it's washable. Click here to see how my paint is holding up!

#3: Use a Paint Sprayer on Your Doors
Rollers are great for painting the base of your cabinets. But a super speedy method to paint your doors is to use a paint sprayer. At first, paint sprayers can be intimidating. I had to acclimate myself to my new sprayer so I practiced on my kitchen table before I tackled my cabinets with the Homeright Finish Max! (See my Facebook video as I learned how). So far, it's holding up beautifully. The result? Thin, strong layers. NO brush strokes…a professional, smooth finish. And I'm a big believer in adding multiple, thin coats – this method offers the most durable finish possible. If your paint is too thick, it could result in peeling or chipping. Before, I painted with a brush and it took months! But my honest opinion now? Nothing beats a sprayer for a smooth, even finish. I personally use a Homeright Paint Sprayer and a Spray Tent!
#4: Think Outside-the-Box on Embellishments
Prior to painting, you may want to consider a few embellishments, like trim, to upgrade your cabinets. In order to improve the visual appeal of our kitchen (but still remain on a conservative budget), we had to get pretty creative to make our cabinets prettier (without ripping and replacing them).
Here are 9 Embellishment Ideas (with links to examples of our projects):
Use Ikea Butcher Block Countertops (we did on the island) = $169 each x 2 = $338
Trim Out Your Island (we added a beadboard facing) (on the island) =$40 approximately
Add corbels, or "legs" at the bottom of the cabinets to appear like a piece of standalone furniture = $80 each
Add New Hardware (we used a combination of Hobby Lobby knobs + Home Depot pulls) = $100
Add wood trim to plain cabinets

Tip!!!! Be sure to caulk all the gaps to finish off the look = $100

Add faux leaded glass ($40 approximately)
Stencil your backsplash ($150 approximately)
Under cabinet lighting (coming soon)
Update your lighting
Pin it for later: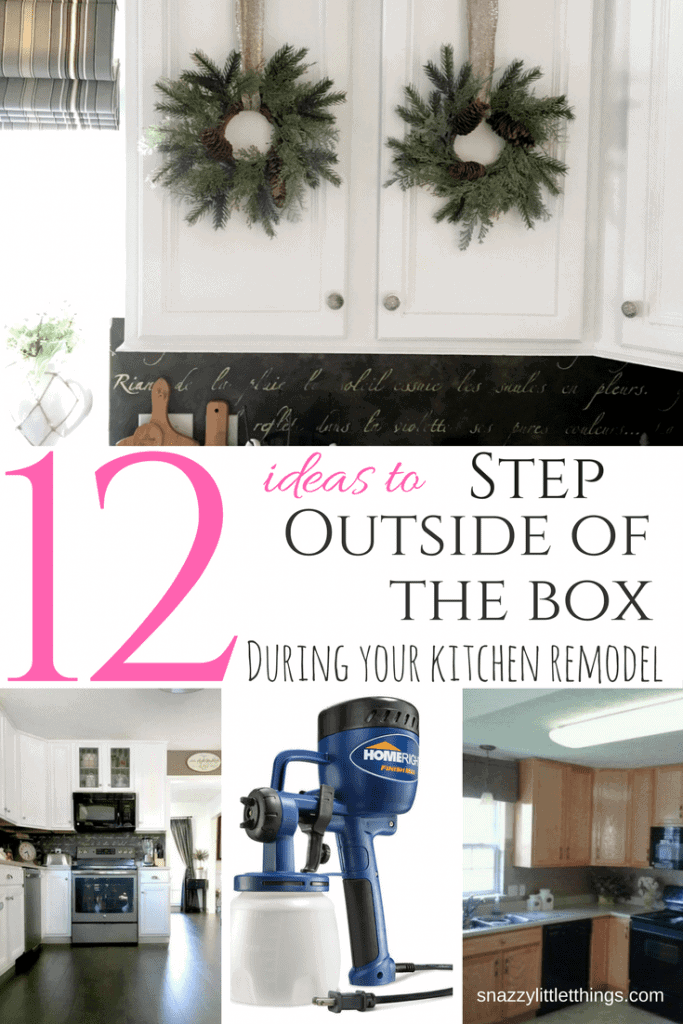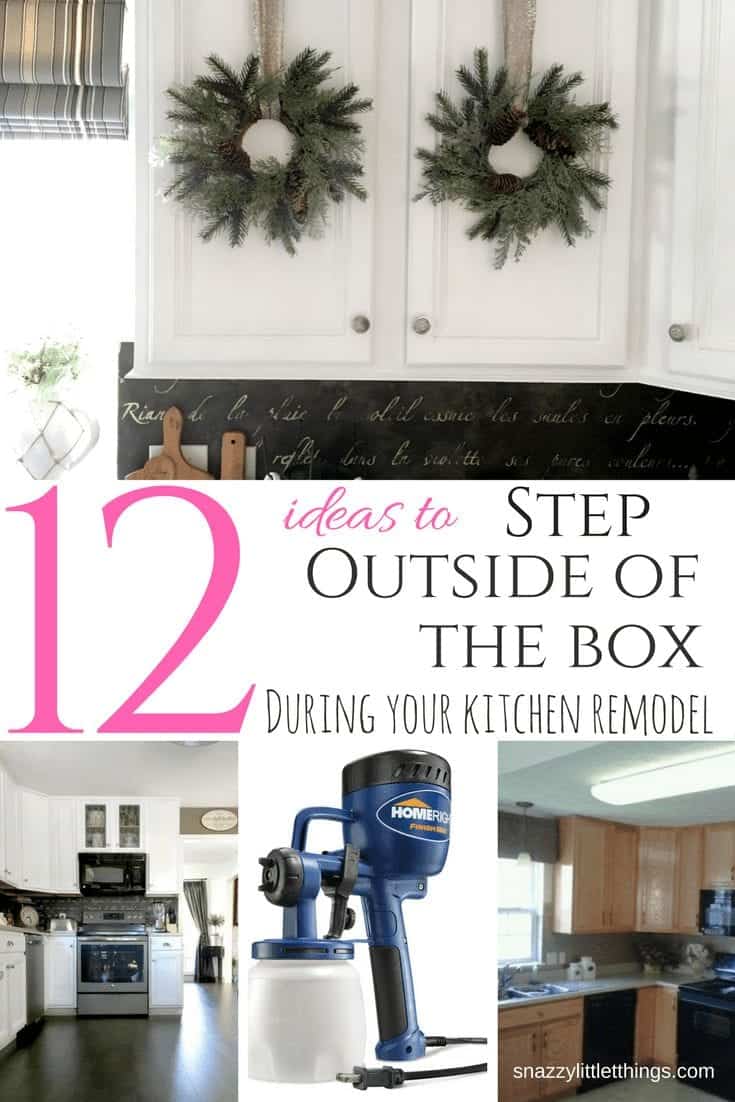 I received free paint and a Homeright FinishMax Pro Sprayer for this project. I was asked to test out DecoArt's new line of Americana Satin Enamel Paints. All additional purchases and content are on my own accord and reflect my personal opinion and style.