Kitchen Island ButcherBlock Countertops
As with most kitchen islands, our island sits right in the middle of our home. We suffered a serious case of "analysis paralysis" as we pondered this DIY. The entire house was upgraded before we'd come back to this project. We finally settled on a "final" look for this eyesore!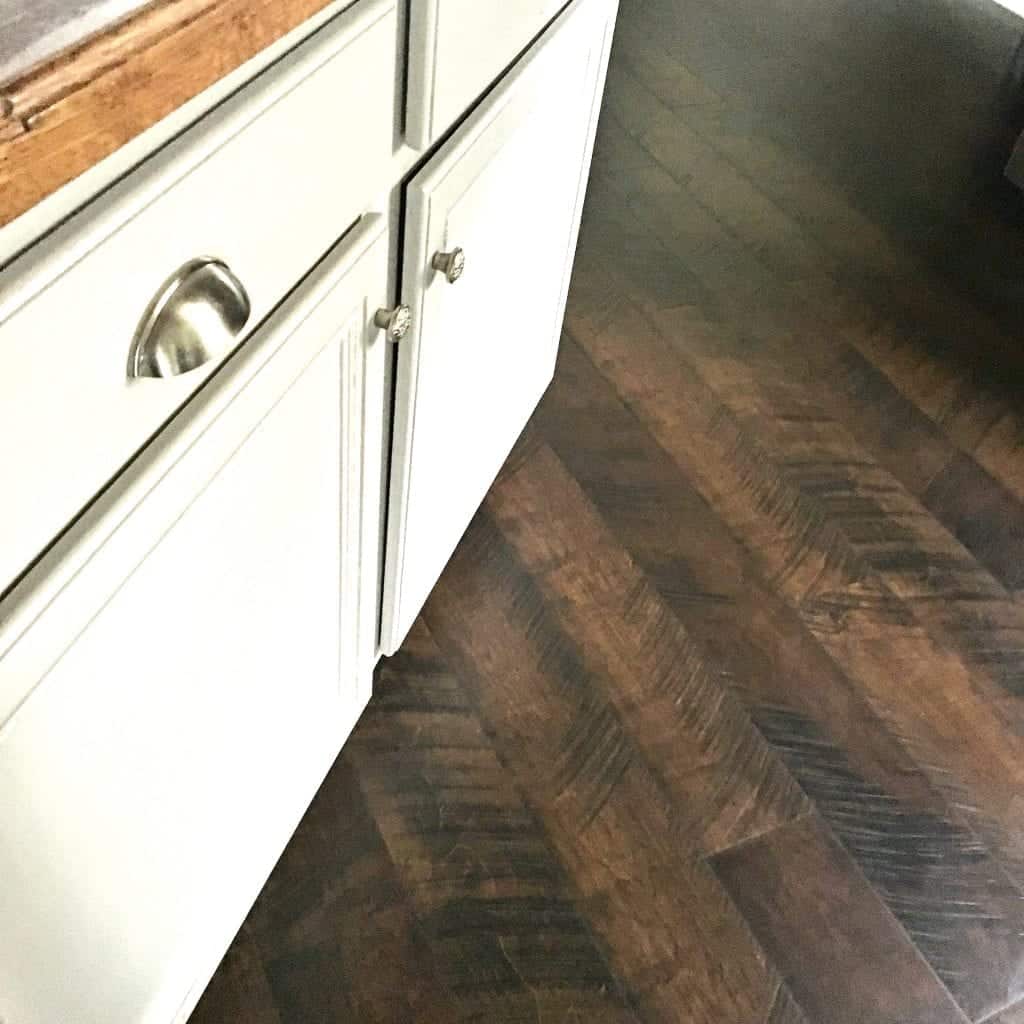 The approximate cost was under $600 (in spite of the many changes throughout the years).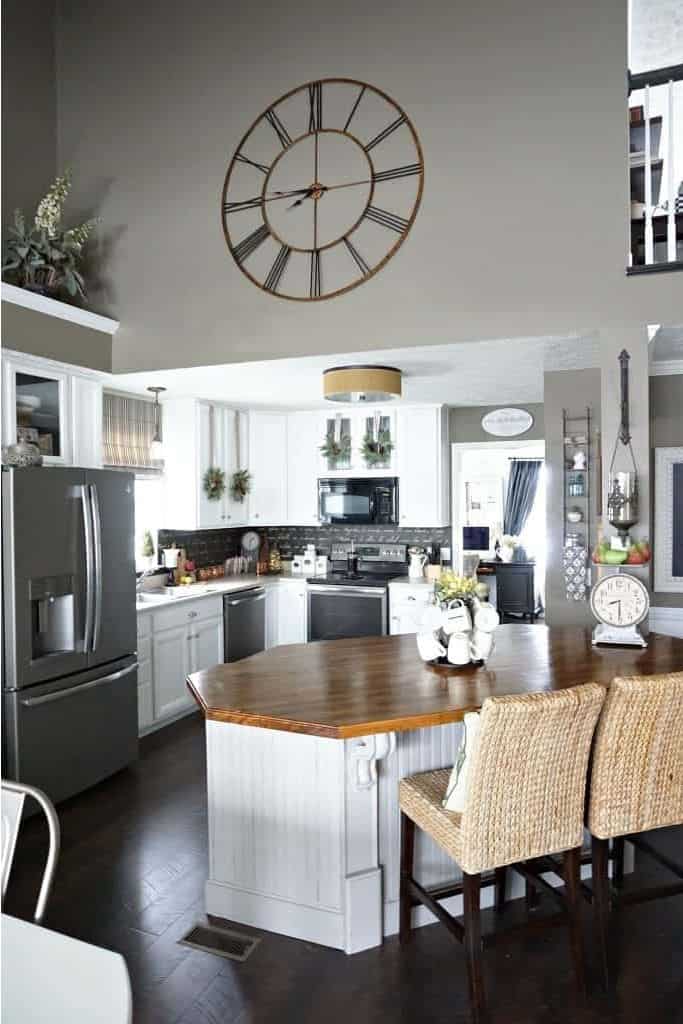 All we knew was our island (before) wasn't the best. We didn't love the two tiered coffee bar. No one really sat there. We weren't sure if we wanted beadboard – that was part of the delay. We questioned whether a beadboard island would be too casual against our classic style wainscot. We finally decided that mixing styles would be okay, and the beadboard would complement our modern farmhouse kitchen really well.
$600 Kitchen Island Upgrade
Here is an "in progress" picture which closely resembles the final look. We have since replaced the carpet with new Pergo.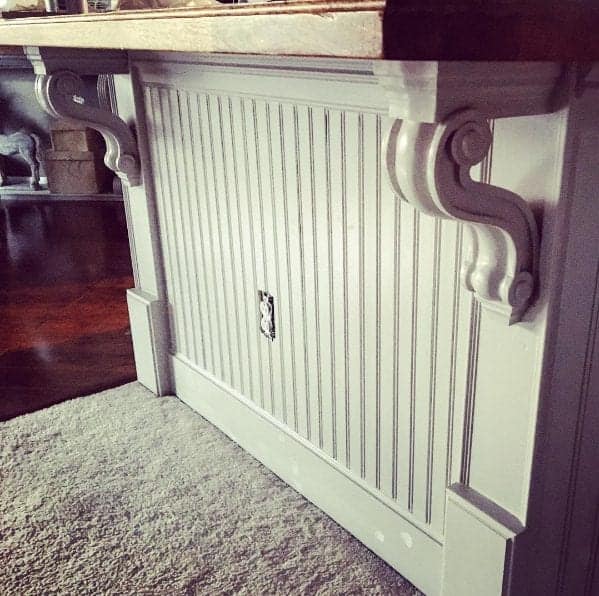 Here are some progression shots I've taken throughout the last few years…notice how much the rest of the house (and flooring) kept changing. So I think we finally settled on a "look".
A summary of this very long journey…
Step 1: Demo the old island and rewired the electrical
Demolished the two-level "coffee bar" portion of the island down to a single level. We moved the electrical outlets which are now behind the "faux" drawers on the side (you know, the drawers that are typically nailed shut and are just for looks? They now serve a purpose.
Step 2: Widened the surface with 2 x Ikea Butcher Blocks
Following this tutorial, we purchased two Ikea Numerar Butcher Block countertops and spliced them together. This was a big job, but the results are amazing!
Step 3: Added trim, corbels & beadboard.
We took our time here. But eventually determined to add a tongue and groove beadboard facing. Added corbels underneath the island. And then used trim and wood to "build up" a faux column underneath the corbels to make them look like one unit.
Step 4: Clean & prep the wood
After cleaning with TSP and letting it dry, I filled holes with caulk & applied primer (2 coats). I keep caulk on-hand to fill in any missed spots that become more visible during the remaining steps.
Step 5: Applied DecoArt Stain Blocker and Sealer
This step seals the wood and prevent tannins from seeping through. After about a week, if tannins do seep, you'll start seeing it then (especially important with oak). If you do see discoloration, scrub with TSP, resand then repeat Step 4 & 5. In my case, I had no tannins so I proceeded to Step 6.
Step 6: Applied two coats of paint.
We won't even talk about the green and white paint job from the early days…mkay? That was a bad fashion moment. ;-)
After a light sanding, I wiped down the island. Using Decoart brushes, I applied thin, even coats of AMERICANA DECOR® SATIN ENAMELS™ onto the primed and sealed wood. Between coats, another quick and very light sanding would help the paint adhere perfectly. Wipe down, then apply a second coat. Two thin coats seemed to be enough, but you could apply three thin coats for extremely high traffic areas.
So there you have it…and it was really like giving birth, and I'm not even sure why – it was such a simple DIY after all!!! Oh well, now we can say the entire space is fini!
I am a DecoArt Blogger, and this post was sponsored by DecoArt who sent me free paint to use for this project.