Ikea Butcher Block Island
Total project cost = $470
(This includes two 96" x 25" Ikea butcher block countertops, Rustoleum Cabinet Transformations paint kit, cardboard from JoAnn Fabrics for template, electrical supplies from Lowe's for rewiring)
Island (before):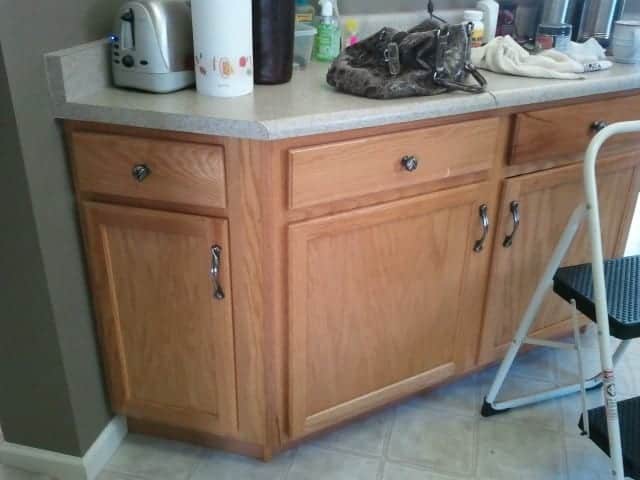 Here it is, the junk collector island (before the Rust-o-leum Cabinet refinish)
So far, every professional I consulted about my keyword=BUDGET kitchen remodel suggested that I immediately upgrade my countertops to Corian or granite (of course).  In case I was missing something, I researched the heck out of the discounted versions of these replacement options that would fit my goal of a $1000-or-less kitchen upgrade.   Not surprised, I came up short.   I know that Rust-o-Leum makes a kit, but my hand has a permanent cramp from painting every visible oak surface in the house and I wasn't up for doing the countertops, too.
Soooo…I decided to forego a rip-and-replace project and opted to update the island with butcher block instead.  The original island design wasn't the best, and it had visible scars from my previous (and spontaneous) DIY attempt from when I slapped a coat of paint on it 6 years ago. And…it was too high, too shallow and uncomfortable…plus, no one ever sat there. It's height also blocked the view, in-or-out of the kitchen.
Here it is…Part II of the transformation:
Here is the current state (after pics coming soon!)
I will post the "after" pictures soon, but we are pumped! This has transformed a no-seater island to a 4-seater entertainment bar with a hidden charging station for all of our electronics…(thanks to the innovation of Mr. Boyfriend, I bought him a new power tool as a "thank you").
I recommend you take a look at This Old House Butcher Block Countertop Installation for a great tutorial.
P.S. I have a contest for some freebies coming from one of my design partners. This will be my first one, so I'm very excited!

I will post more information soon….today we are splicing two Ikea Numerar Countertops together so we can have a 15″ overhang.