Never, ever in a million years did I think I'd be writing this post. Not right now anyway. The original plan was to wait until all of our kids flew the nest before we'd contemplate another move. But here we go!
We bought our next house! And…we are moving in just a few short weeks.
Tour "The Picket Fence House"
listing photos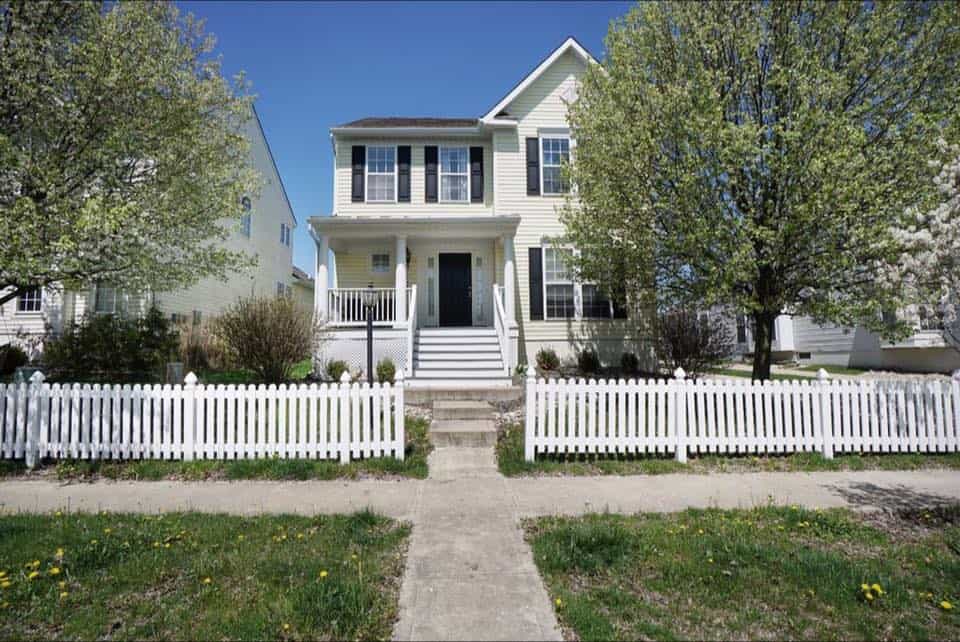 In many ways our new "Picket Fence House" feels like vacation-style living. It's not quite what we pictured for our next home, but it represents a simpler way of life. We loved the "vintage" vibe and the cute white picket fences in our neighborhood. By design, the garages are hidden behind the houses to maintain the aesthetic. It reminds us of Colonial Williamsburg (one of our favorite places to take vacation). The cute downtown is a bike ride away and is considered a tourism destination with lots of amazing restaurants, antique shops and boutique-style shopping.
With this move, we are increasing our home size by nearly 400 square feet (it looks small from the outside…which was really deceiving!) We have 9.5′ ceilings which makes me feel so short! We have a full basement with a comfortable live-in suite. We are downsizing the yard, while it was a bummer at first, the trade-off is that we now have easy-access to amenities that we didn't have before. We are even just a few miles from an amusement park, a water park and a Great Wolf Lodge! There is a community pool within walking distance, and we can ride our bikes out of our driveway and immediately access a 78-mile scenic bike trail. A community recreation center and exercise facility are also within walking distance. My youngest is a social butterfly and so thrilled for these changes, and all the kids weighed in and can't wait!
How we found the Picket Fence house:
After looking at hundreds of houses online – we started to get discouraged. At this phase of our life, we hoped to find a 100+ year old fixer upper with some trees and land in a good school system. These are hard to find, especially in a sellers' market where only non-contingent offers were being accepted. You have to act fast – and we were disadvantaged being 200 miles away. School enrollment deadlines and sport tryouts are right around the corner for Avery, so we were working against the clock. We edited our criteria quite a bit as we searched for a house. Finally, during one of Mark's business trips he found the picket fence house on Realtor.com – which didn't align with most of our criteria. Coincidentally, I texted this same house the same moment he found it! He had already requested a showing. Later that evening, I joined Mark on a Facetime video session for a viewing. Grainy video and all, I went with my gut and we abandoned our original plan. We both felt like this would be a great move for us – but the kids especially. "Vacation style living" doesn't sound too shabby! Our family could use some fun and easy living for awhile. We made an offer – and within a day our offer was accepted! We get the keys August 9th!
The status of our current house, "The Esquire":
Our asking price on the Esquire was a bit higher than the rest of the neighborhood because of our upgrades. About 10 days after we were in contract on the new house, we listed The Esquire (the home we've blogged about for years – named after the builder's floor plan). Twelve showings, and two open houses later (about 25 total viewings), we received 2 offers on the same day – and we are finally in contract! (Final offer was $6 above asking price!) So if you've been wondering where we've been…we've been driving poor Buddy the dog around in an air conditioned car or going for reallllly long walks in this intense heat wave. :) I will share one final tour of our home, fully staged. Stay tuned on this…it's been a whirlwind, but we survived.
Our reasons for moving:
Life is measured not by the success and happiness of one of us – but all of us. Even though I love the home we created, our life needed some tweaking. Mark has been making a long drive to visit his side of the family for nearly 10 years, with me unable to join him. I continually asked myself these questions over the years as I considered selling our current home: are we all living a life that we all want to live? Is everyone happy? Could we be happier? Are we living in a community where we are all thriving? What could a new house offer my family in terms of a better life that our current home doesn't already offer? But then, out of fear, we'd recommit to our old routines and put off a move. Old habits can be hard to break.
But then, this spring it became clear. It was time to move on. Our family down south is calling us home.
******
I'm so excited for this new chapter, there will be an *overwhelming* amount of DIY and home improvement projects in our future! Thanks for following us for the last 6 years as we learned so much about house flipping (and ourselves) as we chronicled all of our experiences here at The Esquire house. It's been quite an adventure and we're so grateful that you've been a part of it.