How my kitchen paint is holding up….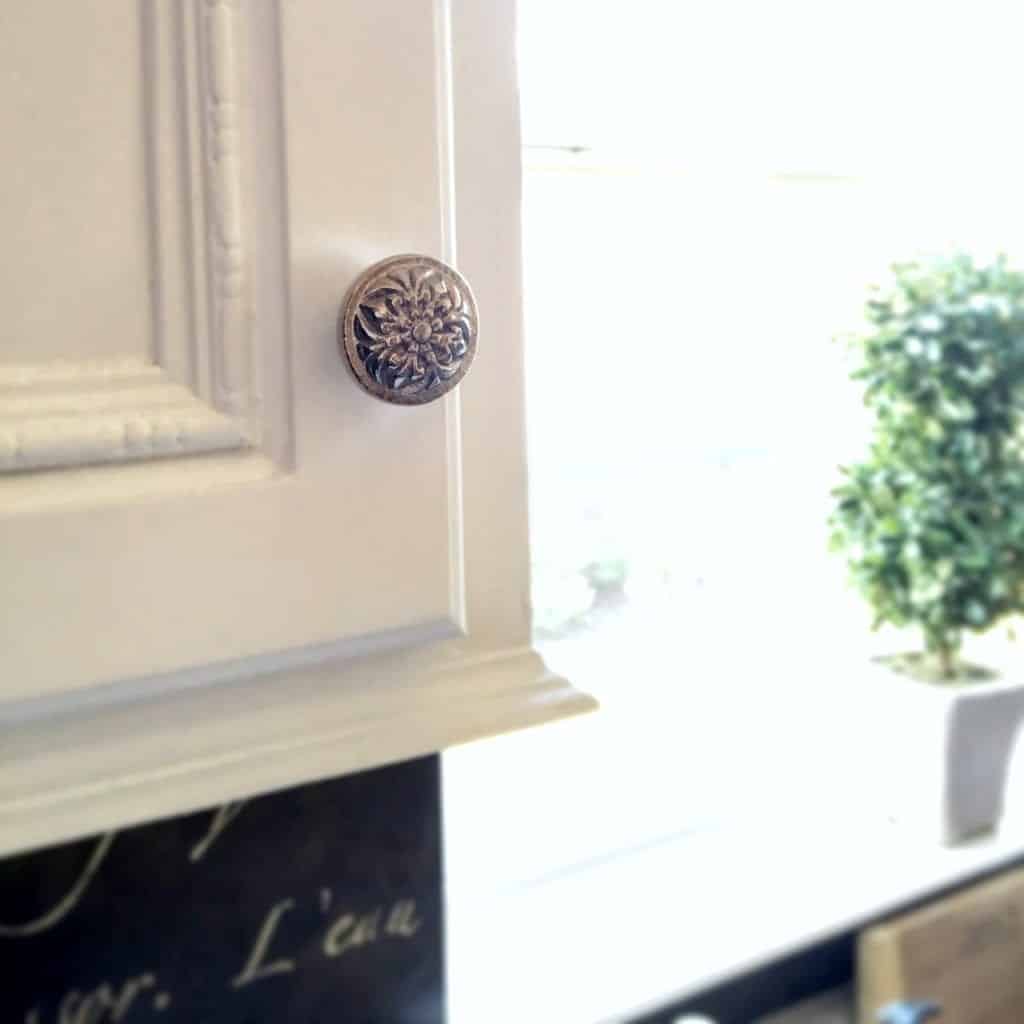 It's been seven months since we repainted our deep-grain oak kitchen cabinets, so today I thought I'd share an update on how they're holding up. (We since sold this house, the realtor said this project added MAJOR value. See this post about our home sale).
Let's just say this isn't my first rodeo when it comes to painting kitchen cabinets, (I'm pretty sure I've painted every square inch of this house). But in the summer of 2016, I had to repaint my entire kitchen (and island) because the original paint kit I used in 2012 (when I was brand new to DIY + blogging) wasn't working out. The previous paint began to chip and was turning yellow.
If you're new here, here is a glimpse of the 2012 paint project: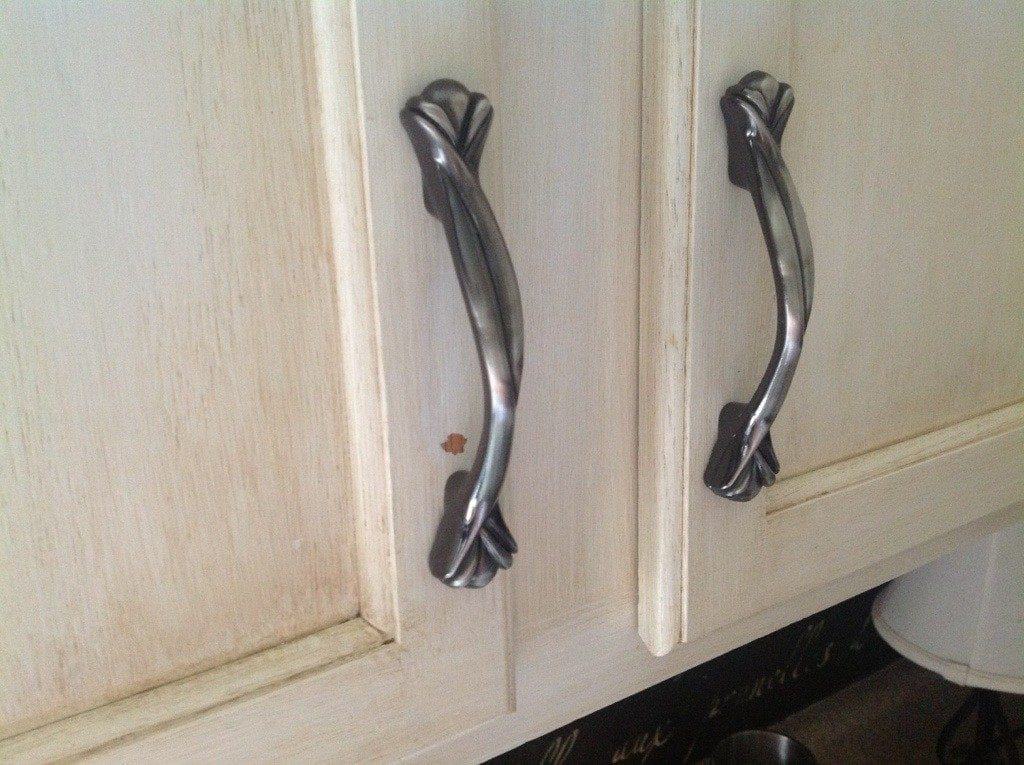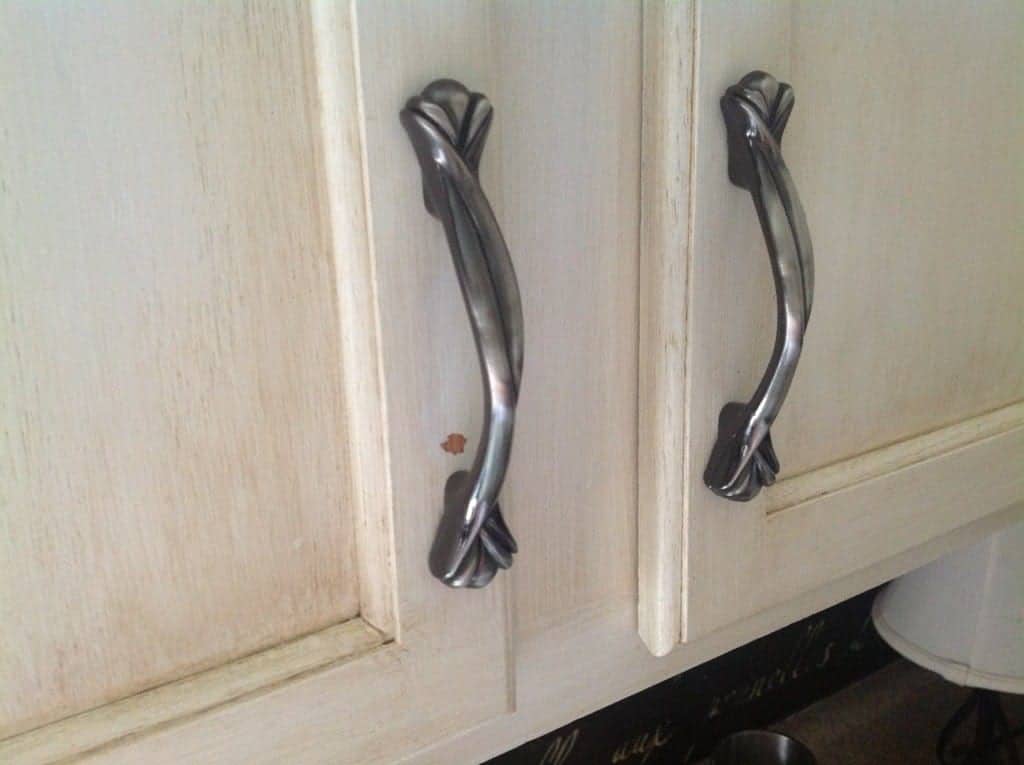 Even though I was dreading another kitchen paint project, I knew this was my moment of redemption. I could do things right this time — and I did a lot of online research. The problem was…there were now thousands of paint tutorials in favor of latex paints.  And I was extremely leery of latex paints…read on.   
The Decision Making Process…
My experience using latex paint on walls has been great. But on doors, furniture, cabinets, not-so-great in terms of durability – even with paint labeled "enamel" latex. So I knew I didn't want to follow the crowd and use any latex on my cabinets — especially with some of the reviews yielding mixed results. With the odds rarely in my favor on the latex paint front — I decided I needed to try something different. I planned to take all the necessary precautions to do this project right this time. I also wanted to avoid the extra step of adding a top coat.
To be honest, it felt like my criteria was simple:
I needed a durable paint that doesn't chip.
I needed a white paint that would not yellow over time. 
One that required NO top coat. Why take that extra step if you don't have to? 
Americana Decor Satin Enamels is what I settled on
AMERICANA DECOR® SATIN ENAMELS™
Why I took the leap of faith + chose this paint for such an important project:
Read more about our kitchen project:  
How to Prep Your Cabinets // Kitchen Island Update // 12 Ideas to Embellish Your Kitchen on a Budget
After talking with my professional painter friends, several thought I was crazy to try this paint line. Yet the overwhelming majority encouraged me to consider acrylic enamels (or enamel-like) paints for a hard finish. So why NOT this line, right? Oil based enamels are great for all colors EXCEPT for white — so that was out since oil based paints will yellow over time. So that's another reason I chose water-based acrylic enamel since we are using Pure White on some cabinets. To apply, DecoArt recommended several thin coats for long lasting durability. This AMERICANA DECOR® specialty paint line fits my criteria perfectly, and it's designed specifically for high-use furniture items (like cabinets).  There are a few more reasons I really wanted to try this paint:
Reason #1:  I love the paint colors they have to choose from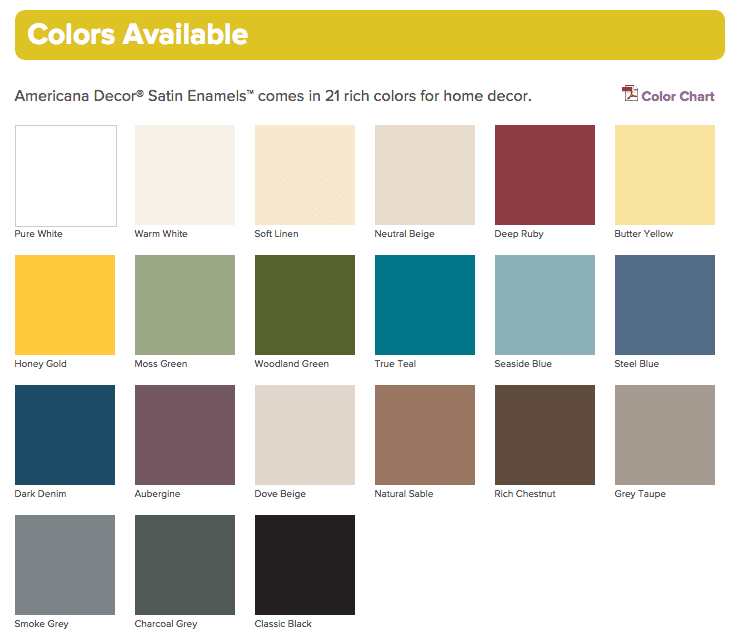 We chose Dove Beige for the island, and Pure White for the cabinets. Here is my affiliate link to shop on Amazon. 
Reason #2:  It provides a high-performance finish
Normally when I accidentally drip latex paint onto our laminate floors (hey, it happens!) it could be easily scraped off with my fingernail. Not this stuff! I had to actually get a scraper from the woodshop to carefully remove my paint splatters.  This is a GREAT sign that this paint is more durable, even better than the high-performance latex paints available. This paint dries VERY HARD.  This is enamel, remember?
Reason #3:  It's self-leveling and leaves minimal brush strokes
If you do have brush strokes, you can dip your brush in water (it's an acrylic enamel which is water based) to ensure the paint stays thin enough to level out. You can also lightly sand between coats.  The trick to a long-lasting finish and durability is a thin application with multiple coats.  To give the paint some "tooth" or rough application, you can also roll it on as well.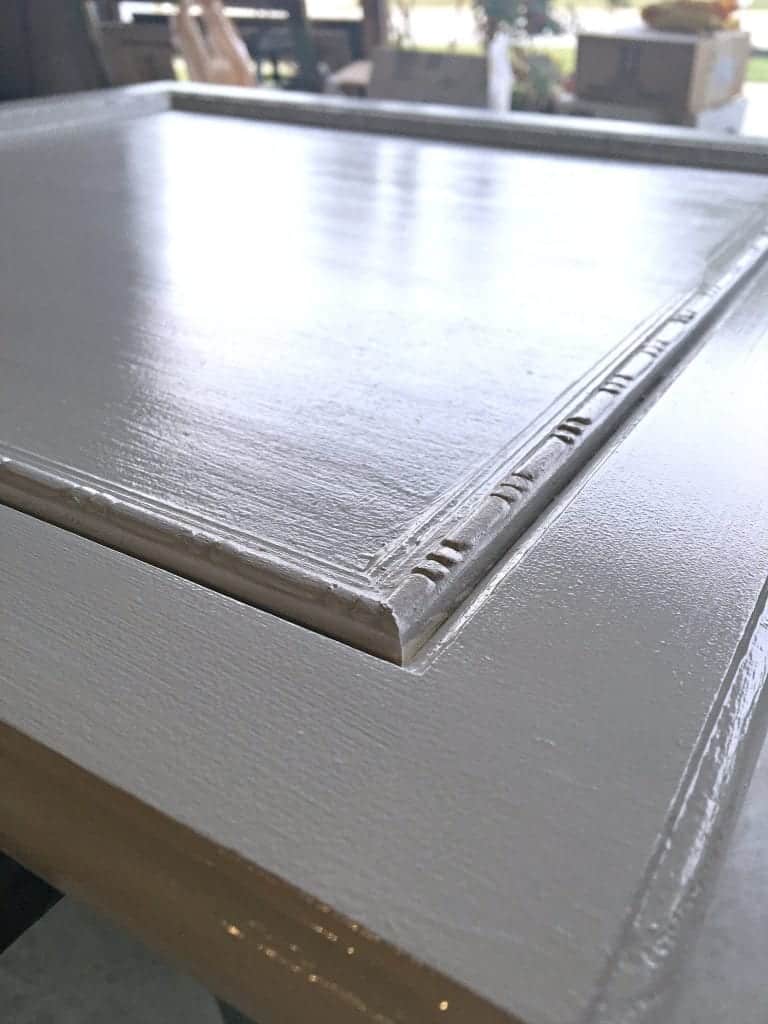 Reason #4:  The brushes!
The brushes are thin and easy to use, and they get in all the nooks and crannies (especially in the beadboard). This style of brush also promotes a thin application. Very important if you want a long-lasting, durable finish. But in the end, I used a watered down version in my paint sprayer and it turned out great!
Reason #5:  No top coat needed
Woah. If you haven't painted cabinets before, this is huge. This will make touching up the cabinets SO simple. Since I've already been through a kitchen cabinet paint job once…additional layers of paint, including a top coat make touching up difficult (because you'd have to repeat the layers). With DecoArt, no additional steps needed, and you can keep your cabinets looking fresh by keeping the paint on-hand for any mishaps.  (And let's face it, paint is paint…and chipping can happen).
Reason #6:  Stain Blocker
If you have a wood grain in your cabinets (I'm a little picky about that) or worried about tannins bleeding through your lighter paint, they offer a stain blocker. I used it primarily as a brushable wood filler as a step between the primer and paint. We wanted to be a thousand percent sure that we would never have to paint these cabinets again!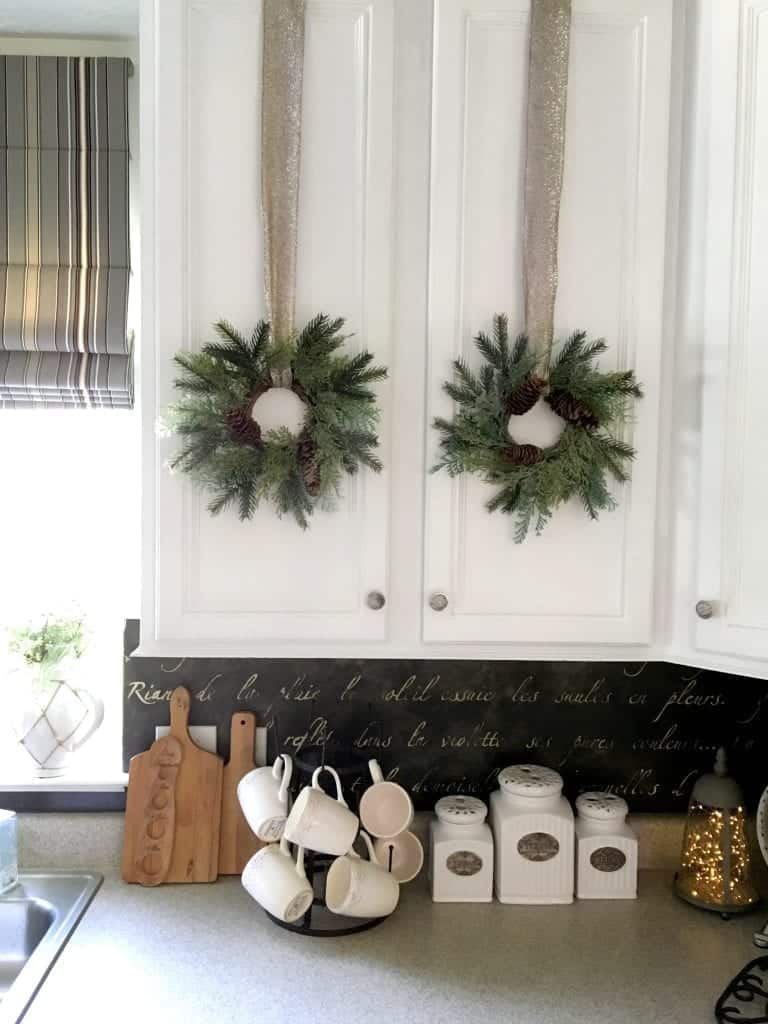 UPDATE:
So…after 7 months I was expecting SOME problem because I have not been terribly lucky in this department. But I'll have you know — not ONE chip, scratch or touch up!  NO tannins bleeding through….and the wood grain is barely visible.  Expecting the worst, we stored a few extra containers on hand if needed, but we haven't had to use them once. My only complaint is that they need to make larger containers for a kitchen paint project. I will post another update in several months to let you know how they're holding up, but for now…this stuff is really great for any high-traffic furniture projects, doors or cabinets in your home. 
Pin it for later: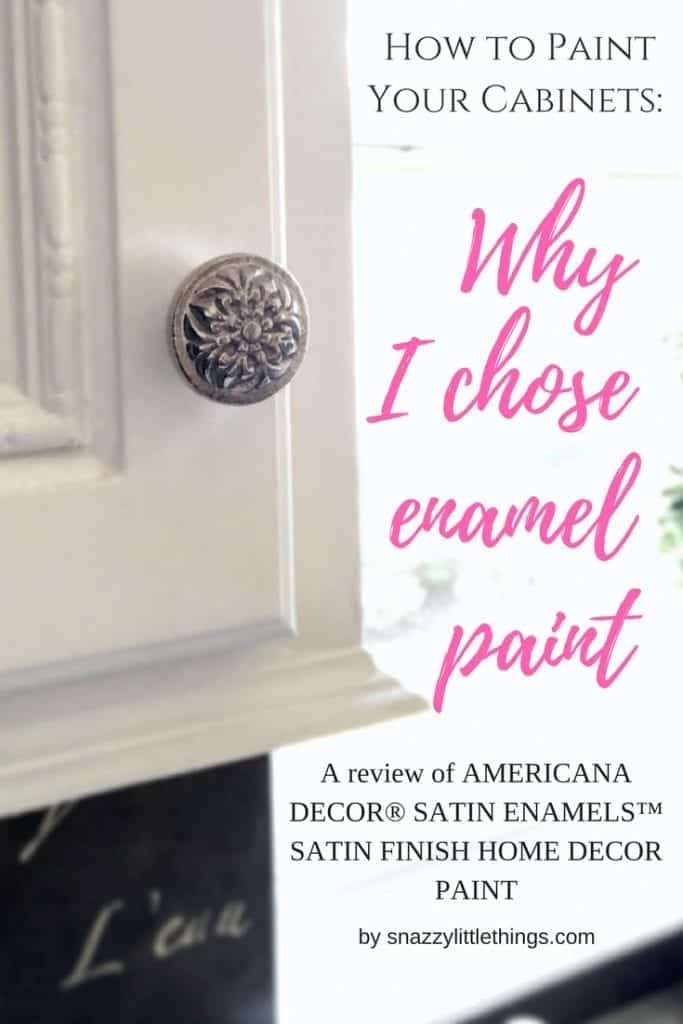 Read more about our kitchen project:
 How to Prep Your Cabinets // Kitchen Island Update // 12 Ideas to Embellish Your Kitchen on a Budget