A pretty Antique Kidney Desk Makeover
Lately I've been finding beautiful furniture pieces on Facebook Marketplace as well as Craigslist that need some love. This pretty, antique kidney desk makeover is one of the projects that resulted from my hunting and gathering. She had a few broken parts that needed some attention. Since we are setting up a pop up shop with Vintage Market Days in three weeks, we have to choose wisely which furniture makeovers to tackle. So this piece will be available in our booth – I want customers to walk away knowing they purchased a quality product that lasts for years to come.
Antique Kidney Desk Makeover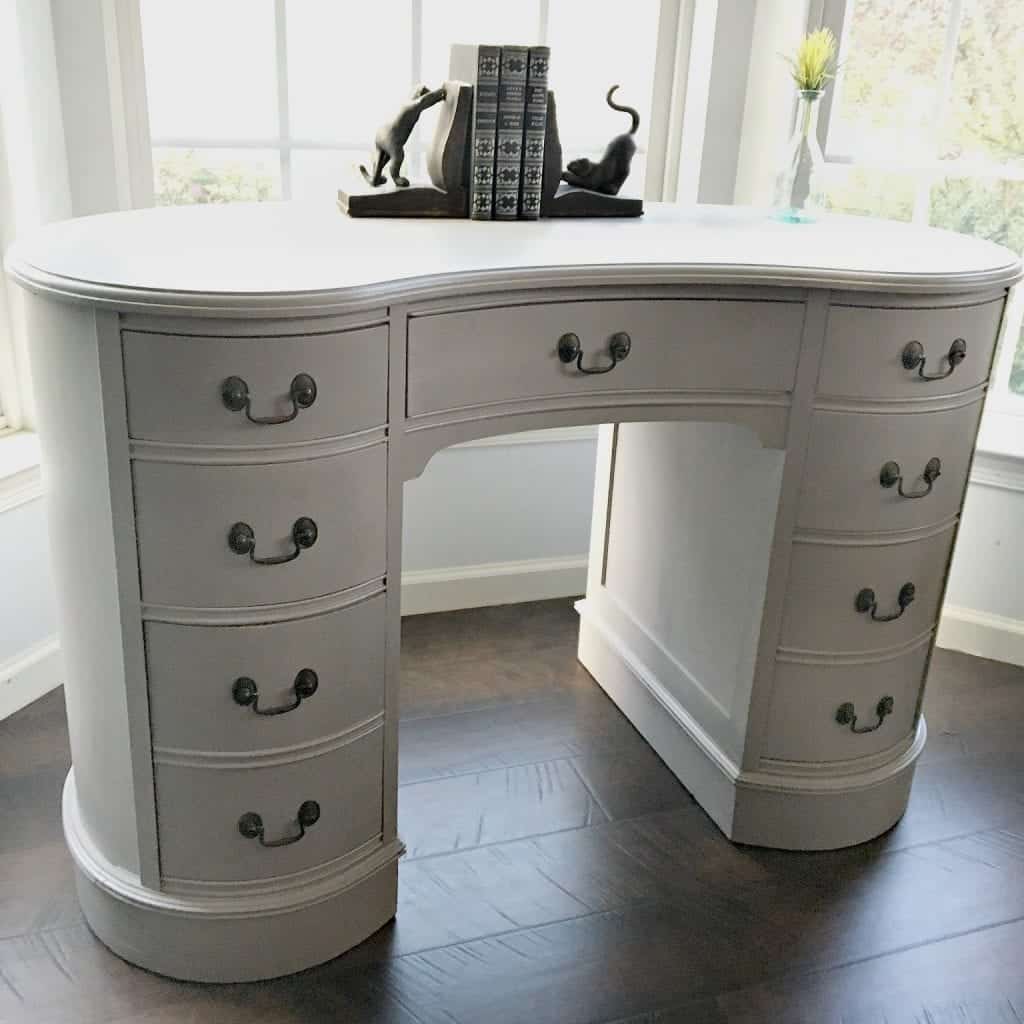 Sometimes when find pieces like this I really want to accept the challenge of a full restoration back to it's original condition. I do have an affinity for natural wood, but this desk in particular had a red stain that was really in need of stripping. When I tried to strip it, it turned some of the wood pink and I knew it would be quite a process. So I gave up the ghost and implemented Plan B — to prime and to paint.
You can expect some simple-yet-elegant finishes for Vintage Market Days given the short timeframe we have to work with. I have a feeling that the Homeright sprayer and I are going to be best friends.
Scroll through to see the products I used:
(Affiliate links included throughout this post)

Many of the products I used we already have on hand. But you can still accomplish similar results without all the fancy power tools. The Homeright sprayer not only gives me an extremely smooth finish with no brush strokes, but it also saved me so much time on the prep and I was able to prime this piece in record time — which is perfect as I paint some quality pieces in time for the show.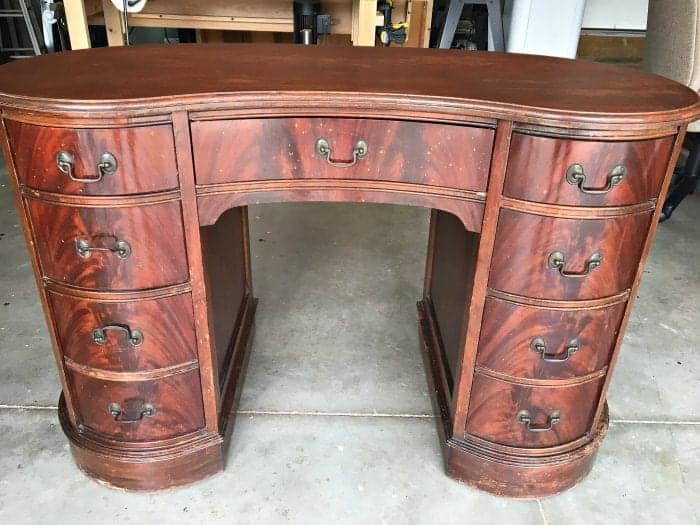 As you can see it was in dire need of a cleaning. And when I wiped it down with TSP and warm water (use gloves) the spots were still there, and the rag became pink.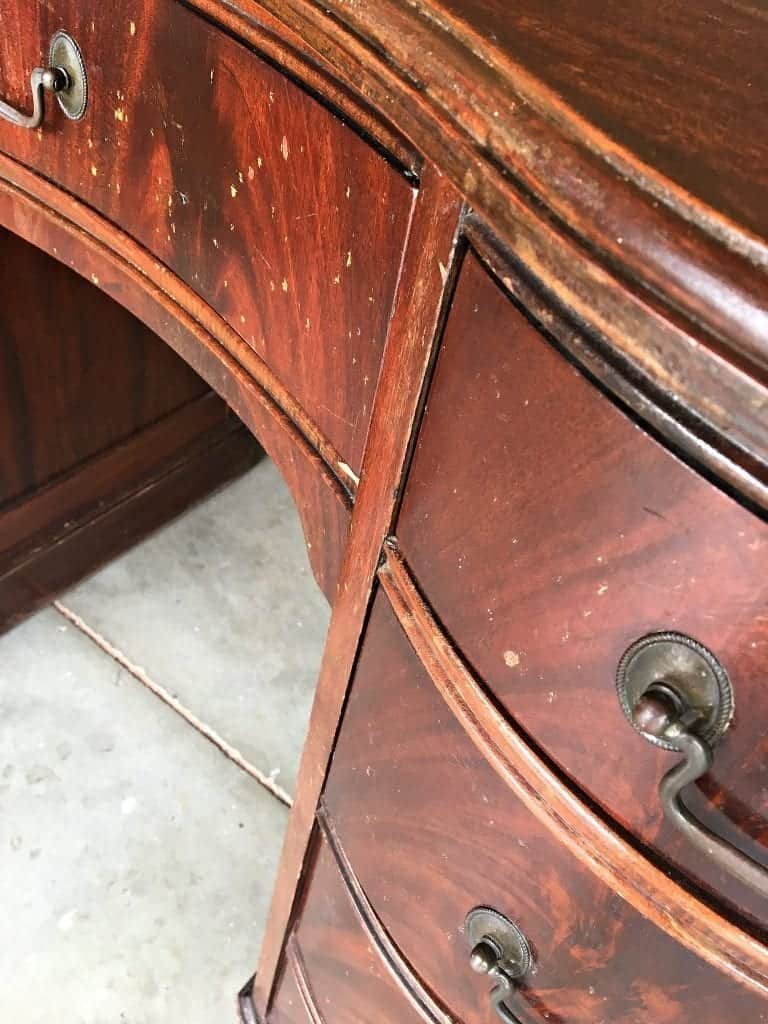 Moisture must have gotten under the glass top way back when.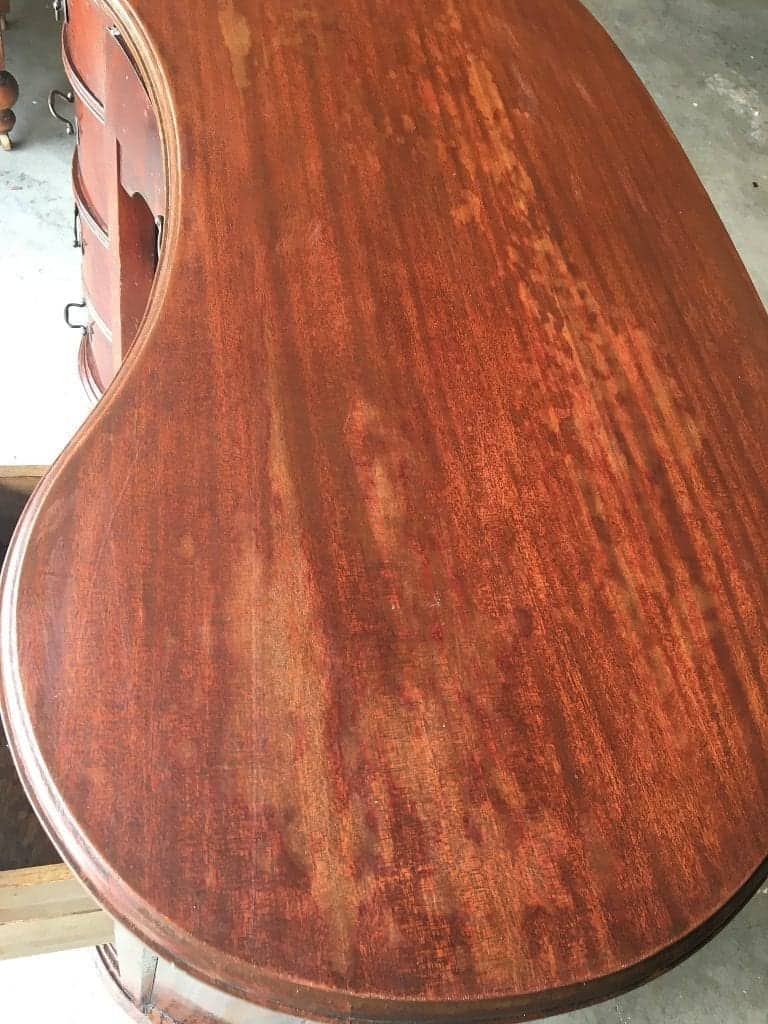 Inside of the drawers, before, which I also wiped down with a rag and TSP: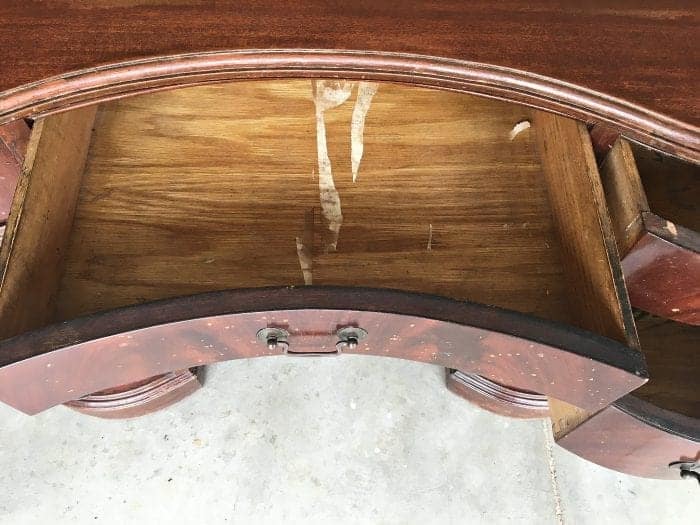 After cleaning I removed the hardware and sanded any rough edges with a sanding block and fine grit paper. I knew it needed a stain blocking primer, so I sprayed the piece using my Homeright Sprayer and Zissner Bin Primer. Then I followed up with a coat of DecoArt Stain Blocker (also in the Homeright Sprayer). I did this to prevent any of the stain from seeping through the final finish.
To make the piece feel clean and new, I also sprayed primer inside all of the drawer cavities as well as inside all of the drawers.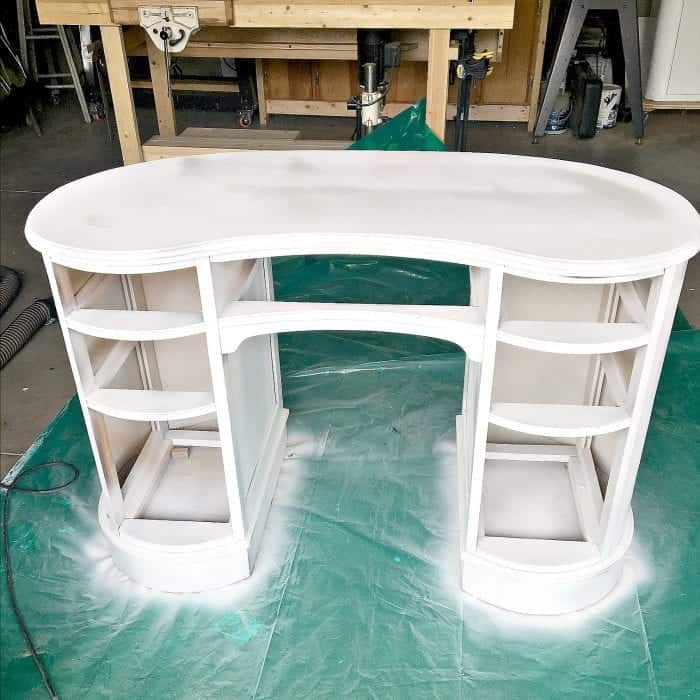 I chose Americana Paint Chalky Finish paint, in the color "Artifact"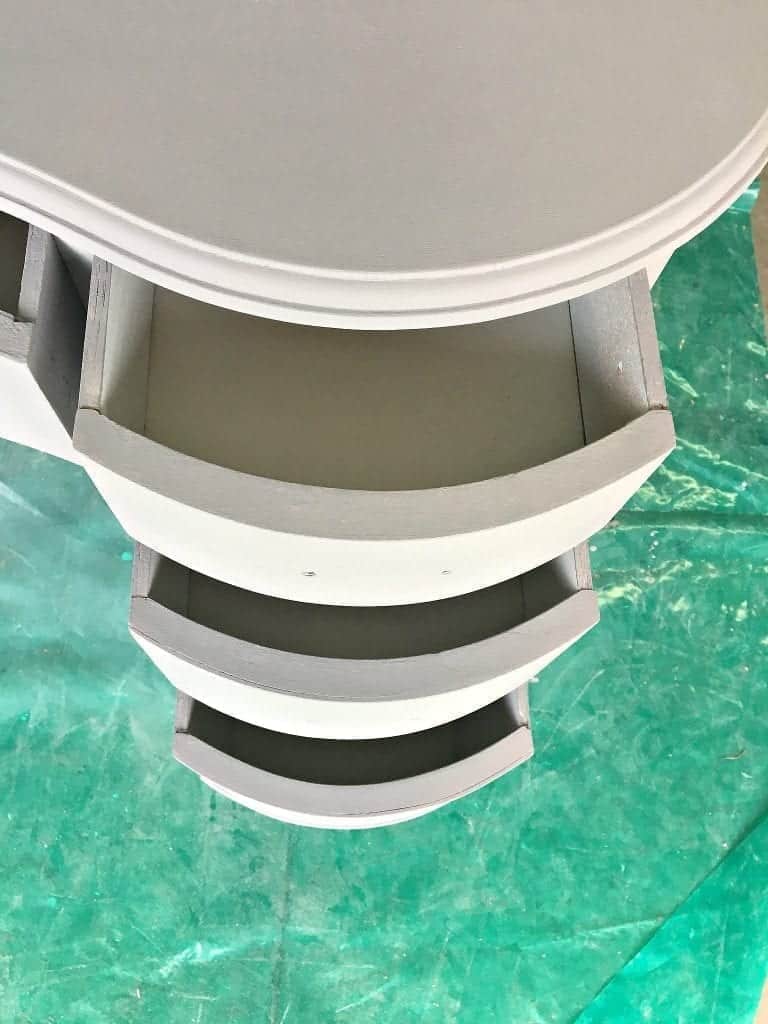 On the desk top I sprayed the paint then followed up with a sponge roller to smooth out any spatters giving it a smooth, even finish. Thee final step was to spray the desk and all the drawers with a several layers of polycrylic urethane which won't yellow.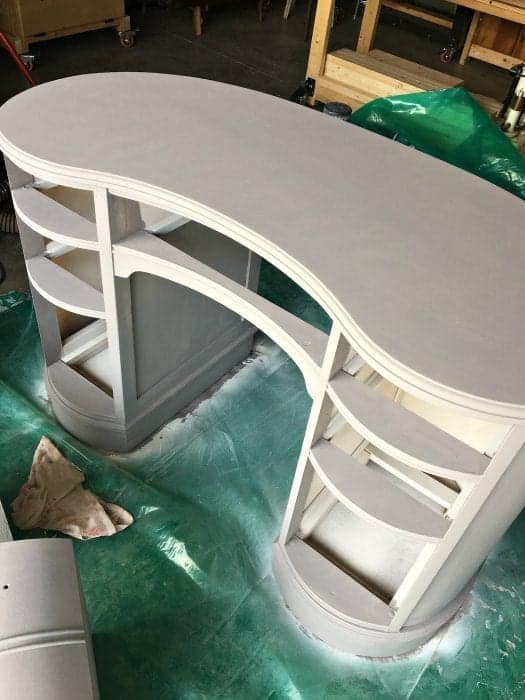 I think this piece will look beautiful and bright in any office. I love to keep the original hardware, too whenever possible. It just fits this piece.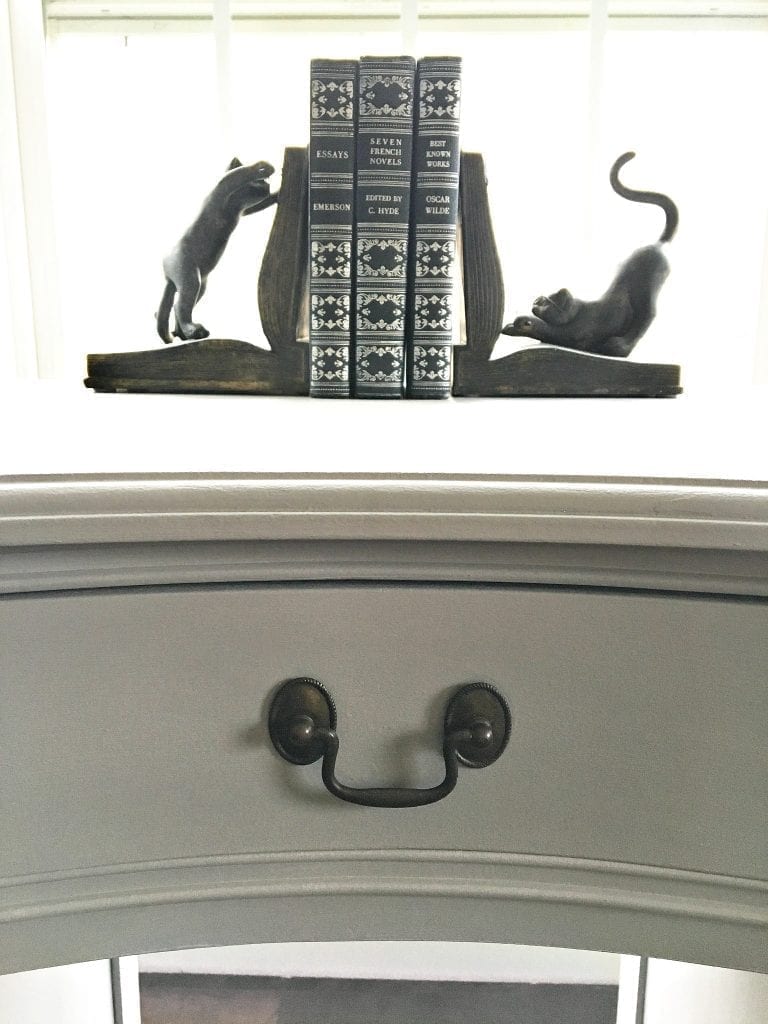 Pin it for later: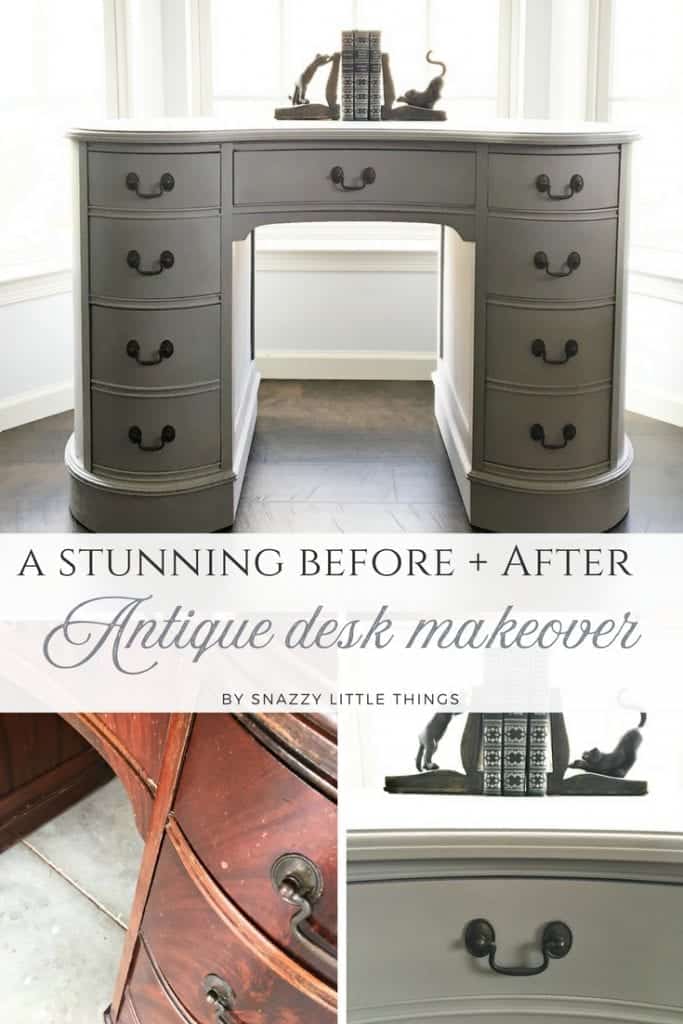 Up next…more adventures with my Silhouette, DIY pillow stencils and an antique vanity makeover!
Thanks for following along!