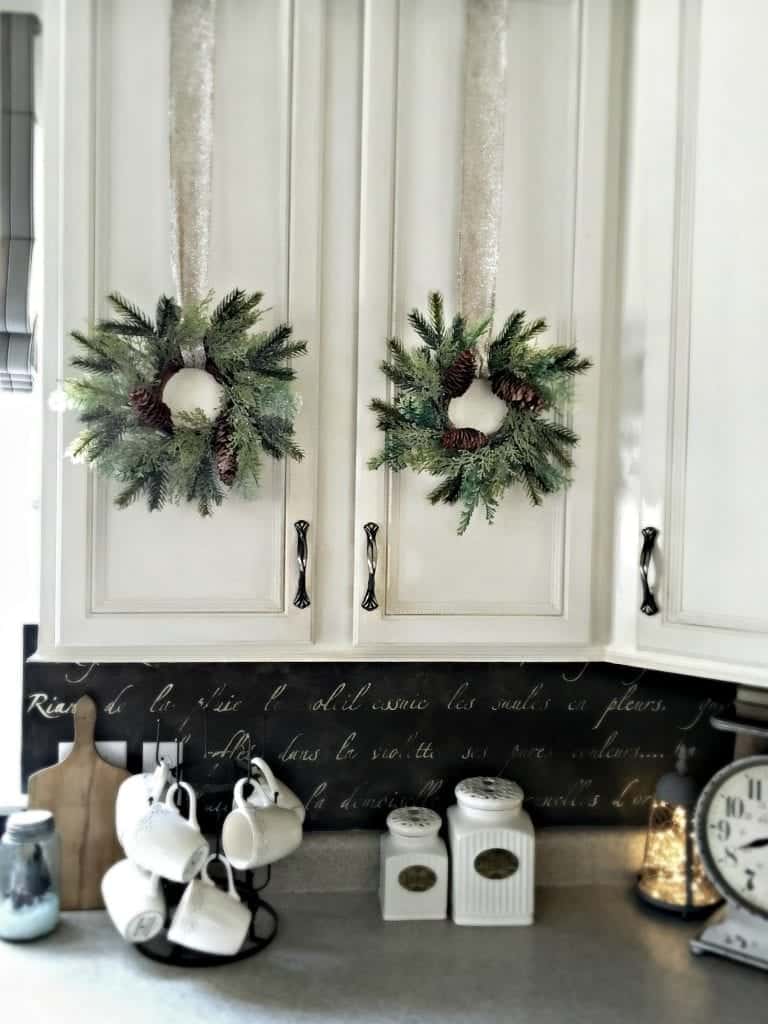 I had a beautiful, unused stencil with a script version of the French sonnet, "Springtime in Paris"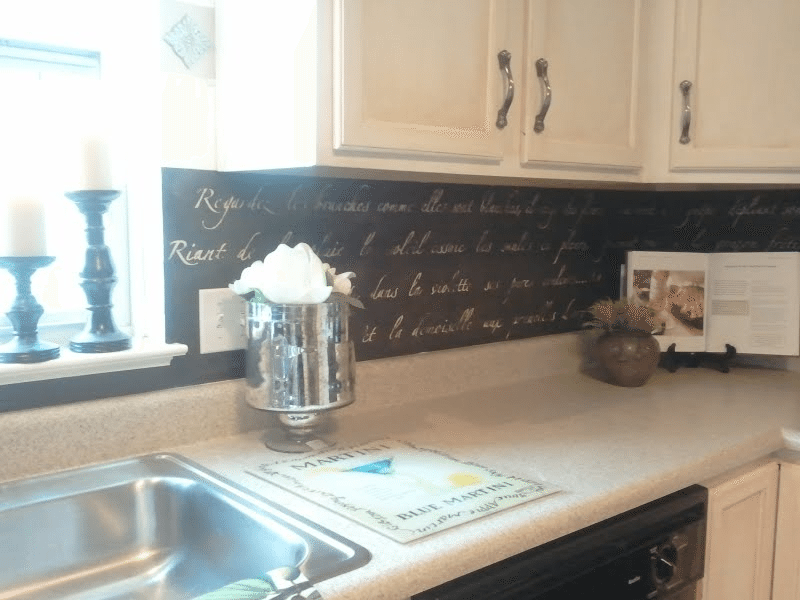 I wanted a "wow" factor in the kitchen and I was willing to try something different that wasn't permanent (like tile can be). I felt a zero-commit backsplash gave me the impact I wanted.  And if I sell and the buyers don't like it?  They can tile over it.
Kitchen (before):
Step 1:  Choose your design by creating sample boards
Before I committed to a design, I created sample boards with several techniques for my stencil application.   I created four different designs and narrowed it down to two (dark stencil on light background / light on dark. Then I experimented with different sponge and cross-brushed techniques applying a metallic patina on both).   Since I was thinking "resale" I wanted to appeal to public opinion, so I put a post out on Pinterest asking their opinions who picked my final design.
Step 2:  Prep the wall & choose a color:
When I first moved in (2005) I hung a neutral wallpaper with a faux tile as my backsplash.  Of course, once it fell down due to daily kitchen wear and tear, I panicked and used Gorilla Glue on the wall to keep the wallpaper upright.  This is the gift that I left for myself:
Sooooo…now what?
Step 3:   Apply a spackle – that's what!
Thanks to my poor planning and Gorilla Glue disaster, I needed an education on spackle…and fast!  I had never done this before, and ended up purchasing Homax Wall Texture that was VERY easy to work with (after 1.5 hours at Lowe's I finally made a decision).  It doesn't dry quickly so it gives you time to work with the product and create the texture you want:
 Step 4:  Paint over the spackle & patina
After letting the spackle dry overnight, I painted the spackled wall with a chocolate semi-gloss paint (the same paint I used on my loft handrails and balusters–that's a future DIY post).  Once the base dried, I sponged on a Valspar bronze metallic paint, and quickly blended with an "X" criss-cross pattern with a combination of a dry paint brush and sponge brushes.   Here is the result:
Step 5:   Stencil application
This part was so fun and rewarding!  This was my first stencil project and I didn't have a tripod to take photos. Each time I lined up a verse, I would then use a level to ensure my letters didn't go up or downhill, then apply tape…then roll on the paint!  I accidentally had a paint "glob" (see the second line…lesson learned), so I suggest you squeegee (roll out) your paint roller to get rid of excess paint to avoid the same mistake. It was easily fixed with an artist brush.
Voila!  Very simple, very cost-effective! And now, I can't imagine my kitchen without it!