Beginner's Guide to Cottage Garden Design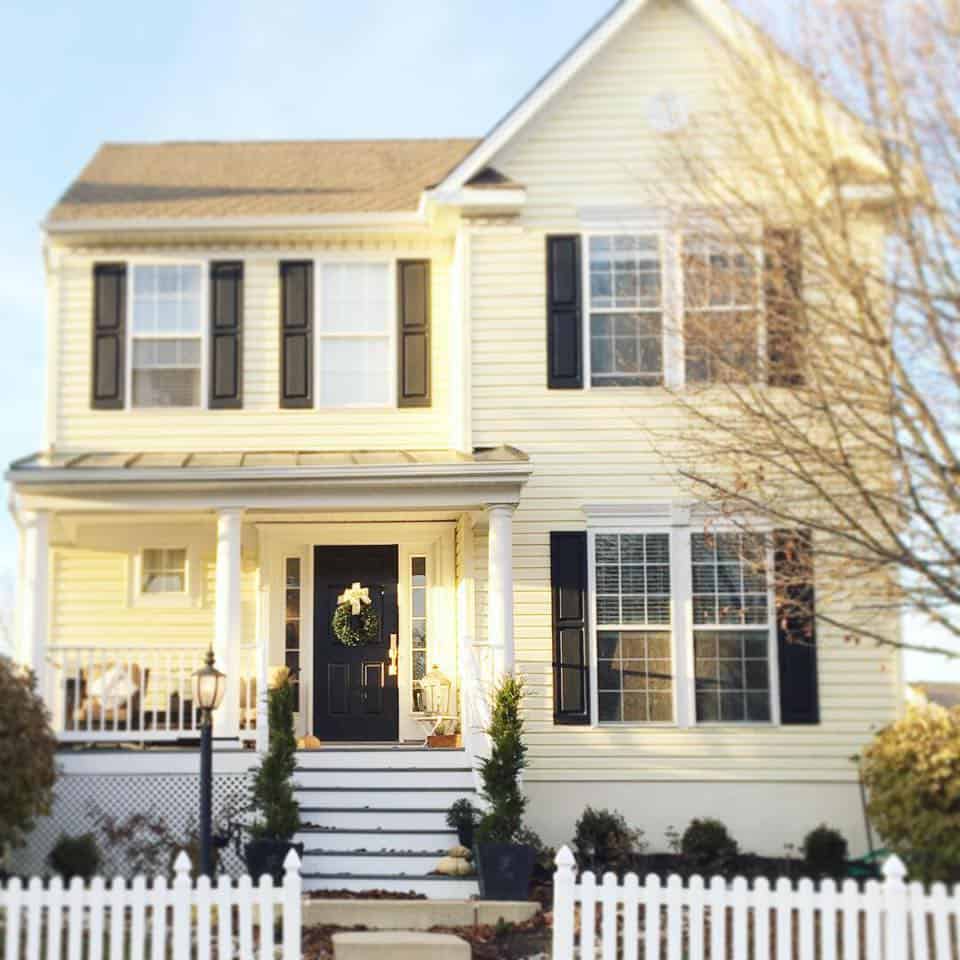 An elegant cottage garden with flagstone pavers and loads of blooms from spring through fall is what I'm dreaming about for our landscape design. I settled on an English cottage garden as the right look for our picket fence neighborhood. These style gardens are less manicured, low-maintenance and if planned properly will require with very little deadheading (which is perfect for our lifestyle!) These gardens can also deliver beautiful cut flowers throughout the season.
Our English Garden: Day One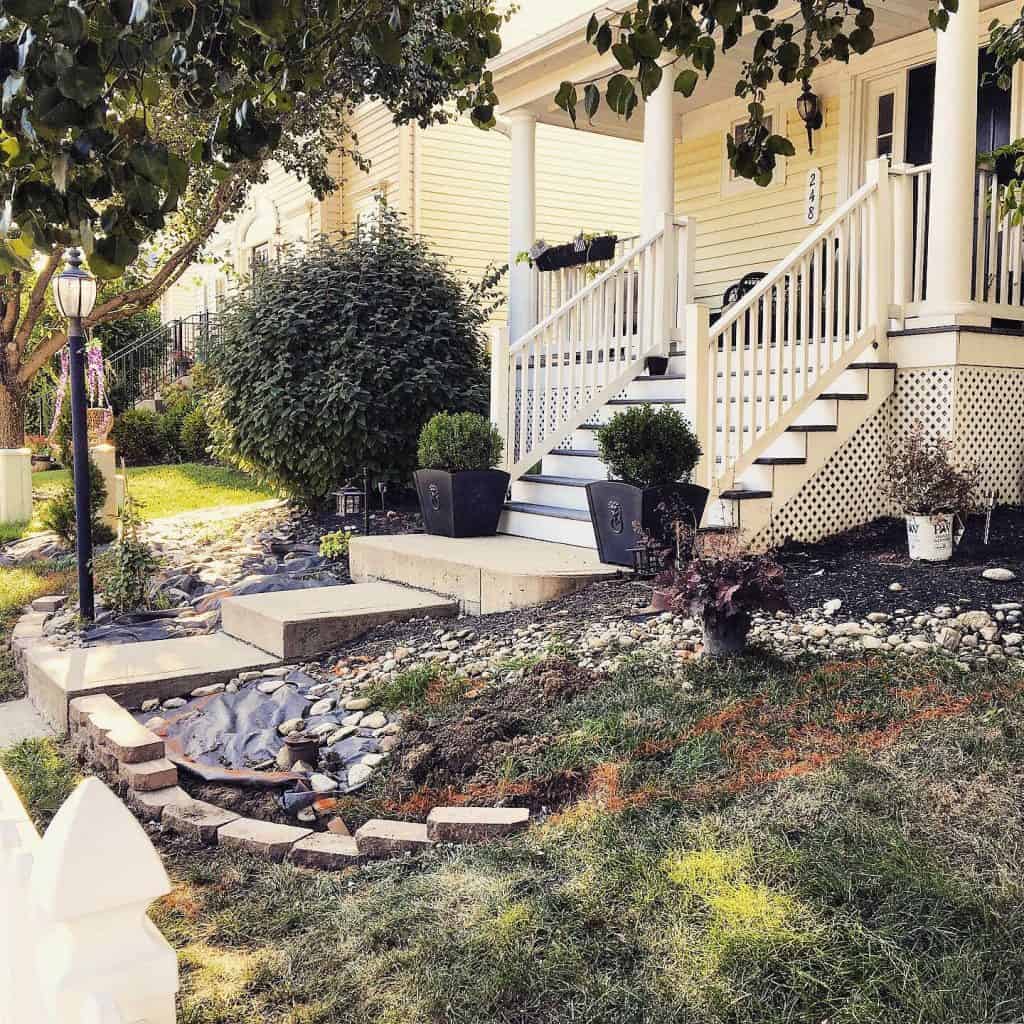 I am truly a beginner with this style garden, so we are in this together! From our flowerbed makeover to our first day of planting mid-April 2021, I'll share links to resources with updates throughout the growing season!
We live in Zone 6 (recently moved from Zone 5). After our flower bed update I researched all the new plants available to me in this zone. No matter what zone you live in, planting perennials is a good first step. Second row foundation shrubs are next. Back row evergreen hedges are great for year-round color. Finishing touches like mulch, rocks and accents finish it off nicely.
BEFORE: Flower beds getting an update. A list of all of our shrubs and flowers is included below.
"The key to English Gardens is to plant a little bit of a lot…"

Source: Monrovia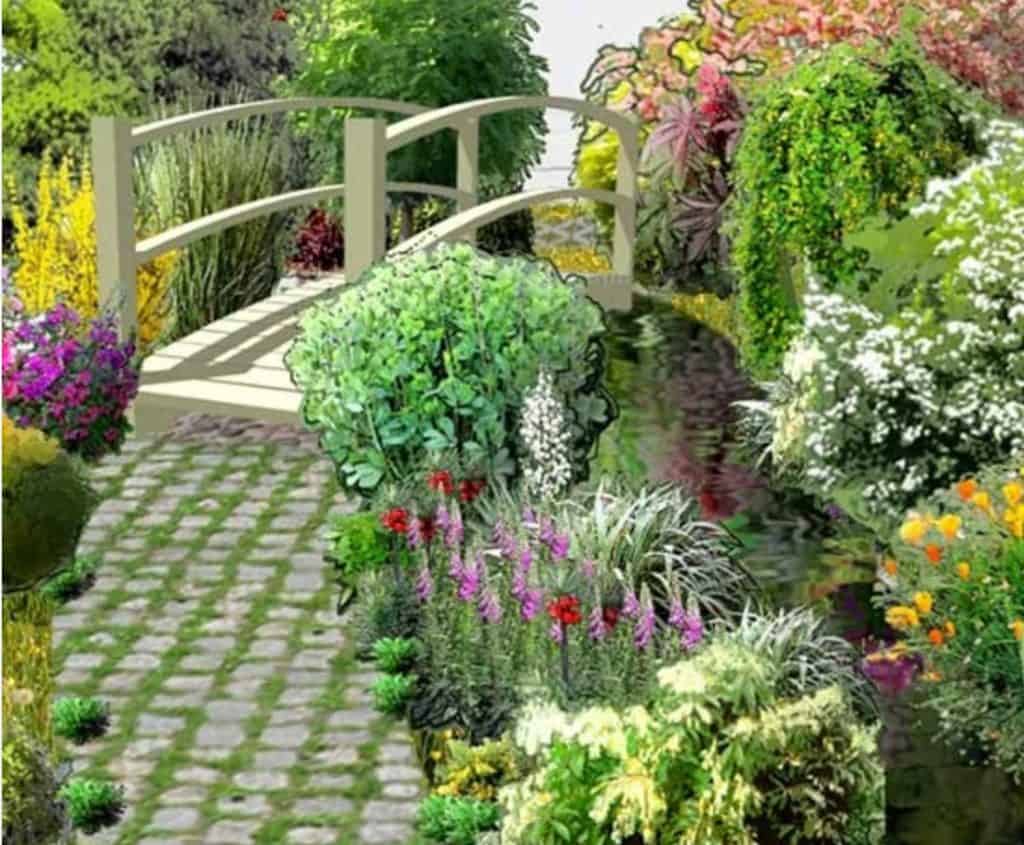 Planning Your Garden Layout
(Pictured right: Plan-a-Garden)
This step can be overwhelming for a novice gardener (like me!) so I recommend using free online tools to plan your garden which helps you visualize your space, identify your hardscaping elements and create a plant shopping list from season-to-season.
Categorize your plants into low-growing, medium and foundational shrubs. Once your perennials are located, fill in with bulbs and annuals for additional pops of color. Be sure to accent with flagstone or groupings of rock for visual interest.
Hardscape on a Budget
Hardscaping includes the structure that houses your flower bed, but also includes stone, pavers, wood structures, obelisks, trellises and river rocks. Decorative elements like these can be added in phases. Researching hardscape design ideas will help inspire you. The gardening section of Facebook Marketplace is a great way to bring hardscaping elements into your landscape on a budget.
Our hardscape design plan includes:
2-tiered retention walls (as pictured)
4-6 large flagstone pavers to create a "secret garden" style path through the right flower bed
River rock (as pictured)
A concrete birdbath as a pretty accent
A bench under our tree
Irrigation drip line
Hummingbird feeders (2)
Existing trellis (cannot be changed due to our home owners association rules)
Last season we updated our flowerbeds and only mulched. Our landscape retention walls were built using clearance paving stones for only $65! We had a landscape company install them for us. We love how they taper into the landscape. This gives us 2-tier flowerbeds to work with that line concrete steps. River rock will be placed more intentionally as our plants become more established, and I'll move the excess to a different part of our yard (hello, lots of river rock!) A bit too much for my taste but that's the style around here.
Choose a Color Scheme for Your Flowers
There is no limit to cottage garden color schemes! We are choosing purples, whites, blues and pinks for our flowers. Grouping similar colors and species or placing the perennials in rows makes your landscape look more intentional and less random.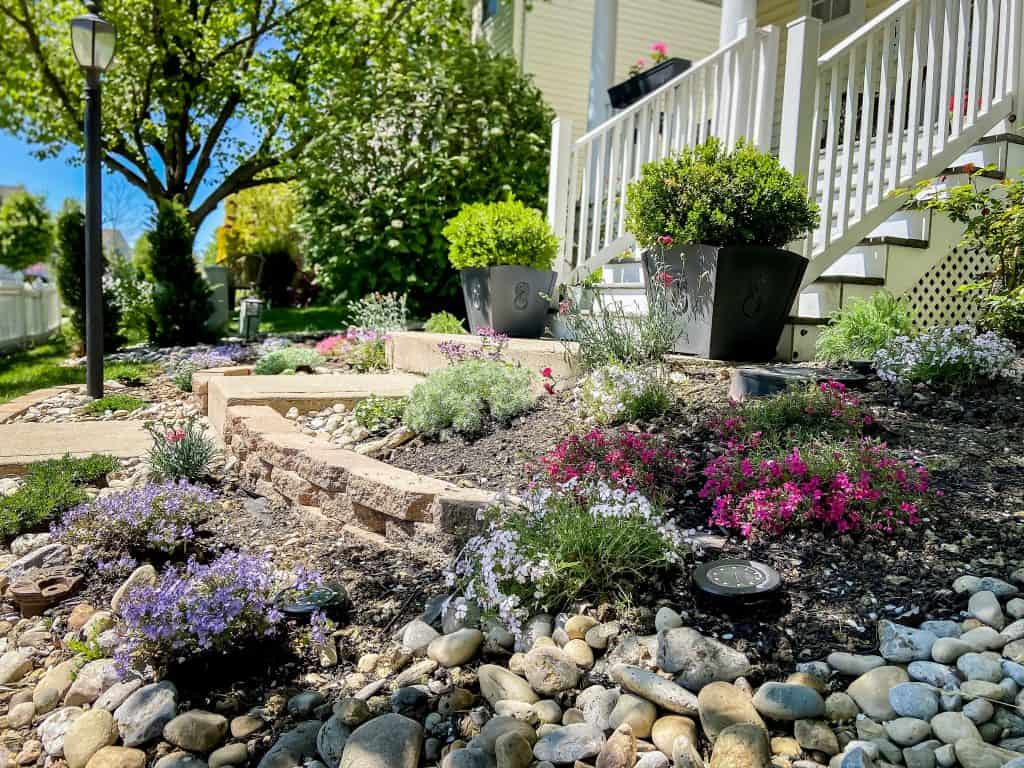 Accent plants will have a blue undertone. Foundational plants will be evergreens to maintain year-round color. The black lionhead planters with boxwoods have been thriving so they are here to stay.
Start With Perennials
Take time to research the best plants for your zone, starting with perennials. We imagined phlox (hopefully) overflowing the front of our 2 tier flowerbeds. To maintain year-round greenery boxwoods will be transplanted in the middle tier. To hide the foundation of the house and maintain year-round color we chose a larger evergreen.
Day 1: Cottage Garden Plant List (Spring 2021)
We are located in Zone 6, so here are the plants we chose for a pink, purple, white color explosion.
1. Ground Cover
Low growing, at front of flowerbeds
Orchid Frost Lamium "Dead Nettle"
Veronica Waterperry Blue
Emerald Pink Creeping Phlox
Amazing Grace Creeping Phlox
Silver Mound Mugwort
2. Colorful Flowers
Behind ground cover, slightly taller
Waterloo Sunset Dianthus
Raspberry Surprise Pink Dianthus
Saucy Seduction Yarrow
Gaura Belleza Dark Pink Wandflower
English Lavender
3. Foundation Shrubs
Hedges at back of flowerbeds
Green Gem Boxwood
Mint Julep Juniper Topiary
Blue Prince & Princess Holly
Eden Roses (vining to cover trellis)
4. Flower Boxes (on Porch)
Additional color on porch, annuals
Red Geranium

Alyssum (White)
Sweet Potato Vines
Lavender (will plant in ground this fall)
Climbing Roses & Hydrangeas
A cottage garden wouldn't feel complete without a climber, so we have two climbers in our landscape. To cover our trellis we planted Eden roses at the back of the flowerbed. In late fall 2020, we also redid our flowerbeds along the driveway and added climbing hydrangeas. We would love to see these climb up the side of the house with accent lighting.
Add a Path Using Flagstone
Add an interesting path through your garden using flagstone. In between flowers place rocks to break up the aesthetic. This makes your landscape look more intentional. Just like your interiors, your eye needs a break from the controlled chaos and explosion of flowers, and hardscaping adds a nice touch.
Warm Solar Lighting Accents
Subtle, warm lighting adds beauty and ambiance to your landscape. Solar landscape lighting is preferred by us, and their light output has improved dramatically over the years with warmer light options available. I found landscape lighting on Amazon that works perfectly with the current height of our flowers. As our garden matures we will add more lighting where needed.

[mv_create key="6″ type="list" title="Improving Our Curb Appeal" thumbnail="https://www.snazzylittlethings.com/wp-content/uploads/2018/07/New-House-Outside-Cover-Image-Front-view-Snazzy-Little-Things-.jpg" layout="grid"]
I've been sick with the dreaded Corona-V (a pretty scary experience I might add) so I've been absent this last month or so. Thanks for being here with us as we take up our new favorite hobby!