DIY Street Light for Parties (under $11.75 each!)
We are in a fun and exciting new phase of parenthood: school dances, graduations and weddings! These moments gave me the opportunity to expand my decorating experience with lots of budget DIY party decorating ideas here on the blog. I hope you enjoy our projects! See all of our party and event planning ideas here.
DIY Street Light for Parties
Masquerade Party Ideas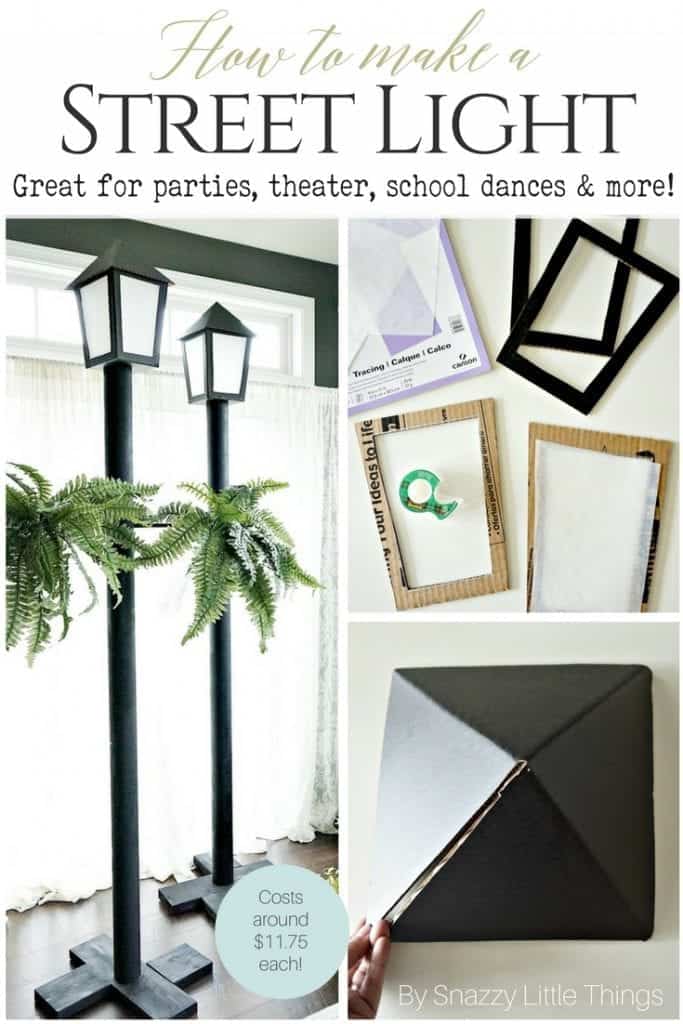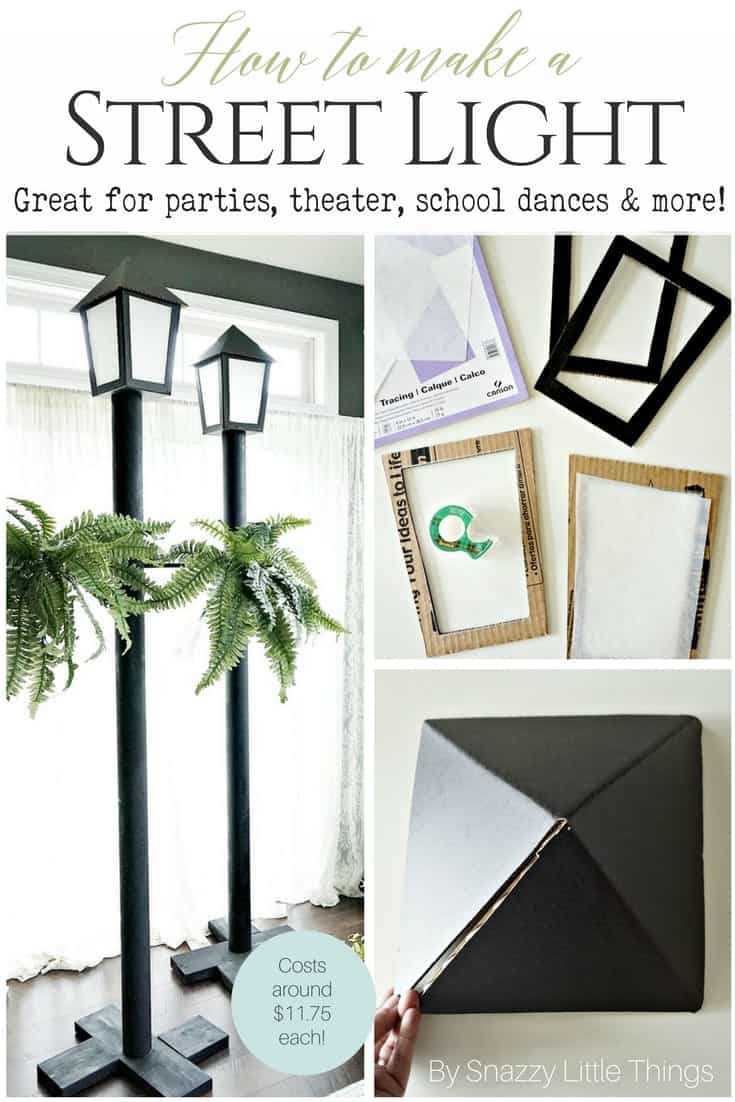 My daughter's 8th grade formal was a "Masquerade" in a New Orleans style street setting. We transformed her entire school into the French Quarter in New Orleans. I created these plans for all the volunteers to have a map of the school and how to decorate it in zones.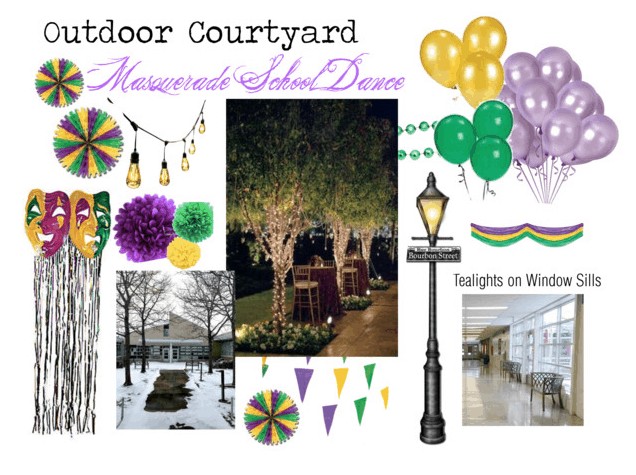 And here is a glimpse of the real school decor…it turned out so cute! The kids were so excited!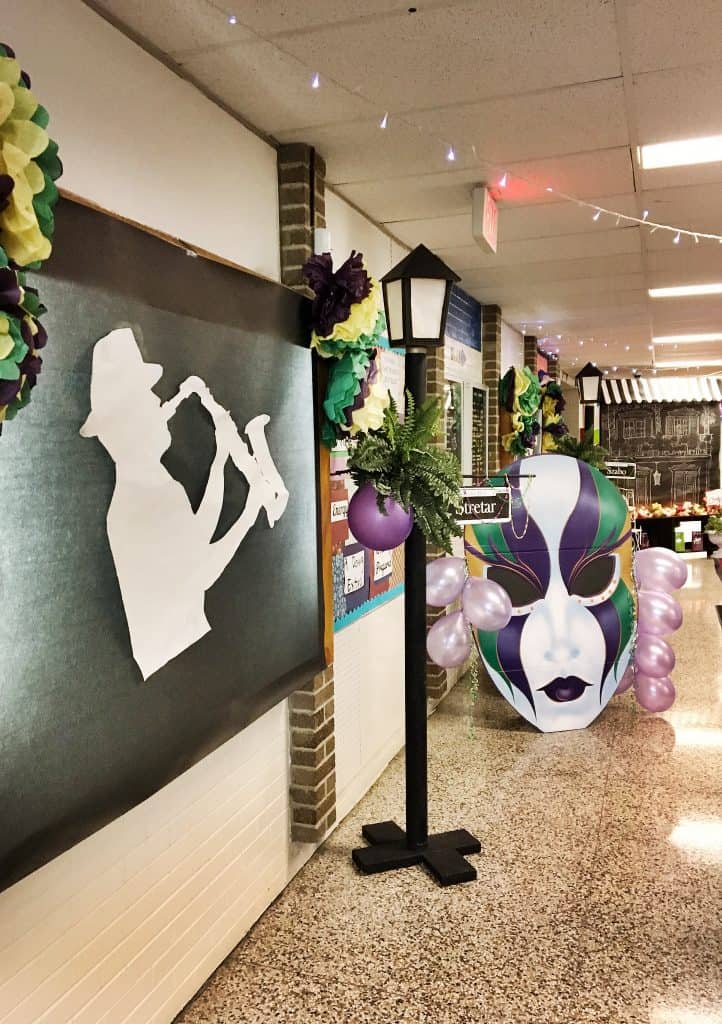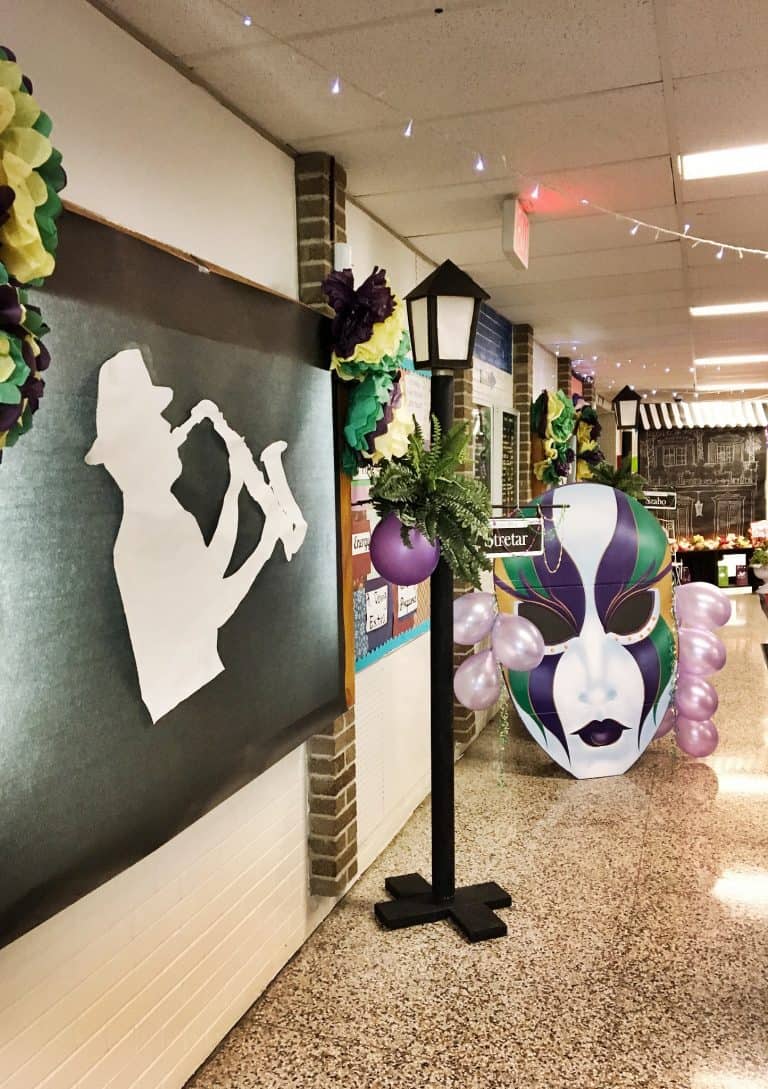 See the entire school transformed here. The halls were lined with pretty building facades with awnings, street lights adorned with hanging ferns and Spanish moss. We also used some of the same decorations for my son's prom.
I ended up being the chair of the decorating committee which gave me the chance to unleash some creativity. Making the street lights look realistic was my goal – I felt the lamps could fit most any theme for future dances. I pictured these for Halloween decorating, school plays, church events or any elegant theme in the future.
How to Make the Street Lights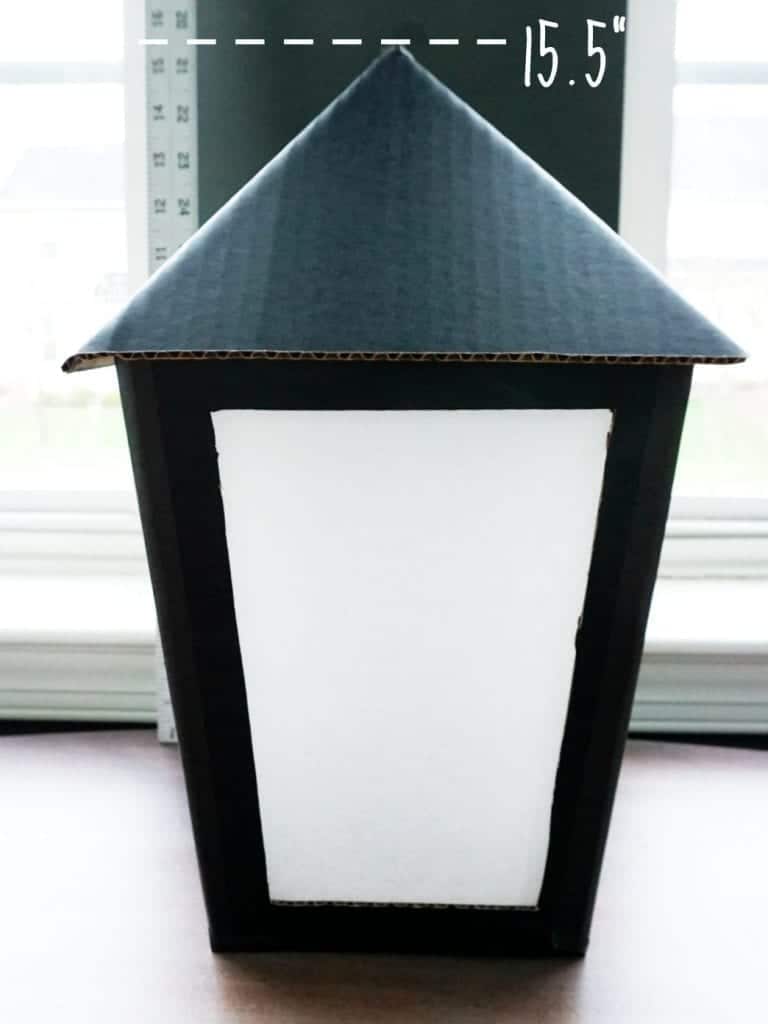 You'll need:
Lantern pattern (for purchase and instant download)
Box Opener / Cutter
Metal straight edge
Instructions: I suggest assigning a single task below to any volunteers if you're coordinating a group crafting event. Assembly line crafting worked wonders for us! Download and print our pattern on 8.5″ x 11″ paper. Cut out the pattern, then trace the outline of the lantern onto the back of your corrugated cardboard.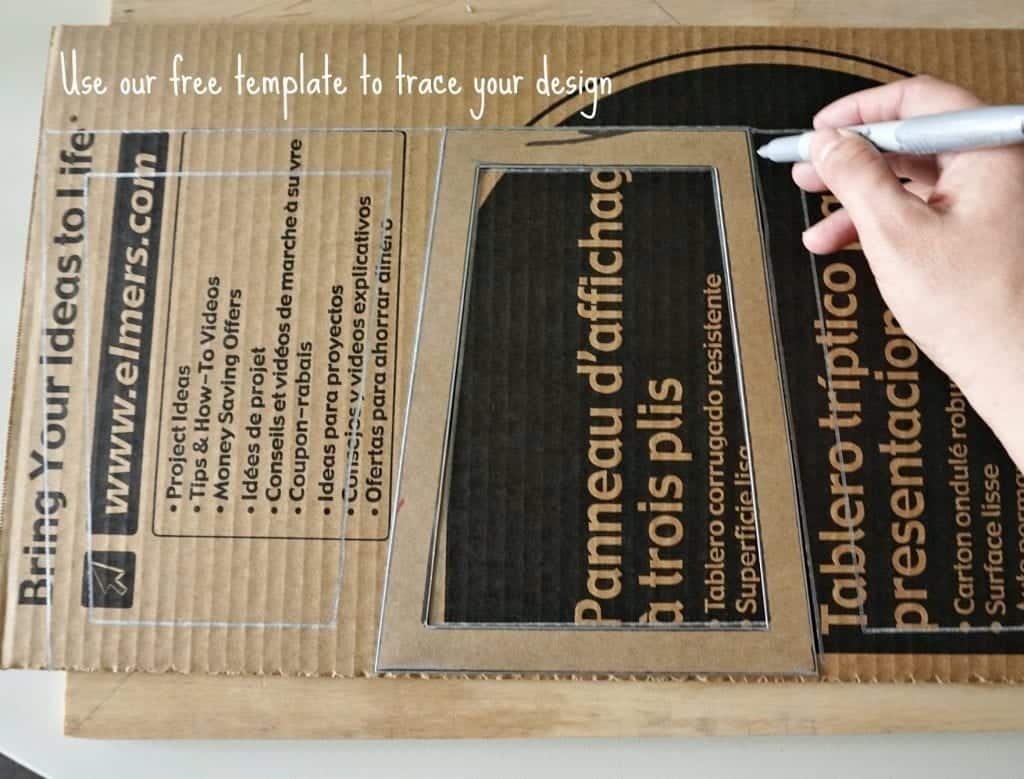 Once you draw the pattern onto the cardboard, it's time to cut. Use the metal straight edge and a sharp box cutter, cut out the shapes, four per lantern. Next, create your faux "windows" using white tracing paper. Attach paper "windows" on the brown side of your lanterns using Scotch tape at the 4 corners. (Tip! For Halloween you can also use green, purple or orange paper for your lantern windows).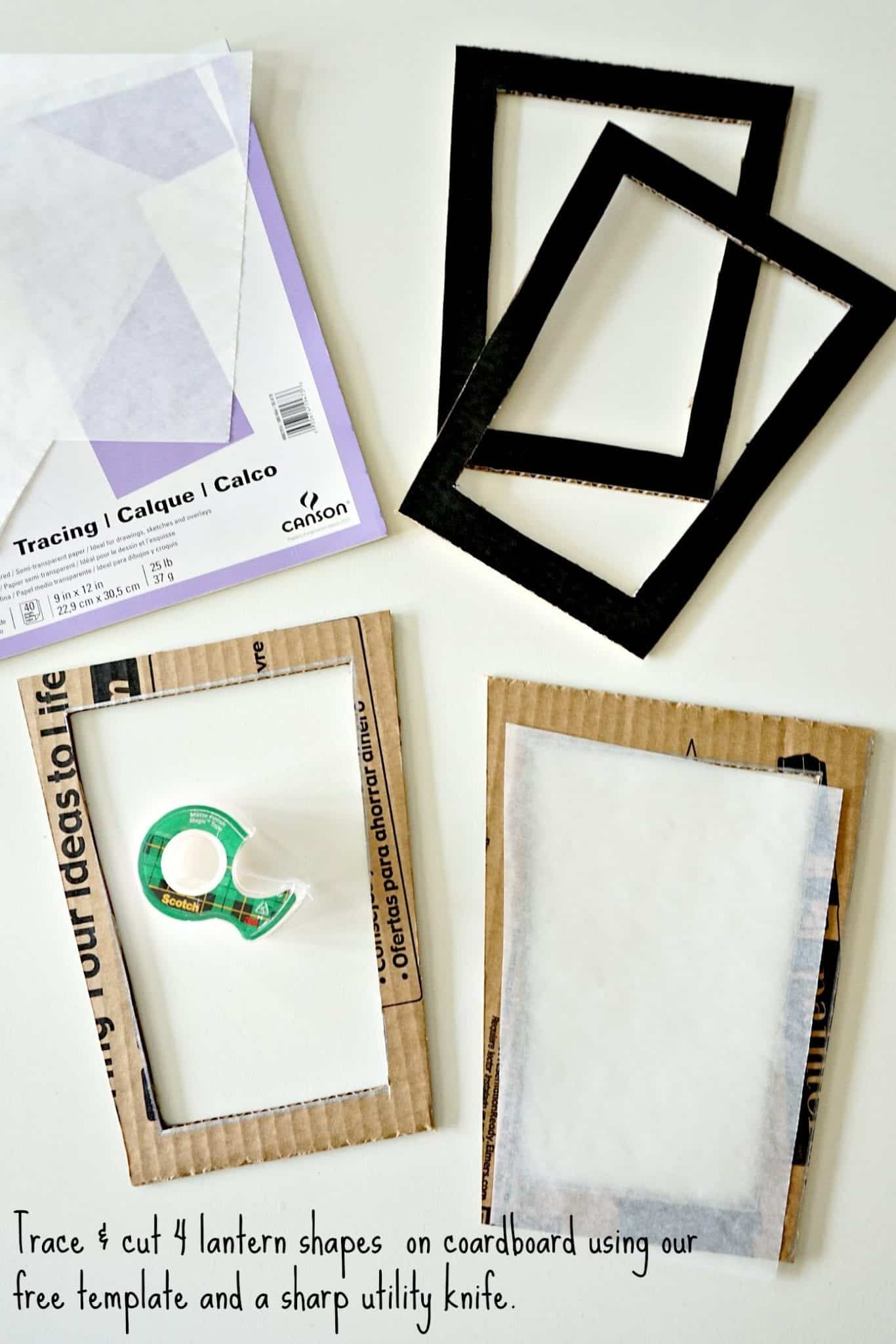 Next, it's time to assemble the lantern. Space them out evenly, leaving a gap between each lantern window. Then tape with the slight gap using black masking tape: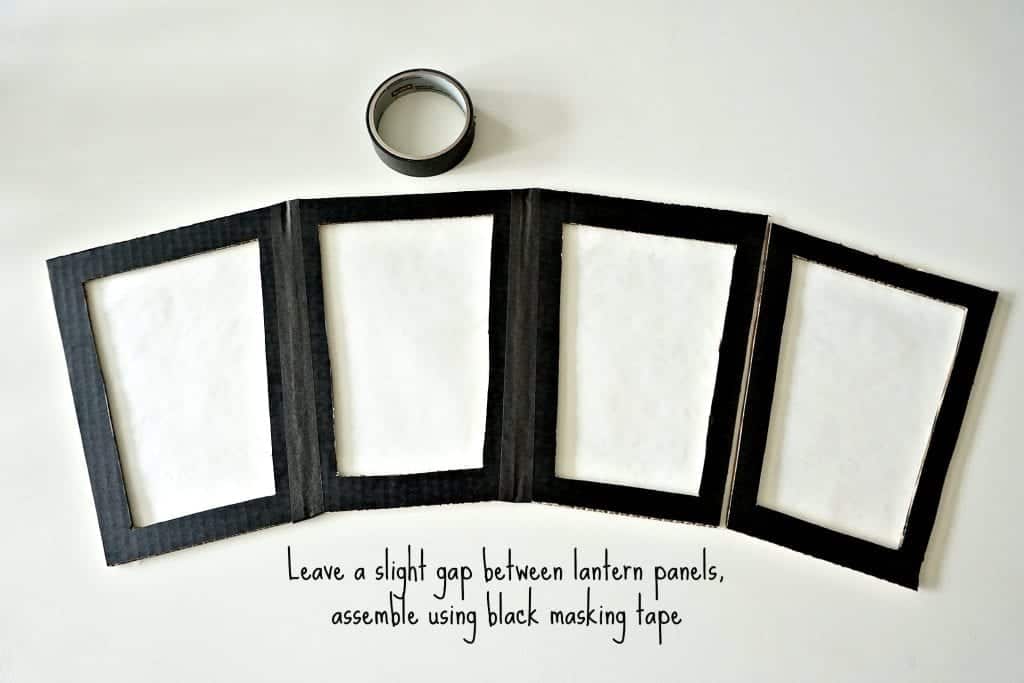 Once all the lantern parts are assembled, stand it upright on your work surface:

After you tape your lantern completely together, add the bottom (square template) to hold it's shape. I notched the ends of the tape so the tape lays flat.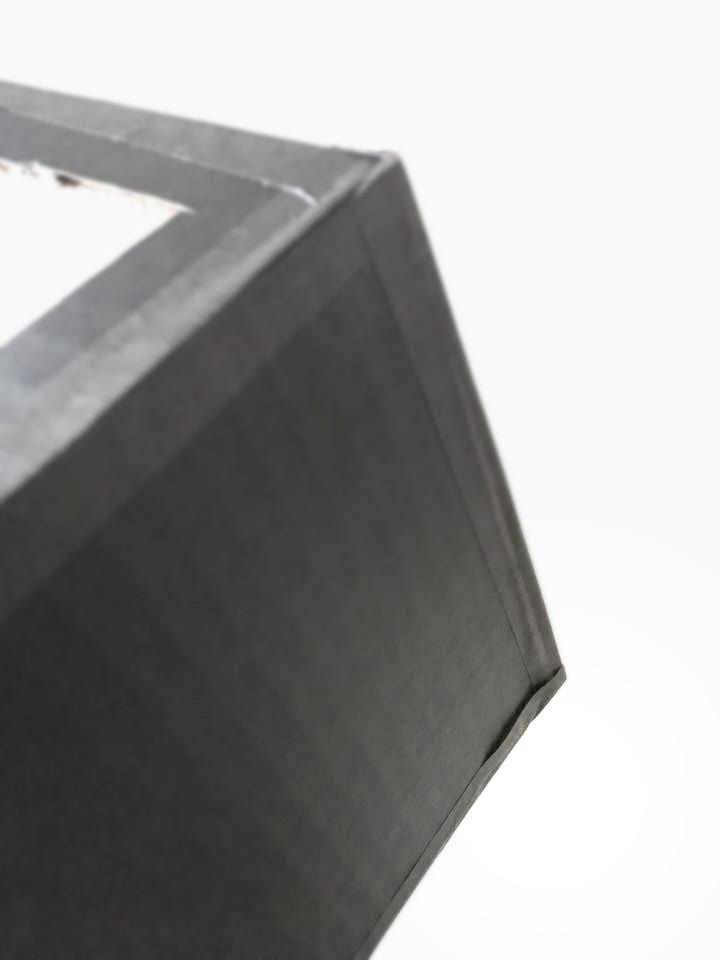 Time to make the lid using our free triangle template. Create four adjoining triangles, like the diagram below. Lightly score in between triangles on the underside: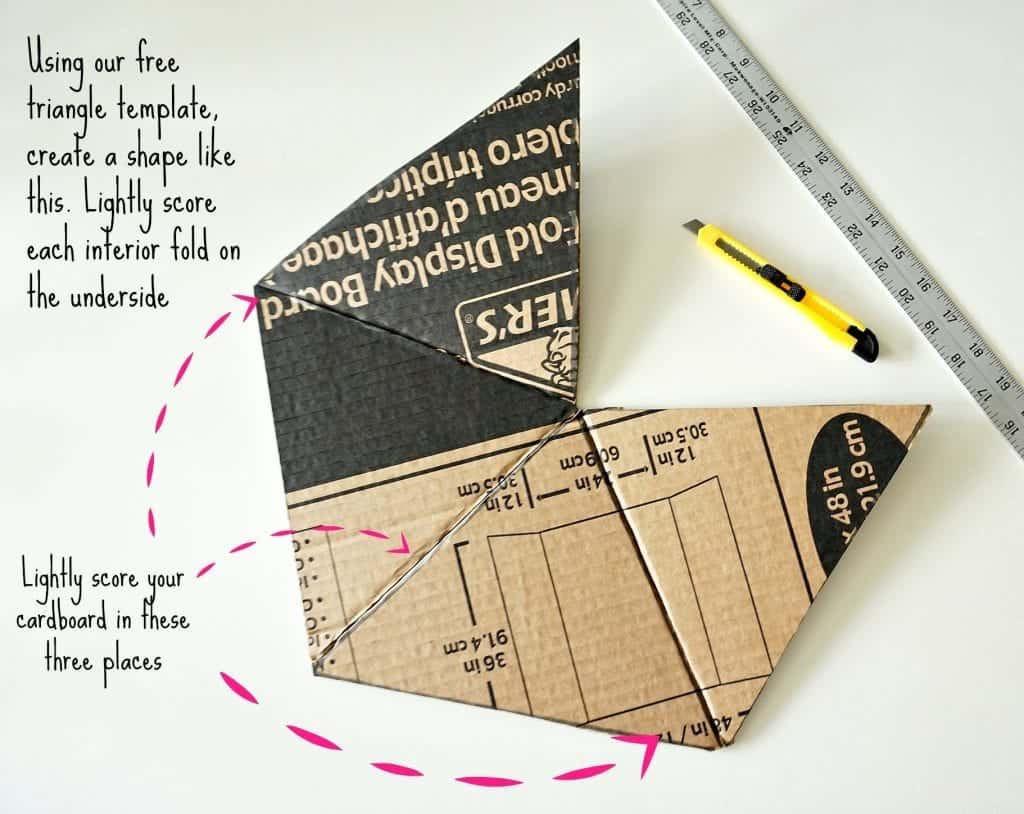 Fold the lid where it's been slightly scored. This forms the pyramid. Secure the last seam with black masking tape.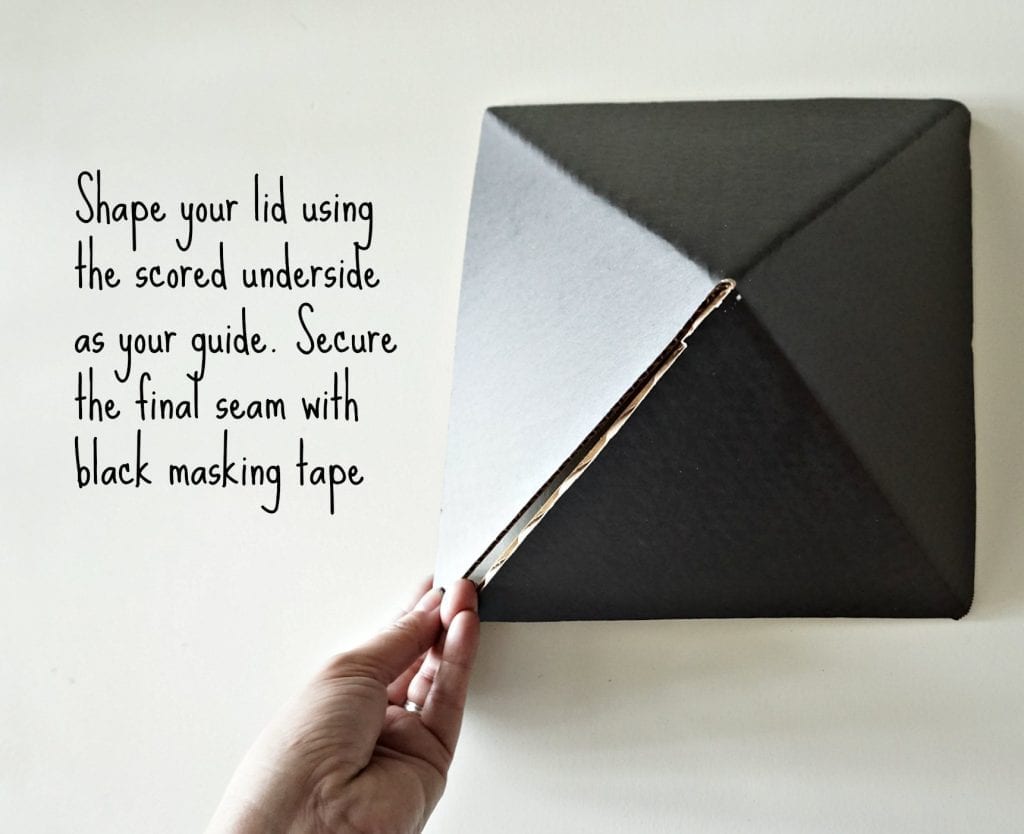 Your top is finished! You can remove the lid and drop an LED tealight inside for ambiance. The height is approximately 15.5″ tall. If you prefer, you could finish off the exposed cardboard edges with more black masking tape to give it a more finished look.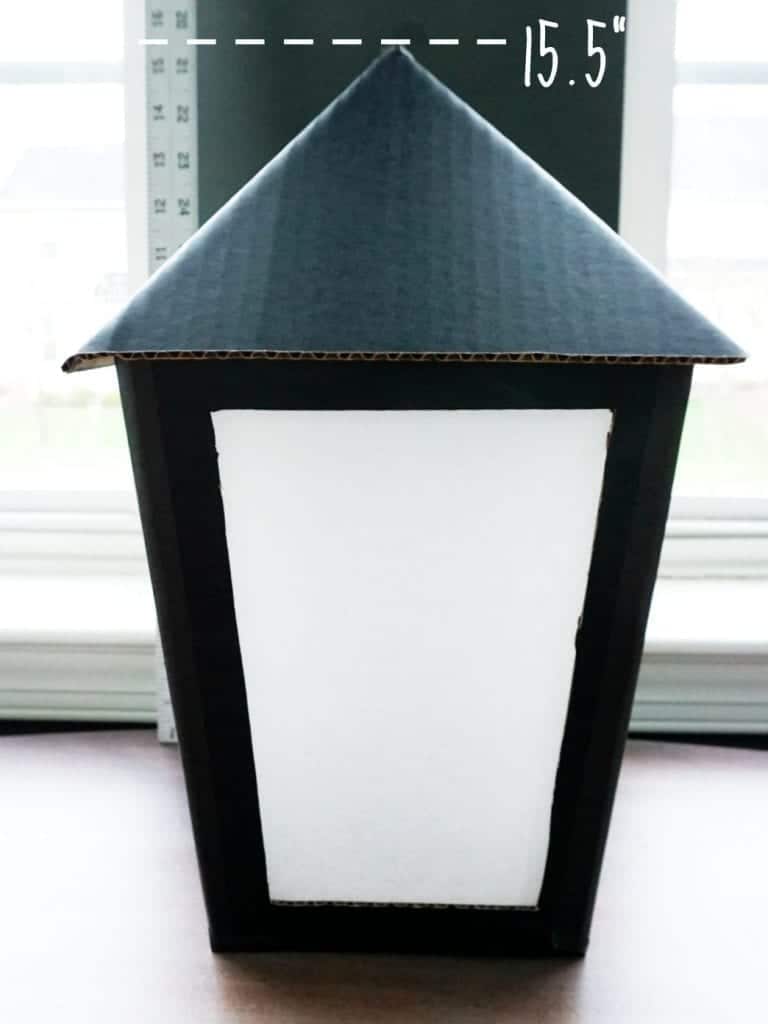 Make the Lamp Posts:
Rustoleum Flat Black Paint & a brush
Optional (add a horizontal bar for street signs, or to hang ferns)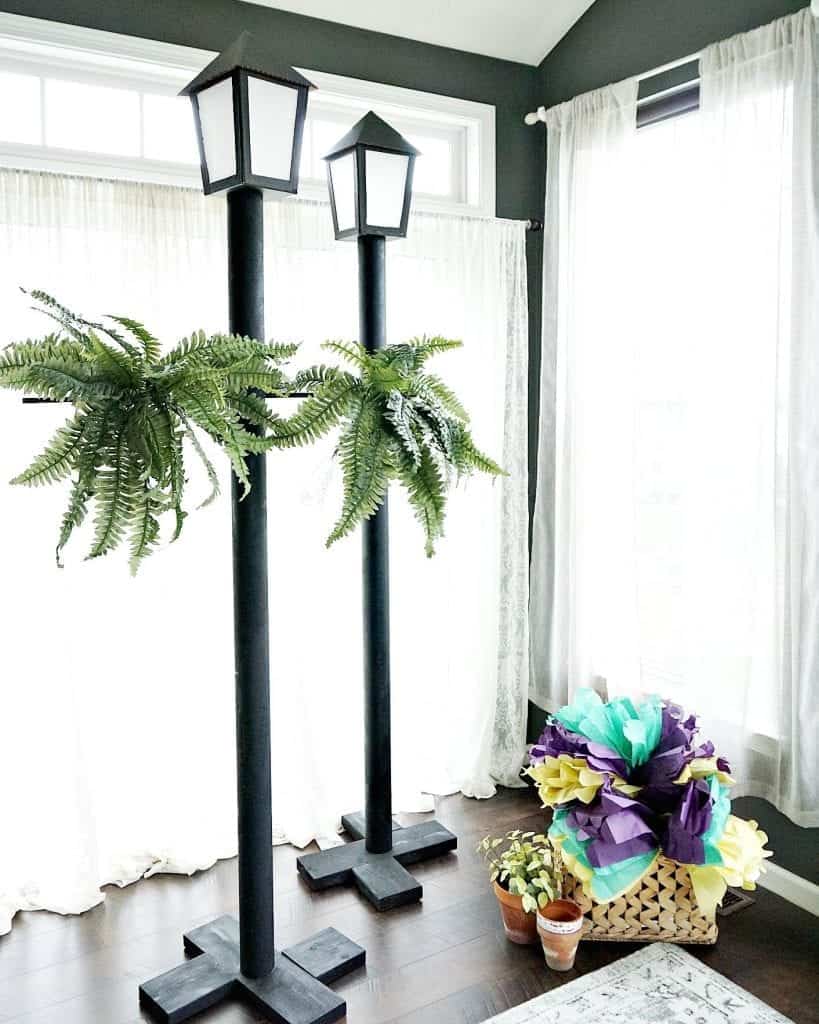 1/2″ dowel rod, 36″ long
1/2″ drill bit
1/2″ dowel cap (two needed) – for a finishing touch
Instructions to add a horizontal bar: Drill a hole 18″ from the top of the mailing tube, paint the dowel rod. Once dry, force through the drilled hole in the mailing tube. Place a 1/2 inch dowel cap on each end of the dowel rod and paint a color of your choice, we are choosing gold.
Create the X Support Stand
2″ x 6″ pine boards cut into three pieces as follows: (One 19″ long. // Two 7″ long)
3.25″ hole saw
Kreg Jig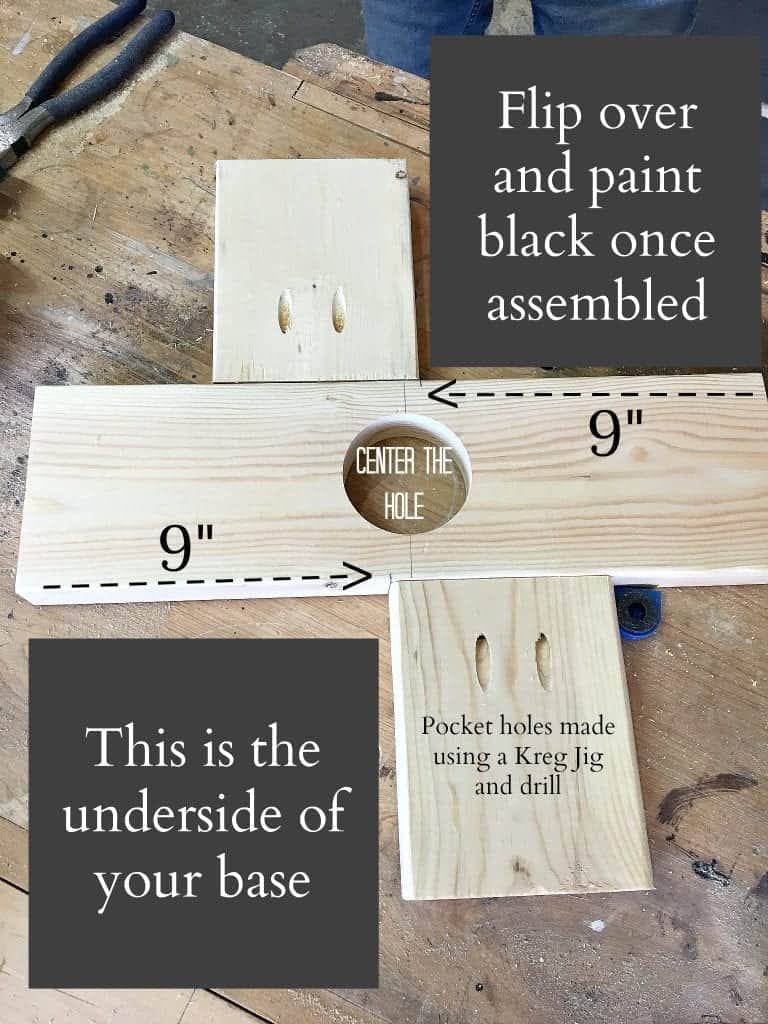 Stand instructions: Cut a 2 inch by 6 inch board into 3 pieces, one 19″ long and two 7″ long boards. In the 19″ board, use a 3.25″ hole saw attach to drill. Drill a 3.25″ hole in center of 19″ board. This is your "stand" for your post. To make the "X" see diagram: Measured 9″ in from the right and left side of board. Use Kreg Jig to put pocket holes in one end of each of the 7″ pieces. Then attached both 7″ pieces to the 19″ piece using long screws. Paint black when finished!
Almost 7.5 feet tall at $11.75 each
The approximate materials cost to make 15 finished street lamps was $175. Hopefully we can reuse these for future dances and events for the kids. More "masquerade" decor is in the works, including paper pom poms, and if we have time will will build brick facades and pretty buildings to line the hallways. We also need to decorate the entire school gym so I'll post photos after each event and include all the finishing touches.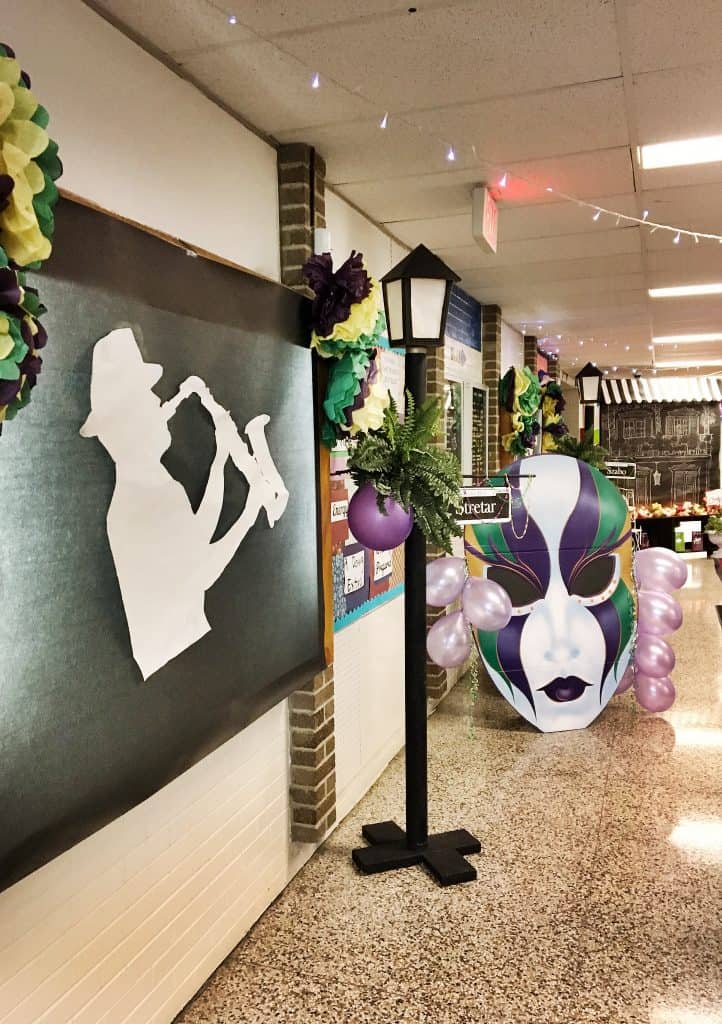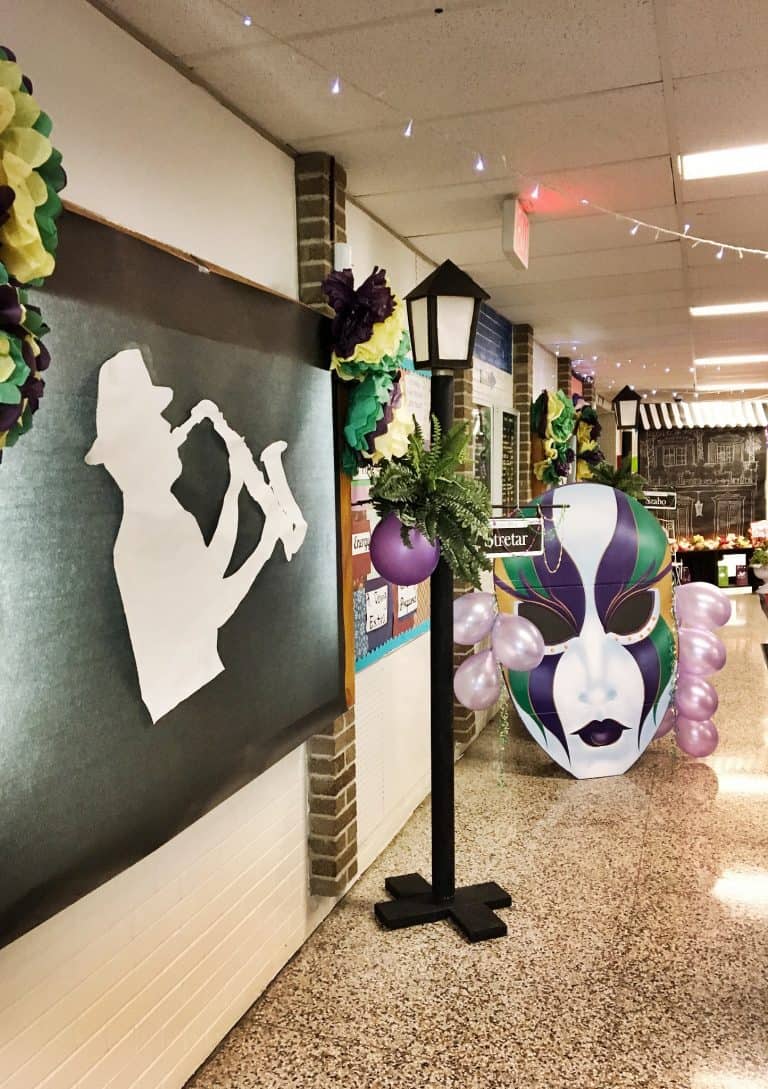 Check out the final result at my daughter's school dance "Masquerade"! The street lamps were a hit!