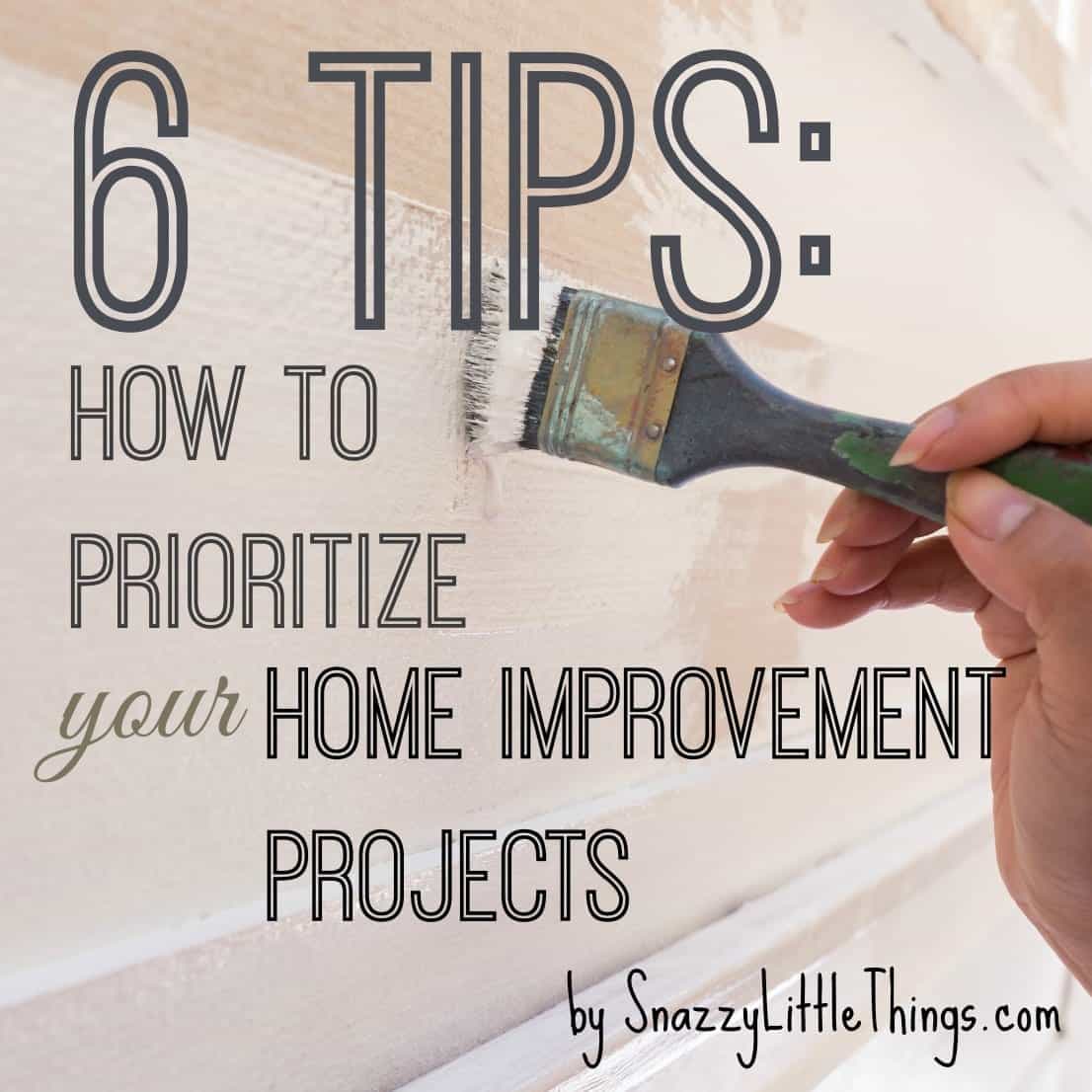 Three years ago this month, I started thinking about becoming a DIY blogger. I had just torn down my holiday decor and all of the flaws in my house were blaringly obvious once the cloak of holiday "cheer" had been removed. All of the wall scuffs, the nail pops, falling drywall tape and the blinding builders-grade quality of my home were on display for the world to see. My house looked SO empty and boring, and my growing to-do list was starting to overwhelm me.
For many years, I had no idea where to start. Some of my earliest DIY endeavors commenced after scraping together some cash, conducting a little bit of online research, and mustering up a whole lot of courage.
If this sounds like you and you're not sure where to start, I'll offer you a few tips based on my own experience as a beginning DIYer. I hope to help you get organized, gain confidence and continue the momentum as you prioritize (and reprioritize) your DIY endeavors this year.
6 DIY Tips: Prioritizing Your Projects
Identify Lowest Cost / Highest Reward Projects: I go through a quick analysis each time I begin a new DIY project. My line of questioning goes something like this: What is my current skills set? What can a single can of paint accomplish? Or $50 worth of wood trim? Or a single stencil? Would a skill (such as sewing) solve a multitude of DIY dilemmas in your house? As you prioritize your time and your budget, this thought process will become fundamental  as you prioritize your DIY to-do list.
Address Function- first!  A great way to prioritize projects is to identify the functional 'deficits' in your home. Does it lack a hall closet in the entryway?  Does your master bathroom have a linen closet? Do you need a larger space in your kitchen to prepare food? Would installing a few wall hooks solve a simple problem? Now would be a great time to improve the flow and function of your home. This helps flesh out "needs versus wants", and pare down a daunting list of to-dos.
Start with First Impressions:  Creating a stylish and functional entryway became my first priority. This was not just for my guests…but for me! My front door and the foyer were among my very first DIY projects. Take a walk through your front door–pay attention to the details. Addressing your entryway is a great place to get your feet wet when it comes to refreshing your home.
Do One Space at a Time: This advice is not easy when you're on a roll and have lots of ideas. But it is so rewarding to have a completely finished space. Sometimes, especially when I get stuck or run into a design dilemma, I do move onto another project for the sake of "think time". But once inspiration finally hits us, we go back and finish the project before we move onto the next room.
Work in Phases: If you've followed my blog for a long time, you know that I tend to work in phases. "Phase I" typically consists of a very low budget "sweep" through a room. Think easy fixes, like paint, updating fixtures and hardware (See my $1600 kitchen as an example).  It took 3 years of DIY to eventually reach the point where I'm planning Phase II! Budget DIY takes time. Just be patient, do high quality work & it will all be worth it.
Clear The Space:  Sometimes when a room is overwhelmed with "stuff" I purge the space and start with a fresh point of view. It is difficult to transform a space when it's filled with all of the things that you wish to change. After the purge, I could see the room through a different lens. Then assess the following: what pieces are the highest quality? What pieces are similar in style? What are my favorites? What pieces need to be refinished or could use a fresh coat of paint? Am I brave enough to try upholstery? So I assessed my skill set, and started going to work. To get a feel for how I tackled these pieces, see my furniture DIY and craft gallery for some additional inspiration.
Some additional reading to inspire you:
The most important advice I will give is to stay true to yourself and to your budget. Decorate with what you have. Honor the pieces you own and showcase your favorites.
And above all…enjoy the process! 
Happy DIYing, and here's to a productive 2015!