DIY Vintage Crates with Labels
Time sure is a-flying'…Memorial Day weekend marked our 10th anniversary in this house! I promise, this post does include a DIY tutorial (a very easy one, I might add) about how to give wooden crates a vintage look. But I'm about to get a little nostalgic…
Finding "pre-blog" photos of the house's exterior has been a challenge. So as I look for pictures of our home exterior, I've accessed old photos that I haven't looked at in years. Here are a few that I came across of both the inside and out.
So, forgive me, I might get a little weepy as I look at old pictures. Their first swingset, their first day of school (when I had no yard, only dirt). And some snapshots of the house when I had little to no furniture. Times were pretty tough then but we got through it! 
My house lagged behind the neighborhood my first few years of living here since I was going through a divorce. Mine was the last house to have grass, landscaping…and definitely no deck. Without a deck, there was a six-foot drop to the ground right out of our back door, so I knew I needed to build something…eventually. I stalled because of budget and I could never quite conceptualize the design. I knew I wanted the construction be aesthetically pleasing, fairly oversized, and definitely multi-level. So being undecided bought me some time…and allowed me to save.
But one day, after randomly sketching on a napkin, my ideal deck design happened. In 2008, I presented this sketch to a retired carpenter / handyman who agreed to turn my vision into reality. My first major home improvement project was about to commence! He would come in the evenings and weekends and build the deck in his spare time. I paid him about $6,000 and "Bill" helped me add about 700 square feet of living space.  I learned a few things and made a few unique choices on this design which I'll explain in a future post. Some lessons learned…and some things I actually did right. 
Here is the deck in the fall of 2012, cleared off for the winter. Once I find those deck construction pictures I'll post them here.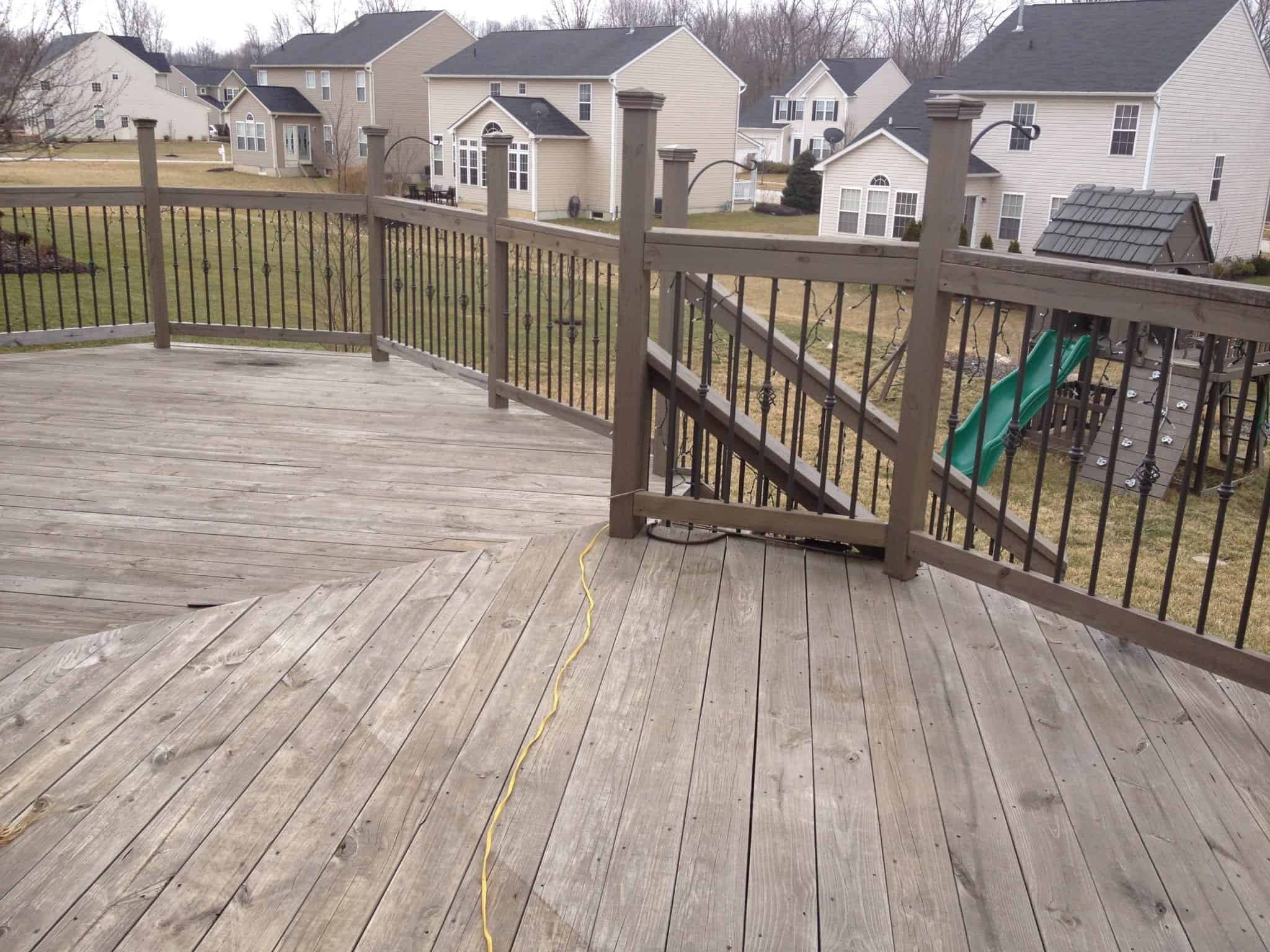 Below: 2014…freshly power washed and getting its dose of afternoon heat and sun.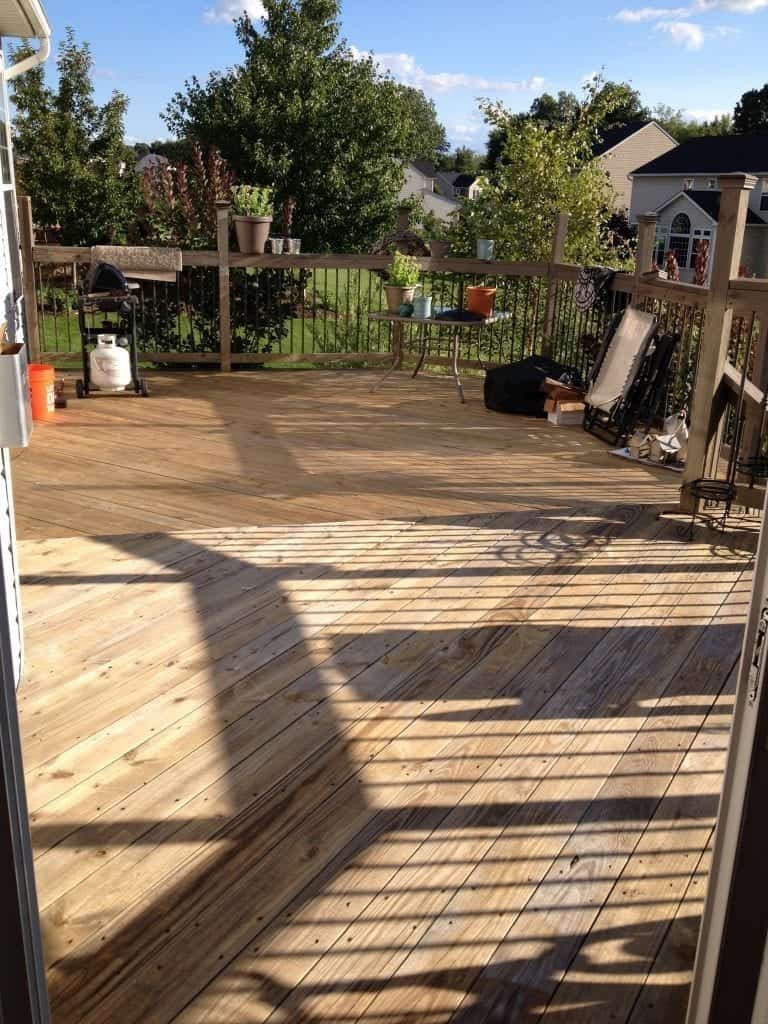 A couple of years ago we added fast-growing trees and shrubs around the base to help throw some shade. (River birch, willow bushes and smoke bushes are all grow rapidly). What I've learned is…it takes time to create an outdoor living space. I've added little accessories here and there, but furnishing an outdoor space is no different than a room indoors. We need real outdoor furniture (that doesn't blow away during a storm).  Soon, the outdoors will be company-ready and comfortable for my son's first teen party. Fingers crossed!
Now…for a quick and easy DIY…
---
DIY Vintage Fruit Crates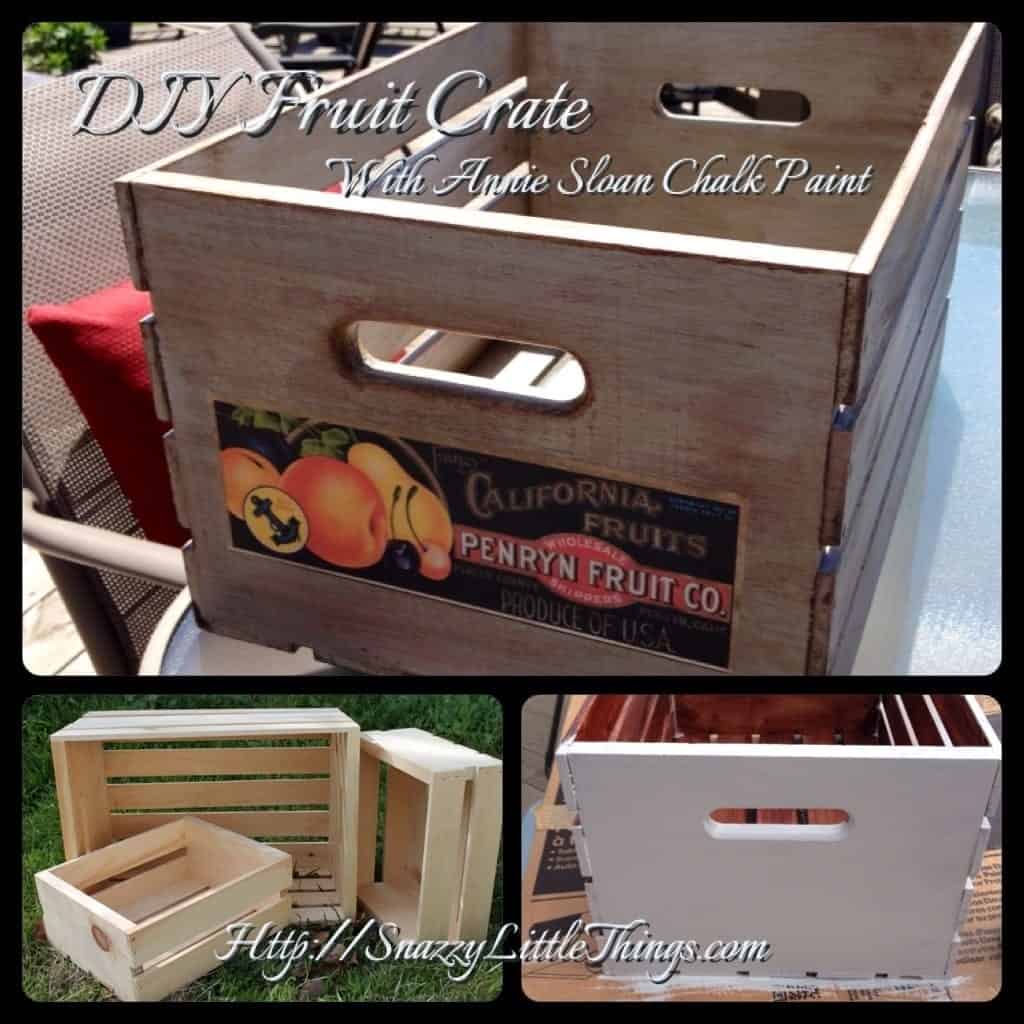 I wanted to tackle something quick and easy to add some personality to the deck. So while shopping at the craft store I came across these: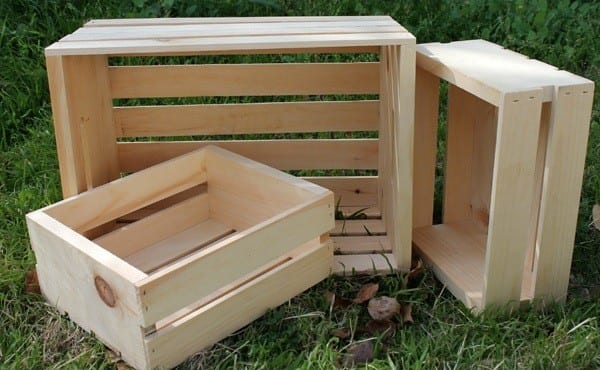 With a coupon in-hand, you can get these crates very cheap at the local craft store. There really isn't much to it. The first step was to stain it at first just to darken the wood, then applied a coat of Annie Sloan Chalk Paint in Paris Grey in the inside and outside. I like to stain new pine prior to adding chalk paint. It gives a more authentically vintage look once you sand your piece.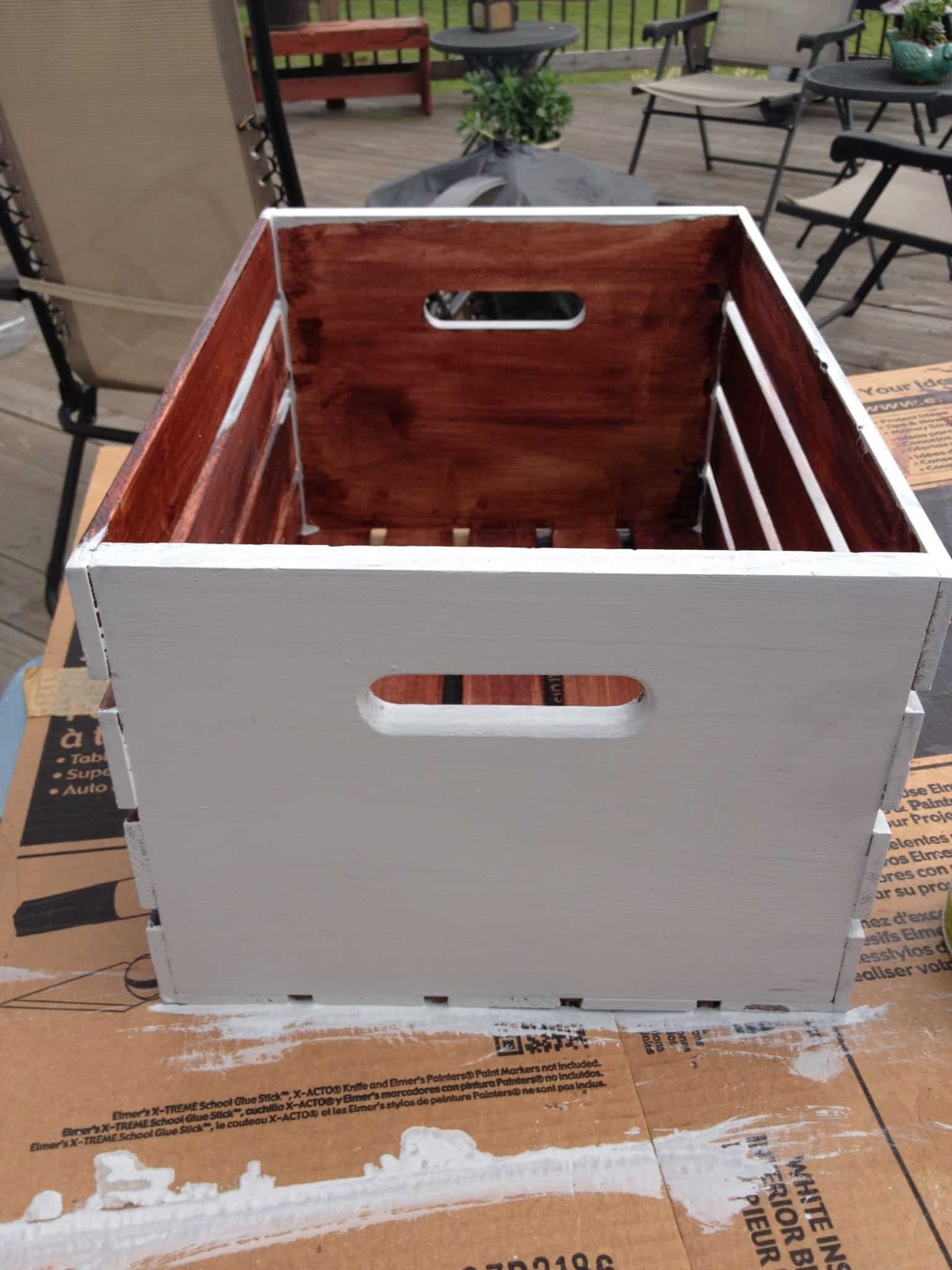 Sanded it lightly to let the dark stain show through, then touched it up with dark wax and wiped them down.

Then found royalty free images online and Mod Podged them onto the box, and voila!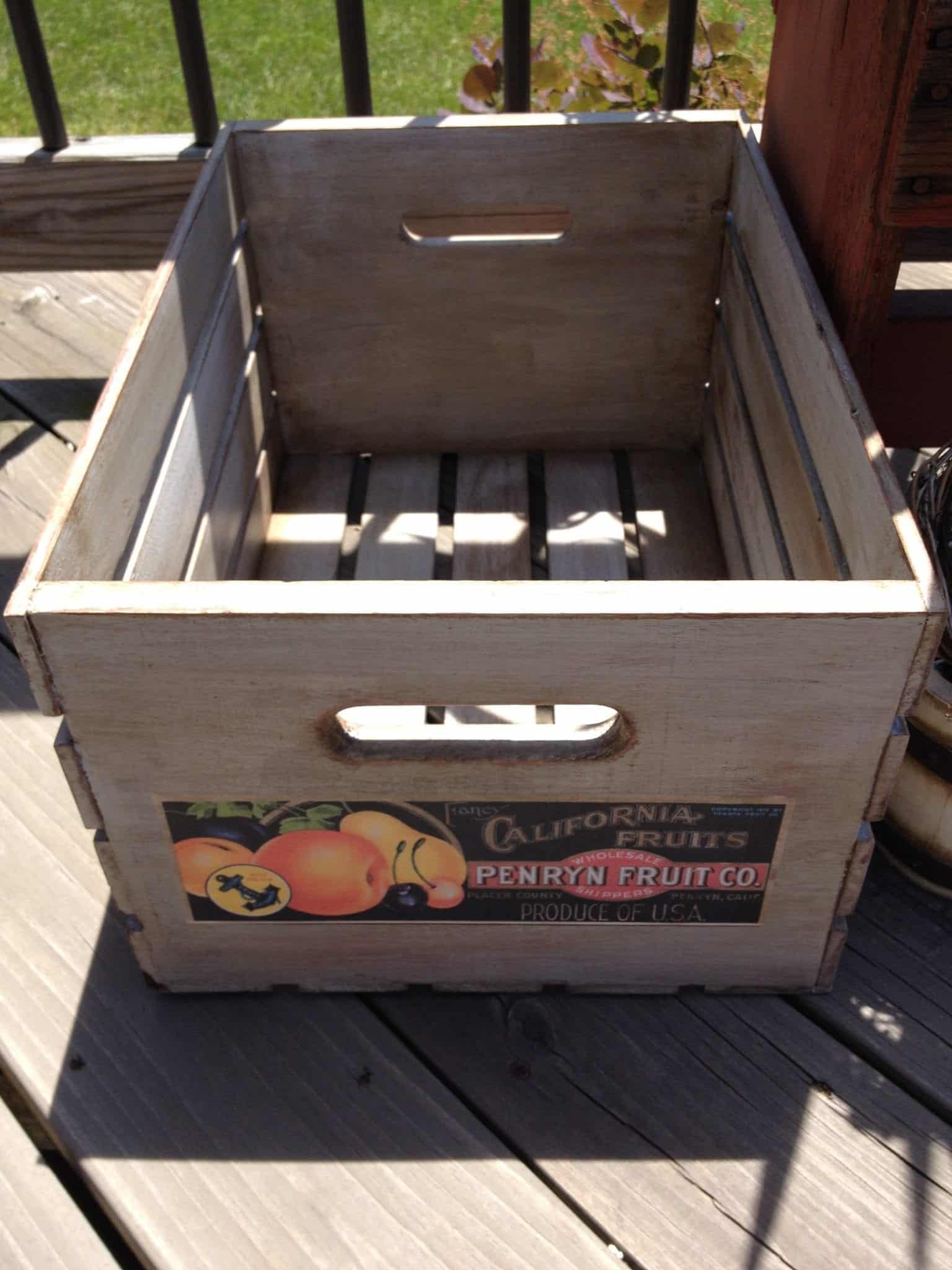 Can be stacked and used as a wall unit, extra tables, and even for gardening use along with my new potting bench or anywhere on the deck we please.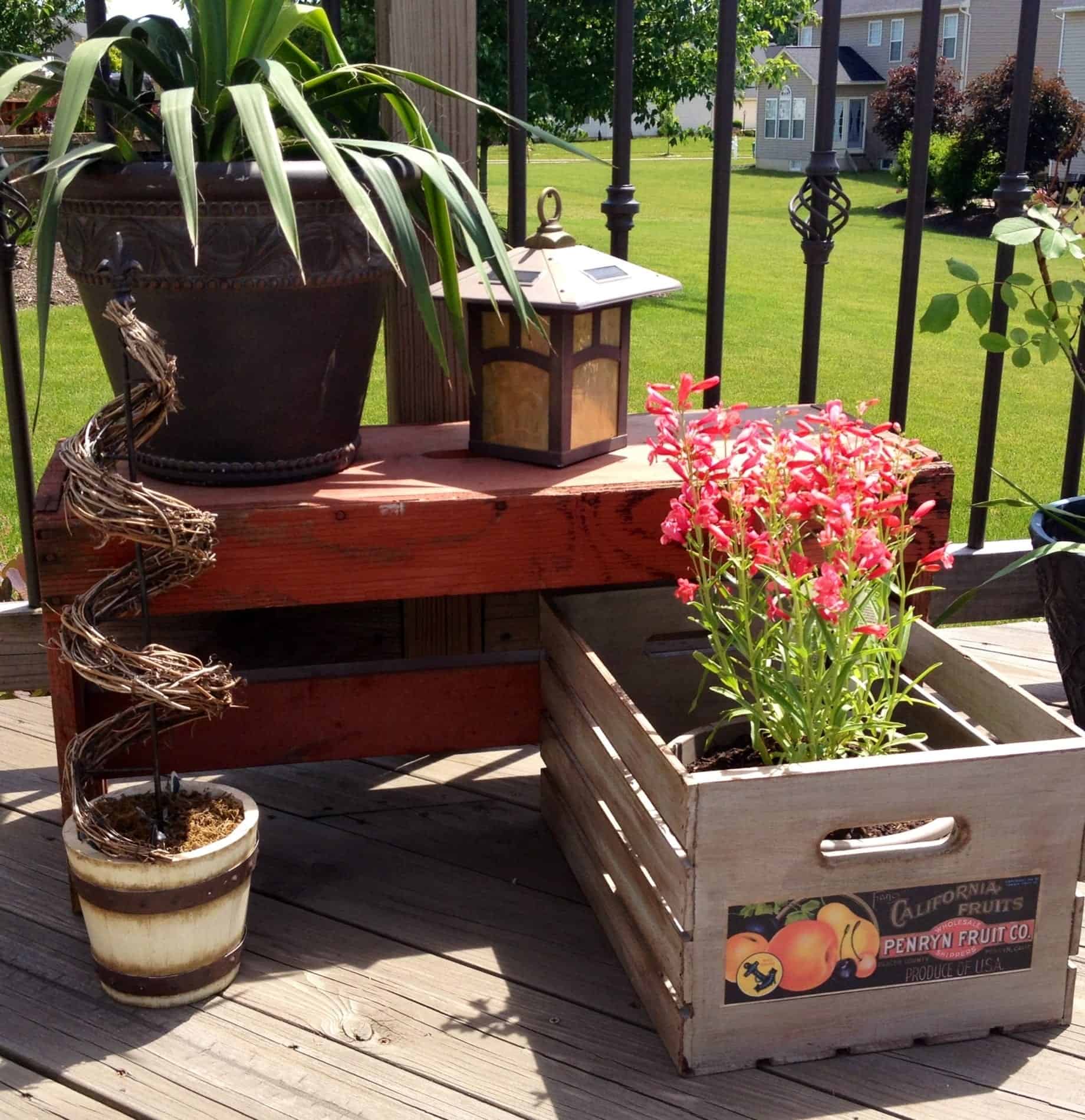 And because it is such a wide open space, I think a large outdoor rug, new furniture…with a shade-throwing pergola might be in our future :)
Stay tuned…more to come on the deck update!