Several years ago we added a "bonus room" during our basement remodel. Our basement has no walk-out, so technically we can't call it a fourth bedroom…but that's really what it's been used for.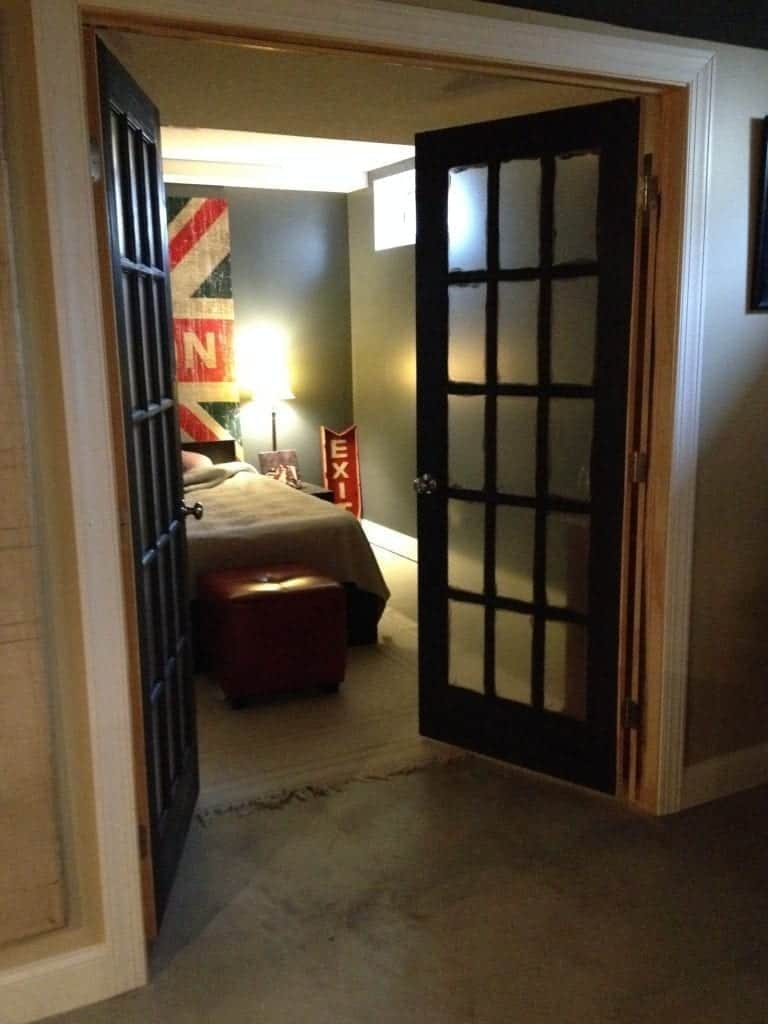 After the sawdust settled, we updated this space piecemeal since funds were a bit tight. Even though the bedroom is nearly new, it's mostly undecorated and partially painted. If you're seeing paint on the window panes, you're right. That's actually the manufacturer's plastic on the panes themselves which I'll remove…someday :)
Over time, I've transformed this space into a low-functioning craft area. And what I mean by that? We've been going through the back-breaking process of getting rid of mattresses, box springs, moving beds around…and setting up our middle daughter's first apartment. You know the drill. Trying to decide what to repurpose, what to give to the kids—and of course, what we sell.
And by low-functioning, I mean…there is stuff all over the floor along the walls, waiting for its turn to be purged or repurposed.
It took awhile, but this is how far we've come.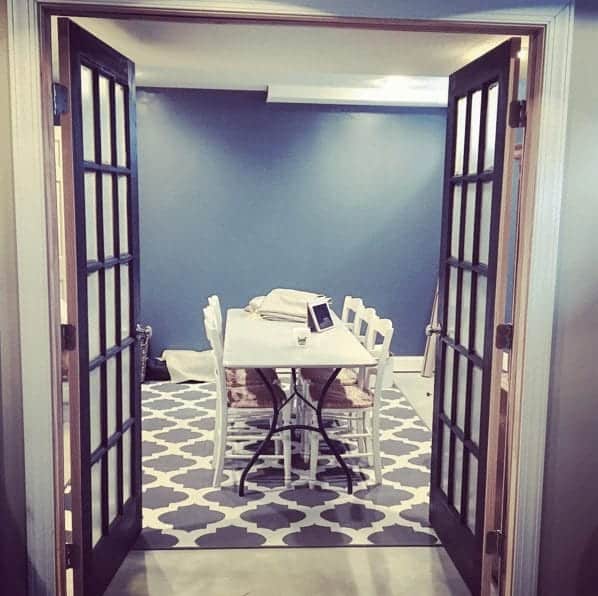 My white former dining room chairs fit nicely in here I sold on Facebook. I bought them from Target over 10 years ago, I bougth them for $59 each, and got $120 for the set. As for what I'm using as dining chairs now, I'll share more about our industrial dining room update in a future post!) And if that rug looks familiar, you're right! I used that last summer on our deck and brought it in, and cleaned it before winter. Time will tell where the rug finally ends up.
A few tips on furnishing your space (frugally) over time:
As funds become available, buy investment pieces (like rugs, furniture) that are "classic" to you, and you can envision them in multiple areas of your home.
Create agility with your decor by creating a similar color palette throughout your house.
If older decor is accumulating in storage, try to look with at items with a repurpose in mind. If an item continually doesn't "make the cut" and is placed back into storage–then you've outgrown it and it's time to say goodbye. In our case, we give a lot to the kids…but mostly charity when no one wants it.
Divide the room into smaller sections, and make each section functional as well as beautiful. Even if all you can afford is to decorate one wall, at least you'll have a pretty feature wall that you'll love…AND you'll be able to use that room!
A Virtual Tour of the Future State:
Mood Boards:
I put together mood boards for clients, but also use them for any room that I'm working on — I make several versions until I get the look just right. Putting together mood boards helps me stay focused and committed to the overall look that I'm going for. I can gather my thoughts and experiment with different colors and looks. What I love the most is that it assembles a source list, so my shopping is very diligent and committed to my original vision and budget.
But, if I play my cards right, I just might be able to afford a full room remodel. Those of you that know me – I never pay full price for anything. I always stretch my dollar by looking for inexpensive alternatives on Amazon or by thrifting — so that I can get the look for less.
I also do some "unconscious pinning" on Pinterest. Do you ever do that? I allow my thoughts to wander and just see what catches my eye. Then I go back later for more ideas.
Follow Jeanette @ SnazzyLittleThings.com's board // craft room + studio on Pinterest.
A few more before pictures will be shared as the room progresses. We're still working through our piles of misfit items and finding homes for all of it.
Thanks for following along! More to come…