Modern Classic Foyer Design Plan
I can't wait to tell you about a few home improvement and decorating projects that I'll finally be tackling this month. I set myself up with hard deadlines which I needed as the kick in the pants to get started. It's about time, right? I've experienced a slight setback health-wise. Nothing major but I'll share a bit later in this post. We've taken this as a sign to indulge in the "fun" side of life, seeing some local theater, going to festivals and catching up with old and making new friends. This is a promise I made to myself when we moved here, this house represents a much needed lifestyle change, and we are holding ourselves to it!
Modern Classic Foyer Design Plan
First, let's talk about our plan to update the foyer. I love decorating foyers, it sets the tone for the whole house. Here is the listing photo (before):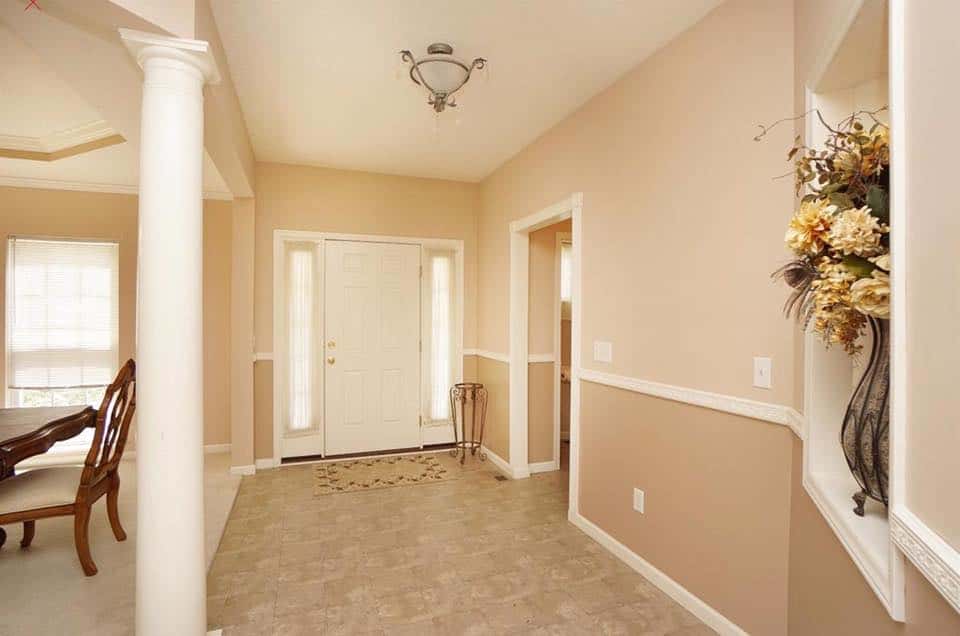 The existing foyer is formal which I actually like. We've always loved lots of trim and architectural elements. But the round columns just aren't me, so we are editing them just a bit and plan to square-off the columns and add raised panels. It's a bigger job than it looks since these are load-bearing so we will save that for later. But my hope is that I can change the rest of the foyer first by mixing in more casual elements to give it a fresh, modern-classic look.
Here's the initial plan for the foyer. I only have the bench in my furniture inventory. Everything else we will salvage, make or buy.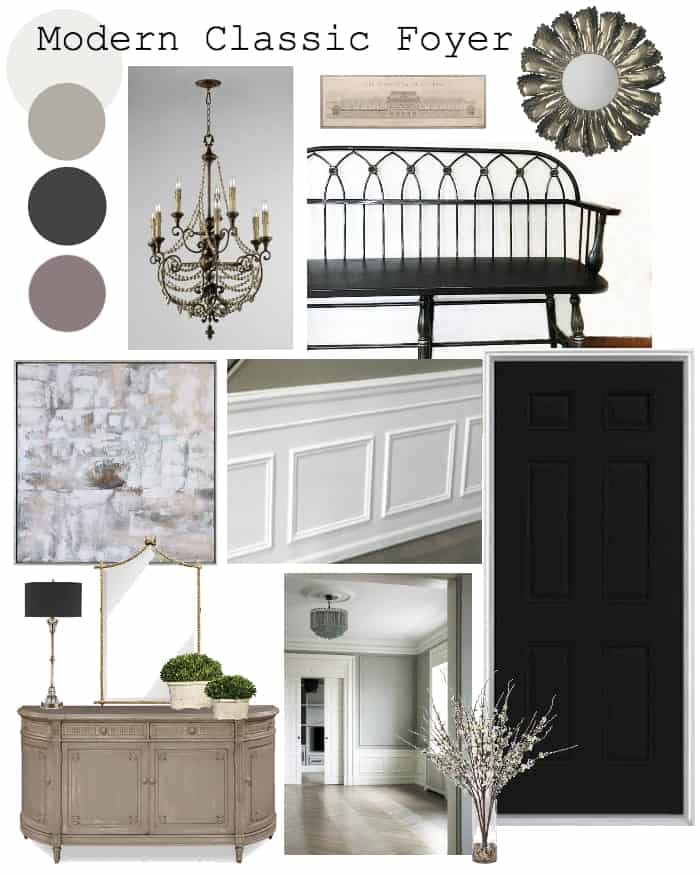 Our dining room is to the right of the foyer when you walk in, and it currently sits empty with no furniture. Below is the listing photo. A coat of paint is about all we will muster at the moment.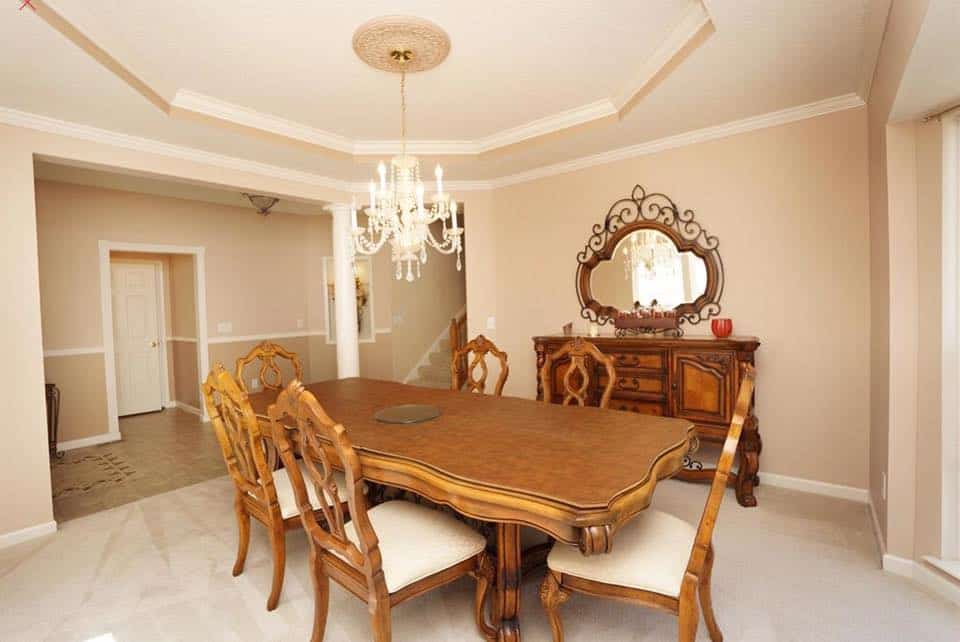 It's kind of fun starting from scratch! I found this pretty, metal bench at Tuesday Morning and snagged it.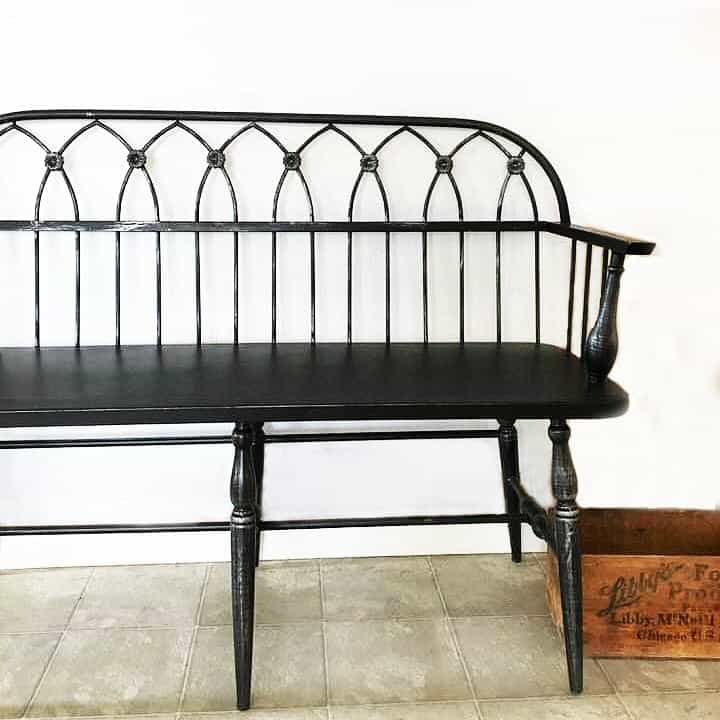 carpal tunnel? // unfortunately I had to quit painting and typing for awhile. I'm pretty sure I'm developing carpal tunnel syndrome, I'm experiencing a lot of pain and numbness in my right hand. To be safe I hired a professional painter to save myself the trouble and the pain. The last house paint job did me in when we were getting it ready to list…so I'm giving myself a break. So this explains why I've slowed down lately. Just trying to see if this is a permanent situation or just temporary pain and numbness from the marathon of getting our house ready to sell.
choosing paint // We are making some final decisions and choosing our paint colors these next couple of days, so I hope it all turns out the way we are envisioning it. I will attempt to paint the interior doors black, like our old house. I'm hoping a fresh coat of paint is the motivation I need to start decorating again.
Foyer To-Do List:
Add Wall Trim & Molding (order is placed, it arrives mid-October)

Crown Molding
Crossheads above doors
New Door Surrounds
Add Wall Trim & Wainscoting (like our last house)
Additional picture frame moldings above chair rail

Paint trim & walls same color (monochrome)
Doors – paint black
Buy new chandelier
Buy new rug 
Mix metals (antique brass / silvers)
Change round columns to square
Update flooring someday! (we still love the laminate floor from our last home)
Your Trim & Wainscoting Questions Answered
Years ago I posted this photo of our wall trim and wainscoting project.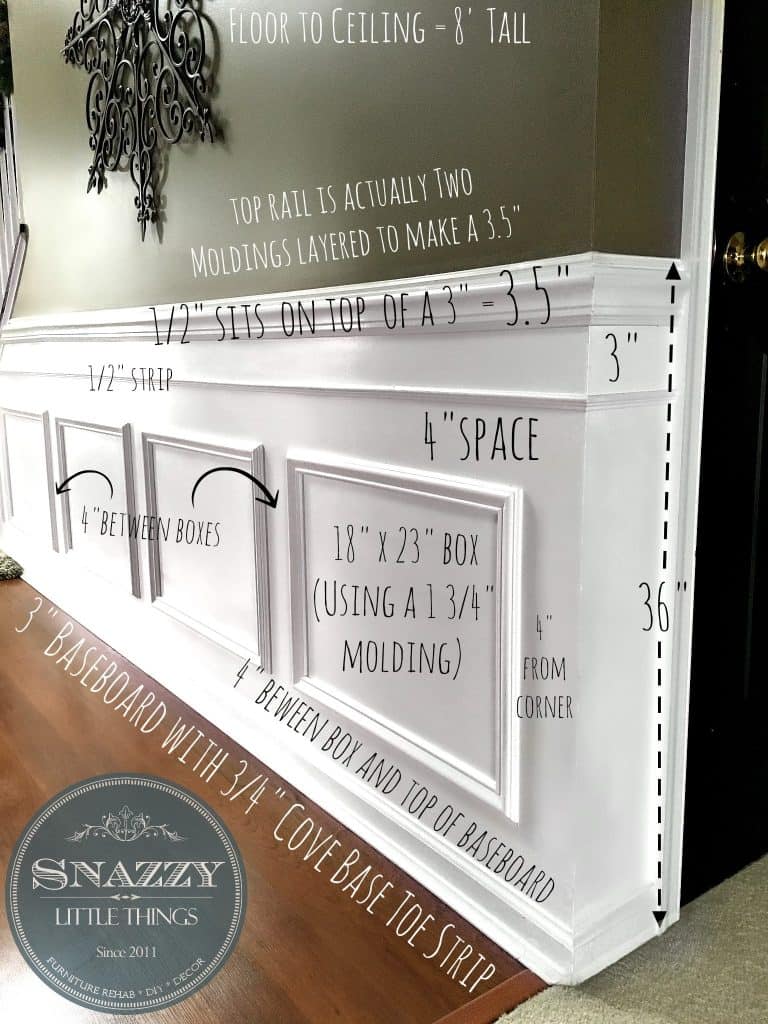 At the time I wasn't thinking this project was anything special. It turns out this diagram was what many people needed to figure out how to DIY their own wall trim, and I answered so many questions over the years. This time we plan to be more thorough and document our progress in realtime. We may even host a Facebook Live video Q&A session to help you visualize the process and learn from our mistakes. More to come on that…we aren't sure on the timing yet. But we definitely want to help you understand the process and how to choose the right trim that complements your home.
Up next: our guest room design plan //  our fall porch reveal // how to choose trim for your interior projects