I had a realtor visit this house this week. Our goal of visit was twofold:
One was to see what home improvements are a "must" for us to complete in order to sell our home.
The second goal was to start looking for some new properties, maybe even a fixer upper…or some land.
The realtor offered some valuable feedback on what type of home improvements are popular in our area. Lo and behold, black doors are favorable in our market. So I jumped at the chance to make a change…after all, it's just paint, right?
The problem was…I hated the glossy black. It was fine for my front door…but I really didn't like the gloss black paint for interior doors.
This was my second attempt at having black doors. The first time I tried a latex paint. It didn't go well (as pictured below).
The latex paint claimed to be suitable for interior doors the paint started to chip over time. Any little thing that touched or brushed past the door would result in chipping.
To add to my embarrassment, I love how the light catches every single disgusting handprint, as if to emphasize my point. I do clean my house, I promise! This is what happens when you have a woodworker in the house and lots of sawdust.
So I primed them all white with the intention of starting all over again.
The second time around I used both the Rustoleum Matte Black and also "Iron Gate" by Heirloom Traditions. Both adhere well, and both offer a pretty, high end matte finish.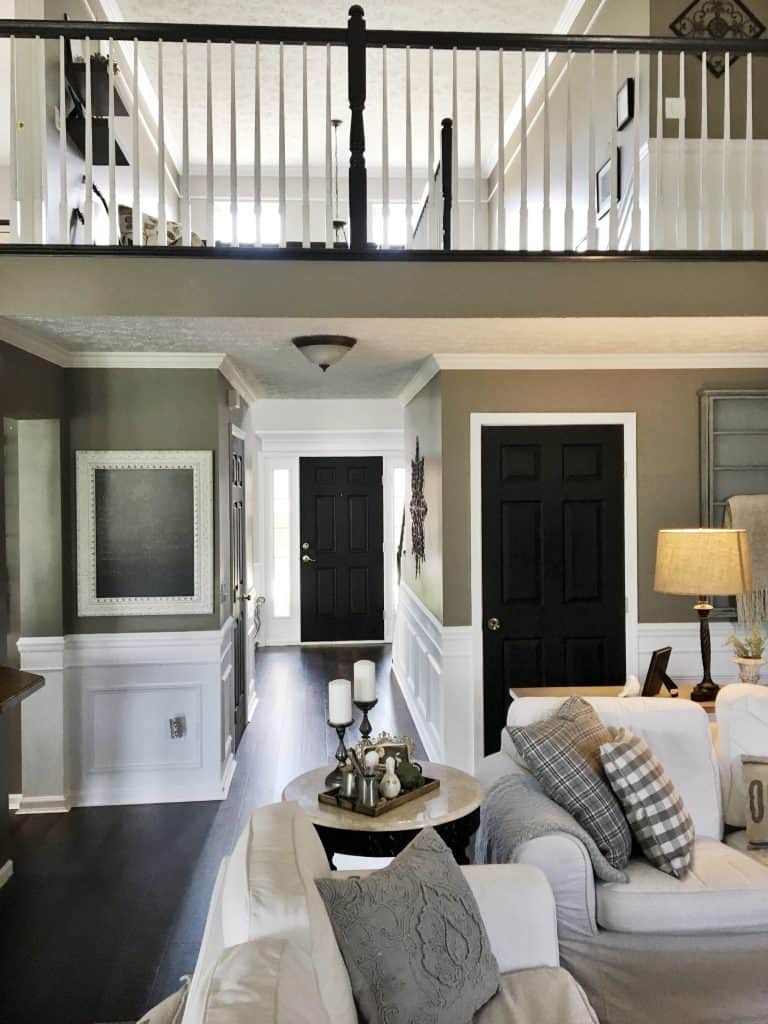 I highly recommend either paint for black interior doors. You can purchase Heirloom Traditions here on Amazon. Or head to the hardware store for some Rustoleum matte oil based paint. You won't be disappointed in either.
Freshly painted doors are like having the perfect accessory for your wardrobe.
I admit, black doors aren't for everyone…and you don't even have to like mine.
If you're still not convinced on black doors, here are eleven more reasons, as seen on Houzz.