This week while the kids are away, I'm walking around the house with a paint brush and primer in hand. As my husband says, that's a lethal combination. What started out as a stair railing paint project…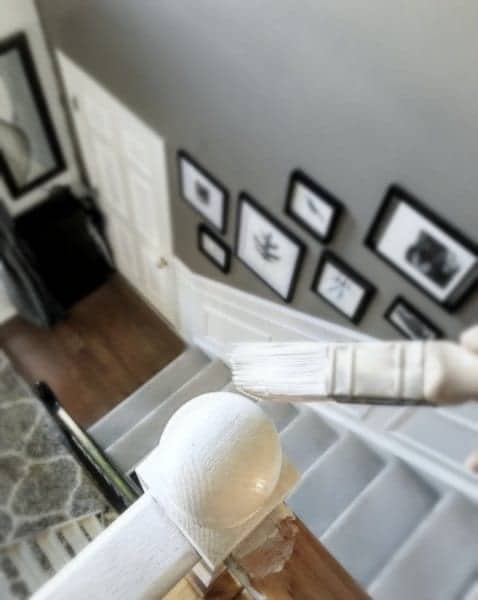 …ends up becoming a manifesto to eradicate all builders grade oranges and yellows in the house. So I'm aiming my paint brush in numerous directions.
Case in point…this "supposed to be white" trim turning yellow has been driving me crazy:
So in addition to the railing, our trim, baseboards, wainscot are all getting a fresh coat of white. Painting our interior has solved so many aesthetic issues in the house, and I love that I can change it out at any time.
But no matter how much deglossing, sanding, stripping you do…paint simply isn't forever.
I mentioned earlier this week that I'm planning to re-paint the kitchen (yes, you read that right).  The process we followed in 2012 didn't hold up very well even though we followed the kit instructions. Back then there weren't too many specialty enamels on the market. We did our best with what we knew at the time. But now I'm mentally preparing for what will be a marathon painting session and will include sanding and treating the wood to prevent the tannins from bleeding through.  (Here is the paint line we'll be using this time around). 
My goal is to have the house completely freshened up with a layer of new paint by the time the school year starts this year.
These interior paint projects aren't just for the heck of it. We're talking about selling the house – so most of our projects have and always will be with resale in mind. We'd love more land with out buildings…maybe even room for a garden. We also long for more trees and some privacy.  A fixer upper could be fun, but we're keeping our eye on the market to see if anything interesting comes up.
So about those interior doors…
It's taken awhile for me to arrive at the conclusion that I really, really don't like them. My first instinct is to upgrade them altogether. Until we decide whether we're selling or staying, I'm only willing to invest in paint. I tried black for awhile, but it just felt too stark against our now white couches — and sure enough, they started to chip. So I'm priming them now and may go for a softer black enamel or a more interesting color — but I will definitely spray them this time around.
So, until we figure things out…what color would you paint them?  (We could always go back to black).
Here they are primed, and for comparison…and if you look closely, you can see which trim pieces are yellowing, and which ones have been touched up with a fresh coat of paint.
Inspiration photos
Here are some spaces as found on Houzz that speak to me…I love how there is a single focal point (one black door) in this photo and it's surrounded by white.
And I love how fresh and clean this space looks, and the paint color is similar to mine:
I'd love your feedback — so what direction would you go with these interior doors? Paint or replace?