Best DIY Blog Moments of 2018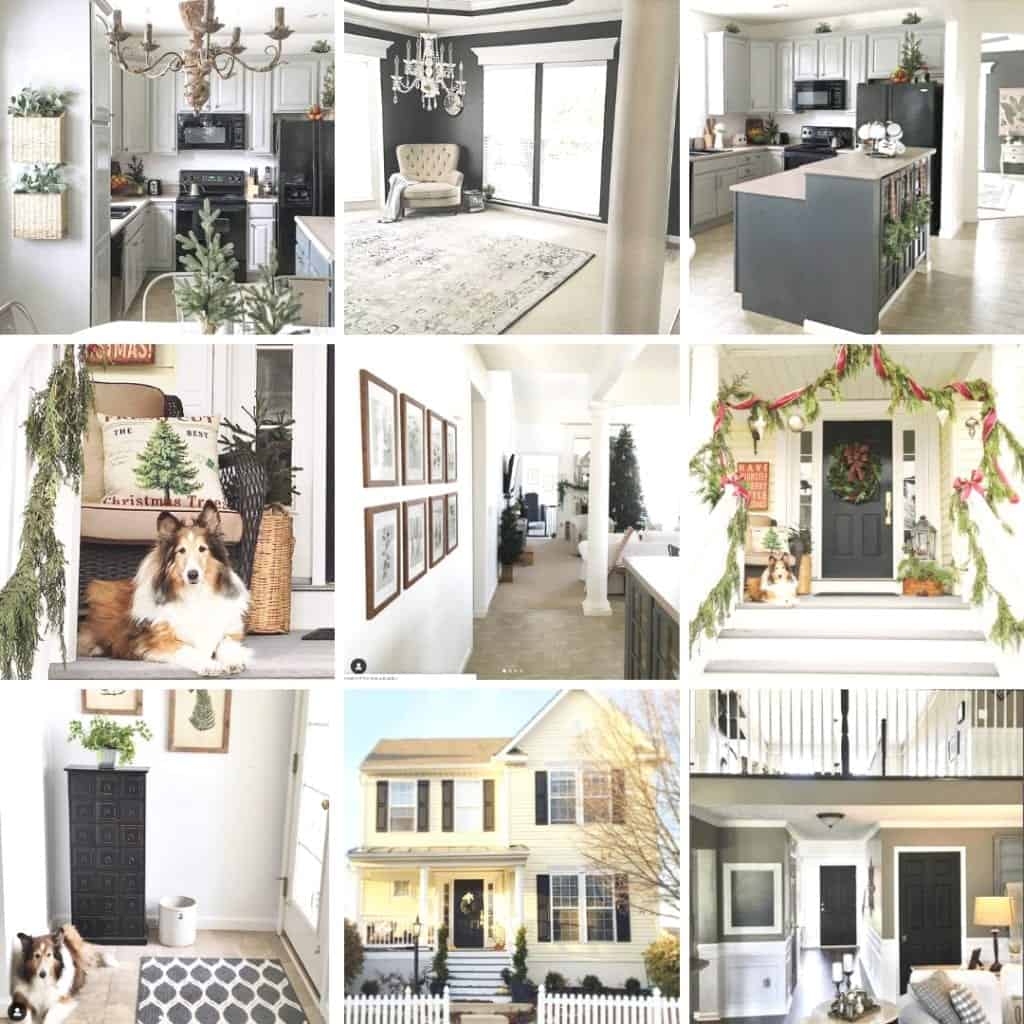 If I could share one lesson that I learned in 2018, it would be this: pursuing a peaceful life sometimes requires drastic action, diligence and determination. There are times that life requires you do hard things. To "rip off the Band-aid" (as Mark likes to say). It means undoing the things that aren't working for you or your family. It sometimes means becoming brave enough to make big changes in order to unlock the next level of "happy".
2018 was definitely that year for us. Today I'll share our most popular DIY projects of 2018, sprinkled with some of my favorite moments with a dash of random thought.
(On a side note: I wish Mark would write a blog, he has so many funny idioms I'm sure you'd enjoy). 
Top DIY Blog Posts of 2018
These projects were my top 10 most popular DIY blog posts for 2018. Some projects have remained popular for years (wainscoting being our consistent #1 post). Click through any of these links to see the DIY tutorials and room reveals. 
#1 DIY Wainscoting // #2 DIY Dog Crate Hack // #3 Industrial Vanity Light // #4 Halloween Silhouettes // #5 How to Create a Durable Driftwood Finish // #6 Painting Your Front Door Black // #7 Industrial Basement Remodel Floorplan // #8 How To Age Galvanized Metal Quickly // #9 Modern Farmhouse Laundry Room Makeover // #10 How to DIY Your Own Cathedral Window Frame
But the truth is, Instagram is where I've been spending more time. I'm finding it easier when compared to long-form blogging, especially since carpal tunnel is getting the best of me. I can still share before-and-after slideshows and videos. So here are our top 10 Instagram moments in 2018.
Top 10 Instagram Moments of 2018
1. Saying goodbye to our house
The new owners of our house are so great, we struck up a friendship during the sale. I know they are loving the house as much as we did throughout the years.  Click here to see the slideshow.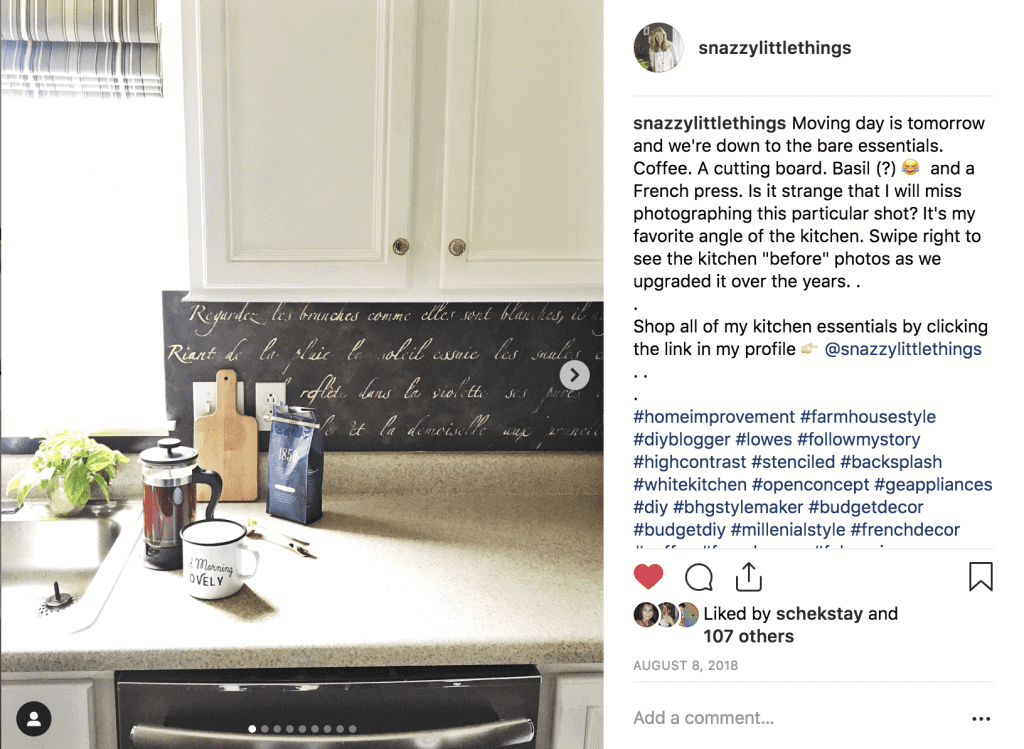 2. The mudroom…our first new home room refresh
Avery and I were sleeping on air mattresses around this time waiting for the boys to show up with our final UHaul delivery. She made the volleyball team and had daily practices, so Mark and I each took one "kid" and lived apart for about two weeks. (He's such an awesome stepdad, really…I'm very lucky). While she was at practice, I applied a little Kilz treatment to the walls. This room had remnant evidence of the previous owner's dogs and needed a refresh. Click for the before & after.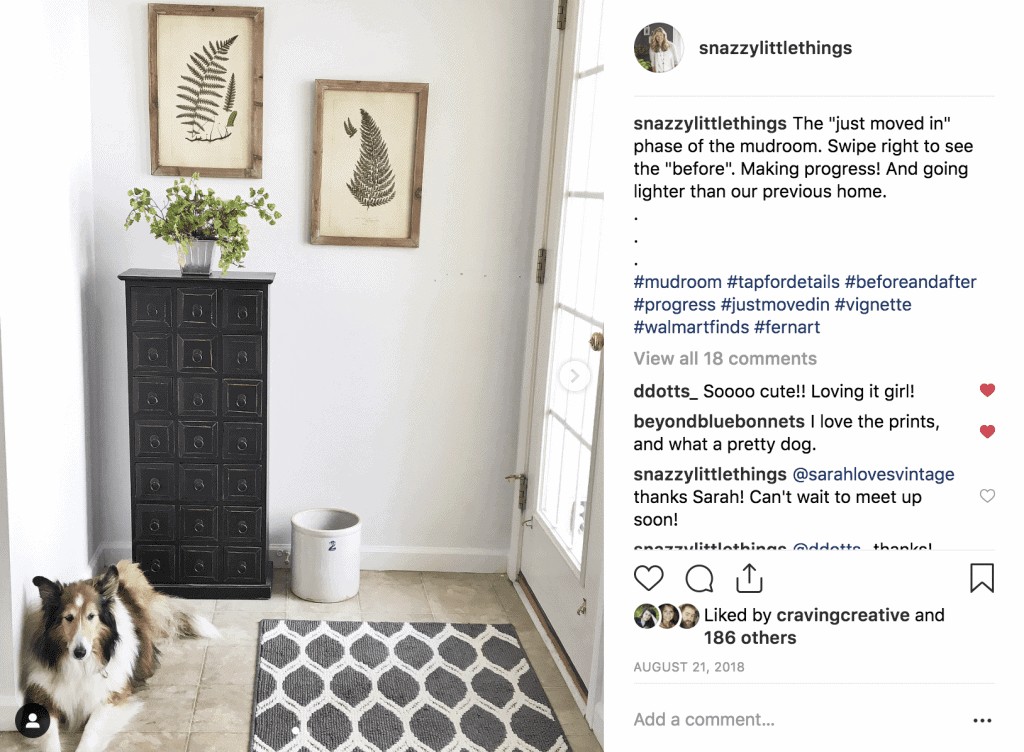 3. The day we got the keys video tour
On "Day 1″right after we received the keys, I filmed a very long video walk through of the house. I tried to squeeze it all in before the sun set — some rooms didn't have overhead lighting yet. My hope was to document every nook and cranny before we made any changes.  In the post below, I share photos of the neighborhood.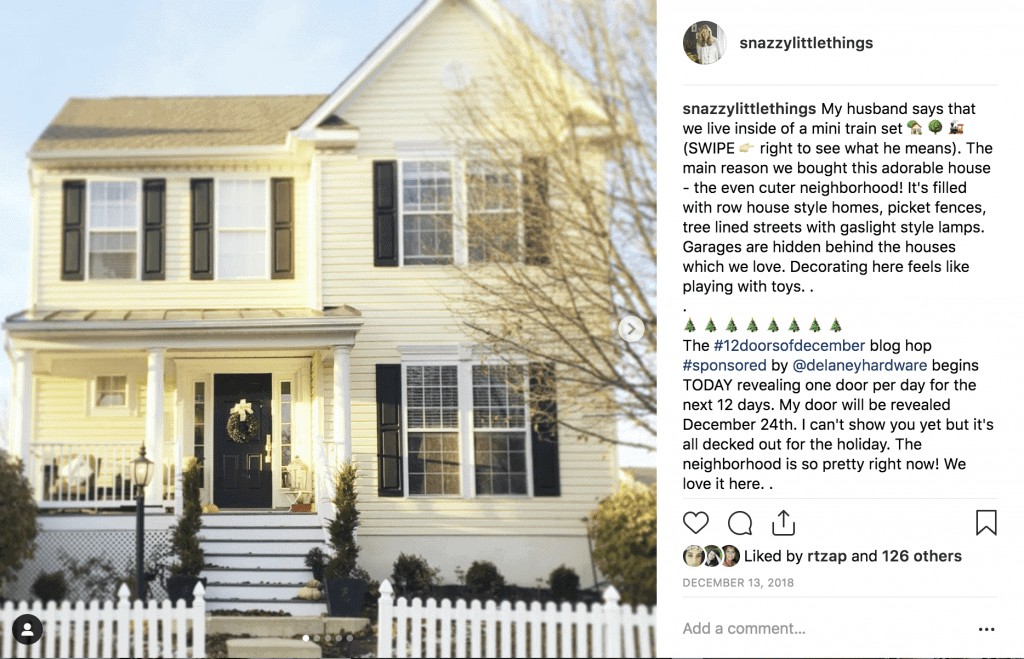 4. Our pre-holiday painting marathon
Two weeks before Christmas we had a burst of energy and painted both the kitchen cabinets and the family room. Mark did the family room while I took on the kitchen paint project. As you can see it's not a well staged photo and there's chaos in the background. It's nice to have lighter walls when compared to our last house. We used to have all dark walls but wanted to lighten up our decor for a change.  Click here to see the slideshow on Instagram.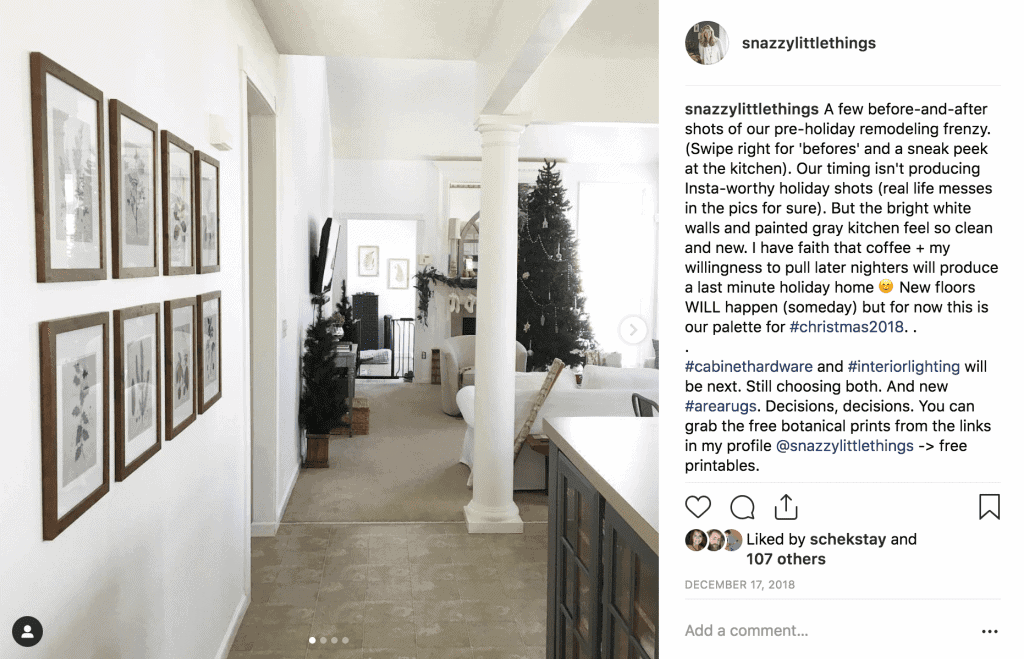 5. 3 Rooms Painted & Trimmed
Originally we wanted to change the round columns to square. The round looked so formal to me. After we added MORE trim the round columns are starting to grow on us. The "peachy beige" rooms are almost all gone. Low-cost high-impact paint projects are always our first phase of DIY. Click this post to see more.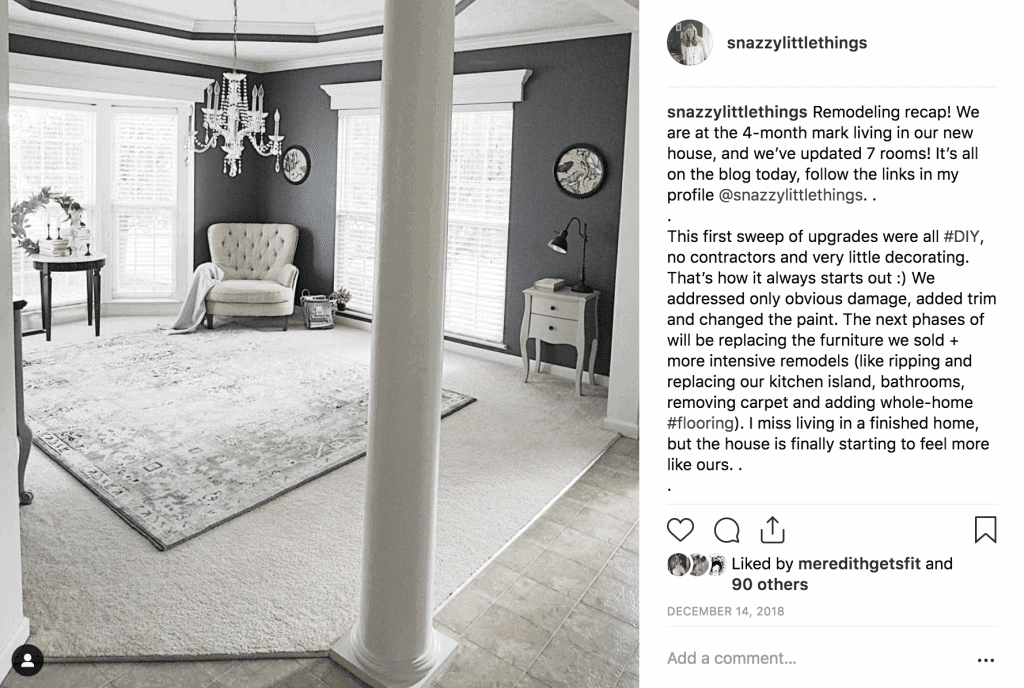 6. The 85 attempts to get this 1 photo of Buddy
I've always wanted that pretty picture of my dog obediently sitting on the porch. Buddy isn't that kind of dog. ;-) He barks at EVERYTHING. He also runs away thinking he's taking himself for a walk. So it took about 85 attempts and lots of treats to get this one, single photo. I had to Photoshop the leash out of the photo because he'd stand up the minute I'd walk down the stairs. Then I'd go back up, ask him to sit, hide the leash. He would reluctantly sit. Then when I'd walk away he'd stand up again. I finally got this shot after letting him sit on the porch for an hour while he watched me rake leaves and decorate. He's ornery like a pup, and since moving it's like starting over with house training. Dog ownership is no joke!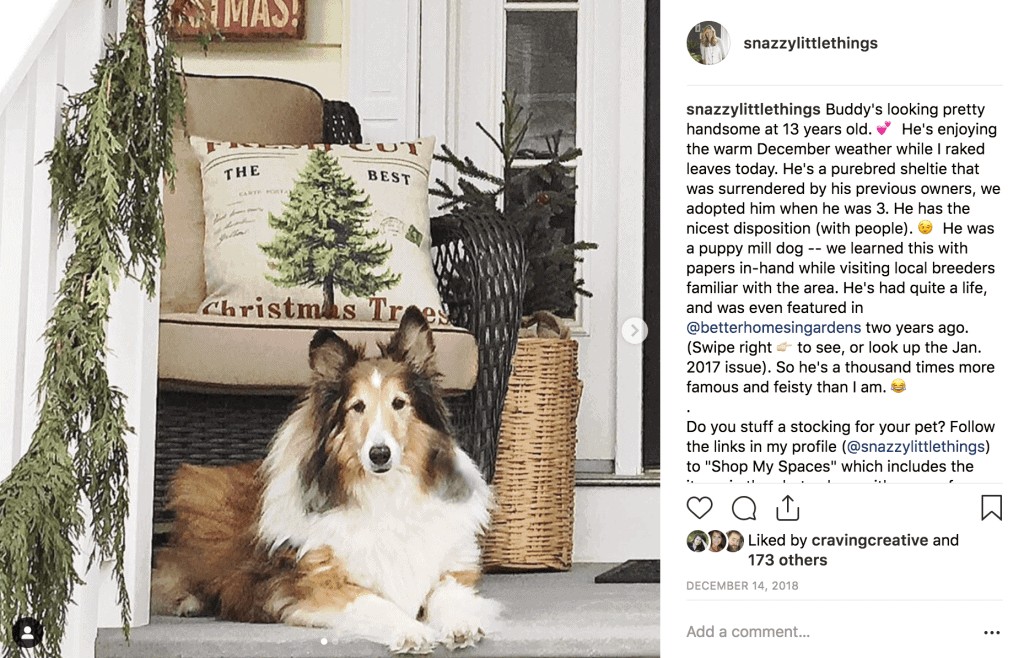 7. Our first holiday in the house
This porch is so fun to decorate for the holidays. It invites color, and we use it – even on cold days just to get some fresh air. We worked with Delaney Hardware and installed a new handle set and shared a slideshow of all the items I used in our decorating. You can see the slideshow here.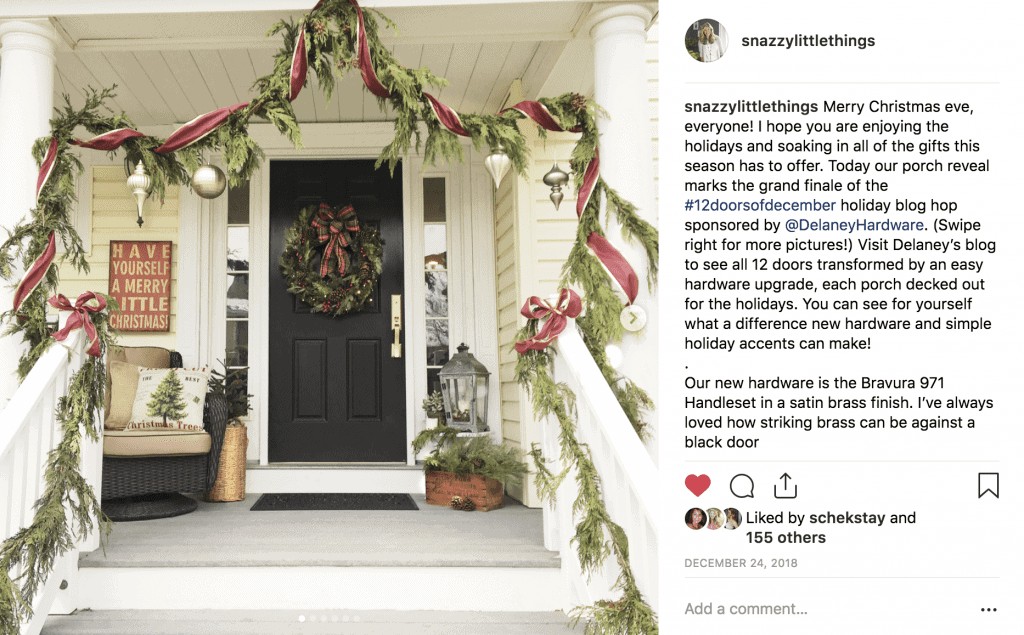 8. Our $95 kitchen remodel
To see the slideshow including before photos of the kitchen, click here. Our $95 kitchen remodel has quickly become one of my most popular Instagram and Pinterest posts of the year. I know we upset a few people when we painted our cherry cabinets (read the post on the blog here). But we are sticking to being a budget-friendly DIY blog. Why spend the money if you can have a pretty(ier) room using paint?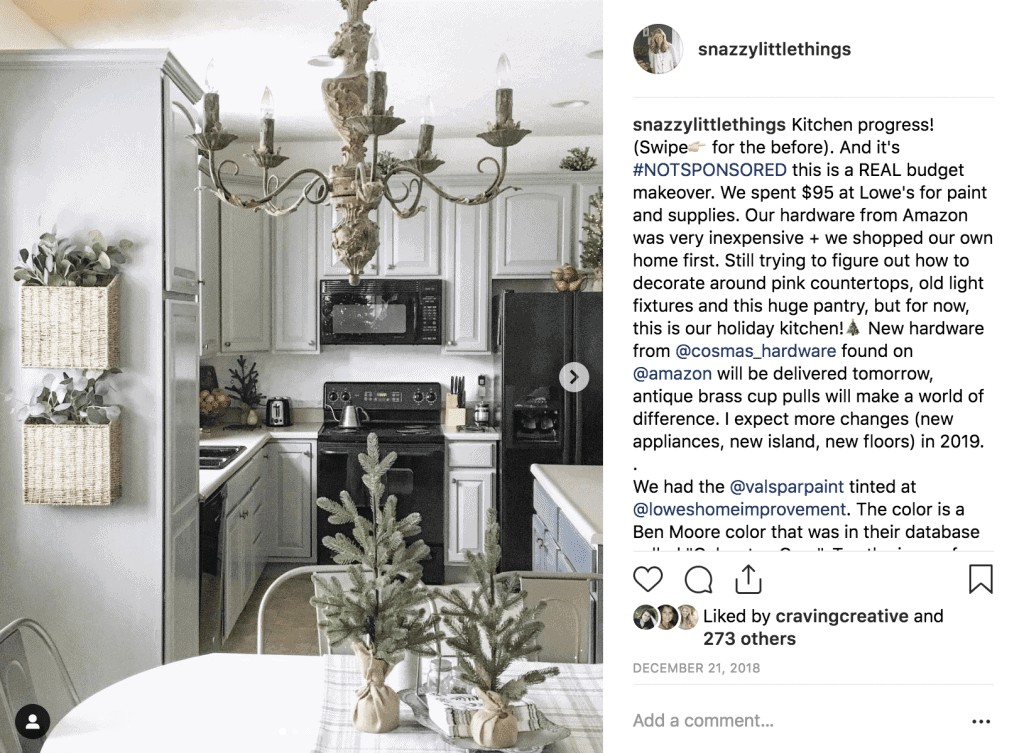 9. Making Due: Our Kitchen Island
In this post I took some heat from one follower for trying to be Joanna Gaines. You can read the rest here.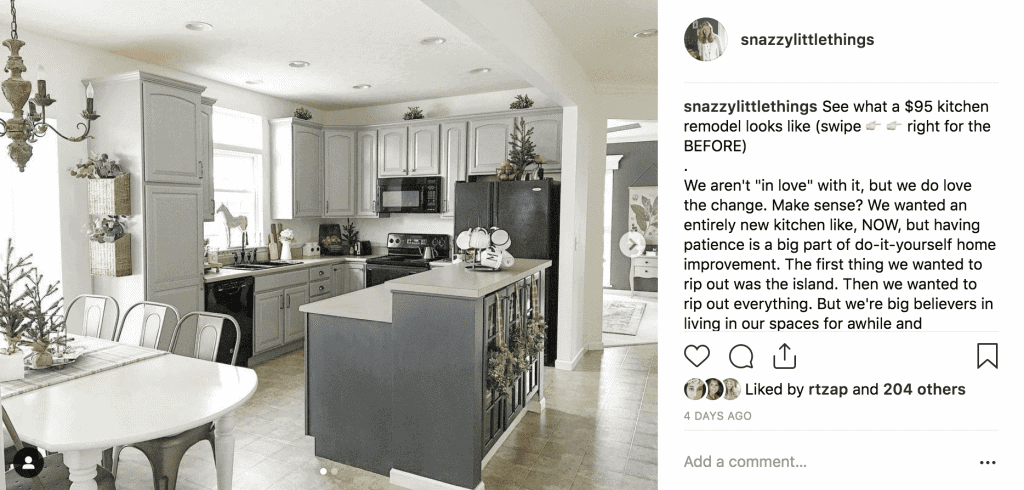 10: One last goodbye…
Life was pretty chaotic when I snapped this photo. Our move was only 200 miles away, but it wasn't uncomplicated. I admire families who make moving look easy. We had a lot of loose ends to tie up in our life before we did.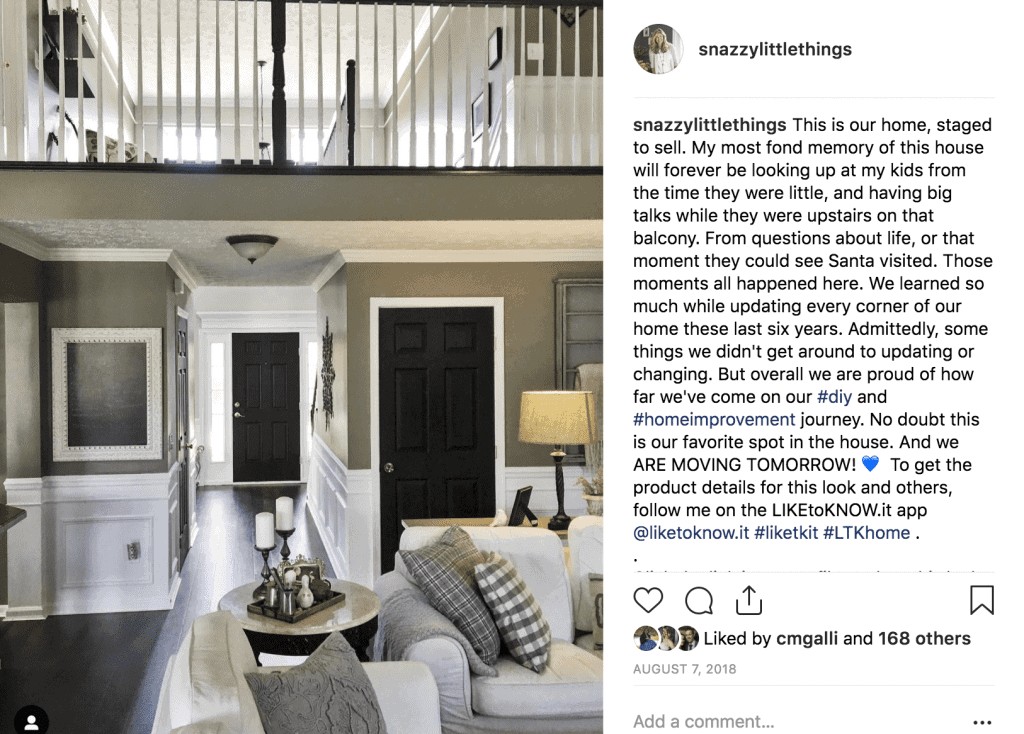 We are lucky. We found a neighborhood filled with lovely neighbors and beautiful amenities. The positivity that has come from our relocation is immeasurable.
Since our move, (I can't believe all this has happened in 4 months!) I witnessed my oldest stepdaughter marry her sweetheart. Our youngest stepdaughter got engaged. I began freelancing for a startup. Mark got promoted and we are now closer in proximity to Marks' parents. Avery is much happier, she's getting straight A's and my son graduated high school and began his adult working life. All is well here on the southern front :)
I hope your new year is filled with great moments, and I wish you a peaceful and healthy 2019!