Industrial Basement Remodel
with before & after photos
Here is a photo progression showing the progress we made in our industrial basement remodel. We are still trying to furnish this, but it looks so much better than before!
BEFORE: the bar and sitting area under construction
After: From the bottom of the stairs
BEFORE: Bar & bathroom under construction
After: Bar & bathroom (bar is still unfinished)
BEFORE: Bottom of the stairs
AFTER: bottom of the stairs
BEFORE: Stairs & Alcove
AFTER: Stairs & Alcove
BEFORE: Guest Bedroom / Office
After: New Rug & Furniture
BEFORE: TV Wall / Living Area
After: TV Wall / Living area. Behind the white wall is storage
BEFORE: Bar area & bathroom in corner
After: Bar area & bathroom (bar remains unfinished)
When I built this house, I paid extra to replace the partial crawlspace with a full, open basement. I also added a 4 foot extension to our floorplan (which made this area even wider). And I paid extra to have 9 foot ceilings. When we finished the basement we left the duct work exposed and spray painted the ceiling (which saved us about $2500 in drywall costs).  As the kids got older, it was time to give them their teen hangout. So we needed a finished basement! 

Even though we hired out a contractor for the build, our DIY contribution on this project wasn't small. We created the floorplan, and all the finish work (like the trim we did upstairs). We chose to hire a contractor to install drywall, trim, electrical, plumbing and hung doors.  I am not altruistic when it comes to DIY; I do it myself when it makes sense. At some point, DIY has allowed us to "pay it forward" to hire contractors as needed. So now the fun begins and we start the finish work and giving the basement some "personality".
Part I:   The Floorplan.  Here are the gains we made with this remodel
What we gained:
1)  818 additional square feet of living space. (Now this space is a fully functioning in-law suite).
2)  349 square feet of unfinished storage. (Which is now an extremely messy furniture painting studio for ME!)
3)  The complete addition of a full bathroom with a standup shower. Pictures of this to come! (we had our contractor alter our sewer lines and drilled through concrete).  A teenage paradise.
4)  The addition of a full guest room (with glass French doors).  This is now being converted to a studio / office / craft room.
5)  Exposed ductwork / painted ceiling. (Saving us $2,500 in drywall costs).
6)  Polished concrete floors with stencil application (soon).
At the time I built my house I paid $4000 to eliminate a crawlspace and opted for a full basement. I'm so glad I did. A crawlspace would have prevented me from claiming 350 square feet in our house. From 2005 until now, it was for roller skating, dodgeball and bike riding. It definitely served its purpose, so I am happy that I bit the bullet years ago.
New Home Building Tip:  (always, always, always upgrade square footage when building your home!)  I prioritized my new home building costs towards square footage upgrades, and saved my budget on finish work, (which I could always DIY later).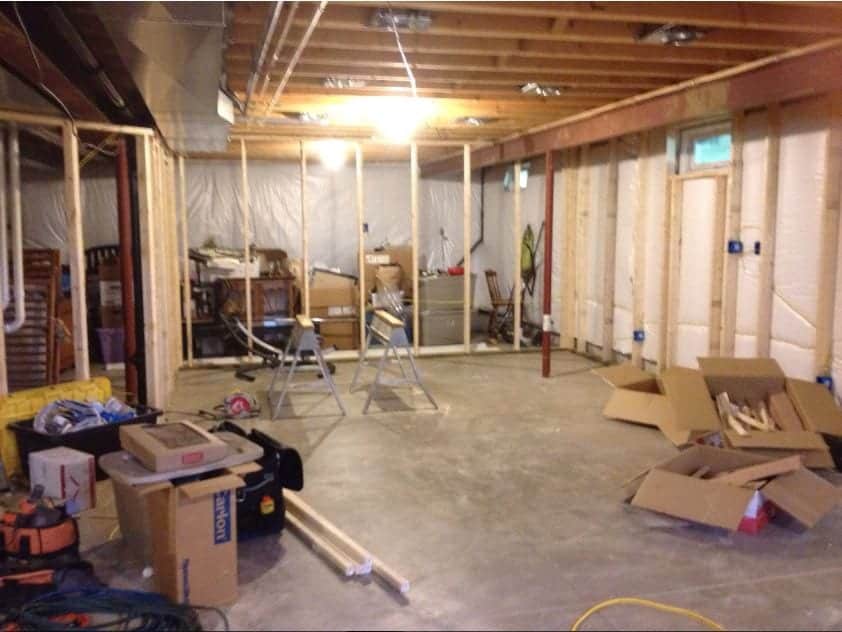 Above: our overloaded storage (from combining two houses)
After construction.
From the bottom of the stairs…looking towards the future bar and the bathroom.
Basement bar (our idea), but as of now it remains just a drawing. Our utility door isn't the prettiest so we struggle with what to do with that space.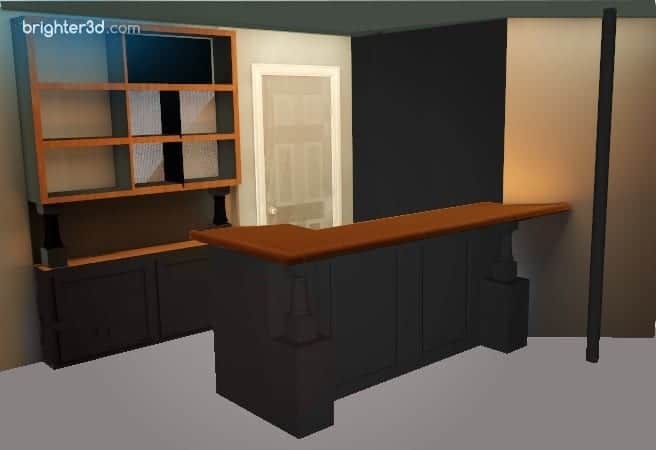 We LOVE the results, but as we recover financially from the construction investment (to the tune of $16,000 to be exact) we still feel we did the right thing and gave our kids a space they are already enjoying.  Our daughter now has a private bedroom and bath (huge win).
Another huge savings – no carpeting.   We also intend to stain and polish the concrete floors and put down huge, fluffy rugs.  If we sell the house, we don't have to deal with picky buyers who want the carpet ripped out.  I realize this is not everyone's taste, but for us, it was an economic way to solve a problem plus we created an overflow space for our growing family.    An open design house (upstairs) doesn't offer us much privacy…and now we have our "man cave".