Antique mirror gallery walls add vintage charm along with much-needed sparkle and light in our kitchen. It's turning out beautifully, but it's still not quite finished. I added sprays of juniper on the top of one of the mirrors just to dress it up a bit for the holiday.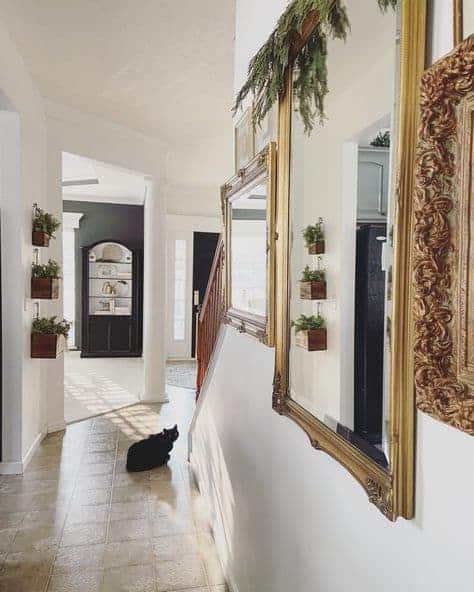 When I look at this photo all is see is the cheap, vinyl floor. Once that's upgraded I'll feel more settled in this space.
Our interior colors were feeling a bit "cool" so I read that "gray needs gold" to warm it up a bit. I tend to agree now that I've done this! Before this display I only had cutting boards on this wall, but those were moved to the dining room. (More on that soon)!
To balance out the colors I added a few additional pops of gold to tie it all together.
Decorating a long house like ours has its challenges, but I've enjoyed this learning process.
I'm still looking for a few additional mirrors to add but I haven't had much luck yet on Facebook Marketplace. Then I'll fill in the blanks with random items that complement the rest of the house.
I've partnered with TikTok as a DIY contributor and creating lots of videos over there. If you love TikTok, come follow me over there!
.