Vintage Mirror Gallery Wall
Vintage mirror gallery walls add vintage charm along with much-needed sparkle and light in our kitchen. I added sprays of juniper on the top of one of the mirrors just to dress it up a bit for the holiday. Thrifted mirrors have become a bit of an obsession in my decor. Check out all of my tips for decorating with thrifted decor if you, too, love snazzy vintage things.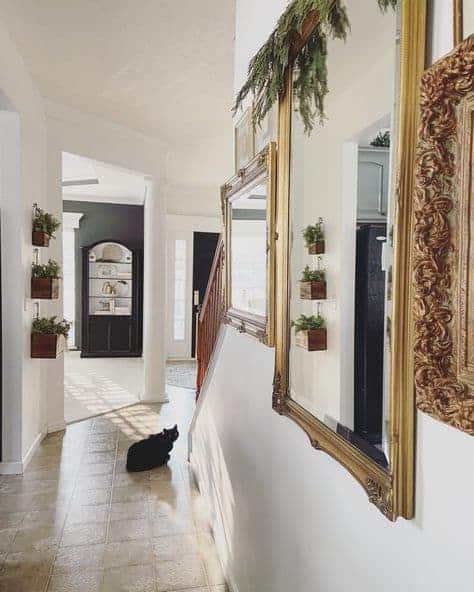 Are mirror walls outdated?
Pops of vintage mixed with new will never go out of style. There are some classic decor tricks (like adding mirrors to bounce light) that always work in any decor style. Your mirrors don't need to look super orate like mine, but you can go for a variety of looks that fit your decor style. Click here to explore more mirror gallery wall ideas.
Are gallery walls out of style?
Our homes are supposed to reflect our own personal style and display collections that make us happy. If that means a gallery wall is needed to capture that and you have the space, go for it!
Can you mix pictures with mirrored gallery walls?
Yes! I used floating frames in the same color as our mirrored frames to break up the aesthetic a bit. My great grandmother's postcards are displayed. You can also display knick knacks in open spaces, or planters as well.
Gold antique mirrors have warmed up our interior colors nicely. I live my grays but it was feeling a bit "cool" so I read that "gray needs gold" to warm it up a bit. I tend to agree now that I've done this! Before this display I only had cutting boards on this wall, but those were moved to the dining room. (More on that soon)!
To balance out the colors on the opposite end of the hallway I added a few additional pops of gold using antique bells to tie it all together.
Decorating a long house like ours has its challenges, but I've enjoyed this learning process.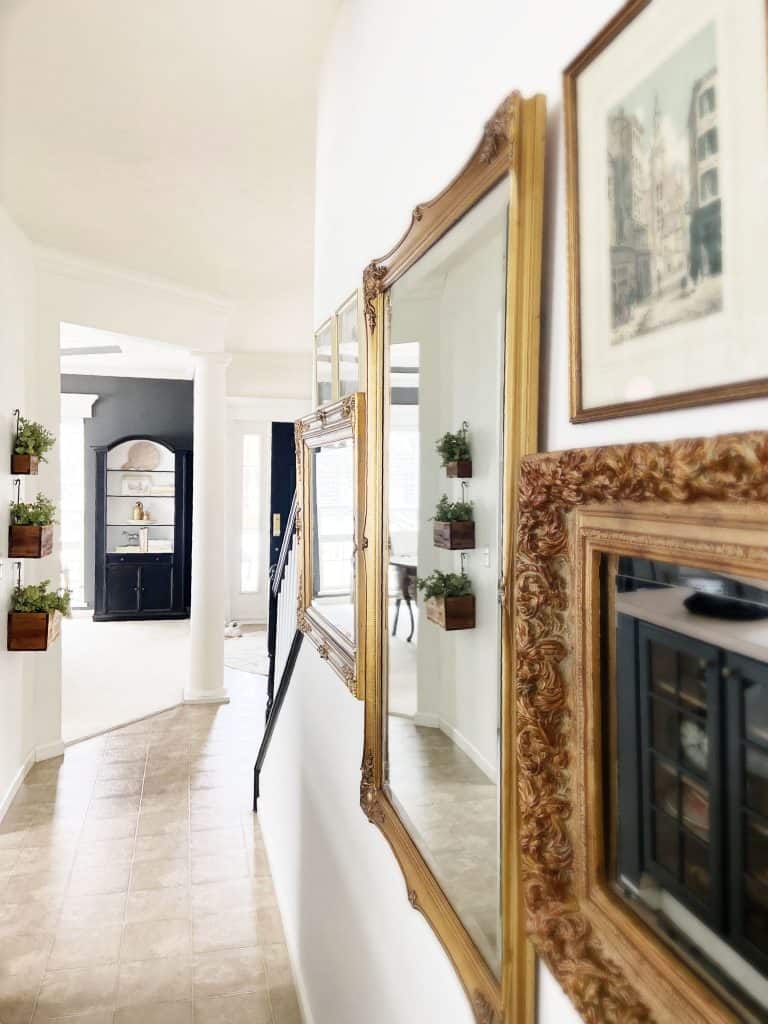 I'm still looking for a few additional mirrors to add but I haven't had much luck yet on Facebook Marketplace. Then I'll fill in the blanks with random items that complement the rest of the house.
I've partnered with TikTok as a DIY contributor and creating lots of videos over there. If you love TikTok, come follow me over there and I share my top 20 favorite items to search for in a thrift store (antique mirrors are high on the list, of course!)
.