Mardi Gras is just around the corner, so I thought now would be a great time to share all the crazy decorating from my daughter's school dance last spring. We completely transformed her school into the French Quarter, all on a $1200 budget with the help of a few moms who really stepped up. I had never decorated an entire school before, so this was a new challenge for me. You may remember that I also helped with my son's senior prom before he graduated, so we borrowed quite a few items from prom committee. Throughout this post I'll share affiliate links if you're a "lucky" mom who is in charge of such an event this year.
Mardi Gras in the French Quarter School Dance
This post is partially sponsored by Stump's Party Supply who also provided several decor items for my son's senior prom.
A few little "hacks" that I discovered as we tried to work within our budget:
The entrance! Balloons created using balloon arch tape. We also borrowed the benches and carpet from the school.

Entrance lights were low when the kids entered. Masquerade elements also fit a Mardi Gras theme.

See my DIY street lamp tutorial. We made 15 for this dance. We covered trophy cases with black paper wherever possible. I enlisted the help of high school seniors for 5 weeks prior to the dance who helped us create these jazz musicians and several other handmade items

A borrowed bistro table. I traced the white chalkboard buildings with a projector at home.

A local garden center let us borrow the awning and garden items.

The entire school was transformed!

Hall lockers were completely covered by Mardi Gras scene setters attached with double sided velcro tape.

Banners were an inexpensive option to give it more color and make it look less like a school.

Wall scene setters were attached with double sided velcro tape. My ex was also a big help — it takes a village!

DIY fountain was made by a crafty mom — we borrowed this from prom. No corner was left bare — we decorated EVERYTHING.

The kids named the streets after teachers, Mark and I made these on Photoshop. Lots of leftover foil curtains from prom were used everywhere.

Entrance to the gymnasium.

The gym (aka: dance floor)

A borrowed tent became the gaming area at the far end of the gym.

Inside the "casino" – also borrowed from our prom committee – I put some creative parents in charge of this area

LED curtain lights, tulle and handmade pom poms were set up. The food committee handled the tabletops.

Drink area — we used the volleyball posts as part of this backdrop.

Repurposed these dancers from prom — but we created masks to make them more "masquerade"

Gym bleachers were lined with black landscape fabric and we added lights and stars to make it interesting.

Stars also made by the same crafty mom who made the fountain. Out of PVC pipe.

Drink table with volleyball nets covered up.

The candy table, also done by a separate committee.
Some tips for survival:
Google Docs: I set up a decorating plan online to communicate the vision.
Zone Decorating: we set up smaller zones for people to decorate. I placed all the decor needed for that zone, then handed any volunteers the sheet with the vision so they knew what to do.
Food tables: I had those committees decorate separately and use their budget for their own decor. I provided table covers.
Enlisted the help of the high school students to create art after school
Big Impact Decor: The DIY street light. Our craft made a huge impact and helped us stay within budget.
Find Local Businesses to Sponsor: Have a sponsor (like a garden center) to help with flowers.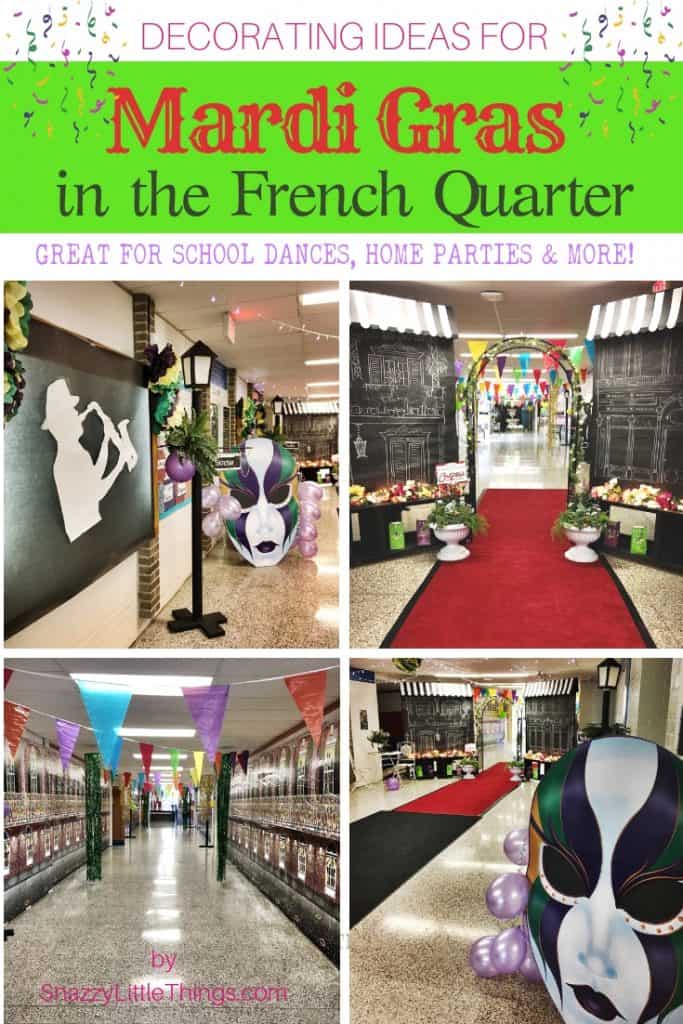 Best of luck and happy decorating!