$500 Guest Bedroom Remodel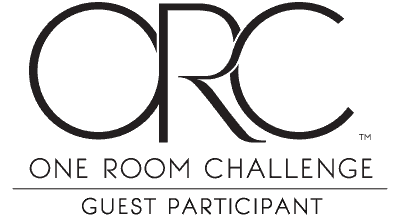 It's REVEAL DAY of our One Room Challenge! I'm so excited to share our basement guest bedroom remodel with you. On my blog I set an exact budget for every room. Our articles are as much a financial lesson as they are a decorating tutorial. This means I will paint, repurpose, "shop my own home" and thrift my way to a beautiful space to stay within that set budget.
At the time of this upgrade we had only lived in the house 3 months and had updated 5 rooms. Without this challenge I would have definitely back burnered this mini-remodel. It forced me to focus and think on how we want to use this space long-term. We consider this the "1.0 update" with more changes planned in the future. But now I have a new challenge: photographing dark interiors with no natural light. Given that, I hope you enjoy a candlelight tour of this space. This is the first time I've ever done this and I plan to do a few more night tours over the holidays, too!
Guest Bedroom, BEFORE:
Here is the listing photo of the guest room before we moved in: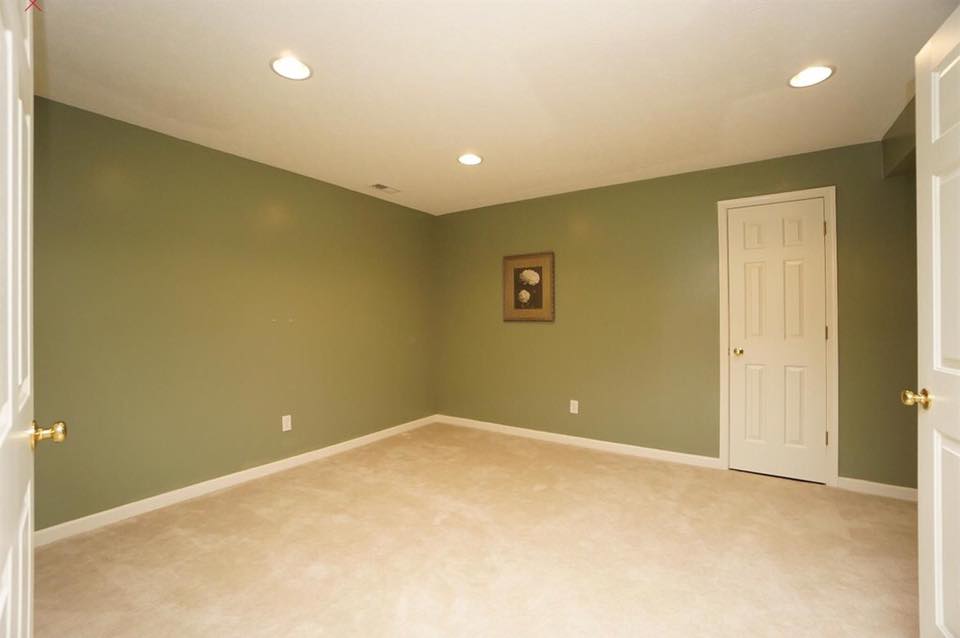 In case you're just tuning in, we have been updating this space for the last six weeks while attempting to spend $500 or less. Luckily, no major repairs were needed, just paint and furniture!
$500 Guest Bedroom Remodel
A night tour
Did I stay within my $500 budget? I'll reveal that at the bottom of this post!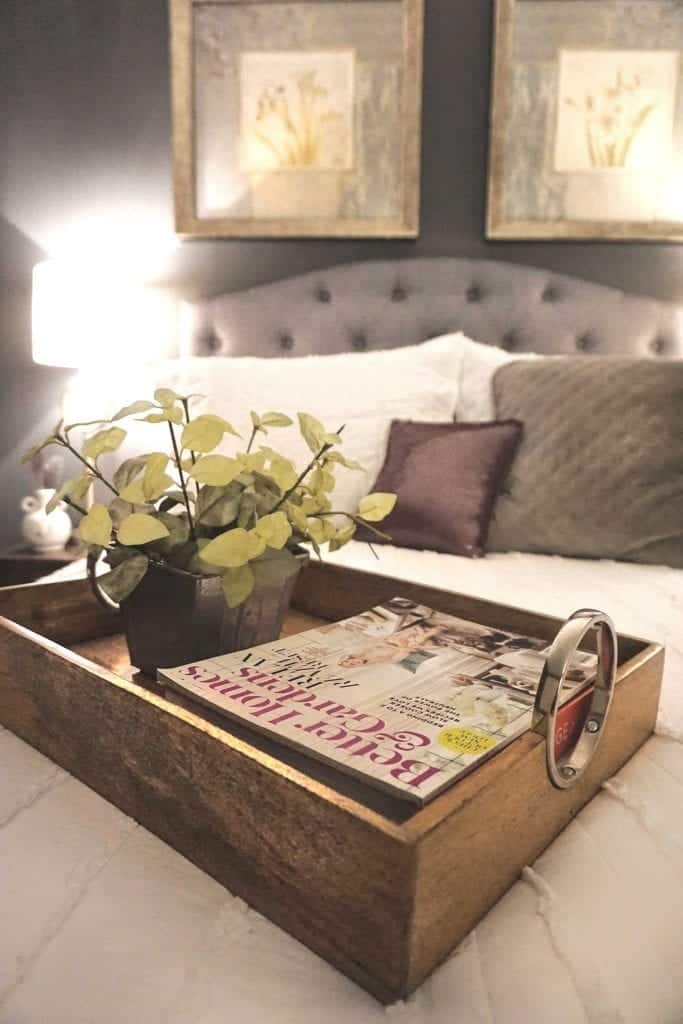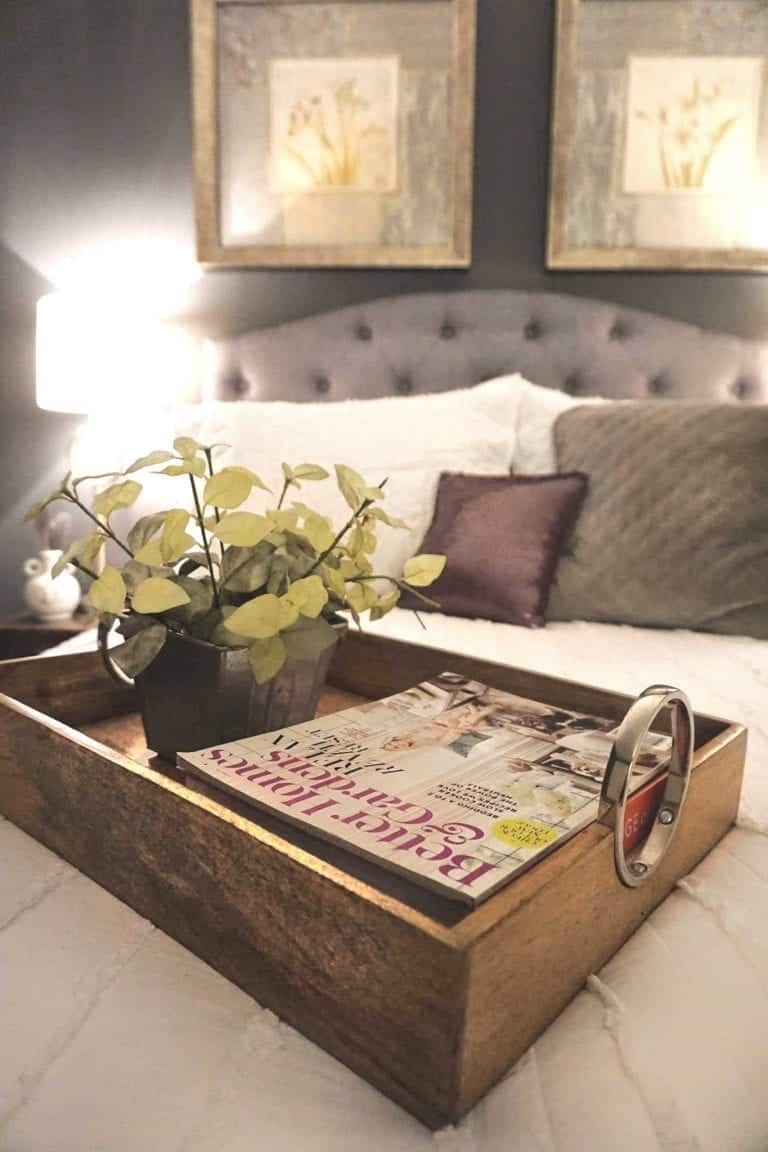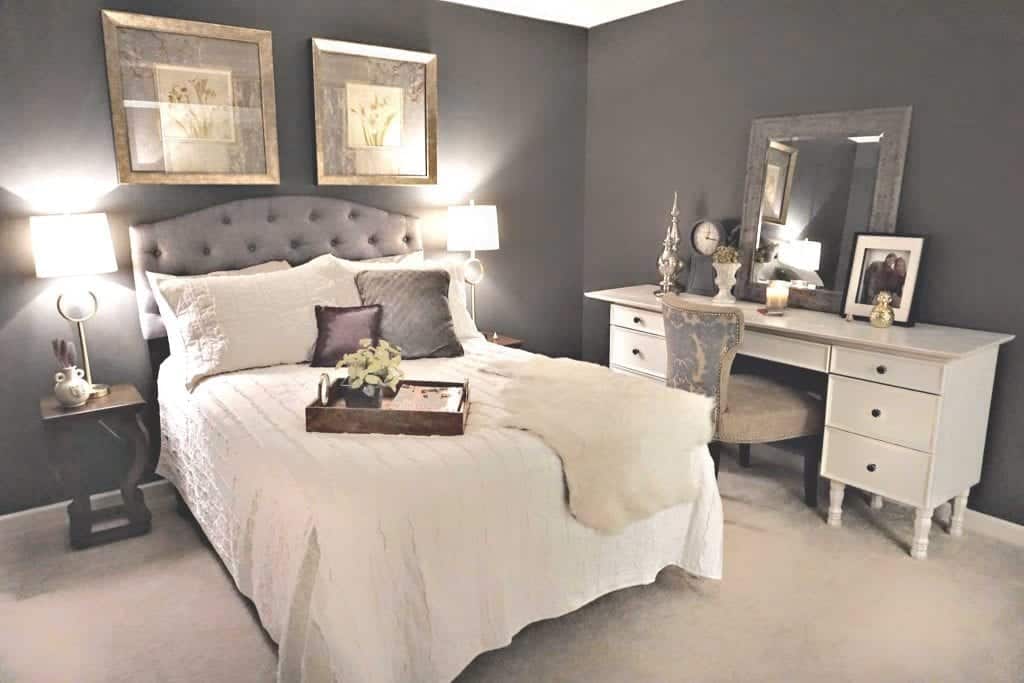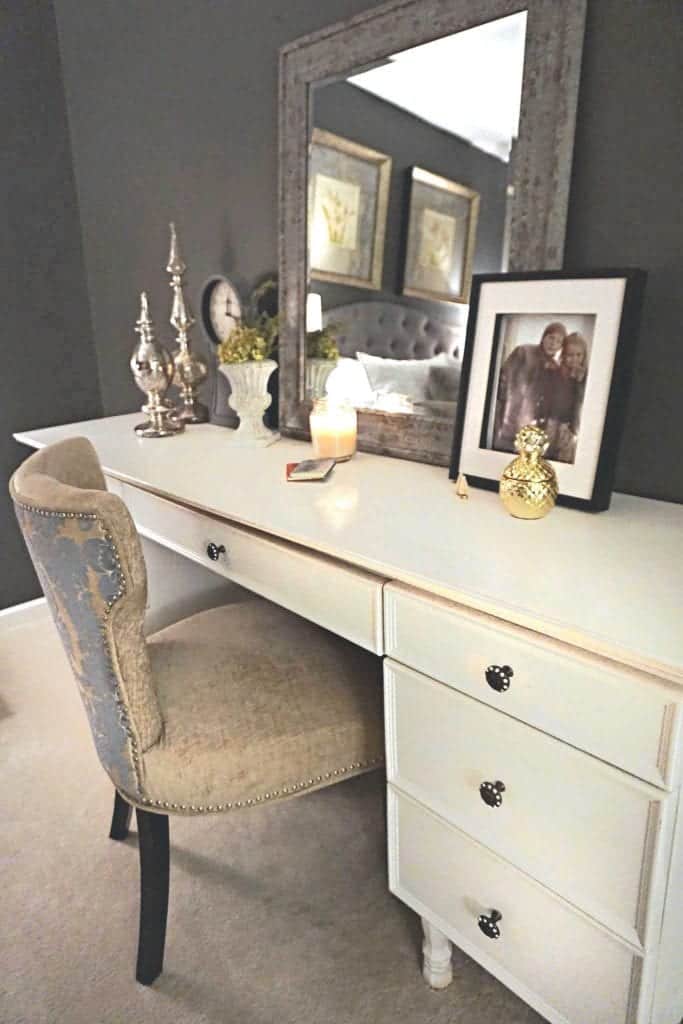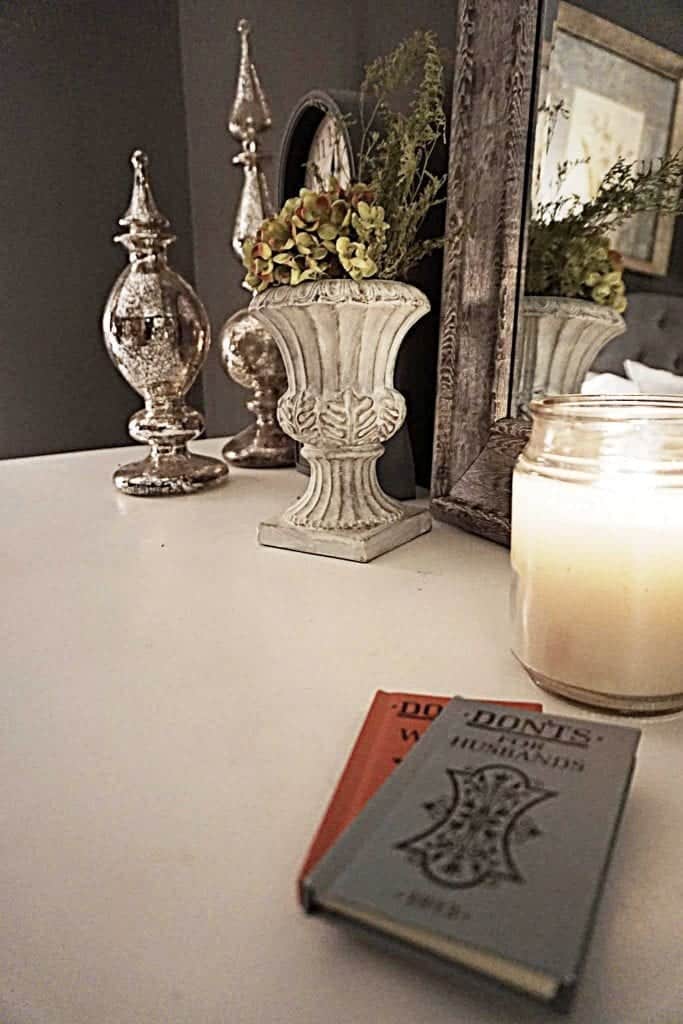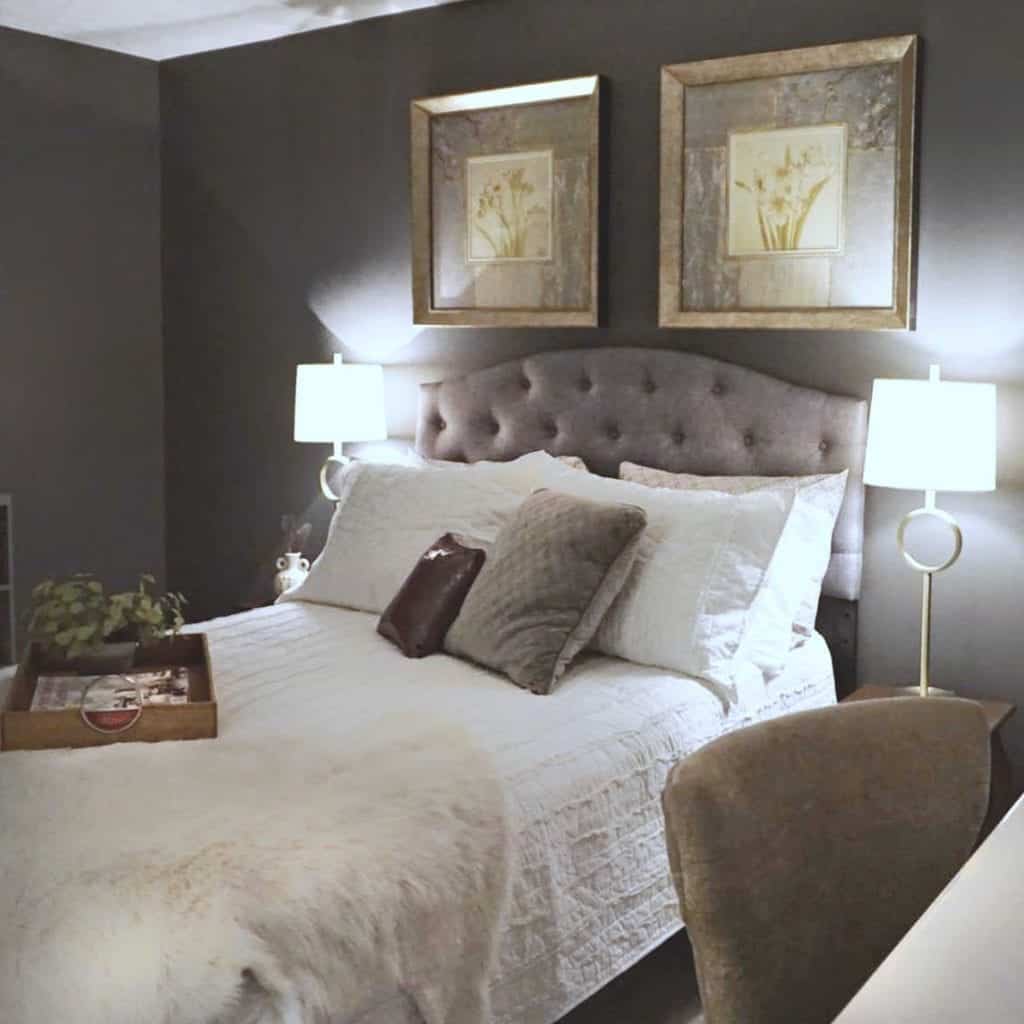 I'm not a trained decorator, but I do try to choose furniture and decor that is interchangeable anywhere in the house. I don't theme out my rooms too much when I'm decorating. If some of this looks familiar it's from my former dressing room at our previous house (we gained a bedroom but we're down a formal dressing room with this move). But we also gained 500 in additional square footage in this house.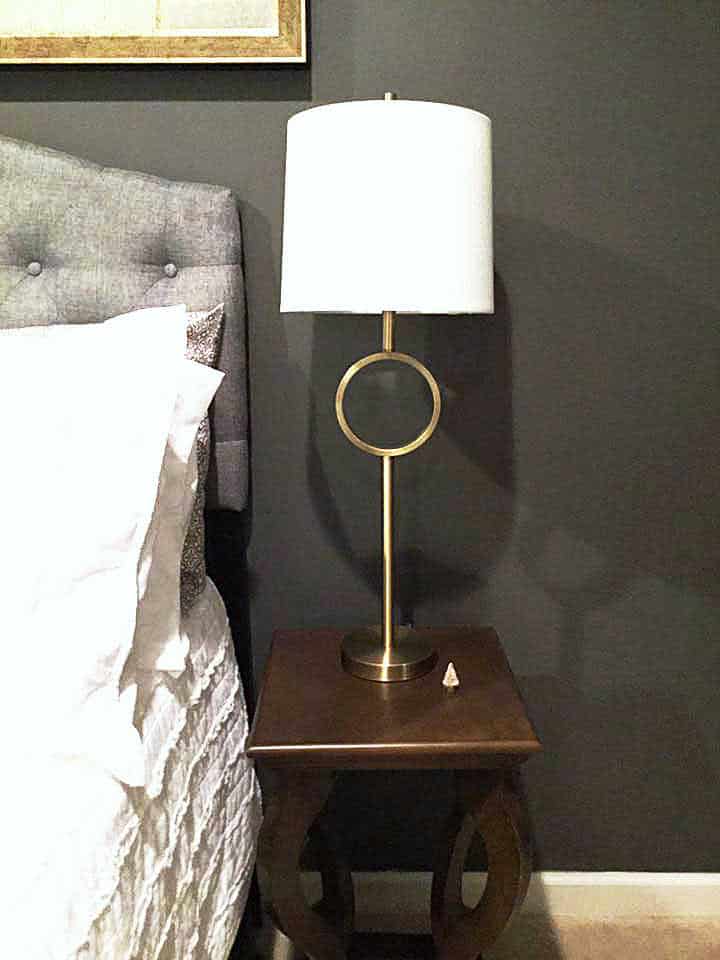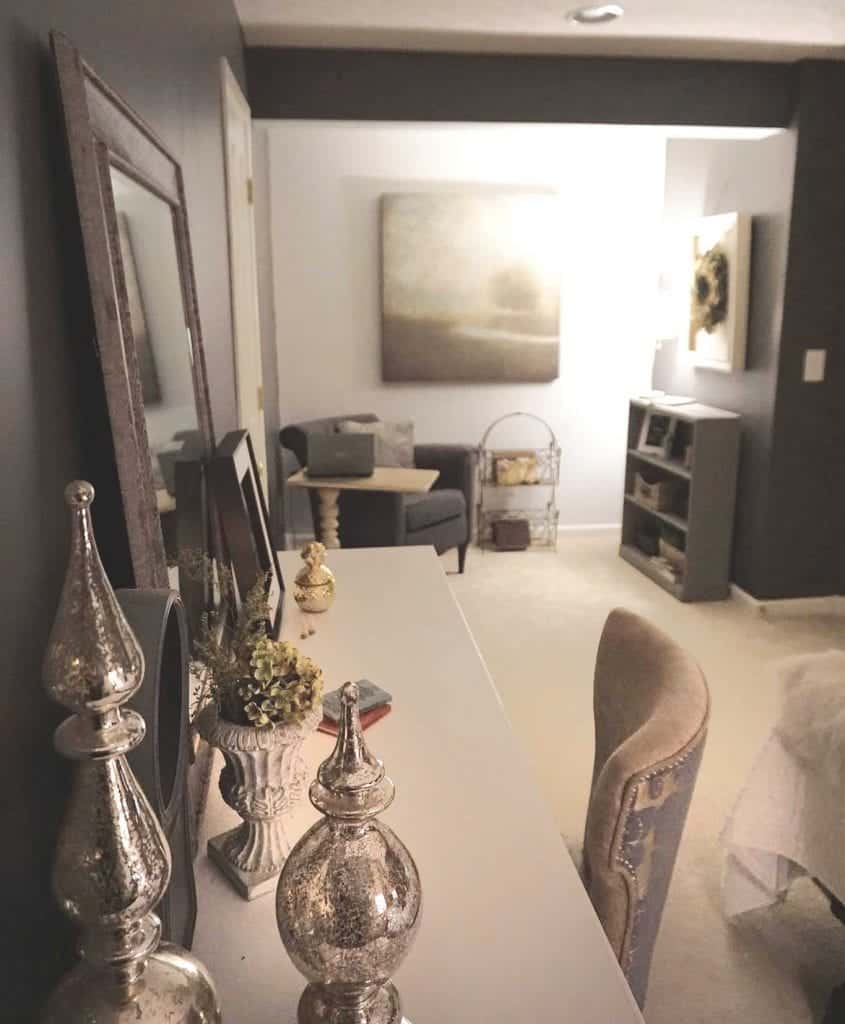 Reading nook with workstation:
 This nook serves as a nice sitting room and makes the guest bedroom feel bigger and more inviting. We added the comfortable chair, an extra laptop, a bookshelf that houses reading material, the Wifi password and extra chargers and cords. We may replace the large canvas art with a TV someday.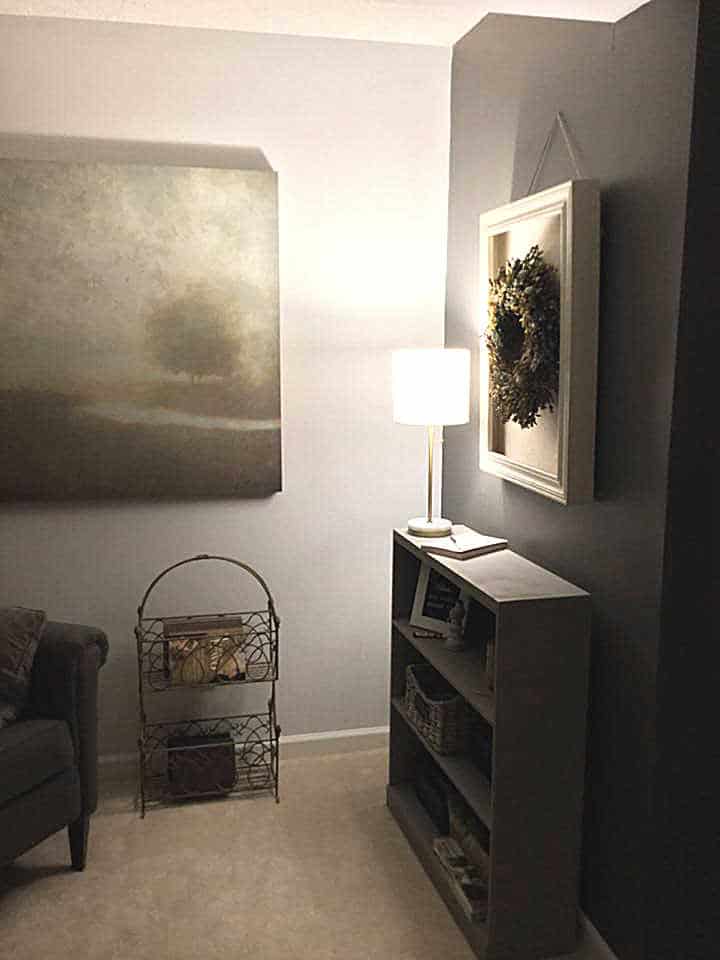 Some of this decor is a bit random. I often retire our misfit furniture from our upstairs living areas to become our new basement furniture. My strategy was to reuse and repurpose items from our home as a first priority. Then I allocated $500 in more "stuff" to make this room function as an actual bedroom. Much of that budget was used on paint and the new mattress. I had to get creative to pull the rest of this space together.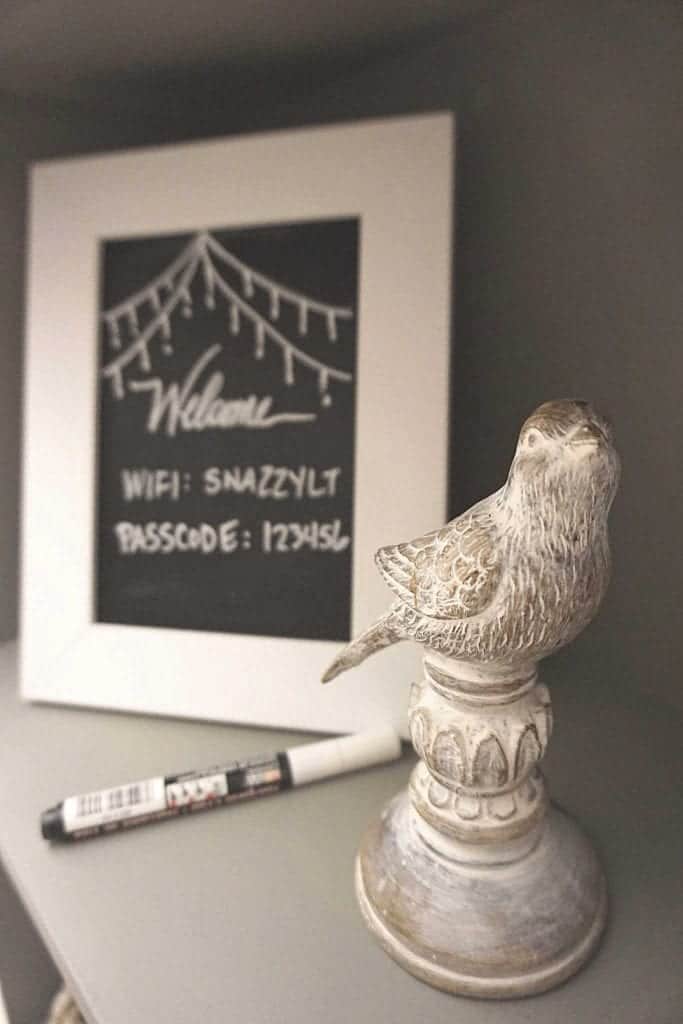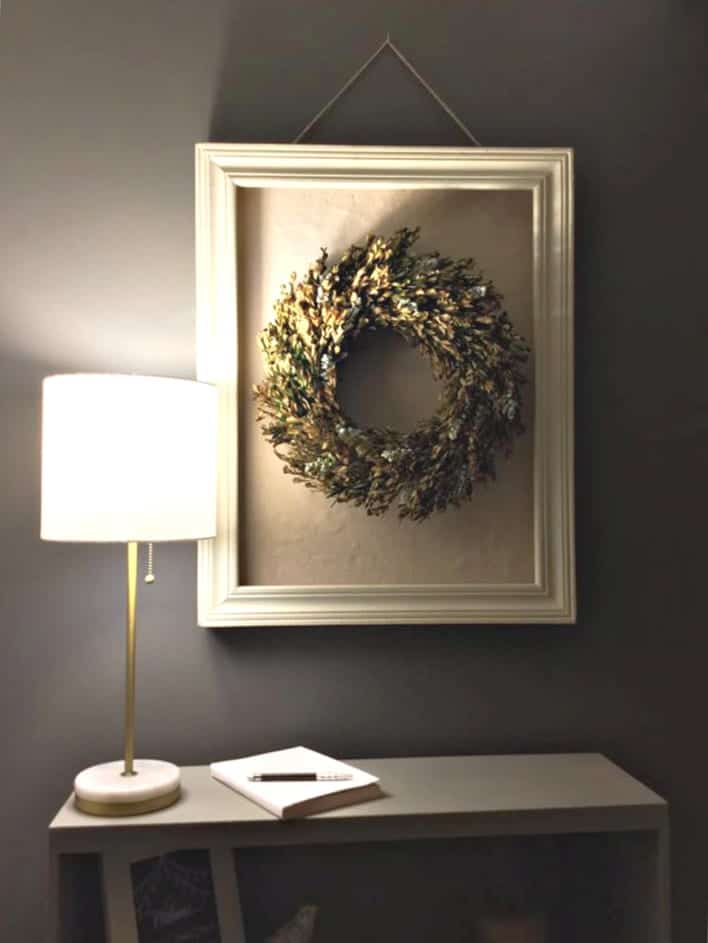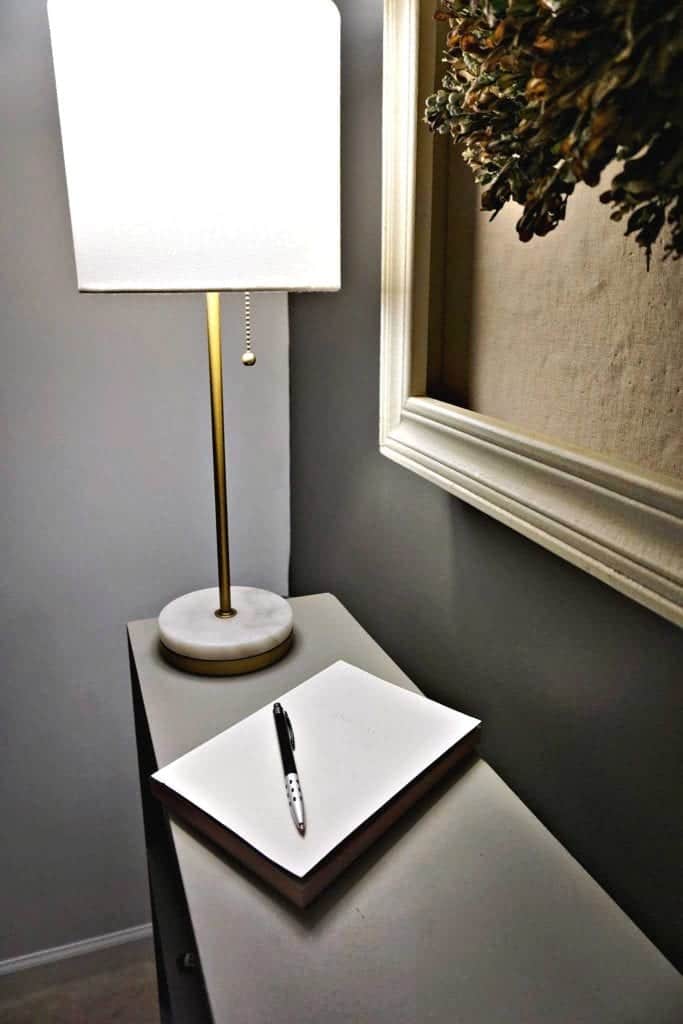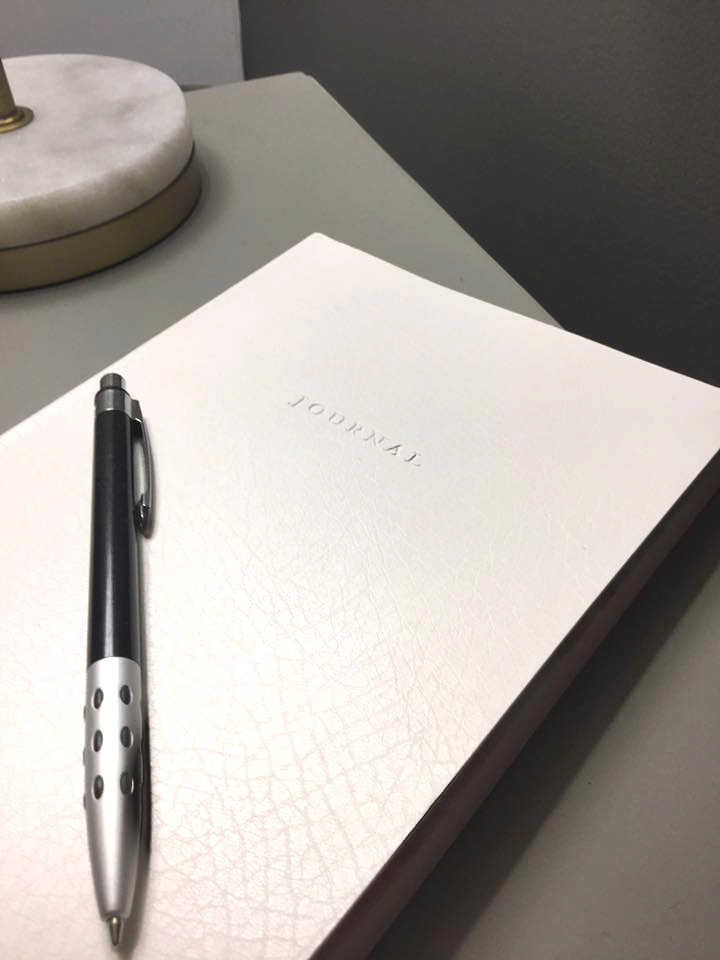 Our guest bedroom has been booked quite a bit in the short time we've lived here. We've already hosted 5 overnight guests since we moved in! My stepdaughter just got married (last night) and we're also remodeling two other rooms at the same time. This challenge hasn't been easy since we decided to do this during a busy time in our lives. Be sure to subscribe here to see our foyer and dining room update which we've been doing simultaneously as the ORC. It feels so nice to start making this house our own.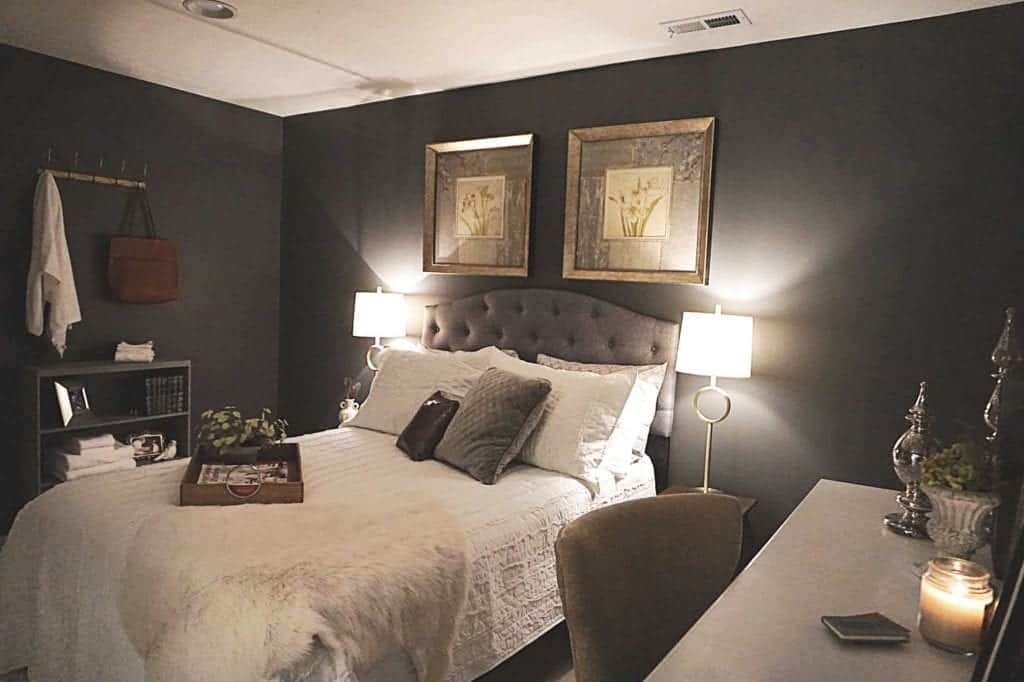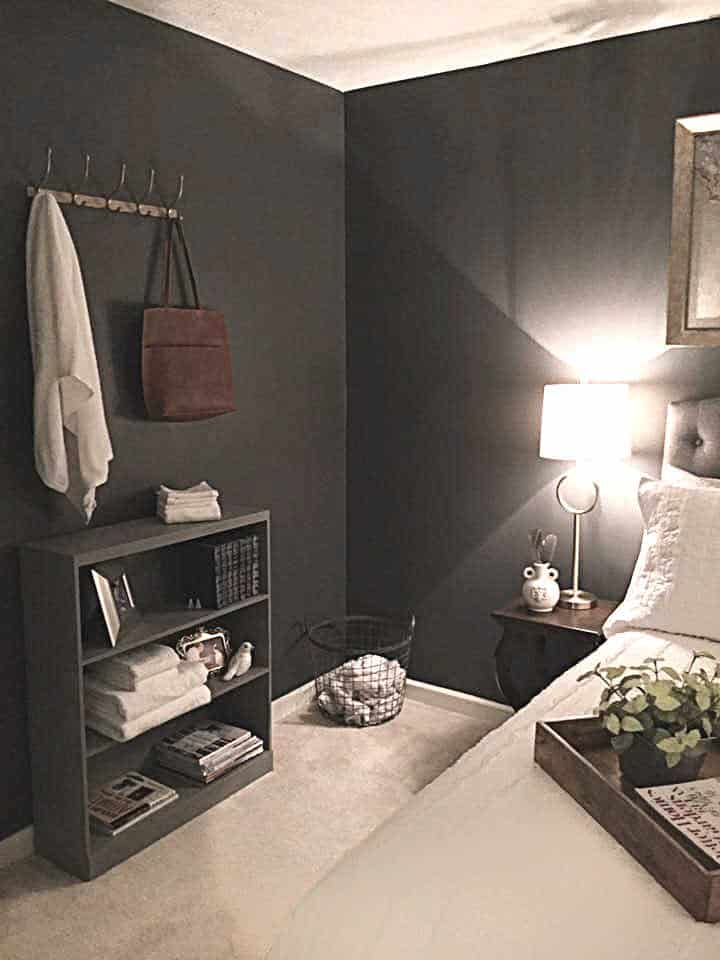 Sources & Prices:
$500 was necessary to turn the misfit furniture into an official guest bedroom. Here is exactly where our money has been spent.
Tufted Headboard new in box = $65 (from a local closeout company)
Full Bed Frame = $10
Kendall Charcoal Paint by Benjamin Moore = $70
Two Side Tables / Night Stands = $50 from Facebook Marketplace
Antique Mirror = $40. — this didn't happen! I got stood up on Facebook Marketplace!
$60 spent on mirror at Lowe's instead
$80 spent a Target (included gold pineapple, journal book, lamps, towels)
_____________________________________________________
Total spent $553 (goal was to only spend $500).  Not too bad, sticking to the $500 took a LOT of diligence, especially since a mattress took up a big chunk of the budget. And I could have saved $20 with my Facebook purchase, but, oh well!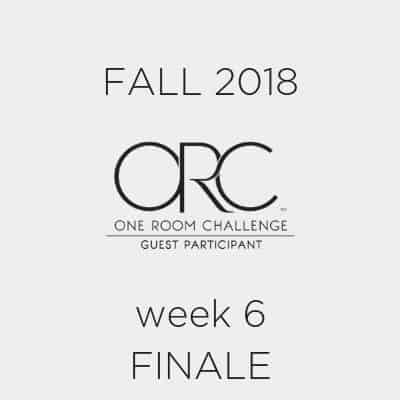 Be sure to sign up here to get my newsletters where I'll notify you of my progress as we continue to update our home on a budget.
Featured Designers
Thanks so much for following me on this journey! It feels so good to have this room ready for the holidays. And thanks so much to the #oneroomchallenge or #bhgorc for hosting! Be sure to follow along on the rest of our budget home remodel on Facebook, Instagram, Pinterest and all of my social media channels.