I'm so excited that an Ikea has been built about an hour and a half from home. And I'm finally figuring out why Ikea Ektorp couches seem to be all the rage among bloggers and interior decorators everywhere.
It probably seems counter-intuitive to have white slipcovered couches if you're aiming for a clean house.  But let me explain what the fuss is all about.
Why not leather?
I completely get that leather is undoubtedly the #1 choice for anyone that wants a couch that is 100% stain proof and easy to take care of. But for me, it's a been-there-done-that type of thing, I had them in the past and want a new look. (And is it strange that I HATE the feel of cold leather against bare skin?) At the moment I'm stuck on the idea of having a white couch. I made the decision earlier this year that I'm going to install a dark laminate flooring. White couches would be a perfect contrast and brighten my interior. The problem was that white leather couches seem to lean more towards ultra-modern styling, which is totally not me. The next lightest shade of leather was a pale taupe, and I simply didn't want that shade anymore.
And….the grey couch?
The slipcovered grey couch (originally $2500) has served us well, but could only seat 2-3 people — so one of us always had to sit elsewhere (aka, on the floor). If you're new to my blog, the grey couch slipcover also represents one of my biggest DIY frustrations to-date. Since the couch and is no longer available (discontinued) I had to sew my own slipcover which I'm struggling to finish. My choice of fabric (grey) hid dirt well…but that means it would remain dirty much longer than it should have.
And? You can't bleach a grey couch, so if a stain would happen…it took a lot of elbow grease to get out.
The grey couch has been retired to the sunroom and remains an unfinished DIY. It looks much nicer backed up against the wall (it hides most of the unfinished part), and I love having a couch in there. Now the sunroom is getting more use.
5 Reasons to LOVE Ikea Ektorp Furniture
Reason #1:  Cheap replacement slipcovers
Ok, coming from a person who has attempted to sew my own slipcover…this is a HUGE bonus. Ikea slipcovers cost less than my DIY slipcover (even after using 50% off coupons at the fabric store). There are hundreds of blogger testimonials on how to care for your white Ikea slipcover. But, I love the idea of not being stuck with the same-old-same old, and can change looks throughout the season. Not only can I purchase a variety of new slipcovers for $199 or less at any Ikea store when I visit, but I can easily order from Ikea's store online at Amazon for approximately the same price I'd pay in a store.  During the winter, I'm hoping to see some velvet style slipcovers online, too.
Many of you know how crazy I am about Amazon. It's become my #1 favorite way to shop for all-things home decor.
Here is a glimpse of what you'll find on Amazon: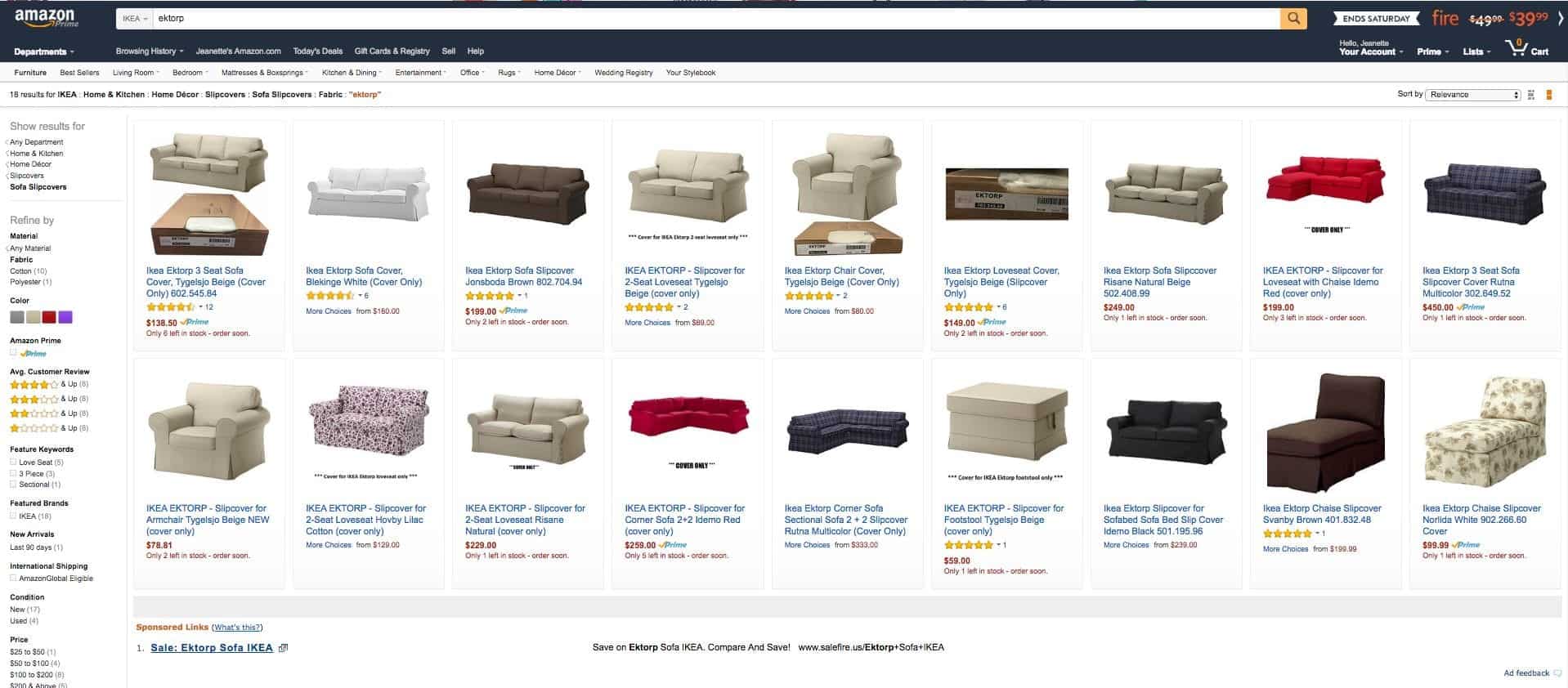 Reason #2:  It's a classic!
This style of sofa is loved by designers (and bloggers) everywhere. It represents classic and casual comfort, and fits almost every design motif. Once you start looking around, you'll start noticing these style couches everywhere (in every color).  Even Chip & JoAnna Gaines use Ektorps in their own home as well as the remodels for their show.
Reason #3:  The base frame is inexpensive
These couches are SO affordable, and well-made. In my case, I was lucky enough to find a floor model that had been suspended over an endcap, so it had never technically been used. So my full sized sofa (normally priced at $350) was only $240, which was even less than the loveseat. The Ikea employee told me that they rotate out their floor models about every 3-4 months. So I realize this isn't the "norm" but just a tip to be on the lookout in the clearance section before you leave.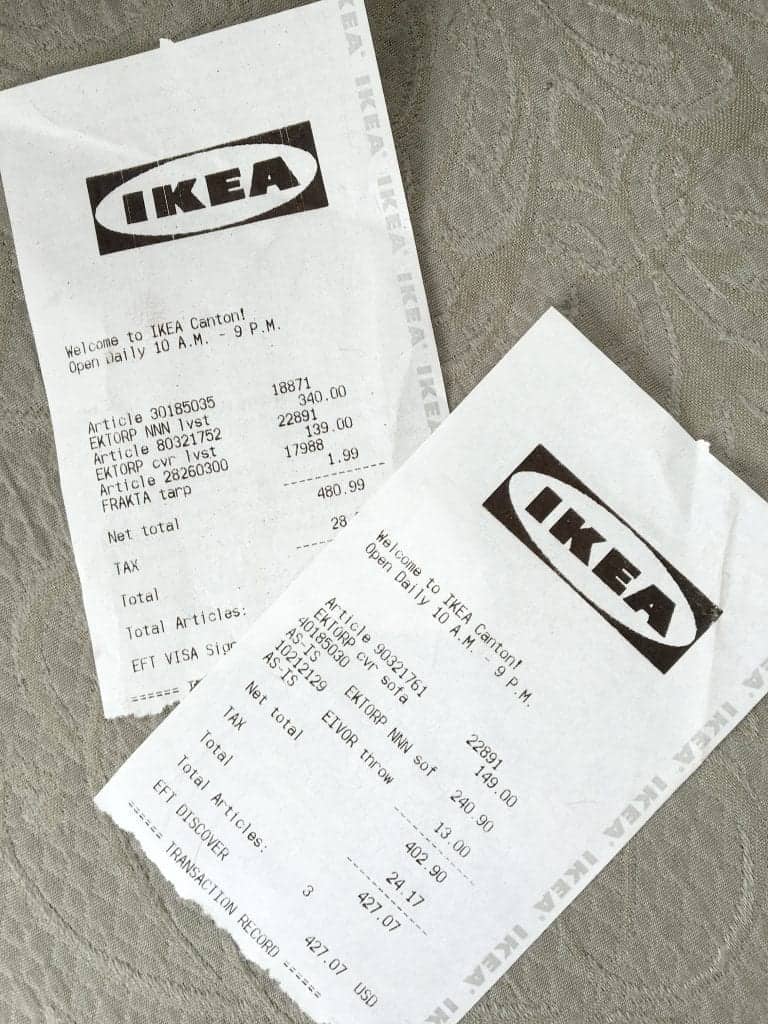 Reason #4:  Easy to haul and assemble (or reassemble)
Ikea couches actually come in a couple of boxes. In my case, I was able to haul each couch (in my Chevy SUV).  In the photo below, I'm actually hauling the "floor sample" which came without a box.  FYI, my 16-year-old has become an Ikea assembly expert. The base frame was very easy to put together, and if we need to move it into tight quarters, we can always disassemble it and reconstruct it in a new space.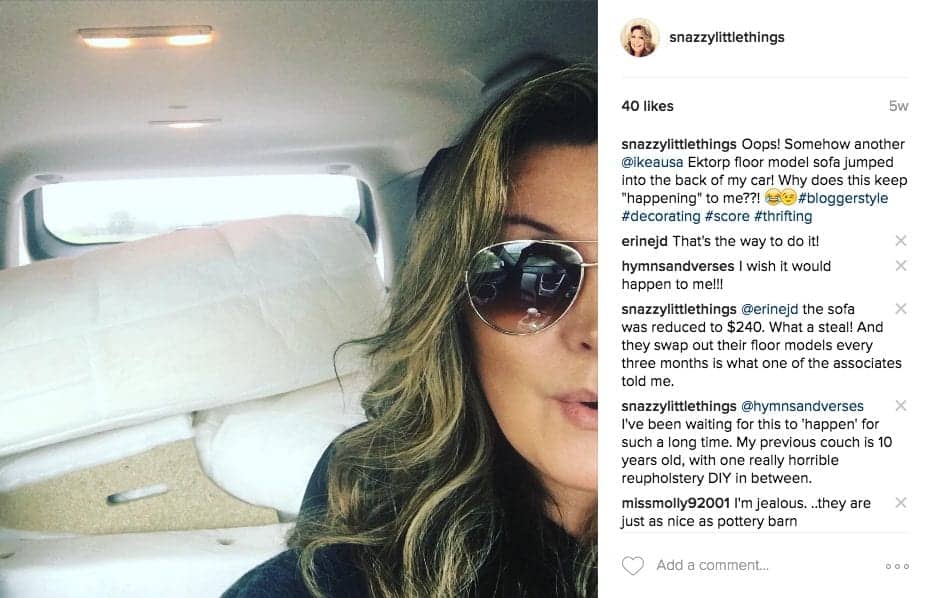 #5:  Easy to Clean
There is something to be said for removing and cleaning your slipcover on a regular basis. By doing so you help reduce dust and allergens in your home. It's and an added bonus that the white is bleach-friendly. I understand that to some, removing a slipcover seems like a lot of work…but believe me, it's much easier to throw a slipcover in the washer for a quick deep cleaning than our slipcovered grey couch ever was.  So as couches go, this one is very user-friendly.
So, have you hitched your wagon to the Ektorp movement? No regrets here!