Ikea Ektorp Line is Discontinued
This post was originally named "5 Reasons to LOVE Ektorp Couches". But in the fall of 2020 the line was discontinued. If you can snag a few couches and slipcovers now would be a great time to buy! With its classic design and inexpensive slipcovers in a variety of colors, I understand why the Ektorp line at Ikea seems to be all the rage among bloggers and interior decorators everywhere.
Confirmed! The Ektorp model in this article is being discontinued, but a similar version (with a new name) is rolling out in 2021! Deeper seating, taller and a different size.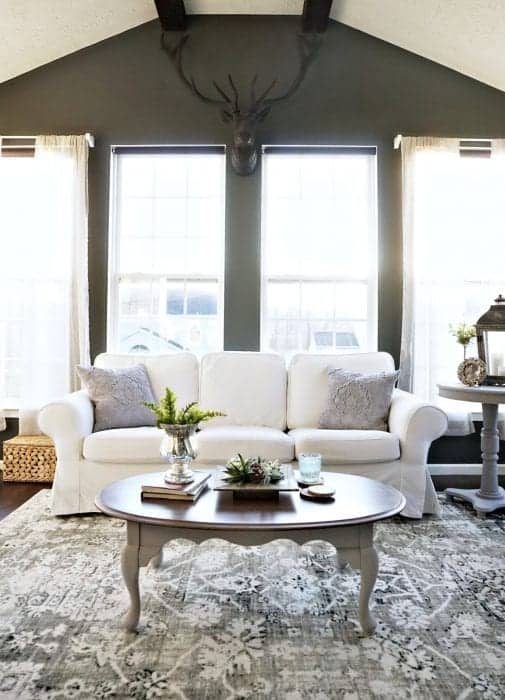 It probably seems counter-intuitive to have white slipcovered couches if you're aiming for a clean house. But let me explain what the fuss is all about!
5 Reasons to LOVE Ikea Ektorp Furniture
Reason #1: Cheap replacement slipcovers
This is a HUGE bonus. Ikea slipcovers cost less than the one I tried to sew for my Arhaus sofa (mind you, Arhaus charged thousands for a replacement!) There are hundreds of blogger testimonials on how to care for your white Ikea slipcover. But, I love the idea of not being stuck with the same-old-same old, and can change looks throughout the season. Not only can I purchase a variety of new slipcovers for $199 or less at any Ikea store when I visit, but I can easily order from Ikea's store online at Amazon for approximately the same price I'd pay in a store. During the winter, I'm hoping to see some velvet style slipcovers online, too.
Here is a glimpse of what you'll find on Amazon: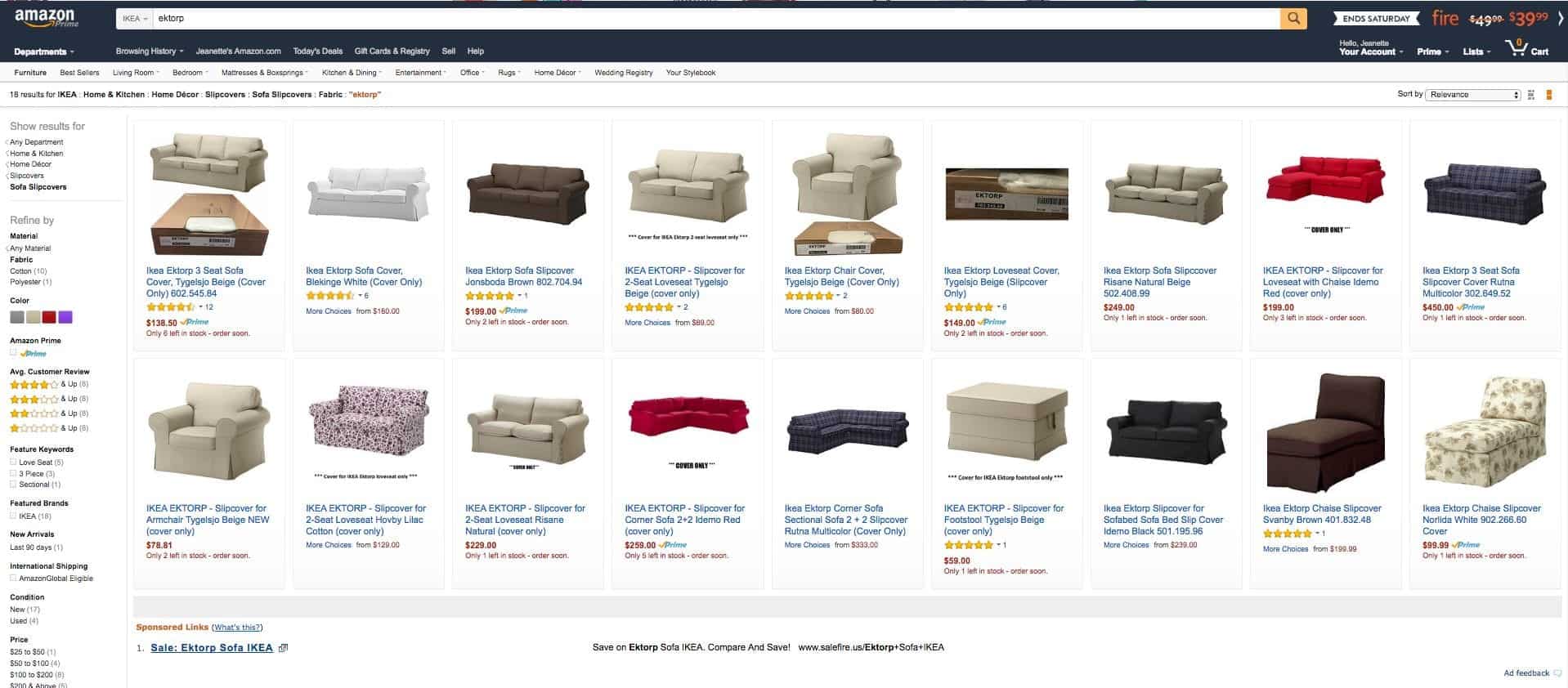 Reason #2: It's a classic!
This style of sofa represents classic and casual comfort, and fits almost every design motif. Once you start looking around, you'll start noticing these style couches everywhere (in every color). Even Chip & JoAnna Gaines use Ektorps in their own home as well as the remodels for their show.
Reason #3: The base frame is inexpensive
These couches are SO affordable, and well-made. In my case, I was lucky enough to find a floor model so I bought it at a reduced price. (Normally priced at $350) — the display was only $240 which was even less than the loveseat. The Ikea employee told me that they rotate out their floor models about every 3-4 months. So I realize this isn't the "norm" but just a tip to be on the lookout in the clearance section before you leave.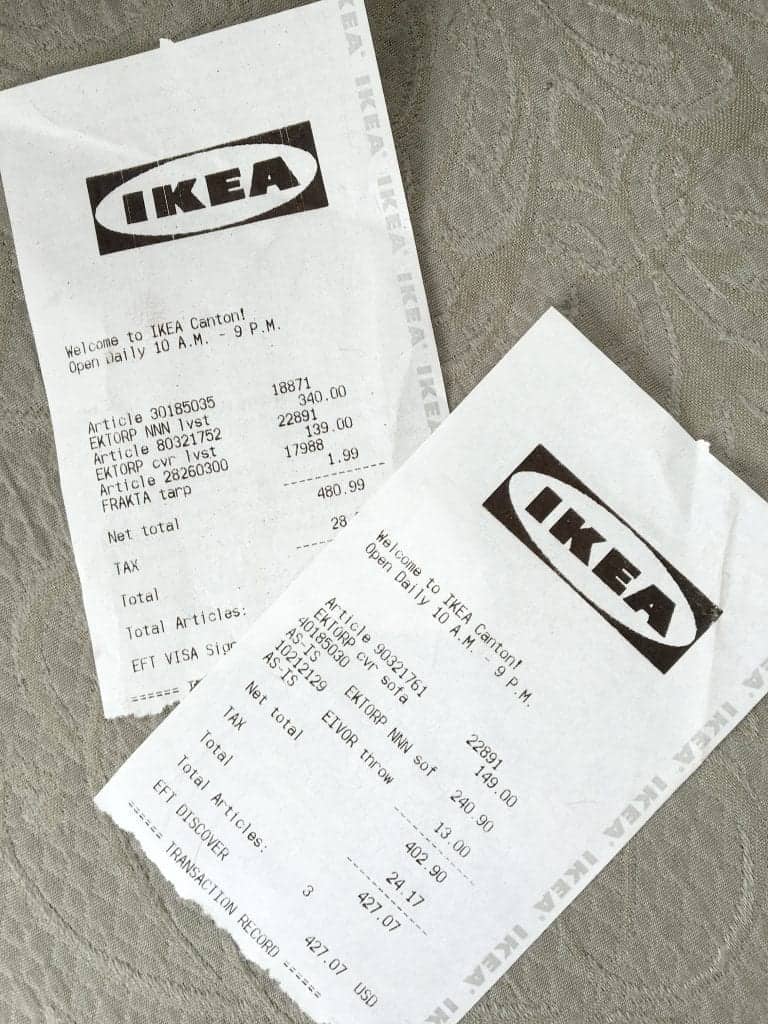 Reason #4: Easy to haul and assemble (or reassemble)
Ikea couches actually come in a couple of boxes. In my case, I was able to haul each couch (in my Chevy SUV). In the photo below, I'm actually hauling the "floor sample" which came without a box, I drove it from Detroit to Cleveland :). FYI, my 16-year-old has become an Ikea assembly expert. The base frame was very easy to put together, and if we need to move it into tight quarters, we can always disassemble it and reconstruct it in a new space.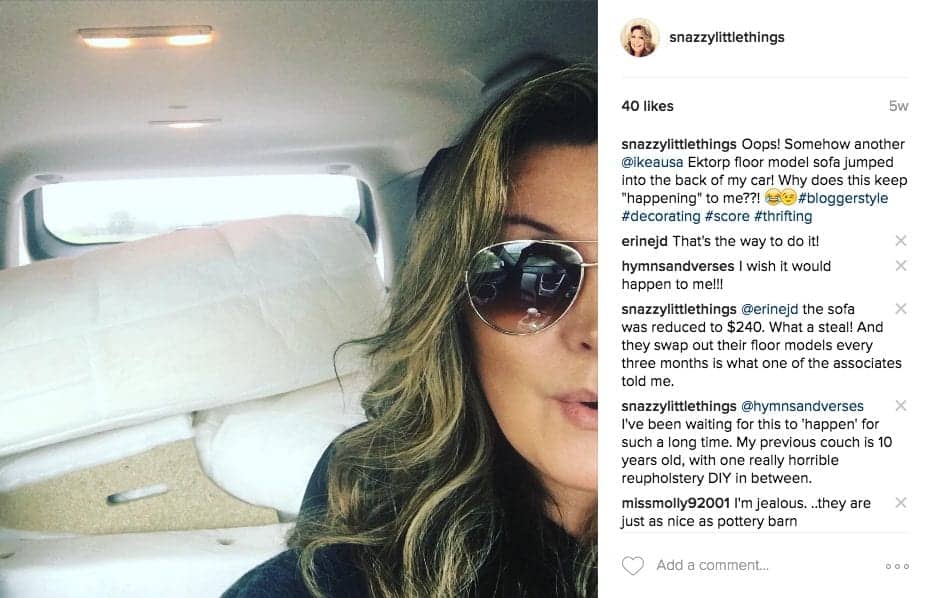 #5: Easy to Clean
I don't mind cleaning a white couch. A dark colored couch — while it hides dirt — seems a bit unsanitary after awhile. I love that I can throw my slipcovers into the washing machine — it's and an added bonus that the white slipcover is bleach-friendly. I understand that to some, removing a slipcover seems like a lot of work…but I love how clean our family room feels once the slipcovers run through the sanitary cycle in the wash. So as couches go, this one is very user-friendly.
Prior to owning an Ektorp I owned a very expensive Arhaus couch with a slipcover. The cost was $2500 and served us well, but the slipcover replacement represents one of my biggest DIY frustrations to-date. The couch was discontinued and I had to sew my own slipcover which I'm struggling to finish. So I sold the couch for $100 on Facebook marketplace.
So, have you hitched your wagon to the Ektorp movement? No regrets here!