We tried our 1st Bob Ross paint class, here's what happened…
I found Bob Ross painting classes near me and I excitedly signed up along with my daughter. We both love creating our own art. I miss Bob Ross and could watch his show all day but I still feel like I need a little one-on-one coaching. Bob's lessons are so timeless, his voice is soothing, happy and mesmerizing. This has to be why his shows are still loved by kids today. How he dreamt up a beautiful landscape and made it come to life all in a 30 minute show. It's admirable.
I'm comfortable with DIY projects, stenciling and decorating my home. But oil on canvas seems so intimidating. So when I saw a Bob Ross Certified paint class in my area…I immediately signed up my 14 year old daughter and off we went for a fun night together.
Here is what I learned about Bob's process…and myself.
We took our 1st Bob Ross CRI® Paint Class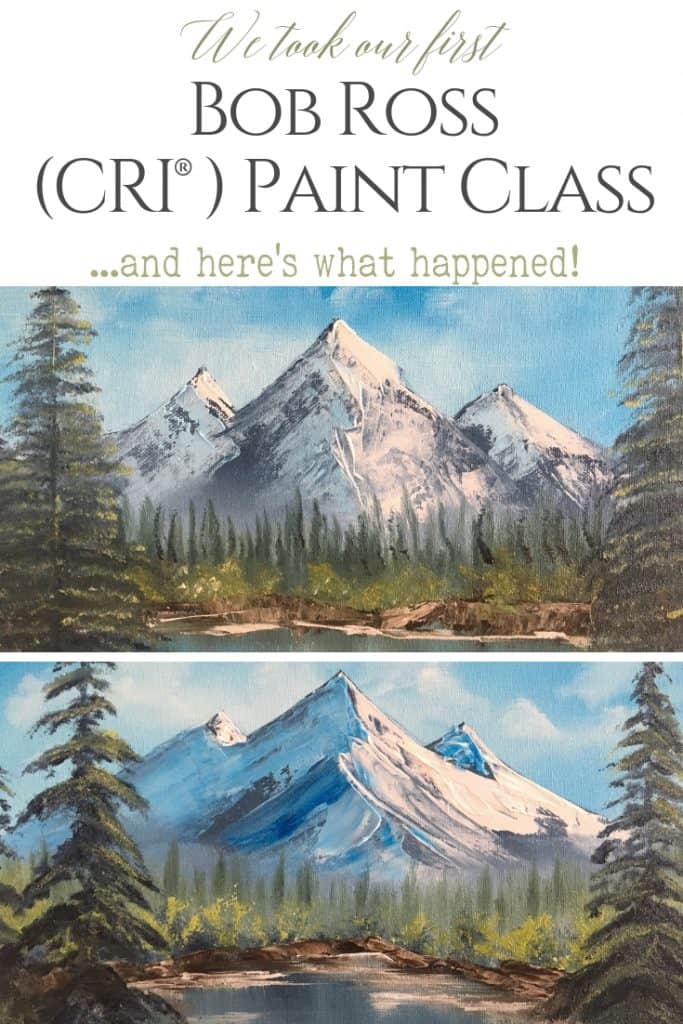 "It was all about fun"
Or you could interpret this as: "I set low expectations for myself". This is because I remember my lifelong attempts at painting an oil-on-canvas — they weren't pretty. I fully expected my painting to look like something I produced as a 3 year old in preschool.
What happened instead? We listened carefully to our instructor, and the end result surprised us! Without a doubt, the technical explanations from Nick, from Your World on Canvas helped us tremendously.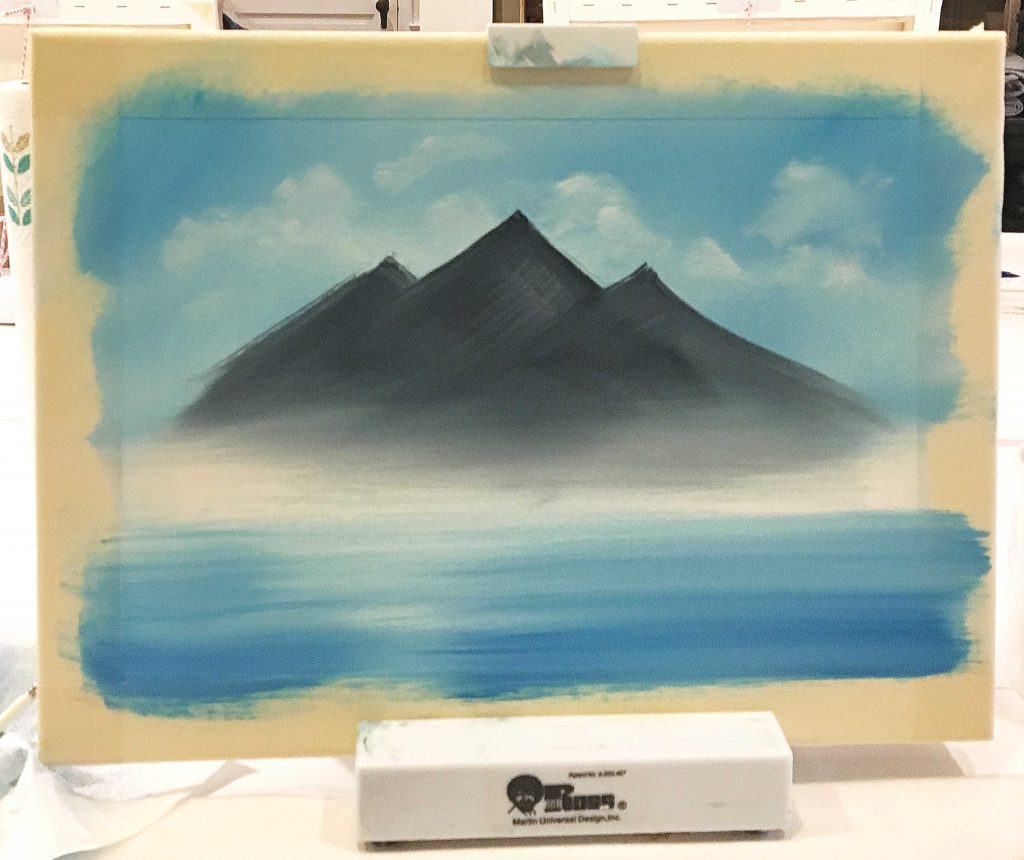 Imitation is key
Every single step, the instructor would show us exactly what to do. From how to hold the brush, how to approach the canvas, position and the movement. He'd explain the application and how much pressure to put on the canvas. For someone like me this really helped my confidence.
Once we all painted our mountains, we were all getting really pumped for the next step.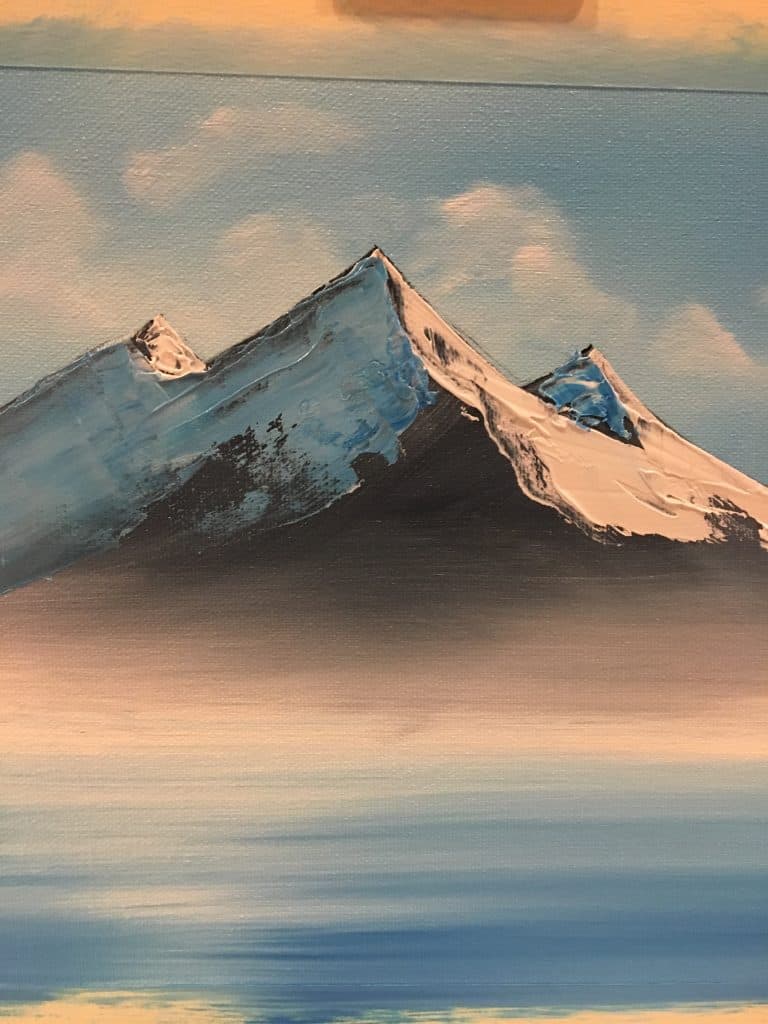 Load the brushes correctly
Knowing how to load your brushes was so helpful. There is even more nuance to this than I realized. Having an instructor in a live setting allowed me to triple check our brushes to for too much or too little paint. All things I probably wouldn't have known to correct on my own during the first lesson.
Confidence develops with each brushstroke
Don't judge your painting by a single brush stroke. In fact, there were times I was applying paint (per the instructor's guidelines) and I had no idea what I was creating. Like this little dab of blue below. It's not pretty up close but it sure made sense later. :)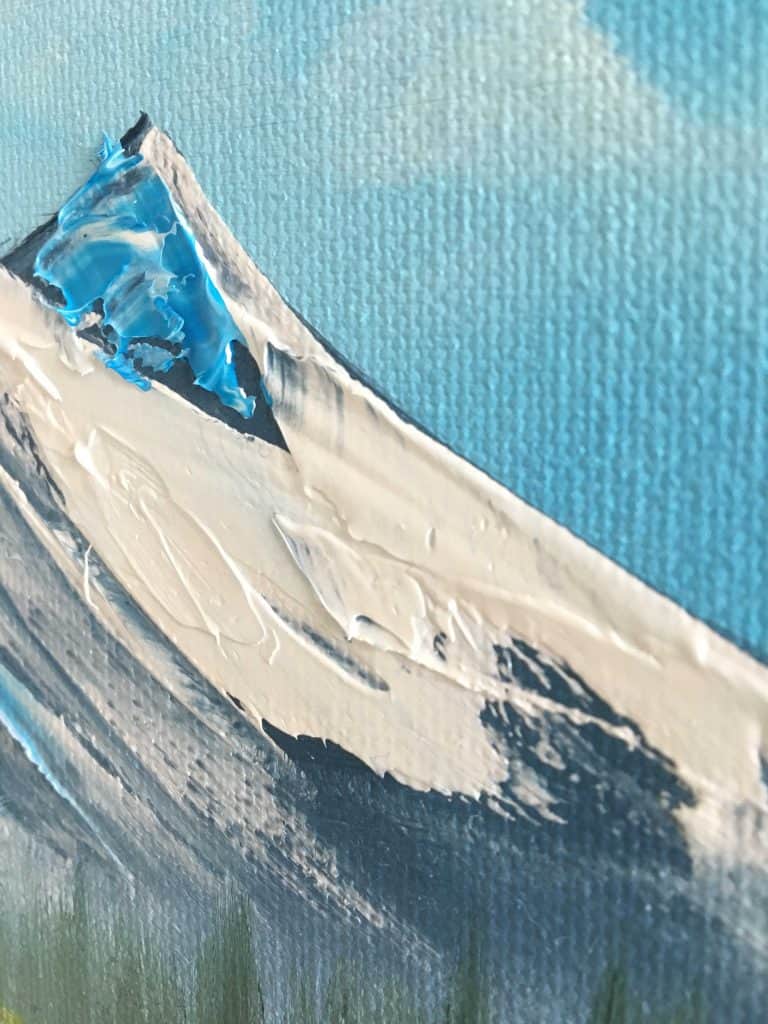 If you're an over-thinker or a perfectionist…this class is great for you. Great things can happen on the canvas once you trust your instructor and your technique. At first you may not recognize the great work you're doing. But once you take a step back, you'll appreciate your masterpiece.
Layers
Doing the background then knowing what comes next isn't easy as a beginner. Seeing exactly how the landscape comes together and in what order was so helpful. And now watching Bob's episodes will be a great guide for me if I want to try this at home.
What Our Instructor Shared:
I knew that I could do this professionally after I produced around 15 paintings

Nick – Your World On Canvas
This gave me so much confidence to think that I was only 15 more fun sessions away from potentially becoming a pro.
Everyone's technique is their own
Each person approaches the canvas slightly differently. So I enjoyed seeing the different outcomes from each person. At the beginning of class I was hoping to copy the instructor's painting and technique. But the beauty here is developing your own style.
The big reveal:
I'm no Bob Ross, but we are both amazed at the outcome. Here is Avery's painting (she'll be 15 in March).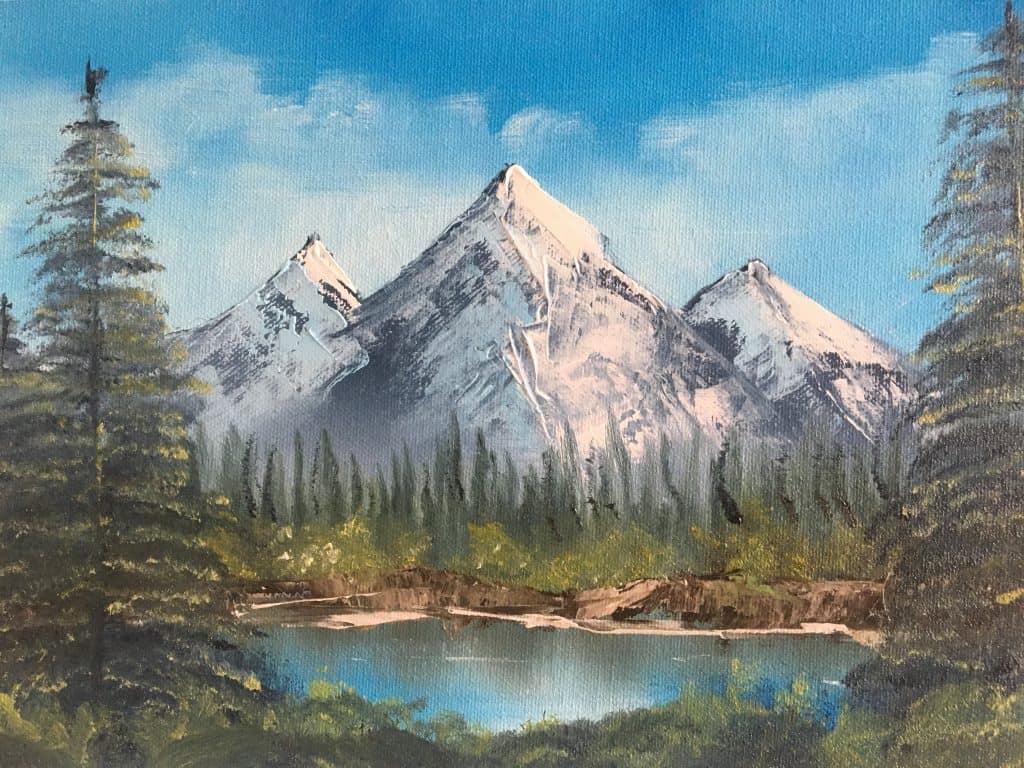 And here's mine.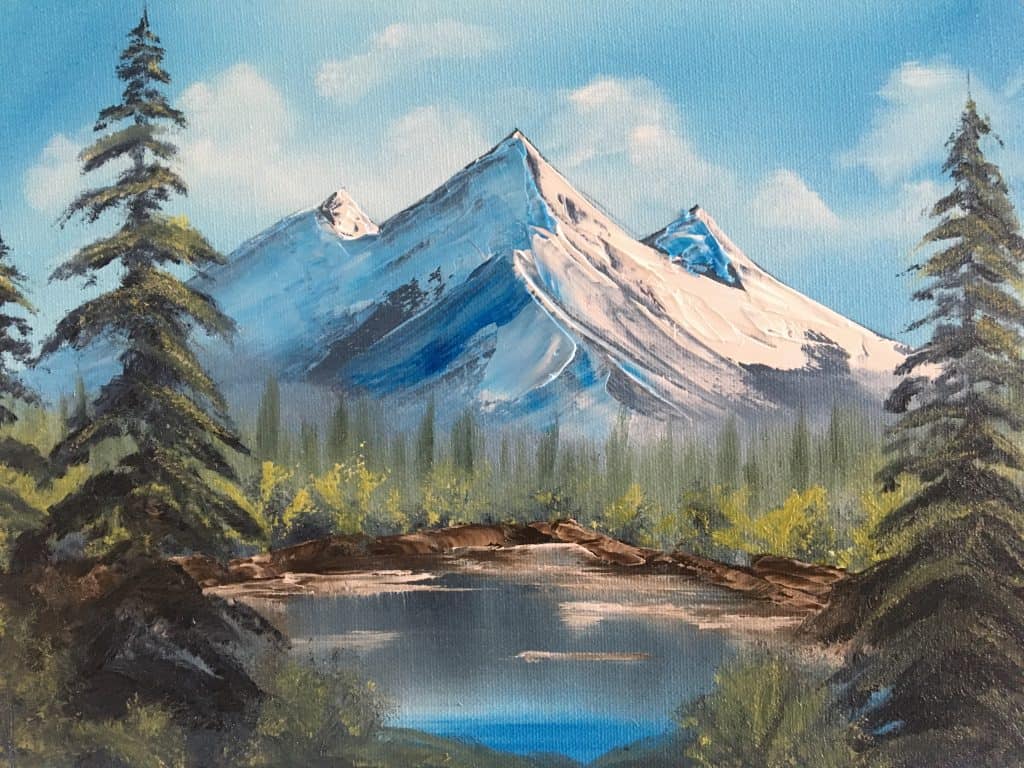 We both had such a good time we're now signed up for our second class next month.
I think I can watch and paint along with a Bob Ross show now with more confidence. Getting the feel for the brushtrokes and the techniques are just the first steps. Now I hope one day I can sit down at a blank canvas, and capture the images in my mind, the same way Bob does.
The lesson I learned? You can pretty much do anything you set your mind to, even if it feels alien at first. You can update your home. Learn to decorate. You can gain confidence when learning how to use power tools…and you can even become an artist if you want to!
If you have a class in your area and you love Bob Ross, I highly recommend it! You might surprise yourself!