A common question I'm asked by readers is "how do I learn to repurpose items for my home?" I don't promise to have the perfect formula, but I can tell you that my process for imagining old items as new, beautiful home decor –starts with a specific need. I might be struggling to find items that work well with my space. Maybe I need an item that's a specific shape. A specific size. It's at that point that the wheels start to turn and my search begins. So as I search for items to repurpose, my thought process goes something like this:
I have a blank space or a functional "need" in my house.
I visualize a general size and shape of an item that fits that space.
I don't care about the current color because I know that paint offers an easy, inexpensive fix.
If an item solves a functional need, is the right size & shape, I typically purchase it, paint it and get to work.
Continue practicing – as you're out and about, train your eye to see your existing items in a new light. Being resourceful and learning how to repurpose is a skill – and once you develop that skill, you get better at doing it! So in this post, I'll take you on a walk down memory lane and share 11 of my own repurposing projects and my thought process behind each project. Be sure to visit my upcycling, furniture and craft galleries for more ideas!
How To Repurpose Anything
Pin it for later: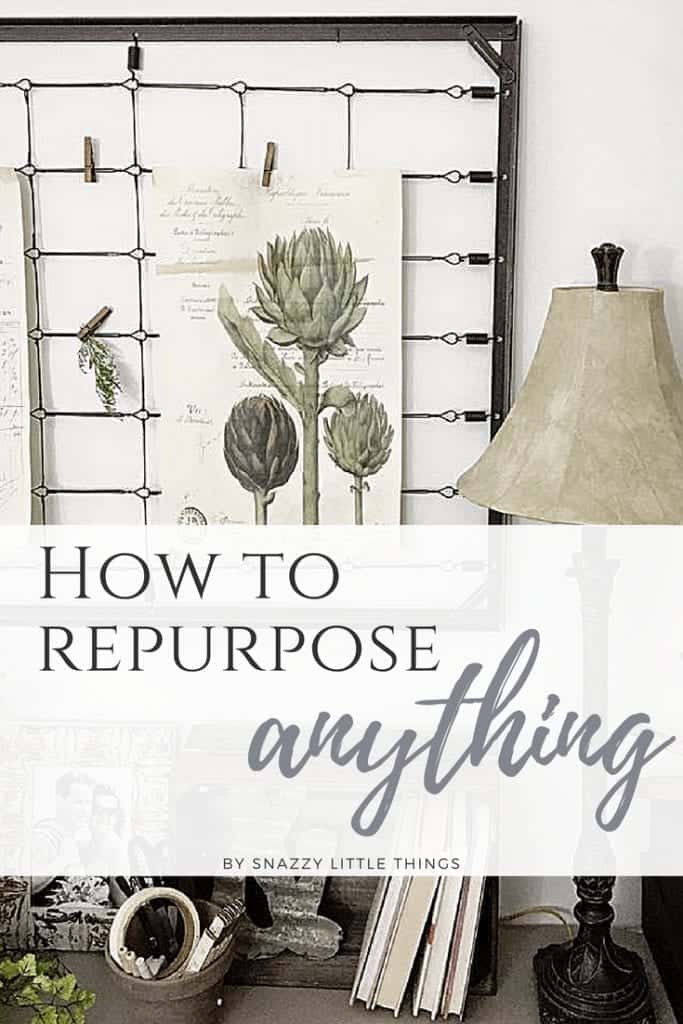 Repurposing Old Flooring
When we updated our flooring and installed new Pergo, our old floor became the ultimate repurposing project! We salvaged the good boards and relocated them to a new space in our basement. It's nice to still have a piece of our own history – just relocated to a different part of the house. What a money saver!
90's CD Racks
It took me a minute to realize this was a CD rack, it really looked nice when compared to the modern-looking curvy CD racks I once owned. Now this rack is hanging on the wall in my kitchen. No special hacks needed. Here are other great ideas if you happen to find one as you're out and about.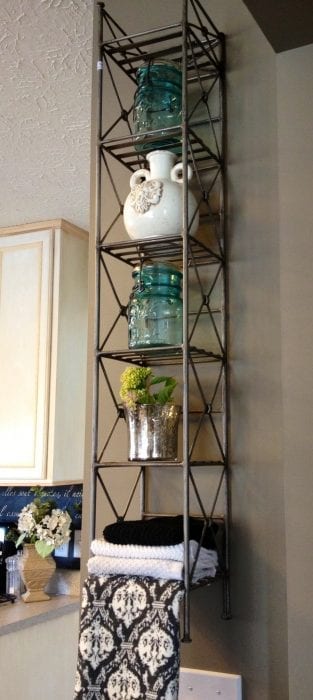 Old Cribs + Springs
I never thought that crib springs would end up on my wall. But recently I challenged myself to decorate a spare bedroom ONLY using stored items. It took two days of trial and error, but now I have pretty wall decor for my thrifted craft room. I found so many other crib repurposing ideas on Pinterest that I would have never thought of!
What to do with extra fabric
A hand-tied bunting is an easy DIY if you want to use up some extra fabric in your stash. This is great for the boho-chic look that is so popular now. At the time we were planning a wedding (buntings and weddings go hand-in-hand). I used it again for a mantel update, and now it's in my craft room. Spark some creativity with more fabric project ideas.
Empty Picture Frames
transformed into four projects!
The possibilities are endless when you have a pretty, empty picture frame! I have great luck finding them in the clearance section at Michael's – so many pretty options. I tend keep them for awhile until I grow tired of my old art, then I turn to Pinterest (as usual) for frame repurposing ideas and inspiration.
Here are four projects that I created based on one single Michael's shopping outing.
Water Damaged Thrift Store Art
I picked this up mainly because I loved the frame, and it was the perfect size for my mantel (new frames this size are hard to find). I kept it in the basement for awhile, then I decided to lighten it up so there was a contrast against the darker stone, and I made it a little more farmhouse-y.
Broken Table from Craiglist
An obviously unloved table that had so much potential. I chose it because it was the perfect size for this exact space – and loved the shape of the legs. I gave it a winterizing treatment, and it solves a functional problem at our entryway. It gives me a place to set things that I'm carrying in the house while I'm unlocking our front door. But we call it a potting bench 🙂 See the original tutorial here.
Saving A Favorite Chair
my first reupholstery project
This brown chair dates back to 1999. I held both of my babies in this chair – it's my "mom chair" and couldn't part with it. In 2012, I tried to replace it and searched high and low for something similar. But the nostalgia and the shape of the chair ultimately won. I finally gave in and decided to try reupholstery for the first time – which I recommend everyone try…ahem… at least once in their lifetime. My reupholstery tutorial can be found here.
End Tables, Updated
The orangey end tables caught my eye, mostly because of the price but they are SO functional. So I lightened them up to match my decor (at the time. I've since sold both of these tables). Both had a great set of legs, too! Notice a theme here? Size. Shape. Great legs? All essential ingredients to a great repurposing project. 🙂 The Paris table tutorial can be found here.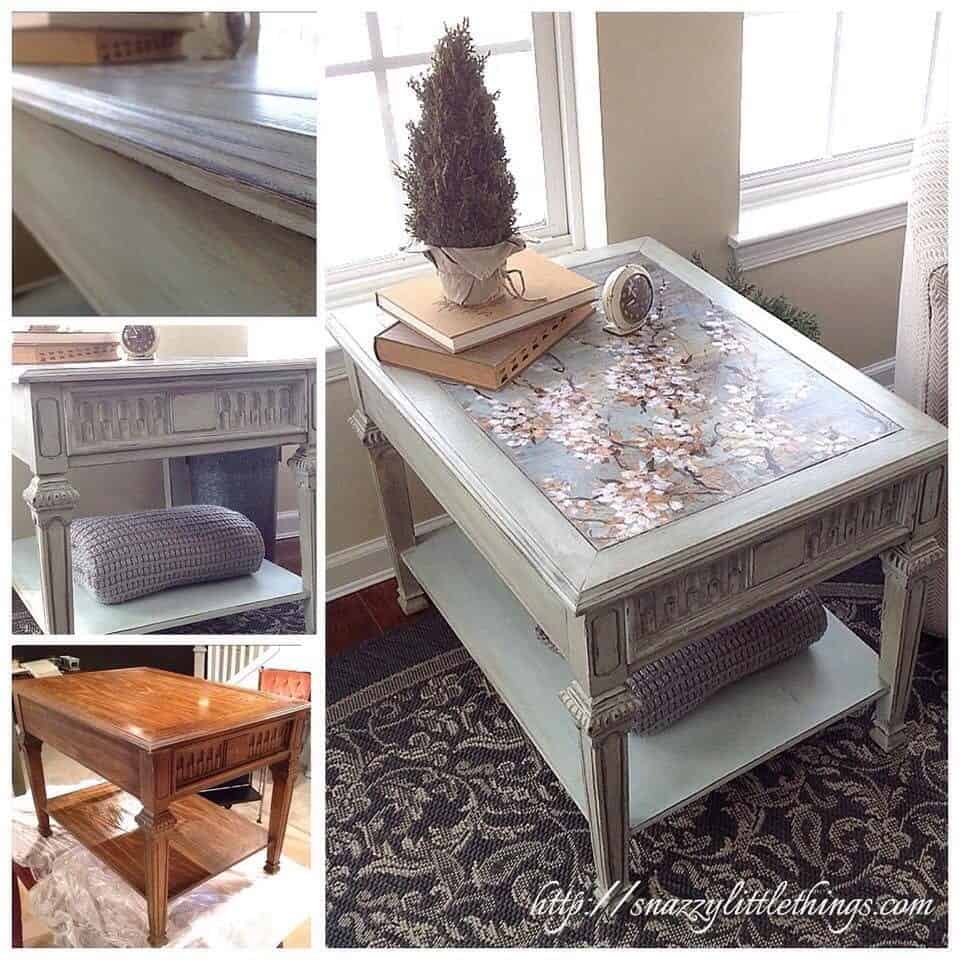 Old Fiberglass Skis
These fiberglass skis weren't quite as pretty as they could be — until I make them look like antique, wooden skis that I kept seeing in my favorite catalogs. I love this look in my winter front porch display. The tutorial can be found here. I stumbled upon an inspiration photo when I was browsing the Pottery Barn catalog, and the rest was history.
Coffered Ceiling Tiles
I picked up coffered ceiling tiles for $1 each. They ended up being the perfect size for a "knock off" of Ballard Designs monogram art.
Theirs, from Ballard Designs
$1.00 each from ReStore
Tile printed on my home printer
My Version
My final word of advice — shop your stash. You probably have lots of items in your storage area that can be easily transformed into something new. Pinterest has been a lifesaver. Anytime I come across an item I'm not ready to part with, I simply surf Pinterest for ideas. Hands down, Pinterest gets the "win" for cultivating the best ideas for repurposing, and you can always adapt an idea to fit your style needs for your own home.
What repurpose projects have you done that you are the most proud of? Please share, I'd love to see!