I needed to get out of the house for a bit and if you read my previous post, you know that I'm recovering from a DIY that went sideways. Sometimes a little retail therapy soothes the soul.
So today, I decided to hit my favorite antique store in the area.
I came across this old CD tower. I walked away and forgot about it momentarily as I did my usual second lap through the store. As I approached the checkout with my arms full of marked down knick-knacks, there it was again.
I first had to get my mind wrapped around the thought that CD's are actually considered…vintage. As the clerk rang up my treasures I glazed my eyes and took a second…and third look at this thing. Somewhere the mental Rolodex of Pinterest images was an upcycled CD tower being re-used for something.
I've been looking for something useful in the kitchen where I can store towels or other kitchen supplies, but I don't have a lot of wall space ANY wall space whatsoever. Except for one, teensy little sliver.
Can you see it? Right there on the right through the ting. Yeah. That's my one, singular kitchen wall.
A decorative plate is all that once adorned that spot. See if you can spot it in the picture, (the Phase I after picture). As I've mentioned before we are now onto Phase II of our kitchen remodel, and it currently looks a little rough in this room: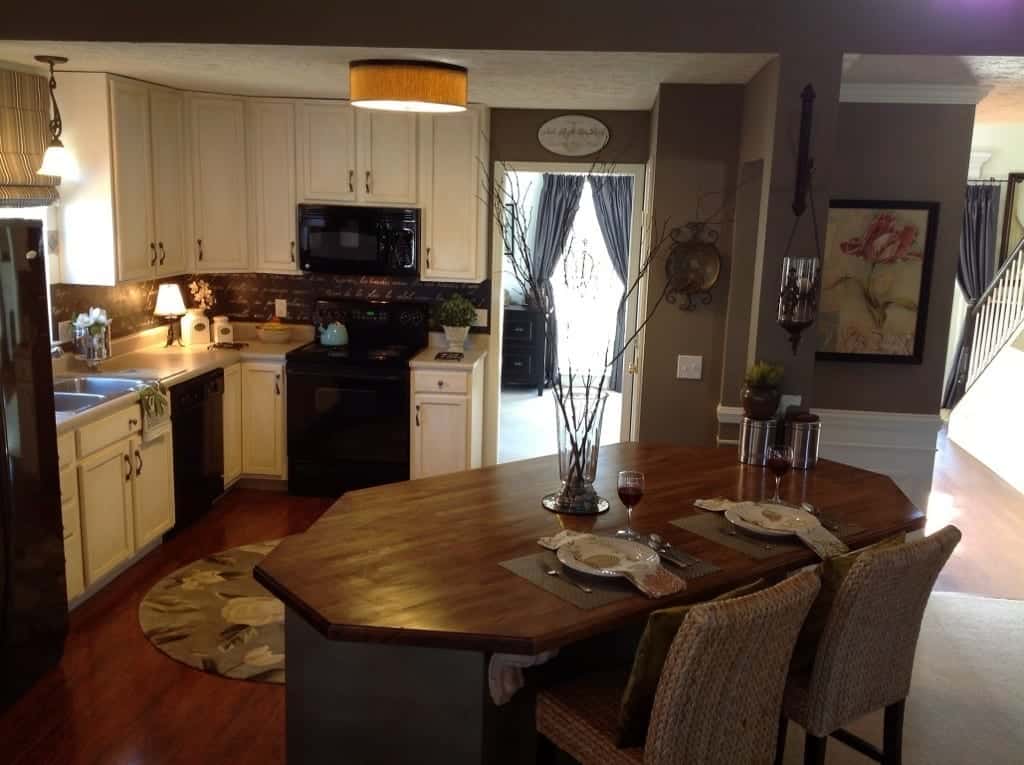 So I adopted this long-forgotten, forlorn-looking necessity of the 90's, and turn it into an all-purpose shelf in my kitchen.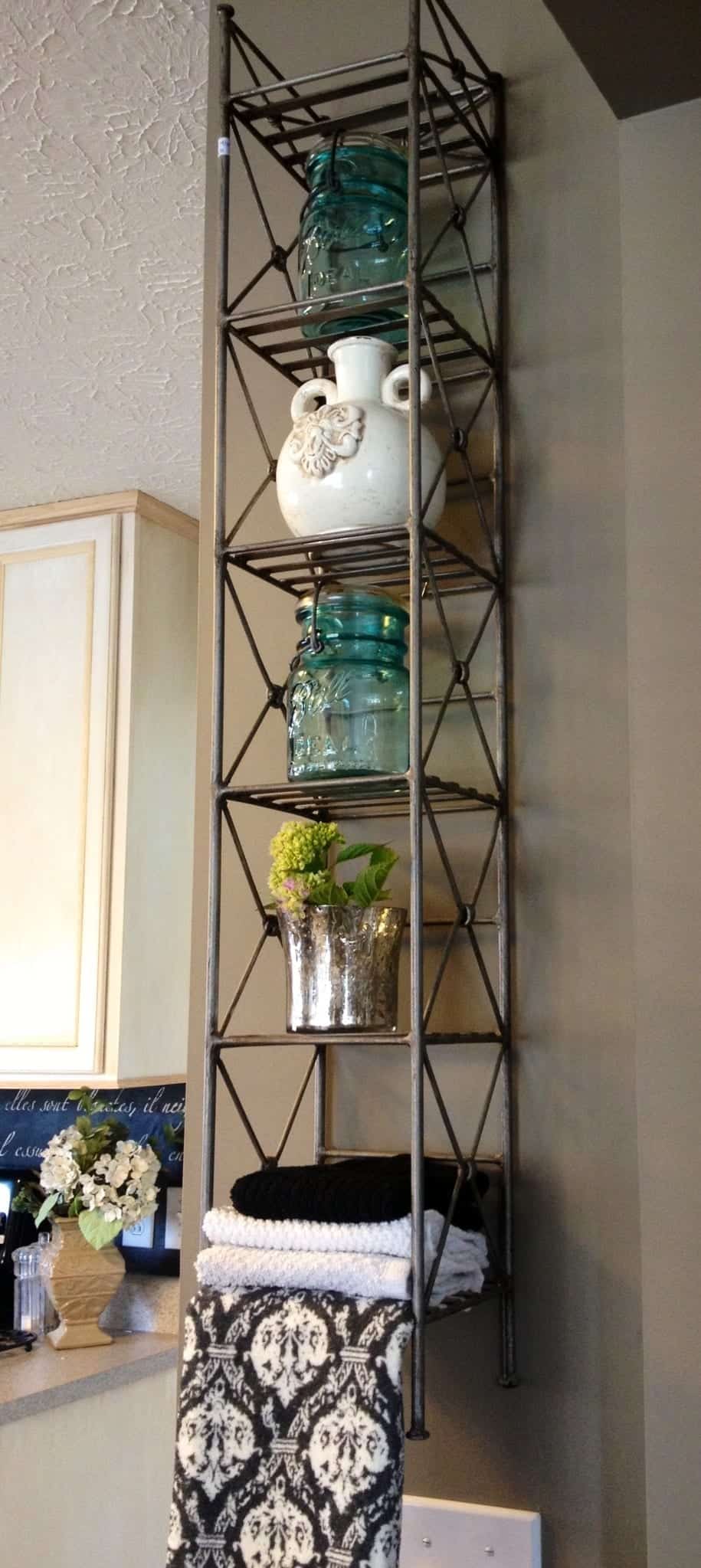 In my haste the tag is still on it, because I'm classy like that 🙂
Another look…and by the way, all the knick knacks I bought today? That's what is also on display. Two Mason Jars, the little white vase, the pretty towel and the CD rack…total of $24: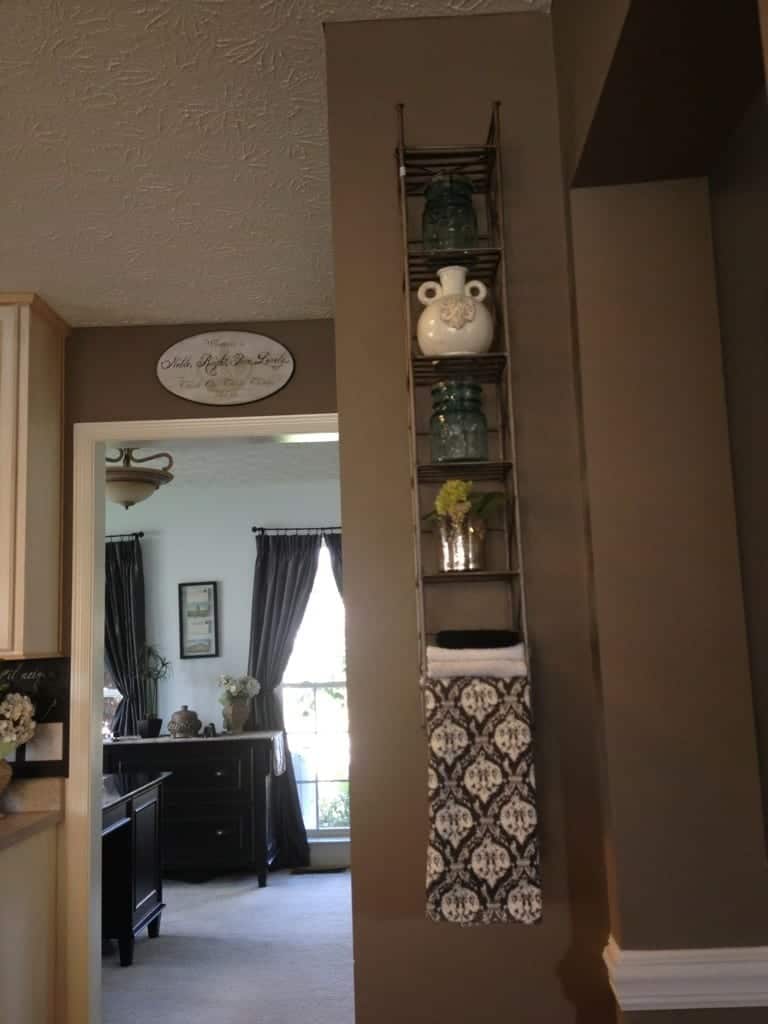 I realize I'm a tad late to this upcycling thing, but it sure feels good to conquer tiny little decorative vignette without having to paint or Mod Podge something for a change.
This project has been linked up to:
http://diyshowoff.com/category/other/diy-project-parade/