Our "12 Days of Christmas Home Tour" series has wrapped up for the season, and you'll find them all here in this post, so keep scrolling and you'll be directed to all the links for each tour. With over a week left before Christmas, there is still time to be inspired and peruse each individual tour for tutorials and holiday crafts.
Here is a quick picture of my dining room from my tour.
I offer THREE tutorials including a Mason Jar craft, and a World Market-inspired (a nice word for "knock off") craft as well as popsicle stick ornaments. Be sure to check out my full tour for all the details.
But let me tell you, below are the other 29 ladies who have some FABULOUS talent. Take a look at the lineup below. These aren't just pretty pictures. The blogs themselves are chock full of terrific holiday ideas and inspiring tutorials.
Keep reading to click through and see more…
Christine at First Home Love Life shares her gorgeous, glam dining area as well as offers a snazzy a free printable. Here is a peek, but for all the details and the free download of her lovely printable, be sure to stop over to the blog for all the details.
Above: First Home Love Life
Next, visit Dria at Dio Home Improvements who honors both of her parents with their own Christmas tree. I love the handyman's tree. I wish I still had my grandpas tools and I'd put a few on my tree also. A lovely tribute to her parents this holiday season, don't you think?
Above: Dio Home Improvements
Day #2 Tours: Pam with At Home With The Barkers tour is next. I love her bright and cheery color scheme, her house is gorgeous and Christmas-ready. She even shares a great tutorial on how to make wooden holiday signs.
Above: At Home With The Barkers
Victoria Elizabeth Barnes provides a hilarious account of her trials and tribulations of restoring her 1890's Victorian-era home. She is a self-proclaimed garland snob after this tour. And if you think that disco balls only had a place in the world in 1970…read on and enjoy!
Above: Victoria Elizabeth Barnes
Day #3 Tours: Below is a gorgeous gold and navy Christmas with The Golden Sycamore. She decided to eliminate the color red this year, and she says she is missing it…but I absolutely love what she's done with her home!
Above: The Golden Sycamore
I had the opportunity to meet Leslie personally who came all the way to Ohio from Nashville for the Country Living Fair this year. She blogs at House on the Way. Her vignettes and her home are gorgeous, and I love the ice skates on display in this first picture.
Above: House on The Way
Next, a bright and cheery Florida home tour from Therese at Fresh Idea Studio. Look at her stairs! What a fun idea!
Above: Fresh Idea Studio
Day #4 Tours:
Tami at Curb Alert is so inspiring with her curbside finds and how she transforms them into classy treasures. This old bed (pictured) is a great example. Can you spot it? Yes, she converted it into a BENCH. Read more at her blog, Curb Alert Tami.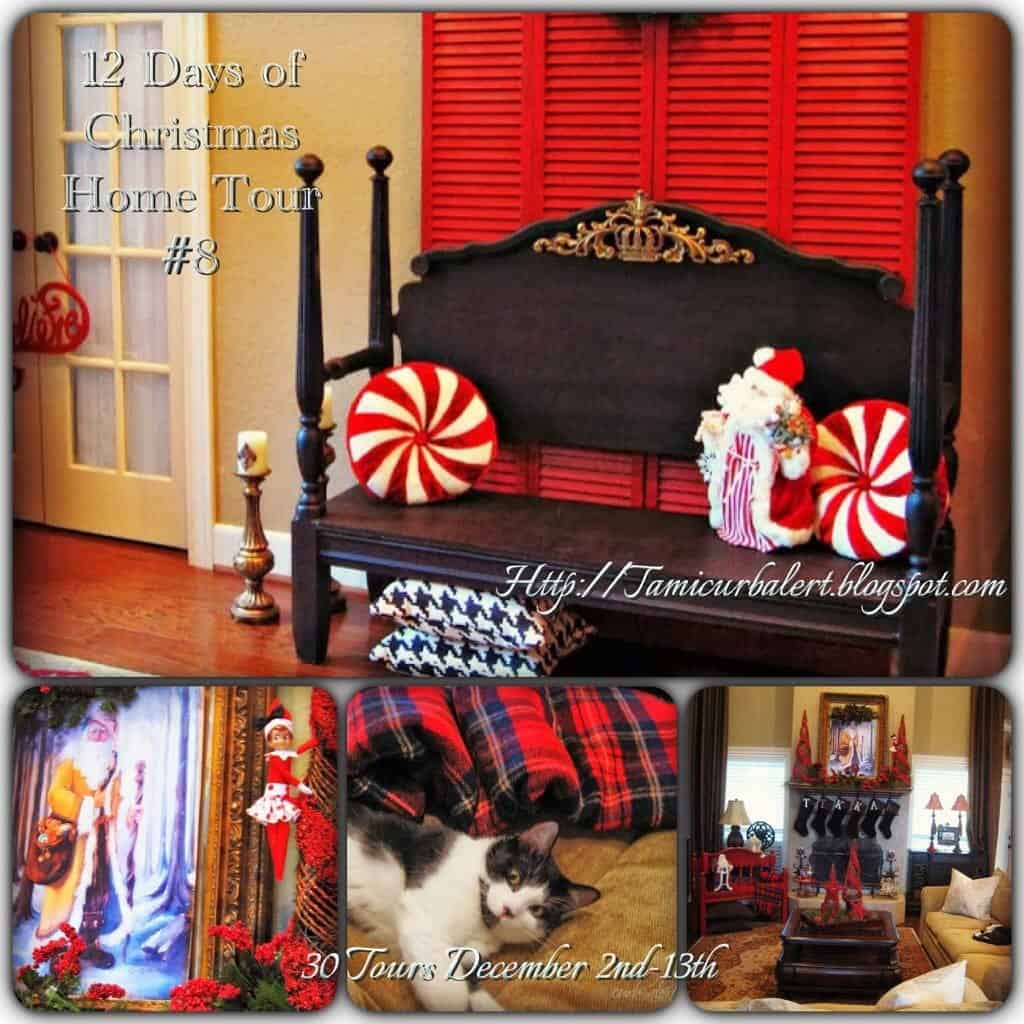 Above: Curb Alert
I had the pleasure of meeting Kathy who blogs at Petticoat Junktion this summer at the Country Living Fair. She proves that not all "junk" is rusty and brown. Check out her bright and cheery home, and that awesome door latch art made into a Christmas tree. Enjoy!
Above: Petticoat Junktion
Nancy who blogs at Artsy Chicks Rule is such a busy and inspiring crafter and DIY'er. Every time I visit her blog I'm wowed by one of her latest creations. She is an aficionado when it comes to furniture transformations. I've posted many of her projects on my Facebook page. Enjoy her home tour!
Above: Artsy Chicks Rule
Megan, who blogs at Rappsody in Rooms shows us her cozy home along with vintage touches throughout, and you know how much I love vintage stuff.
Above: Rappsody In Rooms
Day #5 Tours:
Jeanette who blogs at Country Designs Style wowed me with this little idea using an antique truck for a holiday display. I am starting to really get into crafts and miniatures (and my kids love this too)…but even a grown up can't resist this idea. If you have one in storage, go dig it out….put a tree on it and enjoy it once again!
Above: Country Design Style
Lani at Simply Fresh Vintage shares some intimate family moments and offers us a glimpse into how the meaning of Christmas is expressed in her family. Very sweet moments captured in these pictures.
Above: Simply Fresh Vintage
Day #6 Tours:
Sharon who blogs at Mrs. Hines Class is a former schoolteacher-turned-amazing interior decorator. You have to see how she puts together her vignettes with ease. Enjoy her home…I check in often on her blog, I aspire to have my home look a lot like this.
Above: Mrs. Hines' Class
And then…here is my tour. I'm #15 out of 30 in the tour…
Above: Snazzy Little Things (that's me!)
Day #7 Tours: Colleen who blogs at Just Paint It has incredible artistic talent, and offers a wonderful home tour here.
Above: Just Paint It
Abby blogs at Just A Girl And Her Blog. She signed up for two holiday tours, so we get the benefit of seeing BOTH part 1 and 2 of her tour. You will walk away inspired, and equipped with lots of ideas with instructions on how to achieve the same look at home. Enjoy!
Above: Just a Girl And Her Blog
Claire blogs over at The Rustic Pig, and I've shared many of her tutorials on how to use chalk paint in the past. Many very nice projects for my readers to enjoy at this blog.
Above: The Rustic Pig
In addition to her home tour, Meegan, who blogs at What Meegan Makes, offers several beautiful, simple tutorials for the holidays for you to try. Be sure to hop over to her blog for more information. I love the framed sheet music, and featured it on my Facebook page yesterday, and it was a big hit.
Above: What Meegan Makes
Paula blogs at Virginia Sweet Pea, and offers us a glimpse at her holiday home.
Above: Virginia Sweet Pea

Above: Our Southern Home
This woodland theme at Kristen's home is stunning, her blog is Sophia's Decor, and there is so much eye candy here that I just found myself scrolling through and enjoying her beautiful vignettes and collections. She also uses antlers in her tablescape and you know that I love that look.
Above: Sophia's Decor
Jen is the "Girl in the Garage" who is a very active DIY'er and blogger. I loved her unique Mason Jar lid garland (pictured below) with a tutorial that I'm sure my readers will enjoy. Once you enter this blog, you'll be lost for hours enjoying tutorials and inspired by Jen's creativity.
Above: Girl in the Garage
Claire blogs at A Little Claireficiation, and offers her readers numerous DIY tutorials as well as recipes for you to enjoy. Don't miss her holiday pillow tutorials (picture below) as well.
Above: A Little Claireification
Cindy blogs at Little Miss Celebration, and I love her story about her husband's color draining from his face when we learned she signed up for a home tour.
Above: Little Miss Celebration
If you're looking for a nice craft to do the week before Chirstmas, Karen, who blogs at Inspiration for Moms offers this gorgeous reindeer template that you can create at home. Karen's site is loaded with a ton of gorgeous crafts, I'm sure you'll get lost like I did just browsing and bookmarking ideas.
Above: Inspiration for Moms
I love the creative, homemade displays I found on the blog, Mommy is Cooccoo. Amanda used an old pallet wood and arranged ornaments in shape of a Christmas tree. I do love a colorful display during the holidays. Don't forget to check out her DIY wreath also made out of ornaments.
Above: Mommy is CooCoo
Loving the woodland theme that Kelly created in her L.A. home. Check out her blog, My Soulful Home. I especially love the use of garden elements (white kale) as an accent, and how she dressed up an old fountain with succulents and river rock. Very pretty.
Above: My Soulful Home
Christy's little boy greets you upon entering her beautiful home (so cute) and there is a lovely DIY twig wreath tutorial for readers as well. She also has a pretty tree in her bedroom also. Visit her blog, Confessions of a Serial DIYer
Above: Confessions of a Serial DIYer
I love Julie's holiday vignettes and use of greenery around her home. I especially love her birch tree centerpiece. Be sure to visit Lilacs and Longhorns for the full tour.
Above: Lilacs and Longhorns
Thanks everyone for visiting, and I hope you've enjoyed this tour as much as I have. Look forward to revisiting this again in years to come and loved getting to know all these great ladies along the way.
Happy Holidays!
Related articles