If you're new here, welcome to Snazzy Little Things, my DIY & vintage decor blog! Feel free to browse the many projects that brought me here today.  My site has primarily been focused on the evolution of my builder's grade home, some hardcore remodeling and DIY. I was so flattered to be invited to participate in "The 12 Days of Christmas Home Tour" blog series. It seems that DIY has taken over our life at times, and I'm looking forward to the holidays just to enjoy and reflect.
*******
Come on in…I'll show you what we've accomplished so far…
My daughter told me that the inside of the house was all "buttered up"…so we buttered up the outside.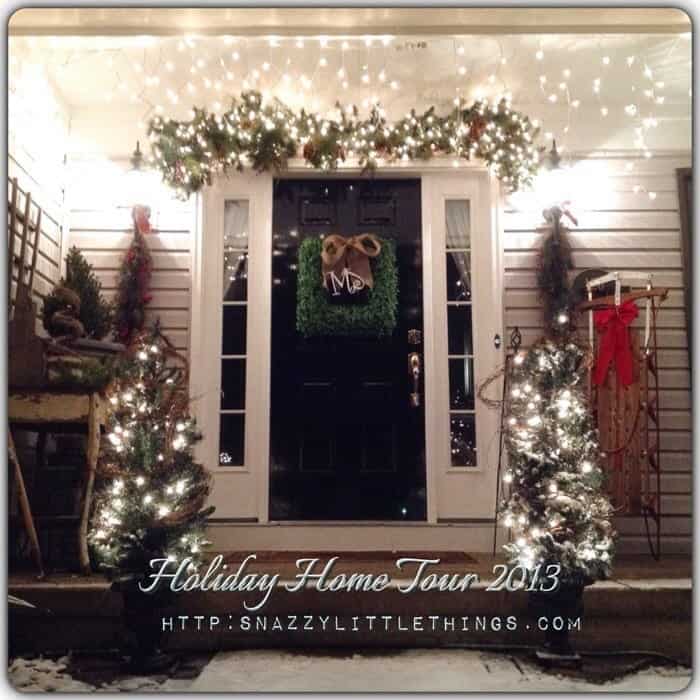 A little holiday ensemble is right outside the entrance. A Craigslist chippy table, and a Pinterest-inspired wreath. Yes, I gave into the monogrammed wreath trend…it really pops against the black door. I read that East-facing doors painted black are good Feng Shui.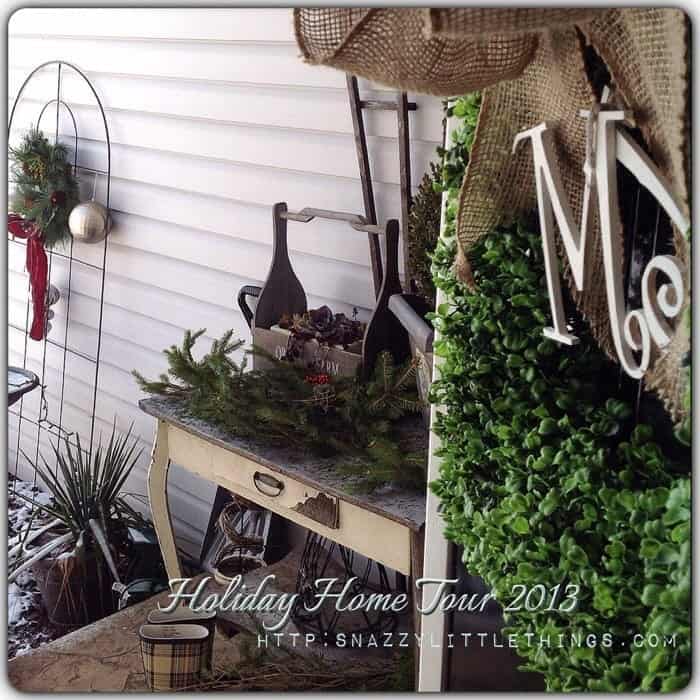 Would you like some coffee? Have a seat…we've made a lot of changes around here. Since this photo was taken, we removed the black bookcases, and hung old shutters instead. We still talk about installing distressed, industrial pipe fitted shelving. We are going for a French-Industrial look, with a more casual farmhouse feel. So I'm searching for a distressed, vintage sign to replace that scroll embellishment above the mirror. And the existing bookcases may end up in my craft room in the basement. But right now, I love how far we've come…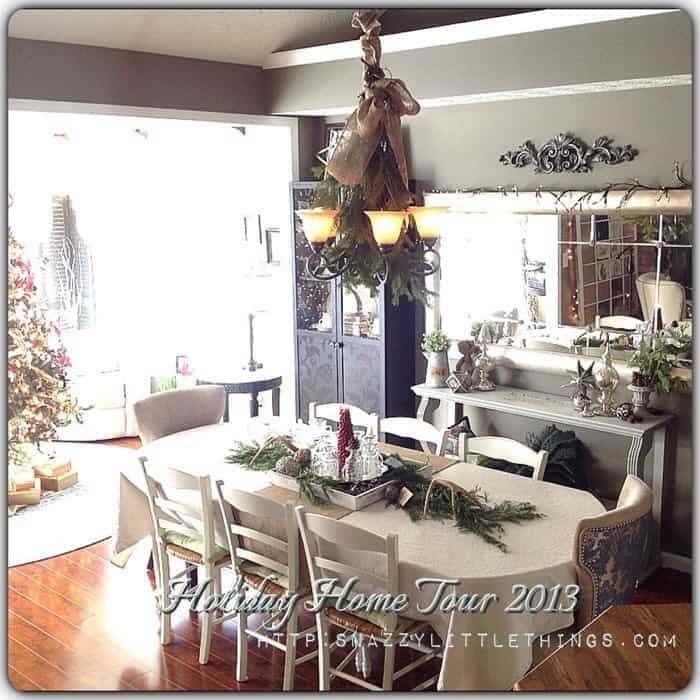 Next…the view from the kitchen looking towards the back of my house…this is the dinette and the sunroom. I'll tell you the backstory on that white table towards your right…it was a broken T.J. Maxx "rescue" and was once a glossy black. Here is the tutorial on how I transformed it.  You know I love to transform furniture. This piece sat in clearance for a whole week before my vision came together. So lucky it was still there–I can't imagine that space without it now, can you?  If you're wondering how to enlarge pictures for image transfer, click here.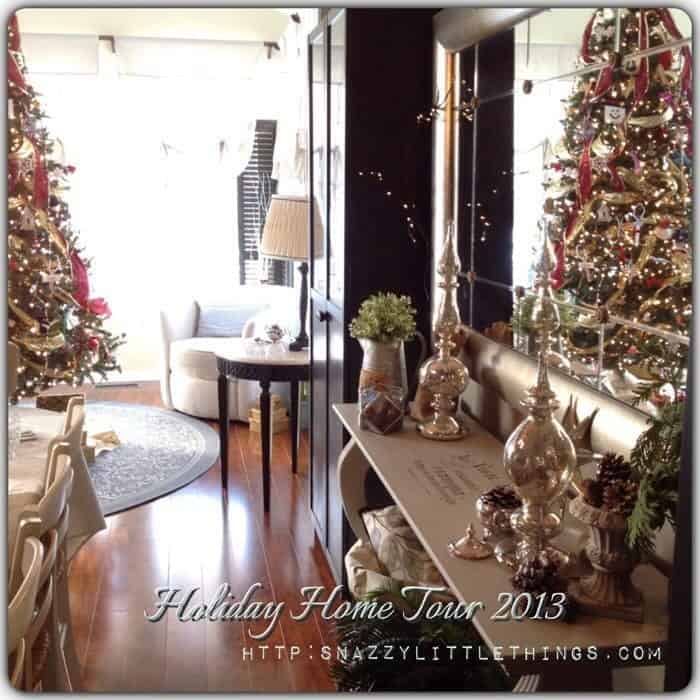 Decorating with antlers…loving the woodland feel that it gives the room.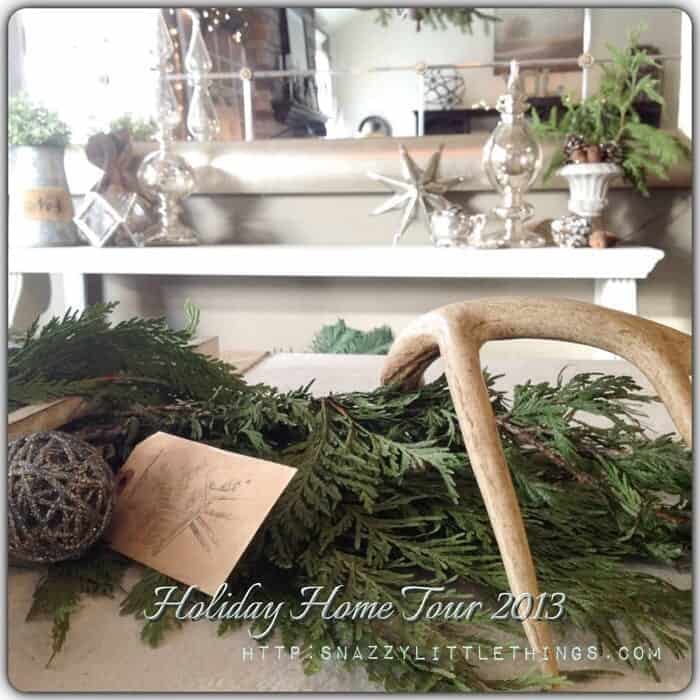 A conversation piece–Gene Autry's autograph is inside of this little book. Isn't that fun? A cool find for $3.00 at my local antique store.  "Who's Gene Autry?" My kids ask. So I play a Christmas song.   Nowwww…they get it.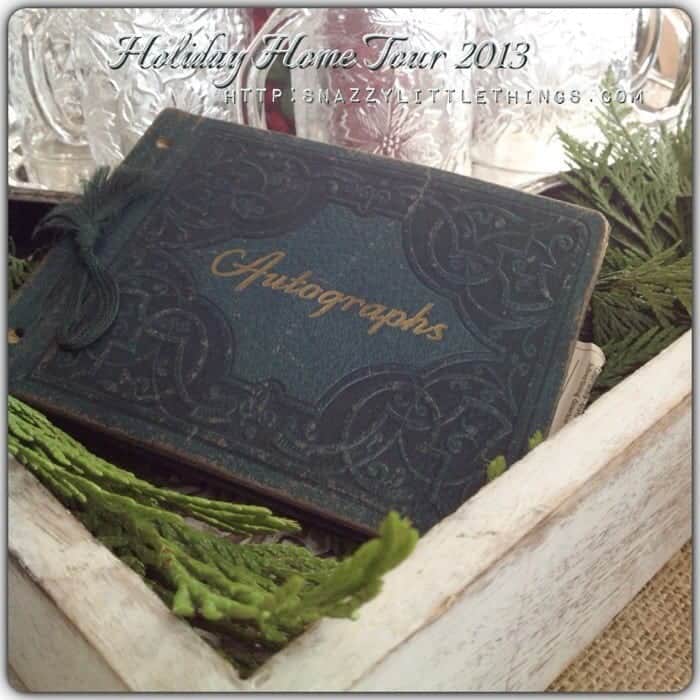 The room below has since gone through an upgrade, but here it is in 2013. It's where our family spends the most time. We introduced a LARGE (50″) clock from Wayfair to fill some of our empty, two-story walls. I am very light on holiday decor, so I decided to make my own.  See the "JOY" sign?  Easy tutorial here.  I'm also sewing a new slipcover for my couch. And I decided the centerpiece should be one that we can use. So for our coffee-hot-cocoa addicted family, I made an arrangement using my Princess House holiday crystal collection. This house is great for entertaining, which we plan to do more of in the coming year.  In fact, we have friends coming for dinner next weekend…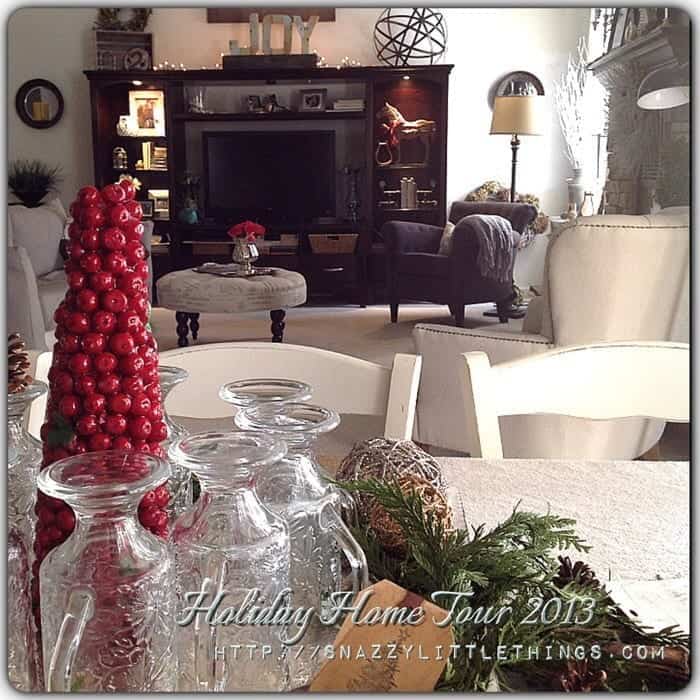 This is what you see when you walk through the foyer hallway. Lots of thrift store and antique finds here.  The window? $20 with ALL the panes intact.  The window project is a work in progress…I will post more about it soon.  Also, what would you do? We talk about putting in all wood floors throughout the living room.  With a big throw rug? I think I'd love it…but it might be like living in a gymnasium.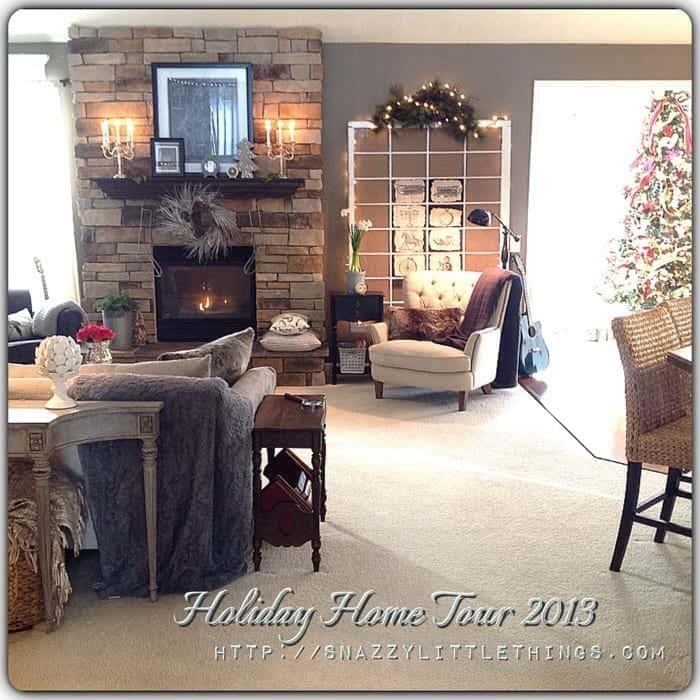 A little seating area to the left of the fireplace.  White birch branches, a chalk painted milk can and a vintage tree stamp…oh, and the chair is from T.J. Maxx.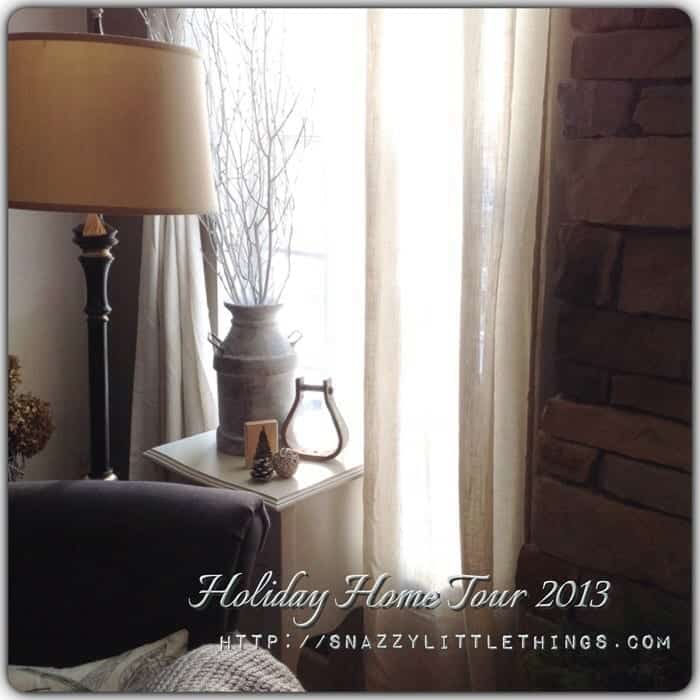 Punching things up with a bit of "bling" on the fireplace…an antique candelabra set caught my eye…I cannot resist bling. And I like it with chippy, rustic things too. My favorite combination? Pairing opposites.  That Little Ben clock I bought from The Curious Moose…you'd love that store.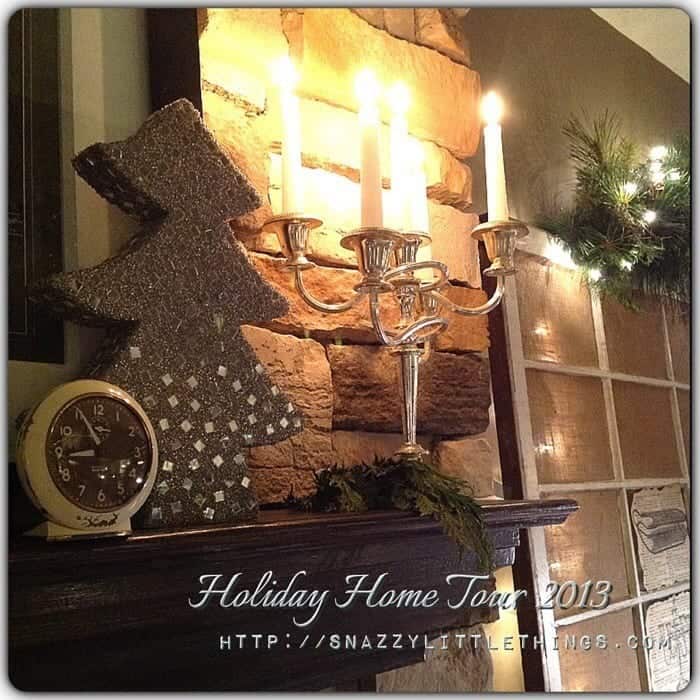 I realize that entertainment centers aren't popular anymore…but if you're gonna have one, fill it with things you love. And to be honest? I really like mine. Call me old fashioned, but they still sell them at cool stores like Restoration Hardware. Speaking of…do you see how RH influenced some of my decorating?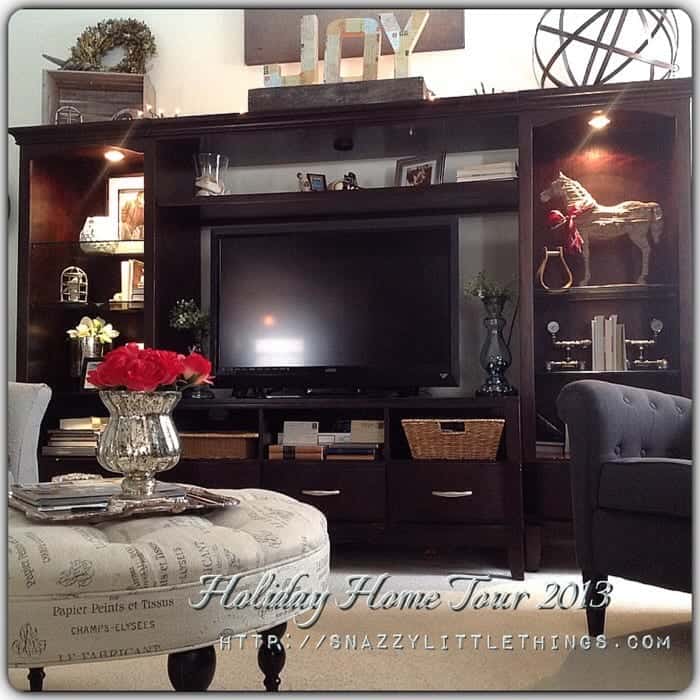 A peek into the sunroom…it faces west so it gets a LOT of afternoon sun. I was considering putting up large, billowy curtains around the sunroom entrance, making the room separate from the rest of the house…that could be a neat way to make it feel like it's own, intimate space.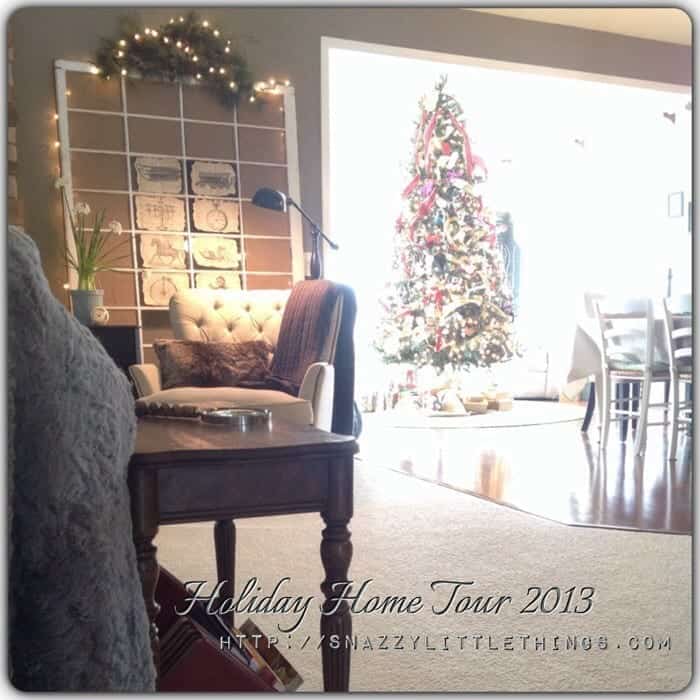 Our tree is 10 feet tall…so we can afford only a small sitting area in the corner.  My daughter loves to read Shel Silverstein here…very peaceful.  Until she sees her friends outside in the backyard…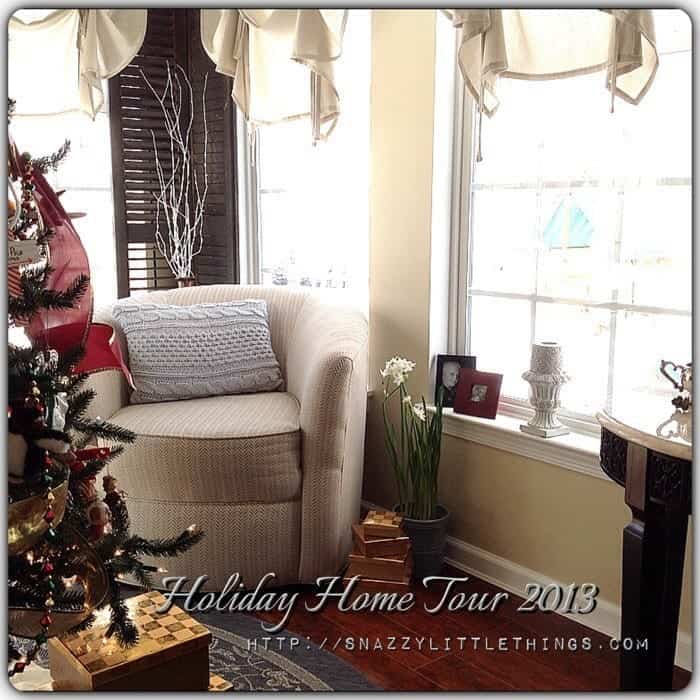 Some ornaments we've made in years past…link to this post can be found here.   We made these long before I started blogging, and once I find the source for the ideas…I will post it here.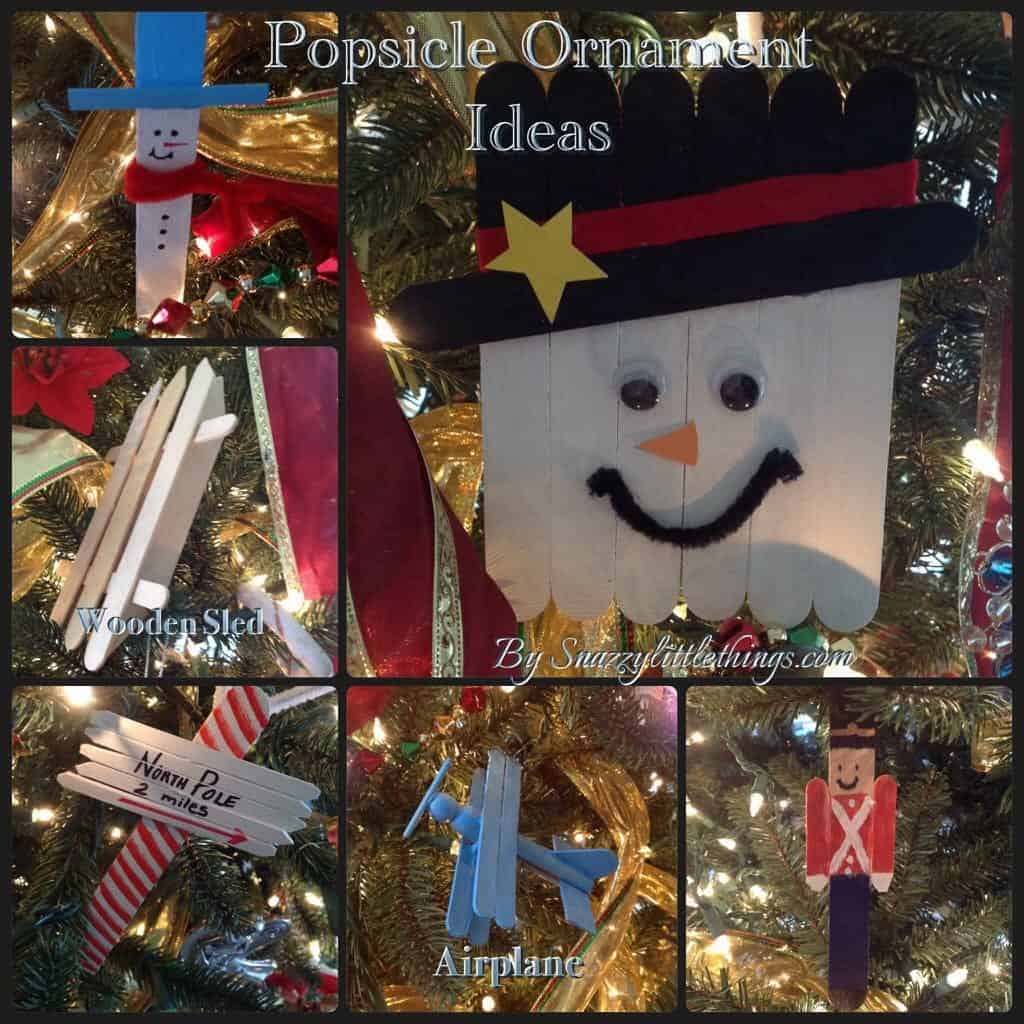 Some new mixed with old…which I always love…and that candle in the window? From Frontgate Outlet and they turn on / off automatically. I love Dickens-style holiday decorating.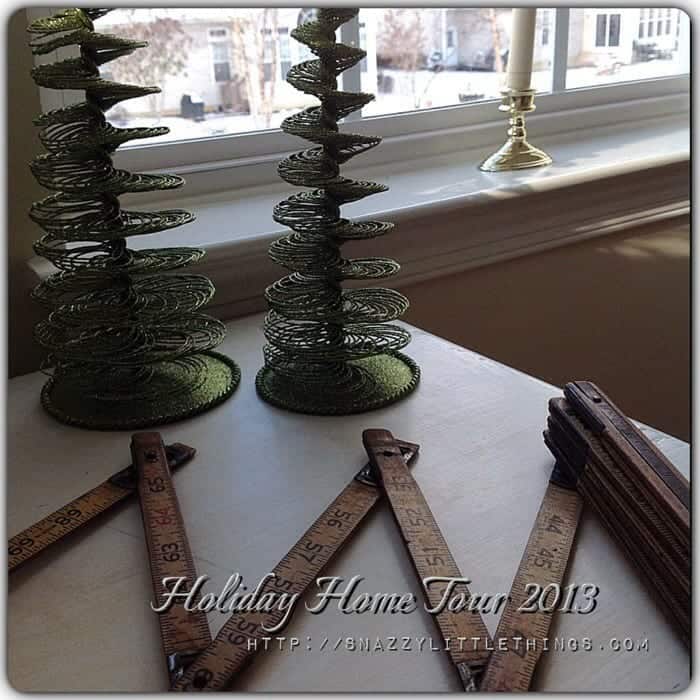 A makeshift wrapping station.  Truth be told…I love bringing the outdoors in, but don't love the mess. I wanted a place where I could cut pieces of juniper for wrapping presents, but have them fall somewhere besides the floor. This galvanized tub did the trick. If you look to the left…you'd be looking straight out at our deck…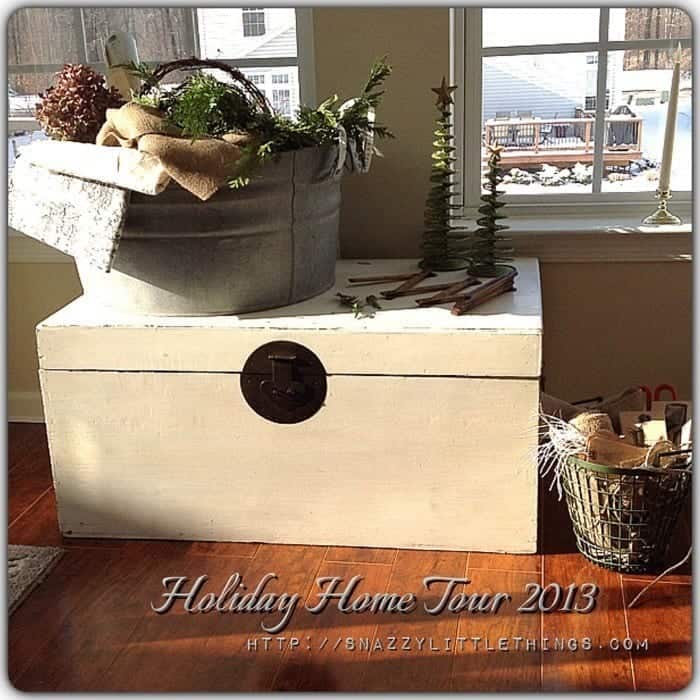 …and you'd be looking at this…Buddy is done eating snow now. So naturally it's your job to bring him in. And he's sending you telepathic messages to tell you this.  Then… he will start to whimper in 10 minutes to go out again.  Why? To eat more snow…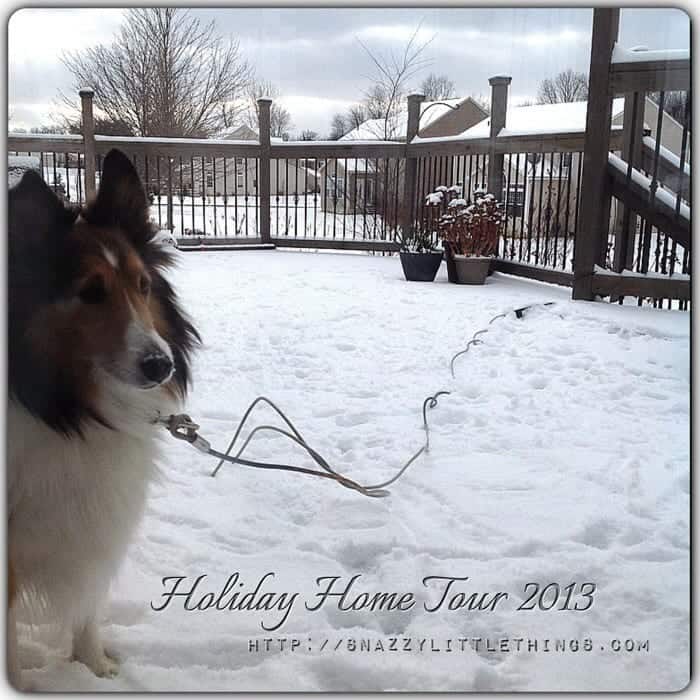 Quick shot at night of the entire living area. I love the open design. But do you see what I mean when I say we live in a "one room cabin"?  This is the view from my daughter's bedroom. Having the kids rooms upstairs makes it REALLY tough for Santa and the elves to do their work…(I would imagine). It's also tough if you want to watch "Breaking Bad" or "Mad Men" on TV. This explains why our basement remodel was essential. We needed a grown up space.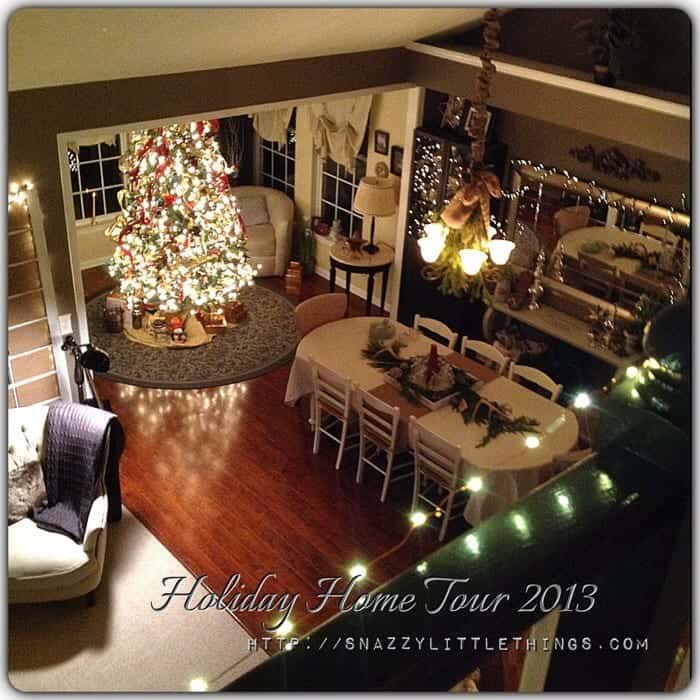 Heading into the kitchen…some embellished vintage jars.  These belonged to my grandfather, a touch of pine gives it just the right look for the season. If you've been here before, you've seen SO much of my kitchen, but if you're new here, here is a link where I can show you around.  The kitchen has a hot cocoa station and a Keurig. Loving the changes we've made so far, but it's a work in progress.  Our second phase of upgrades is underway. Check back often to see how we're doing….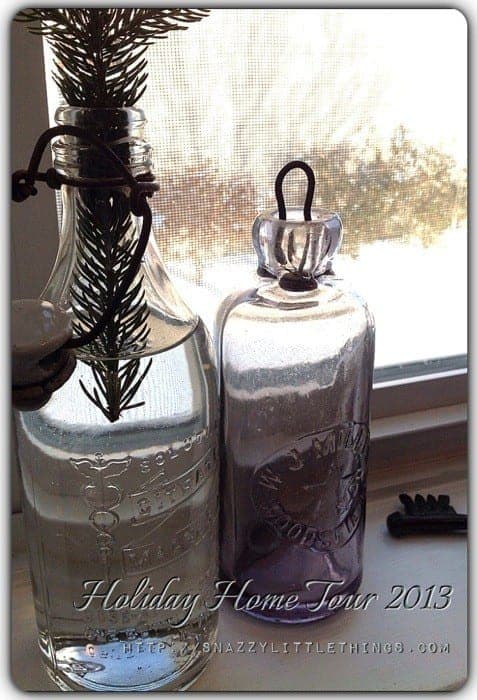 A little Mason Jar holiday craft I surprised my kids with tonight.  They loved it…these ideas and how-to's are all over Pinterest.  I will find a good one and share, but I was winging it when I went to the craft store and didn't consult a tutorial. I bought glitter, and the figures, and I was done.  Ours is a little girl walking with her dog who has an umbrella in his mouth.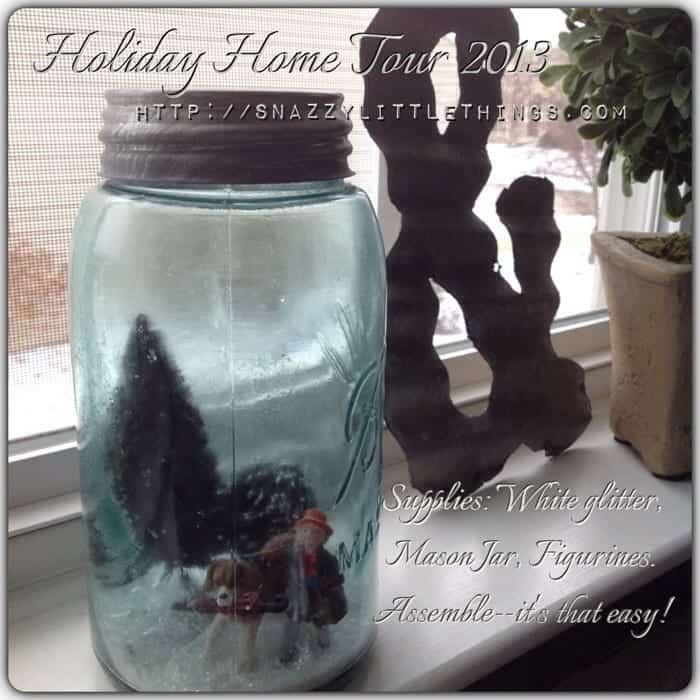 Another holiday craft…the DIY travelers' letters…something you will find at World Market that you can easily DIY.   Tutorial can be found here…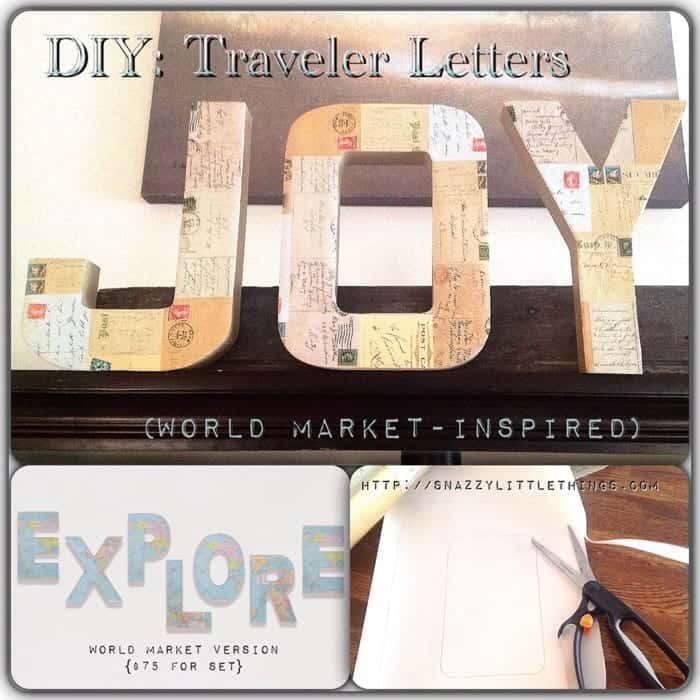 I really appreciate you stopping by. Before you leave, you can see in my office that I put up another tree…and I'm working on a few additional crafts. We're framing some old family photos…(did you know I'm getting a CRAFT ROOM??)…anyway, you'll see some colorized photos of our family soon. We don't have enough on display, and Mr. Snazzy found a new hobby of colorizing our black and white pictures, and he can literally send print jobs home from 200 miles away.  While I'm in the house..sometimes our printer starts printing and I see he's been working on a new family photo to print. High tech, love it.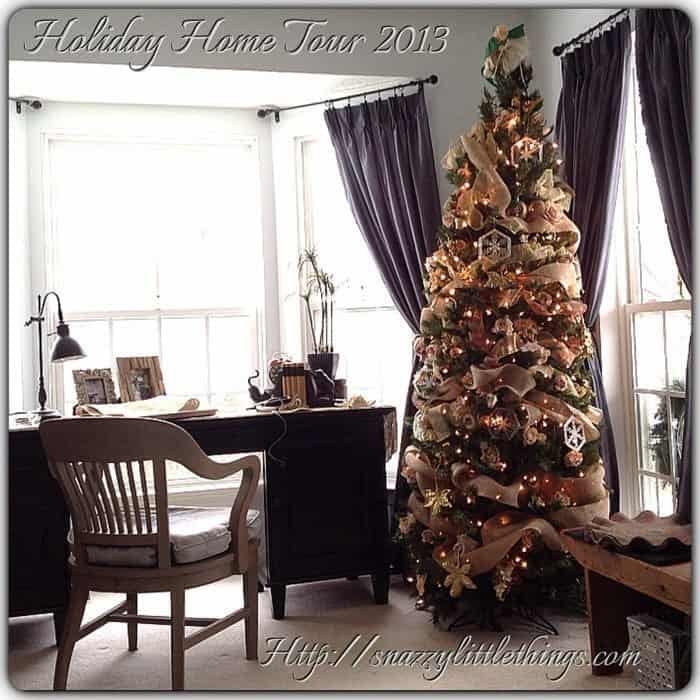 Come back again soon…and happy holidays!
Be sure to visit all 29 other ladies that I've partnered with in this series "The 12 Days of Christmas Home Tours".  It's like a progressive decorating party, and the series is loaded with great tutorials, decor ideas and recipes.  I've seen some incredible ideas in this series already.  Enjoy, and happy holidays!