How to Paint Leather Furniture
This library chair was a bit of a misfit. The poor thing just couldn't fit in with the rest of my house. The wood was in need of refinishing, and the leather was hunter green.  I love the shape of the chair (good bones, right?) but it just wasn't mixing well with the other colors in my house.
So, I decided to take the plunge and paint the leather.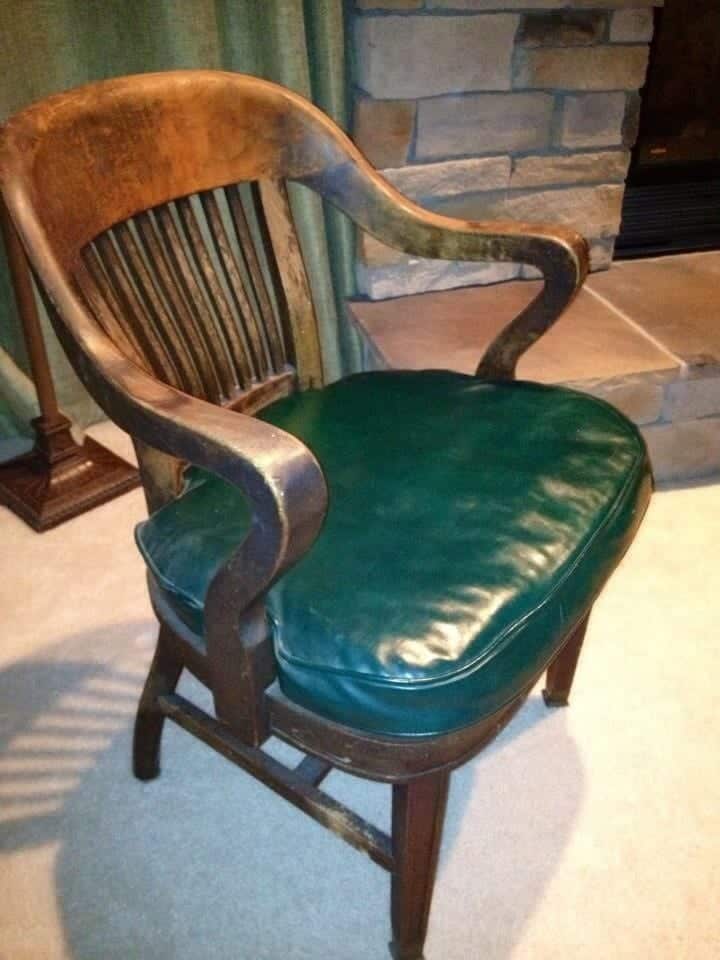 Now think for a second about natural leather and it's color. Is leather ever a SOLID color? No, not exactly…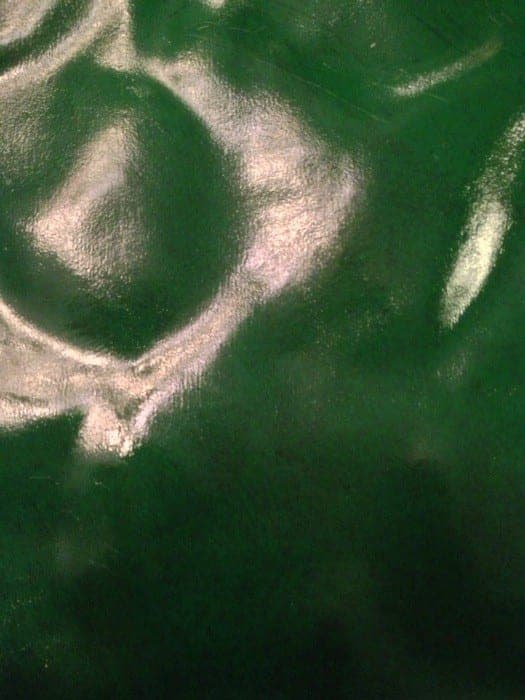 So here are some tips about about maintaining a natural looking leather with chalk paint:
1). Use two colors! Using two colors achieves a more natural effect. Make sure they are two colors that blend well. In my case I applied one as a base coat, then layered on the second color of paint in a cross-hatch pattern. If more color variation was needed I would repeat by adding the two colors again in a cross-hatch pattern. (Meaning, apply paint in an "X" pattern).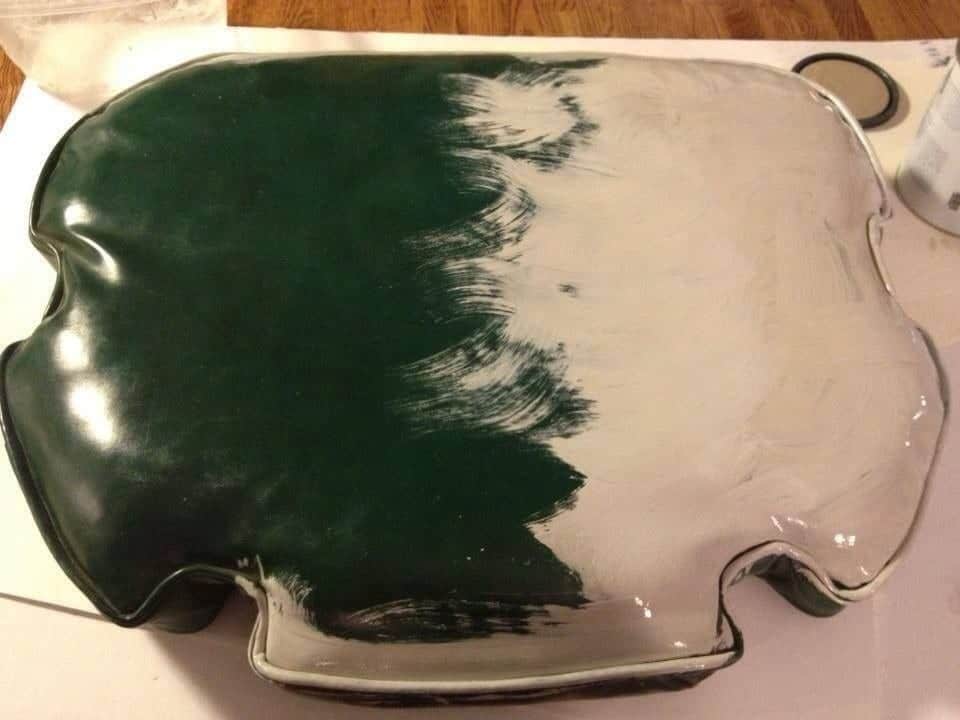 2) Keep a wet edge. This means you should have water and spray your piece, or dip your brush to to thin the paint and eliminate brush strokes (Tip: remember using water color paint kits as a kid? Treat the paint like that).
2). Apply many, thin layers. Apply thin, but many layers. (don't try to achieve 100% coverage on the first coat). I used a cross-hatch pattern throughout the entire process (see below).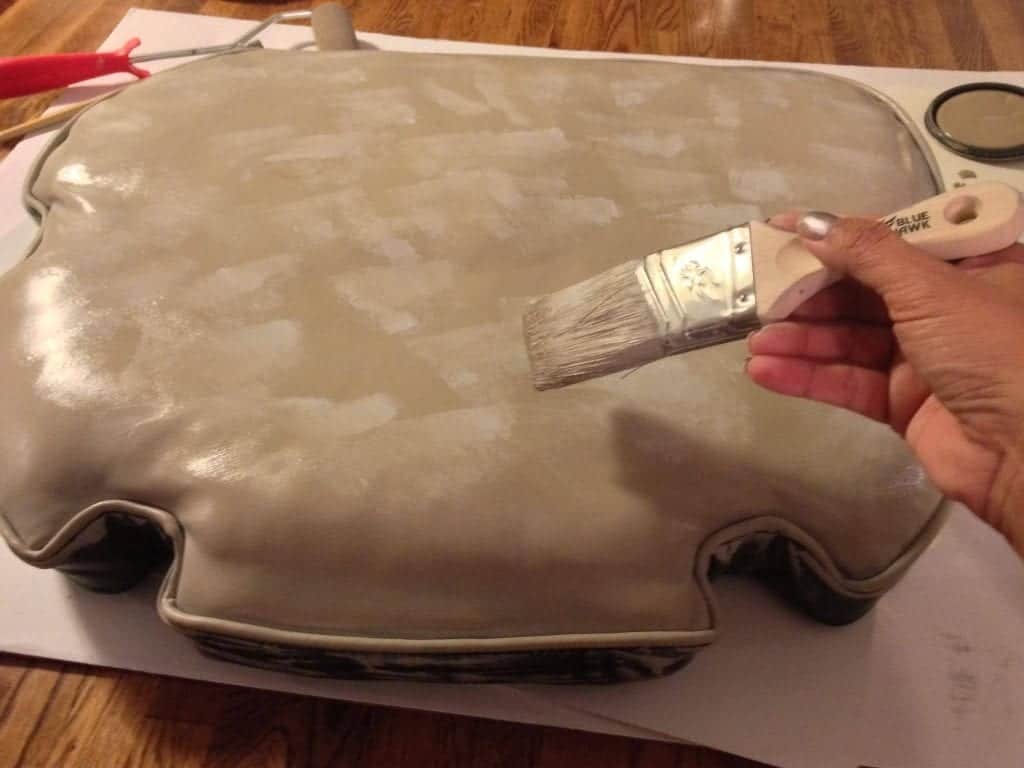 4). Use a foam roller. Use a clean foam roller before your cross-hatch application (above) dries for additional blending.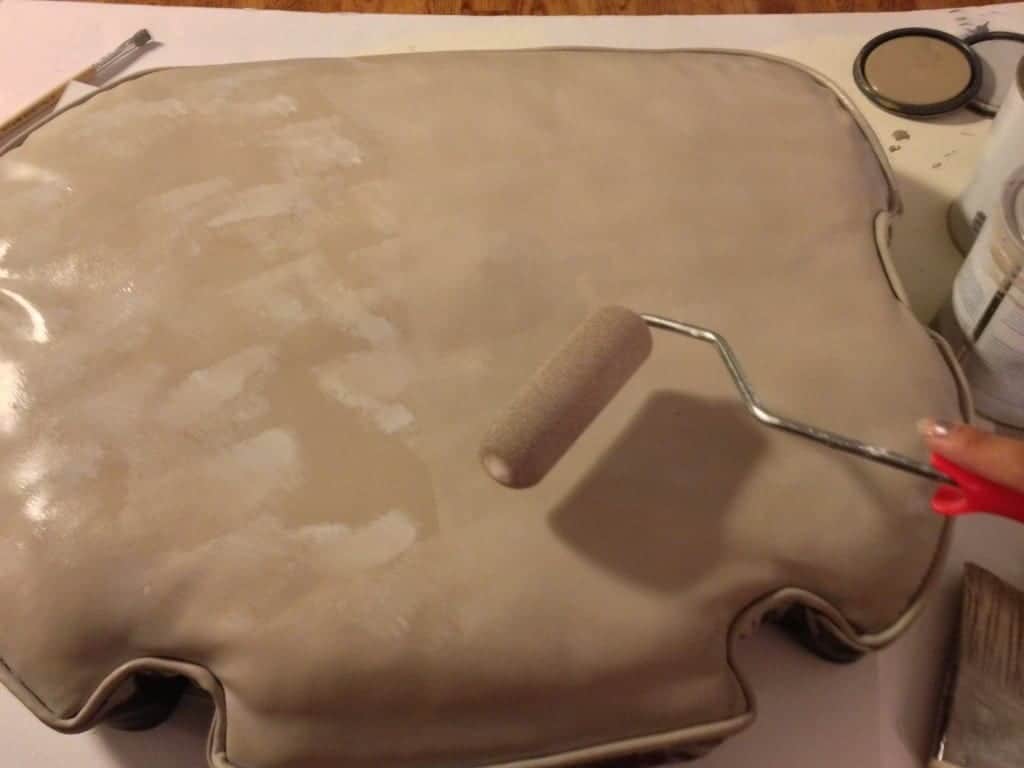 To share some thoughts on the process
After each coat I would decide if it looked natural. If not, I'd add some variation of color by layering or "dotting" additional paint onto the chair, and work it in the cross-hatch pattern again. (Basically repeating all the steps above several times). I always had water on hand and use the dry foam roller to eliminate brush strokes. I used water to keep a wet edge to help with blending.
One you like the look and feel the leather looks natural, WALK AWAY and let it dry.
After the cushion dried, I decided to add a ticking stripe down the center. I used a third color, for this–Annie Sloan Chalk Paint Old Violet. (I had not yet waxed the cushion, that was the last step).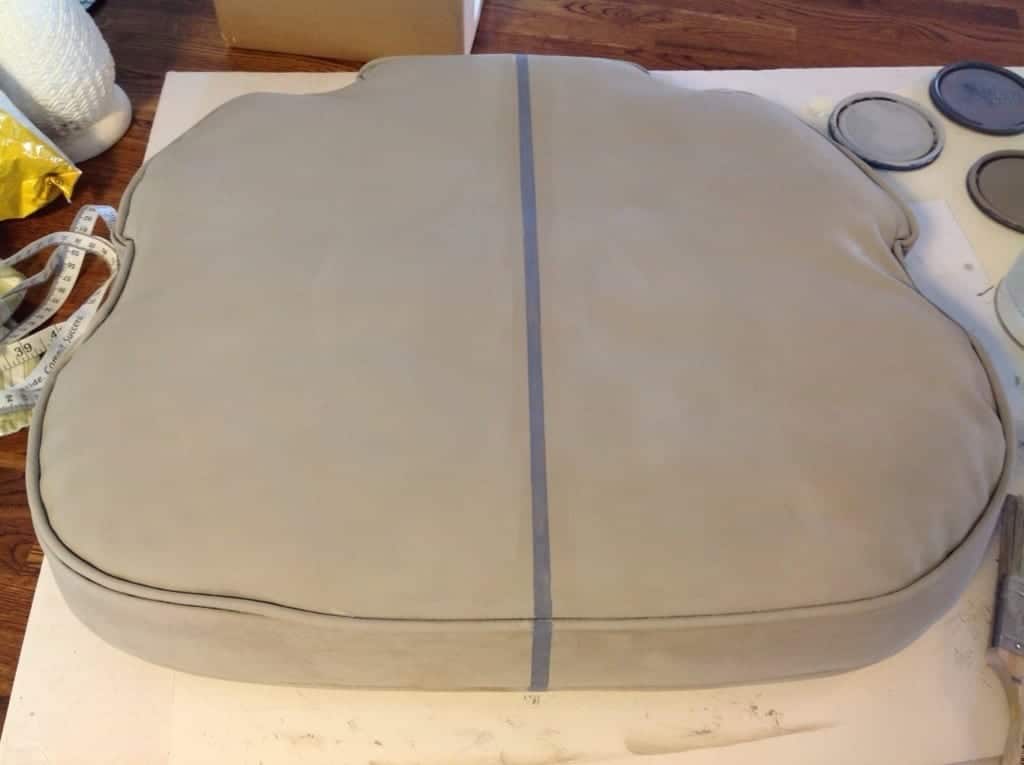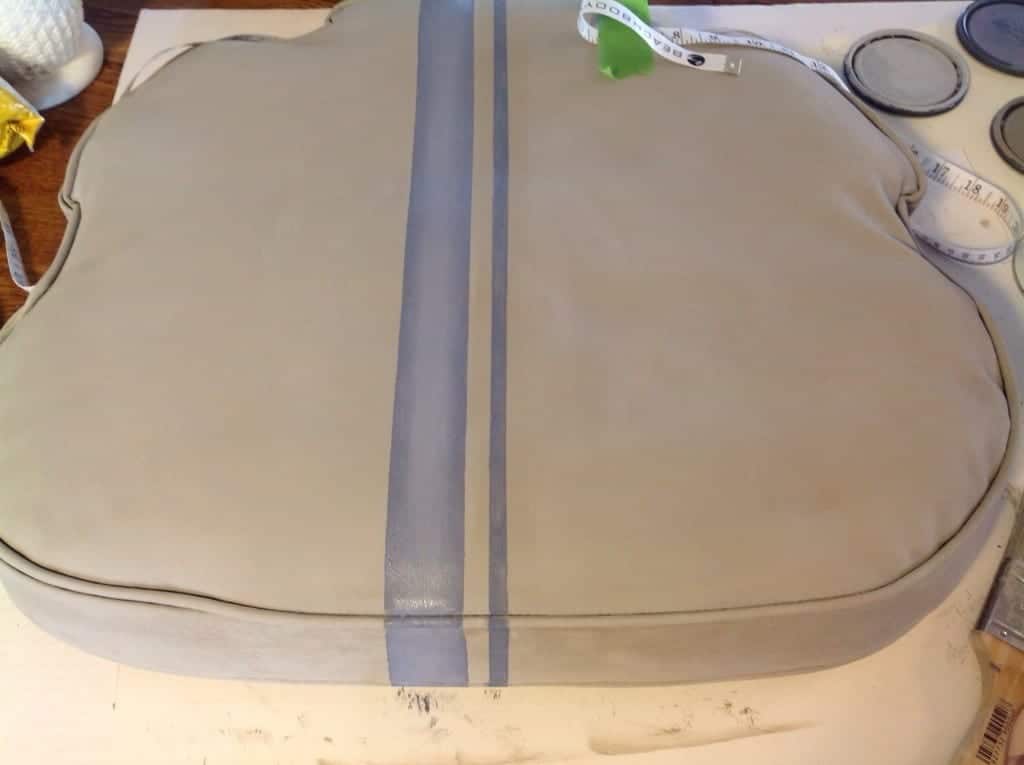 Below is the progress update. I had not yet touched the wood…and was deciding what to do…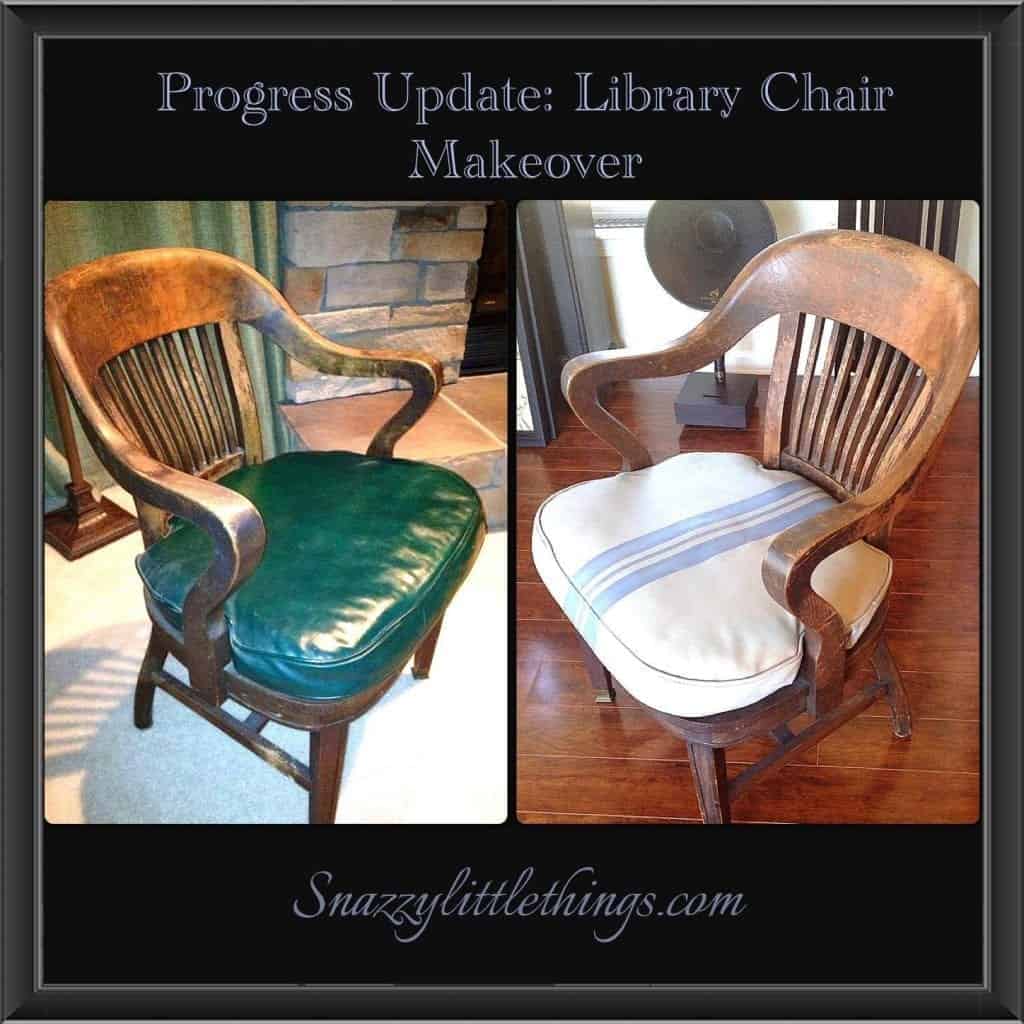 Then I turned to my faithful friends on my Facebook page, and they all unanimously said "paint the wood!!" So I did. (In Annie Sloan Chalk Paint "Cocoa").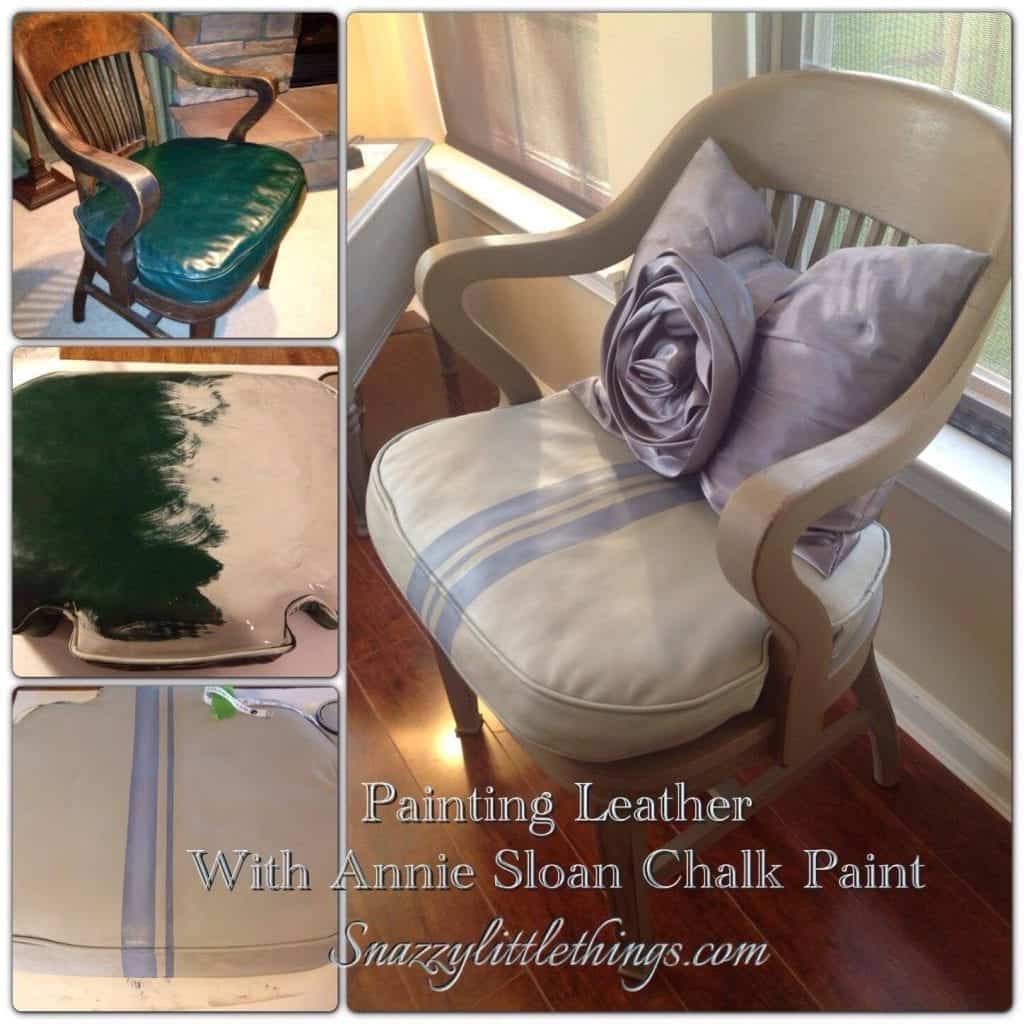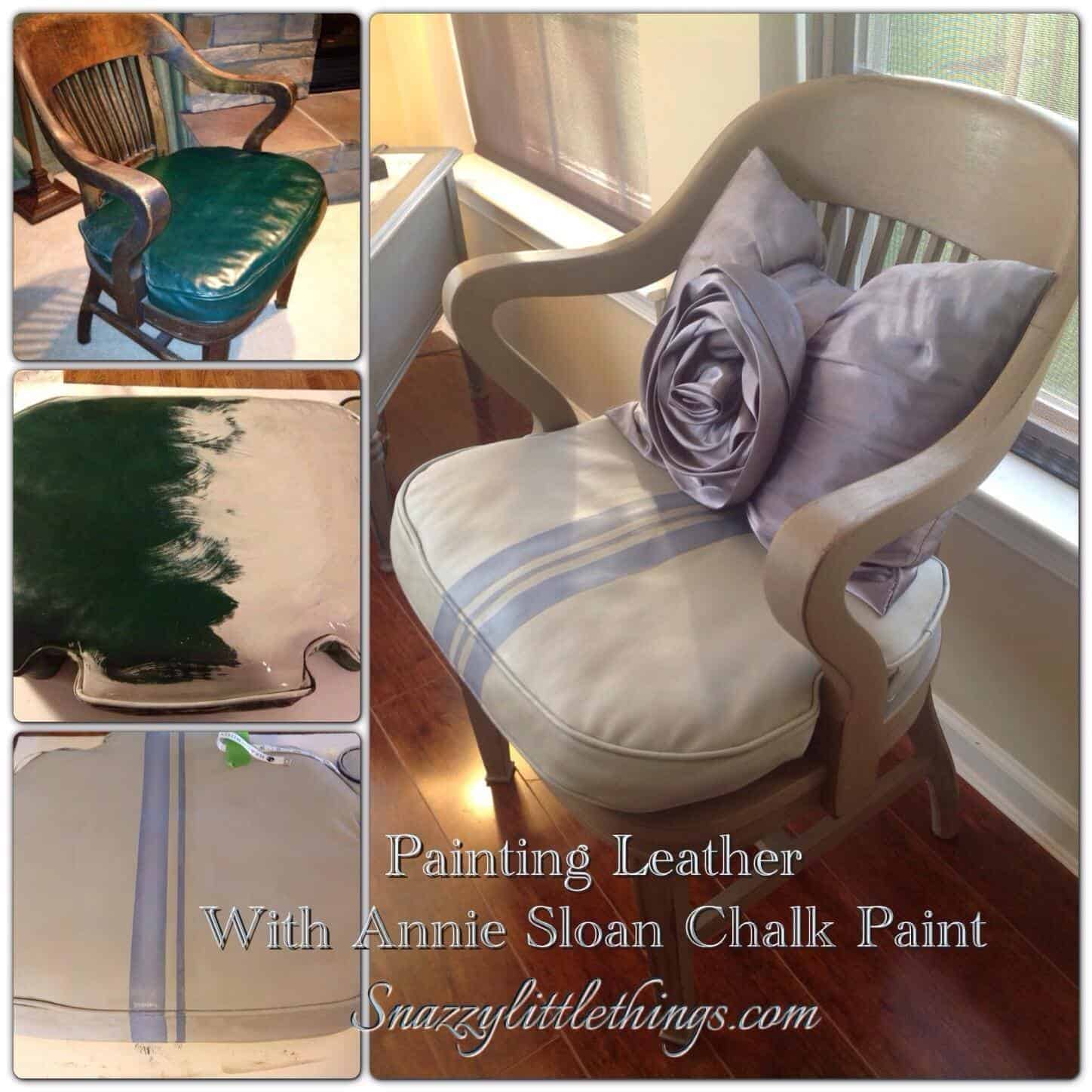 Step 5:   Apply Wax.  Which reminds me to tell you….I used clear wax on the leather, and a combination of clear + dark wax on the wood.
So now this misfit has become pretty popular and was retweeted by the This Old House team, and even James Young II from DIY Network's  "I Hate My Kitchen".  That was a pretty exciting 15 seconds of fame there on Twitter.
…you'll even start seeing it photobomb most every room picture in my house. :)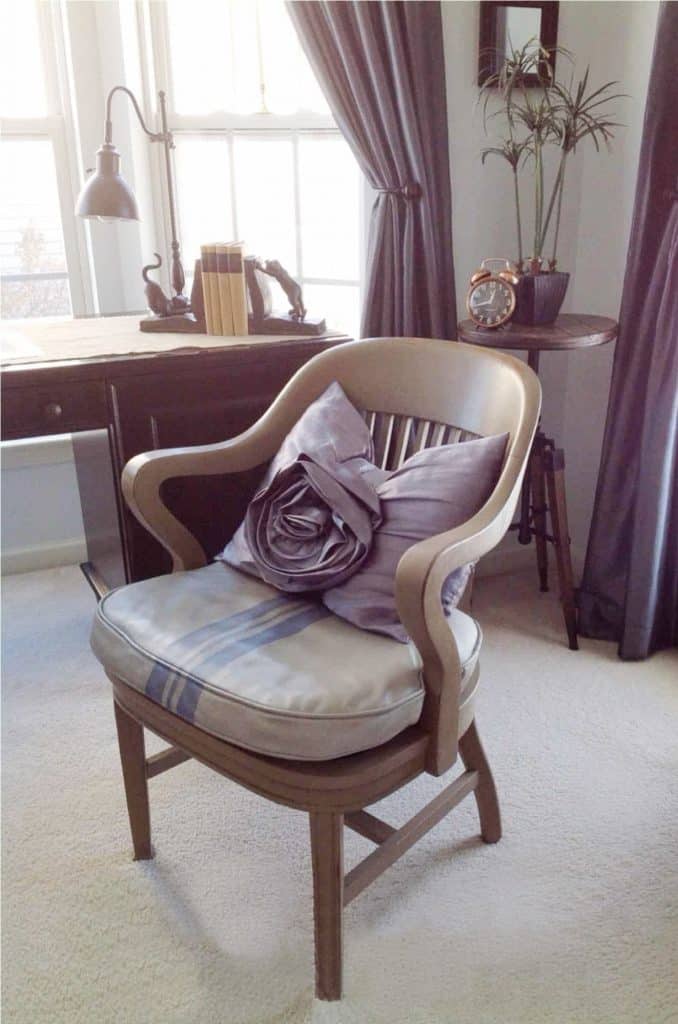 Related articles