Industrial Family Room – REVEAL!
For this challenge, Mark and I chose to update the most abused room in our house – our family room.  Visit this link to see all of the projects that led to this final reveal, then be sure visit all the participants' April #30DayFlip room reveals at the bottom of this page!
Here is the before: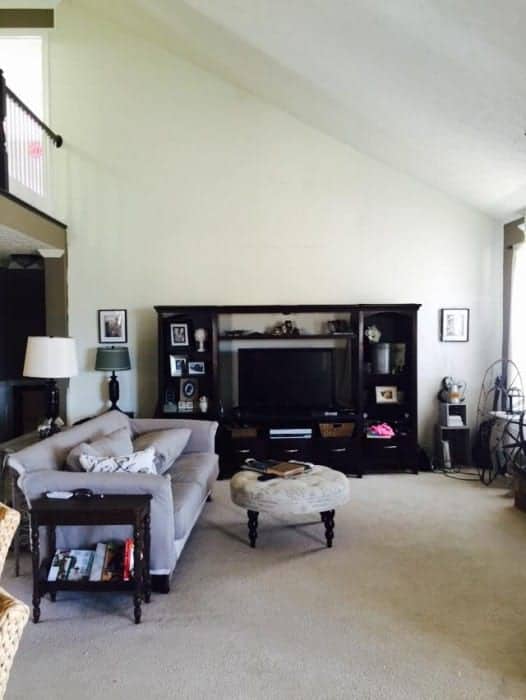 Here it is, AFTER–with only 15 days of work invested.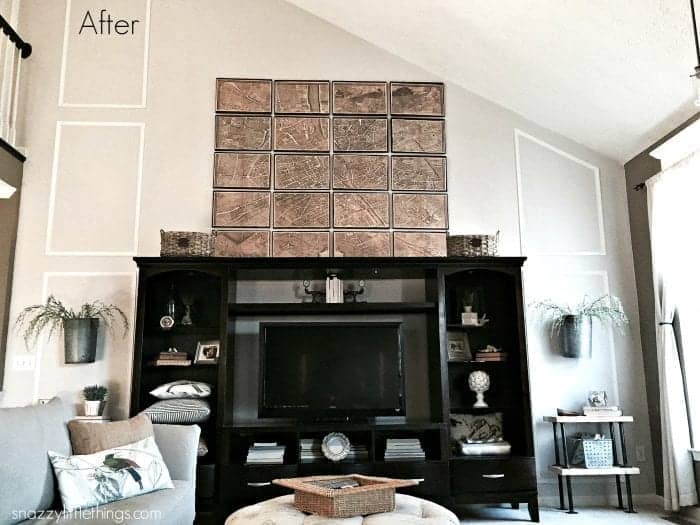 One of the biggest issues was my failure to find properly sized art on our huge wall. I could never find anything sized (or priced) just right – so I made my own!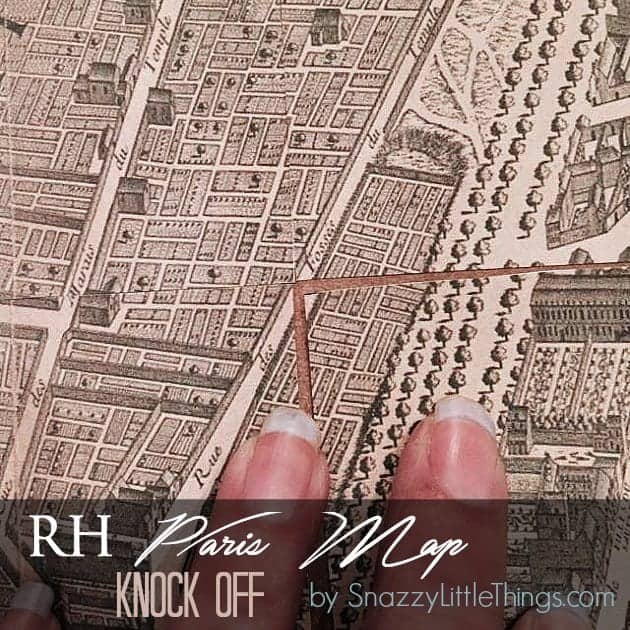 You can read more about my HUGE (72″ x 56″) Restoration Hardware knock-off Paris art here. (Theirs = $1,700 Mine = $40).
We still have a few projects remaining…(my trip to Israel set me back a bit, so ours was really a 15-day flip!) But we are already so much happier with this space and the progress we've made. I will update this post as we add a few finishing touches.
Source list:
DIY Trim & Molding (see the video on how we did it, tutorial pending & costs)
DIY Trim Tutorial: Ryobi Power Tools
Wall Paint:  Olympic Grey Ghost
White Trim:  Olympic Pegasus (leftover from bathroom project)
Oversized Wall Art: I DIY'd this, Restoration Hardware inspired Paris Art $40 (tutorial)
Baskets: on entertainment center: Michael's $9.96 on clearance
Industrial Accent Tables: We DIY'd these, parts from DIY Cartel $110 each (see tutorial)
Industrial bookends (see post)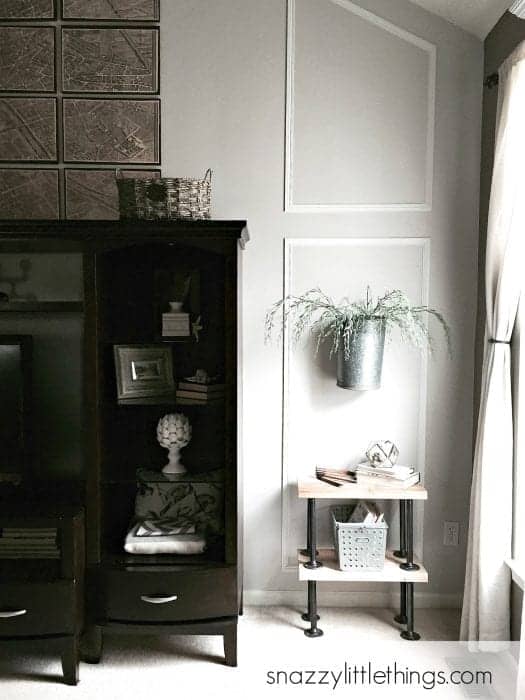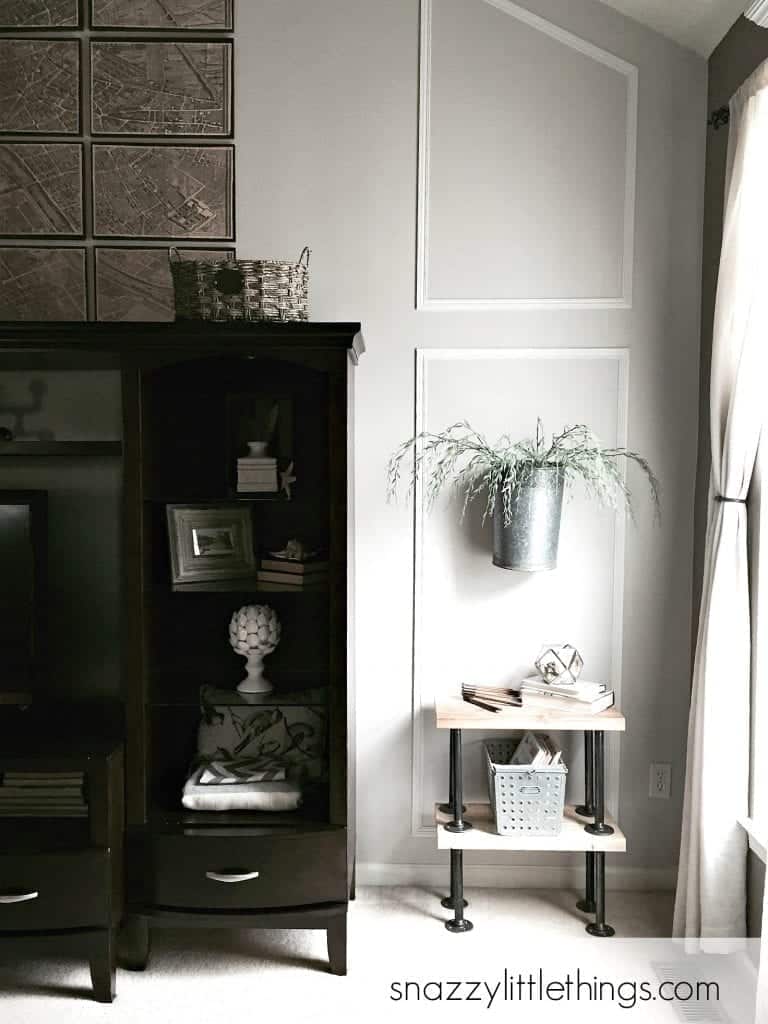 Galvanized antique sap buckets mounted as wall planters. I tried my hand at a little Fixer Upper-inspired decor.
Our DIY industrial tables aren't quite finished. We're letting them settle into the space before we decide on the final finish.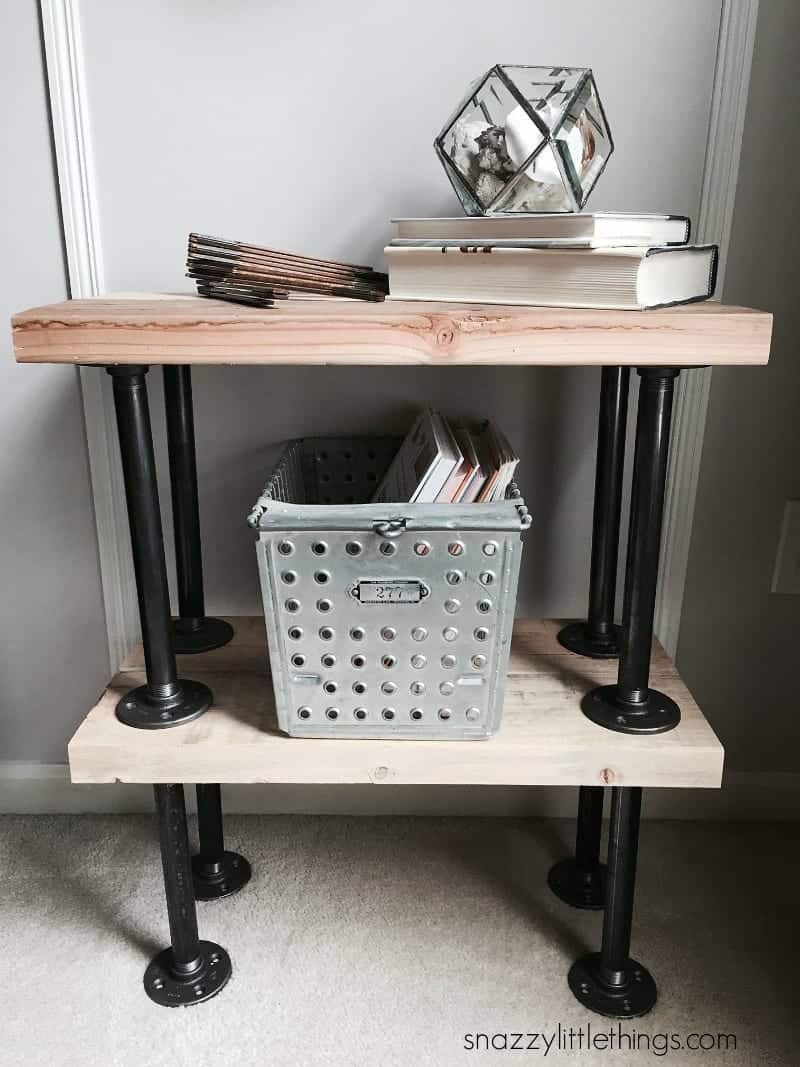 Industrial side tables that we DIY'd –  sponsored by DIY Cartel
Industrial bookends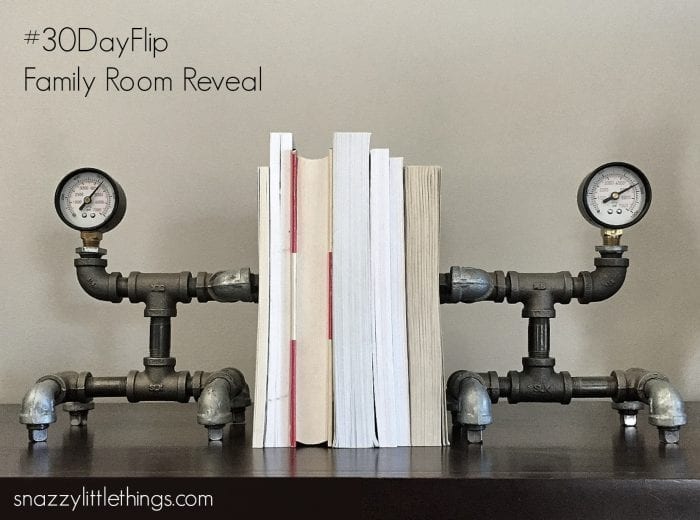 Read my original post and where I purchased them here.
I will add a few more pictures once we put our finishing touches in the room. For now, we feel like the room is lighter and airier. For us, this was a major accomplishment–and it wasn't very easy. We spent a lot of time going up / down ladders, running to the garage for extra cuts for our wall trim. But without the #30DayFlip I don't think we would have been quite as motivated.
I'm so happy to have hosted my very first DIY challenge where readers participated! I get to know all of them on a completely different level, plus, it's always more fun to DIY and share progress with a group with similar interests standing by to cheer you on. I'm amazed by the results (see all of the before & after pictures at the bottom of this page).
---
I'm so proud of our group, and thank you again for our generous sponsors, Ryobi Power Tools, Steam Showers, Inc., Poppie's Paint Powder, and Arts and Classy.  
See all of our WINNERS of the prize package, just for participating!
Next month's challenge: outdoor spaces.
Sign up for the next #30DayFlip by clicking the button below.