As many of you know, I had a blank slate in my master bathroom. We are slowly making changes as we move about the room, addressing blank walls and dysfunctional spaces, and major eyesores.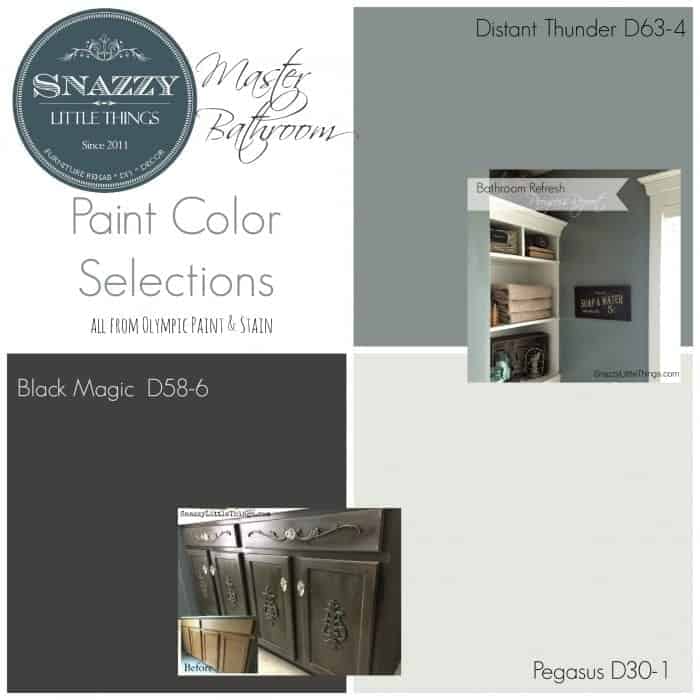 Here is what we started with (warning, graphic images ahead): 
The first step was painiting the trim white.  We used Olympic Paint & Stain's "Pegasus" on all of our handmade trim and the built-in shelving.  Then we added trim and pretty blinds.
Once I finished the white trim, we patched the walls and applied a generous coat of Olympic's pretty, neutral blue called "Distant Thunder".  The coverage is outstanding since it's paint and primer combined.
Here is the result: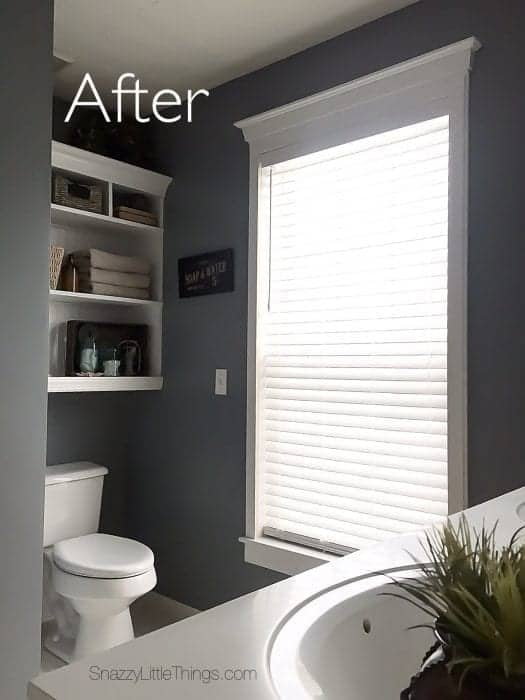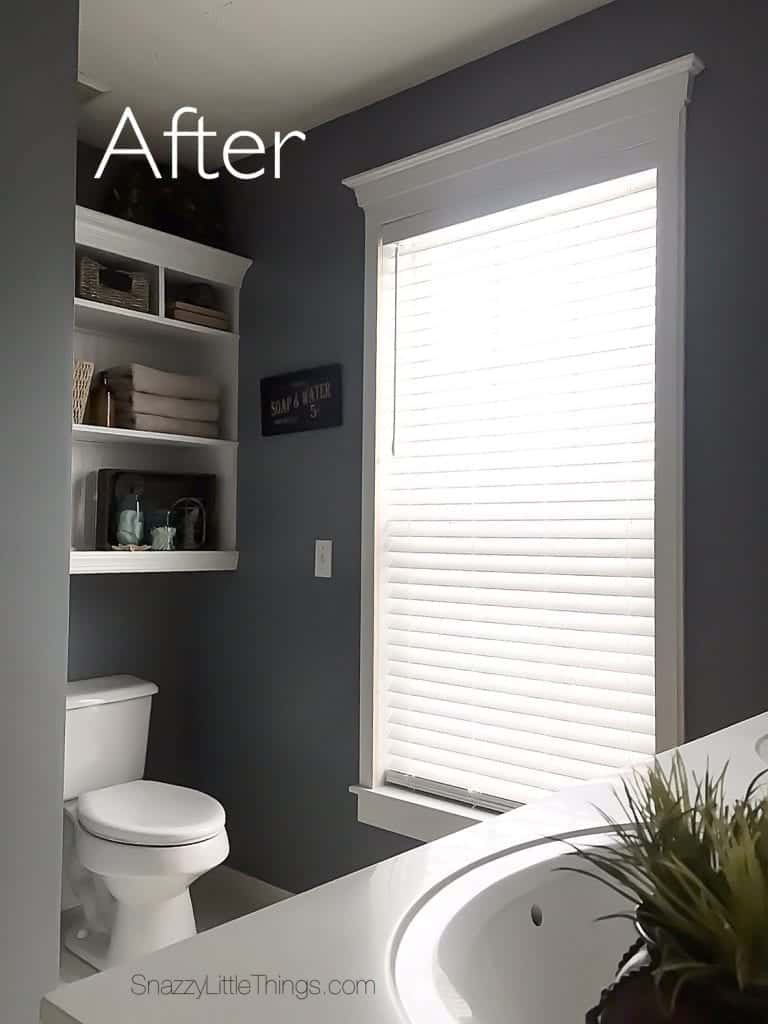 Another look: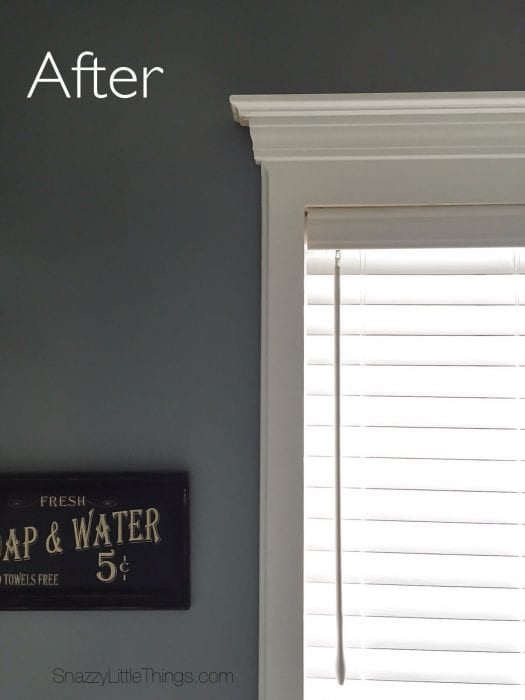 The opposite wall next to the shower with the sunlight shining on it.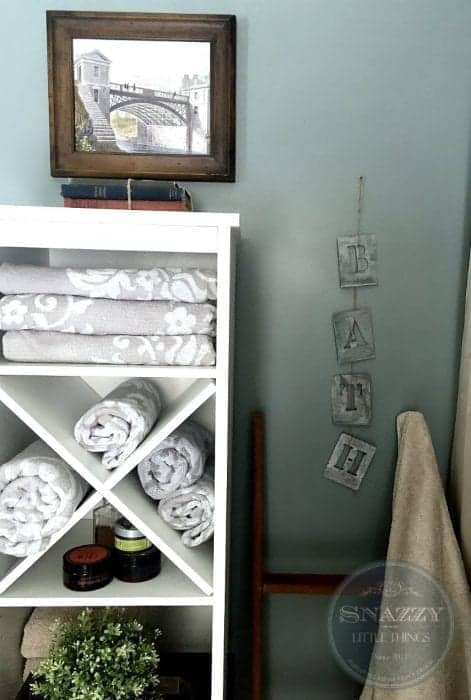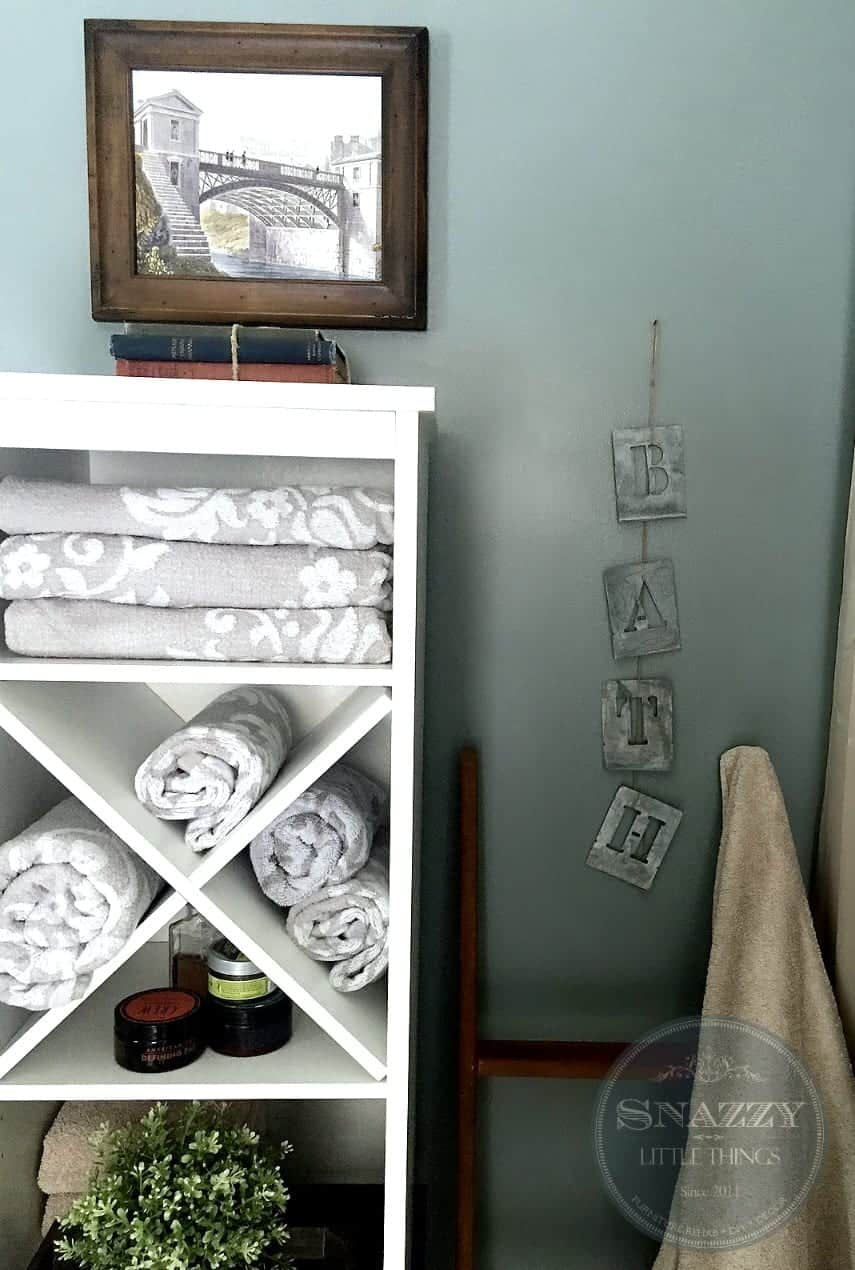 Moving onto the vanity — to throw away a vanity with "good bones" is just wasteful…not just for the environment, but for our budget. Why replace something that works perfectly fine that might only need a few embellishments and a little know-how, right?  That's why I often choose paint as my first, go-to fix in any remodel.
With that said, here is a glimpse of the whole vanity get up , before: 
Ugly vanity light? Check….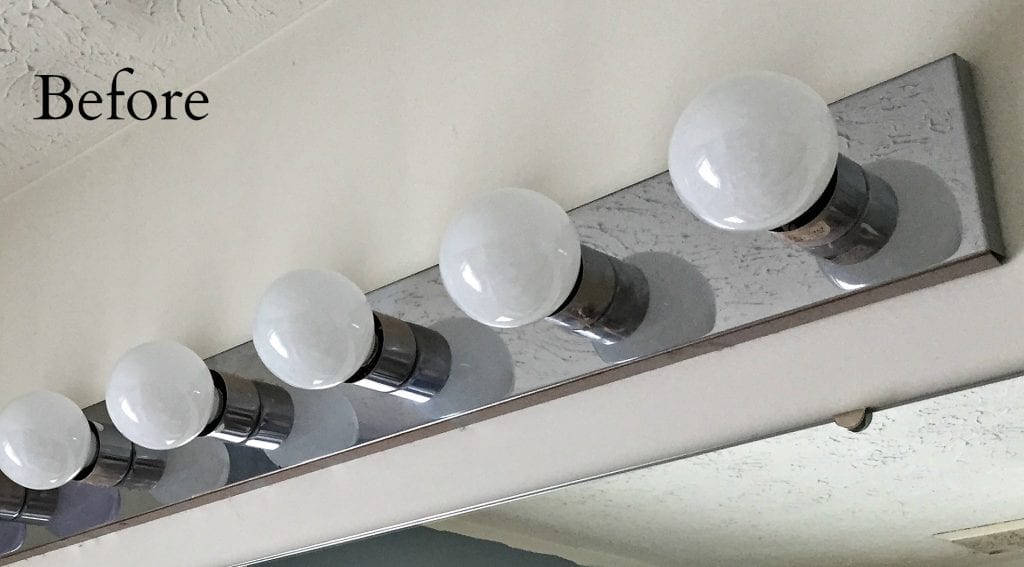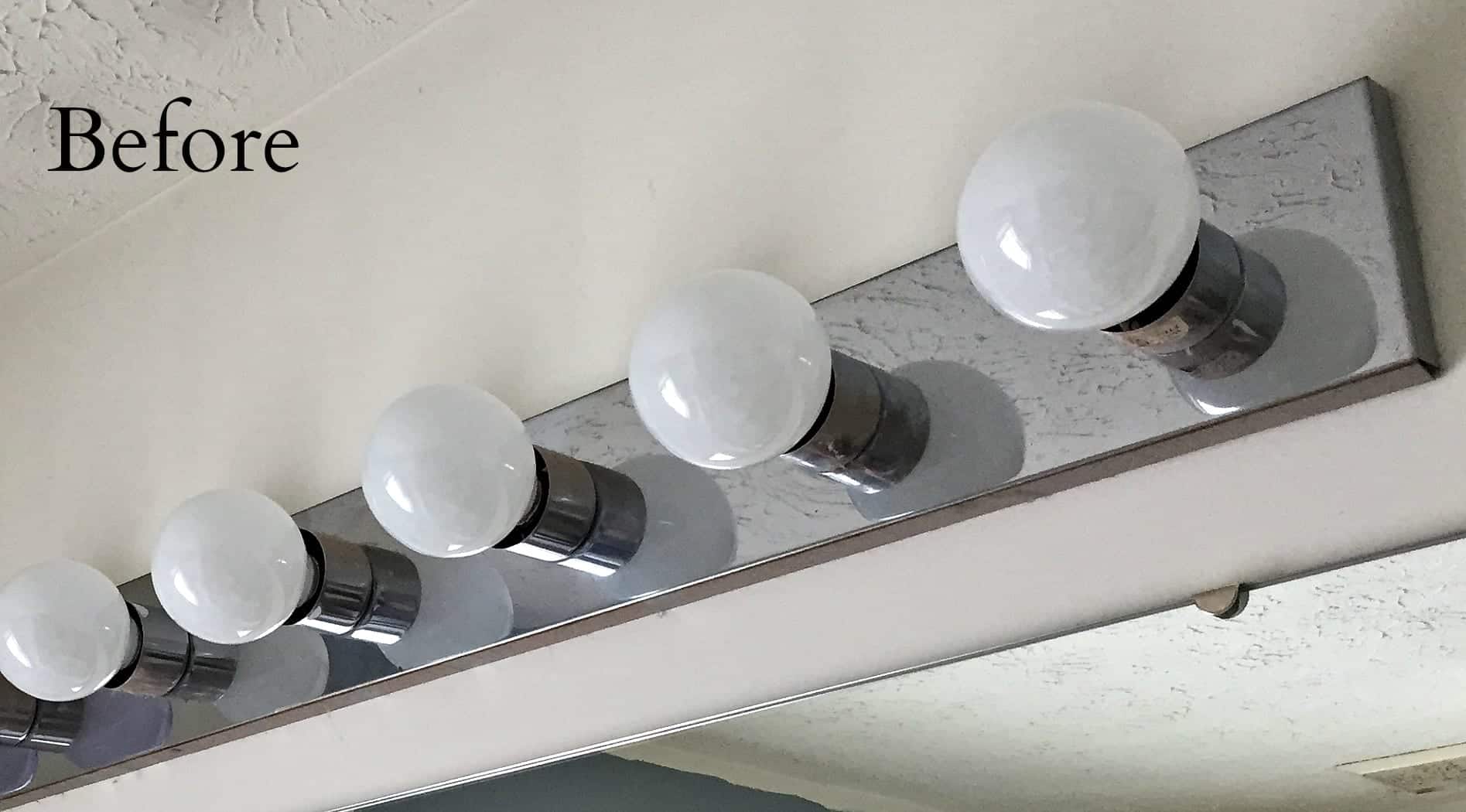 …and here is what my husband built. See his industrial bathroom light fixture tutorial and get free plans.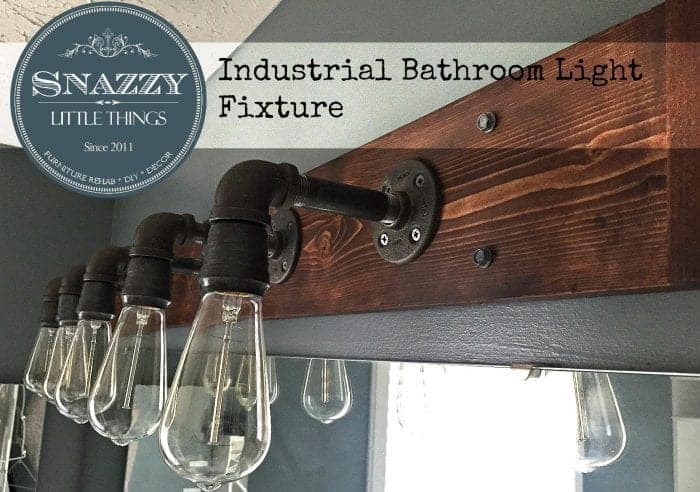 Here is our builders-grade vanity, before.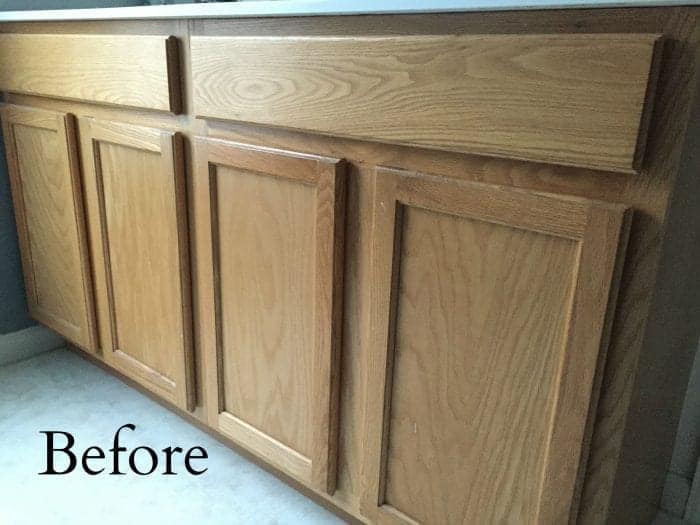 And here is our vanity, all gussied up with paint and wood embellishments. I used a combination of Olympic "Black Magic" and highlighted with "Pegasus". We wanted this to look more like a vintage piece of furniture that we upcycled as a vanity. It looks nothing like it's former self, and I'm good with that!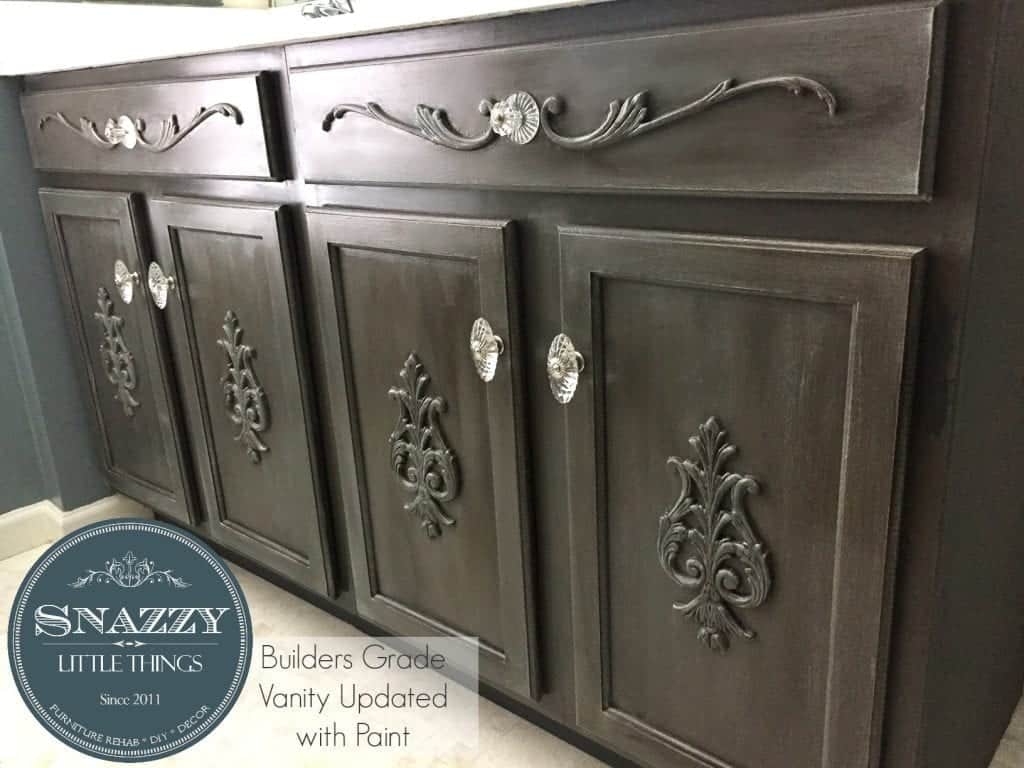 A quick glimpse to see what I mean when I say I "highlighted" with Pegasus. The idea is to bring out the wood embellishments, then apply an aging glaze to soften the colors, giving it a warm, rich look
The vanity paint project went like this –>
Clean:  Cleaned with TSP + sanded with a sanding block to ensure paint would adhere to the surface.
Apply Wood Embellishments:  With a wood glue ($25 for all that were pictured).
Create + Apply Chalk Paint:  I created a homemade chalk paint mixture using Olympic Black Magic + calcium carbonate with my paint brush dipped in water.  I applied several, thin coats so that I could get high coverage.  One thick layer is a higher risk for peeling or chipping.  You want thin coats. 
Highlight wood embellishments with Pegasus
Apply a glaze:  For additional protection and a nice, deep rich aging effect. I usually make my own with a mix of polyurethane and acrylic paints.
Finish with a clear coat:  To ensure no chipping, this is the final coat.
Apply Hardware:  We went for glass knobs for a more vintage look in this room.
Up next – replace the flooring, shower curtain (and possibly the shower).  We will see how far our "Phase I" budget will take us, but were are pretty close to wrapping this up.