Mark and I have hit a major milestone. Every single room in our home has now been upgraded in one small way or another. It's taken us 6 years of blogging to be able to say this. So finally, the room makeover that I have procrastinated the longest has finally hit our radar: the upstairs kids' bathroom.
This simple flooring project is high-impact, extremely inexpensive, and only took 4-5 hours. It's really a project that anyone can do (and the bonus…you can do it without power tools). We don't want to risk over-improving our house and not seeing a return on investment should we ever sell. In the name of being budget conscious but still wanting a higher- end look for the floor, we chose self-adhesive vinyl plank flooring for the kids' bathroom. I'm SO impressed with how the vinyl planks look like real wood.
Wood-Look Vinyl Plank Flooring
The main ingredients for our 2 full bath upgrades:
On a side note: In addition to updating our powder room (if you missed that post, you can check it out here), our master bath was also updated using these same materials. I'll share the master bath update in a future post.
Let's Talk About the "Before"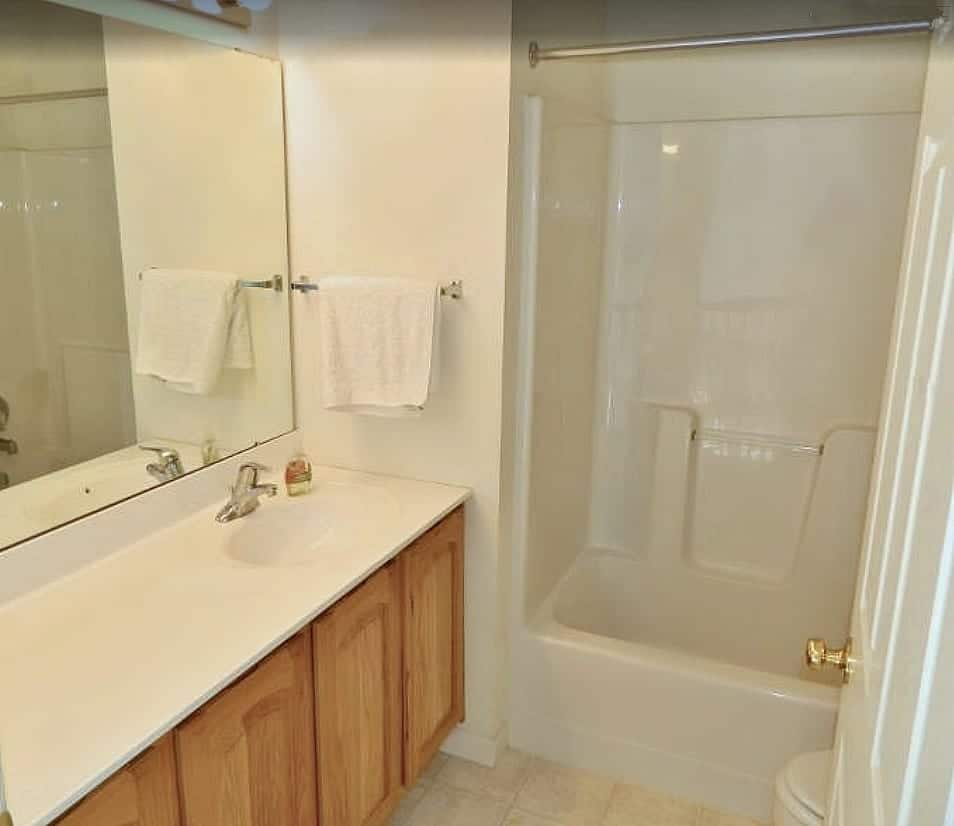 Once again, you are seeing a never-before-seen part of our house. Life happens. Our budget was spent elsewhere and between work, volleyball tournaments and twice daily trips to school I found I could never get around to this space. I painted the vanity about 10 years ago with the intentions of transforming it into a cute kids' bathroom. Before I knew it, our toddler bathtime ritual eventually evolved into a science lab where experiments with cosmetics, face masks and nail polish happened.
Then, my babies became young adults.
The bathroom was utilitarian to say the least, but it did a great job of getting the kids clean for 14 years.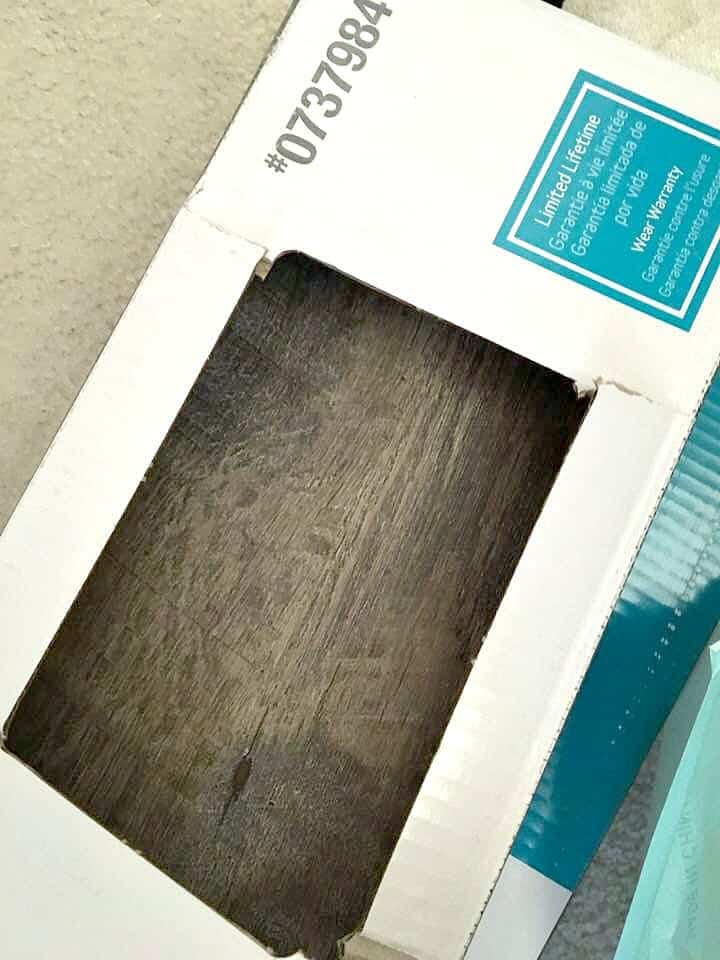 For the floor, we bought 2 boxes of the Armstrong driftwood gray color. This was more of an impulse purchase for us and I didn't read any reviews. The cost outweighed any risk for such a small space. For this tiny bathroom I only used 3/4 of the box! You simply peel and stick it right on top of the existing vinyl flooring.
I laid the first plank and was done in about 4 hours. What I love is how tight you can cut around molding and odd shapes by simply using a heavy duty pair of utility scissors. Mark still uses tools for this purpose, but I tend to eye things up. A competition develops between us to see who does it better…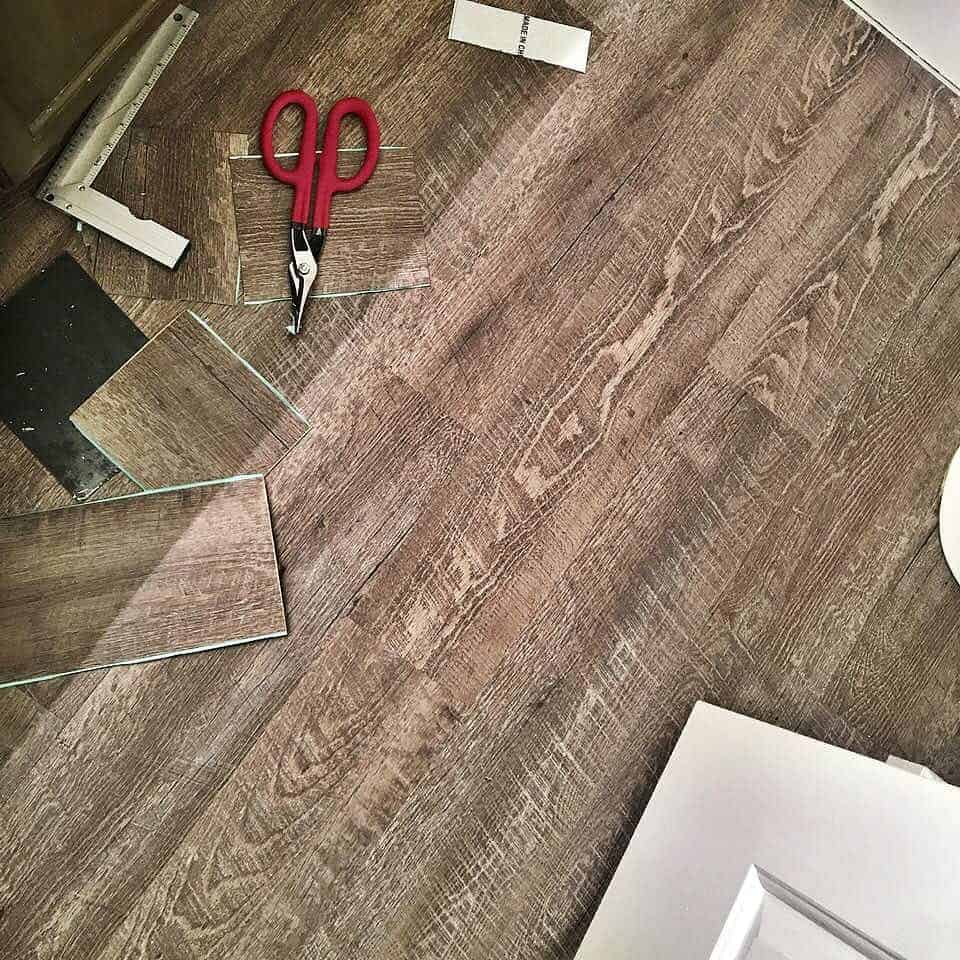 So here is the "after":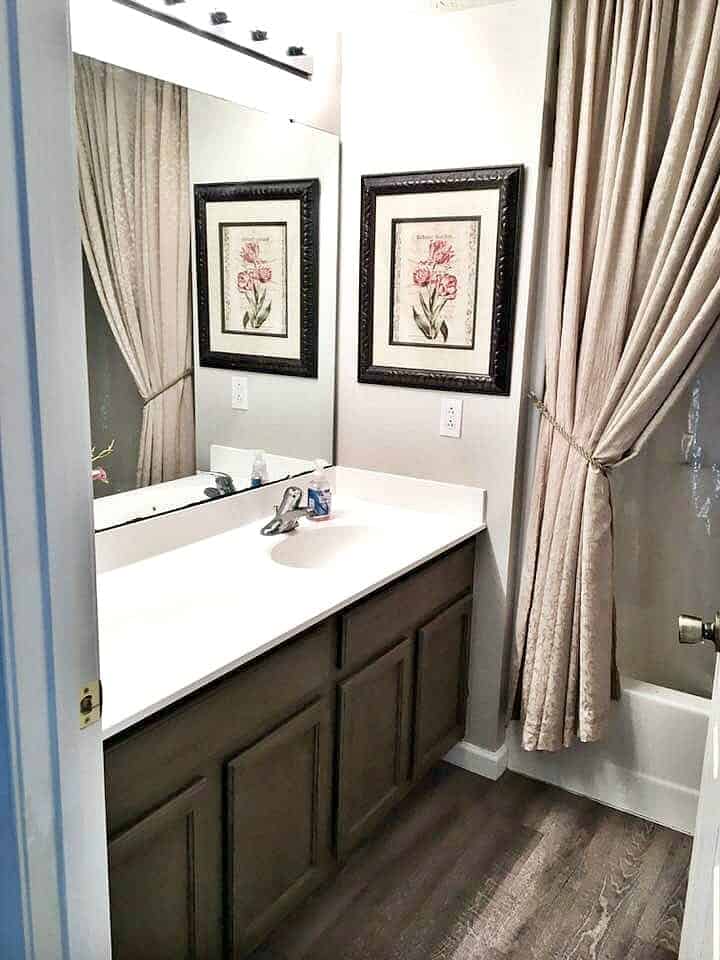 Look how perfectly you can cut around odd shapes. I had to eye it up a bit, but finally got it right. Even after wasting a few pieces due to faulty cutting (from both of us) we still only used up 3/4 of the box.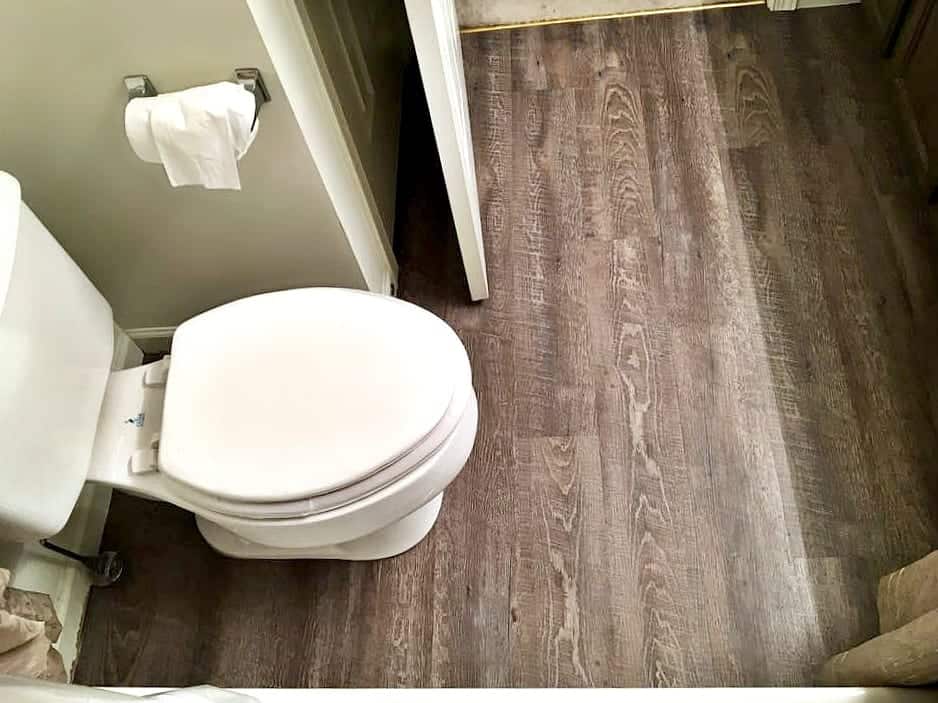 There is nothing fancy about this space. Maybe we can still afford to do a few more things. Like add cabinet hardware, update the lighting and frame the mirror. But life isn't about being perfect. My daughter said it feels like a spa compared to the previous version of the room. I love giving rooms new life for the kids – they seem to appreciate it so much.
My biggest lesson learned is to not neglect bathrooms for too long. Baseboards eventually start to peel due to water. Paint needs to be updated every few years.  I loved the results so much that we were confident enough to update our master bath using this product. I will share our master bath floor and paint upgrade soon.
Some other articles you might enjoy:
Mini Home Upgrades that Pay Off  ||  6 Tips: How to Prioritize Your Projects  ||  My 8 Biggest Decorating Mistakes