This week I updated three bathrooms. Yes, you read that right…3 bathrooms all in one week! So today I'll share what's been lurking behind the mystery door in our foyer and give you the details of our $90 powder room upgrade. My goal was simple: I wanted a nice and clean finished space (and to finally remove some realllly outdated wallpaper).
$90 Powder Room Upgrade
affiliate links included throughout this post
Main ingredients for the half bath makeover: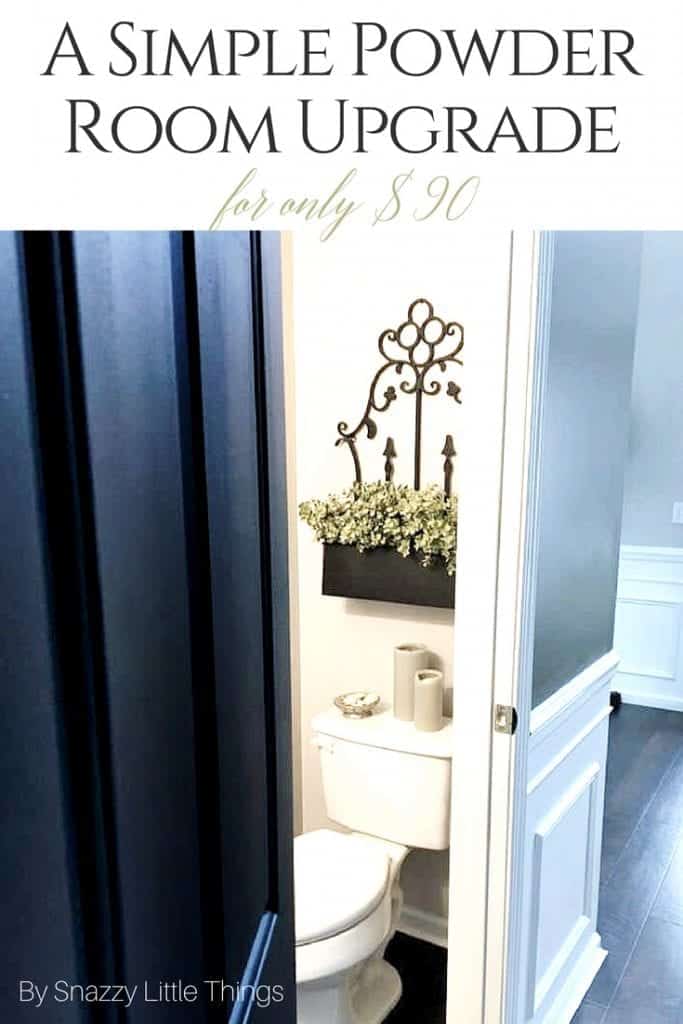 Things I thought about upgrading, but resisted due to budget: Wainscot or board & batten (I also felt like I had enough of that happening in the foyer). New decor (used what I had on hand) and an antique gold mirror (still on the lookout, haven't found one yet online at a reasonable price). I imagined a nice natural wood antique cabinet finished as a vanity, but the same thing. I haven't found one yet. I also decided on a simple gray paint (Olympic Gray Ghost) that I already had in our stash.
Before: Presenting my really poor wallpaper choice circa 2005. Obviously the wallpaper was the major culprit that dated this room. I give myself points for trying to step out of the box way back then.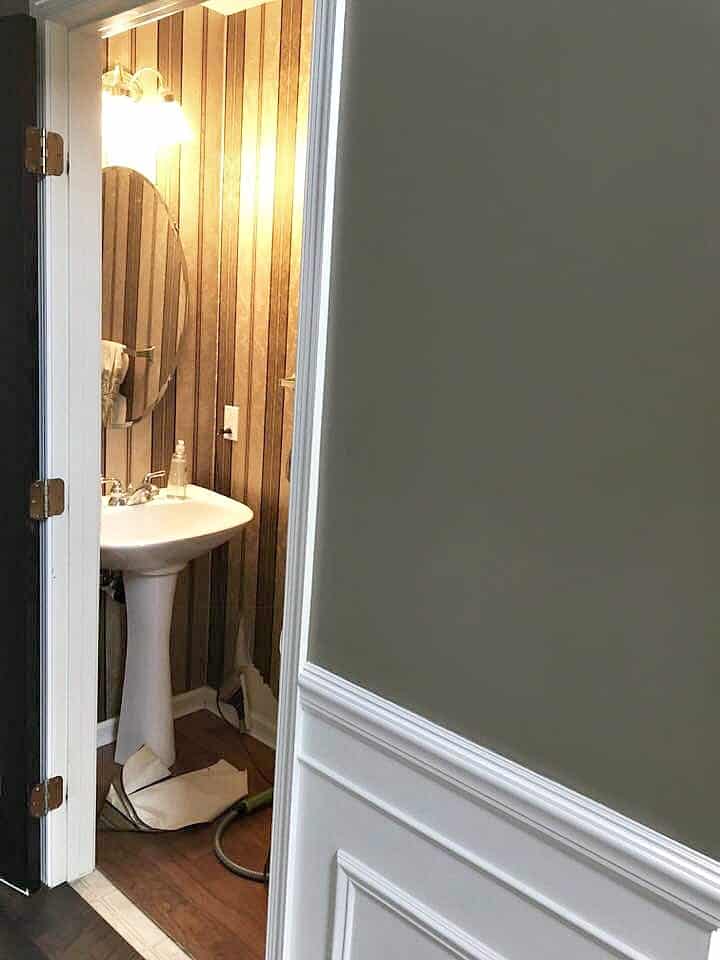 Wallpaper removal: We removed our wallpaper using a Shark Steamer, fabric softener and a plastic scraper. If the wallpaper is stubborn, I use this device that perforates the wallpaper, then soaked it with a wet cloth (1 part water, 1 part fabric softener). Then scraped it off with a plastic scraper. But in this case, the wallpaper came off easily leaving no damage to the wall.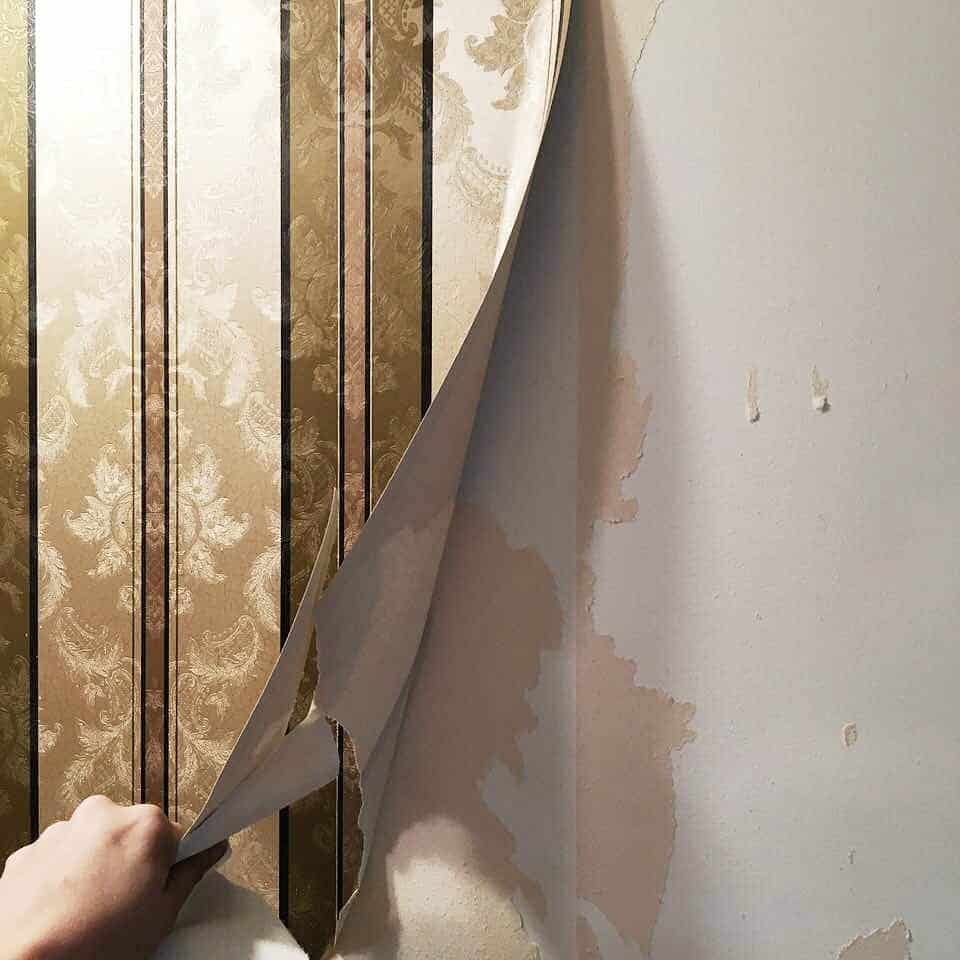 Once that was completely done, we removed the toilet and the pedestal sink so that we could finish the Pergo Outlast+ flooring (to see our whole home Pergo flooring project, click here). We then added cove molding that was painted white around the perimeter of the room to close the gaps between the floor and the wall.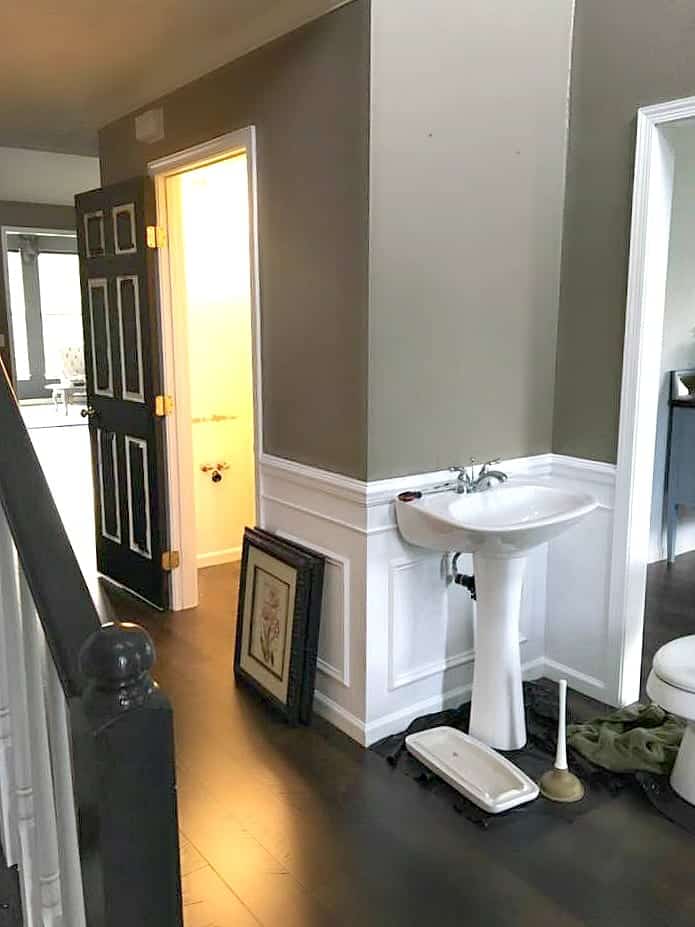 I lightly sanded any bumps off the walls, then painted the entire room Gray Ghost in a satin by Olympic Paint & Stain. I stuck with my whole-home paint color palette for the half bath. I try to use colors in the entire house that complement each other nicely. Here is how the gray fits into our overall color scheme.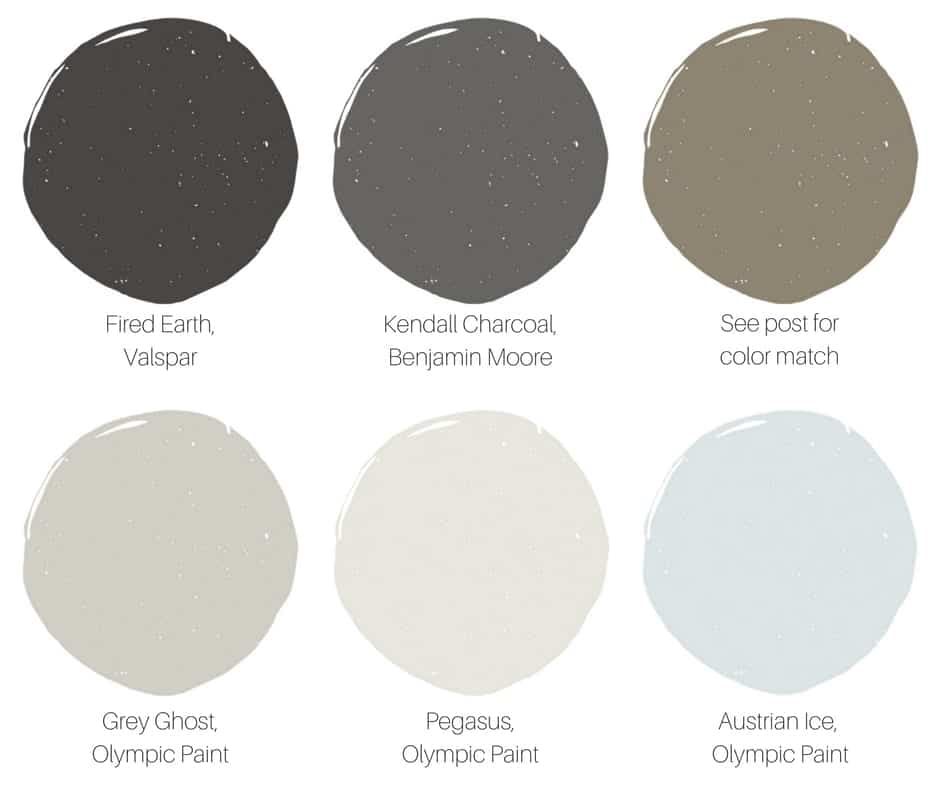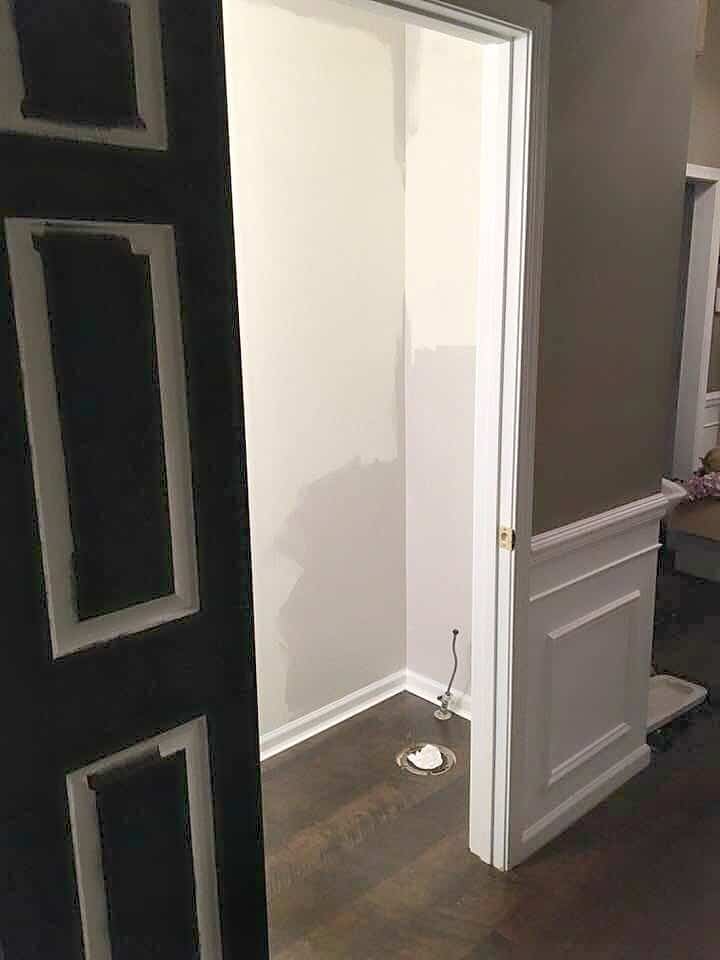 Once the walls were finished, I painted the door black using Iron Gate from Heirloom Traditions Paint. Then I decorated using existing decor I had throughout the house.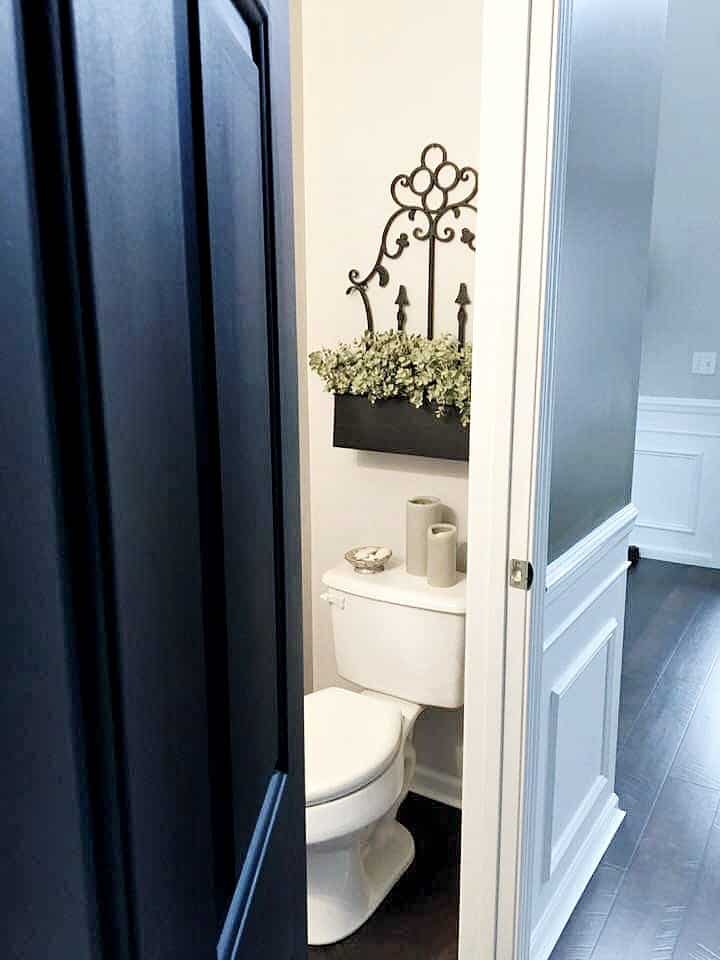 My room upgrades are super simple these days. It's partly due to being budget conscious but I do like simple rooms finishes. Looking back, I think bathrooms require attention every couple of years and I've been guilty of neglecting them for far too long.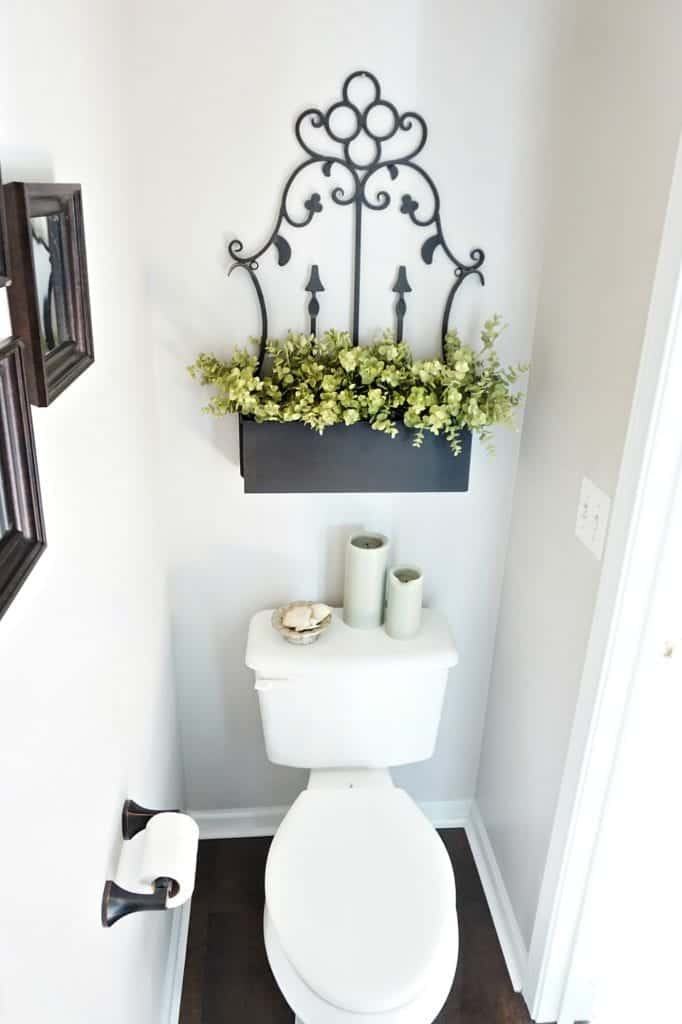 Above: Wall mirrors (unknown, have had for years || Candles from Homegoods – they probably won't stay there but I threw them there for now || Wall Decor from Arhaus Furniture purchased years ago
To see where the rest of our home improvement budget has been spent, take a home tour which provides details all of our before and afters throughout the years. You can always shop each room to see where I purchased all of my products.
The remaining bathroom upgrades will post on the blog this week along with a few other projects we've been meaning to finish. Hope you'll stop by – we found a new flooring option (flooring that you can actually cut with scissors) that I think you'll love.