Welcome to part ONE of our holiday home tour! (see part 2 here). I hope you're having a fantastic holiday season. We just hosted our family holiday gift exchange last weekend and had the older kids in town. I have lots to catch you up on in this post, so keep reading!
Since installing our new floor last year, I'm attempting to fully embrace modern-rustic styling. But lately I'm totally inspired by simplicity of nordic style decorating, especially during the holidays. I wouldn't say we are full-on "nordic" but I did try using what I already owned. The easiest approach I found is to use minimal tree ornaments, pops of white and red. Include stars, branches, lights. Oh, and I made paper Christmas villages throughout our home. Don't forget lots of texture, black and white with natural wood — my favorite! Funny how things work out — my unused tree ornaments ended up becoming "decor" that I could use freely around my house in smaller vignettes. Cheap and easy ;-)
Holiday Home Tour 2017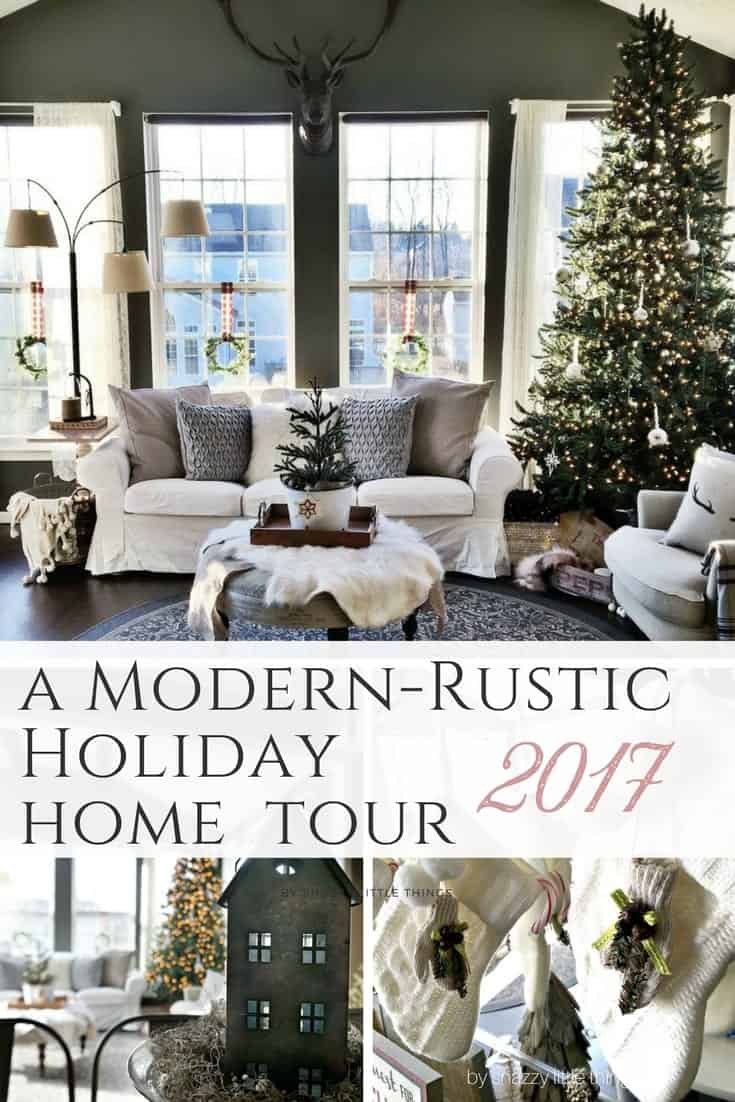 To see how I've decorated throughout the years, visit this post for past holiday home tours, too! You can easily purchase similar items that I use to decorate as I've included source lists on similar decor items.
Front Porch
We've had a lot of snow lately so we start early on our exterior decor here in the north. Let's start with the porch. I would say I was far from "minimialist" here :) Lots of natural pine, lights and old crates from a local orchard nearby.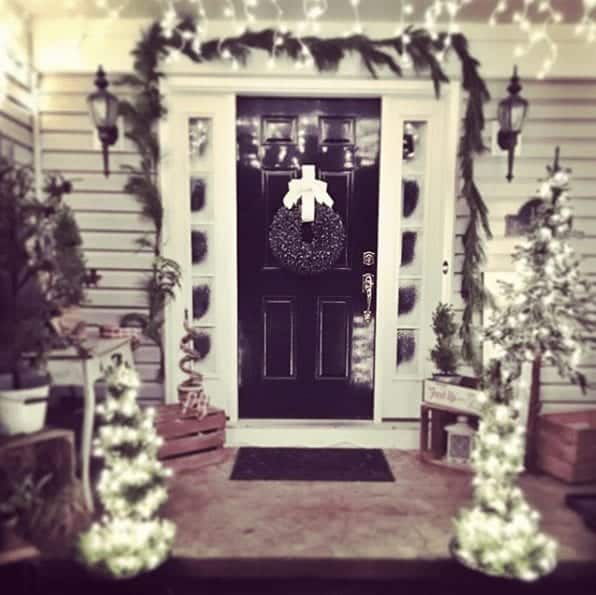 Entryway + Office
The foyer and office are basically decorated for the winter so I have less tear-down in January…life gets busy once school starts back up again. That's the beauty of not chasing trends, you don't have to change your decor very often.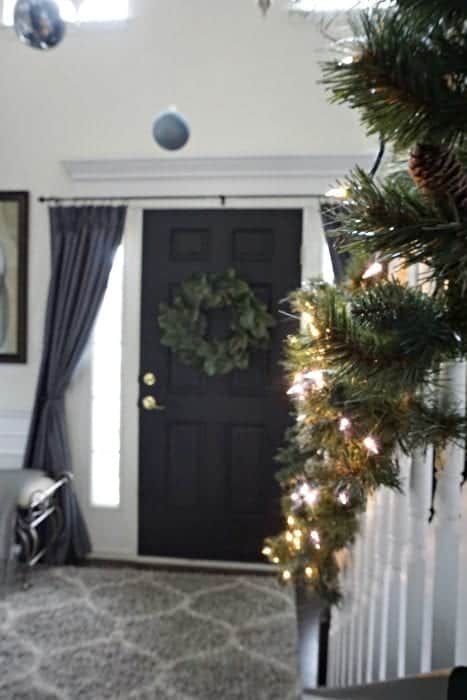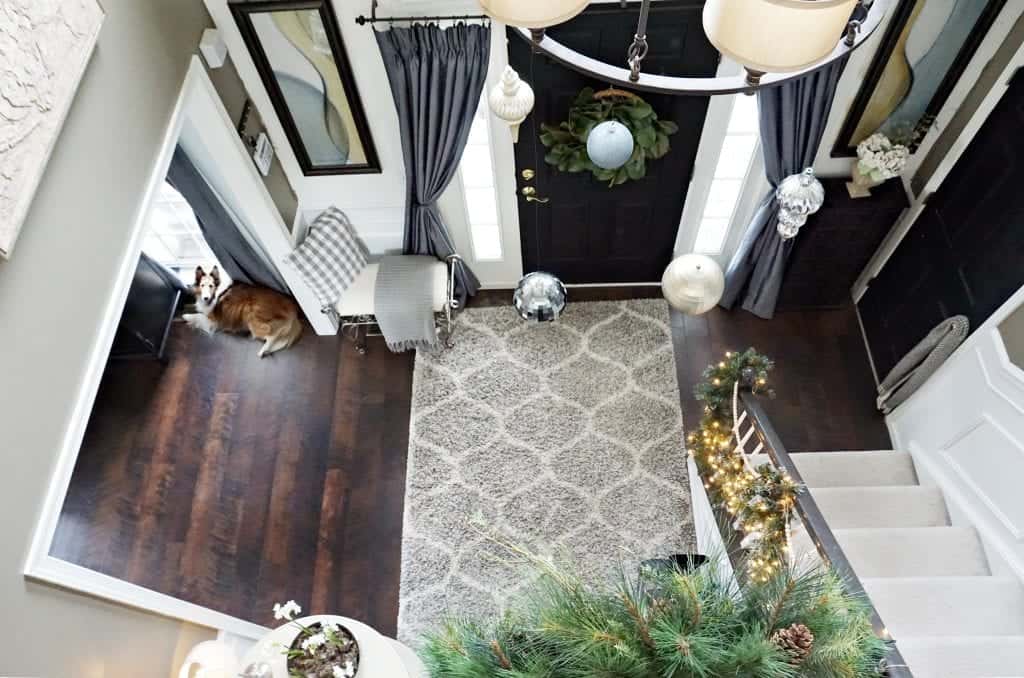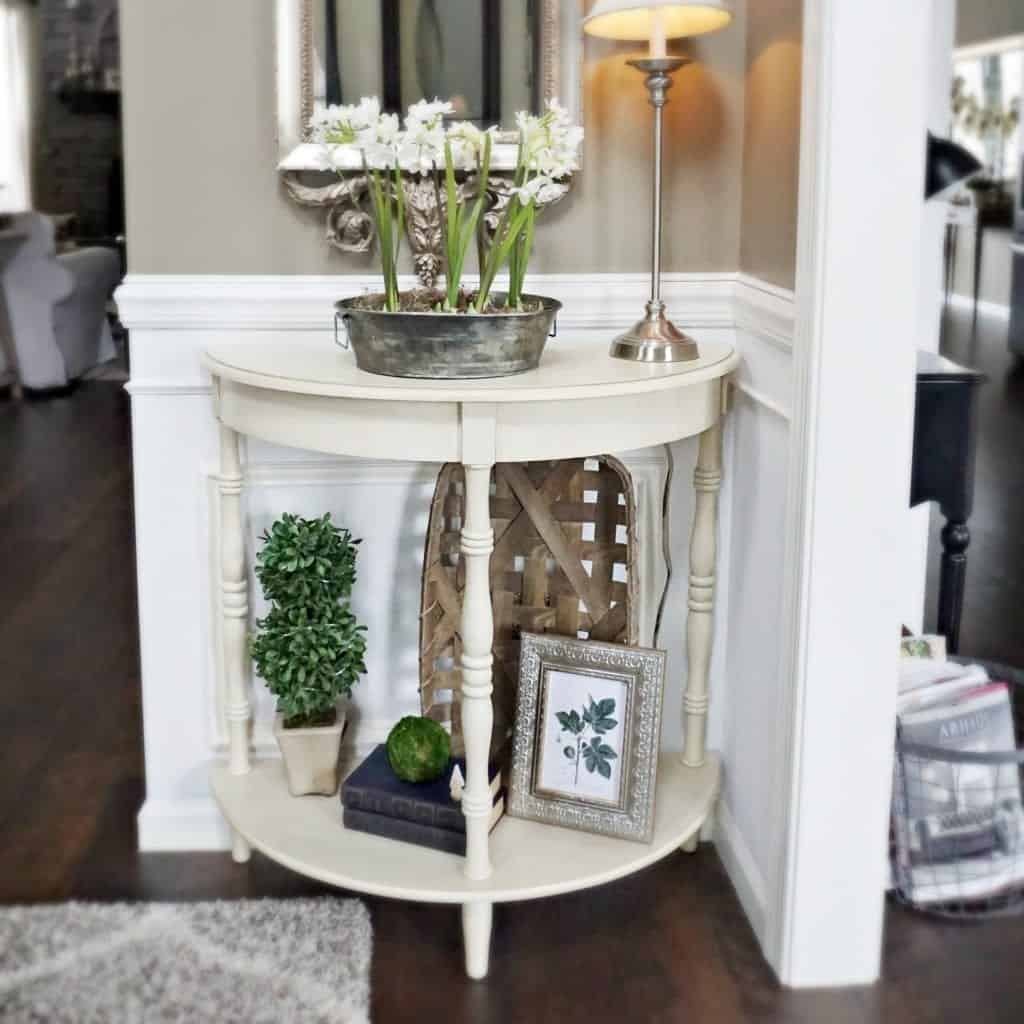 I attempted to hide the cord, but it snuck into the frame. ;-)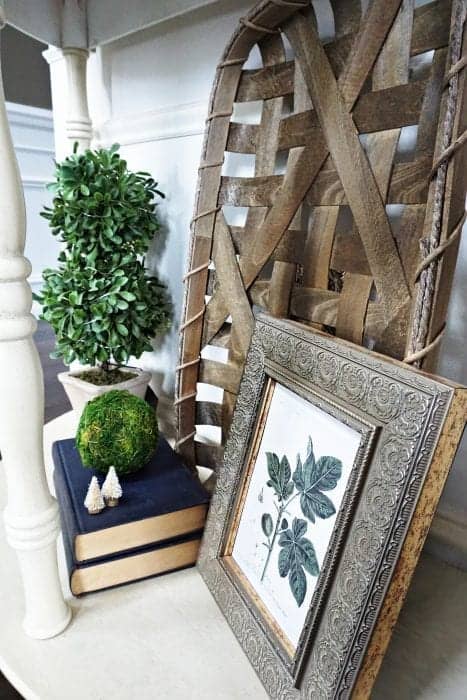 If you love this botanical fig tree image, it's free! Be sure to visit my latest post to see all 10 free French botanicals for winter decorating.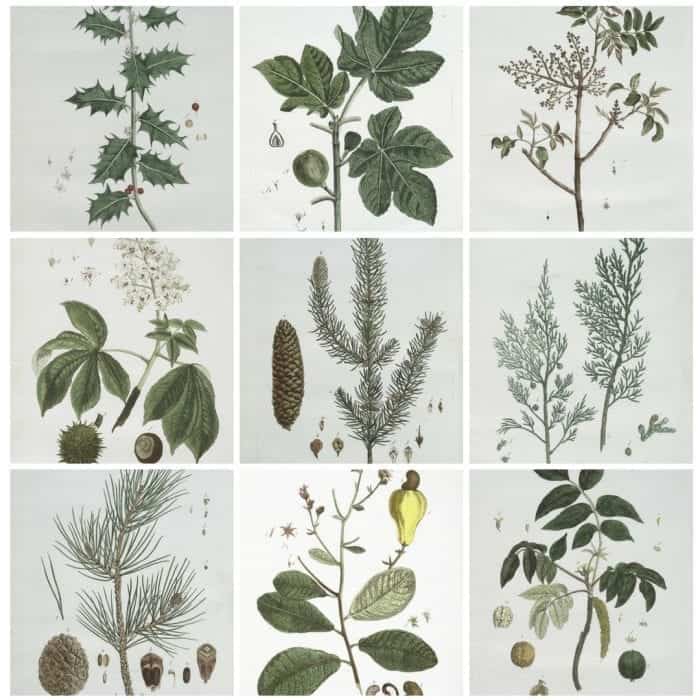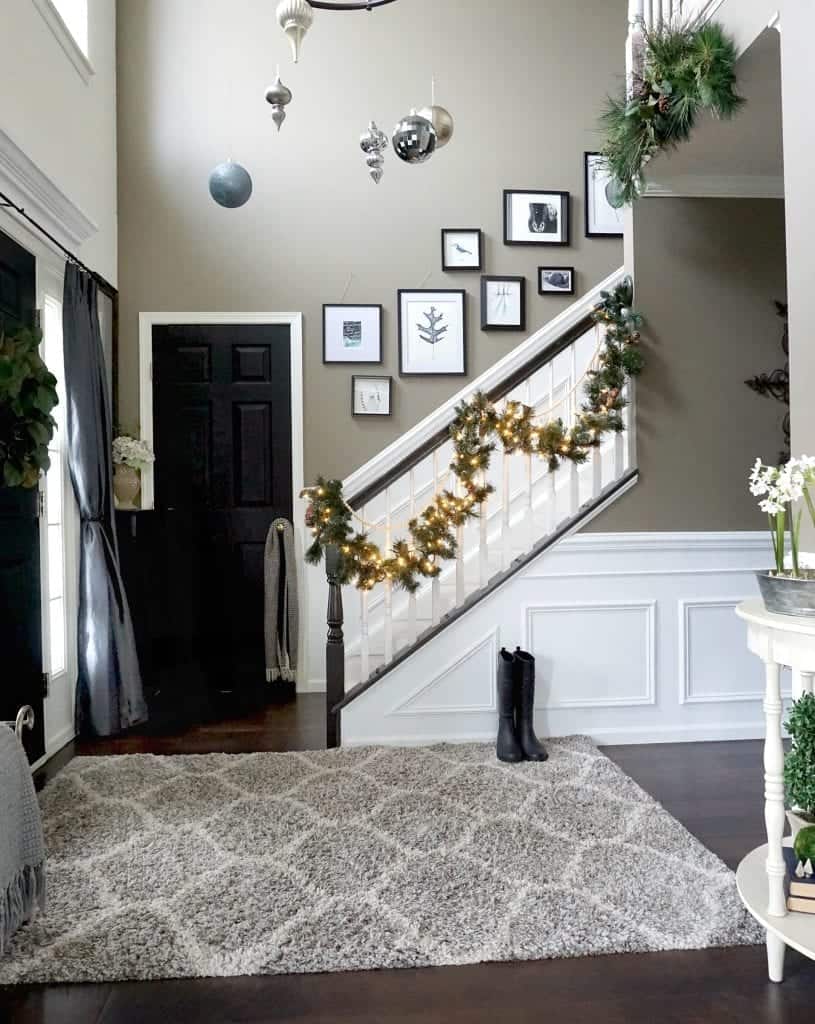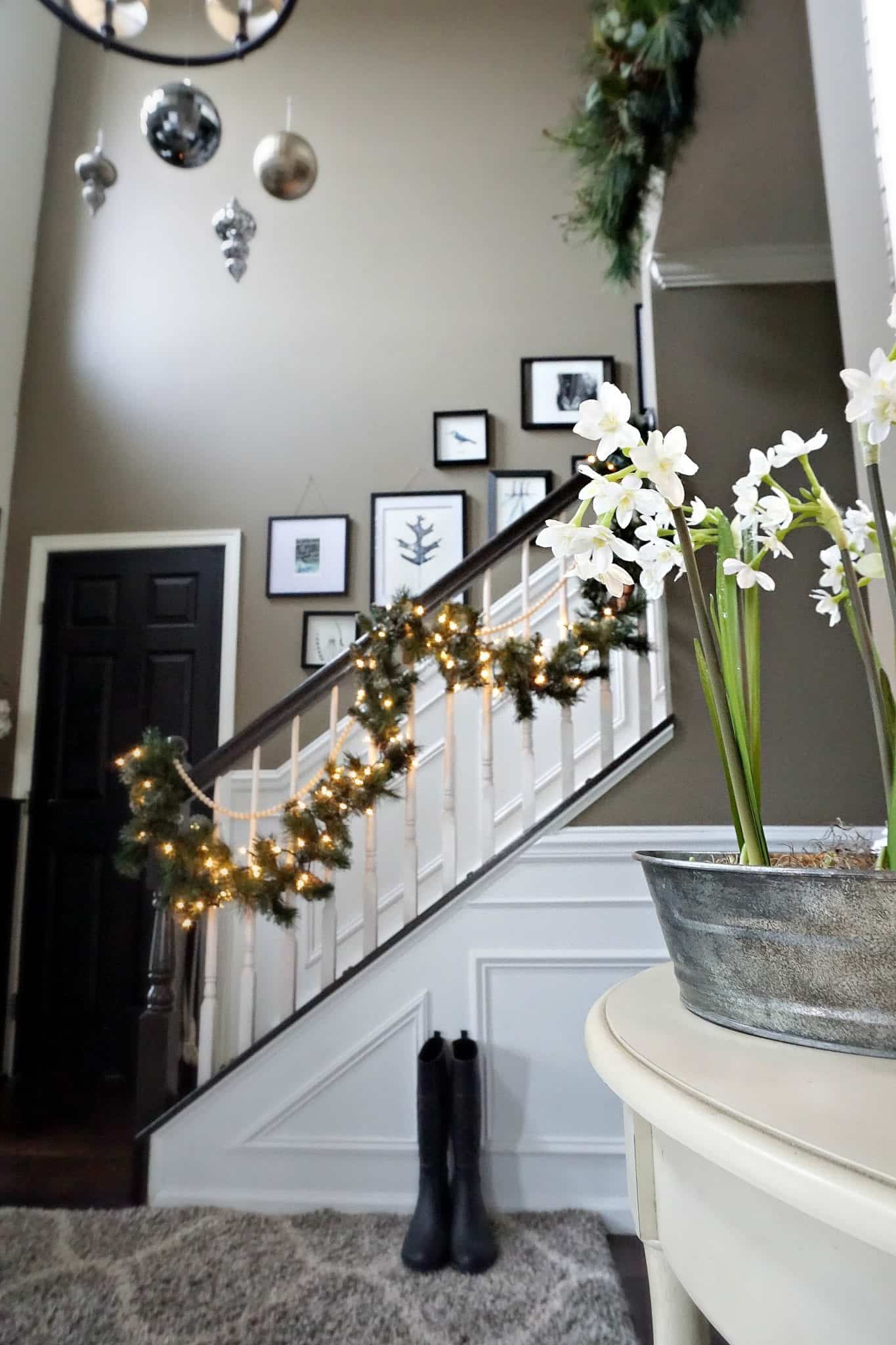 Here is a view of the room before the rug. I didn't get all fancy with a new rug since I know how much traffic it gets this time of year.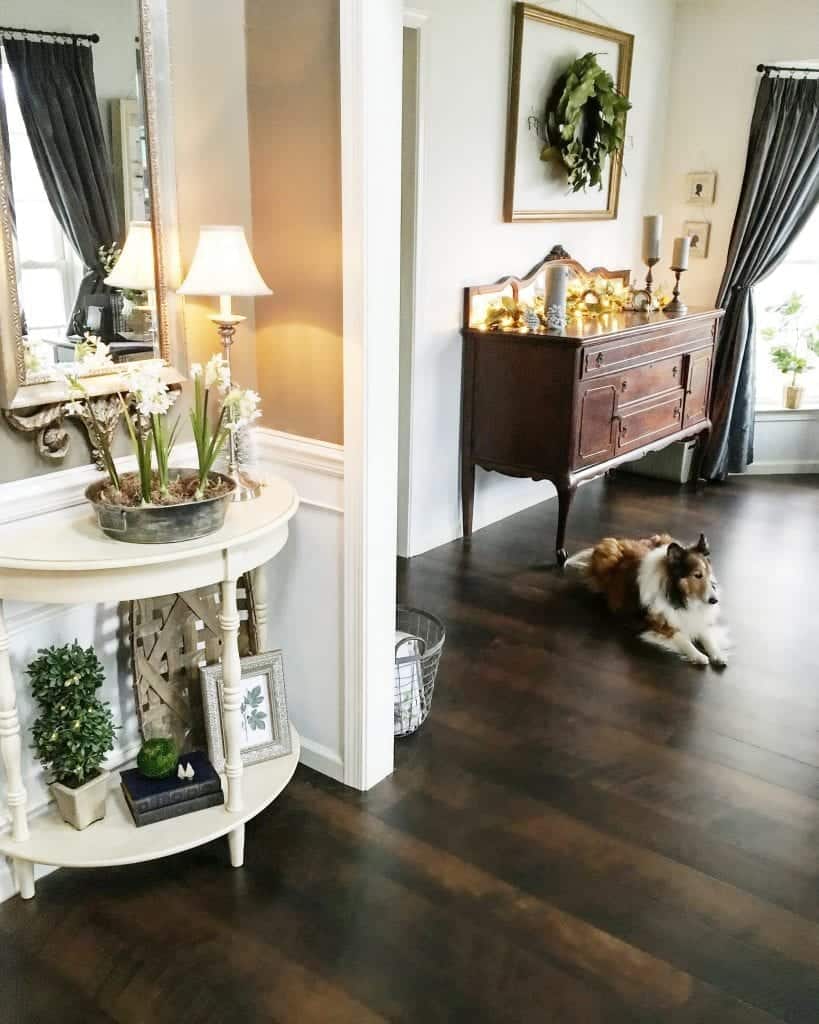 If you've followed my blog for a long time, you'll notice I made a small change to the dining room which has been a makeshift office for years. I'm loving our "new" $50 antique Queen Anne buffet. I debated on whether to paint it, but I'm pretty sure it's going to stay as-is…some things just don't need paint, don't you agree? I started with a magnolia garland with string lights which looked so pretty.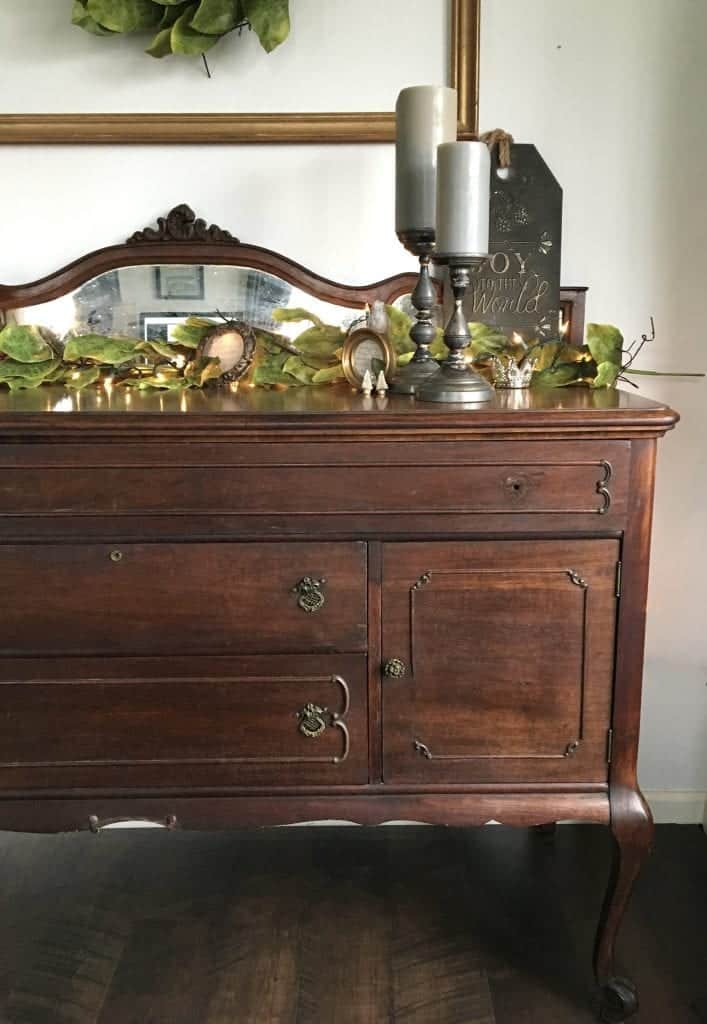 But I felt it needed a "pops of white" for the holidays. My Silhouette Cameo helped me do just that.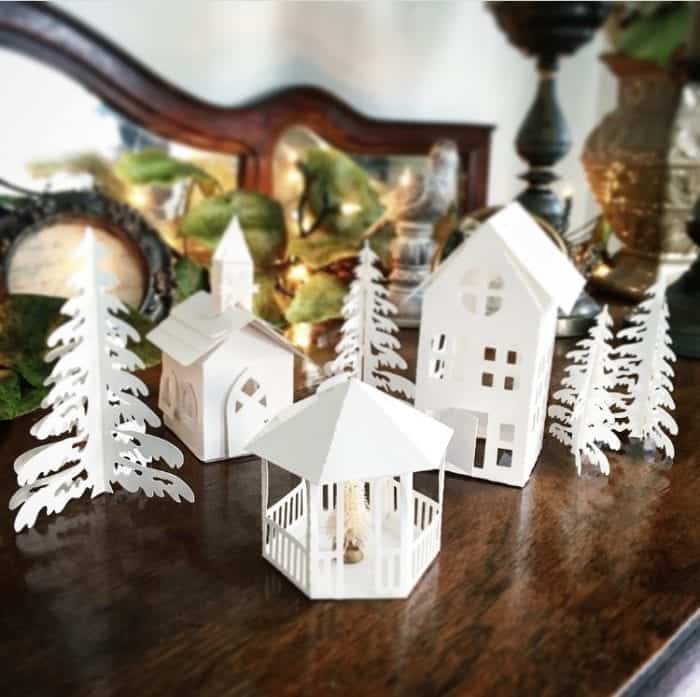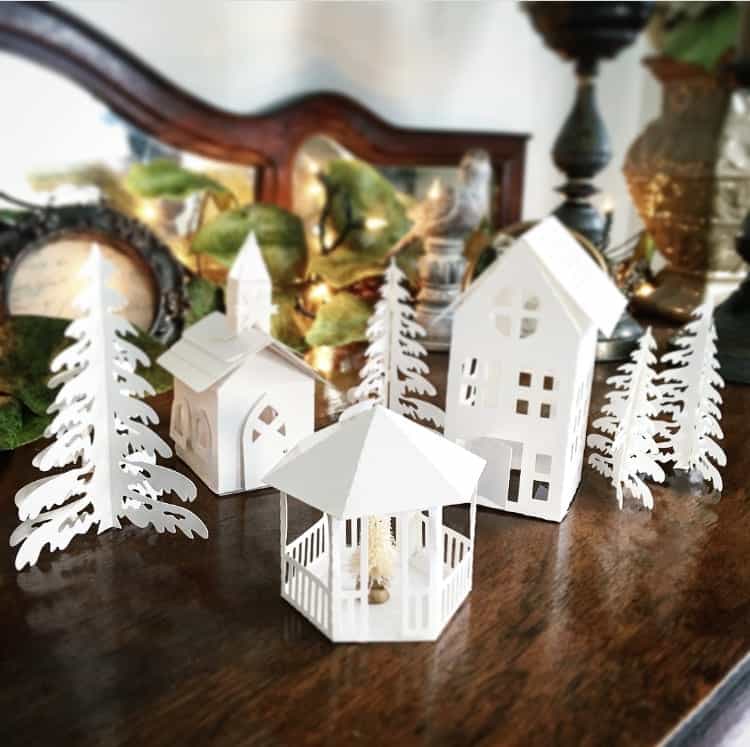 I love all the pretty stuff you can make, including these DIY paper Christmas villages using a Silhouette Cameo. Keep in mind I'm just starting out and very new to the machine. In fact, I make a new house or tree almost every day if I find a vignette needs another cute mini house or another pop of white – which seems to be the thing with nordic-inspired styling.
Dining Room
The dining room is a high traffic zone. So I keep the wall behind it minimally decorated so we can get around it.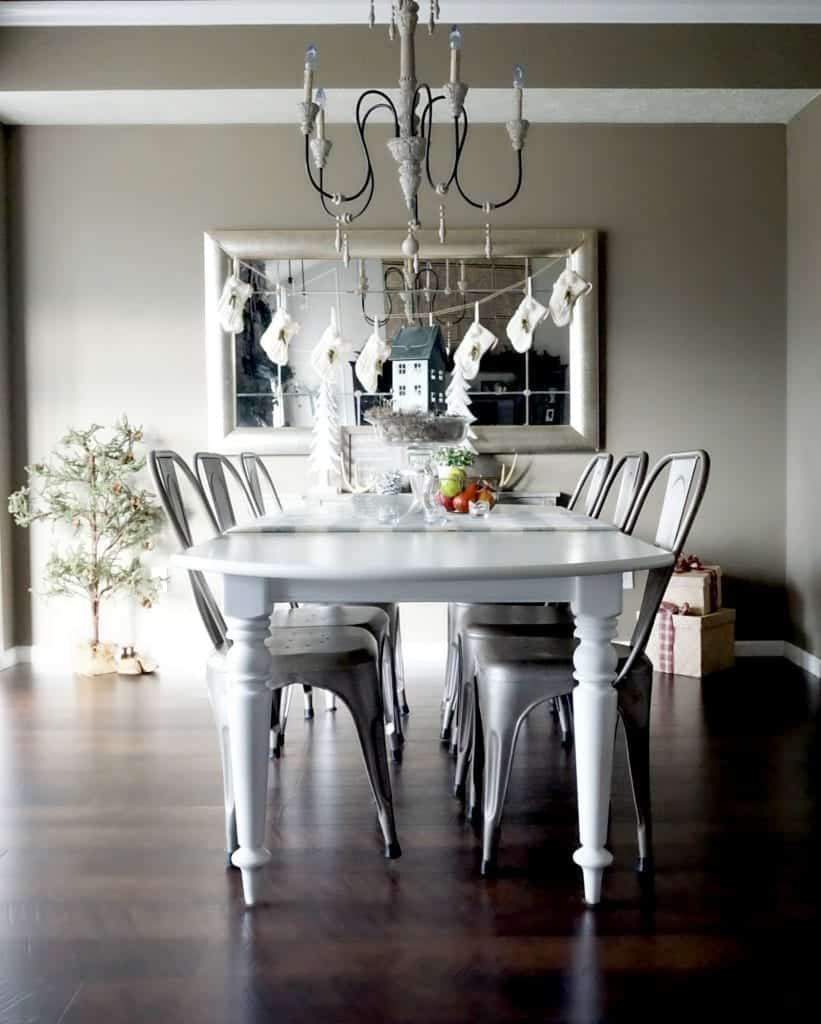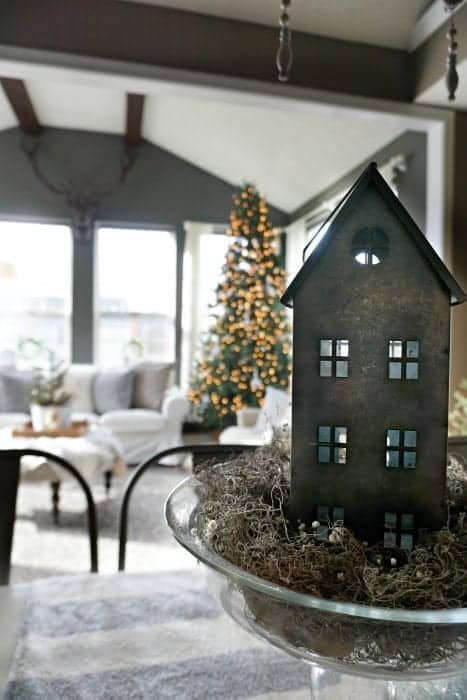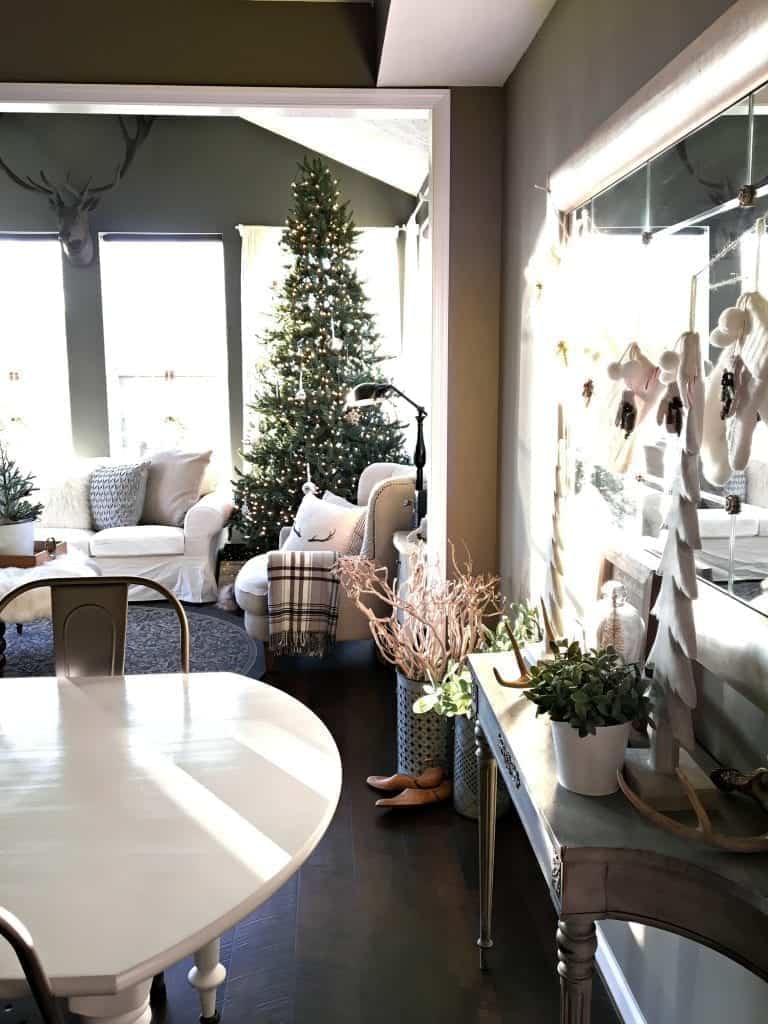 It's typical to see a bunch of branches or antique shoes stretchers laying around here. Seriously, since opening our shop and the vintage market day events, it's taken me awhile to get our lives organized.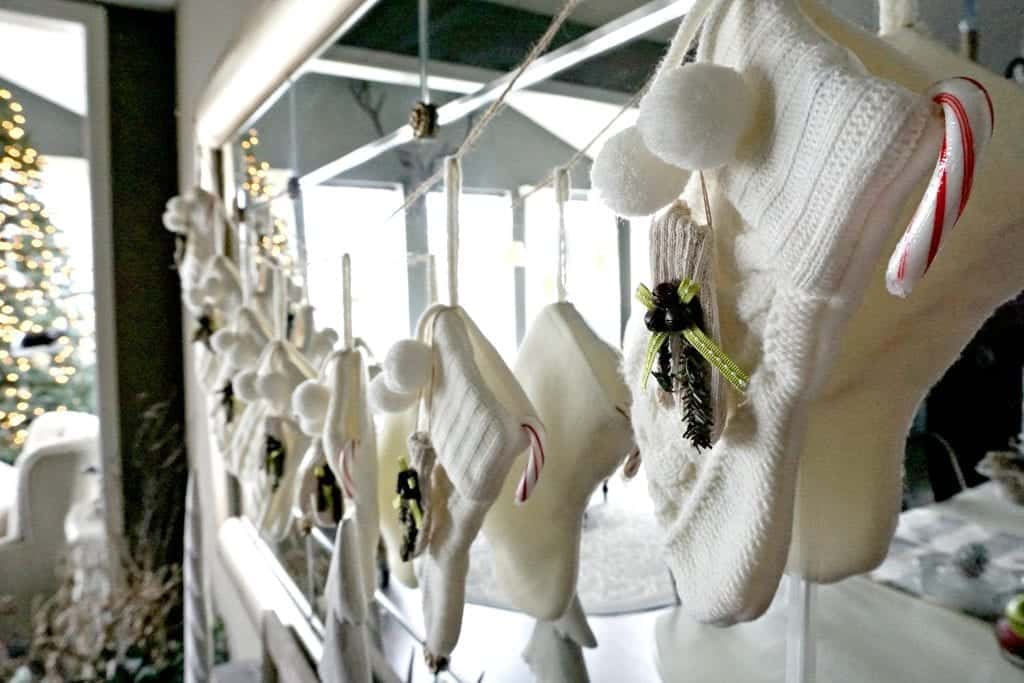 Why so many stockings? Well, we have a wedding in our future! My oldest stepdaughter is getting married in November 2018! My youngest stepdaughter has an awesome boyfriend, so it seemed natural to embrace our growing family in the form of — you guessed it — cute stockings from Target! I'm working on making labels for them (more on that later), but for now these little mitten ornaments do just fine.
The Sunroom
This room isn't easy to decorate. And if you hate faux taxidermy, move along, lol! This room gets warm, streaming sunlight in the afternoon, so any paint with warm undertones ended up looking orangey or yellow. After years of thinking it through, I finally got the idea for the stag head from one of my favorite bloggers, and the wall color from another amazing blog. Now it's become one of my favorite rooms in the house.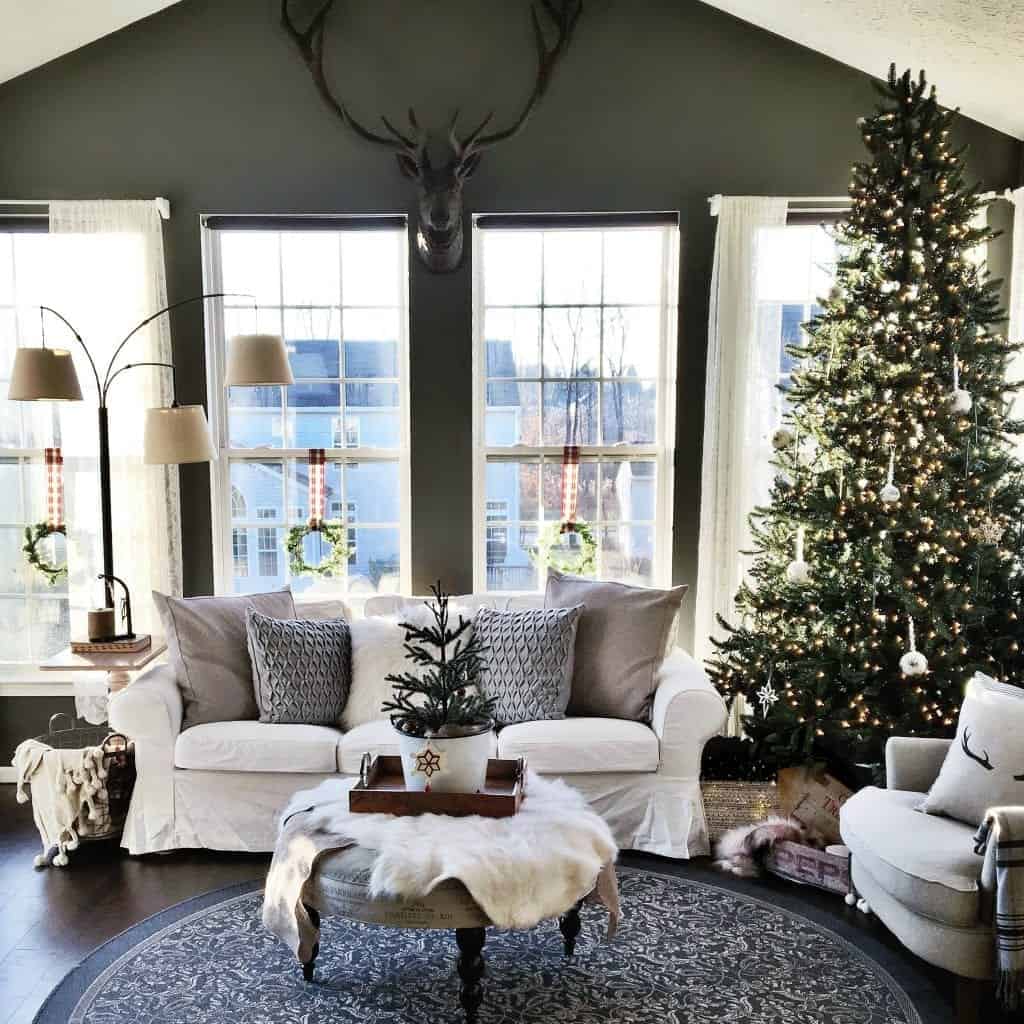 We bought another Ikea Ektorp for this room — I'm on my third Ektorp! I seem to be collecting them :) So now this is a space we are enjoying more often thanks to better seating.
I originally had a different centerpiece arrangement for the sunroom. But the family voted – they liked this one. It came about after a trip to the craft store clearance aisle. I love how realistic it looks.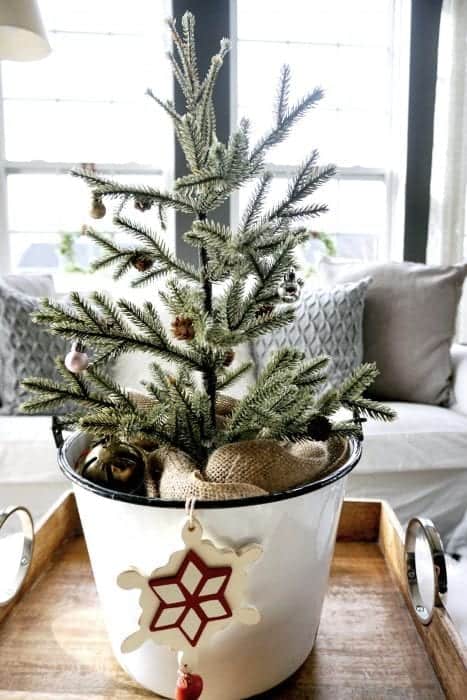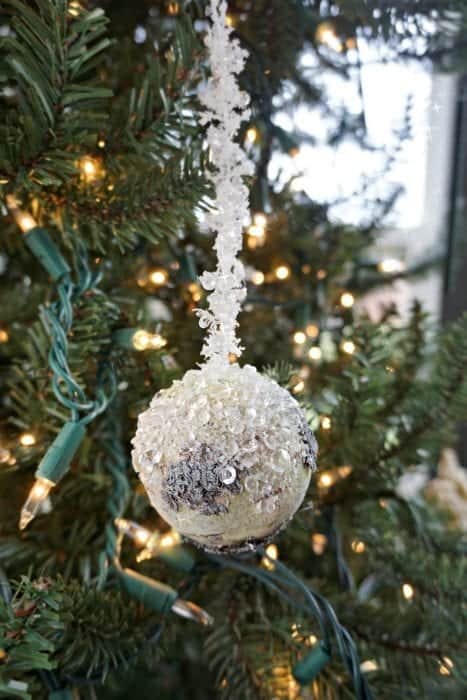 I'm still learning new ways to use my Silhouette Cameo, but even some of my "mistakes" end up looking cute. Here I was trying to make tags for our stockings, once I have it figured out I'll post again soon.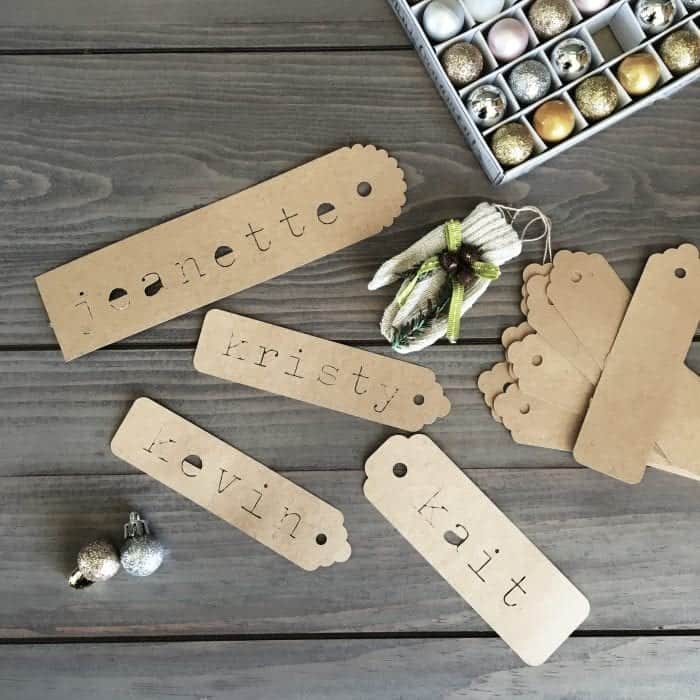 Don't miss Part 2 or our holiday home tour below!
Because Rome wasn't built in a day (ha!) I had to declutter and decorate the remaining rooms. So be sure to join me for part 2 of our 2017 holiday home tour, and be sure to grab your 10 free botanical prints to decorate your home all season long.