Our New Advent Calendar…an upcycled drying rack
DIY Upcycled Advent Calendar

I'm participating in such a fun blog hop today hosted by Hometalk.com and CountryLiving.com. Be sure to search the hashtag #HomeForChristmas when you're on social media, you'll be able to see all of the other fabulous bloggers that are participating this year. You can also visit all of them at the bottom of my post where you'll see all sorts of fresh, new ideas. Maybe some of them will catch your eye and you'll try a few yourself!
The Hometalk crowd always loves creative repurposing and upcycling ideas, so I'm excited to share my drying rack – which is temporarily serving as our Advent calendar!
I found this rack earlier this year and it sits close to our laundry room. But to be honest it's too pretty for hanging laundry :).  I use it to display blankets, unused table runners and several odds and ends for display. But now, I love it's new purpose…I wish I could display this year-round.
Pin it: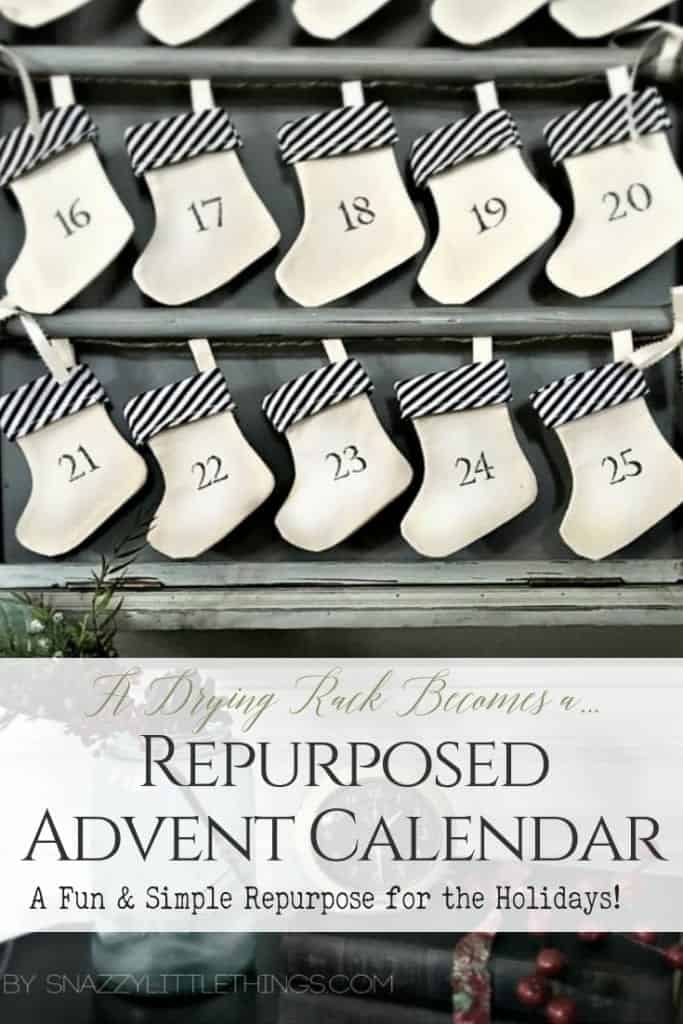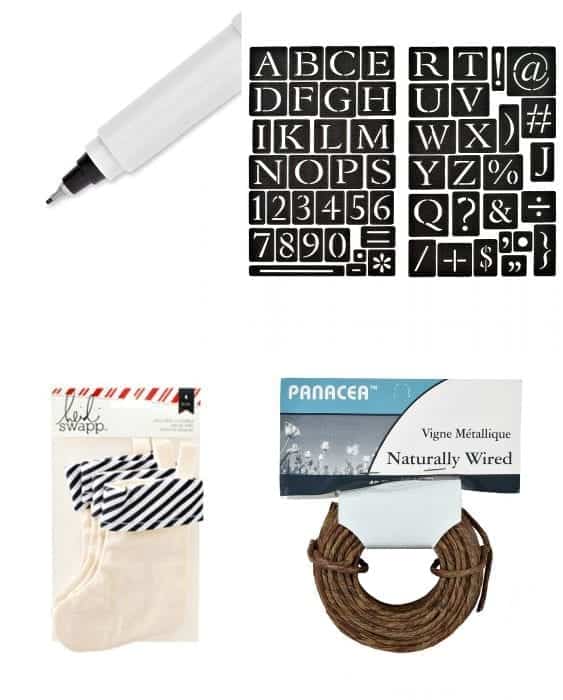 For your convenience, I've included affiliate links throughout this post where I receive a small commission on any purchases through my links.
A fine point Sharpie  |  Adhesive Stencils  |  Heidi Swapp Striped Stockings  |  Wire Jute Twine
Simply use a fine point Sharpie to fill in your numbers…I etched my numbers in and embellished them a bit (to give my numbers a bit more of my own twist).  Then, strung them on the wire, which actually looks like a string. I then secured rough ends with a pretty ribbon.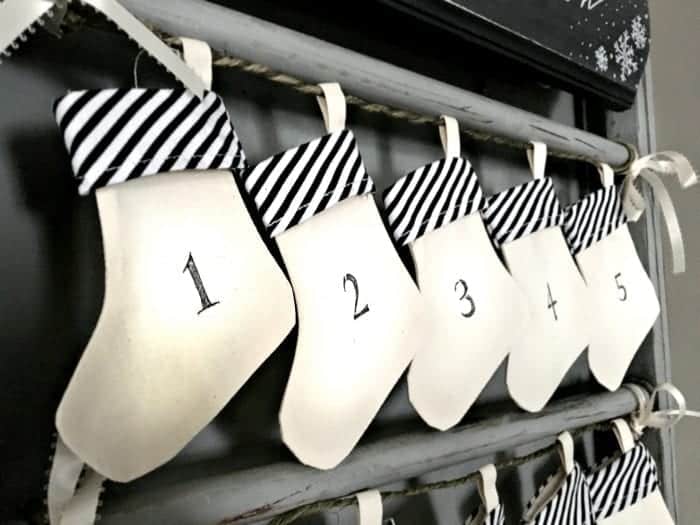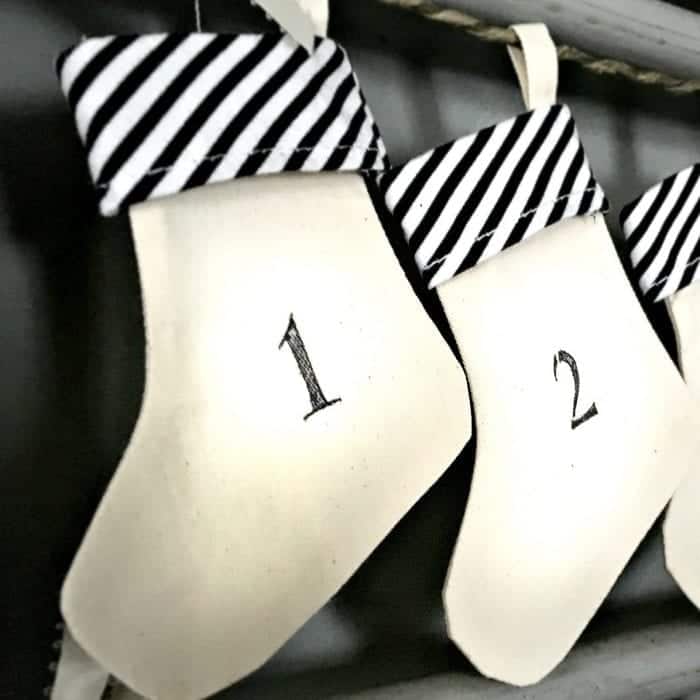 My daughter decided it needed a little something extra, so we picked up a wooden unfinished sign from Joann Fabrics, then gave it several coats of black chalkboard paint. I used a chalk Sharpie to write the letters, and my daughter freehanded the snowflake art.  She's turning into quite the nail artist, so I trust her freehand already!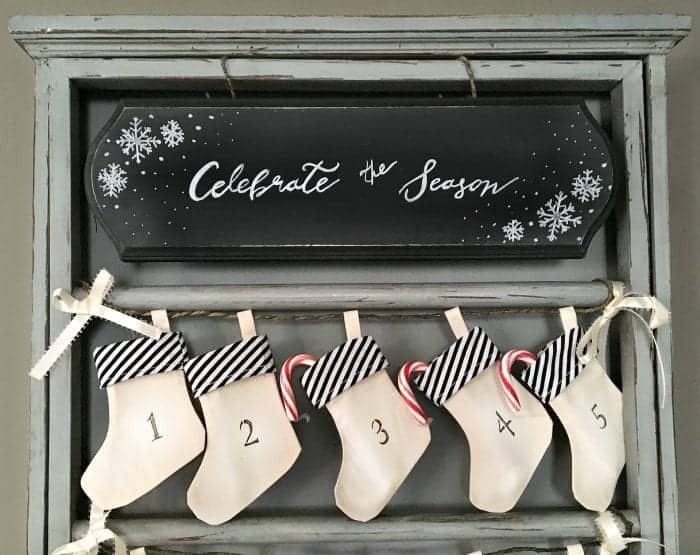 Here is a full view…and our Homegoods drying rack can be converted back to it's previous use once the holidays are over.

Oh…and we took the plunge and painted our doors black.  More on that to come!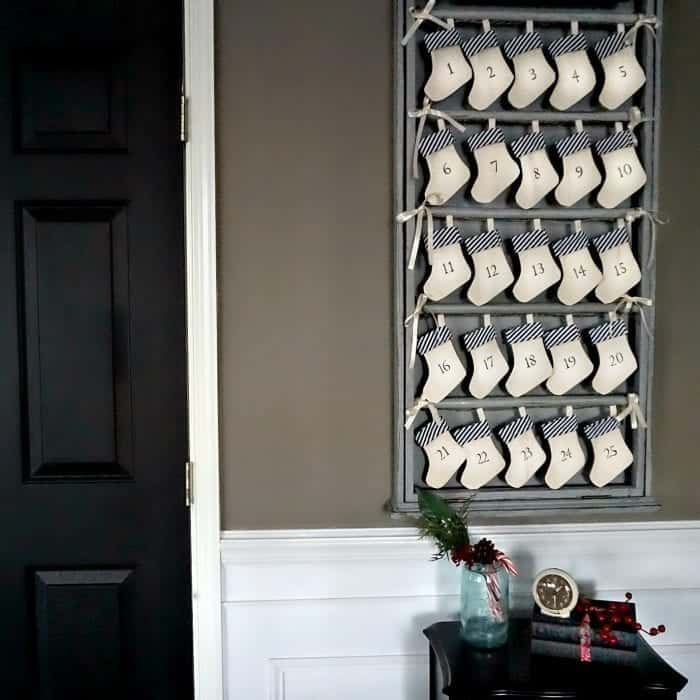 Come see all of the other #HomeforChristmas projects, hosted by Hometalk.com and Country Living Magazine!