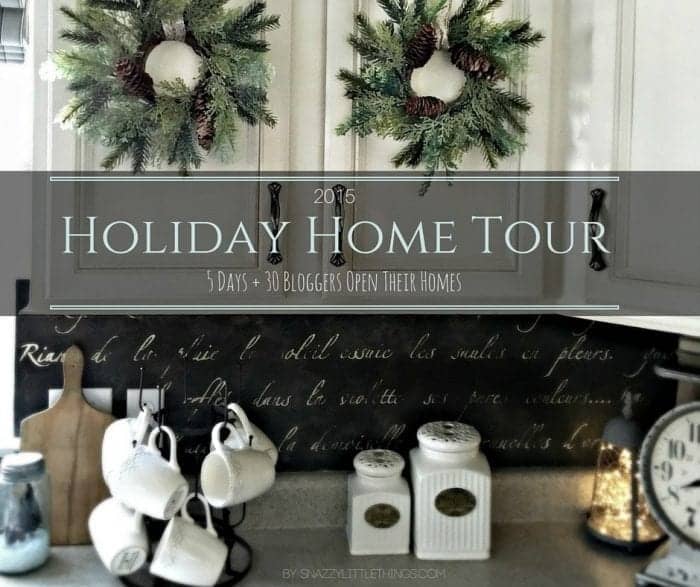 Welcome to my home this holiday season…if you're visiting from Chelsea's home tour at Making Home Base, I'm so happy you stopped by. I'm grateful to be part of the tours that Marty from A Stroll Thru Life coordinates each season.  I hope you'll continue the tour by visiting all the ladies at the bottom of this page. 
I love and black and white, and dramatic contrasts when decorating. Having said that, my decorating is going through a bit of a transformation. Rooms that were once more "vanilla" are getting a coat of paint. I'm loving black and white striped accessories, and might even start adding splashes of red. In the past, my style was leaning towards rustic farmhouse, but my love for industrial style and contrasting colors is starting to take over.  Needless to say, my kids and husband are a bit confused as I am constantly making changes (mostly with paint) every time they turn around.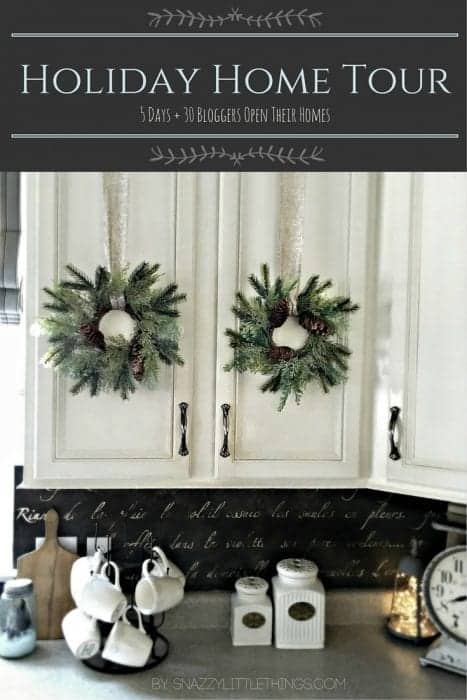 And because it's been unseasonably warm this year, the house represents a hybrid between fall and winter. So we are slowly adding holiday elements as the season evolves.
We recently painted our sunroom a much darker shade. I was worried it would be too dark but we absolutely love it. And finally an excuse to use some lighter and prettier lace curtains that were in storage, and I love how they fall against the dark backdrop. I'm adding more textures and surprise elements in my vignettes as we put the room back together.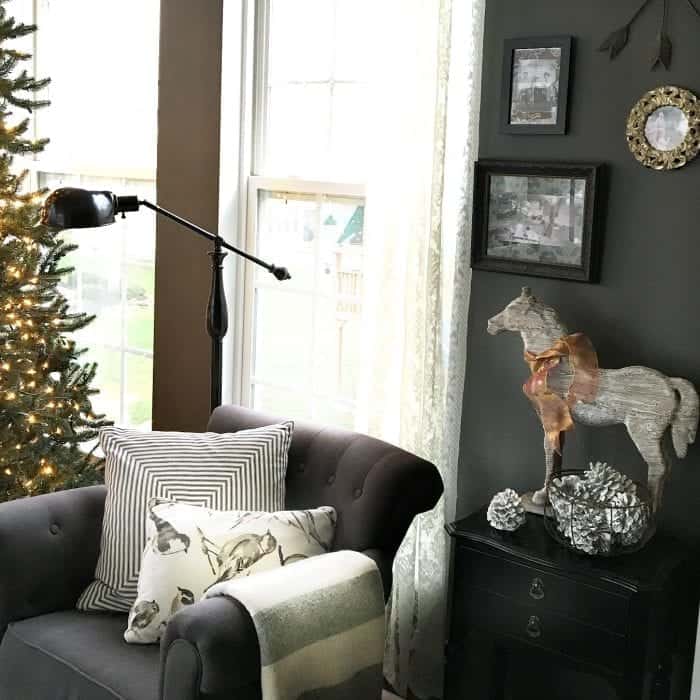 Our deck is an extension of our sunroom…so our "outdoor entertaining" is moved back indoors during the winter months.  Here is a result of trying make it all blend in.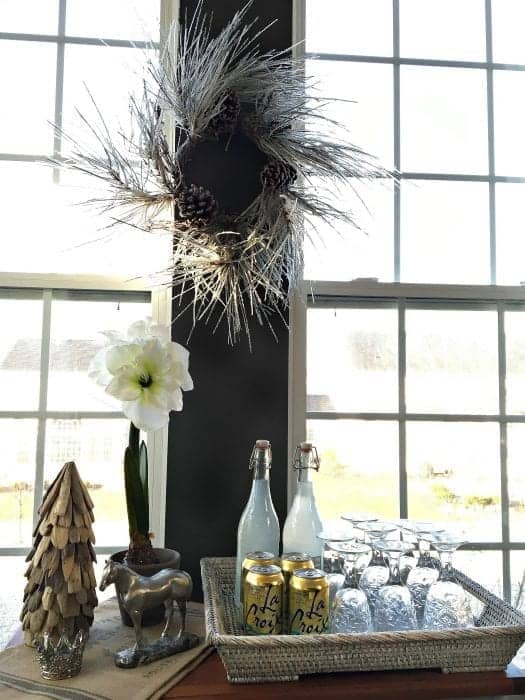 Our sunroom is filled with windows so it casts a warm glow in the house all winter long. The little paper bunting will eventually go in my daughter's room, which is also going through a transformation as well.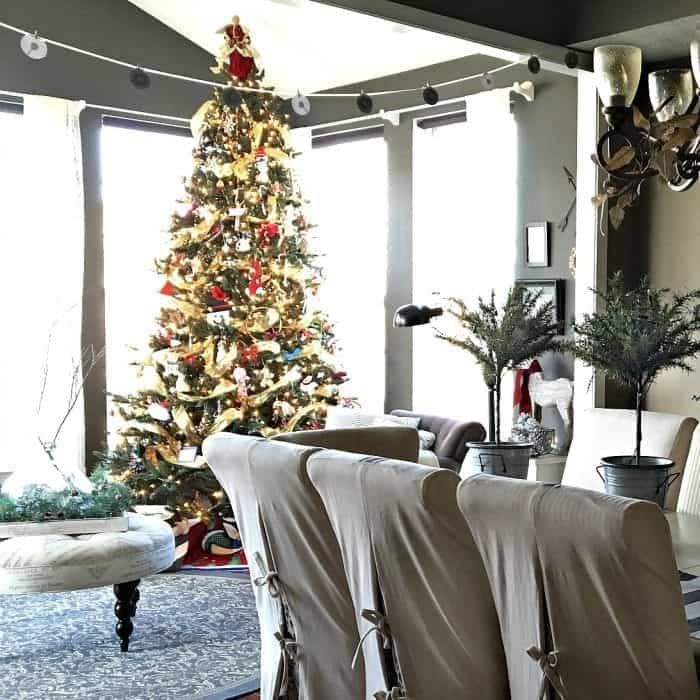 Topiaries from Amazon | Anna Slipcovers | Glass Barcelona Vase 
During our parties, you'll see people pull chairs away from the dining room table…only to create a brand new conversation area in the sunroom. Speaking of chairs, I switched out my previous Target chairs for the parsons chairs in the picture. The slipcovers I haven't even blogged about yet. I actually stenciled and painted them to match my decor. More on that to come….
Have you seen my new Advent calendar? It was repurposed from a laundry drying rack. These cute little stockings are helping my embrace the black and white trend…and I can reuse them every year.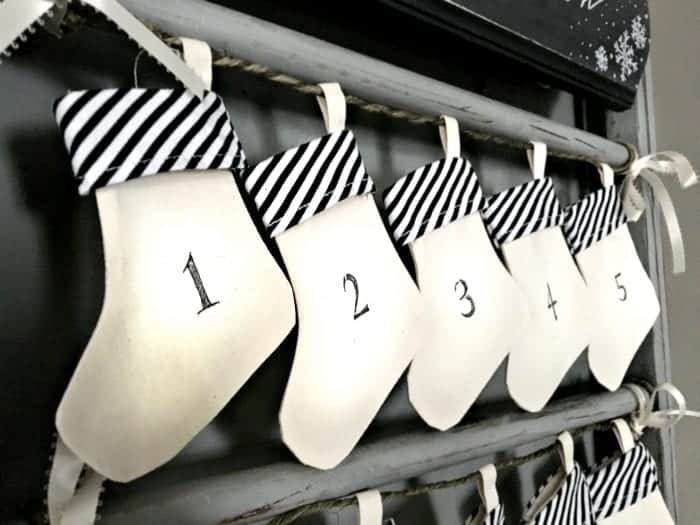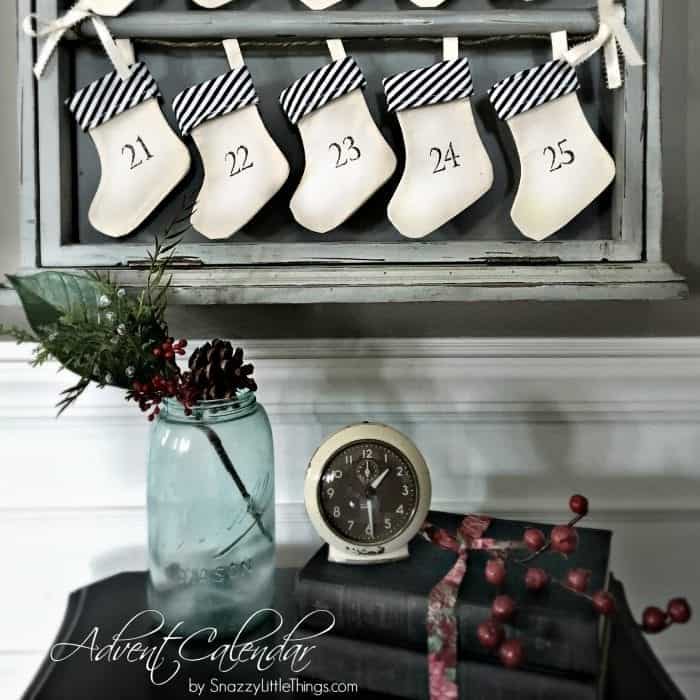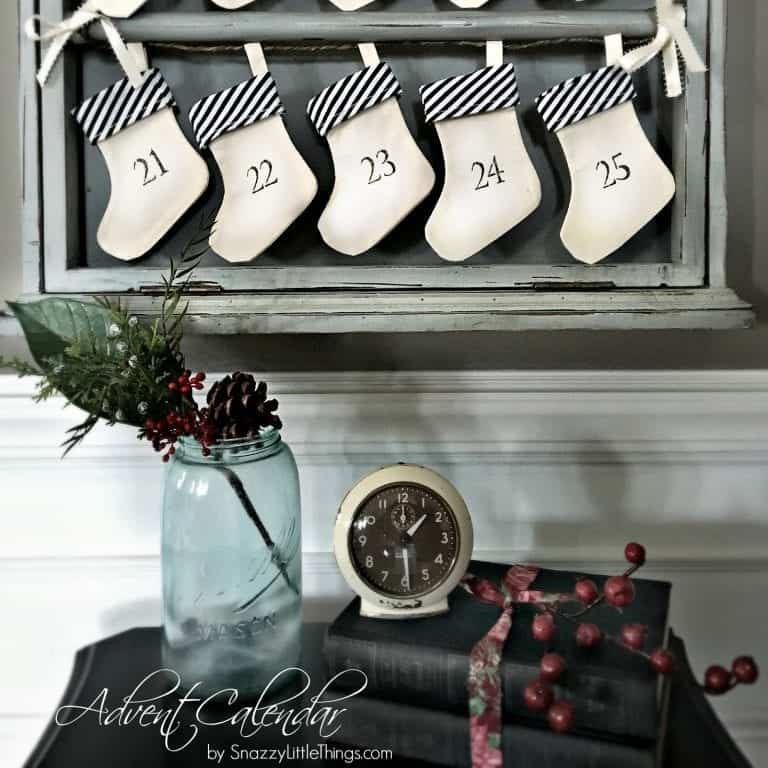 We took the plunge and painted our interior doors black.  Before they were a builder-grade "white" that was actually starting to yellow and were in much need of a coat of paint anyway. This paint project happened yesterday…but I thought I'd give you a glimpse here.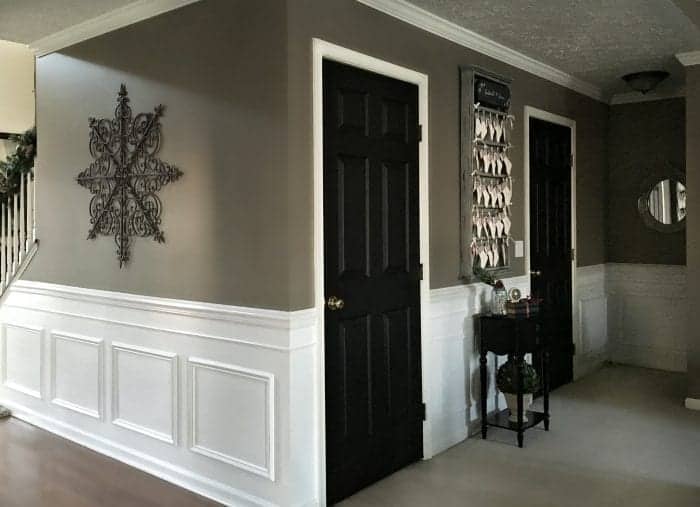 I recently updated our stairway with new art and I fell instantly in love with Minted. Be sure to visit that blog post where you can win a $250 giveaway from Minted.com, and you can order your holiday cards there, too.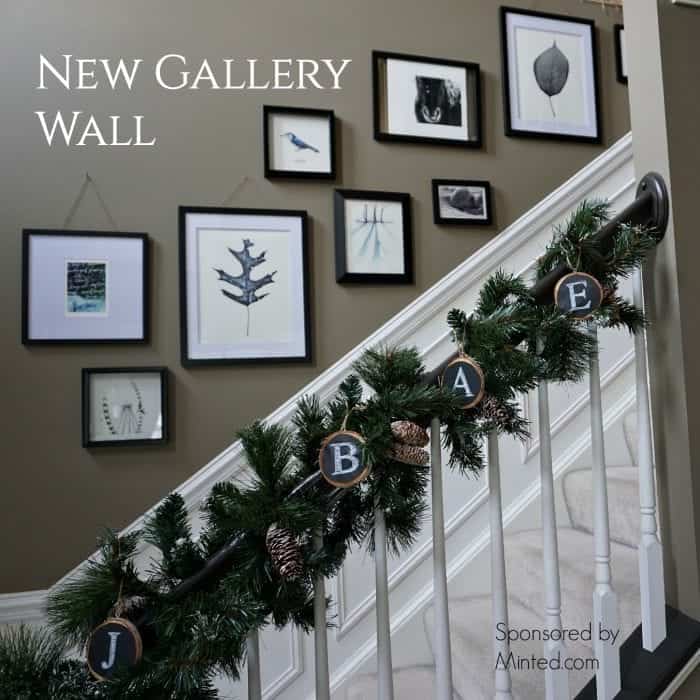 I picked images that reflected all the seasons. Here are few of my favorites…
…and a few sentimental pieces made it into the mix. I've always wanted a photo gallery wall and finally have one that is cohesive with the color scheme in the rest of the house.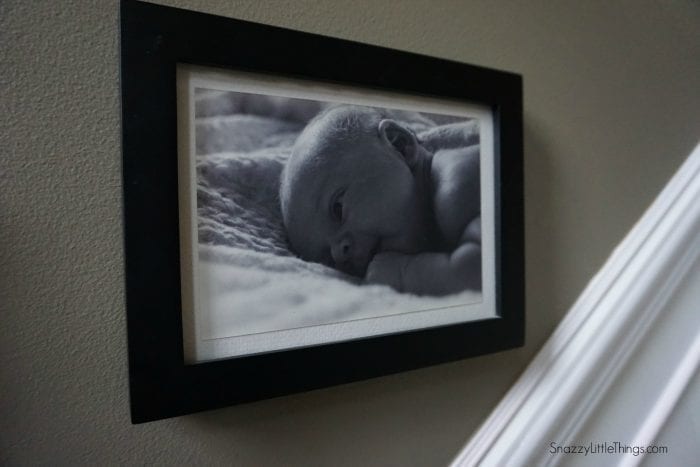 Our living room is still similar to this arrangement (pictured this fall). You might see that lantern in a few other places…because that's when life happens. When a decorative item blocks the TV, it's time to move it. :)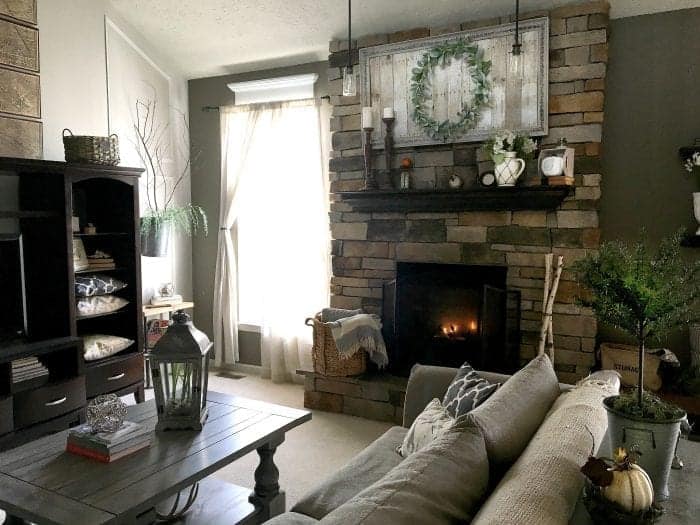 So, since then, a few changes took place…I brought out the kids holiday books. Seems nostalgic now that everyone is absorbed in their technology.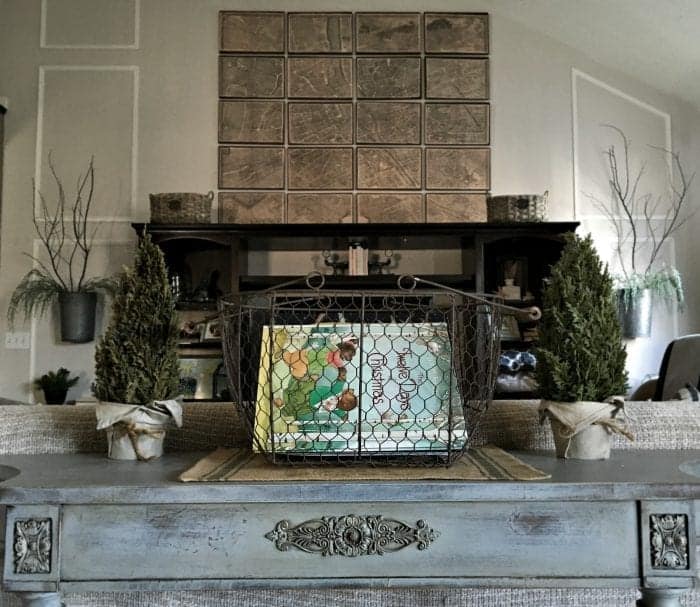 That moment when you realized you've embraced a woodland theme.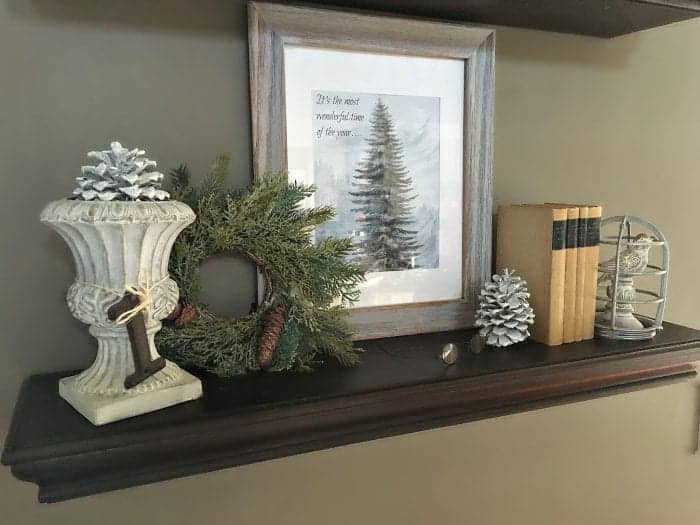 Free vintage tree printable from The Graphics Fairy…and I simply added a verse from one of our favorite Christmas songs.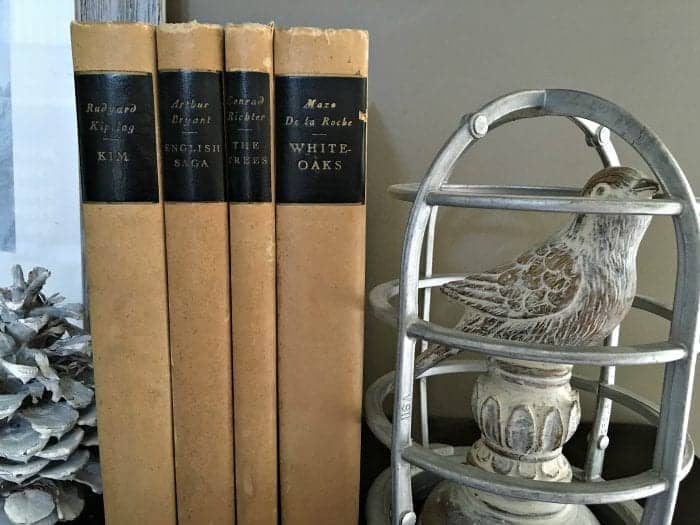 I will always love a farmhouse style kitchen no matter what changes happen in the rest of the house. The stenciled backsplash is still the signature design element in our kitchen.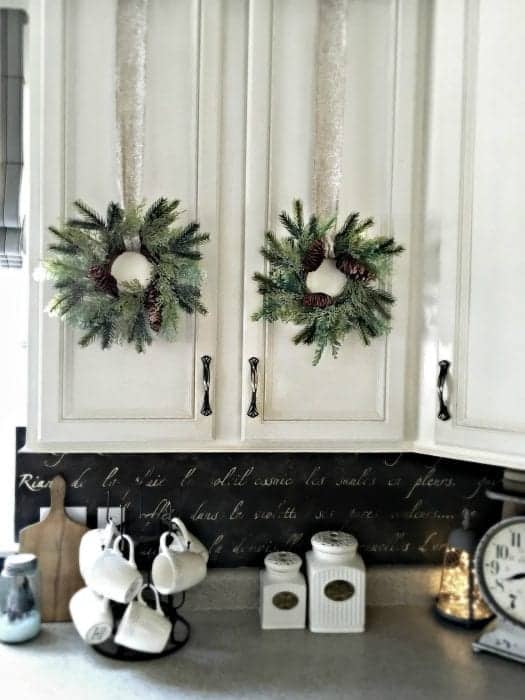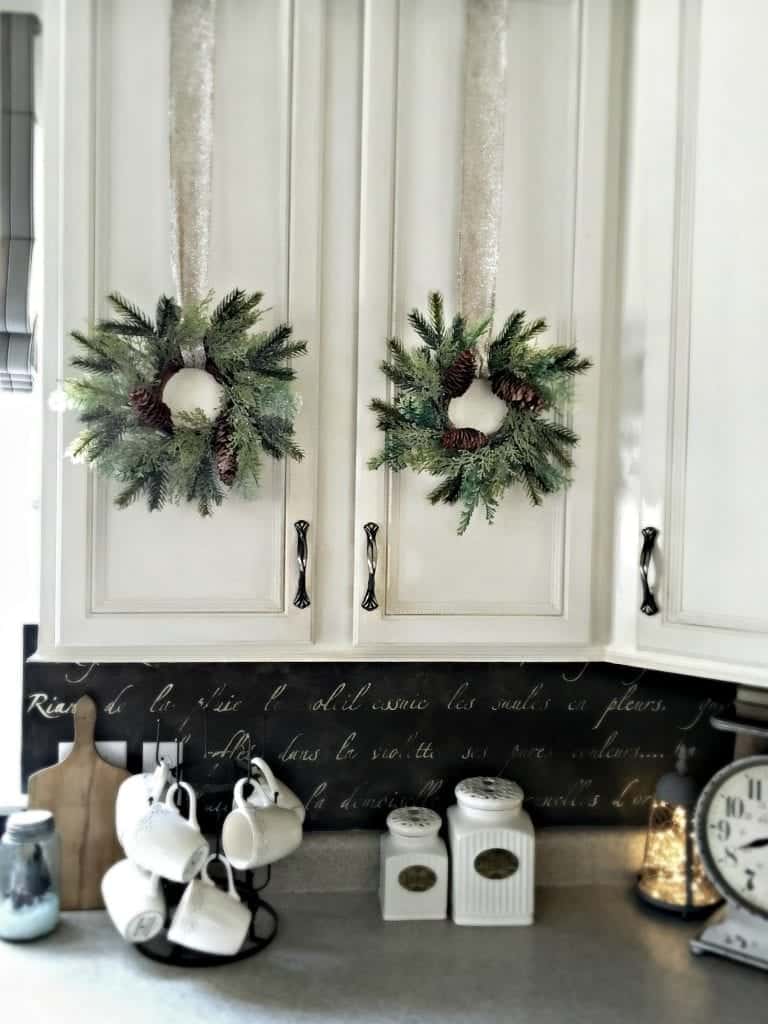 As I add more, I'll update this post so you get the full effect. Right now…we are using what we have, and letting the paint dry before we do much more. Be sure to visit again tomorrow to see our Tuesday line up!
**this post contains affiliate links.