DIY Seating Chart for Our Wedding
Vintage Wedding Seating Chart
Our wedding decor was mostly handcrafted with upcycled materials from my own stash. Click through to see the full gallery of all my DIY wedding projects.

 Above: Sizing up my inventory for a DIY vintage seating chart
Our wedding guest list included 50 of our closest friends and family, and for most of the planning period, I really didn't think we needed a seating chart. But I created one at the very last minute once inspiration struck.
Our preferred reception location became available thanks to a cancellation, leaving us only three and a half months to plan. Most of my wedding projects were last minute ideas, and not photographed the way I normally show you my tutorials. But I did snap a few pictures of the ideas and thought processes I followed leading up to our big day.
Supplies I used for my DIY Wedding Seating Chart:
An empty picture frame (mine was on clearance from Michaels for $10) 
Hemp twine (or you can use baker's twine)
Hot glue
Floral embellishments (with wire stems)
Craft tags
Small clothes pins
Sharpie Calligraphy pen
I considered a few approaches. One idea was to line the back with burlap, but once the twine was in place, I scrapped that idea and decided to leave it open. Another option was to criss cross larger ribbon across the back…but I settled on bakers twine. It's all personal preference, so do what you love!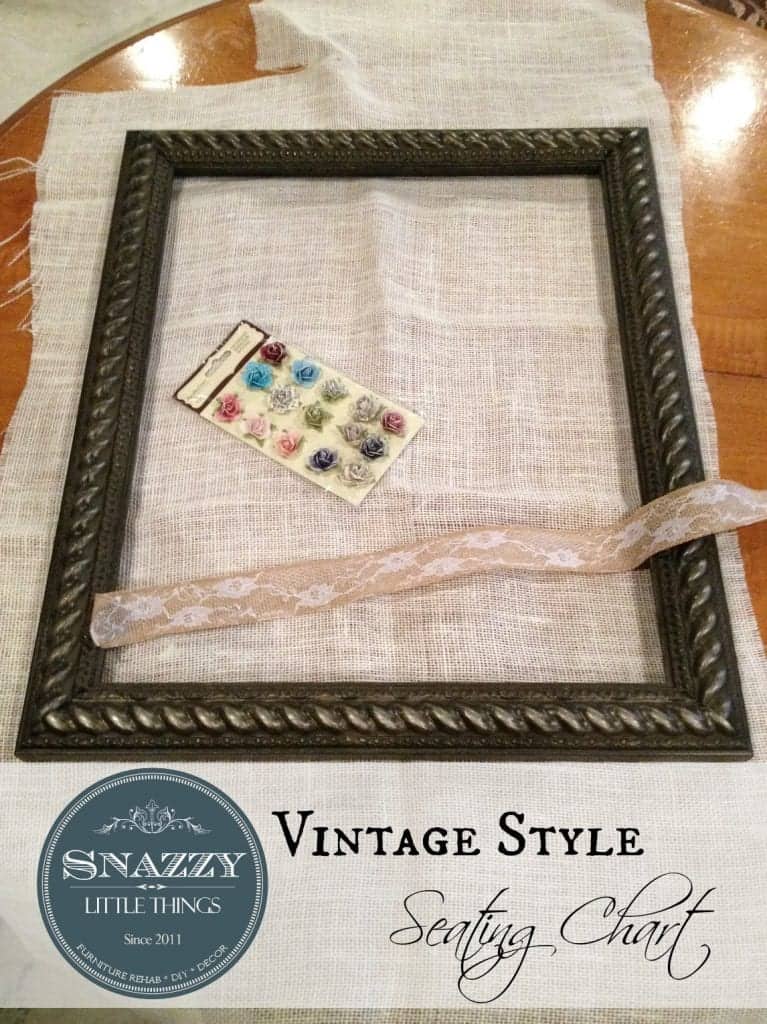 I know there are more sophisticated ways to secure bakers twine to the back, but hot glue was my saving grace for all of my rushed wedding projects.
How To: I simply cut each piece of baker's twine, and glued it on the back side of the frame. In my own writing I wrote the names of each individual using a chiseled Sharpie calligraphy pen.  I pushed the floral stems through the hole punches in the craft tags for some added Victorian flair. Then I hung individual tags from the twine, securing it with a small clothes pin.
Not only did I finish the cards in the hotel room the night before but I DIYed the girls' live floral bouquets, too!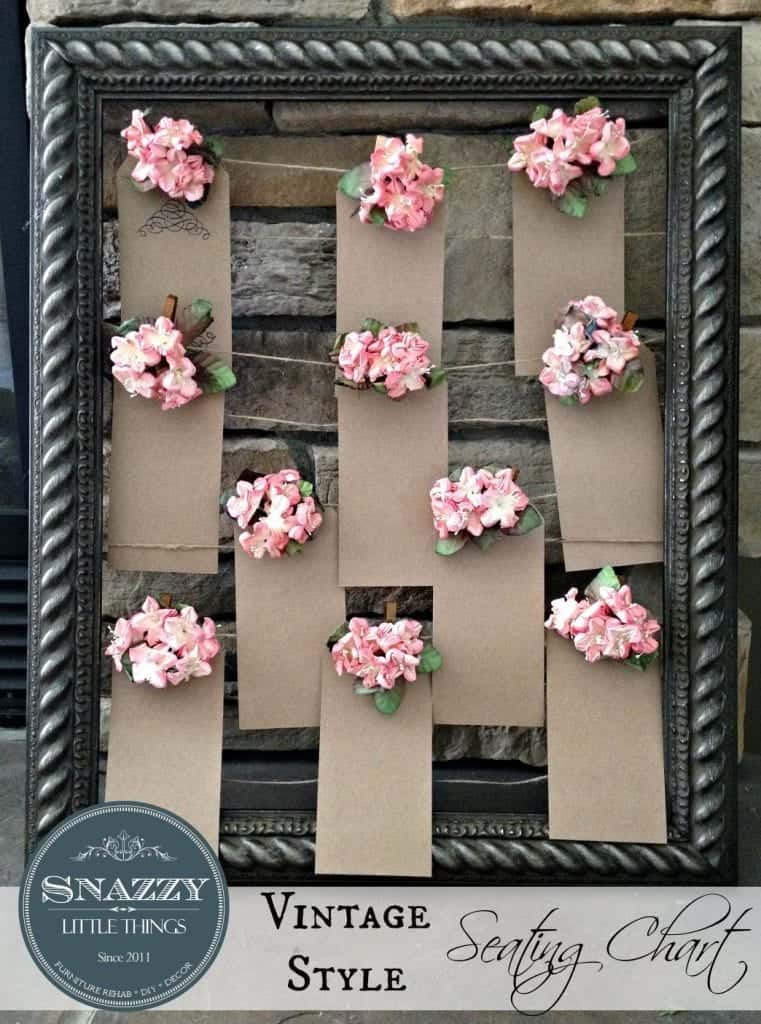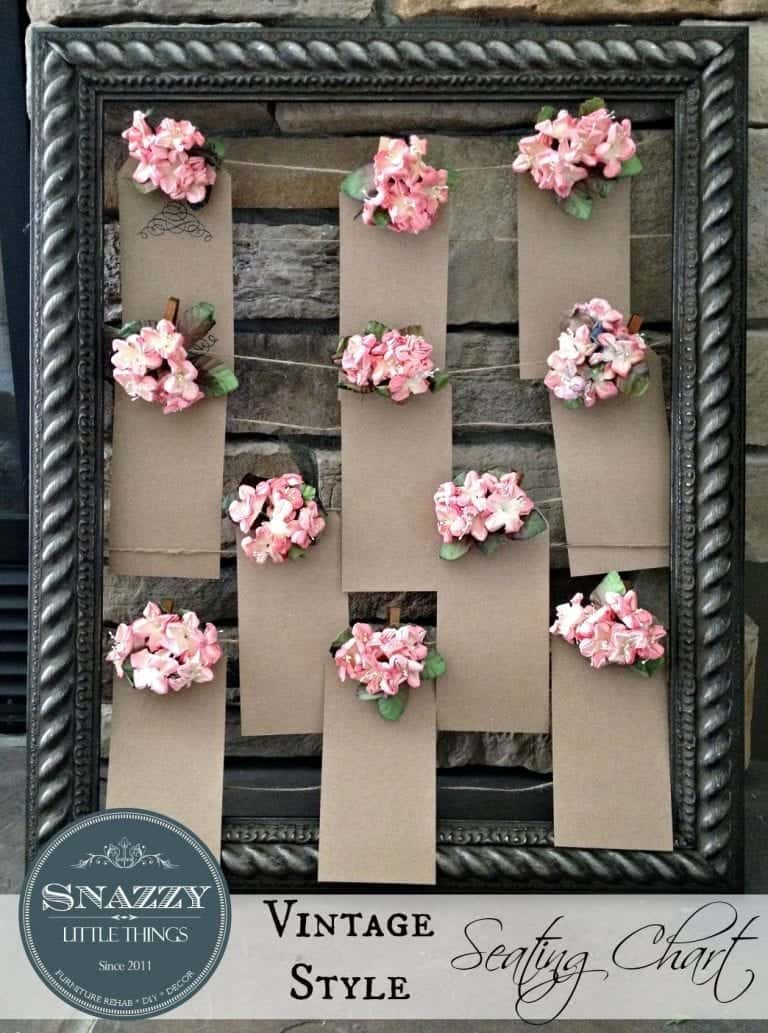 Here is a borrowed picture from one of my guests including my hurried handwriting.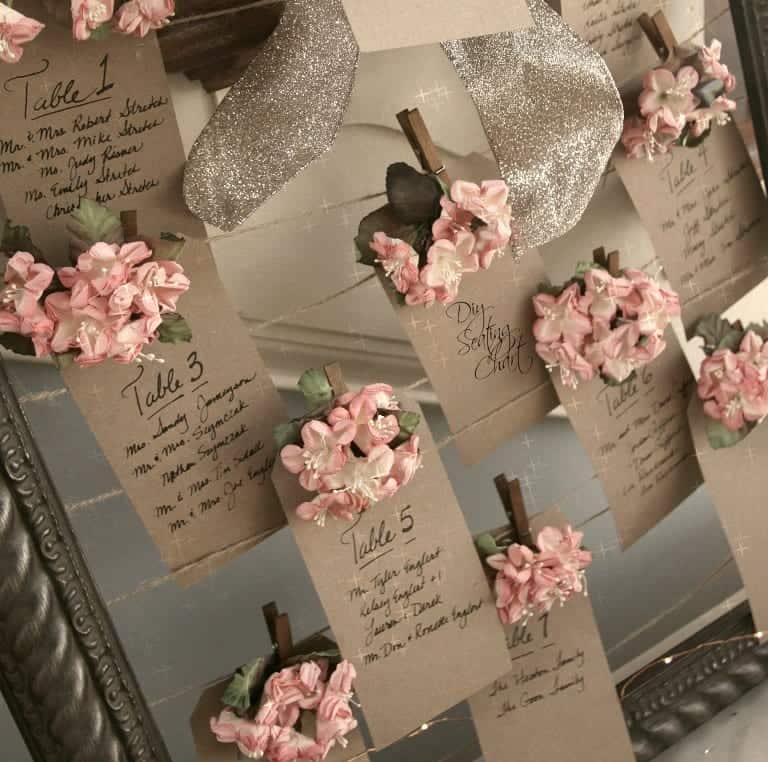 Lessons learned:  Find someone else do to this project so that you can relax and enjoy your wedding :)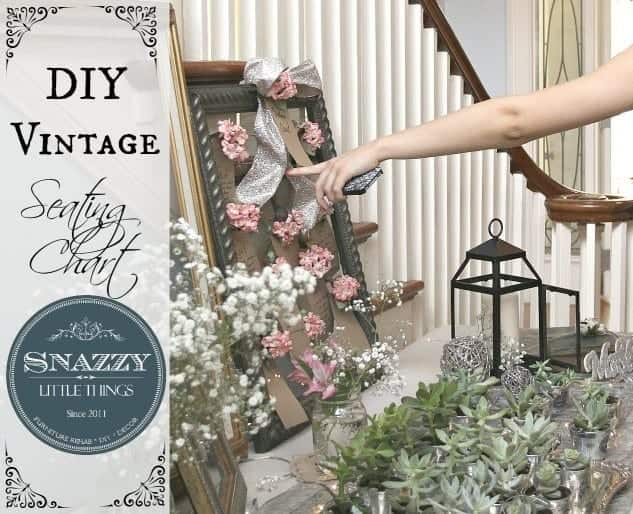 Upcycling idea: I now use this as a pretty business card holder in my studio :)
Thanks for following along! Feel free to take a look at the gallery of rest of my DIY wedding projects!