DIY Wedding Favors: Succulents

Wedding planning.  Yep. We're starting to get serious.
I have two-and-a-half weeks left.  My nights are getting later. I'm questioning my color scheme. My dress choice. The creative direction I'm going. And I'm not sure how to pull off what I would like to do in terms of decorating our venue.  I admit, I'm winging it.
Going through my to-do list. Let's see…what's left?
We haven't chosen a minister yet that will marry us.  (Kind of important)
Flowers – I have this crazy idea that I can walk into a Costco and buy them the day before.
Cake.  Not ordered. But I can stick a wedding topper on most any small cake (just for us two)…right? And our guests?  Well, they have a gorgeous assortment of desserts.
Final equipment checklist is due this Saturday – and I'll be in Atlanta whooping it up with my fellow bloggy friends.
But today I had a panic attack.
PARTY FAVORS!  OMGeee!  I forgot to order my SUCCULENTS!
Party favors. To me, this is one of the most important "personal touches" that you can put into your wedding decor.  Nothing says "I love you, wedding guest" quite like sticking a cactus in a tin pot with a pretty bow.  Favors are THEE project where your craft prowess is on display for the entire world to see.
So as I was sprinting through the Lowes garden section in a full, sweaty panic…my iPhone pinged.  Darren from Etsy emailed me back! He is in charge of the The Succulent Source on Etsy. His calm reply to my panicked, one-line email assured me that the Succulent Source could ship in time for my wedding! Cool! So this allowed me to get my head together. I geared down to a leisurely stroll. Eventually I was stopped between rows of cactuses and palm plants.  I decided to pick up what remained of the sad array of succulents, and at least make a prototype or two to show Betty. My dear mother in law is helping me make the rest. xxoo
Awhile ago, I did I order miniature galvanized tin pails from Amazon.com  – quantity of 60 for our small affair.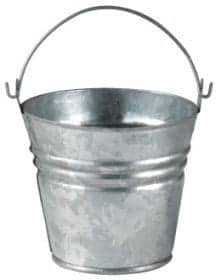 I found a printable that complemented the style of my invitations. In my case, Paper & Dime (on Etsy) offers this download for only $2.95. (Watermarked for their protection). Betty is going to help me cut them out this weekend while I'm away in Atlanta.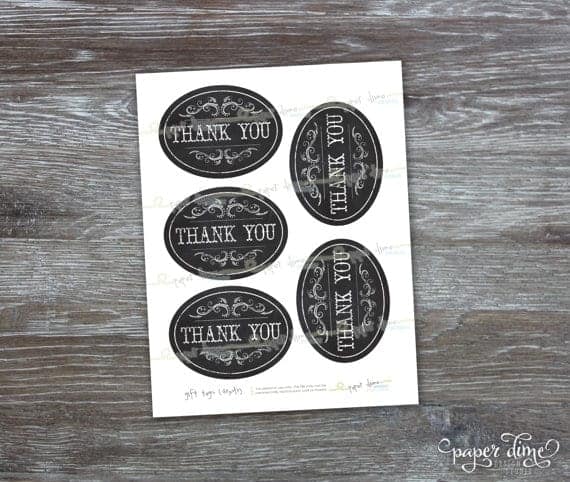 I realized the labels were too big as-is, so I reduce them on my printer to 50% of the original size, then they fit perfectly on my pails.  Perfect for Mod Podging onto the pails.
We live 200 miles from the venue (Mr. Snazzy's hometown) but the venue is very close to Betty. So I bagged the labels (printed on regular printer paper) along with the pails and I'm doing a much better job of accepting offers of help (now that time is running short), AND I've been traveling A LOT.
Would you like to see my prototype?   Here is what I came up with…tell me…JUTE bow?  NO bow?  Or sheer ivory?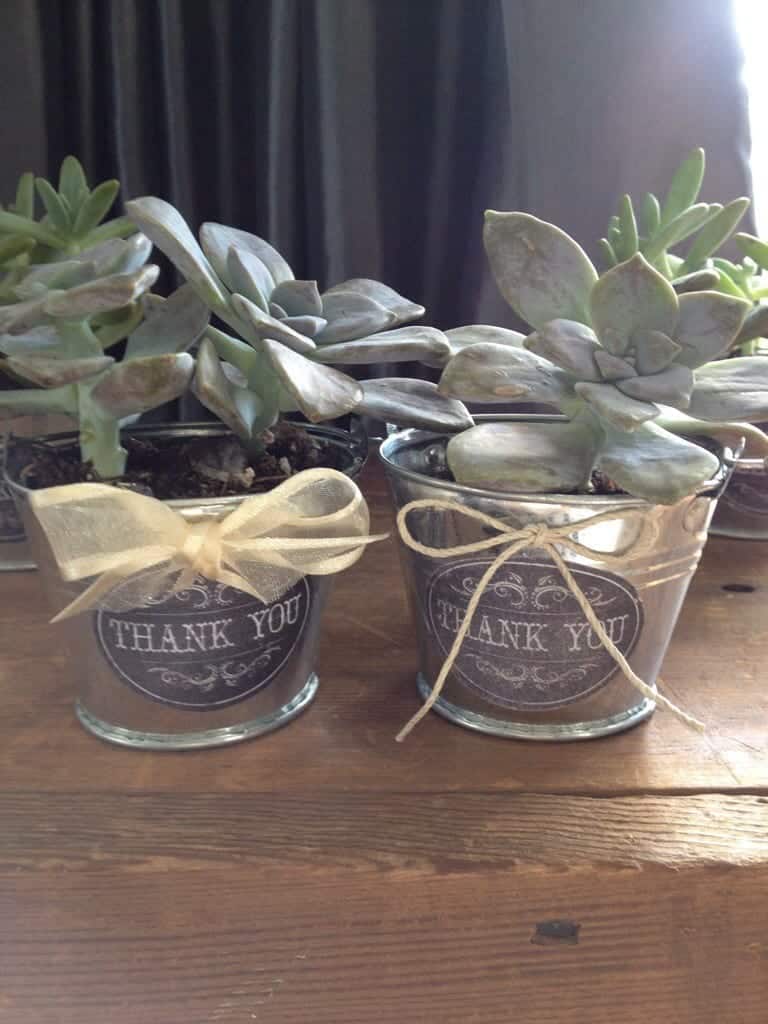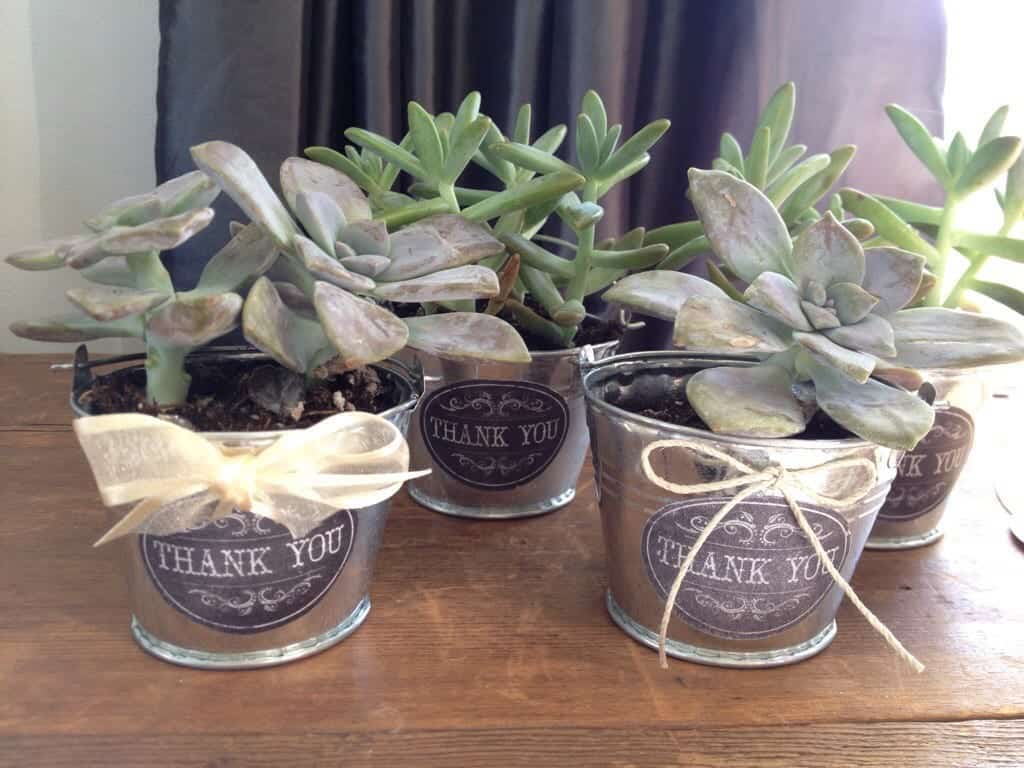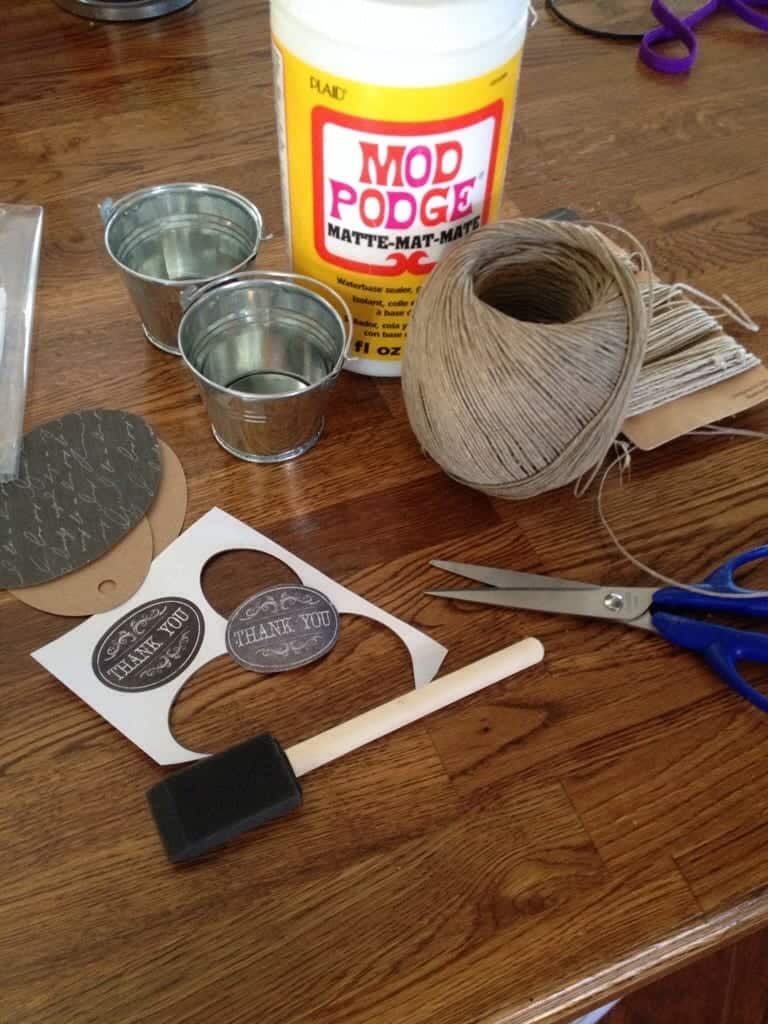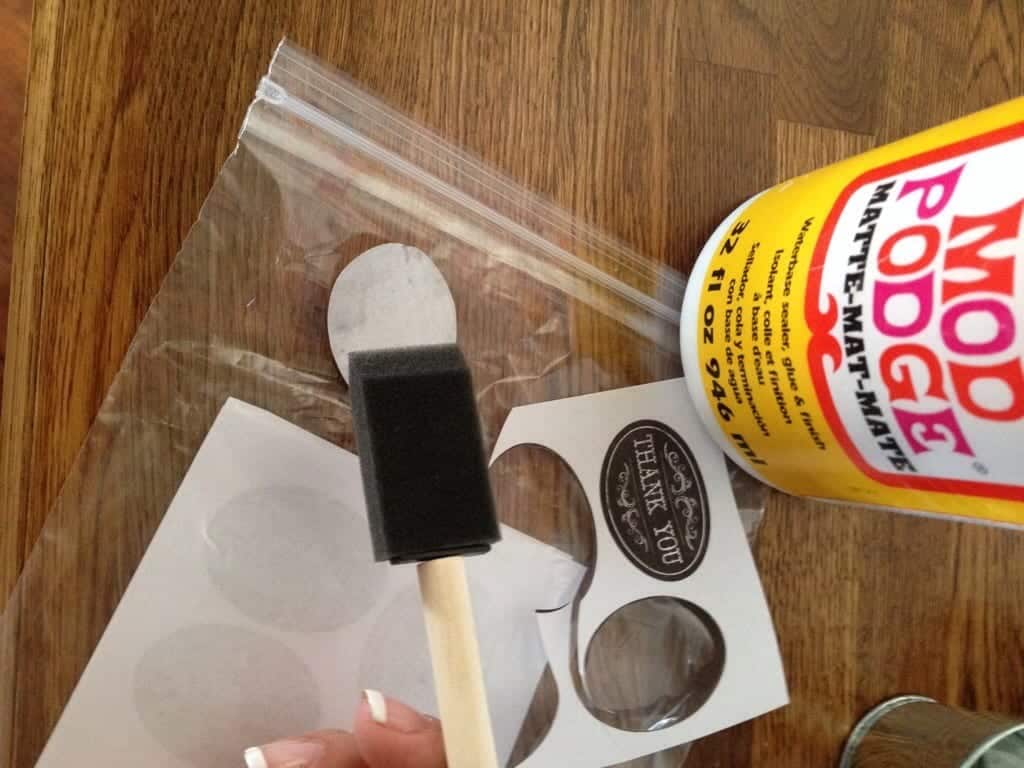 In case you're wondering on the exact names of these beauties…here you go.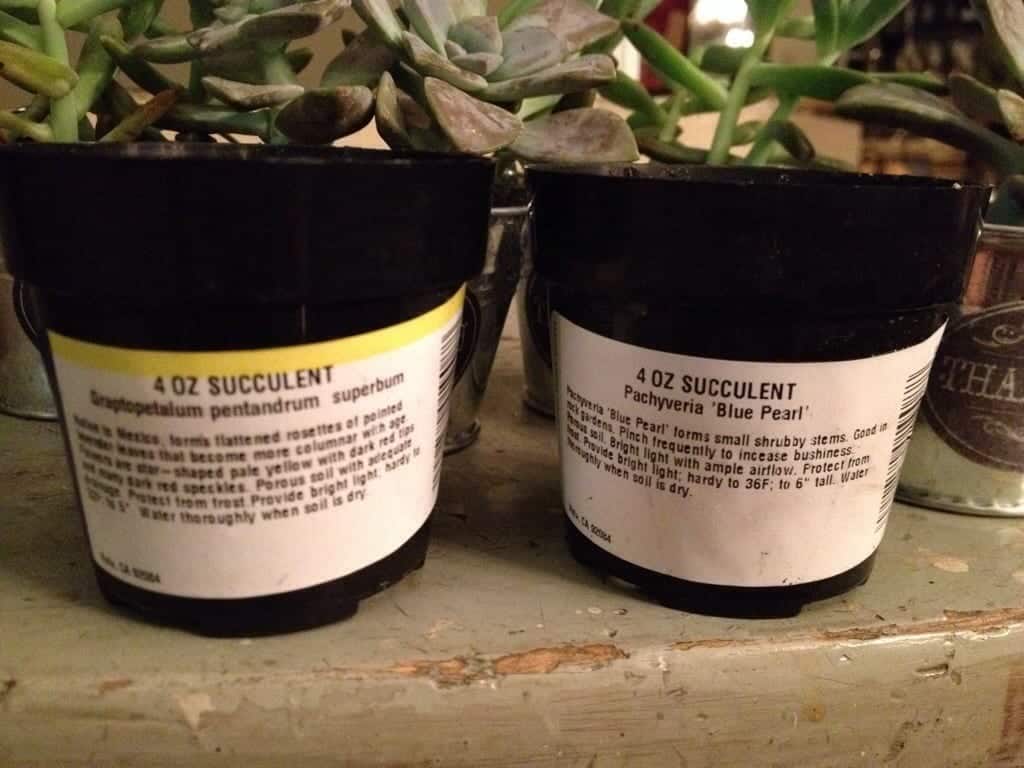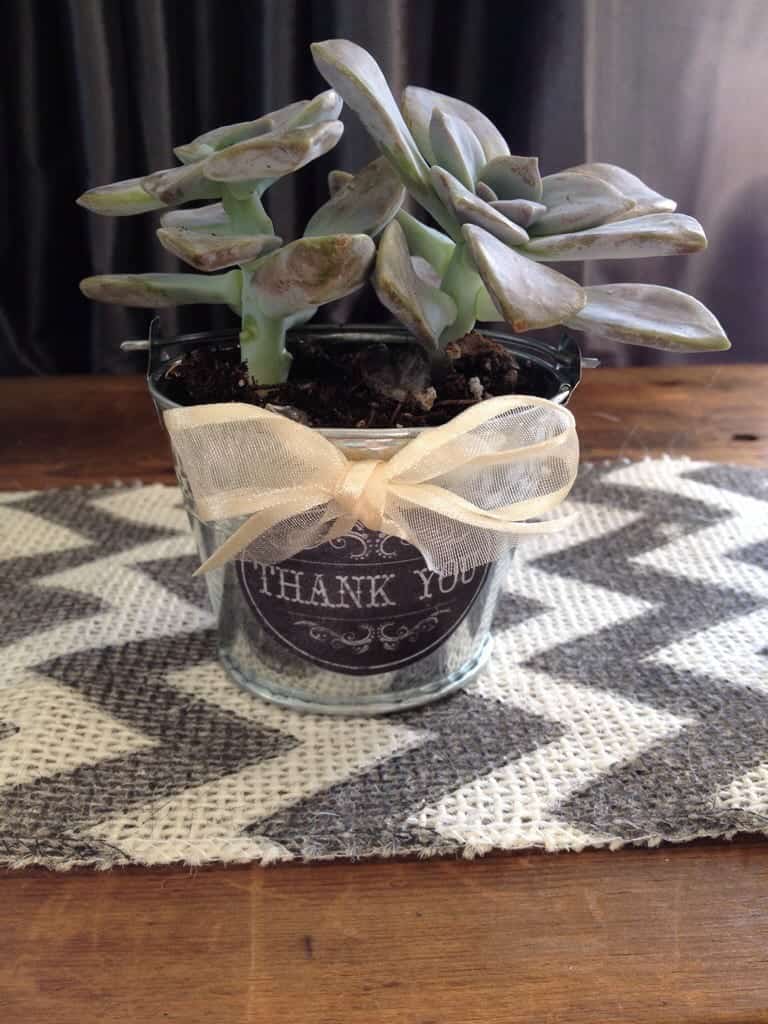 The day of the wedding, we'll figure out how to display these for our guests as they arrive. Shipment is on it's way!
Feel free to download the sign that I also created for the favor table. Just choose a vintage frame, and size this accordingly.
Click here for the download: wedding-favors-sign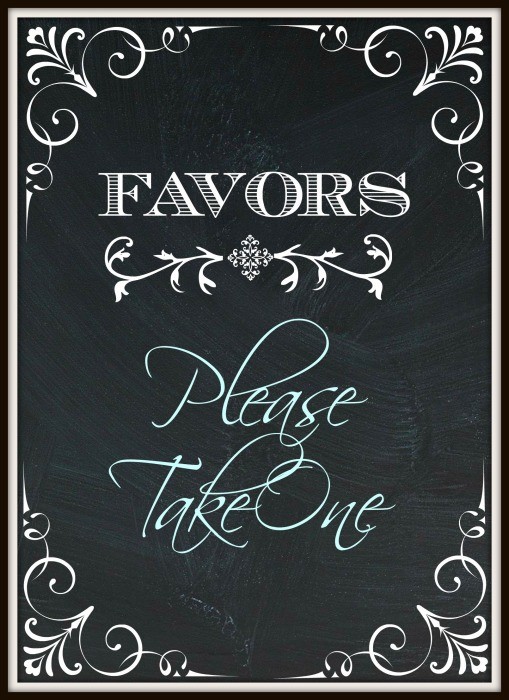 More to come!