Pergo: Kitchen Progress Update!!
Today is the day! I'm finally sharing our Pergo kitchen progress update since we are in a full-speed-ahead-rip-and-replace DIY flooring project. The flooring we chose is a new line from Pergo, called Pergo Outlast+ in the color, Molasses Maple. We loved the durability as well as the rich, dark color…but the bonus is the natural-looking hand scraped effect. We think this will look much better as we gravitate towards a more modern-farmhouse decorating style.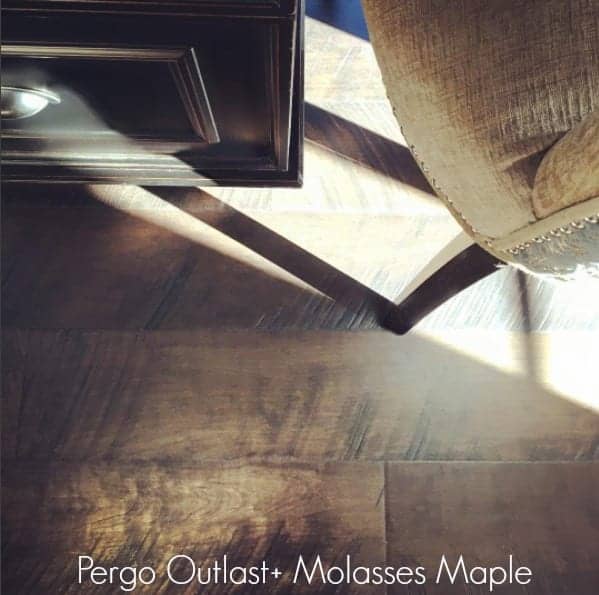 When we told our friends that we were doing this project ourselves, the responses ranged from "happy for you guys", to "you'll love it". We even got a, "you're completely out of your minds – you should hire someone!" So while I confess to being a bit nervous taking on a DIY of this magnitude, I am so over our old floor and anxious to get started.
Pergo Kitchen Progress Update
Before: Below is a final look taken right before we started ripping out the previous floors. No more dingy carpet and shiny laminate!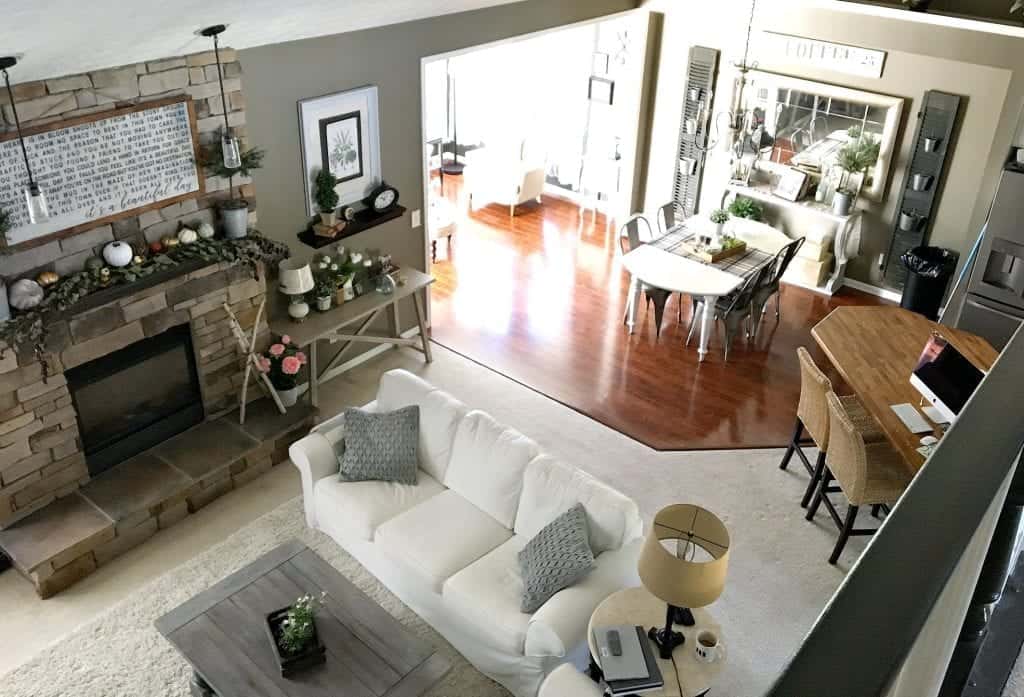 Why Are We Replacing Our Floor?
You probably are wondering why we would replace our current floor. There are a few reasons:
Cleanliness
Our carpet was eleven years old and was stained and dirty, no matter how many times we'd rent an industrial carpet cleaner, it would still feel dirty after a month. Allergies were becoming a real problem for our family, especially having a pet for seven years. Some of our guests with allergies were really affected when they'd visit – no matter how clean our carpet was. Should we ever decide to sell our house, we already know that potential buyers simply won't tolerate old carpet and it would become part of the price negotiation.
Aesthetic
We have 3 different styles of flooring on our first floor. We wanted a single, continuous floor (with no transitions or breaks between rooms). While the prior piano laminate is very pretty…I was outgrowing the red tones and felt like it was a mismatch with our rustic-industrial look. And the competitive side of me explored the new housing development up the street – turns out, they are using similar flooring to the Pergo that we chose, so I felt like Pergo Outlast+ was a winner.
Our current laminate was damaged
We weren't 100% satisfied with the existing piano-laminate. Some of the planks already had water damage, which resulted in bubbling and swelling. Some were chipped as a result of dropped tools, or even scissors. So the thought of replacing carpet with a floor that wasn't meeting our needs to begin with made no sense. Wee needed a floor that would last and could resist water.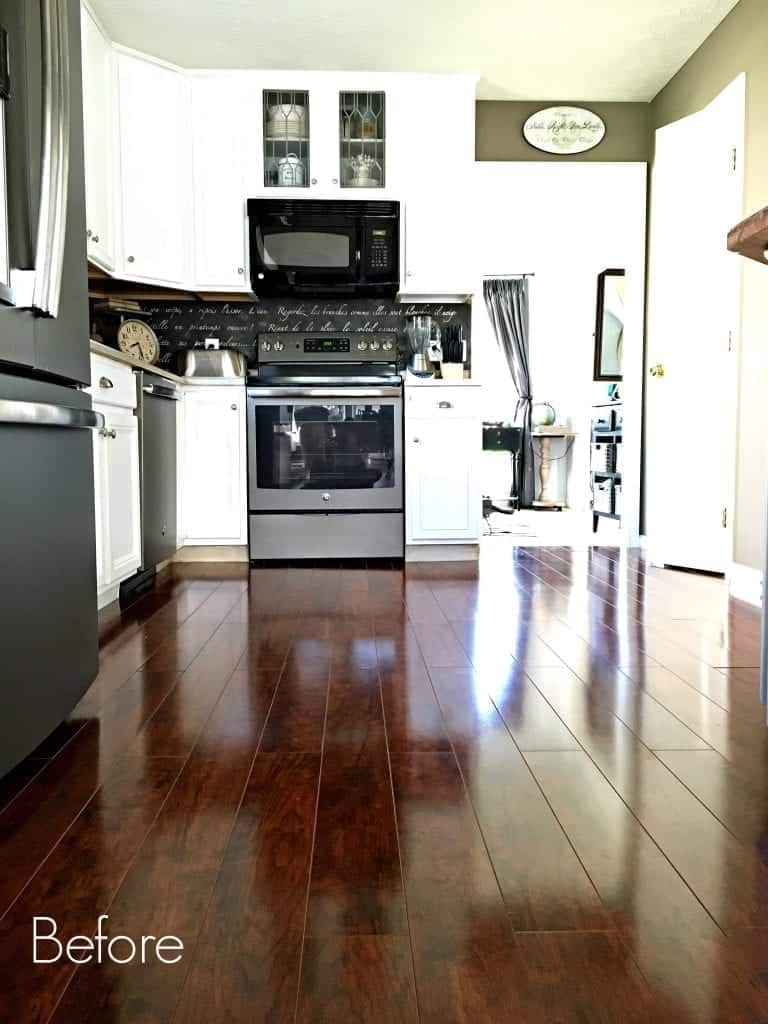 Getting Accurate Measurements
To size up our new flooring needs, getting accurate measurements can be difficult with open floor plans. My husband and I kept getting conflicting numbers, so we buckled down and made a 3D rendering of our house so we could visualize the space. (Click the video below to take a virtual tour!) I create these for clients as well ;-)
 We discovered that we would need 1,120 square feet of new flooring. (including a 10% overage for extra cuts / mistakes).  This actually is three full pallets of flooring in Pergo's world.
First order of business – we brought many Pergo boxes indoors for 48 hours and allowed them to acclimate to the humidity and temperature inside our house.
Then, we removed the prior laminate which went surprisingly fast. While the kids were in school, I would remove the carpet in sections with a box cutter blade and a mask…then take it right to the curb.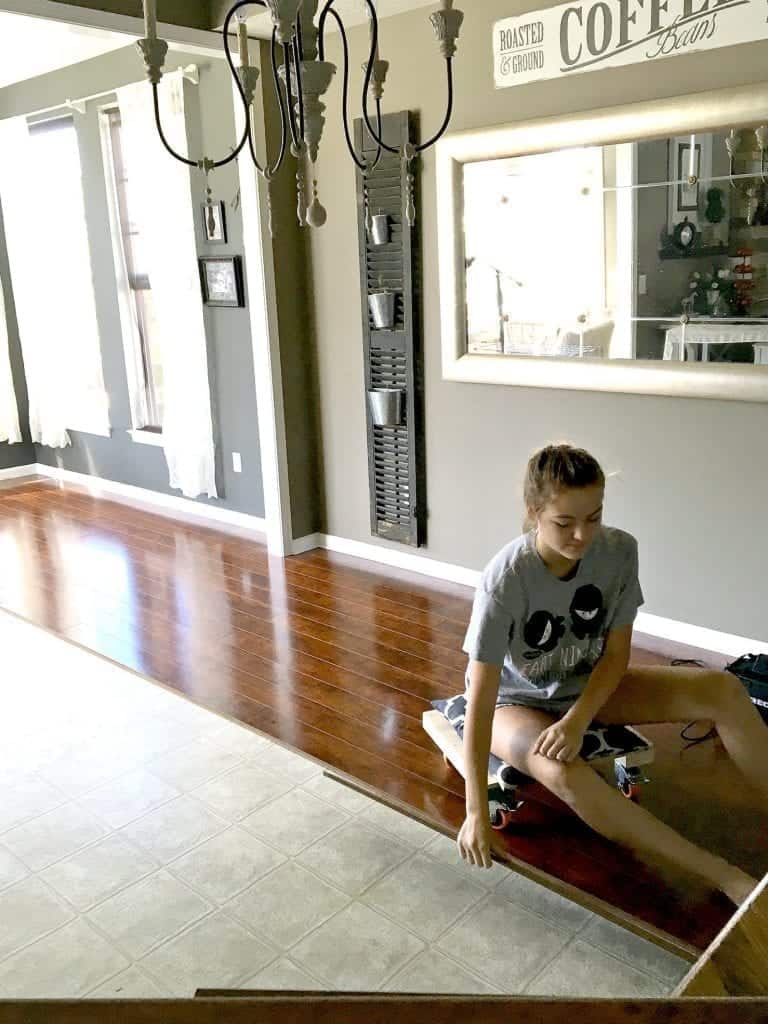 To make things easier, my husband built this cute little seat on rollers…so my daughter was less resistant to helping out (since it felt like gym class). ;-)
With the laminate removed, it revealed the original builders-grade vinyl floors that came with the house. Then we had to deal with uneven layers and the OSB subfloor. So we laid plywood + Pergo underlayment on top of the OSB in order to make that even with the vinyl.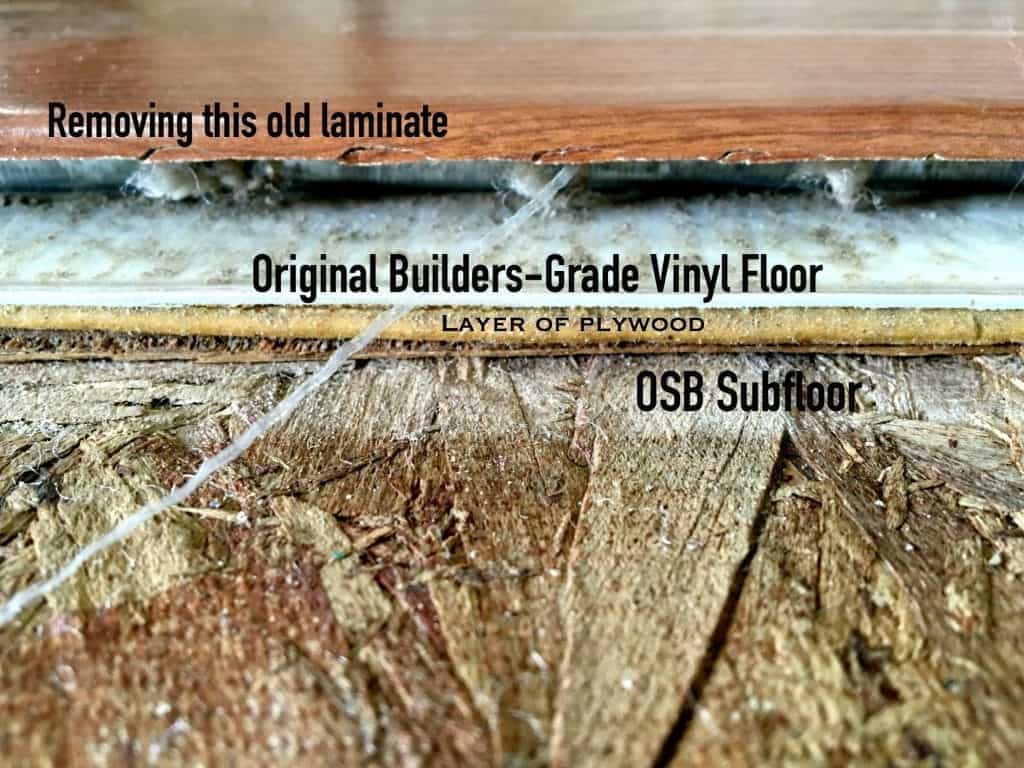 Sigh. OSB isn't quite as exciting as finding original hardwood under your carpet, eh?
At this phase, I became a total clean freak. I was constantly vacuuming. I'm not sure if this helped our hurt, but I couldn't stand the thought of laying new floor over our eleven-year-old dirt. The OSB was vacuumed multiple times before I would let Mark lay down the next layer. Then, I would begin ripping out carpet to stay ahead of him and start vacuuming all over again.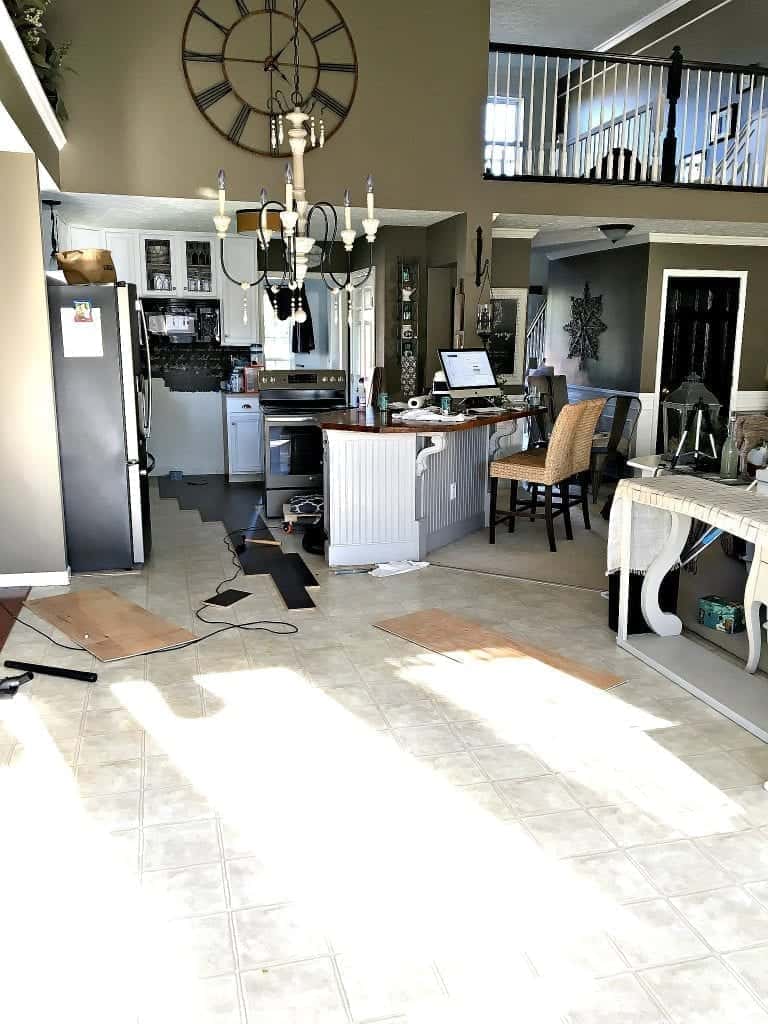 Lots of coffee and fast food might have occurred during this project…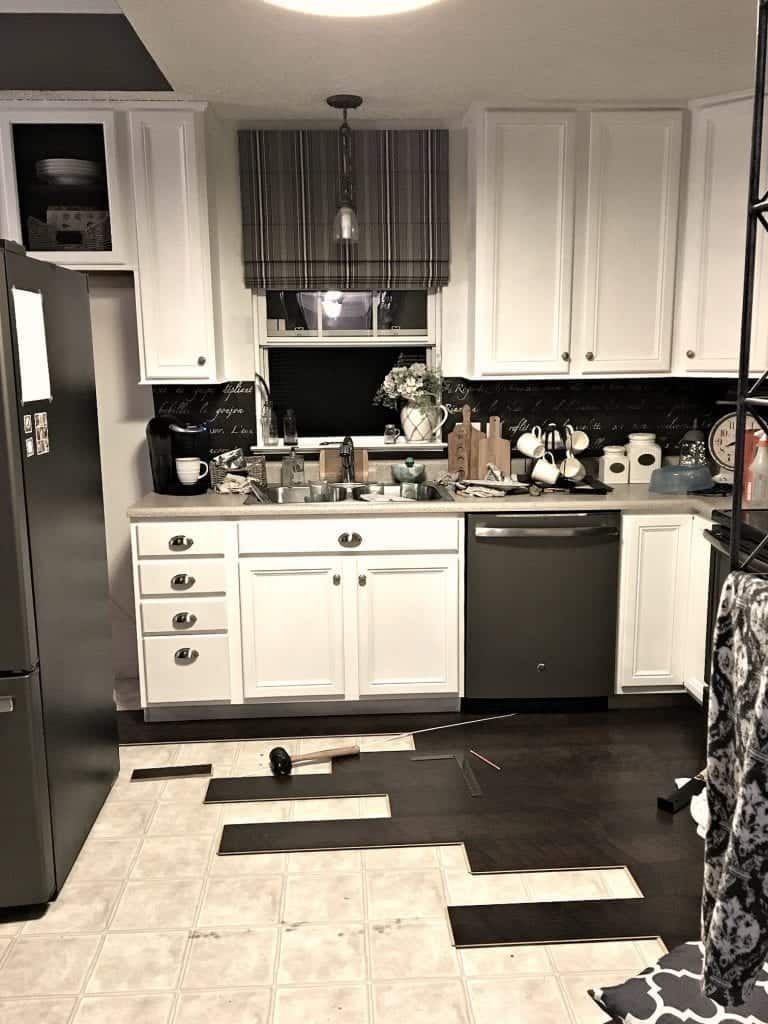 I am really loving the contrast against the white cabinets. Another thing I love about our new Pergo Outlast+ floor — the planks are much wider, so the project moves quickly.  The only issue is…I haven't figured out the "click and go" tricks that are demonstrated in the Pergo videos. Chalk it up to user error…with 800 square feet remaining, I'm sure I'll be an "expert" in no time!
The kitchen "reveal" is coming soon, so stay with me! Lots more more before-and-after of each room that we're tackling. I think this new floor will be a game changer in our home.
Note to self: If I ever build a new home again — don't skimp on the flooring. 
***
Be sure to learn more about Pergo's new Outlast+ line on their social media channels:
I received Pergo Outlast+ laminate flooring and accessories for my home free of charge to facilitate my review.