DIY dog crate table build, a simple way to to beautify your dog's corner of the house.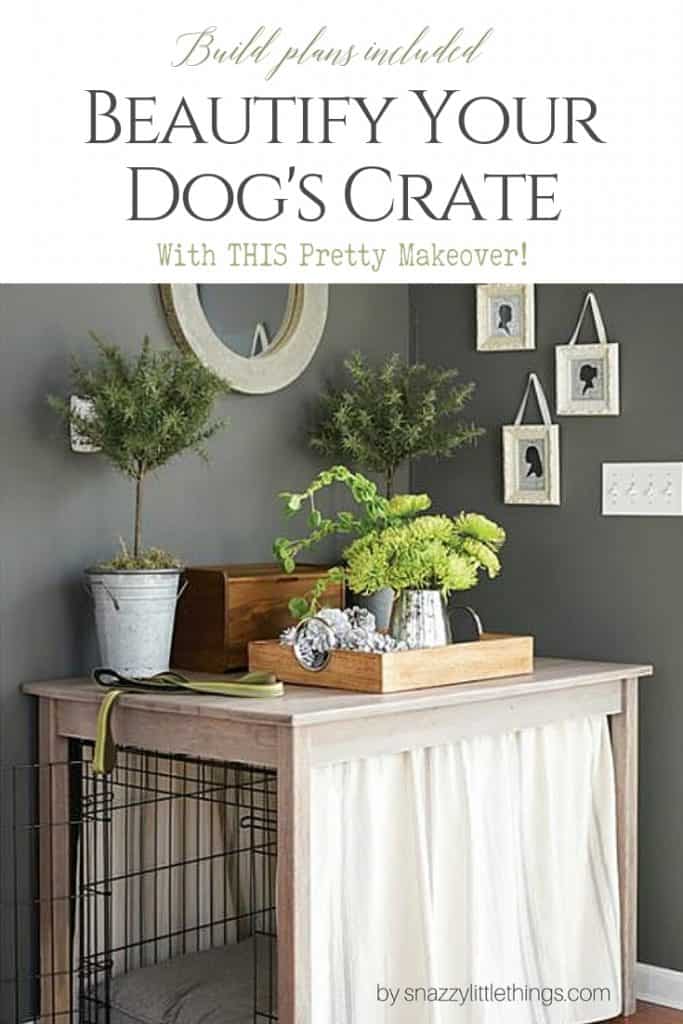 To quote my daughter, "you're not a good puppy, but you're a sweet puppy".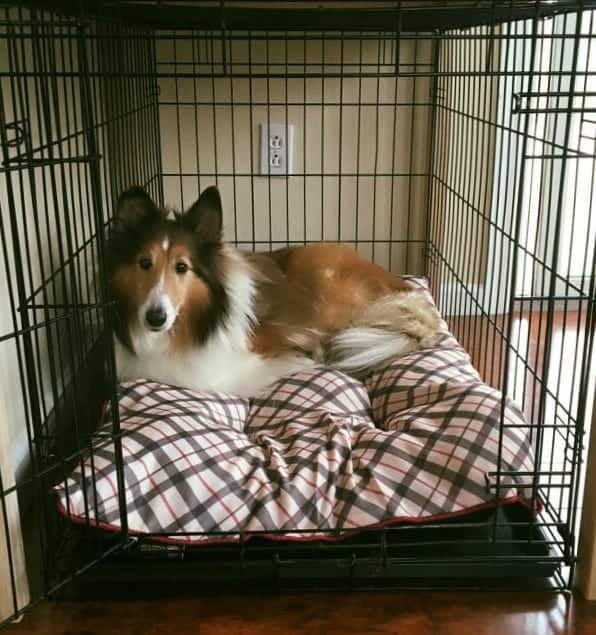 She's so right. There is an absolute sweetness about Buddy. Anyone that meets him, loves him. He's a bit of a celebrity with my kids' friends.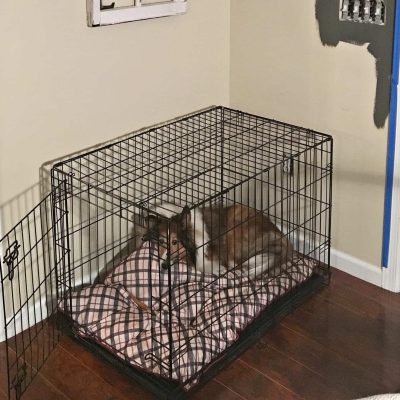 A little-known fact about me: I rescued and rehomed 16 dogs (and a pregnant momcat + her babies) in 2007 (before DIY, this was an early endeavor that kept me happily busy).
But none of those dogs were Buddy.
He came with a "7 Day Free Trial" which meant he had numerous issues: separation anxiety, peeing and pooping whenever we left the house (in protest), dominance issues, excessive barking. And…he hates other dogs. He was a puppy mill puppy. And evidently…Buddy decided home was here with us.
Buddy's crate is his safe place. It's where he goes to calm down. His issues are mostly resolved, but still has separation anxiety. Without the crate, he would have likely hurt himself as he panics and runs all over the house when we leave.Dog ownership is no joke. It comes with a lot more gear and responsibility than I ever anticipated. They truly are our "kids". So just like any kids' room, I had to get a better system when it came to storing Buddy-gear.
I'm sorry for those of you that have a larger pet crate and you're probably thinking "what about me?" I don't have a build plan for that. But I would imagine you could make a massively impressive table or even a hutch using our plans as a guideline :)
Dog Crate DIY Hack
"How To Beautify Your Dog's Crate"
Medium sized pet crate / kennel
Two tension rods fitting up to 36″ in length
4 x 28″ table legs (prebuilt)
5 x 1″ x 4″ pine boards for the tabletop
Cafe style curtains – any style
Kreg Jig
This tutorial for finishing the wood (see link for painting supplies)
Building Plans:
This is a pretty simple table build. We purchased four Parson's wood legs, 28″ long and built a custom table to fit perfectly overtop of the crate. I decided on plain, Parson's legs because we already had a lot of turned legs in this space, so I thought this would break things up. using 1″ x 4″ pine boards for the tabletop and a Kreg jig. We decided we wanted the crate to be large enough to slide easily out of the front or the ends of the table.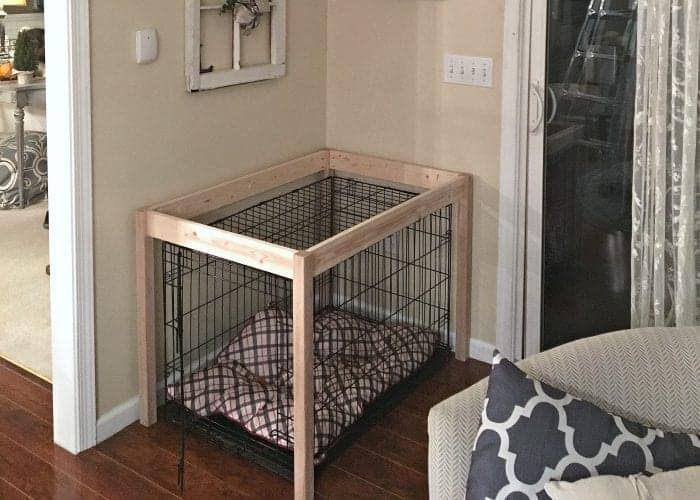 For the tabletop, we used 1″ x 6″ pine boards (5 of them) and used a Kreg Jig to splice them together.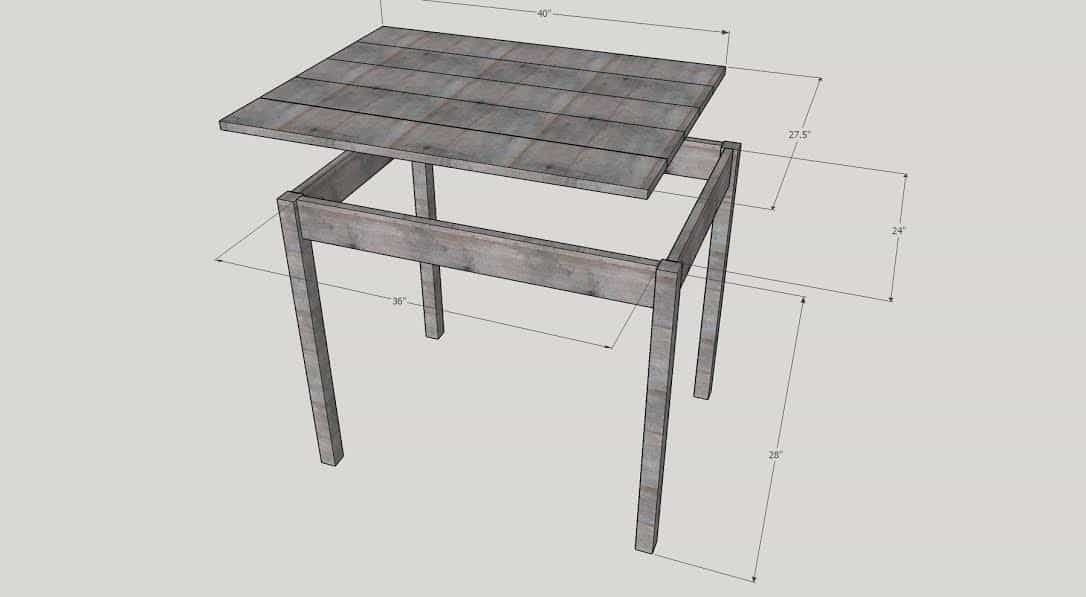 Then I stained the table to give it a durable driftwood finish, the same method I used on our Restoration Hardware inspired coffee table. We hung tension rods on the underside of the table, and then hung cafe curtains on the rods. (I cut down a clearance drape that had a pretty ticking stripe, then used a no sew hem to finish it off). He loves this setup and rests pretty peacefully in there.
And here is the final reveal…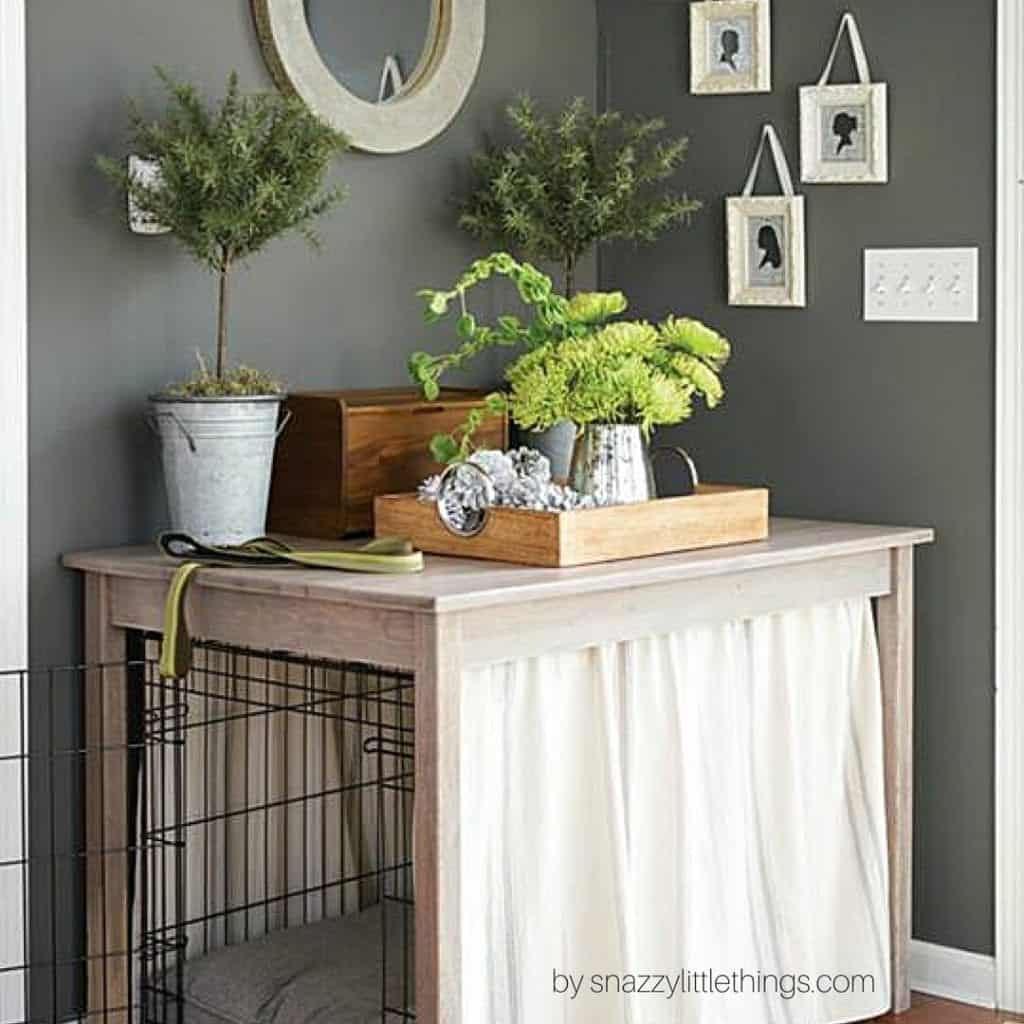 Featured in Better Homes & Gardens
January 2017 print edition
Read more about the Better Homes & Gardens article here.