Pergo Flooring: Our Kitchen REVEAL!!
Today I'm sharing my Pergo flooring kitchen reveal, and all I can say is…why in the world did we wait so long?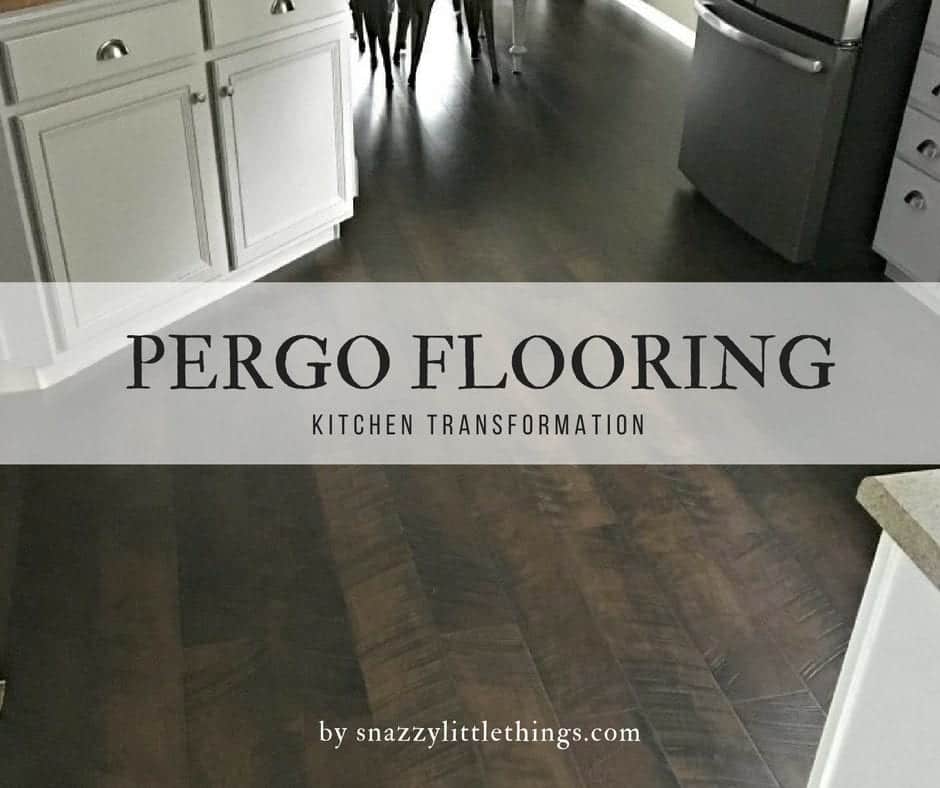 To see all of my Pergo room reveals, click here.
If you're new here, we are in the process of ripping and replacing our entire first floor carpet (and old flooring) with brand new Pergo Outlast+. This DIY has totally transformed our home!!!
Everything about this new Pergo floor makes sense with our design aesthetic (and our lifestyle). As we continue finishing off the remaining rooms, I'll be popping in with live video updates, so be sure to follow me on all of my social media channels (Instagram / Facebook) or by clicking the "let's connect" buttons and following all of my social media channels listed under my picture on the right. I'm planning a Facebook Live, a YouTube walkthrough of my house and Instagram video to come!
Click to see the Pergo flooring kitchen project from the beginning
Because we live in an open concept home, it really feels like a "one room house". Because of this, we've had to be strategic about starting and stopping points (you know, because "life" doesn't stop just because we are installing a floor) and we'd have to live with an unfinished "edge" between rooms. We'd set aside time to tackle certain rooms, but with homecomings, school plays, Halloween parties and birthdays…grabbing that time has been a challenge.
Here are some "after" photos…I love the hand scraped look and the color contrast against the light grey and white cabinets. The color we chose is Molasses Maple in the Outlast+ collection.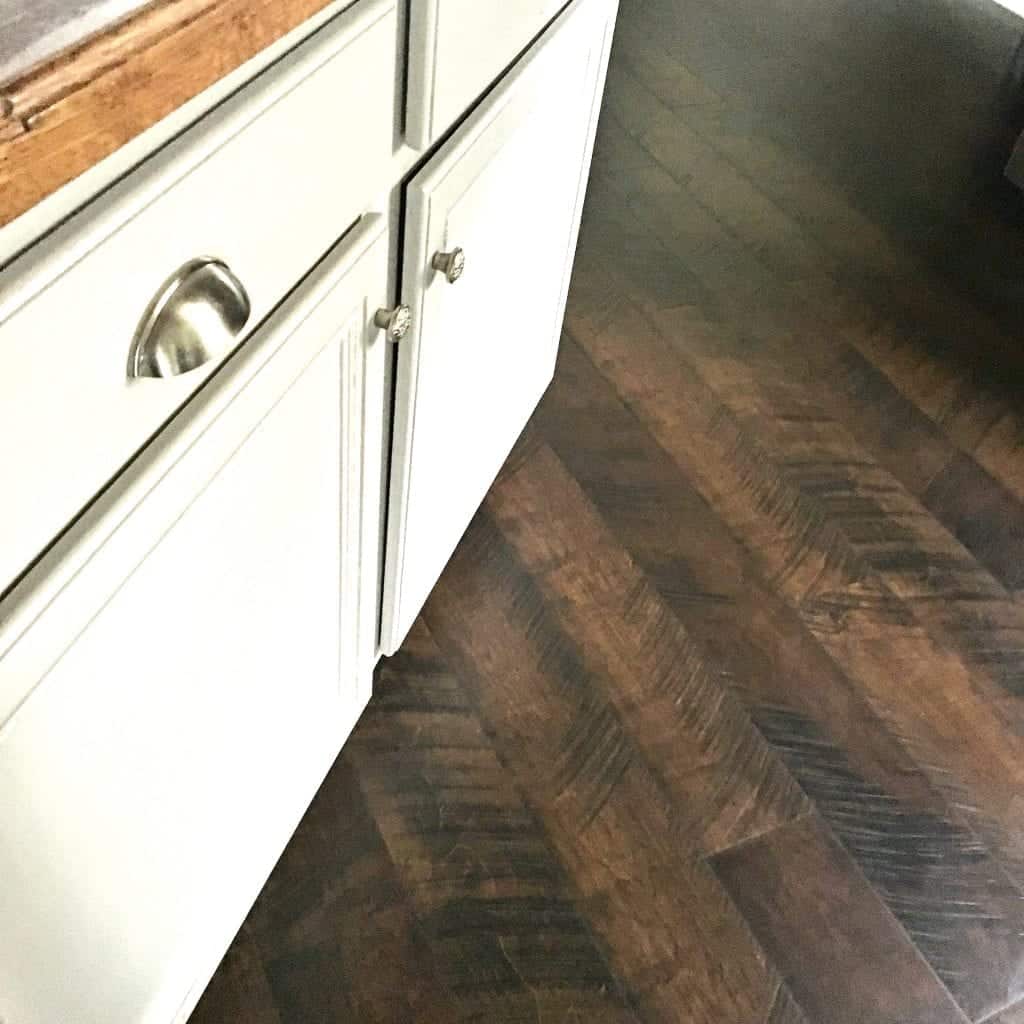 I love the variation of color of the floorboards. They hide dirt well too, such a bonus!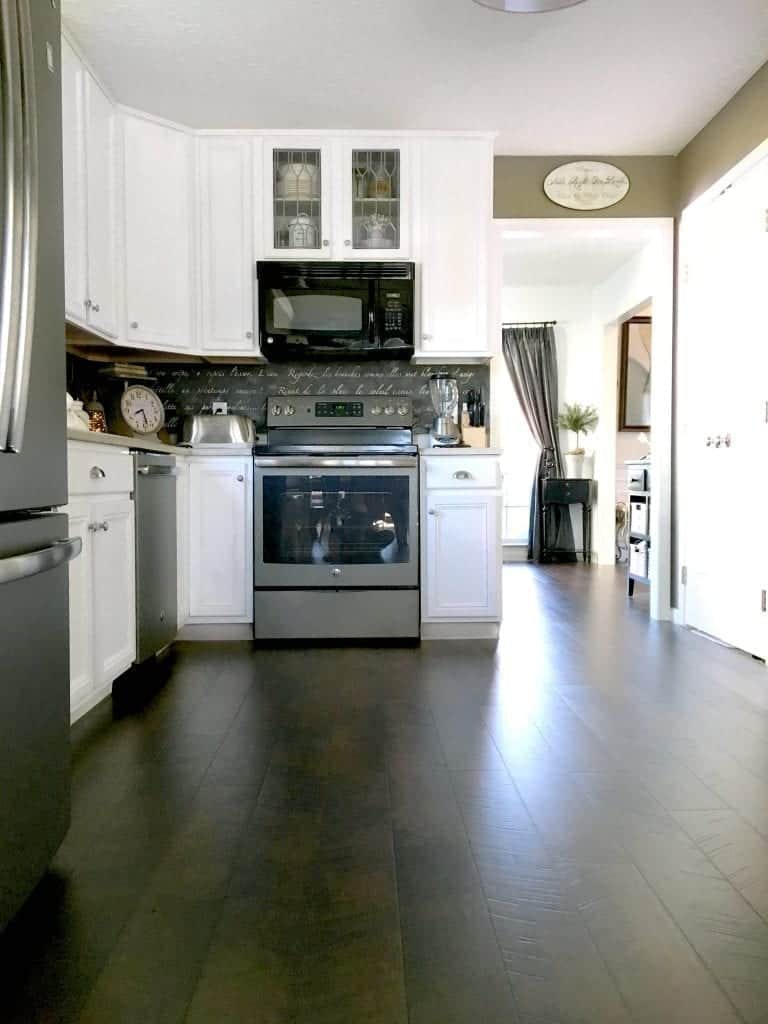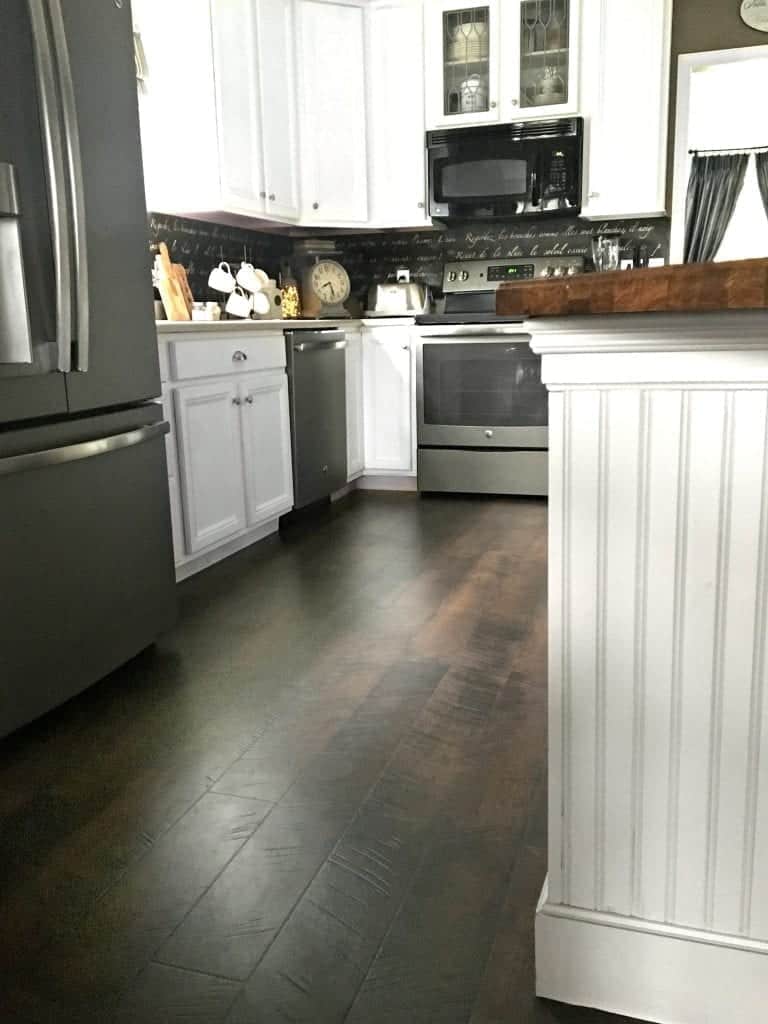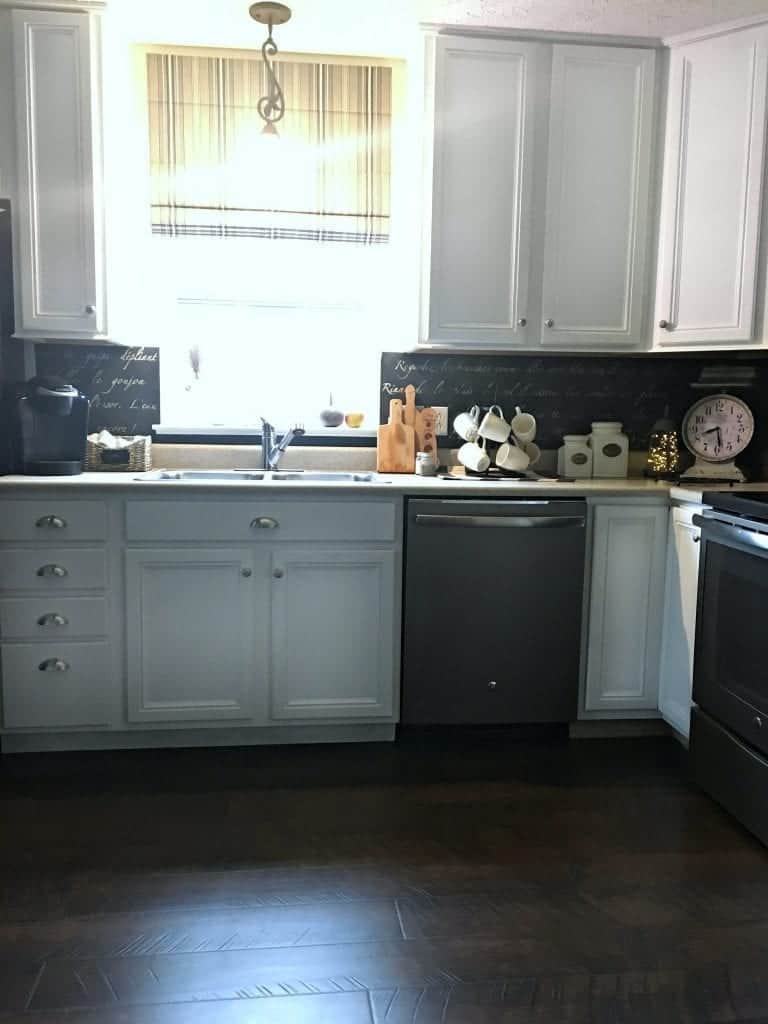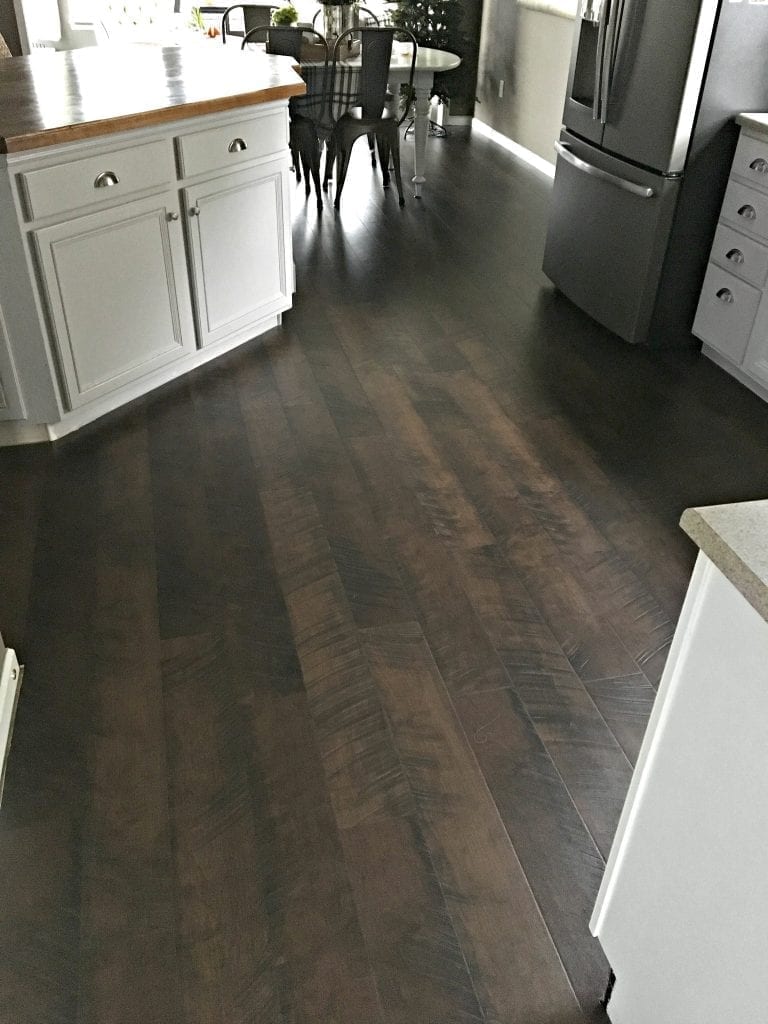 In the shot below, you can see what I mean about finding good starting and stopping points. One of the trickier parts of this project was wrapping the floor around the island. But I did a lot of these cuts myself (and I, of course, have no photos to show for it!)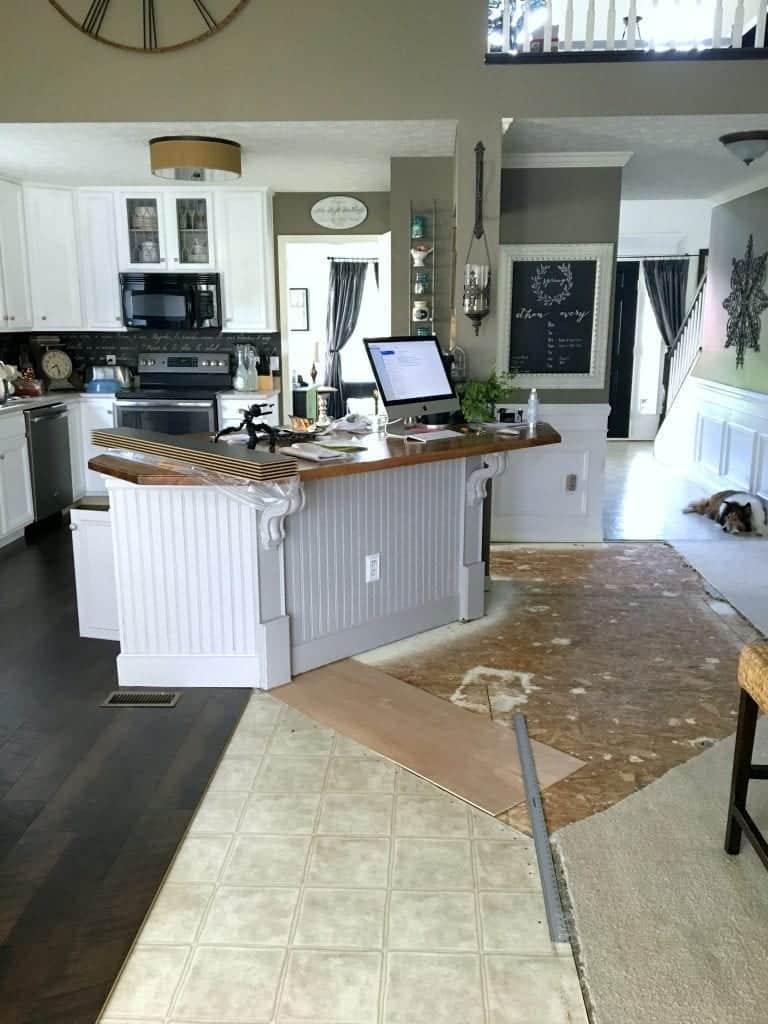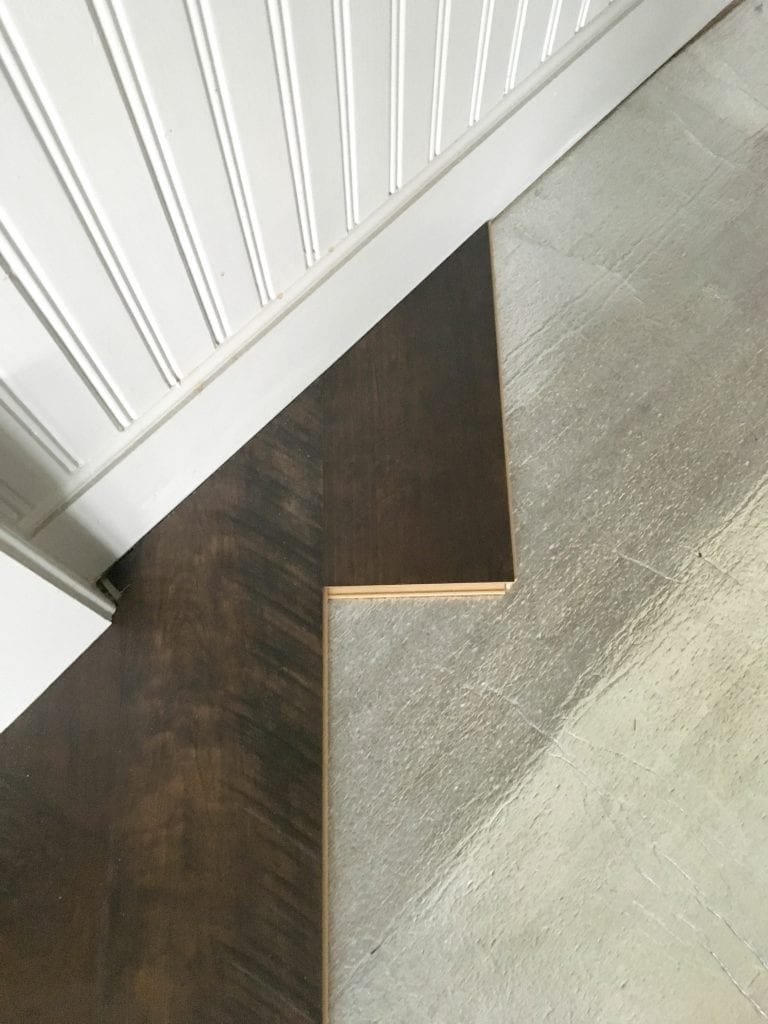 One last "before and after" comparison.
Here is a quick reminder of the layers that we have to deal with as we remove the old floor and carpet. We lay plywood to even up the layers, and it's been working really well. Removing carpet takes less time than I ever imagined….it's gone within about an hour in each room, staples and all.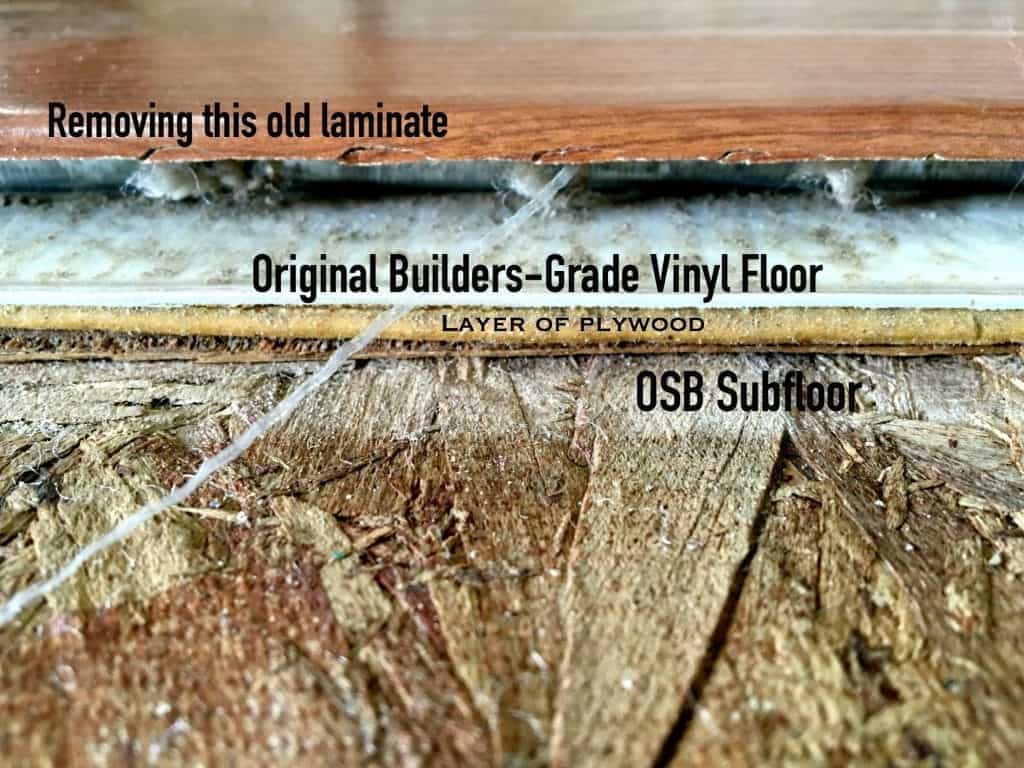 ***
Be sure to learn more about Pergo's new Outlast+ line on their social media channels:

I received Pergo Outlast+ laminate flooring and accessories for my home free of charge to facilitate my review.